SmartTask
Contents
Why a Project Management Software is essential in today's workplace?
By Nidhi ParikhMay 20, 2019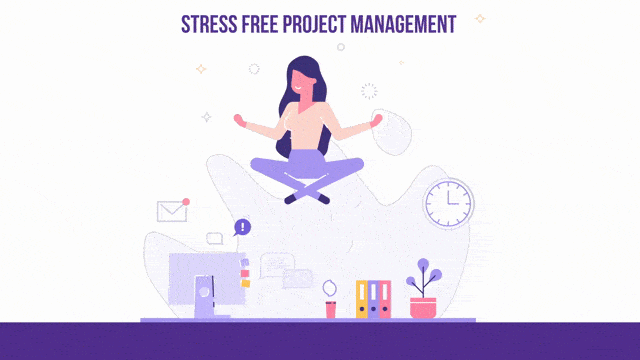 What is project management?
To understand what project management is, let's first look into what a project is. We are surrounded by projects not just at our workplaces but in our personal lives as well. From planning a vacation, renovating your house to just making a weekly meal plan, we are all unknowingly a part of many projects.
From the business point of view, a project could be anything from setting up a new factory, developing a new software, revamping your website to make it more customer friendly to changing your entire marketing strategy.
Projects are usually started with fixed objectives in mind. The objectives may be in terms of the outputs you want (setting up a new factory), outcomes (faster and automated production, better efficiency), benefits (increasing the social value and reach of the organization) or strategic goals (increased brand value, tapping into newer markets)
The one thing that is unique about a project is that it is temporary. It also has certain constraints in terms of time, people, money, tools and even skills.
What then is project management?
According to the guide by Project Management Institute, "Project management is the application of skills, knowledge, techniques and tools to project activities to meet the project requirements." Essentially, it is outlining the steps for proper initiation, action period and control of a range of tasks with proper resource planning that will then attain the project objectives.
At a certain point of time, there may be many projects going on in the organization. This is the reason why the term project management has picked up quite a lot of buzz. In fact, a research states that a project management software is the most sought out software for nearly half of the U.S.
Think about it. Even a simple personal project like organizing a party has so many details and steps to be kept in mind. If it isn't planned properly, you could have 5 birthday cakes and no proper decorations because nobody had any idea of who was doing what. While the idea of having 5 birthday cakes doesn't seem bad, a party where the snacks finished because somehow the number of guests increased from 10 to 50 wouldn't go down so well.
That's why a project management software has become so essential in today's dynamic world. It makes sure everybody has a track of who is doing what, timelines are set, baselines are fixed, risk management is tackled with in order to avoid any unknown problems and most importantly, your finite resources are utilized in a proper and cost-effective manner.
The history of project management
Project management is just like some scientific discoveries. People think it is new but it has existed since ages.
Monuments like The Great Wall of China, The Taj Mahal, structures like the Egyptian Pyramids, The Pantheon and even entire well-planned towns were built centuries ago. They may not have been labeled as projects but some things akin to project management like planning, management of such a large workforce, supervision, dealing with risks such as changing climatic conditions sure were handled.
Let's look at how little things, tactics and ideas spread over a period of several years have added up to what is called as project management now-
HARMONOGRAM:
Karol Adamiecki, the Polish economist and engineer devised a graphical chart called Harmonogram in the year 1896. With the help of paper strips, the graph showed resources or activities mapped against time.
GANTT CHART:
Henry Gantt when studying in detail the operations of the work created a scheduling diagram called the Gantt Chart. It outlined the sequence and duration of all tasks in a process along with various milestones and dependencies.
They became so famous that they were used in the construction of Hoover dam which started in 1931 and employed approximately 5200 workers and is still one of the highest gravity dams in the U.S.
The functionality of Gantt Charts is such that it is still being used for scheduling today by project managers all around the world.
CRITICAL PATH METHOD (CPM):
Morgan R. Walker of Dupont and James E. Kelley of Remington Rand designed this method in 1957. It is used to estimate project duration by figuring out the critical and non-critical tasks and various dependencies between tasks. It helps in avoiding time-frame problems, scheduling flexibility problems and various bottlenecks.
This helped Dupont address the complexities of shutting down and restarting chemical plants due to maintenance. It was estimated to save them 1$ million in the first year they used it.
PROGRAM EVALUATION REVIEW TECHNIQUE (PERT):
In the very next year i.e. 1958, The U.S. Navy Special Projects Office designed PERT during the Cold War. It is similar to CPM and helps calculate the amount of time it will realistically take to finish a project.
The only difference between PERT and CPM being that PERT helps you create three different time estimates for a project, (i) shortest possible time each task might take (ii) most profitable amount of time and (iii) longest possible time if things don't go as planned.
WATERFALL APPROACH:
Winston W. Royce in the year 1970 coined the waterfall approach to project management. Planning becomes very important when you use this model. You consider everything, make a big plan upfront, break that into distinct stages and then hope that there won't be any changes. It requires every step to be completed in a linear fashion. It is used widely in construction and manufacturing industries.
As projects started becoming more dynamic and prone to risks especially in industries which dealt with a lot of changes, people started looking out for other approaches and thus came the advent of agile method of project management which we will look into a little later.
THE ADVENT OF PROJECT MANAGEMENT SOFTWARES:
The transition from mainframe to mini-computers in 1970s made computers affordable to mid-size and big companies. The evolution of technology further facilitated the emergence of several project management softwares.
In the year 1977, Artemis, Oracle became the first ones to launch project management softwares followed by Scitor Corporation in 1979.
EARNED VALUE MANAGEMENT:
In 1988, this approach was devised. It helps to measure project performance by comparing work performed and work planned. It is used in cost and schedule control which can be very useful for project forecasting. The baseline becomes very important for EVM to be successfully measured.
PROJECTS IN CONTROLLED ENVIRONMENTS (PRINCE 2):
In 1996, this methodology was launched as a generic project management methodology for all UK Government projects. This framework helps managers in completing projects on time and within budget constraints. It divides projects into clear stages.
This methodology is concerned with outcome-delivery rather than carrying out the activities according to the stages.
AGILE APPROACH:
The agile approach to project management was developed in the early 2000s. It breaks up a project into several stages, constant collaboration is carried out with all the stakeholders, continuous improvements and changes are made as and when needed.
Depending on the work processes and environments, teams in organizations shift from agile to waterfall.
SOFTWARE-AS-A-SERVICE MODEL (SaaS):
Once the internet started becoming publicly available, the old models of getting software CDs/DVDs and installing them went out of fashion. This encouraged people to bring their businesses online with the help of interactive websites.
Picking up pace, in the late 2000s, software companies started launching web-based project-management softwares. SaaS model wherein the software is licensed on a subscription basis and customers can access it via the internet started being used more and more.
The reason was clear. The SaaS model came with many benefits: less time spent in installation, reduced costs, no dealing with server capacity (the vendor takes care of that), more upgrades and features, trial period, it became possible to handle the project requirement of working in different locations, avoid having to pour in capital at front and getting no return if the software stopped being functional or beneficial for the teams.
MOBILE APPLICATIONS:
According to a study by Statista, almost 48.8% of the global mobile phone population accessed internet using their phones in 2014. Around the same time, project management companies launched their mobile applications.
This helped companies start using virtual project teams, make collaboration easy, help remote working, make things more accessible, receive instant notifications.
WHAT PROJECT MANAGEMENT WOULD LOOK LIKE IN THE FUTURE?
Technologies like IoT (Internet of Things), Machine Learning, Artificial Intelligence (AI), Robotics will shape the world into something completely different, something we can only leave to imagination for now.
The future project management tool, thanks to these technologies will make handling complex projects and deadlines much easier. The future project management tool will be able to monitor the condition and status of machines working on construction sites, detect inefficiencies and delays beforehand, analyze and work with big data, give accurate analytics considering a wide range of factors, automate tasks and so on.
Whatever the future might bring, one thing is for sure. Work environments are only going to become more dynamic and competitive. We need to let go of our old way of doing things and step along with the latest project management technology.
What are the different stages in project management?
Remember, when you were in school and a difficult topic or a mathematical equation was often broken down into steps so you could understand and follow it in a better way? That's what a project life cycle aims at doing.
Due to the transient and complicated nature of a project, it is broken up into certain stages. These collection of stages then make up the project life cycle.
A guide to the Project Management Book of Knowledge (PMBOK) made by the Project Management Institute lists down the elements that a project cycle must have: the work that must be accomplished, who should be involved, the deliverables that must be generated and reviewed and the controls and approvals required for each phase.
Projects vary from each other. Some projects are small while some are big, some have more cost involved, some require more human capital and so on. While the intricacies of the different stages would depend from project to project, the guide notes down five phases any project manager should know of:
1. PROJECT INITIATION
Projects just aren't given the green signal when an objective has been decided. In this stage, all the project sponsors and important stakeholders come together and decide whether the project should be started or not.
Take the case of setting up a new factory. The objectives have been set- to tap into newer markets and automate the workflow so errors are minimized. As this is a huge decision, the stakeholders responsible will take two approaches to come to a decision-
Business Case Document – Here, they will decide how profitable this project will be for the organization and even the intangible benefits it will bring. Depending on the scale of the project, this document could be detailed with many calculations and technicalities.
Feasibility study – In this document, the resources the organization has, the cost required and the timeline is seen to understand if this project should be carried out or not. For example, if in the above case, the company figures out that they do have the capital to set up a new factory but not the capital for hiring additional workers and supervisors, the project isn't deemed to be feasible for the company right now.
If both the approaches show the green signal, the project will be given a go-ahead and a project charter or project-initiation-document will be drawn out to provide a brief summary. It is then forwarded to the designated project team or manager.
2. PROJECT PLANNING
In this stage, all the technicalities of the project are looked into. This will then become the guiding basis for the project manager as well as the entire project team.
Some of the most important activities like preparing the scope statement, developing the schedule, preparing milestones, GANTT charts, setting up dates, putting an estimation on resources required, baselines or performance measures, critical deliveries are decided in this stage.
It is all decided keeping the project goals and requirements in mind. Some organizations even mandate conducting a risk management planning at this stage. This includes risk identification (global events, strikes, leaving of a key team member, etc.), risk analysis (probability of such events happening and the effects it would have), risk mitigation approaches (how to deal with such risks).
While the first stage helped us create a map and showed us the destination, this stage helps in fixing a path that the team must follow to reach the destination. After all, we wouldn't want everyone to take different paths and get lost somewhere in the middle.
3. PROJECT EXECUTION
This phase is often started with a kick-off meeting so that everyone is at the same page. All the activities conducted in this phase are based on the reports and charts created in the planning phase.
Over here, the team's roles and responsibilities are clearly formed and defined so as to build accountability. It also helps in knowing whom to go to for approvals or changes, who will be the immediate supervisor and so on.
At this stage, tasks are created and assigned to the team members, deliverables and deadlines are set, many status reports, development updates and performance reports are exchanged.
It is during this phase when the actual work is being done that will determine whether the project will succeed or not.
4. PROJECT MONITORING AND CONTROL
This stage is often conducted in line with the execution phase. The reason being while work is being done, the project manager also needs to check if it is being done in the way they had planned. Sometimes, what happens is that the team is busy working on their individual tasks in silos, they don't know about the progress others are making or the delays/glitches happening. The project manager thus becomes an important point of contact that can handle any discrepancies.
As this stage is about monitoring project performance and progression, KPIs (Key Performance Indicators) are monitored, prevention of scope creep (project's requirements tending to increase over time) is looked into, baselines are being met or not, things are happening within the budget and so on.
As a project manager, you can use any combination of performance metrics but make sure they are measurable and used consistently so that it's easier for the important stakeholders to understand and evaluate things.
5. PROJECT CLOSURE
As the name suggests, this stage indicates the completion of a project. The contractors are relieved of their duties, team members who have done impressive work are recognized, a final project report along with all the project documents are stored in some place, team members get reassigned and so on.
Sometimes, the project manager also holds a closing meeting or an informal party to congratulate the team.
One more important thing that takes place in this stage is project evaluation. It gives you, the team and important stakeholders an opportunity to look into any failures/setbacks, a better way of handling/preventing them in the future and a chance to look into the knowledge that this project brought.
This is a very crucial step as it can prevent the same project mistakes from happening in the upcoming projects and a way to instill better success standards, processes and teams.
Project management is definitely not as easy as organizing a party or planning a vacation. But breaking them into these five cycles can help make it a little smoother for your team to manage complex projects. And then there is the advent of best project management software to make things even easier.
Why you should use a project management software?
Have you ever rushed to a colleague's desk to ask them if they were done with their side of the work so you could start yours?
Have you ever walked into a project meeting not knowing at what stage the project is at?
Or worse yet, have you ever walked out of a project meeting, looked at the time on your watch and told yourself, 'There must be a better way of doing things without having these unnecessary long meetings'
If you are nodding your head to any of these, here are the six magic words to your problems- You need a project management software.
Gone are the days when you could execute a project using just three things- a paper, pencil and a diary. Unless of course, you have a diary that magically links to everyone else's individual diaries.
But, let's be honest. We have had enough of untimely spreadsheets and mails that never seem to stop coming to effectively keep track of things going on in the project.
Let's look at how a best project management software can make your work easier and less stressful-
1. BETTER UTILIZATION OF RESOURCES:
Sometimes, people are working on multiple projects simultaneously and it's difficult for you to remember the workloads of every single person. With a project management software, you can see the workload of every member of your organization and what projects they are working on.
For example, it could be that software developer A is working on three projects while software developer B is handling only little parts of 2 projects and quite some time on his hands. An online project management software gives you the benefit of checking if the work is properly distributed across people.
2. ASSIGN RESPONSIBILITIES EASILY:
If you are working on a complicated project, it could be time-consuming for you to sit down with every person and explain their tasks to them. It is also likely that some projects may involve the members of various departments in remote locations.
So to set up a meeting at a convenient time for each member is a cumbersome process. With a project management software, all you need to do is assign a task and if they have any questions, they can comment there itself.
If anyone is stuck anywhere, all they need to do is log into the project management software and get things going. It not only saves your energy, but time as well.
3. BETTER COMMUNICATION:
Have you ever opened Whatsapp to see a work message but then ended up replying to every message? If you're nodding guiltily, then you're just like any of us. We all have done that from time to time. It's difficult to keep away from it.
Instead, a project management software solves this problem by giving you the option of chatting with your team members without other unnecessary distractions. It also makes sure all your communication stays in the same place and you don't have to look through thousands of emails/different Whatsapp group chats to find an important message.
What's more, with an online project management software, you don't need to keep calling/walking up to a colleague's desk to share some new updates.
4. BETTER ACCOUNTABILITY:
As a project management software has everything kept in an organized way, it helps instill accountability. Team members know they have to complete their tasks by a fixed time frame.
You don't need to hear those, 'Because of him, the task got delayed. He took more time than necessary.' The software already lets you check the progress so you don't need to rely on verbal confrontations. As a whole, project management software helps you avoid those bitter conflicts and nagging that generally exist in the workplace.
5. TRACK CHANGES:
If a team member has changed something, be it a document, the task itself, a project management software helps you pinpoint the same.
It also shows you the exact date on which the revisions were made thus leading to more accountability and less misunderstandings.
6. BETTER REMOTE TEAM PARTICIPATION:
A study found that 70% of people work remotely at least once a week. Remote work is going to increase more and more as time progresses. A project management software helps these workers to feel part of the team and they have easy access to every information they need while working from home.
Even as a project manager, you are updated about the status of work being done by remote workers constantly through a project management software.
7. VISUALIZE YOUR PRIORITIES:
Any project will have those key tasks that can have that do-or-die effect on the project. Instead of carrying the stress of those tasks in your head, let the project management software keep a track of them.
All you need to do is track its progress on the software and keep updating them if need be.
8. STORAGE OF FILES AND REPORTS IN ONE PLACE:
If you have ever scrolled through your inbox looking for an important document, you know how stressful it is. Instead of sending reports through emails, a project management software lets you store all your sheets, reports and files in one place.
More importantly, you don't need to phone a colleague who is on leave to ask for a report and waste an entire day because they're out and can't possibly send you the report right now.
A project management software also lets you decide which report is shared with which employee or even a client for that matter to maintain the confidentiality you require.
9. PROPER MEASUREMENT:
The organization suffers a lot when the deadline keeps being pushed back day after day. The best project management software lets you see timelines, identify where delays are happening or could happen and make necessary changes.
For project managers who are strictly advised to not let the budget cross the limit, a project management software lets you set baselines to keep an eye on the costs and rectify if any issues arise.
10. BETTER REPORTS:
A very important benefit that a project management software brings is that update reports, individual member reports can be easily made in the system itself.
You don't need to sit with a calculator and figure things out. All you need to do is give the command to the software.
11. AUTOMATE PROCESSES BY MAKING TEMPLATES:
If you are working on a large number of projects, some processes and steps remain consistent. For example, it is mandated that you have to fill out five forms in every project you take on. Or the steps to follow in every project remains the same.
To automate things and make it faster, an online project management software lets you create templates which you can use every time and get to speed quickly. This consistency also will help make things easier for the future teams or new additions to the workforce.
12. LESS AND EFFICIENT MEETINGS:
'Ah, not again', is the majority response of everyone when they are sent a message about another status meeting.
As the project management software keeps a track of all the progress, you don't need to spend time on conducting status meetings every now and then. All the important stakeholders and managers can view the updates at their convenience.
13. REAL-TIME RISK MANAGEMENT:
What tasks are being delayed? Which projects are falling behind more than expected? Which projects may get delayed in the upcoming days? With the help of best project management software, you can identify the risks before they take place.
As a project management software helps you create milestones and timelines, you can check beforehand if the things are going well and if any small problems now could turn into bigger ones in the future.
14. HAVE MULTIPLE PROJECTS IN THE SAME PLACE:
If your company is in a field where at any point in time, there are multiple projects going on, keeping track of every project becomes difficult.
Instead of asking different teams for updates and having a huge amount of excel files and word files to figure out the progress, a project management software can make life easy for you.
With an online project management software, you can see the status of every project in one place.
These all benefits show that a project management software is not a 'can-have' thing for any company. It has become a 'should-have' thing. If not now, some years down the line as the company grows, a project management software will become a necessity. As is said, 'Whatever we resist, persists.'
Get in touch, to know more
What are the major features involved in a project management software?
Finding a project management tool for your organization isn't a 'one size fits all' solution. It's a great responsibility to choose the right project management tool depending on your company size, budget, project types, recurring projects, workflows and a lot other factors.
While there are a lot many features that project management tools have, below is a list of the features that are a must-have for any project management software you choose.
1. DELEGATION OF TASKS:
Any project, simple or complex, revolves around an array of tasks. It's important for a project management tool to show a list of tasks under any project and who's working on what task. So, as the project progresses, you can have a bird's-eye view on the status of every task and if it is running against set due dates for each task.
A highly configurable project management tool also lets you maintain confidentiality by choosing which users can see which parts of the task.
2. SETTING PRIORITIES:
In any project, some tasks will be more important and urgent as compared to the rest. A project management tool should let you assign priorities to each task so as to have proper planning and control process.
In case of risk factors suddenly showing up at your door, the project management tool will help you re-schedule your tasks if required keeping in mind the prioritized ones.
3. DEPENDENCIES:
Remember your test paper where you had to solve a question, get the answer to that question and use that as a basis for solving the next one? That's what dependencies do in any project management tool.
For example, you can't move on to the designing the website task before completing the research task. Without a project management tool, it can so happen that the blame goes on to the designer for not starting the work while the problem actually resides somewhere else.
For a complicated and a long project, dependencies are a must-have feature for a project management tool.
4. FILE SHARING:
If you're into accountancy or law projects or the like that involve a lot of contracts and documents, a project management tool with a file sharing feature is a must. File sharing lets you store all the documents related to the project be it in the form of excel sheets, word documents, PDFs or even reports. You don't have to constantly keep looking for them on your computer.
Certain project management tools also have integrations with popular file sharing tools like Google Drive, Dropbox and the like.
5. CHAT/DISCUSSION:
If there's a pavement on which a successful project stands, it's communication. To avoid context switching and slowing things by moving from one app to another, look for a project management tool that comes in-built with a group chat.
This makes sure all your relevant communication stays in one place and also allows you to share blogs or information related to the project.
6. MILESTONES:
In a project, a milestone indicates the change or a stage in development. For example, the project of building a new factory can be broken down into four milestones- location, architectural planning, building, and documentation stage indicating the completion.
A project management tool without milestone tracking lets you see the number of tasks that are completed and the ones that are ongoing but it doesn't show if you're indeed following the right path.
7. TIMELINE:
A timeline is a sequential order of events that will take place in a project. It shows all the dates, events, actions that are to take place during the project cycle.
A project management tool having the timeline feature helps you in monitoring what has been completed in the past and what further events are aligned for the future.
This timeline is set as a baseline to match current progress with estimated/planned progress.
Get in touch, to know more
Why project teams use SmartTask for effective project management?
Below are some points indicating why SmartTask is used as a project management tool by teams worldwide-
1. EASE OF USE:
Teams generally look for project management tools that enable quick learning curve and fast implementation. SmartTask focuses on ease of use and an easy user interface so that teams don't have to spend a lot of time learning about the software.
SmartTask makes using a software easy and beneficial, not difficult and tiresome.
2. PORTFOLIOS:
A portfolio is a centralized view of all your projects. It helps you know the status of every project going on in the organization on one single screen. With the portfolio feature, you can see which projects need to be handled carefully in the future, conduct better risk-management, increase project delivery success by noticing issues faster, and keep the entire organization updated about each project's progress. In all, handling multiple projects becomes easy with SmartTask.
3. INTEGRATIONS:
SmartTask integrates with over 1000 applications. Document sharing becomes easy with applications like Google Drive and Dropbox.
4. REAL-TIME COLLABORATION:
With SmartTask having its mobile app, managing work becomes a lot easier and faster. A person working in other part of the world can access things related to their work just as easily as a person working in the same office. You don't need to call employees or conduct regular meetings to stay updated. All you need to do is log onto SmartTask and get a bird's-eye view on every project going on in the organization.
5. ALL-IN-ONE TOOL:
SmartTask is not only a project management software, it combines every need of your organization. It becomes a task management software, a project planning software and a CRM software as per your need and requirements. This not only gives you everything in one place, it removes the hassle that comes with handling multiple softwares for different things.
It also makes employees' life easier as they only have to use one software thereby reducing resistance to change, decision overload that comes in with handling too many apps and increased productivity.
Conclusion
There are many project management tools out there. Choosing the best project management software for your company requires understanding your workflows, comparing ROIs and understanding your project needs. But whatever the case, one thing is for certain- we are living in a century where we need to learn to walk with technology and not run from it. This 21st century calls for a technology-savvy workplace with the right tools to make work easier, faster and less stressful.
Get in touch, to know more