SmartTask
Contents
26 Best Project Management Software & Tools (2023 List)
By Angad SinghFeb 9, 2023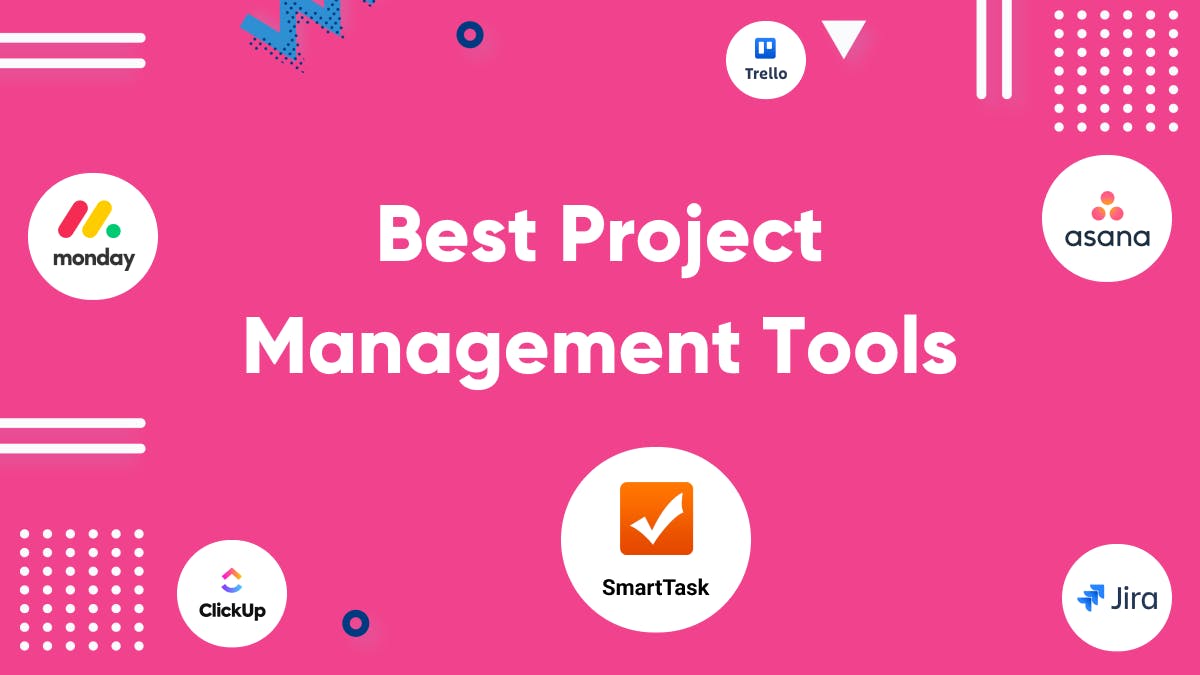 Businesses work on complex projects all the time.
Projects with countless moving parts and multiple contributors. If managed poorly, they can turn into a puddle of wasted efforts in no time.
That's where project management software comes in.
It helps managers break down complex projects into simpler parts and keep teams sprinting toward a shared goal.
But here's a pitfall to avoid: making the hunt for the right project management software more complex than necessary.
We're here to help with that.
Below is a list of the 26 best project management software tools, each with its pros, cons, and best use case.
So, read along, and find the tool that's right for you in 20 mins or less ;)
1. SmartTask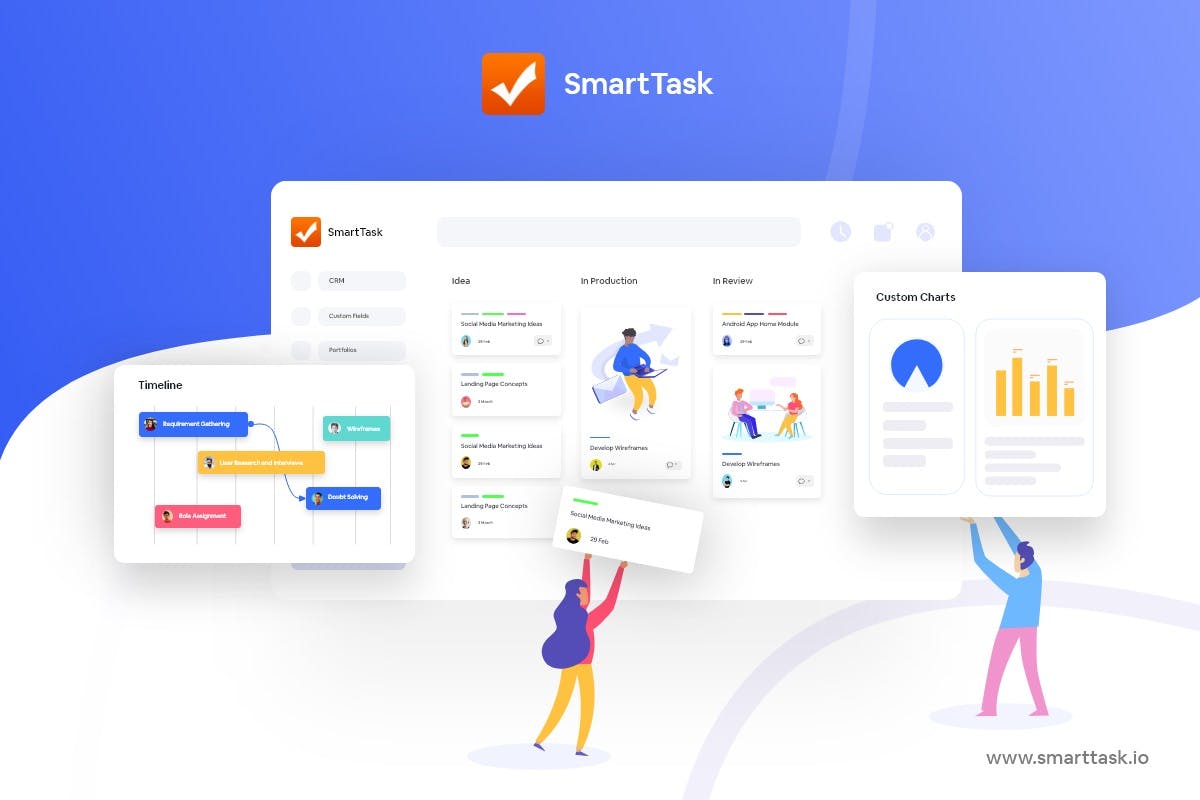 SmartTask helps you put all your work in one place, irrespective of your team size. It is built with two goals in mind:
Give startups and SMBs an unfair advantage by handing them enterprise-grade features at a steal.
Give enterprises the project management horsepower they need without subjecting them to steep learning curves.
Don't want to count your chicken before they hatch? Fair enough.
Here's the feature set that helps SmartTask make teams 3X more productive: -
Multiple Views: Each team prefers looking at data differently. With SmartTask, they can choose between Board view, List view, Timeline, Calendar view, and more.
Portfolios: Get a high-level overview of everything happening in the Workspace.
Time-tracking: Time reporting and estimates help understand resource utilization, budget, and cost implications.
Workload view: Plan and allocate resources effectively such that no team member is under-utilized or overworked. It also helps you predict resource requirements.
Task Management: Set task dependencies, due dates, priority, and tags.
Comments & File Sharing: Share important information, attach files, and give feedback via comments. Do all of this on the task itself. No need to keep switching windows.
Newsfeed: Save hours of standup meetings with feed updates and automated Check-Ins.
Team Communication: Seamless real-time communication with individuals (or teams) via chats, voice-recorded messages, and video meetings.
Automation: Automate repetitive project tasks for better project performance.
CRM & Sales: Visualize sales analytics - estimated sales, sales funnel, and user-wise analytics. Move inquiries across multiple stages, have clarity on past conversations, and plan future action points.
White-Label: The white-labeling feature lets you add your custom brand to the SmartTask platform. The outcome? Seamless client management.
Custom Analytics: Once you finish a project, you can check key performance metrics and download a report for evaluation and future reference.
Reminders: Alerts, notifications, and reminders to keep teams on track.
Pre-made templates: Expert-designed templates to help you kick things off straight away.
1000+ integrations: Seamless integrations to help you achieve almost everything from a single platform.
Available on almost every platform: Web, macOS, Windows, Linux, iOS, and Android.
Free forever!!!
So, if you are:-
An enterprise that wants powerful features without a massive learning curve
A resource-strapped startup that wants an unfair advantage
An SMB that wants customization without breaking the bank
2. Monday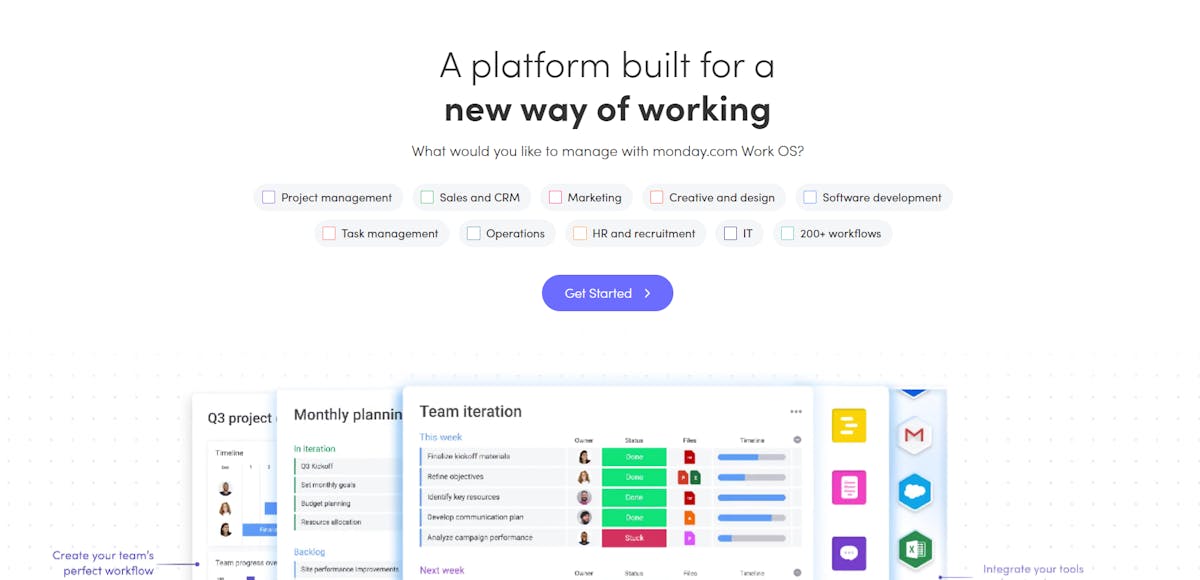 Monday.com positions itself as a complete work OS, a single source of truth to handle every workflow under the sun.
It now has dedicated apps for different use cases: Marketer, Sales CRM, Dev, and Projects being upgrades that stack nicely atop the core Work Management platform.
Do the upgrades come at an added cost? Affirmative.
We don't see that as a red flag because the core Work Management platform is sufficient for most SMBs. The bells and whistles on top are more relevant for enterprises.
Our two cents? Monday almost tastes perfection but is held back by underpowered team communication features.
We love it nonetheless.

Pros
Beautiful UI
So versatile and sophisticated; SMB-friendly as well as enterprise-ready
Huge template library, several integrations, powerful automation
Dedicated products for different use-cases
Cons
Expensive
Too much going on; can feel like you need a certification to extract its true potential
Best For
SMBs that can afford pro versions + have the bandwidth to learn a sophisticated tool
Large enterprises
3. Wrike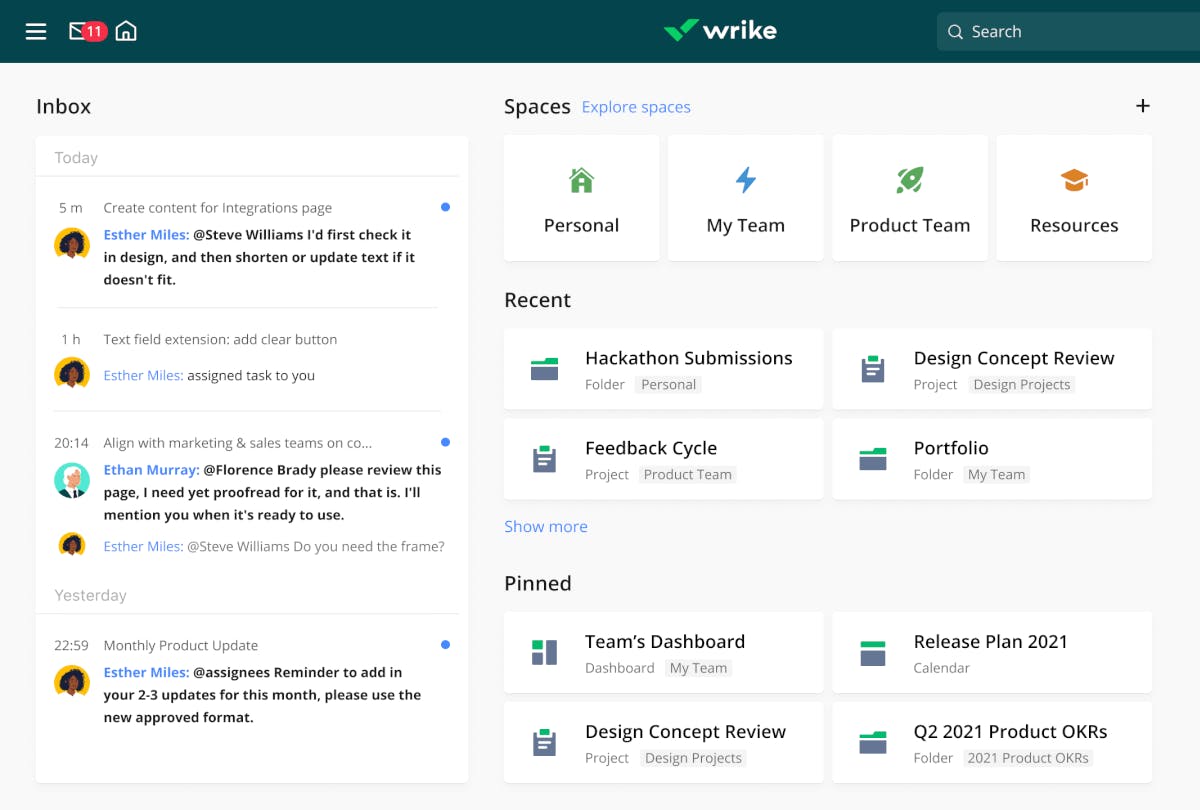 Acquired by Citrix technologies last year, Wrike started as a bootstrapped venture in 2013.
From launching an enterprise version to refining its feature stack, the app has grown considerably over the years.
Its current version leaves little to be desired in terms of sophistication. With trademarked work intelligence tech, Wrike empowers project managers with AI-powered risk prediction and automation.
There's a lot to love here but not if the UI puts you off.
Pros
Custom request forms
Powerful analytics
In-built time tracking and invoicing
Plenty of workflow automations and integrations
Well-suited for several use-cases
Cons
Costlier than competitors
Not as intuitive for beginners; challenging learning curve
UI is hit-or-miss
Best For
Enterprises that are highly data-driven and have experience using PM software
SMBs that want a tool for varied use-cases
4. Trello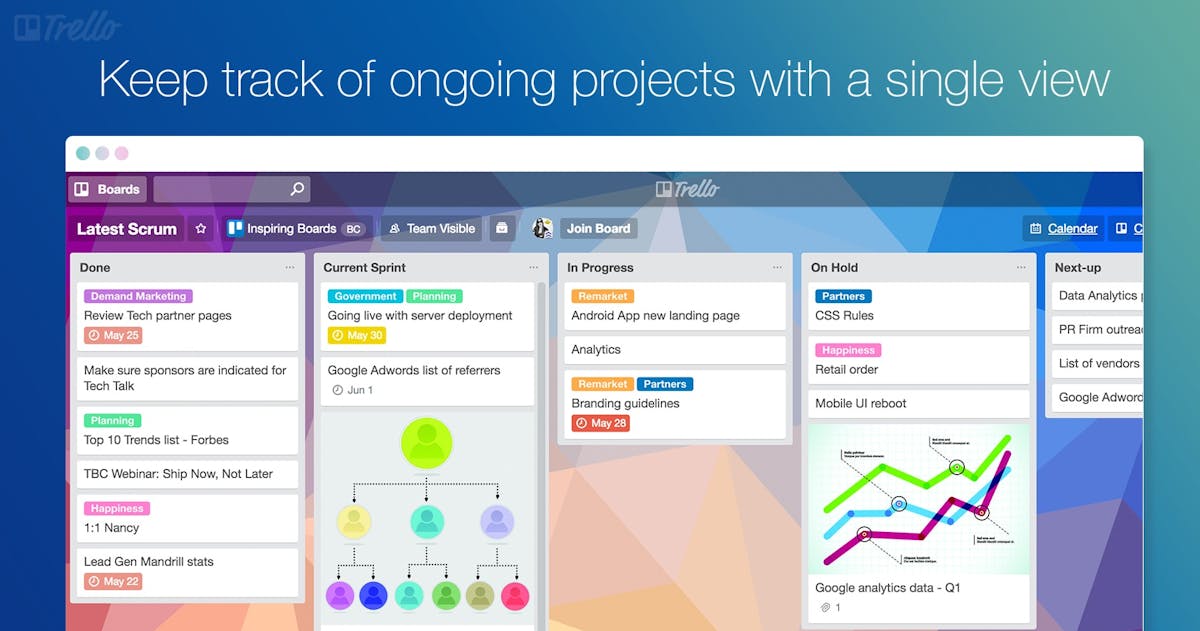 If you've been in the workforce for some time, we're betting you've heard of Trello.
At the outset, it is a simple Kanban-style project managing software that barely requires any learning to get started.
Users come to it for its attractive pricing and no-nonsense usability. To the tool's credit, it can support a fair amount of use cases, has useful automations, and most teams like using it.
However, it tends to be a gateway drug for project managers. Once they learn the ropes, most switch to more sophisticated options. Also, to track time in Trello, you need to rely on third-party integrations.
Pros
Simple to use
Great pricing
The OG Kanban experience
Cons
Doesn't scale well, not sophisticated enough
Limited views
UI isn't very modern
No in-built reporting features
Best For
Startups that don't have complex projects to manage
5. Asana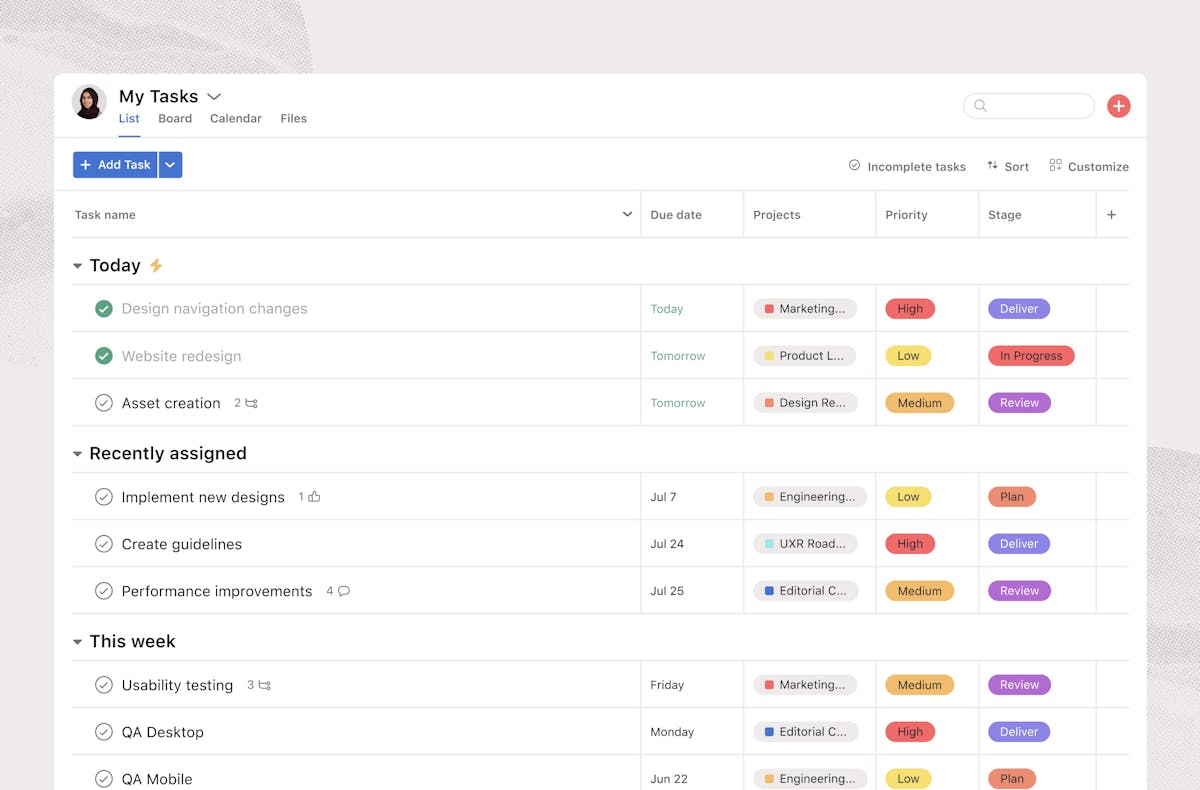 Founded by Dustin Moskovitz, the co-founder of Facebook, Asana had success written all over its face from the get-go. The 119,000 paying customers that it serves across 190 countries reflect the same.
It has a calming design and gets the basics right. But that's not where the buck stops for Asana. The tool also scales flawlessly and is laden with advanced features that most users discover gradually.
With mindfulness as one of the company's core values, we're certain careful consideration went into ensuring that Asana doesn't overwhelm newcomers.
Pros
Flawless onboarding experience can get started right away
Ability to integrate projects and tasks with high-level organizational goals
Several integrations
Enterprise-readiness without being overwhelming
Ability to automate workflows
Powerful free version
Cons
Pricing
Not robust enough for customization enthusiasts
No native time tracking or CRM
Intuitive at first but advanced features demand a lot of learning
Can't assign tasks to multiple members
Best For
Enterprises that don't have much experience with PM software
SMBs that want just the right amount of customization
6. ClickUp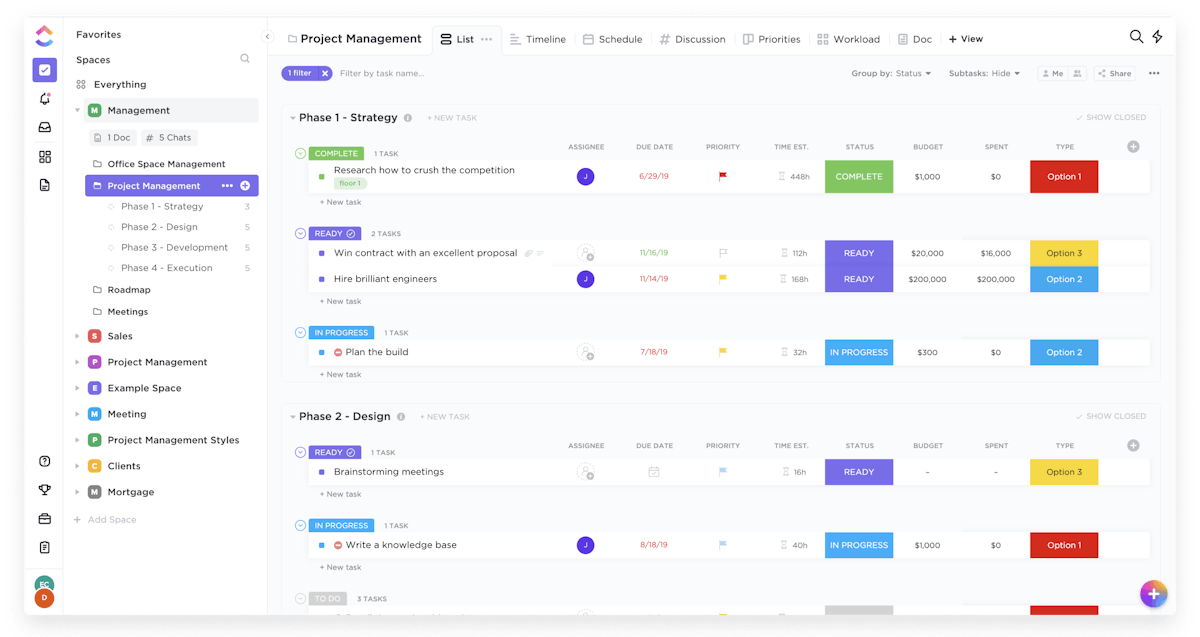 ClickUp is a tool that steals a mention in nearly every conversation about project management software and is one of the top project management tools. It isn't as seasoned as Asana or Monday, but it inarguably falls within the same tier.
Folks building ClickUp exhibit a clear commitment to improving their product as fast as possible. The sheer number of features they've raked up in a relatively short period exemplifies the same.
Even the pricing they offer is hard to contest. So, take it from us, ClickUp deserves the customer base it has built.
We'd have placed it higher on the list only if...
Using ClickUp without prior experience with project management software wasn't like being asked to run a marathon just because you have legs.
For better or worse, it has too much going on.
Pros
One of the best-looking PM software out there
So much room for customization: templates, automations, customizable dashboards, ClickApps, integrations, docs, whiteboards
Arguably the best mobile app in the PM space
Great pricing given the tool's capabilities
Views galore
Cons
Challenging onboarding/too much to learn
Challenging to keep up with all the features that are pushed out at breakneck pace (can be a pro for certain users)
Best For
Fast-growing startups and SMBs that want something built for scale
Enterprises that can handle a challenging onboarding process
7. Teamwork Projects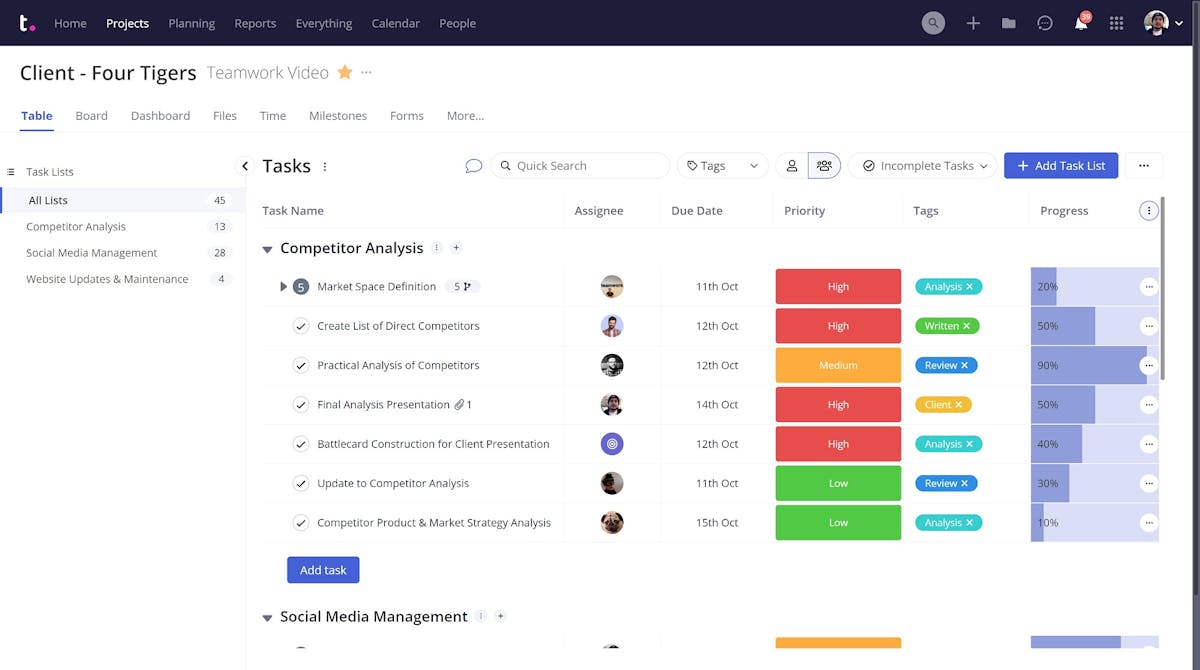 Built by former agency executives, Teamwork is one of the best software for project management that nails team collaboration.
It is designed with client work in mind and gives you the power to add client users directly. How does that make your life easier?
Well, you don't need to invest in a separate client portal. Teamwork doubles up as one. Apart from that, it does task management just as well as our top contenders.
Does it justify its pricing? We're not sure.
Pros
Ability to import data from major PM software: Asana, Trello, ClickUp, Wrike, Basecamp, and Monday
Excellent team communication features
Great balance between functionality and ease-of-use
Good enough template library
Rich features like CRM, time tracking, invoicing, intake forms
Cons
Pricing is a little steep
UX can be improved
The free version only supports 5 users for 2 projects
Best For
Creative agencies that need a PM tool capable of financial management (time tracking, billing, budgeting, invoicing)
SMBs that need sophisticated features but dislike steep learning curves
8. Jira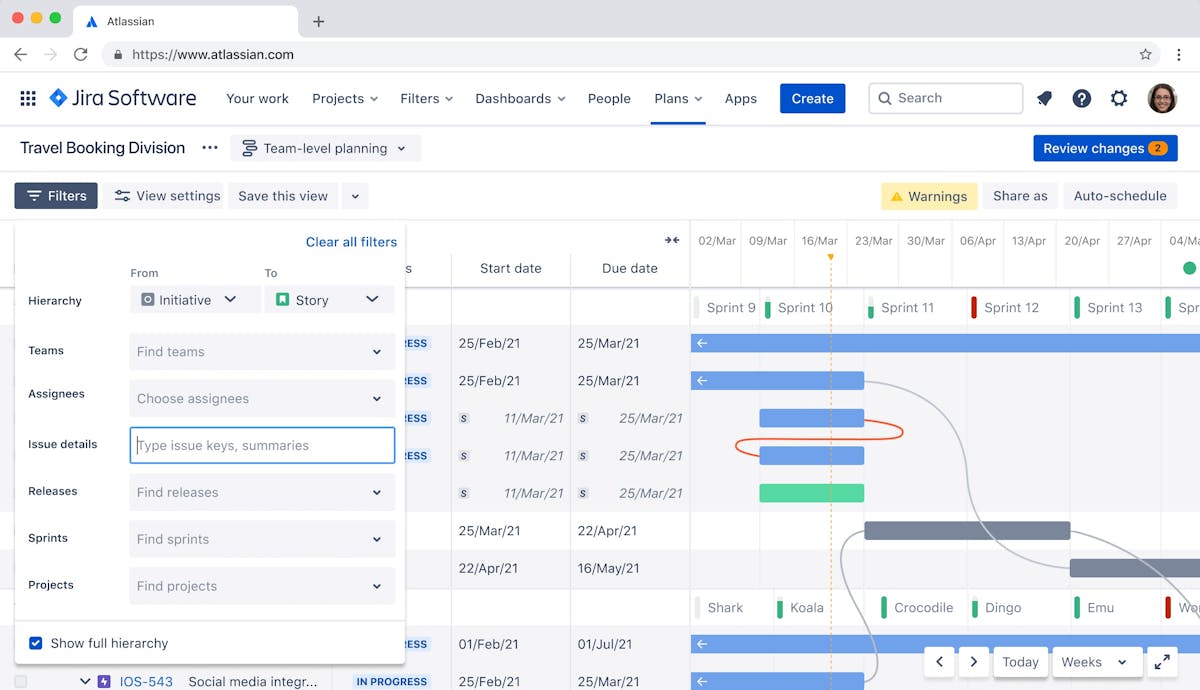 Jira is two decades old software project management tool. It was conceived purely as a bug-tracking tool. Over time, it evolved to accommodate several other use cases.
Sure, you can give it features like time-tracking and invoicing using plugins, but that's not the same as having them out of the box.
Is it better at project management than the other tools on the list? Not for creative teams and agencies.
Even Jira knows that and positions itself as "the #1 software development tool used by agile teams".
Nonetheless, it's still great for ad-hoc task management and can fluently handle agile/scrum workflows.
Pros
Highly optimized for agile and scrum workflows
The free plan supports up to 10 users
Powerful reporting capabilities
Ability to create detailed roadmaps that inform high-level decision making
Cons
Complicated UI; initial setup is a pain
Works best when combined with other Atlassian products (Confluence); thus, racking up cost
Limited collaboration tools
Not suited for creative teams
Best For
Software teams in mid-level organizations that plan on using the tool alongside other Jira software
9. Smartsheet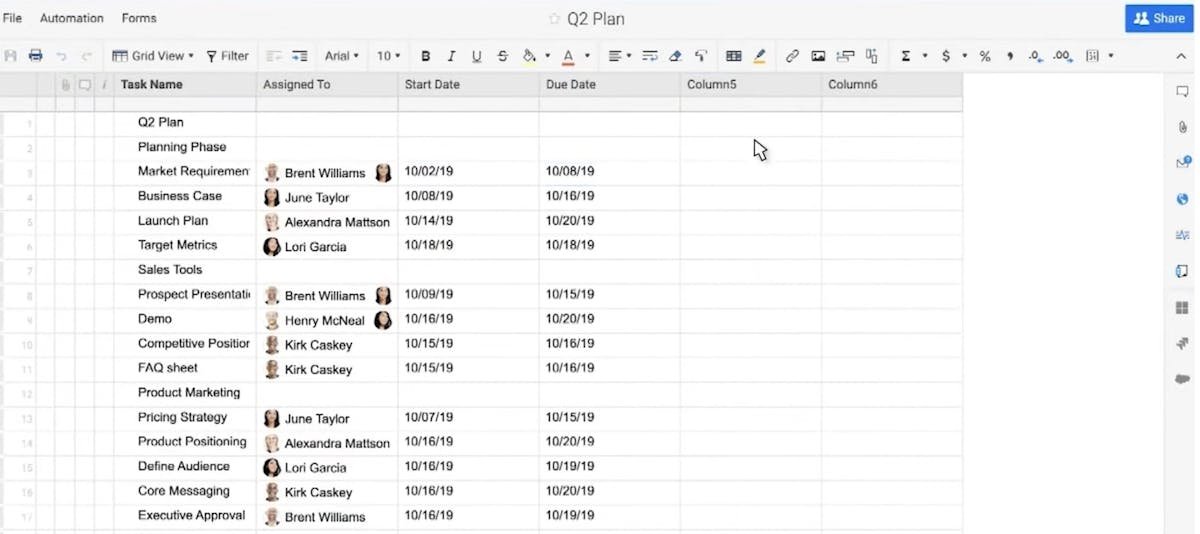 We know the name gives its way, but here's us saying it out loud.
Smartsheet is a project management platform best described as a superpowered spreadsheet.
Thanks to a well-thought-out task management system designed for scalability, Smartsheet can handle most use cases you send its way.
From planning to review, Smartsheet's feature set offers utility throughout the typical project lifecycle. It also boasts a respectable list of integrations.
Where it falls short is someplace unexpected. Smartsheet isn't nearly as intuitive as it sounds on paper. Excel experts may feel at home here, but we're not sure creatives will.
Pros
Powerful analytics and reporting
Impressive integrations
Built for scale for most use-cases
Fair pricing
Cons
Confusing UI
Limited views; not suitable for agile teams
No free version
Best For
Mid-sized companies that don't have experience with PM software but have outgrown excel
10. Basecamp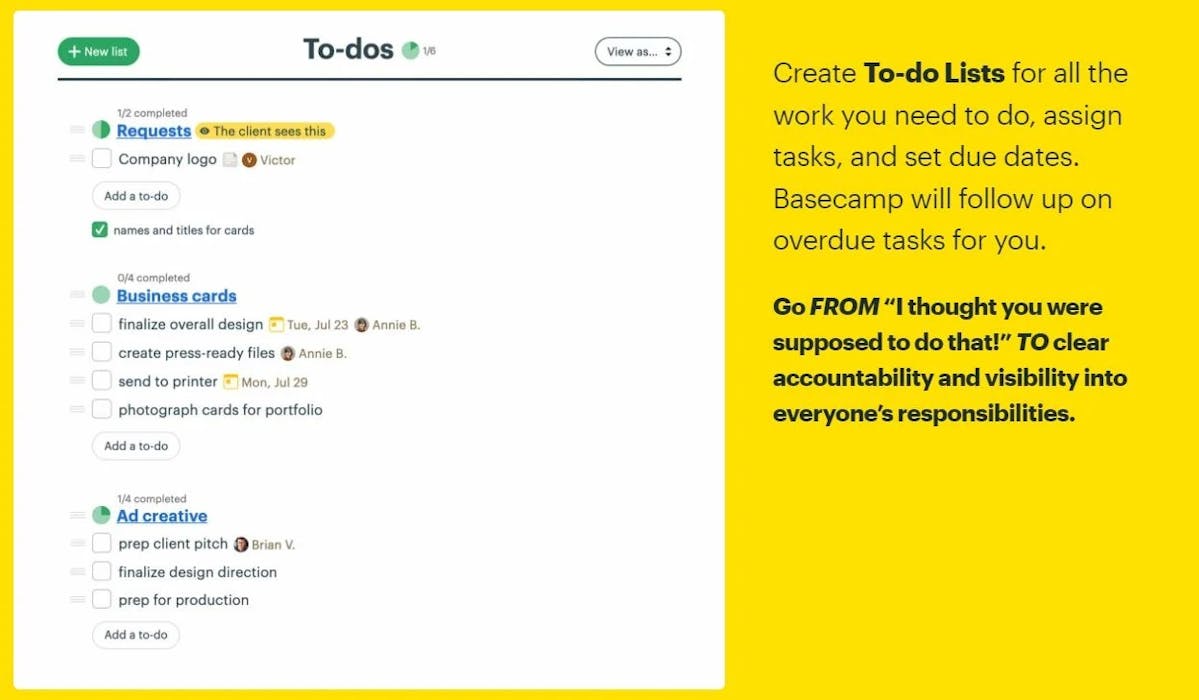 Basecamp is a different beast altogether. It shares little with the UI/UX of most project management software out there.
How little?
Well, it arranges all projects using six tools: message board, to-dos, schedule, docs and files, group chat, and automated check-ins.
Forget Gantt charts and bar graphs, Basecamp users track projects using hill charts.
Do you see the pattern here? Basecamp is its own thing. It isn't conducive to feature-by-feature comparisons with other tools in the market.
That's both a pro and a con. Several teams feel Basecamp is the most intuitive PM software out there. The rest? They think it's needlessly complex. A contrarian just because.
Pros
Pricing, if you're a mid-sized team
A fresh approach to work management
Clean UI that doesn't feel dated
Great team chat
Cons
Pricing isn't ideal for early-stage startups and SMBs with small teams
Cannot view the information from different views
Difficult to scale for complex projects; not enterprise-ready
No attention to use-case specificity; no template system
Bare-bones reporting
Best For
Remote teams (with 20+ members) that don't like most project management systems out there; seek an easy-to-use outlier; a love-it-or-hate-it solution
11. ProofHub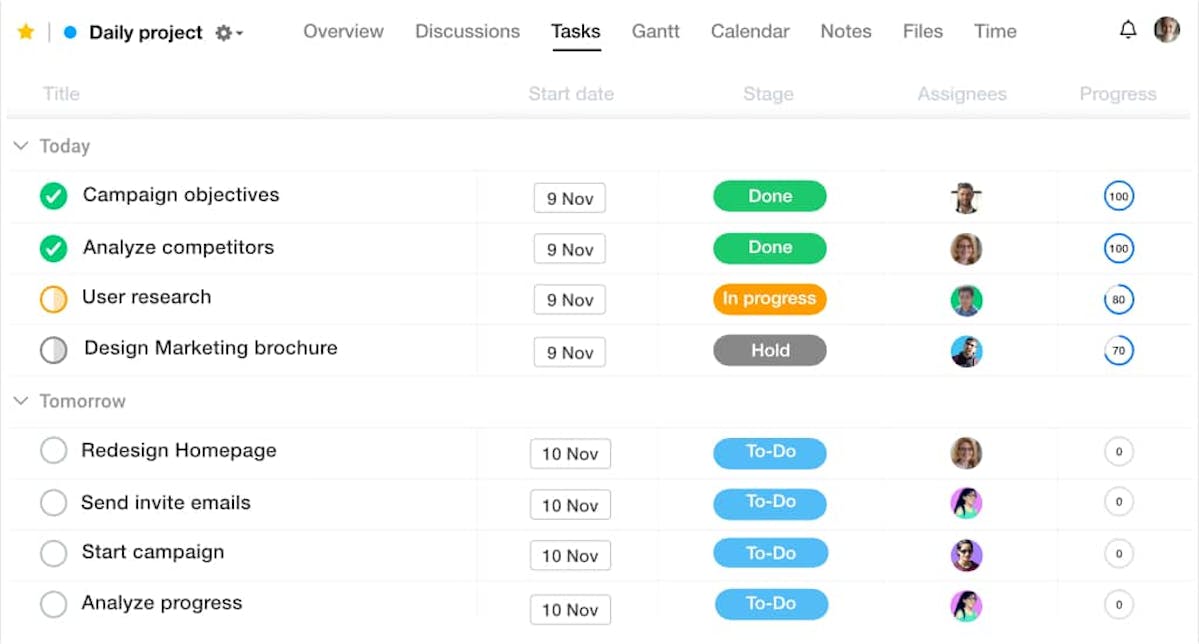 ProofHub, like Teamwork Projects, turns collaboration into the centerpiece of its product. For clients that deal with several visual assets (say a design agency), the proofing features are a big draw.
Even with task management, the tool is feature-heavy, yet everything is kept simple. Unique features like stickies (sticky notes to jot down impromptu thoughts) spice up the offering.
Multiple project views keep information digestible, and the ability to create sub-tasks and custom fields helps accommodate varying workflows.
There's little to dislike about ProofHub. We would have given it a better spot on the list if it featured a free plan.
Pros
Robust collaboration tools; even allows users to review designs and documents in real-time
Flat pricing for pro plans seems pretty fair for small and medium-sized teams
Intuitive UI with ample views to digest project information
Native time-tracking but lacks invoicing capabilities
Support for several languages and emphasis on accessibility
Cons
No free forever version is advertised on the website; have to email support to get it
The number of integrations can be improved
Best For
Small businesses that appreciate flat pricing and emphasize communication
12. Airtable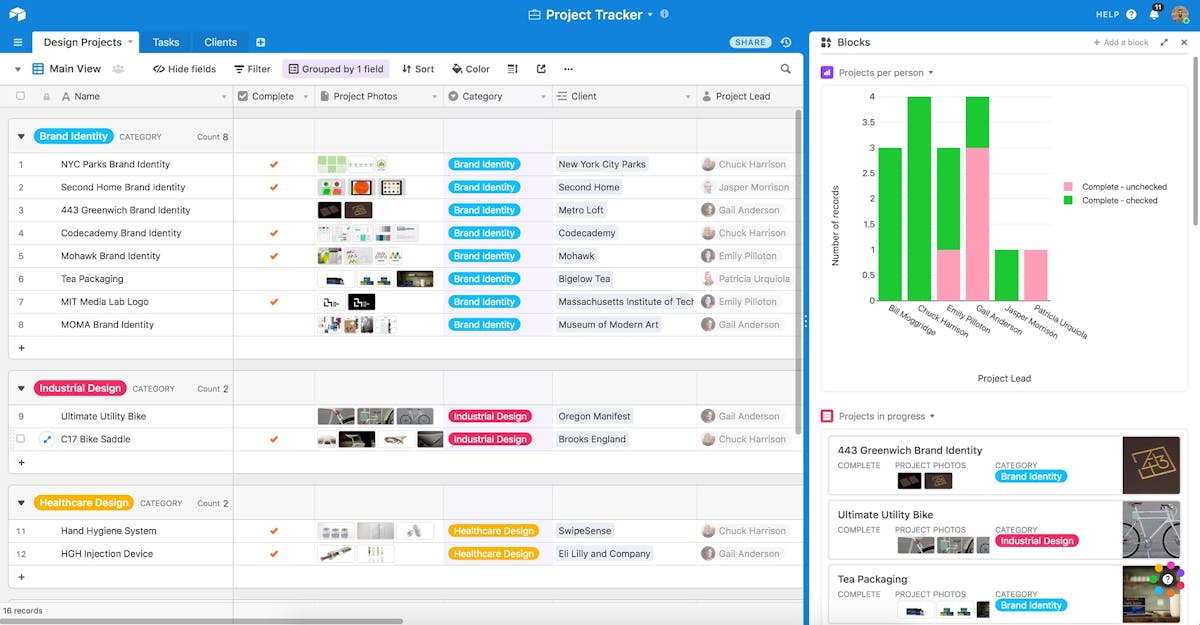 Valued at $11 billion, Airtable is a veteran in the SaaS space. Project management is among its use cases, but we wouldn't call it its USP.
So, why add it to the list? Because it's a highly intuitive tool that gets bare-bones task management right.
You don't get features like native time tracking or an-built CMS here. Not ideal, we know.
However, it makes up for those shortcomings by being a heavy-duty relational database that can power no-code applications.
So, under the right circumstances, Airtable can help you kill two birds with a single stone.
Pros
A decent number of project views
Very intuitive and powerful automation
Ability to design custom interfaces
Robust API conducive to innovation in the no-code space
Simple spreadsheet-like UI that can support tons of complicated use-cases
Cons
UI feels a little outdated
Collaboration and task management abilities are severely lacking compared to other PM tools
More of a relational database that can power no-code solutions, and less of a PM software
Best For
Teams innovating in the no-code space
13. GanttPro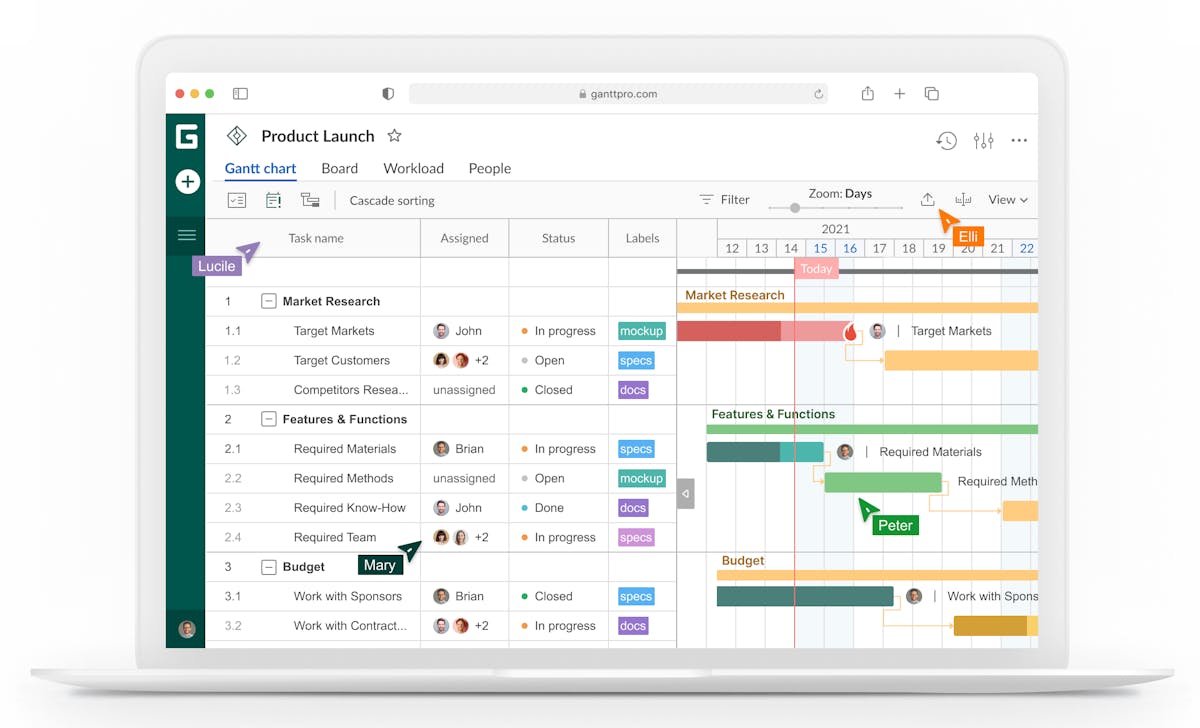 GanttPro is a project management tool built around interactive Gantt charts. Does it lack other project views? No.
Does it have extensive reporting capabilities? Yes.
Is that enough? You tell us.
Pros
Great customer support
The tool is fairly straightforward
Native time-tracking and reporting
Cons
The onboarding experience isn't great, it kind of throws you into the wild: the tool itself isn't very complicated but the onboarding could've been more helpful
UI feels very 2000s esque
Board view has limited capabilities; can't create custom columns
No free plan
Items with lots of dependencies are not easy to manage in the Gantt chart view
No native chat or team communication capabilities
Ctrl+Z opens a version history instead of performing the undo command; it kind of feels unnecessary
Switching between projects is clunky
Best For
Small teams that want to use Gantt charts extensively and want a no-frills PM software
14. MS Project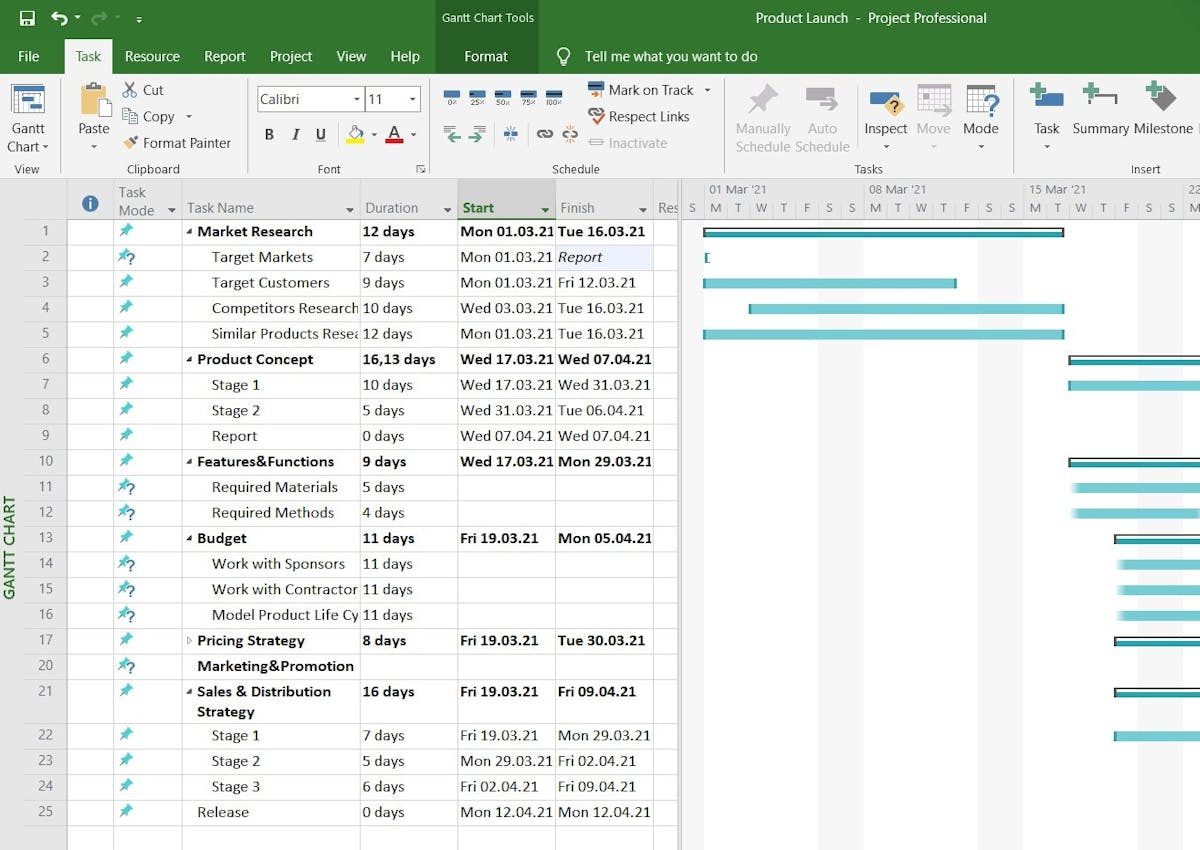 MS Project is old, like really old.
It looks similar to other Microsoft products, and a layperson might even mistake it for Excel.
Has it aged well? Yes, for the most part.
It has kept pace with modern project management tools and organizes info in three different project views: grid, board, and timeline.
Startups are better suited with the more modern options on the list, but hey... to each their own.
Enterprises, however, can use it to drive business intelligence with comprehensive reporting and data visualization. And that's just the tip of the iceberg.
The verdict? MS project may be old, but it still has gas in the tank.
Pros
Built for scale; a 38-year-old tool that has grown over several years
Integrates flawlessly with other Microsoft products
Advanced time-tracking capabilities
Supports multiple project management styles
Advanced Gantt charts and easy-to-generate reports
Cons
Not for beginners
No in-built team communication capabilities
Expensive cloud-based plans
Lacks user-friendly learning resources
Best For
Enterprises that want a time-tested product and are fond of the Microsoft ecosystem
15. Hive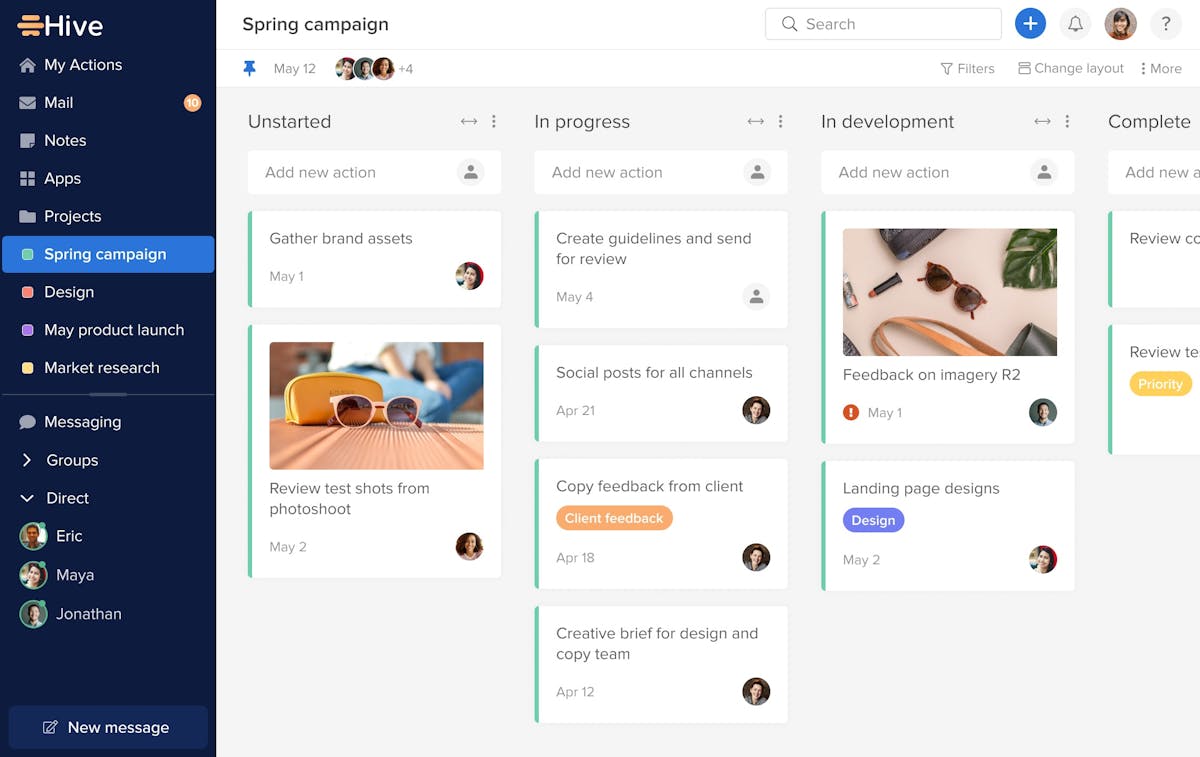 Hive, apart from getting the name right, does multiple things well.
The UI is the right balance between fresh and familiar. You feel like you're using a project management tool, yet the experience isn't run-of-the-mill. The design has personality.
The tool itself is buzzing with features, with more in the pipeline. Information about the upgrades the Hive team is working on is accessible on their public online forum.
Where Hive misses out is its pricing. We wish it were more straightforward.
Pros
A fair number of integrations
Pleasant onboarding experience and a fun UI
Excellent collaboration tools: In-built mail, messenger, and collaborative notes
Summary and portfolio views to view all organization-wide projects at a glance
Awesome free forever plan with unlimited tasks, projects, and storage
Cons
The mobile app stands pale in comparison to the desktop/web version
Odd pricing for pro plans; several premium features are available as add-ons even with a $12/user/month price tag
Questionable privacy policy
Best For
SMBs with collaboration-heavy workflows
Cash-strapped startups getting started with project management
16. Nifty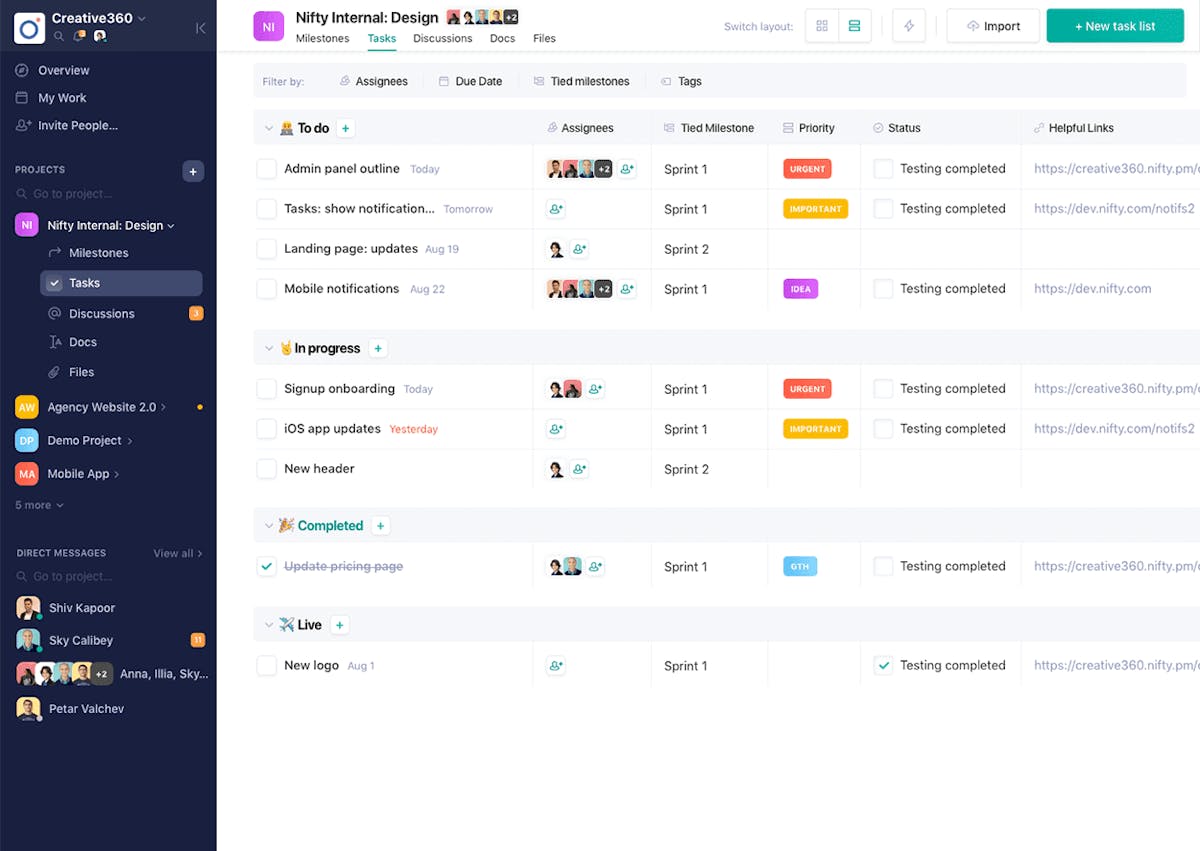 Borrowing a page from Monday's playbook (presumably), Nifty positions itself as the ultimate project management OS.
Nifty, however, isn't split into dedicated products for different use cases. It brings docs, chats, roadmaps, tasks, and other tools under one roof.
The result? A nifty project management software capable of managing everything from agile development to legal case management.
So, why isn't it higher on the list? Does it overwhelm new users with its capabilities? Nope. The onboarding experience is pretty great.
Nifty's Achilles heel, just like Hive, is an odd pricing structure.
Pros
Built-in direct messaging, time-tracking, and docs
Ability to import data from other PM tools (Asana, Basecamp, Jira, ClickUp, Trello, and Wrike are on the list)
Color-coded milestones in Gantt charts
Gets the basics right: multiple project views, clean UI, helpful onboarding
Beloved iOS app
Cons
Guest users can't use the DM/chat feature (except with the account owner)
Limited automation
Still in its early days, prone to glitches
$50/month flat pricing for the basic plan, which may not be ideal for small teams
Best For
Startups with at least 10 members
17. awork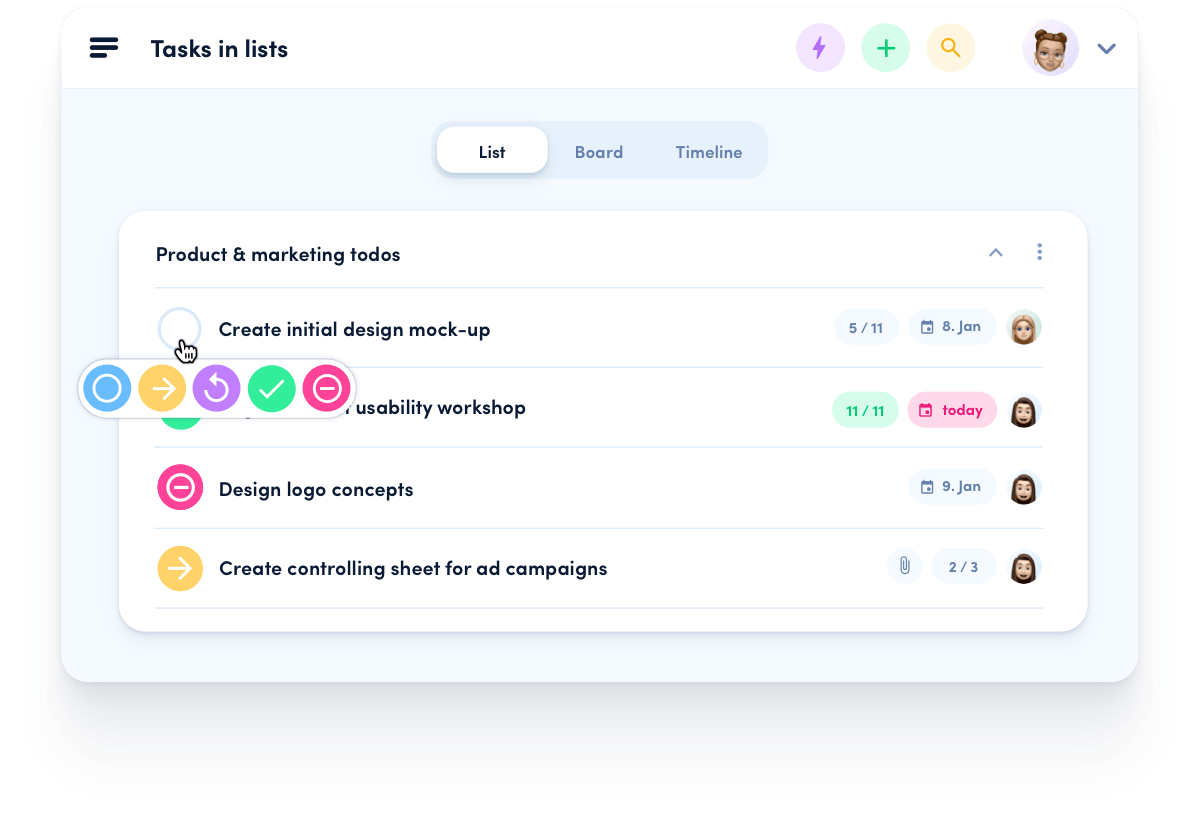 Headquartered in Germany, awork is among the newer project tracking software in the market.
This tool doesn't feel like a copy of a copy. It looks and feels like a breath of fresh air and performs quite well.
If we were to describe it, we'd call it a younger, less sophisticated ClickUp (less overwhelming too).
Pros
Hands down the freshest, most intuitive UI in the PM space; the web app really is a joy to use
Unbelievable pricing for enterprise clients
Seamless time-tracking and invoicing capabilities
Amazing onboarding experience
Gets basic task, project, and portfolio management right
Cons
New kid on the block, a tool launched in 2019, isn't thoroughly vetted by experts
No free forever plan; the basic pro plan is a little expensive at 10.99 euros/user/month
Best For
Creative teams that want a PM app built especially for them
Enterprises willing to entrust a relatively lesser-known PMS tool
18. Notion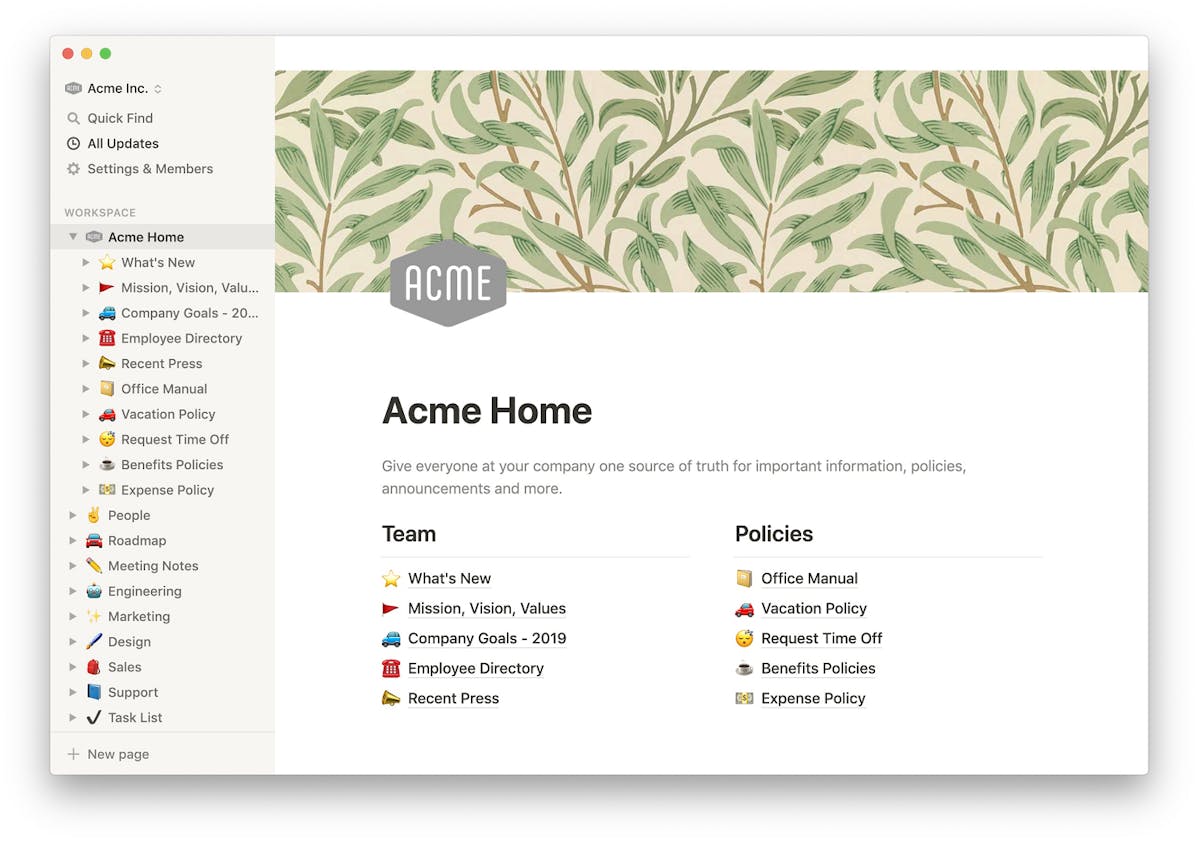 Notion, like Airtable, is not a dedicated project management software. Then why is it on this list?
Well, two reasons.
A. It implements project management (via templates) quite well.
B. The minds behind Notion do a tremendous job at expanding its capabilities.
So, if your team likes Notion enough, it can become your company's knowledge base, project management tool, second brain for team members, and possibly even a way to build no-code apps.
That's an insane value to derive out of one tool.
Pros
Monstrous template gallery + great community support
Aesthetic UI
Best-in-class collaborative docs
Cons
Not a dedicated project management software
Steep learning curve
No PM-specific features like time tracking, resource management, and portfolio management
Very limited reporting/data visualization capabilities
Best For
Teams already using Notion as the company knowledge base
Startups that don't want to spend time learning sophisticated project managing software
19. LiquidPlanner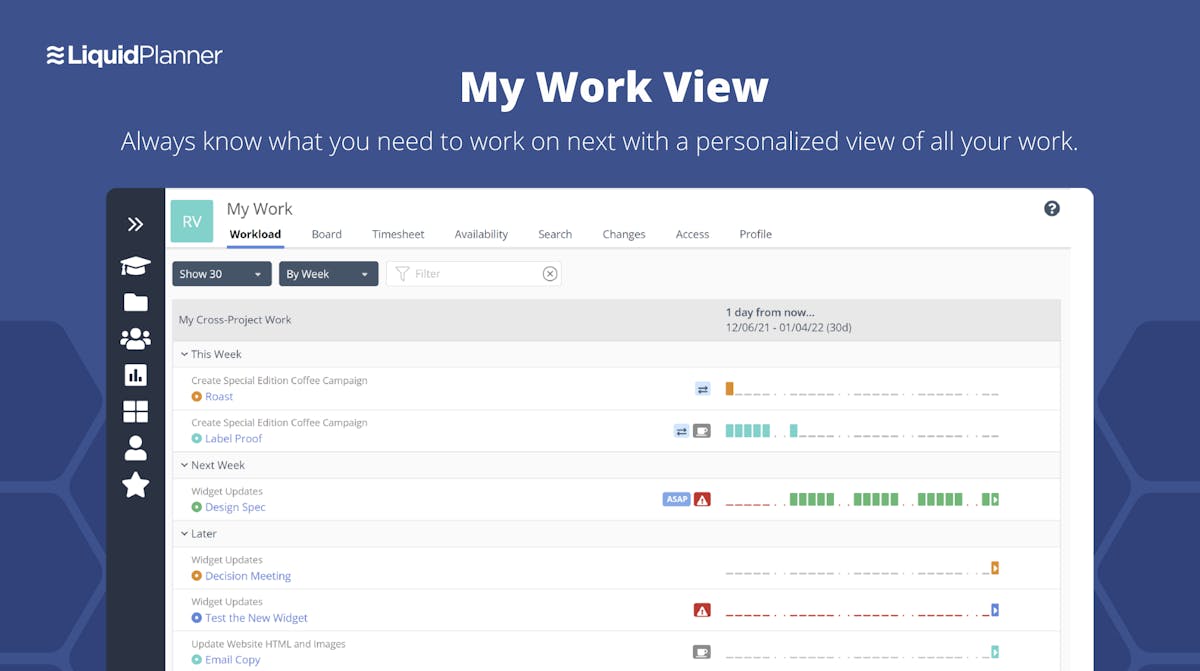 LiquidPlanner specializes in dealing with uncertainty.
Powered by its intelligent predictive scheduling engine, it creates realistic forecasts for projects and helps businesses control risk in real-time.
It is an insights-heavy platform with powerful dashboard insights and is ideal for data-savvy teams.
Pros
A powerful combination of rare features: predictive scheduling, resource management, and native time-tracking
Ability to assign placeholders before assigning tasks to specific personnel (for e.g., designer in place of Ryan)
Tons of insights to help with decision making
Cons
Non-interactive Gantt charts
Inability to set milestones
No in-built CMS
Extensive initial setup
No free forever version
Expensive pro plan for smaller teams
Best For
Data-driven SMBs that typically engage in projects with high uncertainty
20. Zoho Projects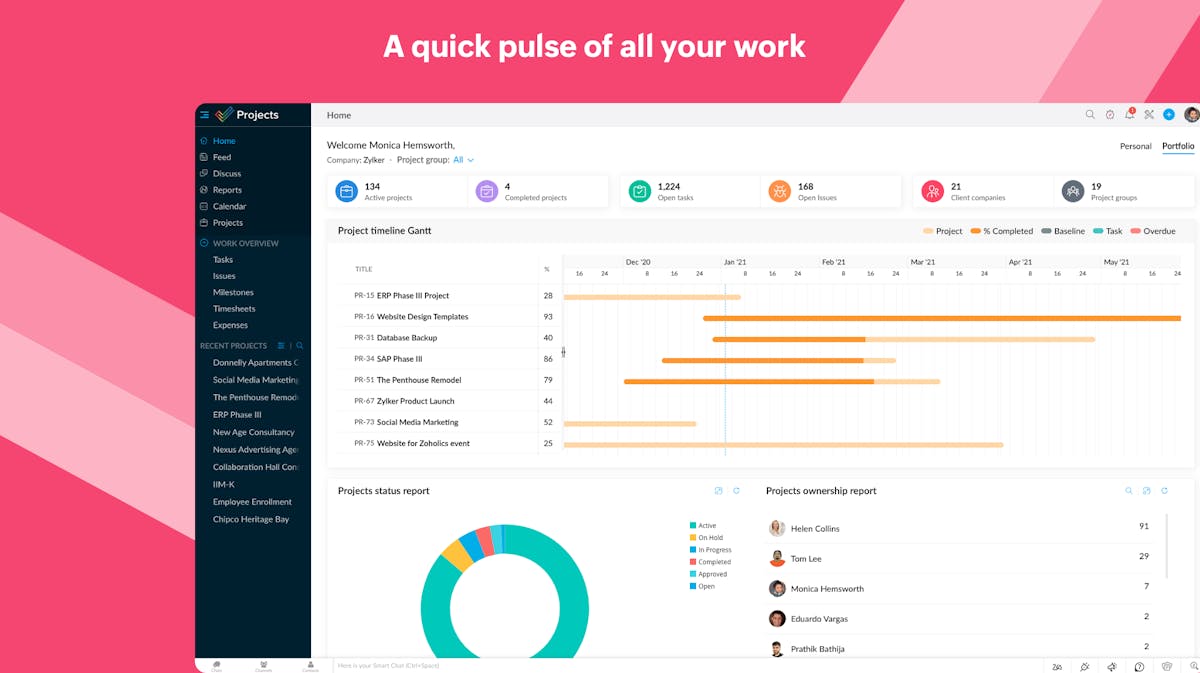 Cash-strapped startups need capable project management software just as much as their comfortable (read well-funded) counterparts.
Tools like Zoho Projects fulfill that need. With affordable plans that give most small businesses just the amount of sophistication they need, Zoho Projects helps teams steer away from freemium rabbit holes.
Zoho's extremely affordable pricing also extends to enterprises. Its feature list, however, doesn't seem to keep pace.
Pros
Superb pricing even for the enterprise plan
Gantt charts, even in the free version
Clean UI
Effective automation and reporting
Cons
No accessible way to implement agile; need to purchase Zoho Sprints separately to achieve the same
No in-built invoicing capabilities
Not built for sophistication
Best For
Startups with limited resources
21. Workzone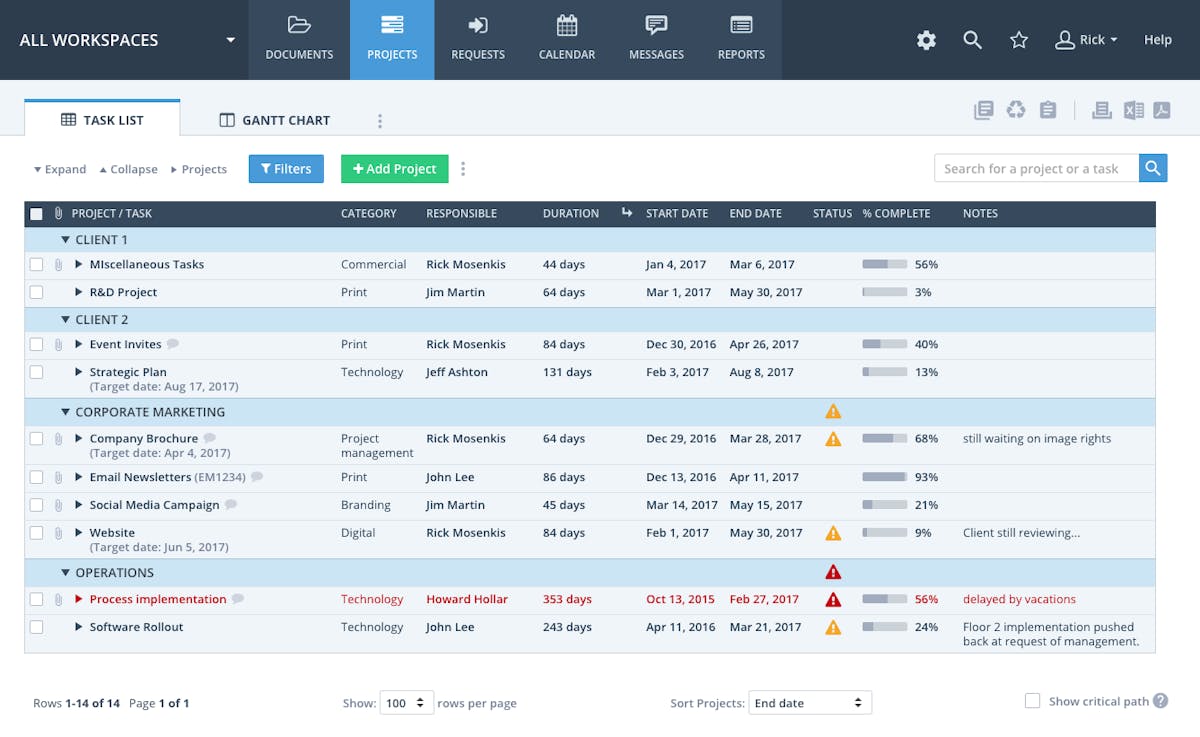 Workzone looks like a forum from 2015 that went to the gym for years and transformed into a project manager software.
We're not saying that's a bad thing. Its simple-to-use interface houses robust capabilities that come to the surface over time.
Workzone also provides unlimited support and is ideal for teams that don't wish to figure things out alone.
Pros
Simple project management platform with unlimited support
Native time-tracking
Image markup tools to help with approvals
Cons
Outdated design
No free plan available
Underpowered search function
Costlier than several superior products on this list
Best For
Mid-sized teams that need a lot of support while setting up their project management workflows
22. Adobe Workfront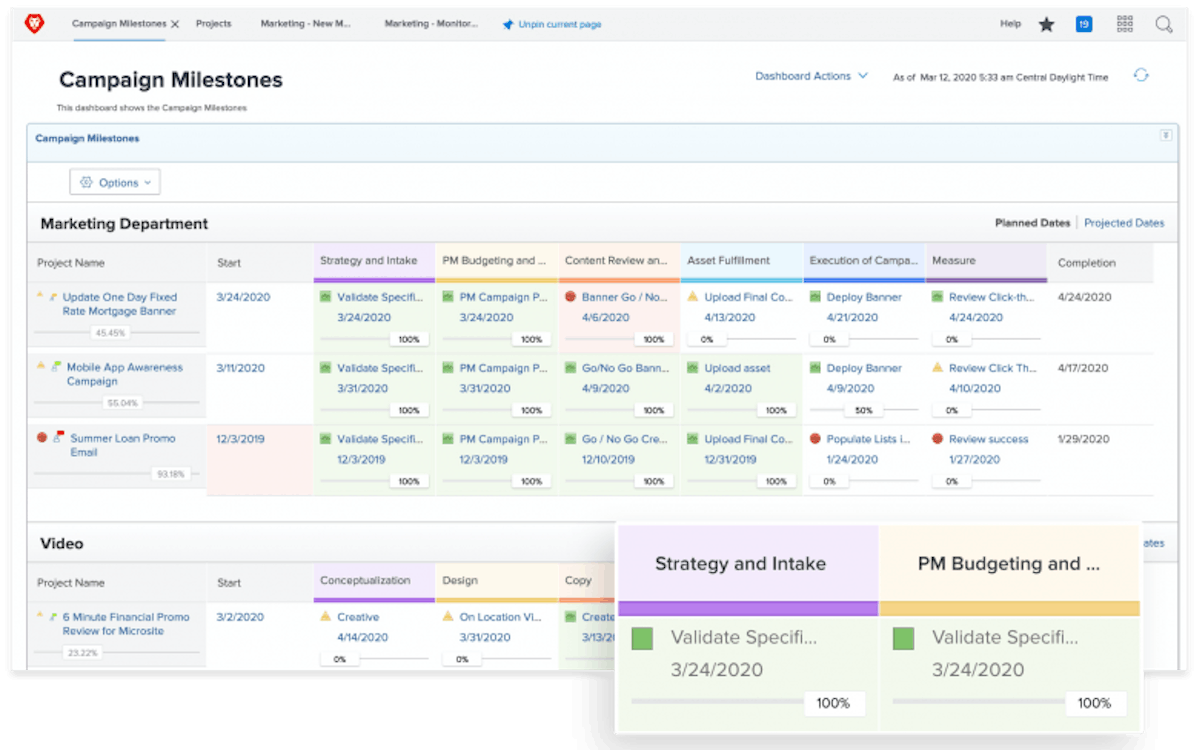 Adobe Workfront is a collaboration-heavy resource management & project planning software that comes with advanced analytics & reporting.
It is a part of the Adobe Experience Cloud and integrates flawlessly with G-Suite, Slack, Adobe Creative Cloud, Microsoft Teams, and more.
It's geared towards enterprises and assumes experience with project management tools on your part.
Pros
AI-powered resource management that helps you allocate tasks based on team member's bandwidth and skillset
Integrates well with other apps in the Adobe Experience Cloud
Powerful analytics and data visualization capabilities
Built for enterprise-level approval workflows
State-of-the-art online proofing features
Cons
No free plan or trial available
Complicated pricing; website doesn't put tell how much each plan costs
Not ideal for teams with straightforward workflows
Best For
Enterprises with intricate hierarchies and complex workflows
23. ActiveCollab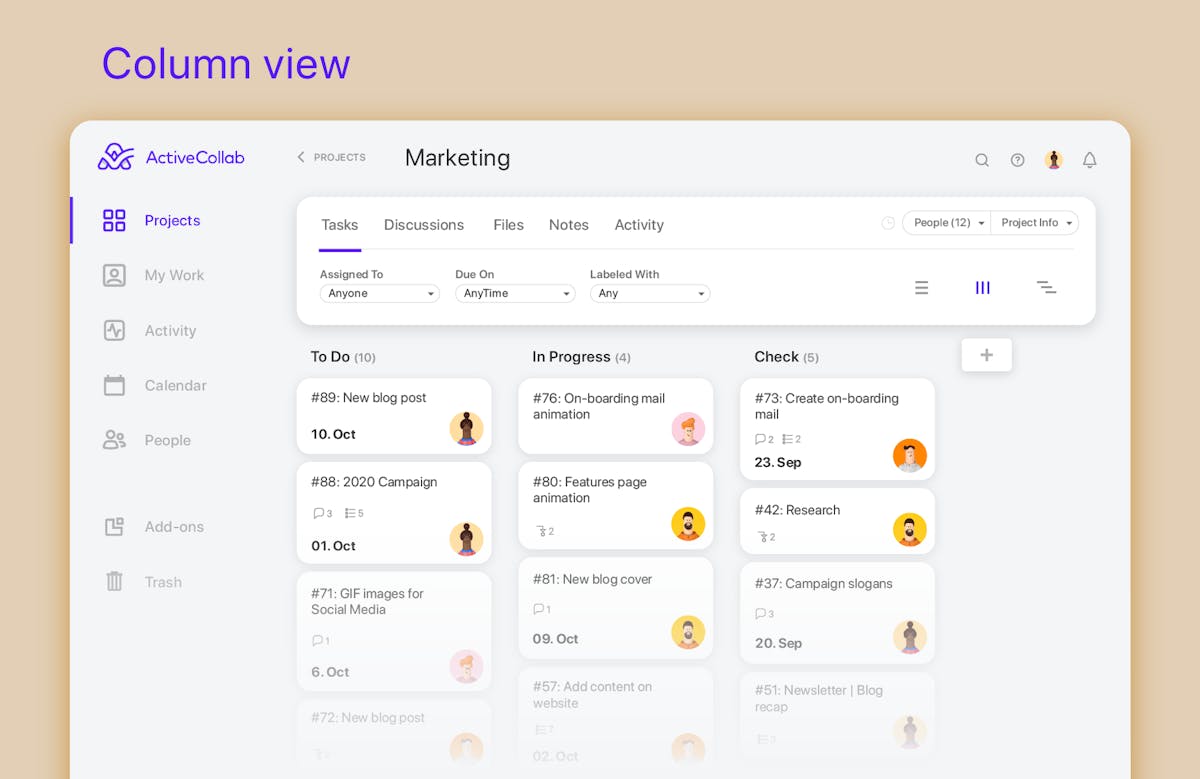 ActiveCollab is a holistic project management system with in-built time-tracking, invoicing, budgeting capabilities, and more.
It can help teams manage work, resources, clients, and time. It even has handy collaboration tools, including an in-app chat.
What about integrations? ActiveCollab supports quite a few, which you can leverage to build deep workflows.
There's also a mobile version just in case you want to manage projects on the fly.
Pros
In-app chat with the ability to create custom groups
In-app note taking with room for collaboration
Impressive time-management: time-tracking, reporting, timesheet maintenance
No-frills resource management with the ability to create export-ready custom reports
Invoicing and budgeting capabilities
Affordable pricing for pro plans
Cons
Search function leaves more to be desired
UI isn't complex but feels uninspired
A virtually non-existent onboarding experience
Very difficult to discover advanced features by yourself
Best For
Startups looking for affordable project management software that's easy-to-use
24. MeisterTask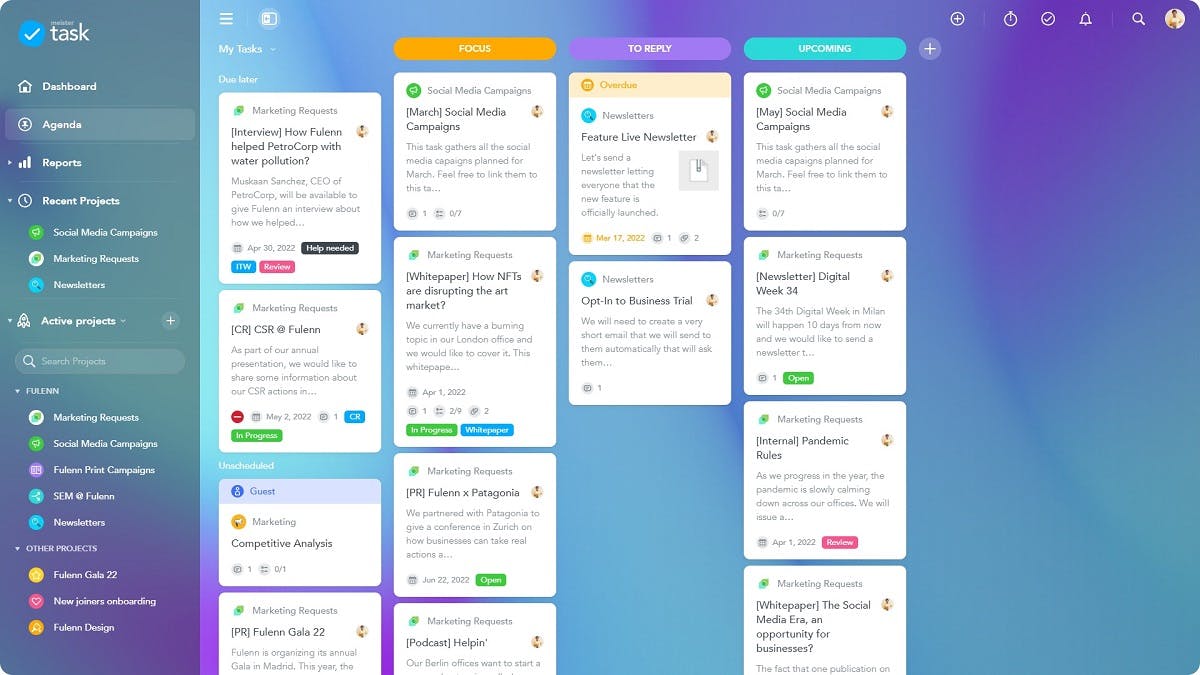 MeisterTask stands against the swiss-army knife approach to project management and proudly exists as a tool that *gets the job done*.
It optimizes team performance management — a category of its own in some right. But underneath that novel moniker is a simple, albeit limited, project management software.
That being said, the ease of use that MeisterTask embodies by trading off some advanced functionality is impressive.
It would've bagged a higher spot on this list if the free version was more powerful and custom fields weren't pay-walled behind a price far higher than the industry average.
Pros
Available across all platforms
Easy task imports from Asana, Trello, and Wunderlist
Clutter-free and intuitive user-experience
The Pro plan is great value($4.19/month/user) for basic project management
Cons
Custom fields are available from the business plan ($10.39/month/user) onwards
Only three projects in the free tier
Some users report delayed task synchronization between devices
No calendar view
Lacks portfolio management
Best For
Small, excel-bound teams getting started with project management software
25. Height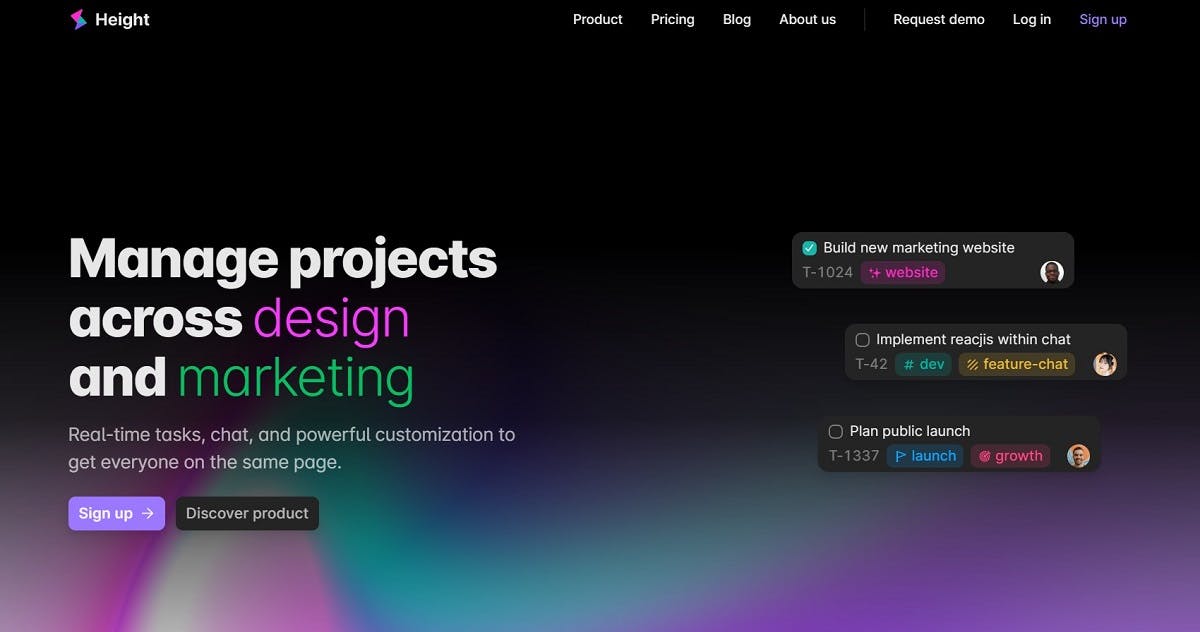 Height blends robust project management features with a refreshing, future-forward user experience.
It packs most bells and whistles you're used to seeing in heavyweights like ClickUp and Asana, with some new features like code-to-task.
However, it's still too young to survive the stringent approval protocols that enterprises typically have. That also explains why it lacks certain advanced features that seasoned project managers will miss.
Nonetheless, height deserves a spot on this list, for it seems like a disruptor in the making.
Pros
Superb free version with all features unlocked
Refined chat experience with rich messages, read receipts, inline replies, inline media, and more
A modern, visually appealing UI
Quick access to all features via customizable keyboard shortcuts
VS Code extension that lets you turn code into tasks
Cons
Lacks advanced features like dashboards, portfolio management, time-tracking, and resource management
Pro plans offer better security but aren't a big enough draw to upgrade from the free plan
Founded in 2018, new entrant in the market with limited social proof
Best For
Small and mid-sized teams with tech-strong members who can leverage the code-to-task feature
Teams looking for a free project management solution
26. Plaky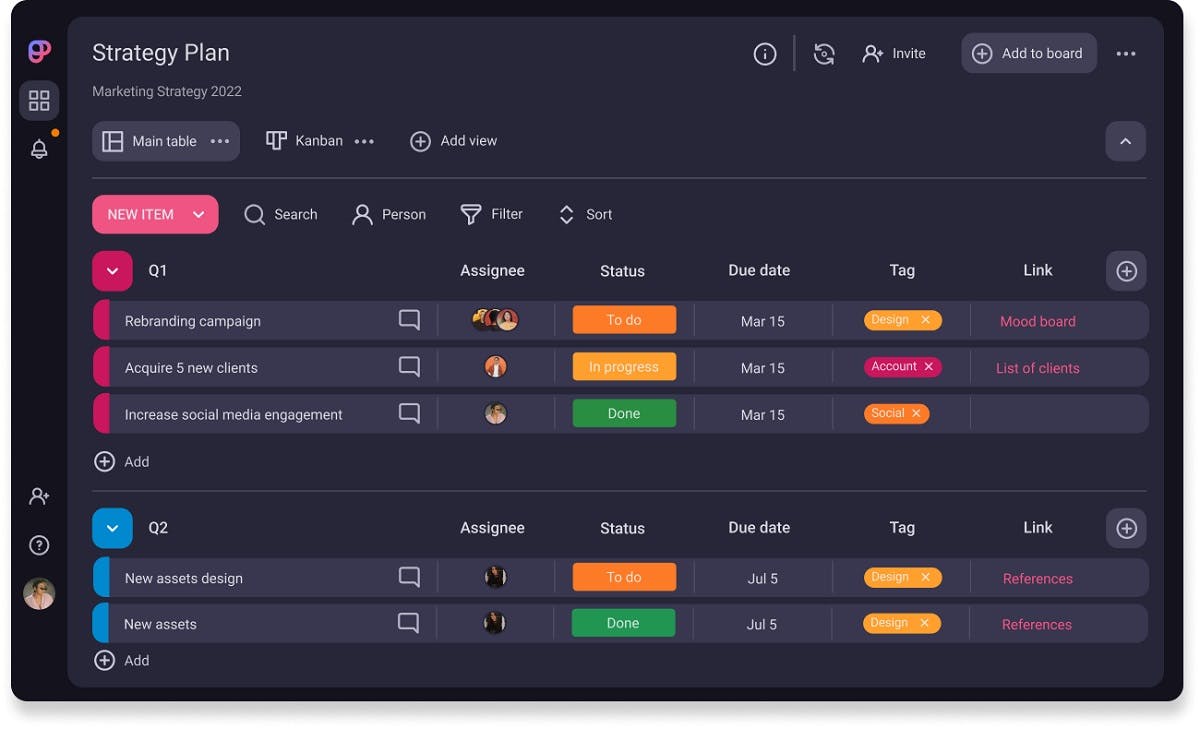 Plaky is a free project management software. Organizing and storing all your projects is easy and efficient with Plaky.
The platform is intuitive and user-friendly. Plaky allows its users to create boards to organize every project separately. You can also add cards with further information such as date, status, level of priority, type of project, and many more details that fit your project.
Plaky is perfect for beginners but also for those who have vast experience in project management.
Pros
Intuitive interface
Large number of board templates
Free for any number of users
Ability to store all client information in one place
Cons
Limited integrations
Limited board views
Best for
Task management
Small, mid-sized, and big businesses
Beginners and more experienced professionals
One Last Piece of Advice
Phew! That was a long list, wasn't it?
But you braved it, and now you're here, knowing plenty about the best project management tools in the market.
We're so happy for you if you found the right tool for your needs when reading the list.
But if you're still a little iffy.
Here's a final recommendation: try SmartTask out for one project.
Business legends like Amul, ABB, Adecco, and Ecolab, along with 20,000+ teams, love working with us. So can you ;)
Give love a chance. Try Smart Task for free.