SmartTask
Contents
Top 19 Asana Alternatives in 2023 (Free & Paid)
By Aastha ShawOct 16, 2022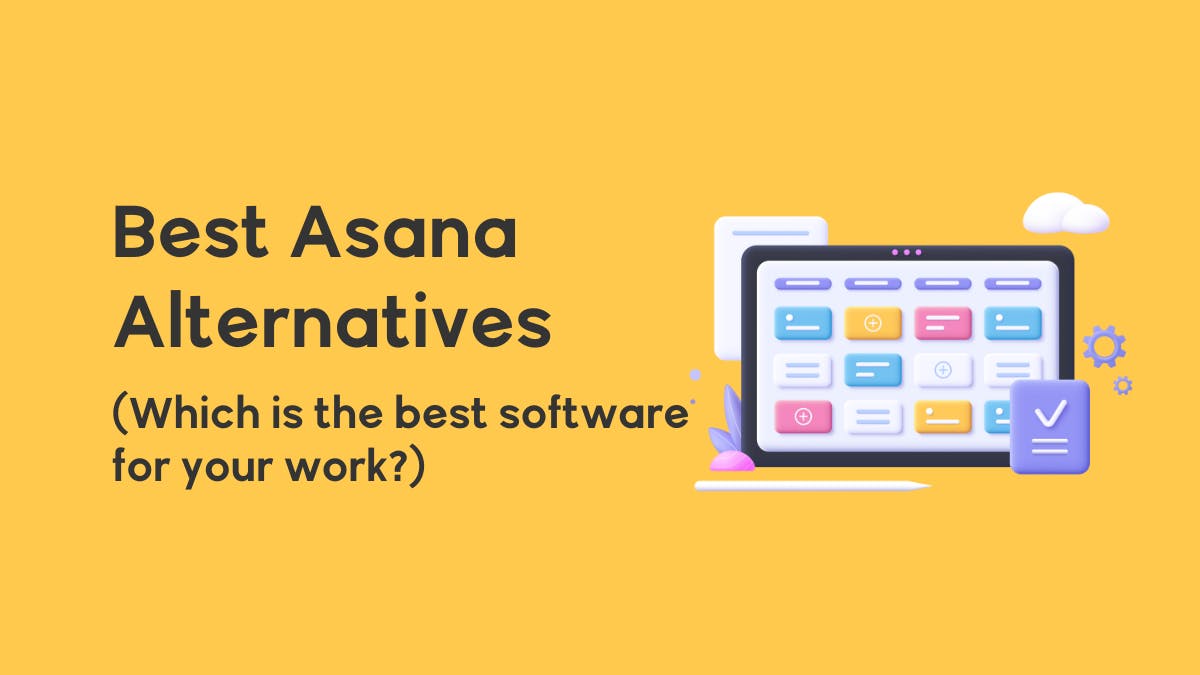 In recent years, Asana has emerged as a simple and reliable tool for managers to plan, schedule, and monitor their projects. There is no doubt that Asana stands out among a legion of intuitive project management tools available in the market today.
However, despite a large number of users, Asana might not be the right solution for you.
It big-time misses various important features causing you to rely on multiple plugins, which can get overwhelming and pricey. Its lack of transparency leads to missed deadlines, information, and updates. Moreover, with Asana it will get difficult to keep up as your projects and teams grow in complexity and size.
All of this calls for an Asana alternative that fits your business and team needs better.
To help you out, we have compiled a list of the top 19 Asana alternatives and how they can help manage your work. Without any further ado let's get started!
19 Best Asana Alternatives
1. SmartTask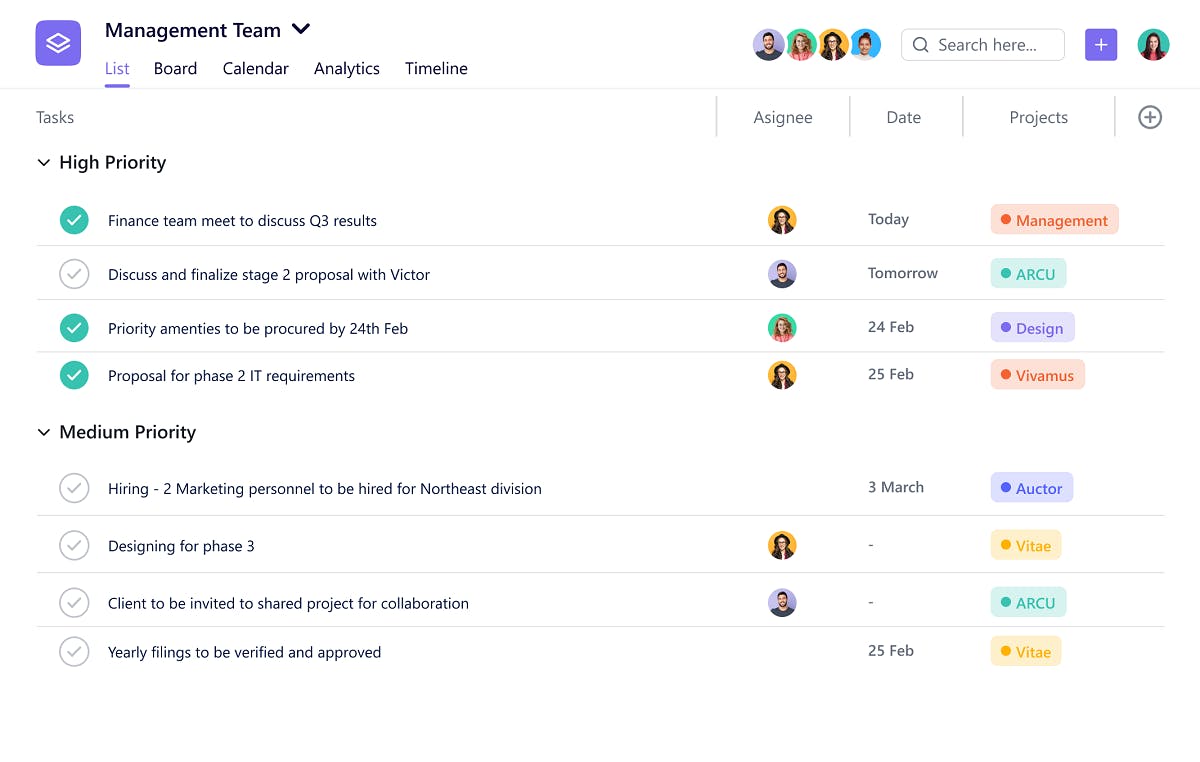 When choosing a work management solution, your top priority should be to invest in an all-in-one productivity platform for teams and individuals which is easy to use as well. And that's exactly what SmartTask offers.
SmartTask is a free project management solution that allows businesses and teams of all sizes—remote or in-office— to manage projects, collaborate smarter, and bring all their work under one roof.
It indeed stands up to be the best alternative to Asana, as it covers everything Asana misses on.
Pros
Has a simple UI making it easy to understand and navigate the platform.
Custom fields and tags make it easier to define and visualize the workflow.
Multiple views and powerful dashboards for consuming the insights & data the way you want.
Helps you identify risks beforehand to ensure better management.
Effective resource allocation with Workload management & Estimation features.
Chats, VoIP & video conferencing enable effective real-time team collaboration.
Time tracking & timesheets to understand where your time is being spent.
Great customer support & onboarding.
Offers a great free plan as well as an affordable paid plan.
Cons
Use might take some time to discover and implement all the features in regular workflows.
Although the free plan is pretty generous and gives access to almost all features, larger organizations might need to upgrade for unlimited access sooner than later.
2. Trello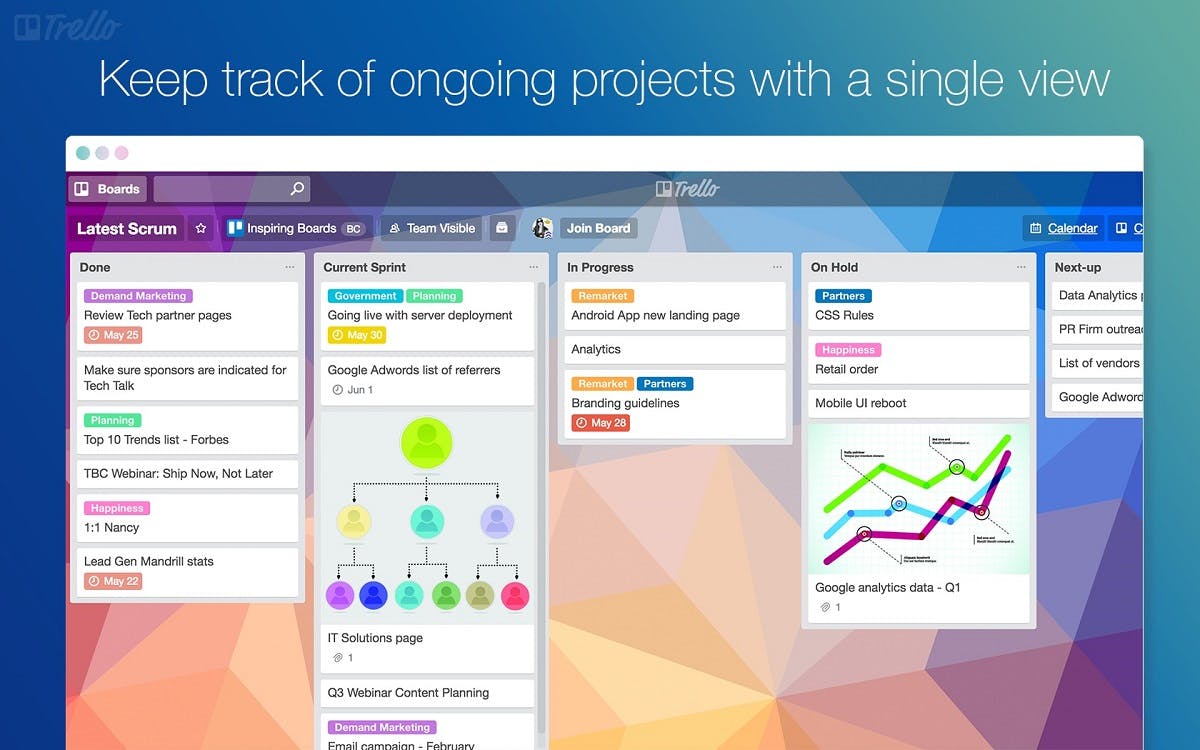 Just like Asana, Trello is another well-known tool in the project management world. Businesses that are looking for a basic tool and prefer the visual Kanban approach to project management would likely appreciate Trello's simplicity.
It stands out to be a fine Asana alternative as it is easy to use, has solid pricing, and makes it easy to track tasks for beginners and veterans alike.
Pros
Trello team boards make project collaboration with teammates fun and simple.
The Trello UI is simple, making it easy for users to navigate.
Projects are much more transparent, resulting in enhanced accountability and clients' trust.
The Kanban board and Butler automation features make task management easier while saving time.
Cons
The overall structure for task management is a bit rigid.
Not for the bigger and more complex projects as it can be difficult to visualize complicated projects when assigning work.
It takes a long time to load information when there are too many cards in the same project making workflow management more difficult.
For larger organizations, the free version is rather limited, so you may need to upgrade sooner rather than later.
3. Monday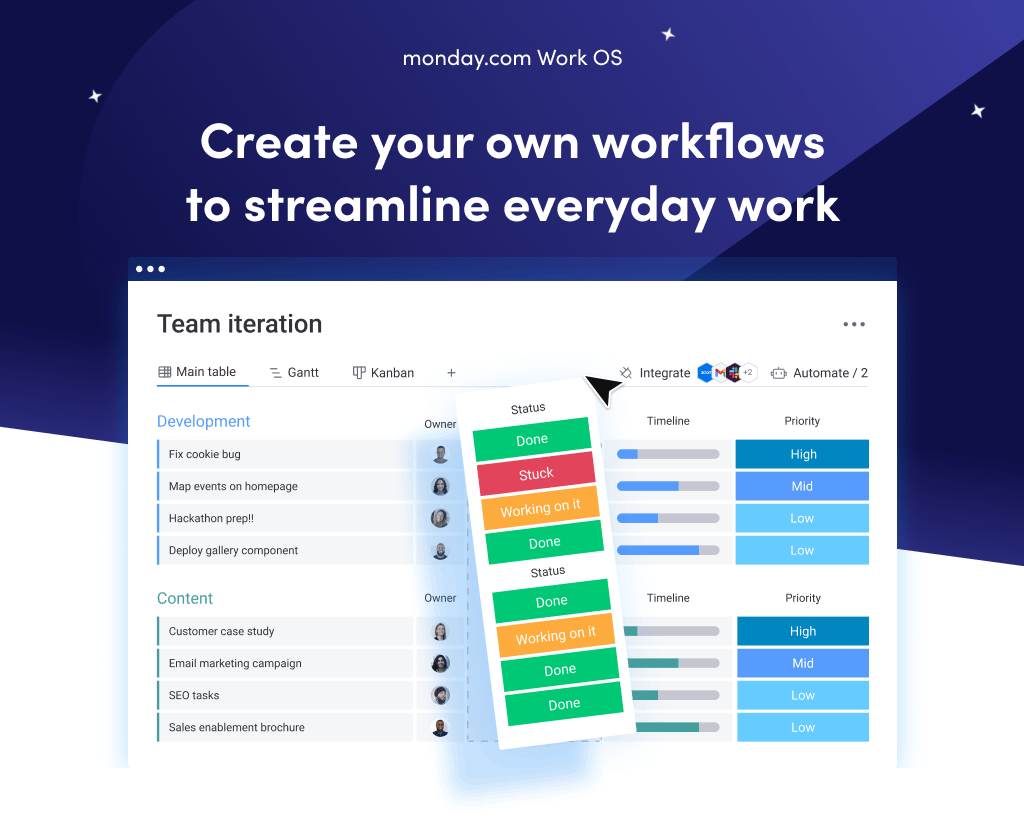 The next Asana alternative on our list is Monday. In fact, we like it so much, that we recently did a detailed review that you might want to check out later.
At the outset, Monday is a highly visual & intuitive application that allows users to add team members, assign tasks, create workflows, and track progress. It is easily scalable, easy to adapt, and helps cross-functional teams align on their most critical tasks. However, starting out with this software can feel like a steep mountain climb, especially if you're new to the world of project management.
Pros
You get unlimited boards and docs in the free plan.
Customizable dashboards & workflows that make tracking projects easier.
Offers great visualization tools for projects.
Integrates seamlessly with other productivity apps.
Cons
The customizations can make the interface clunky.
The task dependency functionality is limited.
You cannot assign comments to a specific team member which often leads to missed details.
Dashboards are available in the expensive premium plan.
4. ClickUp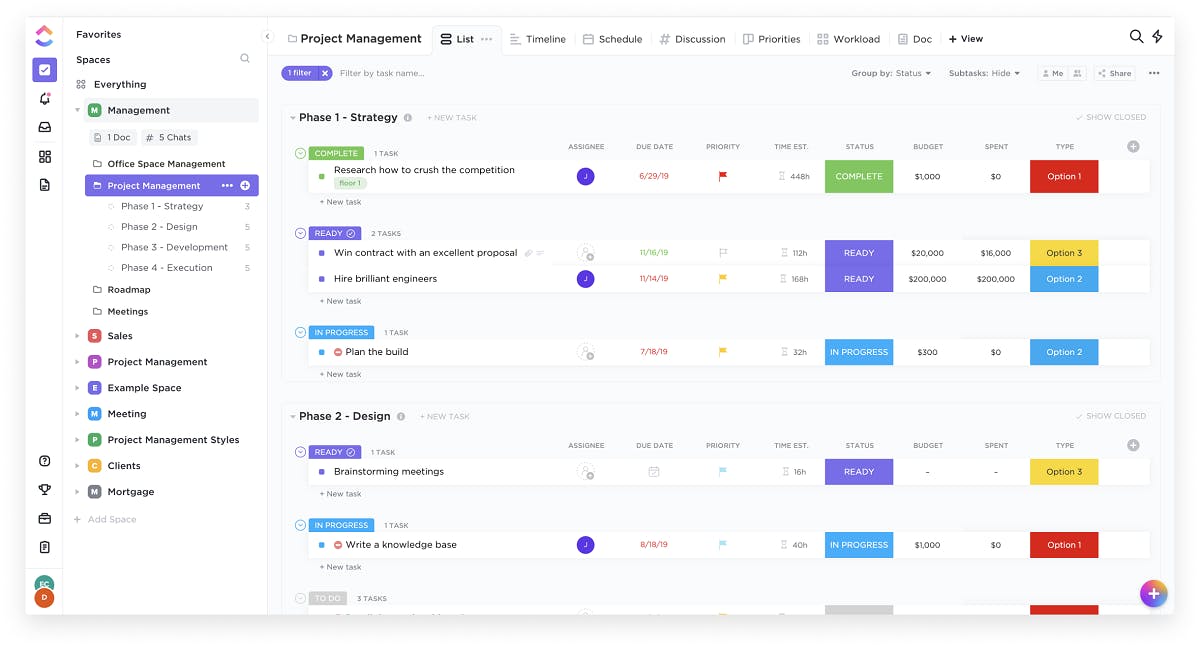 ClickUp is another Asana alternative that goes by the slogan-" one app to replace them all."
This cloud-based work management tool has gained much traction in recent times due to its rich feature sets and various integrations offered. It simplifies the task management process and is adaptable to the needs of small and large businesses and teams. It offers a strong document management system making it a good fit for creative & marketing teams.
Pros
Highly flexible and customizable.
You can be more specific about how you track each of those initiatives.
Has a great UI scheduling tool.
Cons
Steep learning curve.
Too many features make it a little overwhelming & complex.
Constantly updating, making the app a bit unstable.
No CRM or sales management feature offered
The ClickUp mobile apps still lack in terms of UI & features.
5. Notion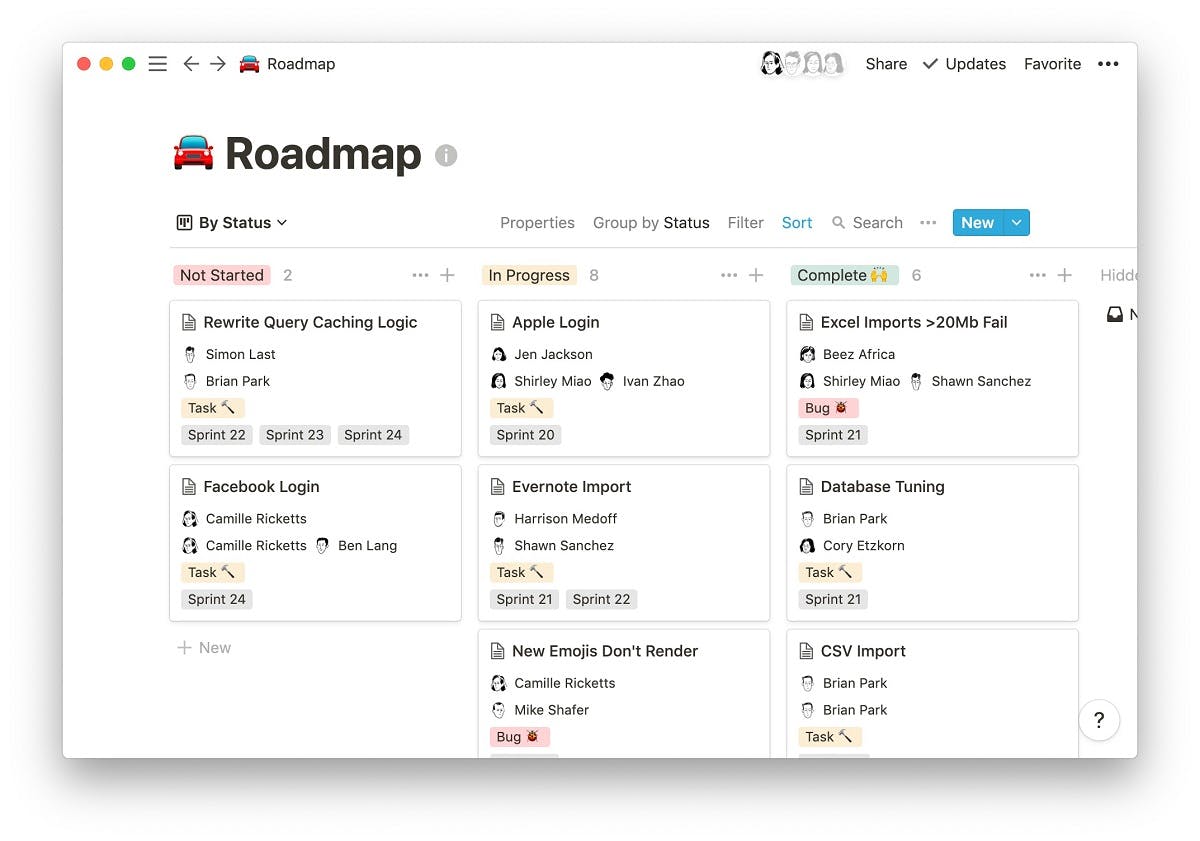 If you're looking for a task management tool that can also help manage the knowledge base by enabling the easy share of information, Notion can be the perfect Asana alternative to pick.
Notion project management tool is built to deliver high accessibility and clear visibility amongst teams that ensures everyone is on the same page at all levels of the project. The app also supports at-mentions for more direct communication.
Pros
Offers a powerful database and a robust wiki tool.
Strong text editor for better notes & document management.
Several templates for different business verticals
Collaborative editing makes teamwork a breeze
Cons
Lacks many advanced features such as time tracking, scheduling, tasks, milestones, portfolios, graphs, etc.
Not suited for complex projects.
The Notion interface is a bit overwhelming and confusing.
Mobile apps are a major letdown as they take too much time to complete simple tasks.
6. Smartsheet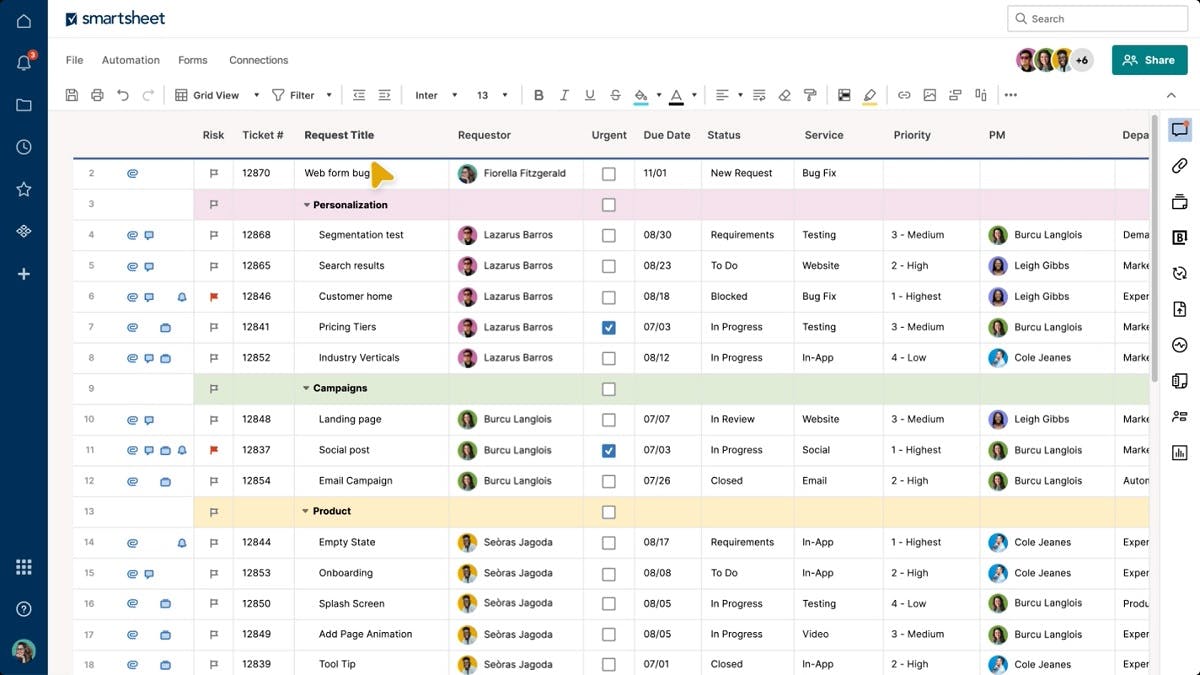 Smartsheet is an incredible Asana alternative that you can use to manage, track, and plan multiple projects. It uses sheets to form the basis for everything and is easily scalable from a single project to a complete work management solution.
It makes it possible for you to manage different types of programs, projects, and other business operations while collaborating smoothly on processes and projects.
Pros
The control center automation capabilities help project managers save time on manual work.
The custom branding feature can be used on the entire platform.
Strong project budgeting feature that helps you see planned versus actual hours spent to keep projects within budget.
Cons
Not a good option for small businesses.
Does not have an in-built time-tracking tool.
Does not offer a free plan.
7. Wrike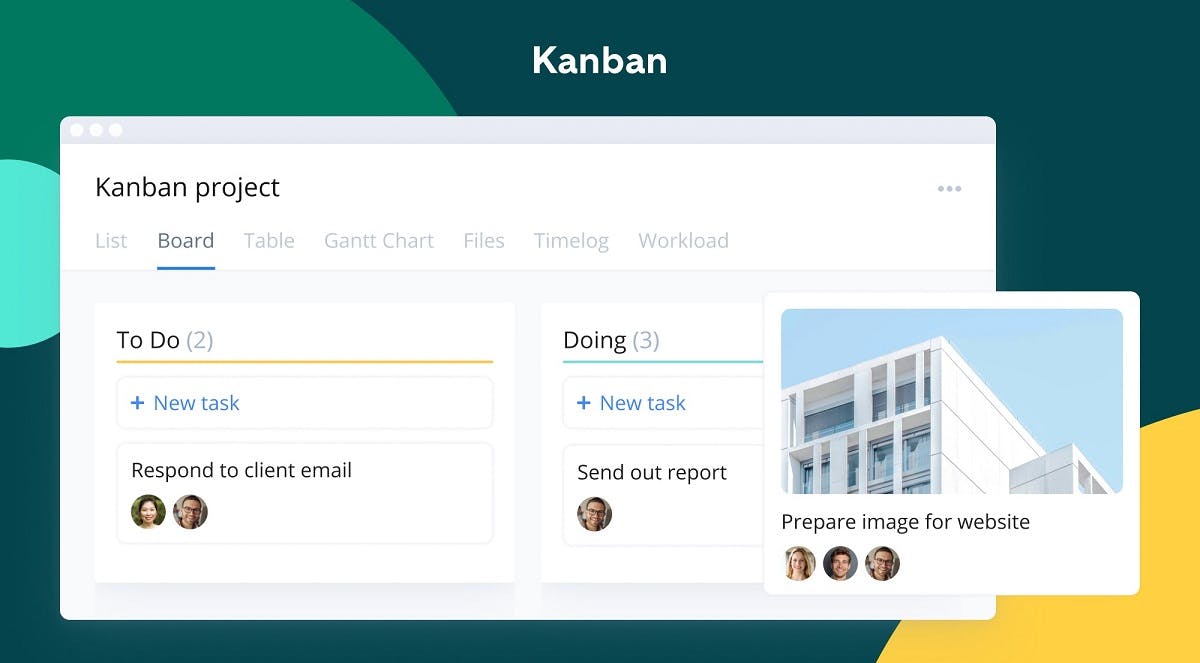 Wrike is another popular online project management software that is most renowned for its ability to ease project strategy planning and execution.
The software's useful features make it simple to streamline workflows and acquire complete control over communication and collaboration among team members, clients, and stakeholders.
Pros
Its dynamic Gantt chart is one of the best features offered.
Has a powerful search engine that helps in finding information faster.
Offers an excellent customer service program.
Cons
Has a steep learning curve and can be overwhelming for new users
It can be a little difficult and time-consuming to add new members and assign projects to them.
Another common issue is the lack of advanced filtering options that allows you to display the information you want.
8. Basecamp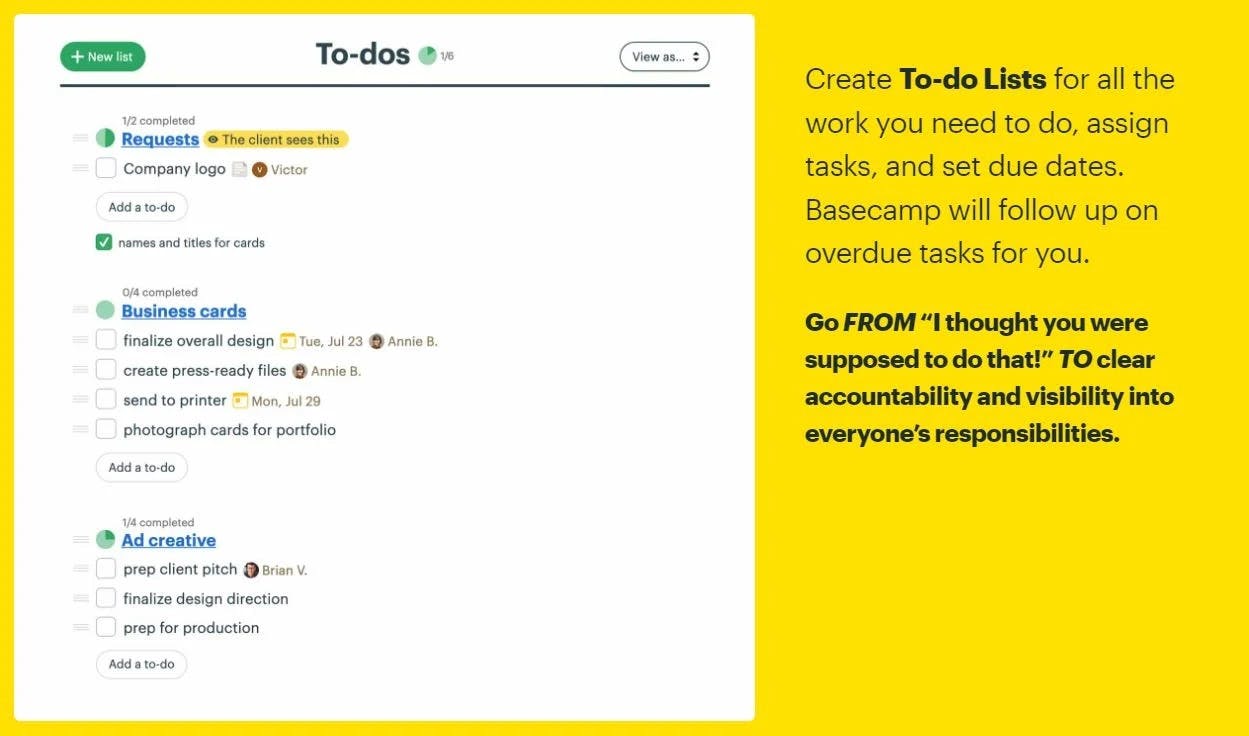 Basecamp is an all-in-one project management and team collaboration software that also includes communication facilities - all wrapped together in a simple and easy-to-use interface. It is quick to set up, saving you and your team critical time.
This Asana alternative streamlines project management while still offering a variety of features such as bulletin boards and chat functionalities, data on team performance and capacity, and the ability to manage projects with a client on different screens.
Pros
Its message board lets you post announcements, send updates, and more.
Offers plenty of in-built communication features.
Well-known for its fast and reliable customer support.
Can be easily integrated with tons of add-ons, Power-Ups, and extensions for enhanced usability.
Cons
Limited customization capability.
Lacks many important features such as time tracking, analytics, etc.
Not suitable for businesses & teams with multiple projects running simultaneously.
The free plan is very limited.
9. Jira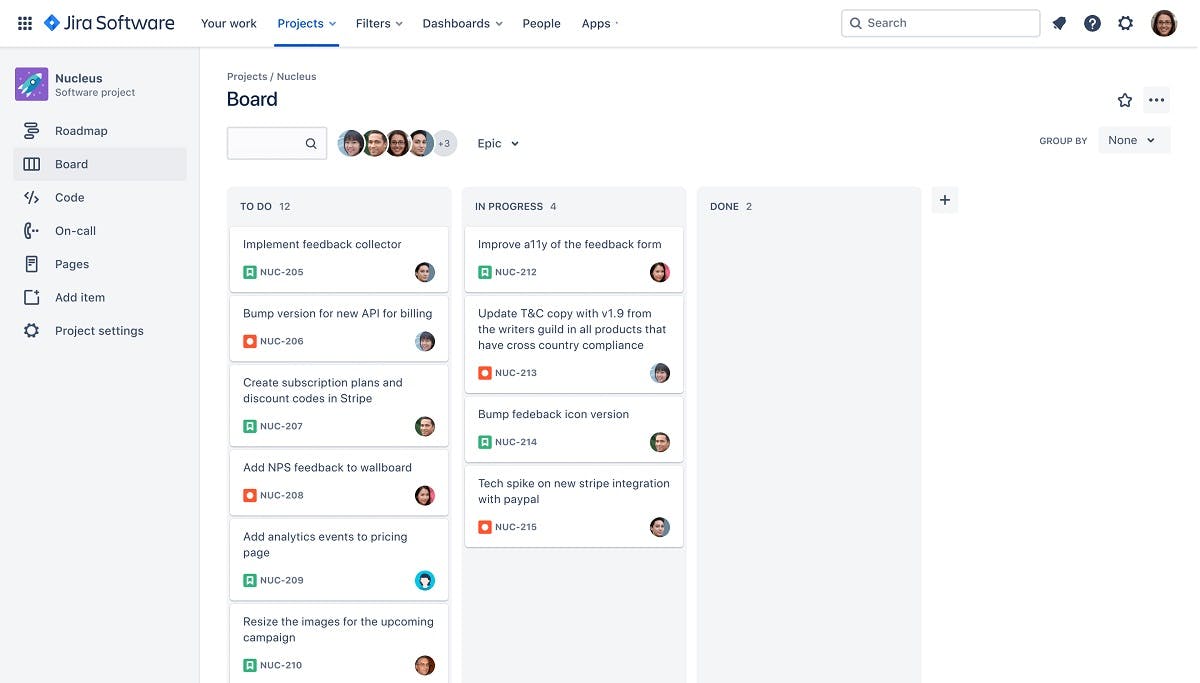 One of the commonly used Asana Alternatives is Jira, which is primarily a bug-tracking and project management software.
It is essentially built to help teams streamline agile workflows. It helps project managers plan better sprints with advanced reporting choices such as user workload, average problem age, and recently produced issues.
Pros
Great reporting feature for both roadmaps and agile projects.
Has issue-tracking and prioritization capability.
Highly customizable with over 1000 add-ons.
Allows unlimited users, i.e., no per-user fee is applicable.
Cons
Not intuitive and is challenging to set up.
The complex user interface and migration make managing tasks difficult.
Misses out communication tools.
Can be costly to build a complete suite of tools to handle your projects.
10. nTask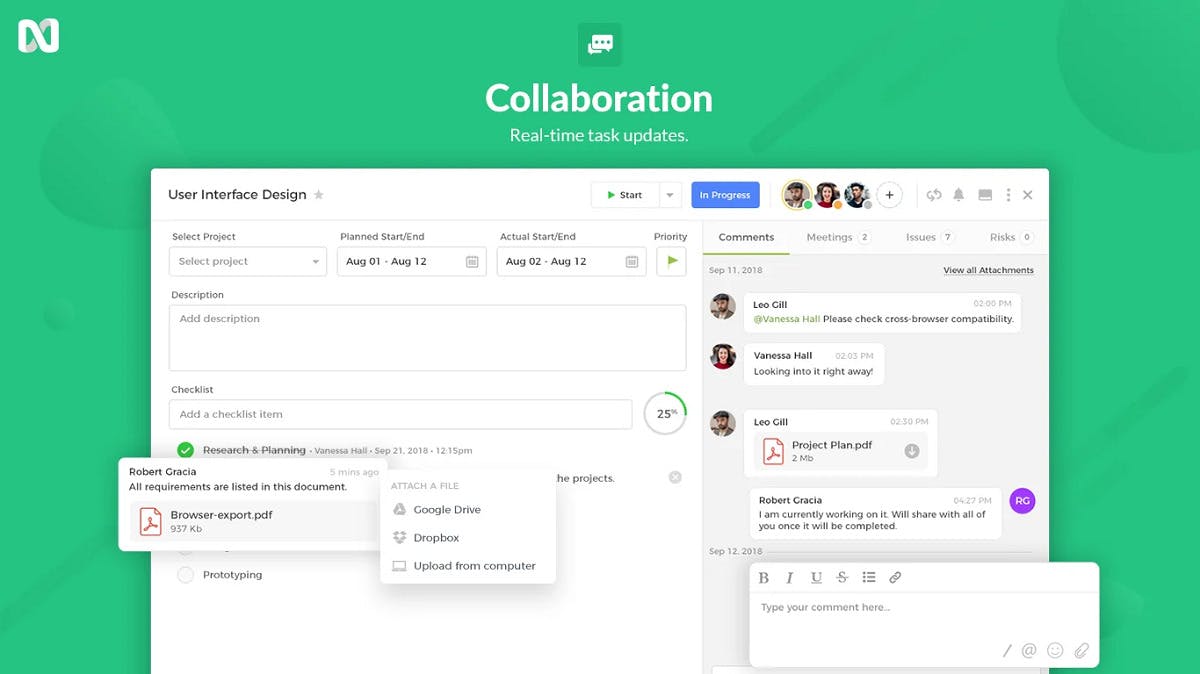 nTask is a project management tool that helps teams manage everything from resource planning to project deliverables. nTask, like the other Asana alternatives on this list, provides Kanban boards for creating a project plan and visualizing tasks.
You can also create to-do lists to keep a check on your tasks, collaborate with your team, and keep an eye on your team's work through time tracking & timesheets.
Pros
Helps you plan and manage projects easily.
Customizes all statuses with a personalized workflow.
Robust team workload management features to align remote teams.
Cons
Not a good fit for large teams.
The Kanban board is a paid feature.
Lacks advanced reporting features.
11. Nifty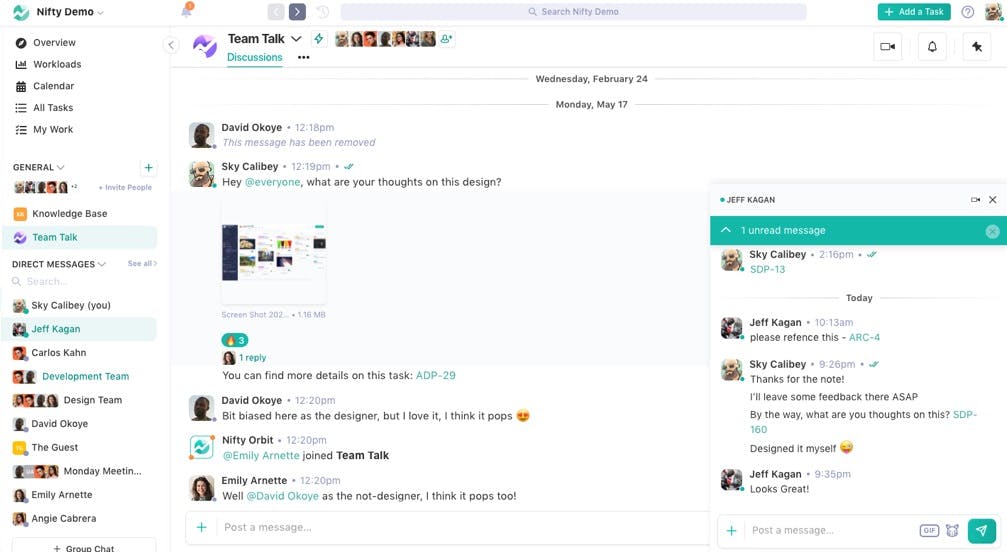 Nifty is a hybrid of Asana and Trello that enables teams to collaborate in real-time, measure progress, and manage projects.
Overall, Nifty has a clean interface. It provides a tidy task panel with the option to add custom fields wherever they are required. As opposed to Asana, this program very much gives value-added experience, and much more to take project management to the next level.
Pros
Allows the user to set different permissions and roles to control access.
Has a strong portfolio view that provides the project progress at a glance.
Cons
There is a limit of two active projects per free plan.
Can get a little expensive.
12. Microsoft Project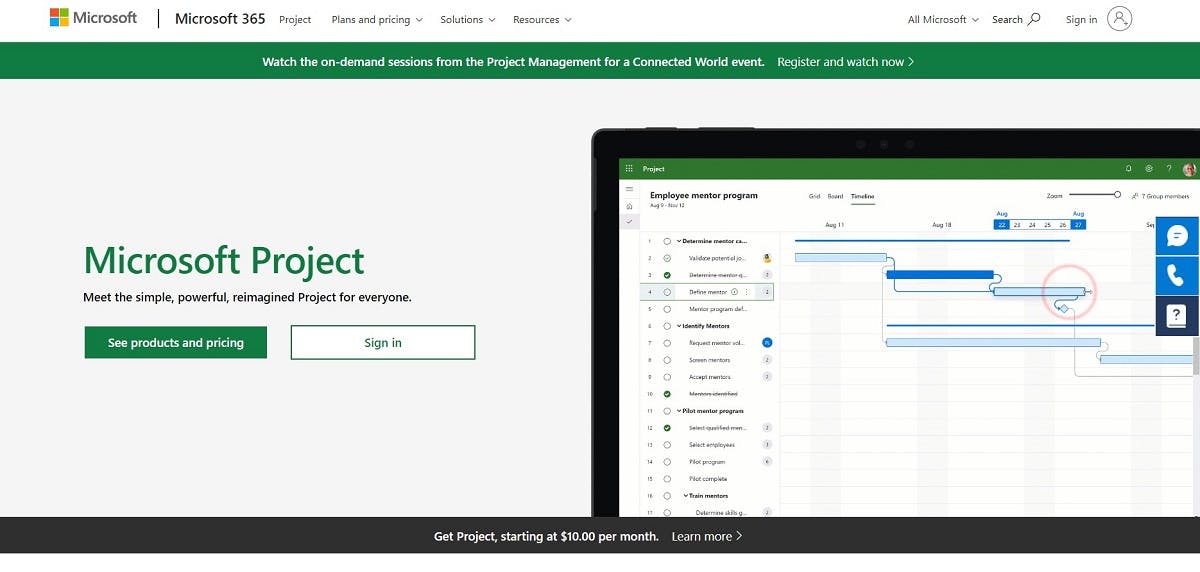 This list of Asana alternatives would be incomplete without mentioning Microsoft Project, the industry's oldest project management software. MS Project has been around since 1984 and is still popular among PMPs and PMOs.
It offers almost all of the features you require to ensure successful projects. The software integrates easily with other Microsoft programs such as Excel and Outlook making it easier for teams still following conventional communication systems. The software has a lot of capabilities, such as resource management, Gantt charts, planning, and scheduling tools. However, it has now been surpassed by the newer platforms with its shortcomings or let's say, the inability to evolve with the changing dynamics of workspace in the modern world.
Pros
Offers user-friendly & compatible tools.
Has strong resource & finance management functionalities.
Provides reliable support to its users.
Cons
It's a suite of tools and you need to depend on add-ons.
Have limited integration options.
The pricing structure is a bit complicated.
In the absence of PMPs on your team, the software may need to be managed by an administrator.
13. ProofHub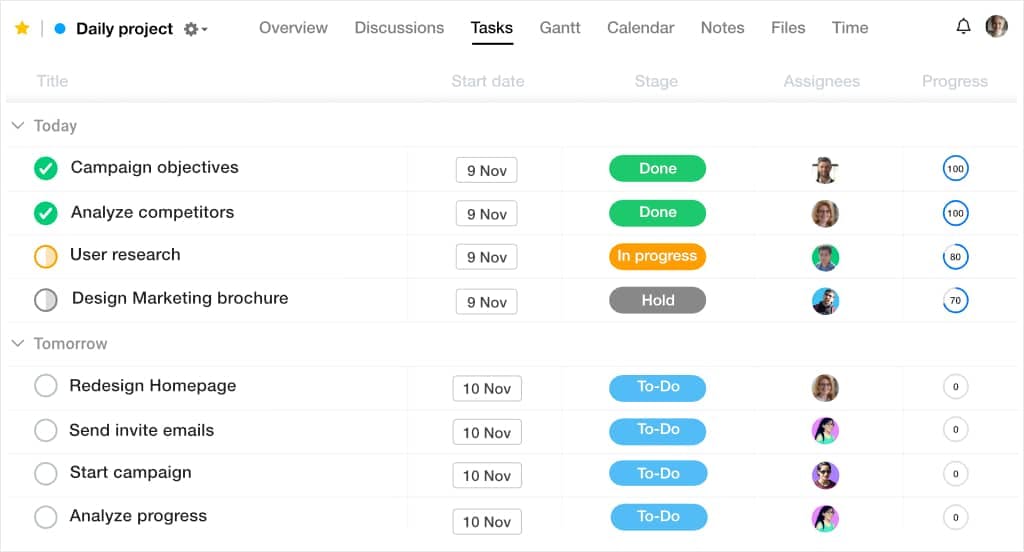 This Asana alternative offers more functionality and flexibility to project teams than any other project management software listed above. With a focus on simplicity, ProofHub delivers all the tools you need to easily plan, collaborate, organize, and manage projects.
There is little to no learning curve when it comes to knowing how to use this software, making it ideal for novices and experts alike.
Pros
Has built-in chat support for real-time communication.
Strong proofing feature on creative work & documents.
The project manager has the complete liberty to assign roles, tasks, permissions, etc.
Allows unlimited users, i.e, no per-user fee is applicable.
Cons
Limited interaction with other software platforms, so if you are dependent on other tools, it can be a problem.
Does not have budgeting features.
Can be a bit buggy and has issues with tracking.
Does not offer a free plan.
14. Workzone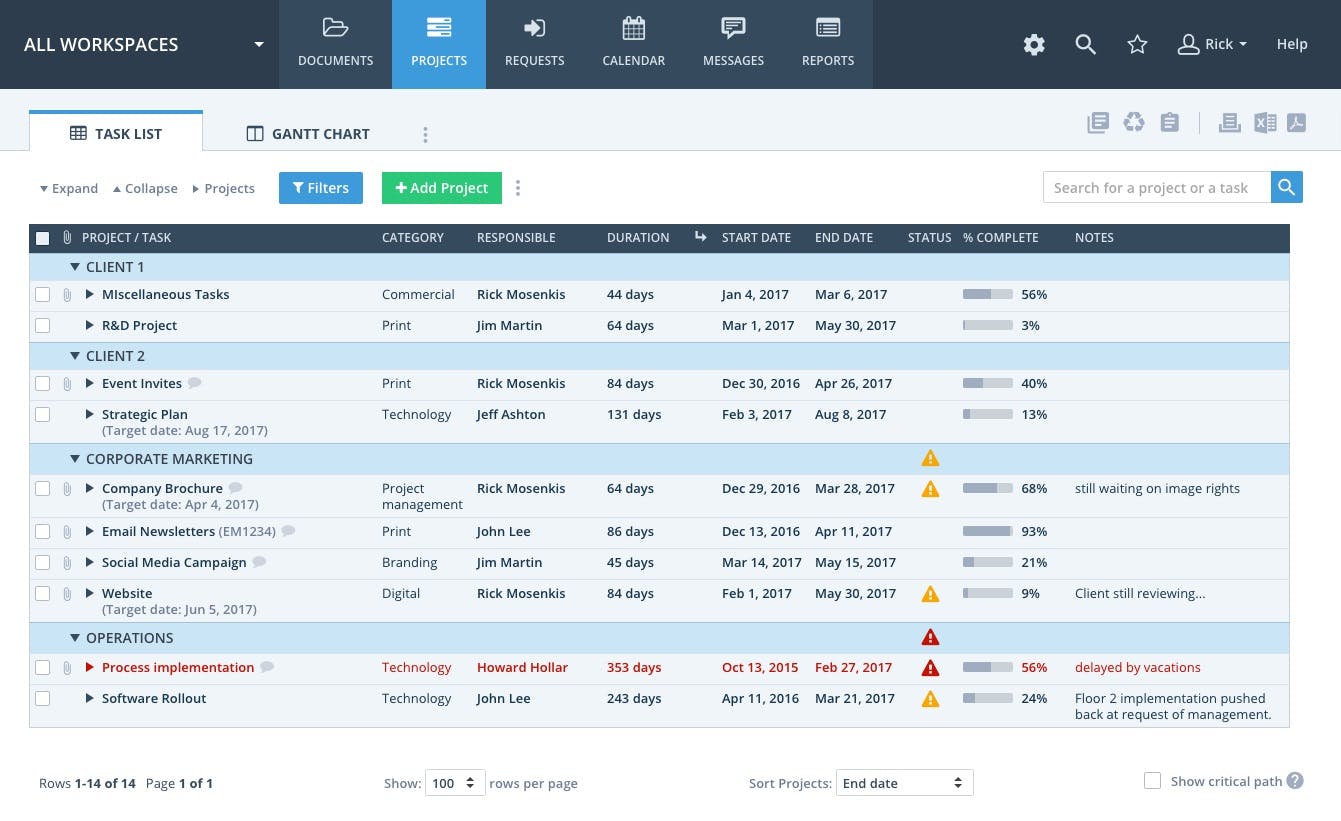 Workzone is a good Asana alternative especially for marketing teams, ad agencies, and other organizations with several projects to handle.
Workzone's software has been around for a few decades, demonstrating its devoted fanbase. It provides budget management, collaborative tools, Gantt charts, and portfolio management, and is ideally suited for a traditional project management approach.
It is more feature-rich than other entry-level project management software packages and more user-friendly than Asana.
Pros
More user-friendly than Asana
Provides more features compared to many other entry-level project management software.
Powerful dashboard feature that acts as the center of all important information.
Cons
The interface is somewhat outdated.
Lacks modern features like the Kanban board.
Not suited for agile frameworks and teams.
The workload and time-tracking features are not that great.
15. Flow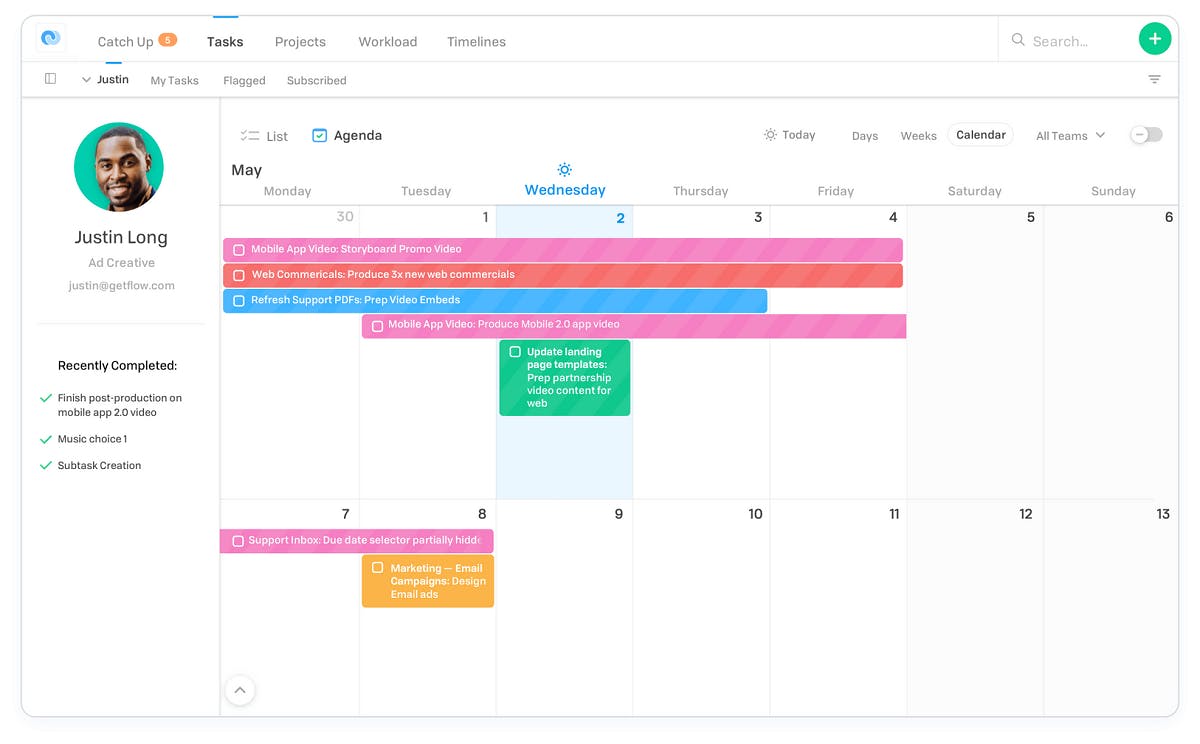 Flow is a team-oriented task and project management system. This Asana alternative is based on the Pomodoro time management technique and helps you save time while enhancing productivity.
It assists you in becoming more organized, staying on schedule, and achieving more as a team. It also provides insight into what's going on at every level so that you stay motivated to proceed toward your goal more effectively.
Pros
It is easy to use and can be customized.
Agile methodologies and milestone tracking features are good.
Tracking project progress is easier with Flow's Dashboards 30,000 feet view.
Cons
Has a learning curve.
Communication features are a bit clunky.
16. Teamwork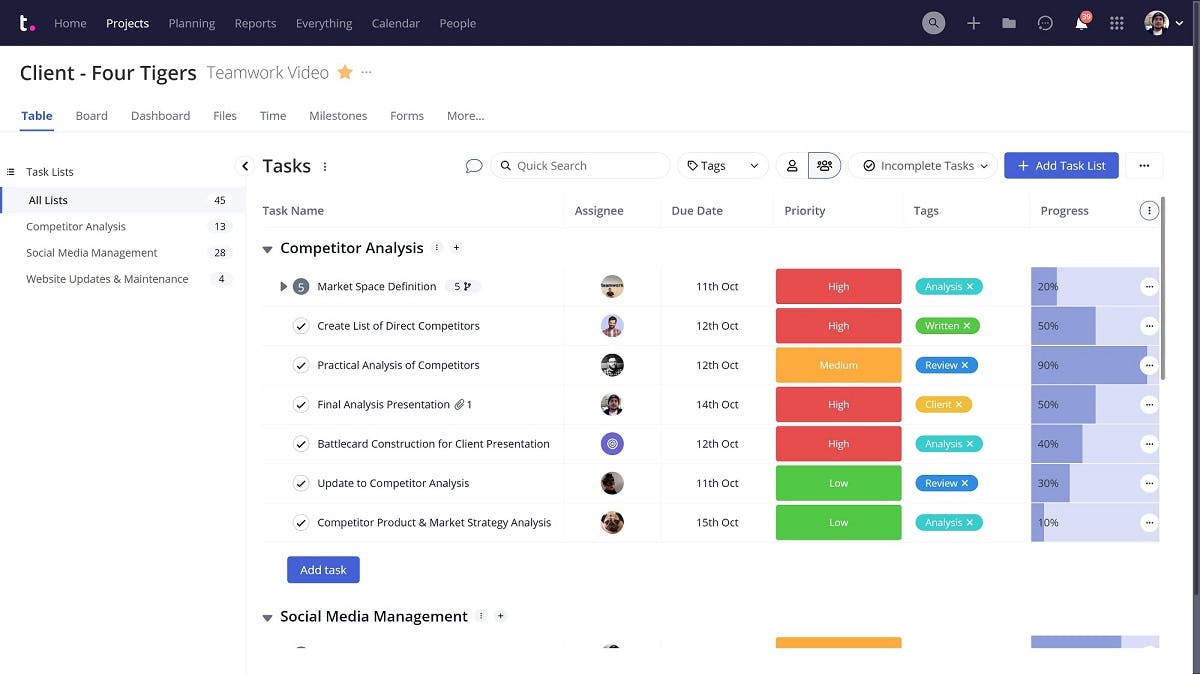 Teamwork is a Project Management solution that may help your team become more productive by offering easy-to-use modules that are powerful enough to manage a wide range of projects.
You can swiftly arrange your workflow and direct your task and project management with Kanban boards in any way that is fit for your team and project requirements. Moreover, its calendars, project milestones, and status update features help you easily communicate and support internal teams as well as clients.
Pros
Handy notebook feature for better and organized document sharing.
Strong billing & invoicing feature. Invoices can be easily imported to other tools as well.
Has great customization options.
Cons
Project templates are not included in the free plan.
Can be too complex for teams new to project management.
The integrated chat feature is a paid option.
17. Quire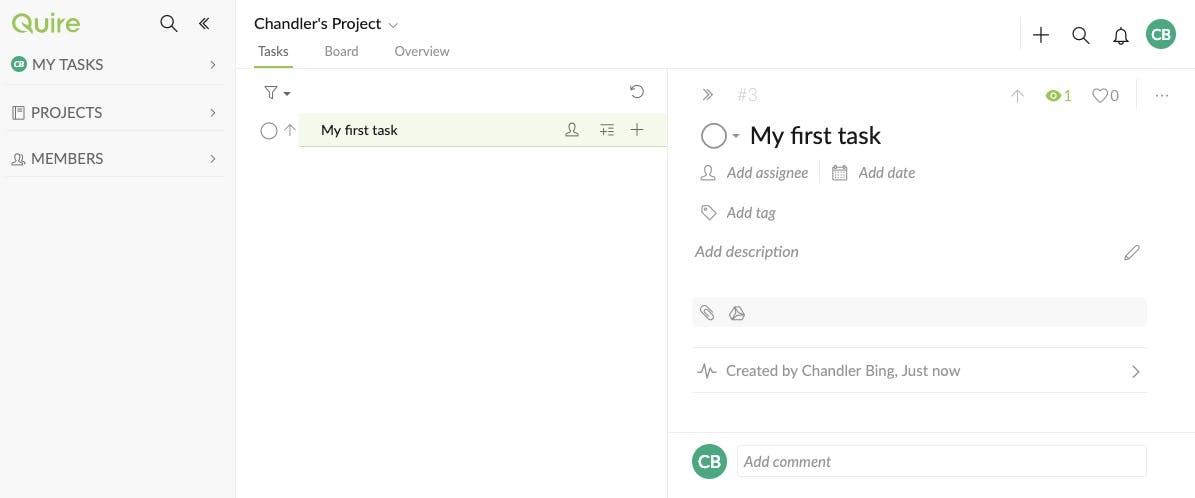 Quire is a centralized project management software designed for teams to optimize their workflows better. Because of its well-organized and user-friendly UI, it is one of the best free Asana alternatives for creative teams to help them think, visualize, and work better.
Quire uses the GTD method to assist teams in getting things done. No matter how huge or difficult your objective is, Quire allows you to break it down into small, manageable steps and achieve them without losing sight of the overall picture.
Pros
Has a simple UI and is easy to use and collaborate with.
Kanban board works great for quickly tracking the task progress.
Utilizes tree structure for better readability.
Cons
Does not have a Gantt Chart.
Offers limited integrations.
No android native app has been introduced yet.
18. Scoro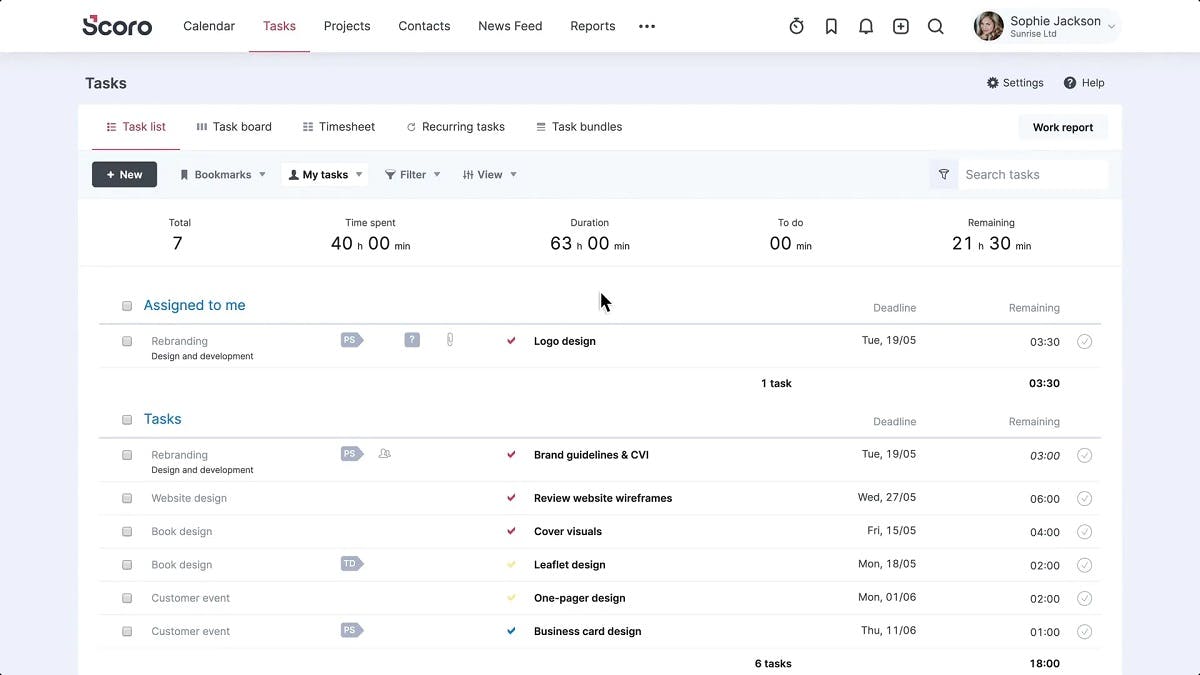 Scoro is work management software designed for small to medium-sized organizations that want to manage revenue-generating activities for faster client billing. This Asana alternative enables teams to change from a reactive to a proactive mode of operation.
You can easily integrate Scoro with a number of cloud applications and use it as an invoice tool as well.
Pros
Has quoting & pipeline tracking features
Strong proofing feature on creative work & documents.
Has a user-friendly and intuitive user interface.
Timesheet & time tracking features enhance productivity.
Cons
Not a good fit for agile teams.
Is not as robust and does not offer advanced customization.
Lacks in-app chat features.
Doesn't have a free forever plan.
19. Toggl Plan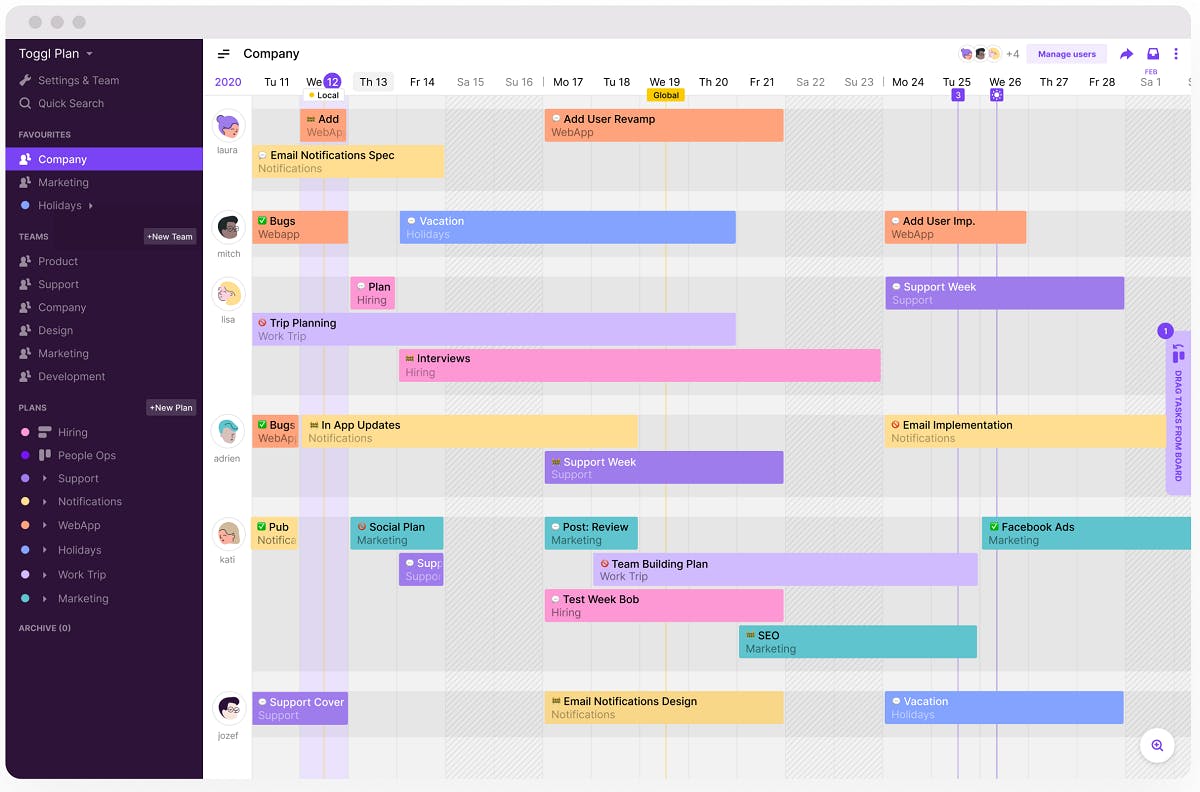 Last but not least is this Free Asana Alternatives - Toggl Plan. When viewed through the eyes of the users, it is simple, quick, and intuitive.
On the same note, Toggl Plan usage is dependent on users. Despite its simplicity, you can utilize this app for all of your creative needs. Furthermore, when managing many projects in spreadsheets, Toggl Plan's visual roadmaps help in change management and introduce more work than support.
Pros
Helps to streamline team communication with comments and shared timelines.
Good for tracking time & billing.
The drag & drop interface gives a better interface experience.
Cons
Workspace visitor users, i.e., to add external stakeholders or teammates are paid features.
Exporting project data for usage with other tools is again a paid feature.
Get a free consultation on the best ever Asana alternative - SmartTask
FAQs
1. What is a Project Management Software?
Project management software is a set of tools & functionalities that helps project managers, their teams, and stakeholders with efficient project organization, planning, execution, and control.
The software aids in keeping a team's work organized and on track. It's a toolset that project managers can use with their teams and stakeholders to improve objective clarity, and accountability for meeting those objectives, and assist teams in meeting deadlines.
Without project management software, projects can get scattered leading to missed deadlines and misplaced resources - all because no one knows what's going on.
2. Why do you need a Project Management Software?
The main reason why you need project management software is that they keep projects and teams organized from the very beginning.
With project management software like SmartTask, everything is organized in one place - you stay on top of things, progress is visible, and the team can focus on executing the project rather than figuring out what to do next.
Moreover, it saves time and effort by automating many of the more tedious processes associated with everyday project management labor, allowing project managers to focus on higher-value duties. Workflow Automation makes it considerably faster and easier to manage several tasks at the same time, allowing you to focus on more important objectives.
Another benefit of using project management software is that multiple team members can work on a project remotely and asynchronously. It also provides a common focal point for discussion and facilitates tracking key performance indicators effectively.
3. How to become a Project Manager?
career as a project manager can be rewarding. The role gives you the chance to directly impact the bottom line of a company.
There are usually two ways to become a project manager. First, is the traditional approach where you know what degrees and certificates you need to get into the field you want. The second approach is to gain relevant experience and work your way to becoming a project manager without any degree in management.
Here's how you do it:
Conduct a skill gap analysis and work to build the project management skills you lack.
Take on comparable internships and work roles to gain project management experience.
Enhance your project manager resume with the abilities and experience you have gained so far.
Examine entry-level positions such as project coordinator, operations coordinator, and associate project manager, and apply for the one that suits your interest.
To further improve your credibility, consider obtaining a project management certificate by enrolling in professional courses.
4. Is SmartTask a good Project Management Tool?
This award-winning tool is one of the best project management tools in the market.
SmartTask provides businesses with a simple yet effective project management solution that centralizes all information for quick and easy access. Its collaboration capabilities and features are intended to improve production and productivity.
With an intuitive user interface, SmartTask is designed to make it easy for organizations to get things done the way they want rather than them having to adjust to the tool with lots of complications.