SmartTask
Contents
ClickUp vs monday.com: 2023 Comparison (Features, Pricing)
By Angad SinghSep 14, 2022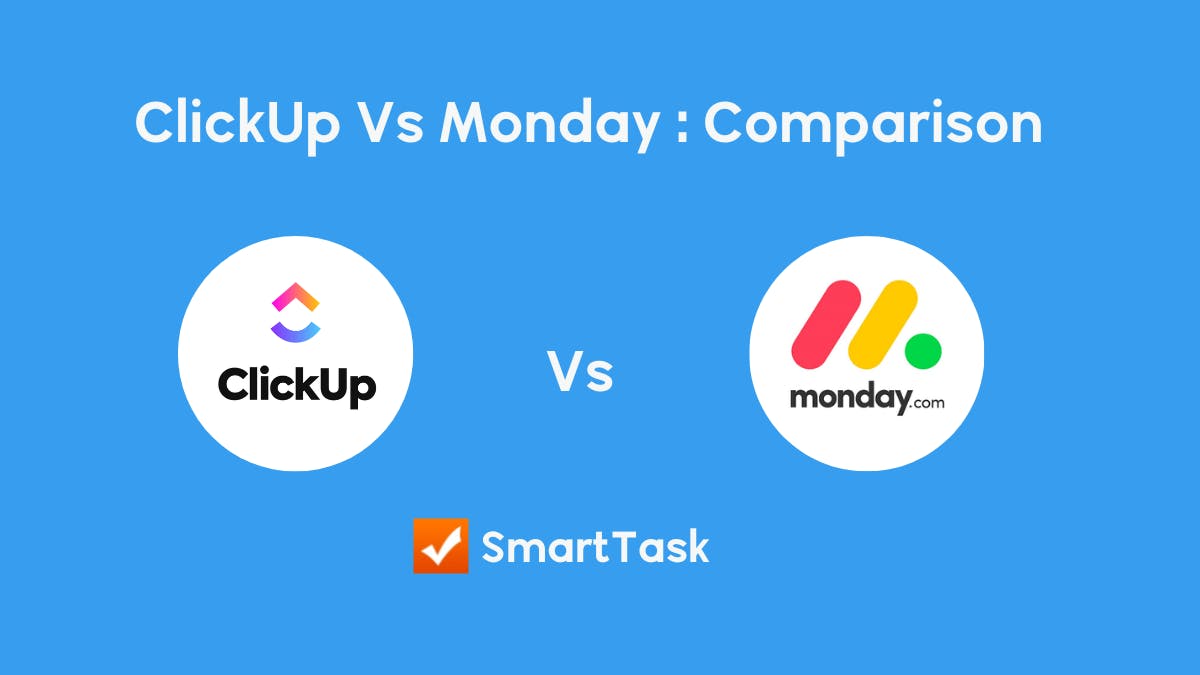 ClickUp Vs monday.com are searched relentlessly on Google. It won't be wrong to say that these tools are ubiquitously present in lists of top-tier work management software. But is one objectively better than the other?
Or do they have a Coke and Pepsi situation going on? Too similar for a layperson to tell the difference but one often deemed better than the other by evangelists?
Well, pour yourself your soft drink of choice because we're pitting Monday against ClickUp...
And by the end of this blog, we'll find out who wins.
What is ClickUp?
ClickUp is a relatively new entrant in the work management space. It came to the scene in 2017 and has scaled enough to bag $537.5 million series C funding.
Such exponential growth is what places ClickUp in Monday's crosshairs. It brings tasks, docs, chat, goals, & more to one place, acting as a single source of truth for teams of all sizes.
In ClickUp's own words, it's one app to replace them all.
What is monday.com?
Monday has positioned itself as a Work OS with end-to-end solutions for several use-cases. It's been around since 2012 and has evolved significantly over time.
In its early years, we could aptly call it a beautified spreadsheet. But now, Monday is a sophisticated bundle of 5 interlinked products: Work Management, Marketer, Sales CRM, Projects, and Dev.
In Monday's own words, it's a platform built for a new way of working.
ClickUp vs Monday: Sneak Peek
Here's ClickUp Vs Monday in broad brushstrokes: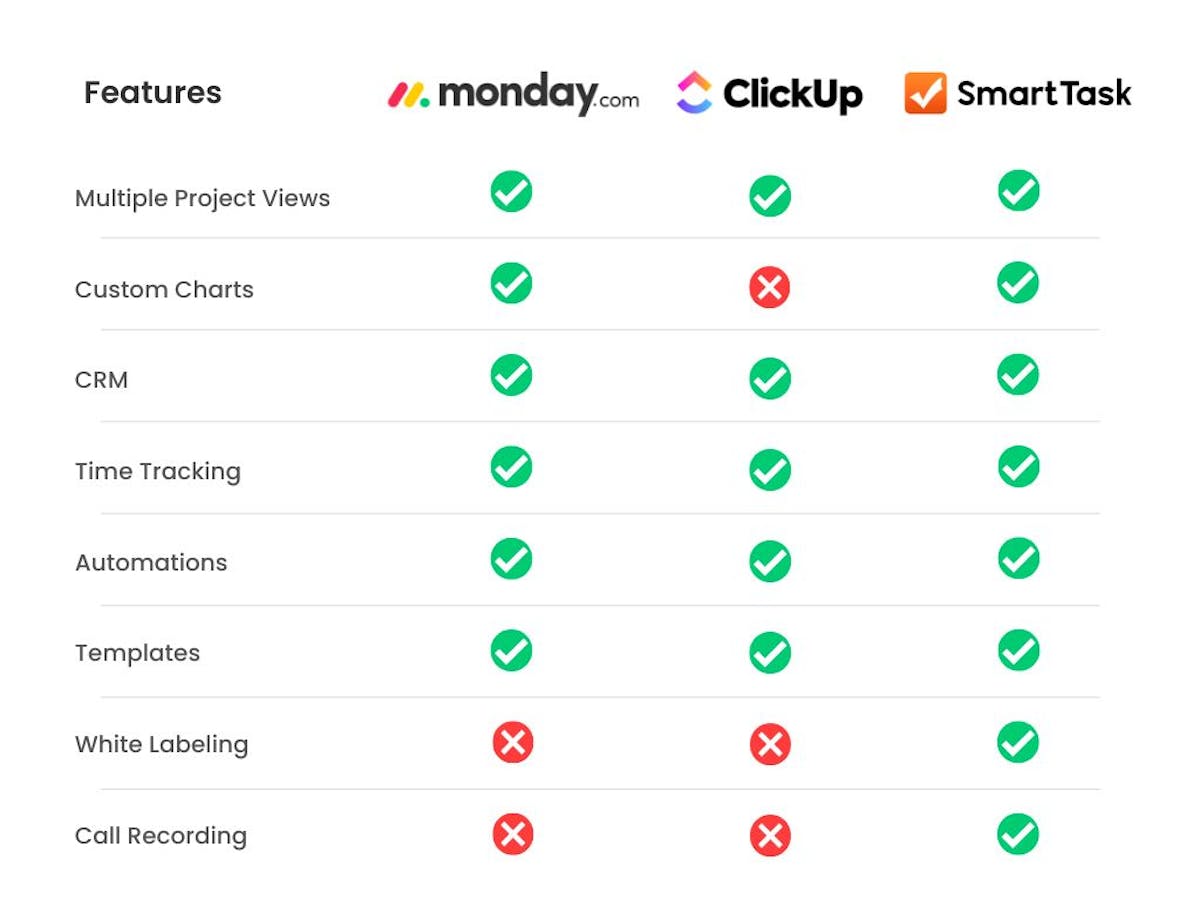 Looks like ClickUp and Monday are bursting at the seams with features. Good to know because we didn't expect anything less.
However, now might be the right time to take SmartTask for a spin if you do a lot of client work. White labeling works wonders when trying to build client trust.
Looks like ClickUp and Monday are bursting at the seams with features. Good to know because we didn't expect anything less.
However, now might be the right time to take SmartTask for a spin if you do a lot of client work. White labeling works wonders when trying to build client trust.
ClickUp Vs Monday : Key Differences
1. User Experience
Let's think about writing for a second.
At the most functional level, writing is throwing sentences together to convey a meaning. To inform. But beauty seeps in when we pair this utility with meaning or emotion.
Writing becomes storytelling when words don't just inform but entertain and engage.
It's the same with building products. Solving a user's problem is just the start. Solving it in a way that feels meaningful is what makes a product a valuable user experience.
How well do ClickUp and Monday understand this? Let's find out.
ClickUp
From the start, ClickUp has tried to be antithetical to pre-existing work management solutions. This fascination with reinventing the wheel is visible throughout its UX.
With its design, ClickUp emphasizes white space, arranges everything neatly, and color codes various elements.
Unlike Monday, it doesn't portion itself into multiple products. It acts out its commitment to be the one app to replace them all. The cost? ClickUp often ends up feeling too much to handle for new users.
There are templates to guide your way. A global quick access button helps create tasks, start time-tracking, set up reminders, record clips, and open the notepad. Automations make life easier.
But everything feels like work, too much of it at times. The silver lining, however, is that ClickUp offers tons of customization everywhere.
So, those who push through the initial pain of setting up their workspaces in ClickUp tend to love it in the long run.
Monday
Monday has been around longer than ClickUp. It's had more time to try out a few personalities before embracing a definitive identity.
The result? Monday's UX feels more well-defined, especially with its suite of dedicated products for various use-cases.
Even in the core Work Management platform, Monday's age advantage is apparent. Little things like the ones listed below act as case-in-point:
new boards popping up with pre-filled example entries,
an intuitive setup for automation,
They pace things evenly when exposing new users to the full extent of Monday's capabilities.
Lastly, Monday is more vibrant and colorful than most work management tools, including ClickUp.
Everything put together, Monday makes its users feel excited but not overwhelmed. Ready to take on the world but one step at a time.
Verdict: Monday wins this for two reasons: it's more visually appealing and is welcoming to new users.
But not as much as SmartTask. So, why don't you try it for a bit and see for yourself?
2. Task Management and Collaboration
Task management and collaboration form the soul of a robust work management platform. If you fail on these two fronts, excellence elsewhere is of little import.
But thankfully, both Monday and ClickUp are aces at setting up tasks, bringing teams together, and monitoring progress across the board.
There's little to critique here but some nuances worth pointing out.
Let's go ahead with that.
ClickUp
ClickUp may not be the most intuitive when it comes to task management, but it's certainly powerful.
You begin at the List View, where you can group tasks into different sections. Afterward, you can switch to 20+ views (yes, you read that right), including Board, Calendar, Box, Table, Gantt, Timeline, and more.
What takes the spotlight, though, is ClickUp's Everything View. It's super easy to access and gives a bird's-eye view of all your company's initiatives.
Next, the global quick create button at the bottom-right corner streamlines task creation rapidly.
The proofing capabilities that Monday offers in dedicated products? ClickUp delivers right out of the box.
Coming to communication, ClickUp does offer project-level chat (Chat View) and makes an attempt to replace external communication tools. Its implementation is quite neat and makes teamwork more effective. You can share files, links, and embeds alongside convos.
Monday
Monday calls visual boards the core of its Work OS. Adding tasks, assigning tags, attaching files, creating formula-based columns (like in excel)... everything begins with visual boards.
Something worth highlighting here is Monday's approach to sub-tasks. Unlike most work management software, including ClickUp, Monday doesn't restrict sub-tasks with the same properties as their parent tasks.
The outcome? You can customize sub-tasks as independent items and add nuance to your projects.
Next, Monday allows you to contextualize information in different views, including Kanban, Calendar, Timeline, Gantt Charts, and more.
In terms of collaboration, different Monday products have varying capabilities. Those using the core Work Management platform rely solely on activity updates for individual tasks. However, folks using Monday Marketer can use media proofing features as well.
What about project-level chat? Well, Monday proves lukewarm here since it doesn't offer any provisions to replace external communication. Instead, it boasts integrations with Slack, Microsoft Teams, and similar platforms to foster communication.
Verdict:- In the ClickUp Vs Monday war, Monday gets a fatal blow due to a lack of Chat View. But FYI, you can use Chat View in SmartTask as well. It's just as good, if not better.
3. CRM and Time Tracking
Monday and ClickUp are filled to the brim with standout features. There's little functionality that the two lack.
Custom forms, docs, whiteboard, tons of integrations... they're all there. But what about CRM and native time-tracking? Are there any subtleties worth highlighting here?
Let's find out.
ClickUp
ClickUp doesn't have a dedicated CRM but can you still do all that a CRM does? Affirmative.
You can manually piece all of ClickUp's features together to create something similar to what Monday offers. Templates are a great help here. But like most things in ClickUp, setting up a CRM takes effort.
The story with time tracking is different.
Using the quick access button in the bottom-right corner, you can access time-tracking from anywhere in the app. Pretty handy, right?
Moreover, ClickUp's time-tracker is a hair more robust than Monday's. It even allows you to set estimates and add notes for all you track.
Monday
Monday (the Work OS) has Sales CRM among its five foundational blocks. This is a use case Monday has built a dedicated product for. One that gets you up and running with little to no setup.
The downside? It comes at a cost. You have to pay extra money (per user) to access Monday's Sales CRM.
Time tracking, on the other hand, comes without any such caveats. You can add a time-tracking column to any Monday board, and voila.
Verdict:- Monday's CRM is a more put-together implementation than ClickUp's. Time Tracking, however, is ClickUp's forte. This is a draw. However, if you want native-time tracking and CRM in one app, SmartTask is where you get them. For free.
4. Customer Support
ClickUp and Monday are sophisticated tools with tons of advanced features. You're bound to run into hiccups when finding your way around each.
So, excellent customer support goes a long way in ensuring that you don't give up halfway and remain a satisfied user.
Let's see how the two perform on this front.
ClickUp
ClickUp's support documentation is pretty extensive. There are docs and videos to support you through most issues you'll encounter.
However, getting hold of a support agent on live chat is not a simple quest. You have to make your case to a chatbot, which sometimes just asks you to send an email instead of connecting you to a person from ClickUp's team.
Regardless, live support is available.
You can also hire (pay extra money for) ClickUp consultants (whom ClickUp advertises on its website) and pave the way for a smoother onboarding and in-app experience.
Lastly, ClickUp's enterprise clients also get a dedicated customer success manager.
Monday
Though Monday is more intuitive than ClickUp, it still isn't something you can master without help. Support documentation may be enough to get smaller teams through the day, but larger organizations require extra aid.
For enterprises, Monday sends out customer success managers to keep things running smoothly. But for teams that are neither small nor enterprises, Monday offers support docs, chat support, email support, and daily webinars.
Though chat support is accessible for the most part, there certainly are times when no agents are available, and you have to settle with sending an email instead.
Verdict: Monday wins this since it has more pedigree and a stronger community. We also find it easier to reach Monday's live chat.
It's worth mentioning though that SmartTask pairs you with a customer success manager even at the most basic paid plan. So, if that's something you're looking for, now's a great time to try SmartTask out.
5. Pricing
ClickUp's pricing is more straightforward than Monday's, but both are similarly priced.
You get more features in ClickUp's less expensive plans, whereas Monday is known to offer more functionality, security, and reliability for enterprise use-cases.
With that in mind, let's dive into more details.
Note:- Pricing info is based on Yearly payments. Plans are costlier if you pay monthly.
ClickUp
ClickUp's advanced plans may seem costlier than Monday's at a quick glance. That changes fast once you add Monday's product add-on costs to the mix.
Here's what ClickUp's plans look like -
Monday
Monday's pricing works like this: you pay for the core Work Management platform and extra (per user) for any product add-on you want.
Here's what Monday's core plans cost -
Verdict: ClickUp wins the pricing battle because its offer feels more transparent. But to offer a little extra context, SmartTask's pricing is fairer than both ClickUp and Monday
Don't believe us? See for yourself: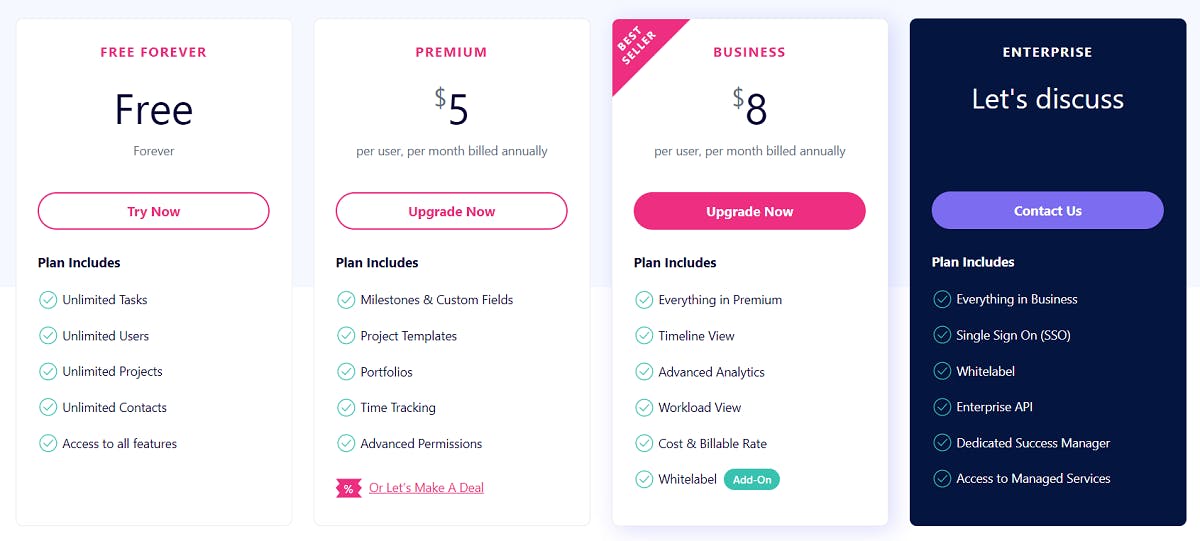 ClickUp vs Monday: Which is the Best Tool for your Team in 2023
Both ClickUp and Monday are solid work management platforms that deserve every ounce of the love they get.
However, they've become so consumed with transcending the status quo that they're getting more and more complex with time. That's a recipe for a never-ending feud that you're better off ignoring.
Make the zen move instead and choose SmartTask.
Like ClickUp and Monday, we nail the basics and give you plenty of project views to play with.
But unlike them…
We get you up and running within 5 minutes.
Pair you with a customer success manager at even the most basic paid plan.
Have an in-built CRM already set up for you (no need to purchase an add-on).
Give you advanced features like white labeling and sales call recording at no extra cost.
Have straightforward pricing with plans starting from $5/user/month.
What Our Clients Have Accomplished with SmartTask
Want to see how SmartTask makes complex projects simple? Well, here are two examples:
Sundyota Numandis – a decade-old pharma company – used SmartTask to supervise all details when opening a new RnD/Manufacturing plant in Sanand, Gujarat.
SpiderWebs – a UAE-based digital marketing agency with operations across several continents – used SmartTask to streamline the development of its eCommerce app
And guess what… we paired both with delightful customer success managers. We can do the same for you, just saying.
Book a meeting and get your free consultation on SmartTask today!
FAQs
1. Does monday.com integrate with ClickUp?
Yes, Monday does integrate with ClickUp. Monday offers integration with ClickUp through its API, which allows users to import and export data between the two platforms. With the integration, you can easily transfer tasks, projects, and other data between Monday and ClickUp, which can save time and increase productivity. The integration can be set up by developers or IT teams, however, there are also third-party companies that offer integration solutions between Monday and ClickUp.
2. How reliable are ClickUp Vs Monday Reddit Reviews?
There's enough fanfare for both Monday and ClickUp on Reddit. However, only one person has cared enough to evoke a direct comparison between the two. Apart from that, Monday vs ClickUp Reddit Reviews just wasn't a big theme. Even in the one direct comparison there was, comments praising Asana took center stage.