SmartTask
Contents
19 Best Communication Tools that Can Skyrocket the Productivity of Any Business
By Nidhi ParikhJul 25, 2019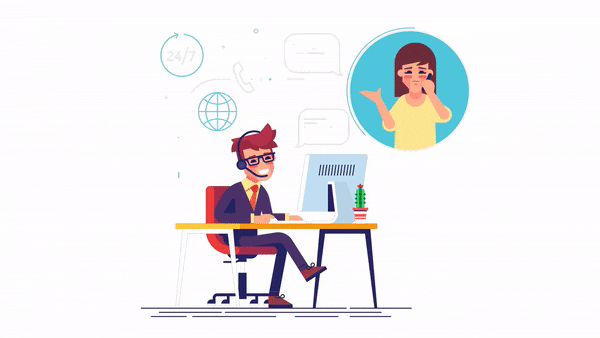 The pandemic surged the remote working culture and it has led to a serious problem. The problem is effectively communicating with your team.
While working in office, the employees could easily sort out their queries by directly approaching the concerned person, which is a challenge in remote work. According to a study - 65% of businesses primarily use email to communicate with their clients, as opposed to online tools (16%) phone calls (9%) and face-to-face (5%).

This article discusses the top online communication tools that you can use for streamlining the coordination of your entire team and boosting the overall productivity of your business.
1. SmartTask
SmartTask is a holistic work management tool that offers plenty of features that can help you communicate effectively with your team.

1. Task Collaboration - In SmartTask you can divide your complex projects into smaller tasks and assign them to your team members. This helps in bringing clarity on who is responsible to do what.

By managing projects within SmartTask, you no longer need tools like Teamdeck and Ryver.

2. File Sharing - You can easily attach all your project related docs, spreadsheets and presentations within SmartTask without any upload limits! (Yes you heard that right).
Using SmartTask for file-sharing can not only help you manage your work easily but also save you the money that you spend on Dropbox for storing important files.
3. Chat - If you use Slack for communicating with your clients and colleagues, you definitely need to check out SmartTask.
You can easily embed files, send text as well as conduct video conferencing all within SmartTask.

4. Feed - It can be frustrating to manage long email threads for discussion on projects. You can post your ideas on the feed and your team members can reply to that and SmartTask would save the entire discussion under the single chain.
Using SmartTask's Feed feature, you could easily access the entire discussion about a specific topic from a single place.
5. Video Conferencing - During video calling, you can share your screen to better illustrate your points. For streamers, we also support live streaming on YouTube!
Thus you don't have to rely on Zoom and Slack for text and voice conferencing with your team.
6. Commenting - SmartTask allows you to add followers to each task, so that they can be kept in loop about the updates regarding the progress.

You can directly comment on a task to clarify exactly what needs to be done, mention teammates or other tasks or projects, and attach files or images directly to make sure you stay connected.
7. Project Collaboration - Managing multiple projects with ease is possible with SmartTask.

Using the Project Portfolio feature, you can see what's exactly going on with your project progress at a glance. You can also see the workload of each of your team members and adjust the deadlines accordingly to avoid burnout.

Thanks to SmartTask, reporting about project's progress is easier than ever.
IMPROVE YOUR TEAM'S COMMUNICATION TODAY WITH SMARTTASK!
2. Skype for Business
When you are unable to carry out face-to-face meetings because half your staff works remotely, then Skype for business is your go-to communication tool. It helps conduct audio and video call conferencing, and allows you to stay connected with your people within the organization as well as clients. Right from collaborating over project brainstorming to conducting a meeting to check on the progress of the project, the tool allows you to stay connected in real-time.
3. Zoom
If you are a big organization, managing internal communications can be a hassle. Well, not quite so with Zoom. It is an effective communication tool which allows you to conduct video conferences with your team members, irrespective of their location. Sometimes, holding a meeting within the organization seems impossible. That's where the tool comes to help.
4. Microsoft Teams
Let's say you don't want to talk on emails or, any other medium that takes up a lot of your time. Teams is the answer to your problems. You can place a video/audio call video or audio chat through the teams tool, and share files and other documents with the people within your team or outside, depending on who all have access to the credentials. This tool helps you stay away from the clutter created by emails. The best part about teams is that you don't have to bother about integration; the tool integrates with all software and systems available.
5. Cisco WebEx
When you are a company that has too many remote teams, and want to ensure seamless collaboration between them, then you ought to use this tool. It makes meetings and video conferencing easy. You can even share your screen, and enjoy a meeting online that looks and feels as if you are sitting in the same room, and discussing these points. The training component of this tool allows you to create tutorials and training courses.
6. Calendly
Communicating your timeline for a meeting or sending alerts via emails for the scheduled appointment is a passe. You need to look for tools that go beyond emails, and work in real-time. Calendly is one such tool that you can use to collaborate with your team, and communicate the time for the meetings, and ensure that you don't book the same meeting twice or, you don't have two meetings on the same schedule. You can even add quick notes for the meetings with this tool.
7. Gsuite
Gsuite is known for its collaboration and productivity abilities. It is complete with email, sharing, document creation and accessibility tools that makes your life easy and fast. You can easily communicate your details via the chat tools available with gsuite. The sharing tools make connecting with others in your workspace easy and effective. Accessing documents on the go has become easy as a result of the Google drive.
8. Office 365
Akin to Gsuite, Office 365 has all the tools that make communication in real-time effective, thus increasing productivity within the organization. You have word, excel, powerpoint etc. available which allows you to create documents on-the-go. You can easily manage the sharing activities with one drive, which makes collaboration faster for the team.
9. Evernote
Staying organized may be on the top of your task list but, somehow you are unable to manage it all. Your to-do list is incomplete and so is your planning. You have an idea but when you actually begin to work on the project, you don't remember what you were planning to achieve. Instead of waiting till you begin the project, Evernote allows you to plan, share your ideas and even brainstorm with colleagues. With the task management abilities of this tool, you can stay organized and steer ahead with your project.
10. Dropbox
How does it feel when you are unable to send emails that contain heavy attachments? You need to send the files for immediate action but, there is no way your email can do it for you. that's where a tool like Dropbox makes life convenient and your project life productive. You can add the folder to dropbox, and share a link with the team. They can easily download the file or document that you have sent, and your communication related to the project occurs in real-time.
11. Teamdeck
When you have a new project on hand, you need to plan for the same. The collaborative planning tool is what you need at this hour. With teamdeck, you not only ace the resource planning aspect, but also manage the time tracking and ensure productivity within the organization. You will know just how many resources you need to get started. You can even share with the entire team, which resource is not available on which date, which makes collaboration easier.
12. Ryver
There are times when you want to conduct discussion on a particular project, with the members of that particular project. Ryver, not only allows you to manage the projects, but also makes discussion on a particular project closed for the group. You can easily assign and manage tasks with this tool, thus allowing faster collaboration. With the instant messaging and conferencing facilities, you need not rely on email for instant communication.
13. Zoho Cliq
What makes Zoho Cliq different from the other project management tools? For one, it allows you to invite guests to discuss a particular aspect of the project. You can share the chat link, ask them to join for one conversation and then remove them from the group. It also allows you to conduct video conferencing with internal and external members of your organization. An in-built calendar makes scheduling and sending alerts on the day's schedule easy. Overall, this is a handy tool that makes communication effective, and your organization productive.
14. Workplace by Facebook
Facing issues that make remote working unmanageable? Do you think that holding a two-way conversation with people on your team is getting difficult in this mobile world? Workplace by Facebook was developed just for that purpose. This tool makes communication in real-time a possibility. From managing your to-do list to delegating tasks by acting as a task management software, the workplace is an app that you simply cannot ignore when it comes to communication.
If you want to discuss a particular project or, you want to delegate the tasks or brainstorm & plan, this tool is your go-to for seamless communication. You can keep your employees engaged as a result of this tool, and gather data and insights that will help you make informed decisions.
15. Slack
If you want to make your workplace more efficient, and people more communicative about their issues, then you should use Slack. It is again a collaboration tool that makes internal communication smooth and seamless. Paperwork happens to be the biggest demon in your life, and storing documentation a major headache. Slack not only makes sharing easier, but also helps you connect with the team over projects in an uninterrupted way. You don't need to channelize your energy into finding out emails that talked about a particular project. The tool allows you to create private channels for a particular project or person. If you are looking for face-to-face meetings, then Slack provides you with video conferencing functionality.
16. GainApp
When it comes to social media, speed is the name of the game. The social media team not only needs to keep themselves updated with the latest trends and changes, but they also have to rapidly adapt to the changes and create content related to that.
In this race, your team's pace can be slowed down if there is a delay in receiving the approvals from your clients. This is where GainApp comes to the rescue. Gainapp makes it ridiculously easy to get approvals from your clients. Just add them to your team and they can check your drafts and approve/reject it. Once you get your draft approved, you could instantly schedule and publish the post within GainApp.
17. Figma
As a designer, coordinating with clients is extremely challenging. Figma makes it super easy. Using Figma, you can not only design the layouts but also share it with your clients in real time and get the feedback as comments (be it logo resizing or font style changes).
18. Intercom
Gone are the days where the customers preferred to send an email and wait for the support team to respond back. Thanks to Chatbots and messaging platforms, the customers can receive instant support for their concerns.
Intercom is a sales and support platform which empowers companies to offer live chat directly from their website. Using Intercom, the customer success team can see the chats which they are handling as well as the ones that are waiting in queue. For common queries (FAQ), you could create chatbots with autoresponders - this would save a lot of your customer team's time.
19. Anydesk
Imagine you are on a trip and your grandma calls you asking help with editing some documents on her computer. Wouldn't it be easier if you could remotely see her screen and demonstrate how to do that instead of explaining the instructions over call? Anydesk solves this problem.
Using Anydesk, you can remotely access the device of your clients/customers and demonstrate the instructions practically. It is a lifesaver especially for the IT teams who would remotely inspect the devices to find the cause of technical errors and rectify it in real time.
Summing up
Technology can help businesses increase their productivity through proper channels of communication and streamlining of the various tasks. A good software solution needs to be implemented in the organization for proper collaboration, thus increasing conversions and boosting productivity.
SmartTask IO aims at offering businesses just the solution that can enhance communication through the right methods and techniques. Try out our collaboration tool and see how we reimagine your business.
Subscribe to SmartTask Blog
Get the latest posts in email.