SmartTask
Contents
25+ Best Communication Tools for Teams in 2023
By Nidhi ParikhJun 26, 2023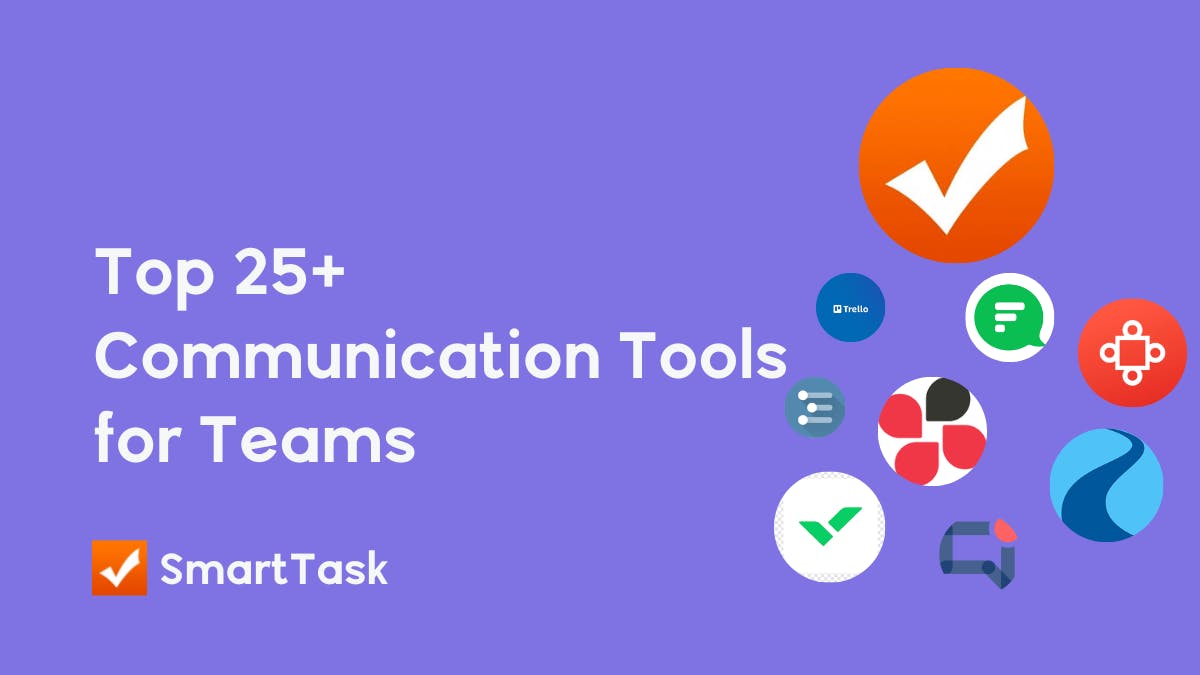 ALAS! Looks like we've reached an impasse in the way we communicate!
As per Gallagher's latest report, teams have started demanding a streamlined communication system instead of random communication tools, as it is affecting their daily work and productivity.
This resulted in 55% of companies investing in strategic improvement of internal communication.
Also, did I mention an indefinite hiatus on return-to-office plans? (Damn you Omicron!)
So, it seems walking to our colleagues and getting things done is not within the foreseeable future.
It is time we invest in the right tools for our team.
Here's The List of Communication Tools That Help
1. SmartTask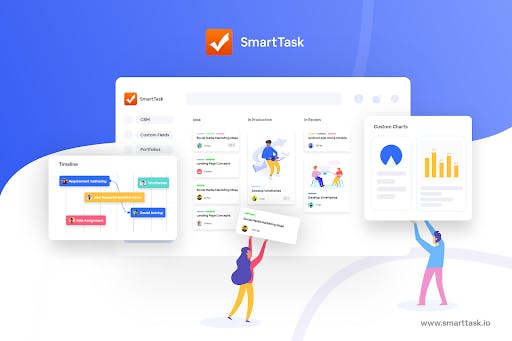 SmartTask is the Swiss Knife of team management and communication.
From everyday work and task management to communicating with teams & tracking their progress, you can get work done on time and within a single platform. (Goodbye Juggling!)
So, how can it improve team communication?
On-task Communication - We often lose track of conversations outside a task environment.

To avoid this, SmartTask lets you communicate in the context of a task. It means you can chat, record audio & voice messages, and conduct video conferences within a task.


Instant Chats - SmartTask gives you an advanced in-built chat platform to easily communicate with peers personally or at a project level.

You can share highlights, attach files, start a video conference, and resolve issues on-the-go. You can integrate with slack to make things easier.


Video Conferencing - SmartTask video conferencing is neither expensive as Zoom nor lacks important features like Meetup.

You can start a video conference with a click, add team members, adjust quality, and record conversations to your local device.


Voice Calls - SmartTask lets you make calls to regular phone numbers. Be it sales outreach, client calls, hiring, or customer support, the voice calling feature makes these activities super easy with custom IVR options for callbacks.

And every call gets automatically recorded with historical data retention.


Audio Recording - For people on the move typing is time-consuming, instead just record yourself and put it as a comment in the task for the team to refer to.

It's as simple as Whatsapp but with superior quality; making your job stress-free.


Discussion Forums - Getting stuck with problems or sharing great discoveries is part of everyday work.

Using SmartTask's discussion forums, you can easily communicate problems or profound insights with your team. They can then react and reply accordingly.


Instant File Sharing - You can easily attach your files to a certain task and your entire team can access it from anywhere.

With added advantage of attaching files from Google Drive or Dropbox or your own cloud service.


Guest Access for External Communication - Want to keep clients in loop?

Invite them with guest access for free and communicate with them whenever you need. Now you have perfect internal, external and stakeholder communication.
Integrations: It has over 30+ integrations including Google calendar, Drive, Zapier, Integromat, Dropbox and more.
Available on: Cloud, Windows, Mac, Android, iOS.
Try SmartTask ( Free for Unlimited Users )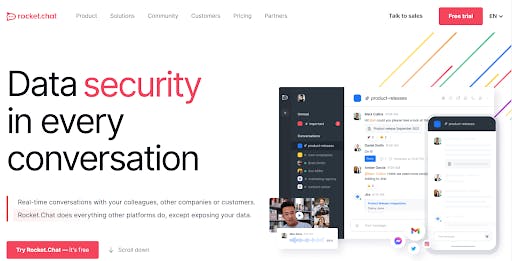 Rocket Chat is probably the best Slack open-source alternative with the most advanced security features.
So advanced that it meets all the requirements of US Homeland Security.
What's Special About Rocket Chat
They are open source. You can get full access to your code and then customize it as you need.
It provides real-time conversations across companies and platforms. Which means you can easily talk with your external collaborators, clients, suppliers, customers, and more, while retaining complete security of your data.
They have one of the best free versions which gives you 1000 users, unlimited message history, and 10,000 monthly push notifications, and basic security features.
They are GDPR, CCPA, LGPD and HIPAA privacy compliant.
Drawbacks
Unfortunately, it does not have a good video conferencing option.
The search function to locate old texts is not that great.
There are quite a few minor stability issues such as the chats not loading on time, sometimes.
Integrations: It has over 100+ integrations with a marketplace.
Available on: Windows, Mac, iOS, Android, Linux.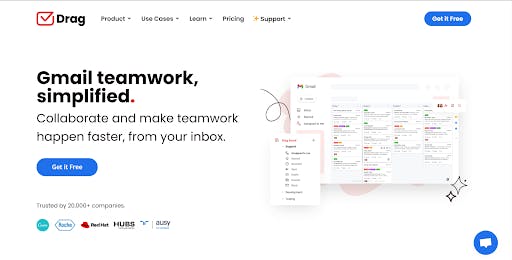 Drag or DragApp is the world's first all-in-one workspace in Gmail.
In their own words "Sure, it's a shared inbox. But it also has boards, and a whole bunch of collaboration, productivity, and workflow tools – so you can take care of all the important things from one place – Gmail."
What's Special About DragApp
You can do some pretty cool email things such as assigning emails to team members, replying with Aliases, working together on shared drafts, and email automations.
They provide kanban boards where you can merge cards (or in other words tasks)
You can chat with team members for a specific task.
They have a free forever option for individuals and freelancers. They're quite affordable if you want to upgrade. And they provide award-winning support to their customers.
Drawbacks
They miss critical communication features such as video conferences and calls.
They have very limited integrations, so it is not best suited for enterprises who want to move out of Gmail.
Integration: Only Zapier.
Available on: Android, iOS and all the popular browsers.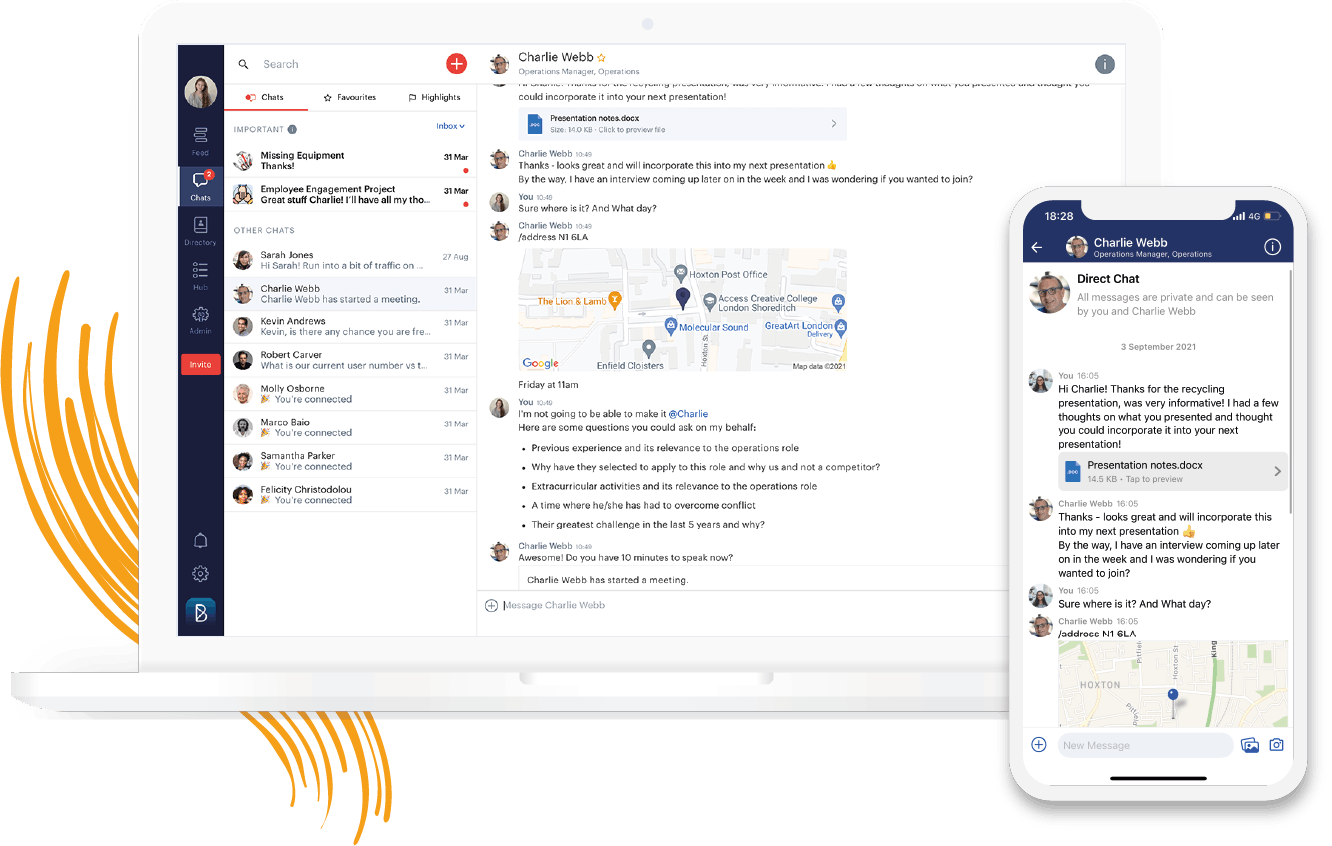 Blink is an employee communication software that provides an all-in-one solution to enable frontline workers and remote employees to stay connected to their organization. Blink improves the employee experience in meaningful, everyday ways, giving employees mobile access to the communications and applications they need to do their job and feel part of the company.
What's Special About Blink
Designed specifically for frontline workers.
Boosts engagement, collaboration & productivity.
Everything in one app - every system, conversation, contact & content in one place using Single-Sign On (such as updates, mandatory reads, chats, stories, timetables, holiday requests).
Democratizes content creation, putting it in the hands of staff rather than just the internal comms teams.
Drawbacks
Designed for frontline workers, rather than desk based office workers.
Integrations: Integrates with hundreds of other workplace systems such as Microsoft 365 as well as more niche tools like GreenRoad
Available on: Cloud, Mac, Windows, Android, and iOS
5. Avoma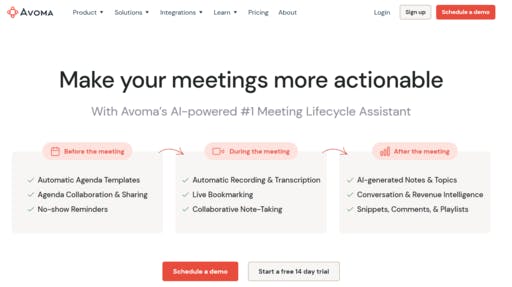 Avoma is an AI-powered meeting lifecycle assistant that records, transcribes, and analyzes your calls and meetings to offer actionable insights, thus making your remote meetings actionable and collaborative. Avoma is quite popular for its capabilities across the stages of the meeting lifecycle, namely before, during, and after the meeting.
What's Special About Avoma
Avoma helps you accelerate your meeting preparation by offering scalable agenda templates.
Automatically takes notes during your meetings and syncs them to the CRM.
Allows you to create playlists of key conversations, and let's easily capture information and share it among teams in the form of snippets.
It is considered the best Gong Alternative as it is one tool for note-taking, conversation intelligence, revenue intelligence, and collaboration (no need to invest in multiple tools across different functions).
Drawbacks
Doesn't allow recording in-person conversations (for now).
Integrations: All major CRMs, Conferencing tools, and Dialers
Available on: All browsers, iOS, Android
6. Whereby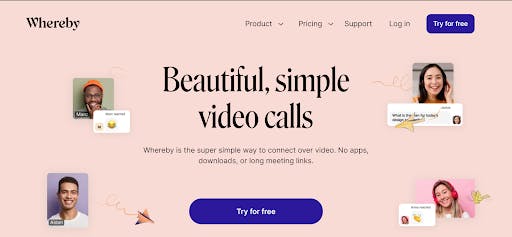 For a lot of educators, telehealth executives, and surprisingly, students (AKA geeks), Whereby is a cool alternative to Zoom.
It is a simple web application with a beautiful UI, offering 5 minutes more than Zoom in its free version.
What's Special About Whereby?
It seems to be the only app which has a noise reduction feature. Quite unique.
You can add a timer to your meetings, which gives you accountability.
You can create custom rooms, custom links for rooms, breakout groups during sessions, and lock your rooms to avoid unnecessary intrusion (yeah, people literally have to knock to enter).
If you are a software owner and want to add video conferencing to your app, then Whereby makes it possible along with custom branding.
Drawbacks
Whereby is good for individuals, startups & solopreneurs who have regular meetings and need a better Zoom alternative. But it is not best suited for enterprises.
Offers a Free version but if you need recording, custom branding and priority support you need to opt for Pro or Business.
Integrations: It offers Google Drive, Miro Whiteboard, Trello Boards, and YouTube integrations.
Available for: Android, iOS, and Web.
7. BlueJeans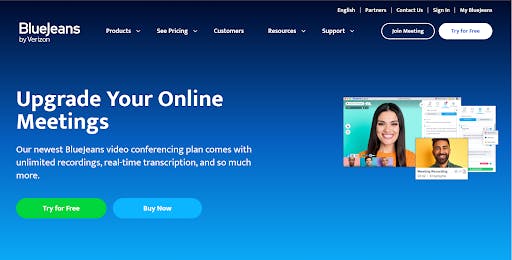 BlueJeans by Verizon is another enterprise-friendly team communication software. They provide premium video conferencing, certified gateway for microsoft teams, and an advanced telehealth platform.
They have especially become popular in India after their collaboration with Bharti Airtel to provide secure video conferencing for large corporations, replacing Zoom.
What's Special About BlueJeans
They are known across the world for their enterprise-grade security. They provide AES-256 GCM encryption in video conferencing, which is recommended by IT security teams.
It can integrate with any hardware such VoIP phones, mobile phones etc', using hardware based codecs.
They have the best telehealth platform for virtual healthcare teams with clinical workflows.
You can start AdHoc meetings with your clients and stakeholders instantly. with very short notice.
Drawbacks
There is no free version available. You get only a 14-day trial for any of their tools.
It is not suited for small and medium enterprises as it is quite expensive.
Integrations: They only integrate with Microsoft Teams. All other integrations are based on client requirements.
Available on: Windows, Mac, Linux, Android, iOS.
8. Spike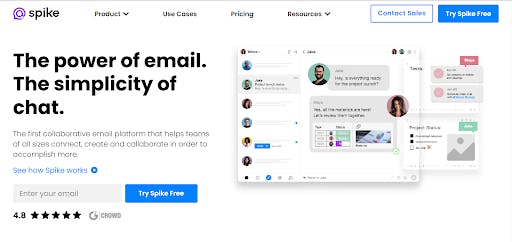 Spike is an advanced email integration service which lets you transform your email into a workspace.
Or in other words, they are the world's first conversational email app. It means they make your emails as simple as chats but they've also added audio and video calls to it.
What's Special About Spike
Talking about conversational email, the simple UI looks exactly like Facebook messenger but they are your emails. So, you respond to your mails like you would on a chat but they go as an email. Pretty amazing!
They have an advanced search feature called "Super Search" which lets you find your emails and even content within emails very easily.
You can invite your team to group chats and make video & audio calls too.
Their free plan is pretty good and useful for solopreneurs and freelancers.
Drawbacks
Currently, Spike does not have an option to record calls. So if you record your video calls regularly then Spike may not be an appropriate solution.
It also does not support users who have Pop3 email accounts.
Integrations: None
Available On: Windows, Mac, Android, iOS.
9. RingCentral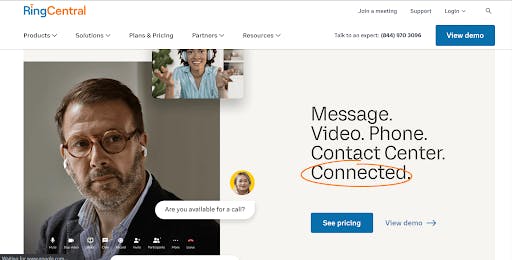 RingCentral is one of the oldest communications service providers in the market, going back all the way to 1999. And they are also one of the best UCaaS (Unified Communications as a Service) platforms.
They have 3 main products, which are RingCentral MVP (Message, Video, Phone), RingCentral Video (Free Video Meetings), and Contact Center.
What's Special About RingCentral
They offer 24hrs of meeting duration in their free alternative for video conferencing, including a 7-day cloud recording option and up to 100 participants. Pretty cool!
Their virtual phone system has a lot of advanced features (over 50+ to be exact), making them a perfect fit for medium and large enterprise teams.
They have unlimited calling & texting and you can integrate existing phone numbers.
They have one of the best customer support teams that help fix your issues at the earliest.
Drawbacks
Their mobile application, especially Android app is quite sluggish and at times unresponsive.
The learning curve for each of their tools is huge! Even their UI is not so sleek. So, you need to have patience.
Also, they are best for enterprises as they are very expensive. Probably the most expensive of all the tools mentioned here.
Integrations: It has 100s of integrations to fulfill their enterprise customer requests.
Available on: Windows, Mac, iOS, and Android.
10. Troop Messenger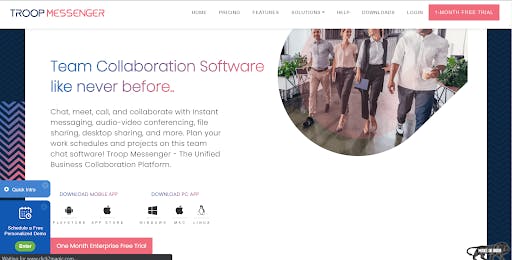 Based out of India, Troop Messenger is probably the most feature rich communication platform in this entire-list.
They literally have 100+ features; targeting 1:1 messaging, group chats, audio & video, collaboration, productivity, security, and admin.
What's Special About Troop Messenger
They offer SaaS and on-premise versions of their application, making it easy for companies of all sizes to adapt.
They provide secured self-hosted messaging for defense personnel and troops, through air-gapped networks.
They also cater to political parties for their campaign outreach, internal party communications, publishing party announcements and more.
Of course, they have one the best security features supporting the application, which is essential for most of their target customers.
Calling them affordable will be an understatement. Their premium version is just about $1 per user/per month.
Drawbacks
Their user interface is not that great. You may experience a steep learning curve.
There are no in-built analytics, which is essential for decision makers; considering some of their target customers.
Integrations: They have multiple integrations such as Zapier, Dropbox, Jira, Google Drive, LDAP, and more.
Available on: Windows, Mac, Linux, Android, and iOS.
11. Pronto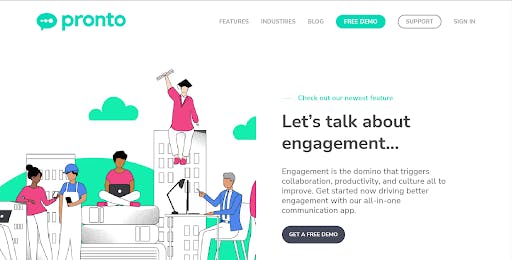 Pronto is a chat and video application that is a favorite among educational institutions.
Their features are specifically built concentrating on K-12 and Higher Ed.
What's Special About Pronto
They have real-time translation to automatically translate every message so they can break communication barriers between the users.
Their search platform easily let's you find chats and docs.
Announcements happen regularly in institutions and schools. So Pronto lets you create announcements and share it with any group or individuals that you need to.
They also have a to-do list type of task creation to remind people on important tasks.
Their UI is very simple and keeps the communication stress-free.
Drawbacks
You cannot get a free version with Pronto. But you get a free trial for a limited period.
Though it has a few task management features, it does not fair well for end-to-end project management.
Integrations: There are no integrations available, a major drawback.
Available on: Windows and Mac.
12. Talkspirit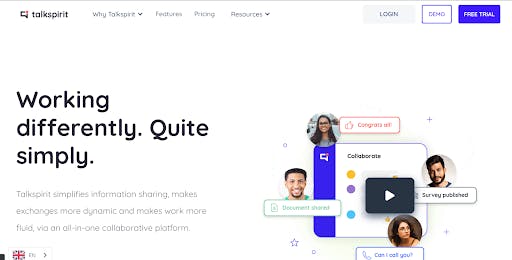 Talkspirit is GDPR Compliant newsfeed (social) and chat platform for internal team communications and community management.
The France based company is quite popular for its awesome UI.
What's Special About Talkspirit
It is super easy to use.
The social media feeds are quite interactive and help your team members stay focused. It has a facebook life feel.
All of the data is hosted in the EU to ensure GDPR compliance.
For marketers, it RSS news is integrated into a unique panel
Drawbacks
It does not have video, call or audio recording options which can be quite troublesome for teams.
Sometimes, it is very hard to find specific information through search.
Integrations: Integrates with G-Suite and More.
Available on: All Browsers.
13. Flock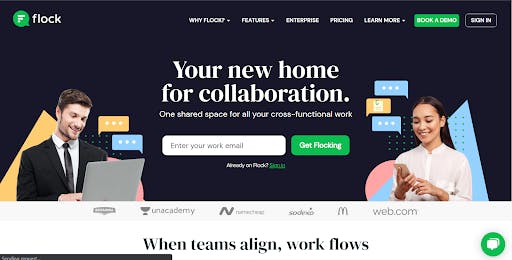 Flock is a messaging app for teams which supports direct and group messaging with public and private channels.
You can move in between video or audio calls or switch to screen sharing in one click with multiple participants.
What's Special About Flock?
Known as a more user-friendly slack, flock gives you an interface which is very easy to use and barely has any learning curve.
They provide restricted channels based on location, designations, and departments.
Their triggering system for alerts is quite useful and it is probably one of the best compared to all applications.
It provides a to-do list to manage your tasks & projects and also allows process automation.
It offers some best features even for the free version.
Drawbacks
It does not have good integration capabilities, resulting in too many applications to juggle between.
In the free versions, you cannot search beyond 10,000 messages.
Integrations: Google Drive, Google Calendar, Zapier and more.
Available on: Windows, iOS, Android
14. Twist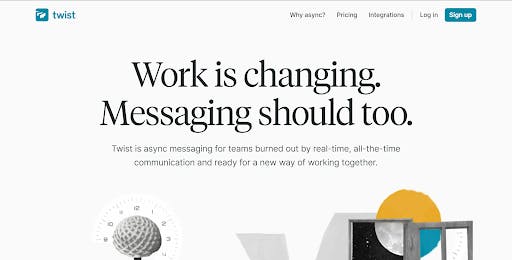 Owned by Doist (parent company of Todoist), Twist is an async messaging platform for teams.
It means that team members can respond to chat messages only when they need to, and are not required to stay online continuously, like you would on Slack.
It helps remove the stress off of employees
What's Special About Twist?
You can send messages as threads, instead of one liners. This is very useful when you have to convey multiple things in your chat.
Since it is async communication, your conversations will stay on-topic and within context.
The search function is really fantastic and you can easily find the thread you're looking for.
They're also quite affordable and the free version is available for lifetime with the option to invite unlimited guests.
Drawbacks
They lack video conferencing and call features which are quite important for businesses.
The free version lets you search for threads, comments, and messages, only upto one month.
Integrations: They have a wide range of integrations including Todoist via Zapier.
Available on: Windows, Mac, Linux, iOS, Android.
15. Chatwork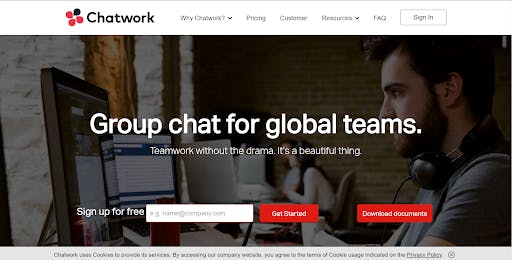 Based out of Tokyo, Japan, Chatwork is one of the first global chat applications that brings together a simple user interface and bank-level security standards.
That's why a lot of government agencies and large enterprises use it as their go-to-chat platform.
What's Special About Chatwork
All files uploaded are encrypted with high-end standards such as AES256 encryption.
If you want to assign quick tasks to your team, then you can do so from the chat.
Interestingly, like you'd in emails, you can mark messages as unread and check back later. This bookmarking feature helps a lot if you have to revisit important conversations.
You can also do an advanced search within the chat platform using keywords
If you have an existing web application, then Chatwork lets you integrate their services onto your existing web app through API integration.
Drawbacks
Their task management feature is more like a to-do list and cannot be used by teams for more serious work.
Though they place themselves as group chat for global teams, these features are only available in their paid versions.
Integrations: You can add chatwork to existing apps through APIs.
Available on: Windows, Mac, Android, iOS
16. Chanty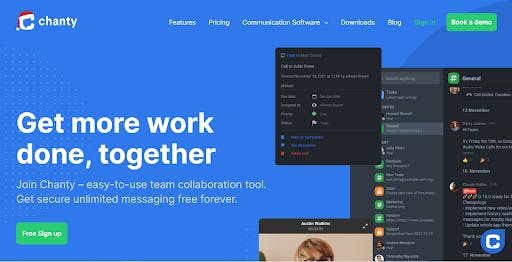 Considered as one of the best Slack alternatives, Chanty is a fantastic communication tool with a few project management features.
It allows public and private conversations with robust security features such as TLS 1.2 and above.
What's Special About Chanty
You get unlimited messaging, searchable history, one-on-one audio calls, and voice messages free forever.
Just like Slack, you get a custom chanty domain for your team or company.
The chat interface is pretty sleek and easy to navigate, making your work management less stressful.
They provide code snippets with dev-friendly formatting, which is quite useful for development teams.
Drawbacks
You cannot add a lot of people to the free version. It's limited to 10 members.
Critical team features such as integrations, permissions, group audio calls, one-on-one video calls, group video calls, and dedicated support are not available in the free version.
The project management features are quite mediocre though it can integrate with other project management software.
Integrations: Has multiple integrations including Zapier, Google Drive, Github, Stripe, Salesforce and more.
Available on: Windows, Mac, Android, iOS.
17. Ryver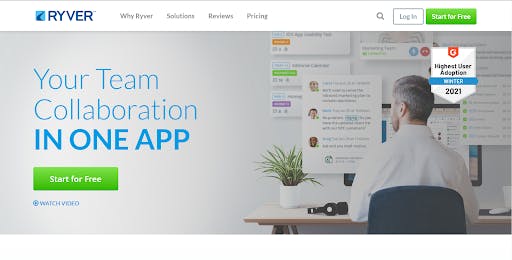 Previously known as Contatta, Ryver is a team communication platform that comes with a list-based task management.
What's Special About Ryver
It is primarily known for its topic-based interactive forums and chat interface.
The enterprise version of the app gives you advanced features like sandbox testing, single sign on (SSO) and custom invite links.
You can configure the navigation bar per your requirements, which is very handy.
It provides enhanced data security such as 256-bit encryption to protect the application from unauthorized access.
Drawbacks
There is no free version. You get a 14-day free trial.
It is also quite expensive compared to other solutions offering similar features.
Integrations: Integrates with Zapier, Outlook, Slack, HipChat, and Trello.
Available on: Windows, Mac, iOS, Android.
18. Dialpad Meetings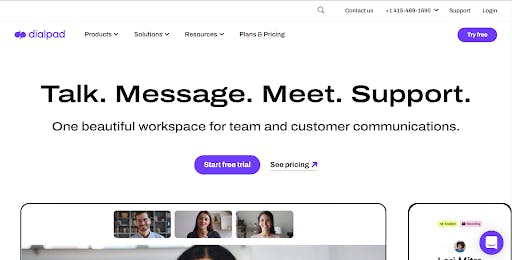 Formerly known as UberConference, Dialpad is probably the most advanced suite of cloud-based communication tools in this list.
They provide web video conferencing, business phone system, VoIP services, virtual contact center, sales outreach, and voice intelligence system.
What's so special about Dialpad
It's AI technology. Dialpad's in-built AI system (powered by Google's AI tech) automates multiple activities, including generation of unbelievably accurate transcripts of all your video and phone calls. So, you don't have to take notes during meetings.
They have a pretty cool mood detection system as part of their AI, which tells the user the mood of the speaker based on tonalities, choice of words, and other factors. Helps sales teams a lot.
They also introduced gamification in web video conferencing. So, you can play Buzzword Bingo as a team activity (or when you're annoyed with a team meeting).
All of their services, basic and advanced, are cloud based – including their data storage.
Drawbacks
Though they have multiple plans for each use case, every plan is more expensive than the other. Their only free version for web conferencing tool also has very minimal features.
It seems their support varies based on the size of the company. Bigger companies get better support teams whereas smaller companies get limited support.
Integrations: It has multiple integrations such as Google drive, Miro whiteboard, Microsoft teams, Salesforce and more.
Available on: Windows, Mac, Android and iOS.
19. Lifesize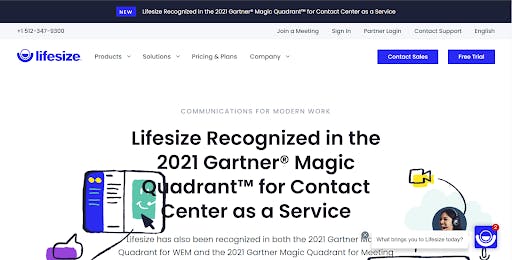 A favorite among enterprises, Lifesize caters to some of the biggest organizations such as NASA and Shell Energy, and has its presence in over 100 countries.
They have phenomenal cloud-based enterprise communication products such as video meetings, meeting room solutions, CxEngage, video enabled content center and more.
They've also created specific solutions for hybrid work with their video conferencing software and hardware.
What's Special About Lifesize
They are best known for their Huddle Room Camera System. Powered with trademark Lifesize Icon 4K camera, they take global team meetings to the next level with superior video and audio quality.
They have a simple application for desktop and mobile which lets you add contacts, chat with them, start meetings, and more.
They provide whiteboarding features for video meetings with Kaptivo Rooms.
Drawbacks
Lifesize is built for enterprises and it is not a best fit for small and medium enterprises.
Though they have fantastic features, they are locked behind expensive premiums. And you will only get a trial period of 30 days.
Integrations: It integrates with Microsoft Outlook and Google Workspace.
Available on: Windows, Mac, iOS, and Android.
20. Everytale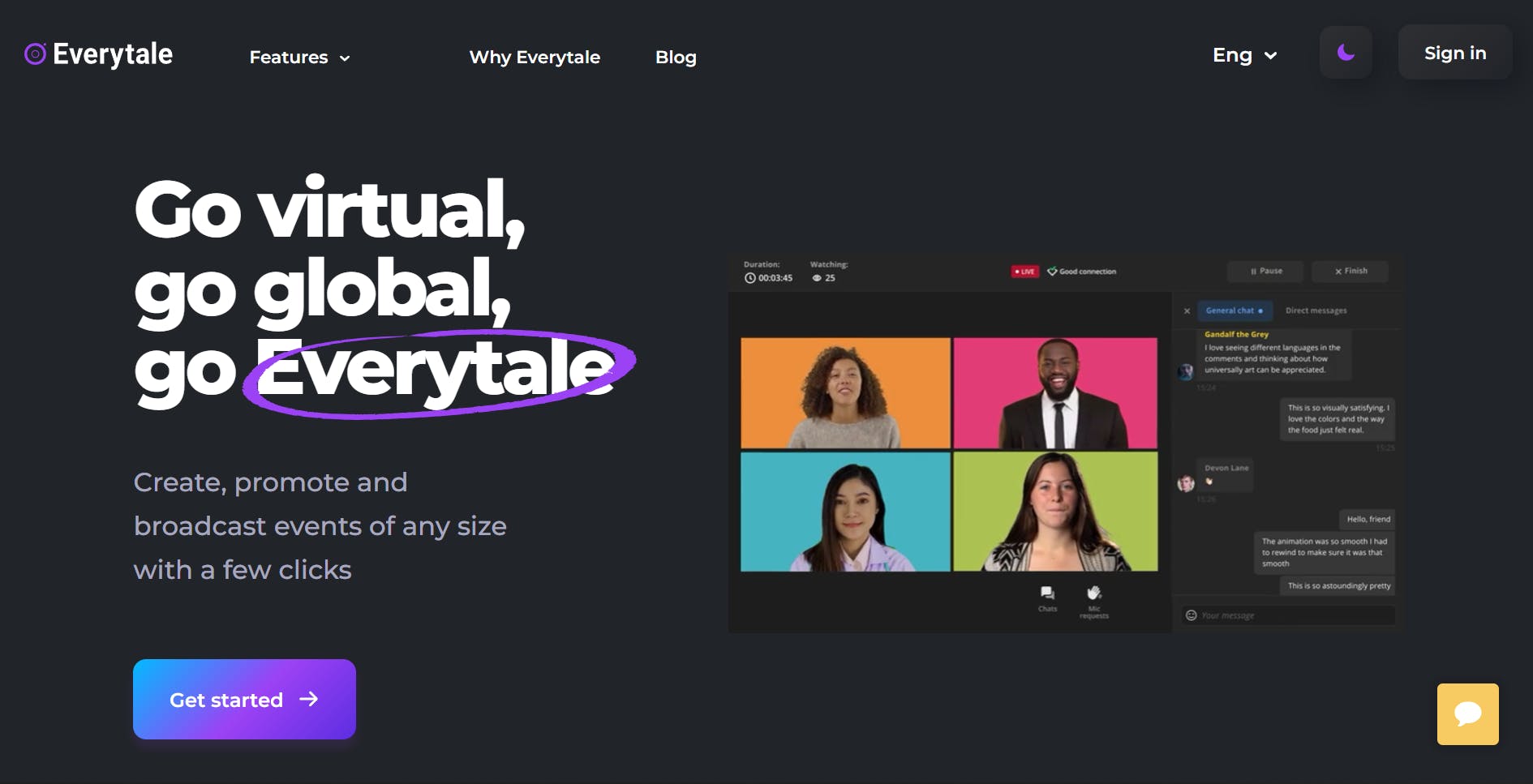 Everytale is a virtual events platform that brings creators and viewers around the globe together. Its comprehensive collaboration system helps you create, promote, broadcast, and scale events of any size.
What's Special About Everytale
It has a simple interface carefully designed for great user experience.
It offers a 4K live video platform powered with advanced AI and connects up to 100k viewers.
Offers live language translation, and speech transcription.
Lets you record and upload events to their global event library for re-visits.
The gamification features, when used, will make your events memorable and unforgettable.
Content creators can monetize their knowledge sharing events through paid sessions.
Drawbacks
It is best only for virtual corporate events and outbound marketing activities such as webinars. It is not widely used as an everyday communication tool.
There is no clear pricing structure for their premium or pro versions.
It also does not support integrations with your existing solutions. So you will have to use it as a standalone product.
Integration: No integrations available.
Available on: Only on Web.
21. Chatter by Salesforce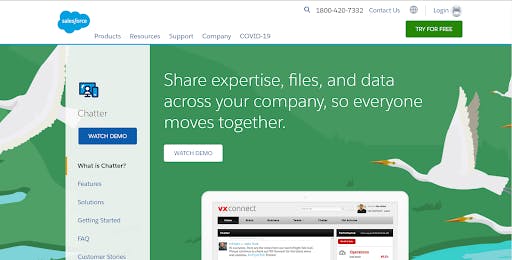 Salesforce Chatter is one of the many tools that's offered by Salesforce. It is like an internal social media platform that allows teams to connect through updates, posts, videos, and groups.
It is a built-in tool with the Salesforce suite.
What's Special About Chatter?
Chatter is like a forum so you can post any questions that you need immediate answers for and people in the group will respond.
You can do one-to-one conversations or group discussions. You can also share documents securely.
Replies to posts on the feed can also be done via email after the proper approvals.
If you are already using Salesforce then you probably have quite a few Chatter licenses available.
Drawbacks
The user interface is not really great and can be improved. For example, if you try to drag and drop files, there are times when it will not upload properly and opens a new window. Not very convenient.
It does not come as a standalone product or tool and is part of the overall salesforce suite.
It's best suited for enterprises and not startups or SMEs.
Integrations: It integrates with the Salesforce Product Suite
Available on: Windows, Mac, iOS, Android.
22. Circuit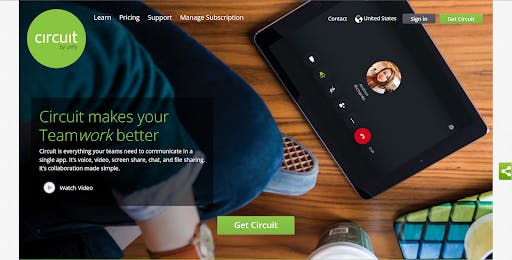 Circuit by Unify is a European based communications platform which has voice & video calling, screen share, chat, and file sharing.
What's Special About Circuit
It lets you read messages on Apple Watch. Probably the only application with that capability in this entire list. You can also integrate it with any Android based watch.
You can create online communities with Circuit and invite people to collaborate and chat.
Their user interface is very easy to use.
All of their plans, including the basic plan, have all the features. But their professional and enterprise packs have unlimited users.
They can connect to any VoIP phones and meeting room cameras with advanced connectors. An in-demand requirement among enterprises.
Drawbacks
There is no free version or free trial.
Their storage capacity is very low. Even their enterprise version has only 20 GB of storage.
Integrations: They have multiple integrations such as Outlook plug-in, Exchange Contact plug-in, and many more.
Available on: Windows, Mac, iOS, Android.
23. Fuze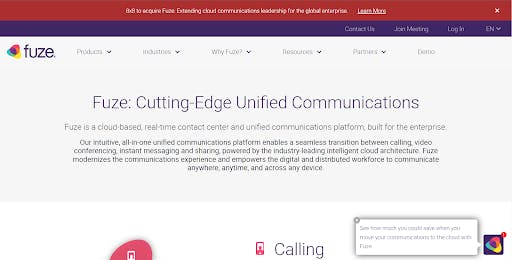 In their own words "Fuze is a cloud-based, real-time contact center and unified communications platform, built for the enterprises."
They have one of the best UCaaS cloud architectures for calling, video conferencing and messaging.
What's Special About Fuze
Fuze is known for the best user experience among enterprises. Their application is super easy to use, when compared to other applications which are often cluttered and have a huge learning curve.
They have award-winning customer service, success and value delivery.
They have highly-advanced login capabilities such as SSO via SAML 2.0 and AD sync with Okta, Ping Identity, and OneLogin.
They also provide one of the best enterprise grade security for all communications, files and data shared.
Drawbacks
Small and medium enterprises cannot afford Fuze. It is best suited for large enterprises with big teams.
Integrations: They have multiple integrations such as Okta, Microsoft Teams, Sales force, and Slack.
Available On: Web browsers, Windows, Mac, Android and iOS.
24. Vonage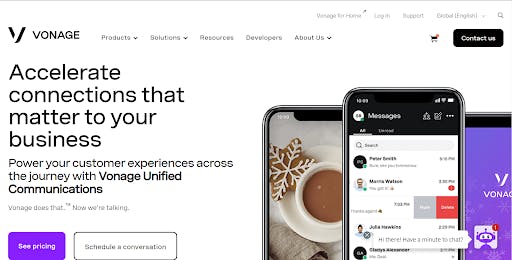 Vonage business communication is one of the first cloud voice over internet protocol phone servicers. Going back to 2004.
Another popular UCaaS (Unified communication as service) for multiple industries across the globe
What's Special About Vonage
Many developers use Vonage APIs for contact center solutions. Making them a go-to choice for many IT teams.
It lets team members communicate internally and externally with unlimited chats.
It provides SmartWAN solutions which are really good for bandwidth-intensive cloud applications.
Drawbacks
It is not small business friendly and only fits enterprises. And they are very expensive.
Requires advanced infrastructure including multiple hardware changes.
Integrations: They have around 20+ integrations including salesforce, Microsoft teams, Slack and more.
Available on: Windows, Mac, Linux, iOS, Android.
25. Cisco Jabber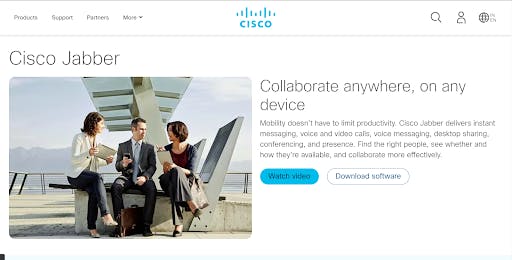 Cisco Jabber is a UCaaS for enterprises. It lets you make audio & video calls, send instant messages, share screens, and share files.
What's Special About Cisco Jabber
You can access Jabber directly from Microsoft office. Makes collaboration very easy.
Jabber integrates with enterprise VDI (virtual desktop infrastructure) and lets you access the application from anywhere.
You can check the real-time presence of your team members before you connect with them. This feature is quite essential for large enterprises who have thousands of employees.
Unlike most enterprise apps, the learning curve is very low and you can easily master the application.
It has robust security features and comes with password protection, so nobody can access it without your knowledge.
The desktop application has a very simple user interface, making it perfect for quick use.
Drawbacks
There is no free trial available. Nor can you download the application without a Service contract. Not very friendly from small and medium businesses and only fits enterprises.
Integrations: VDI and Microsoft Office.
Available On: Windows, Mac, Android, iOS.
26. Slack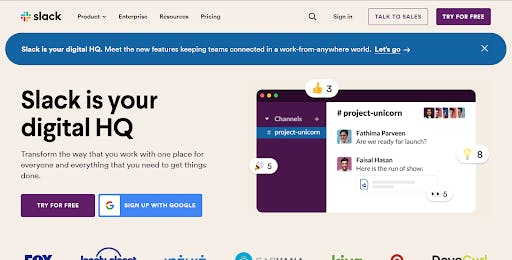 How can we talk about communication tools without mentioning Slack?
Slack, as it's known, is one of the best chat tools for teams with over 10+ million daily active users.
What's Special About Slack
Well, they are pretty much everywhere and used in almost every company.
They have a brilliant chat interface.
There are hundreds and thousands of communities across every industry that use slack. So external and internal teams can both use it.
Drawbacks
Their video conference collaboration feature has very low quality.
Only 15 people can join a video call at a time.
You cannot record video calls.
They also don't have a good calling or audio recording feature.
Integrations: There are hundreds of integrations available with Slack.
Available on: Windows, Mac, iOS, Android, Linux.
27. Microsoft Teams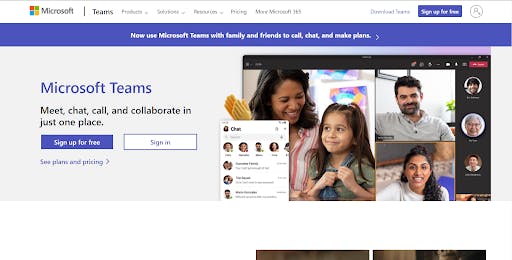 Microsoft Teams, as we all know, is a popular team communication software which provides chat, video conference, and calling features.
What's Special About Microsoft Teams
It works with Microsoft Office 365 perfectly. You can share your office docs & sheets easily, and also collaborate on them.
It integrates with Microsoft Yammer, which is a social media platform that lets teams have facebook-like forums and feeds.
You get a free forever plan with upto 100 participants.
Drawbacks
The user interface can be very confusing with too many options to choose from. So, the learning curve is high.
It may not integrate so well with products outside Microsoft, such as slack and others.
It also takes a lot of Ram space during usage which can be very taxing on your device.
Integrations: Integrates with all Microsoft Products.
Available on: Windows, Mac, iOS, Android.
28. GoToMeeting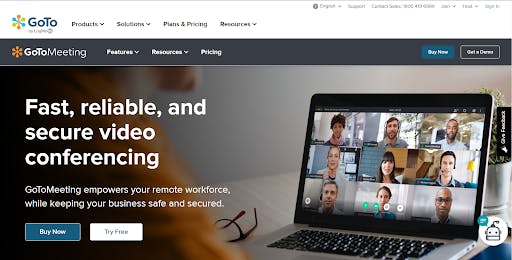 GoToMeeting by LogMeIn is one of the oldest and most popular cloud-based video conferencing software; that lets you conduct video meetings on your computer, phone or tablet.
What's Special About GoToMeeting
The business plans give you advanced functionalities such as transcription with time labels for all speakers, smart assistant, and meeting lock.
You save your recorded meetings in the cloud or on your local device.
They are built with an emphasis on security. All meetings use SSL encryption with AES256 bit encryption and they are HIPAA compliant.
They also have one of the best video call qualities.
Drawbacks
They do not have a free plan. You only get a free trial.
The high end security and locking features are only available in their high-end plans.
They are also quite expensive, so they are not small business friendly.
Integrations: They have a wide range of integrations such as Microsoft Teams, Google Calendar, Salesforce, Hubspot, and more.
Available on: Windows, Mac, Android, iOS.
29. Google Workspace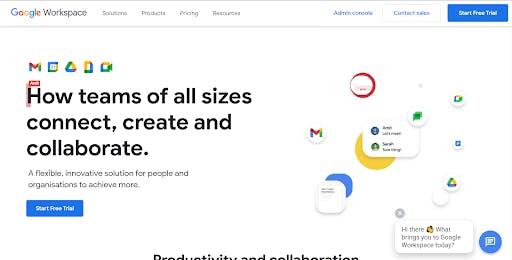 Do we really need a big introduction here? We all know how versatile Google Workspace is.
What's Special About Google Workspace (Seriously!?)
Well, 1.5 billion people use gmail and other apps within the workspace.
They are a favorite among startups and SMBs because they have all necessary functions, are affordable and easy to manage.
Google Meet is probably the biggest competitor of Zoom because it is very good, though it lacks some important features.
Drawbacks
Though it is a workspace, all the necessary features are siloed and not within the same application. So it actually breaks the flow of work.
You have to switch between so many different applications, which makes your work tedious.
It does not have any project or work management features within it.
Also, from a security standpoint, Google workspace does not have the best encryption features. So they may not fit enterprises so much.
Integrations: There are multiple third party add ons that you add to google workspace.
Available on: It's Google. So it is available everywhere.
How To Choose The Best Communication Tools for Your Team?
It all depends on what your team's needs are.
It is always best to get a tool which gives you end-to-end features as it stops you from juggling between different applications.
Asking these questions will probably help you land the best deal:
Do I need only chats or do I need videos and calls too?
Is it for general communication or is it for task & project specific communication?
How many team members will use this app?
Do I need this app for external and internal communication?
What is the budget?
Do I need a cloud based application or desktop application?
What infrastructure changes do I need to make to fit the new app?
Finally, will it last for a long time with essential integrations?
If you are able to answer these questions appropriately then you will be able to get the right communication tool for your team.
In Conclusion: SmartTask Can be Your End-to-end Work Management and Communication Tools
SmartTask has all the advanced and essential features to improve your day-to-day work, internal communication, stakeholder communication and more.
And it is free forever, as mentioned earlier.
Try SmartTask For Free
Frequently Asked Questions
1. What's the importance of communication in project management
Without communication, a project cannot be successful. Period.
Dealing with all the intricate details, dependencies, decisions, and approvals a project involves would be impossible to get things done without effective communication. Read more about communication in project management