SmartTask
Contents
Your Go-To Guide for Effective Client Management
By Aastha ShawApr 12, 2022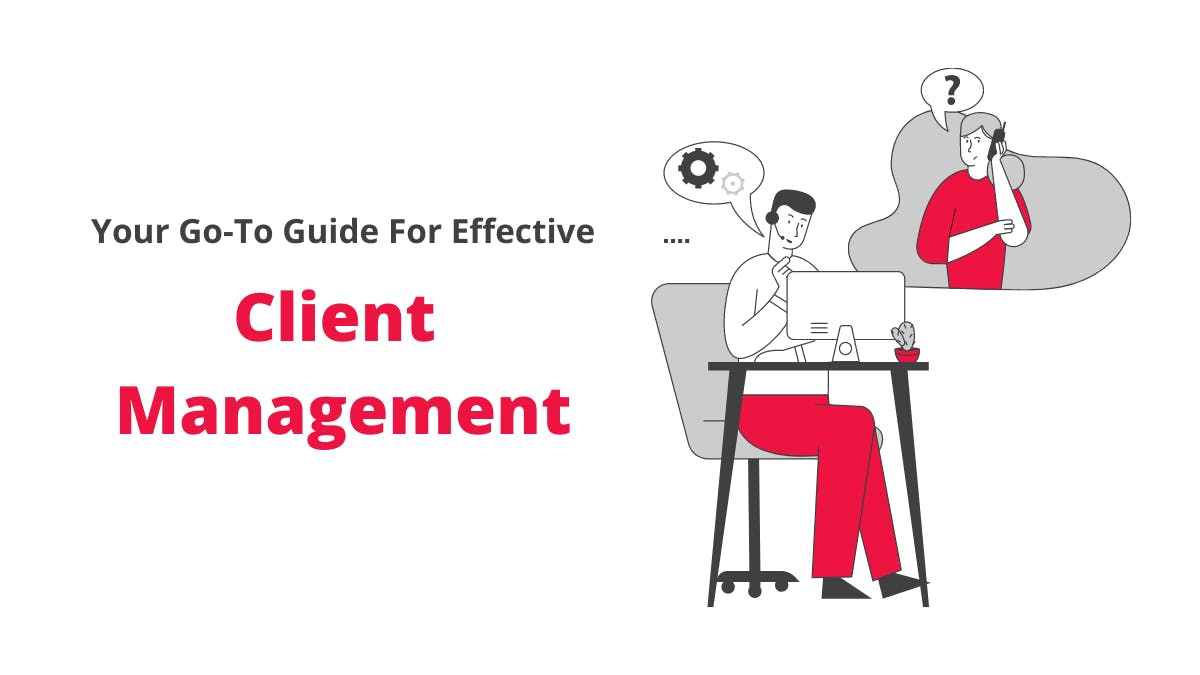 Today, businesses not only compete on the quality of the products but also on who can provide the best service to their clients.
To create the greatest possible customer experience, industry experts have codified the most effective ideas and practices into a discipline known as client management.
Client management allows organizations to spend less time determining what works and what doesn't and more time really serving their clients. It legitimately holds the key to the success of businesses.
And to help you improve your client service efforts, we have compiled everything that you need to know about client management into an easy-to-read and digestible guide. Let's start with the basics, shall we?
What is client management?
Client management refers to the technique for managing interactions with clients. It takes responsibility for all aspects of the working relationship between clients and the company to ensure the highest quality deliverables and client satisfaction.
It involves understanding your client base and developing a plan to interact with them, so that they may be converted and retained for a long time. These interactions can be phone calls, emails, shared dashboards, live chat, video meets, and in-person encounters.
Note: A "client" and a "customer" may differ based on how and what they buy from a business.
How do you manage your clients effectively?
The whole point of client management is to retain your clients. The way to do that is to make them happy and fulfill their expectations for the project. Here are some practical tips to help them manage properly.
1. Be honest and transparent about your work processes
Make sure to update your client on project progress and broad decisions made. Be honest about timelines and discuss openly about any sort of issues regarding the client's project.
2. Set realistic and achievable expectations
Don't promise anything you can't keep just to please your clients. This can cause bigger problems later. Give clients an idea of what you believe is reasonable in terms of work, timelines, and results.
3. Take their feedback and learn about their perspective
To be able to achieve your client's expectations you need to have a process in place to capture their feedback. One way to make sure nothing falls through the crack is to have them added to your workspace.
With SmartTask, you can Invite them to your online workspace as a guest user with limited access. You can then tag them to your projects and tasks as followers to keep them involved and get their feedback in real-time.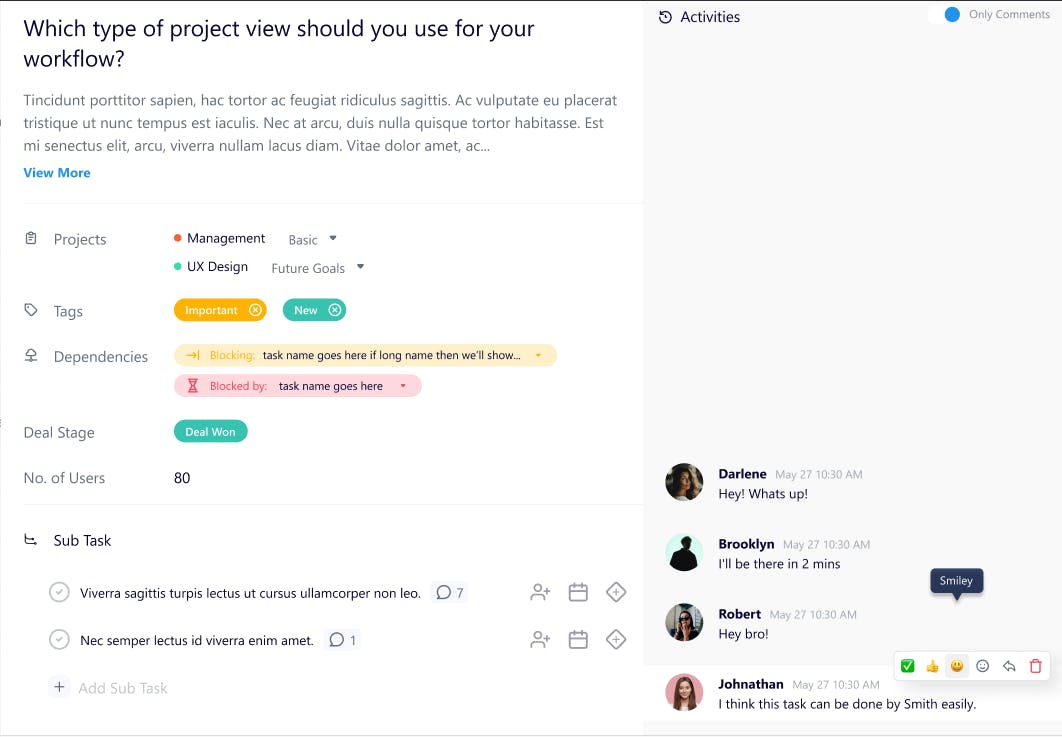 4. Help them understand the work process
Create a project roadmap to show your clients and make them understand your way forward. Share a high-level view of tasks and the milestones that are to be achieved throughout the project. It will save you a lot of time from explaining your approach and status to the clients over and over.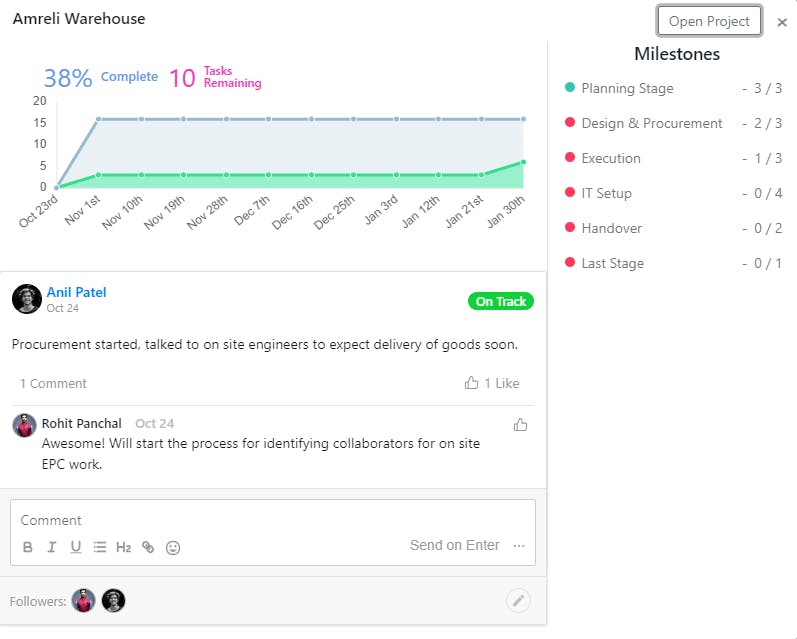 You should also share the timeline of your project so that they know the order of the work, what to expect by when.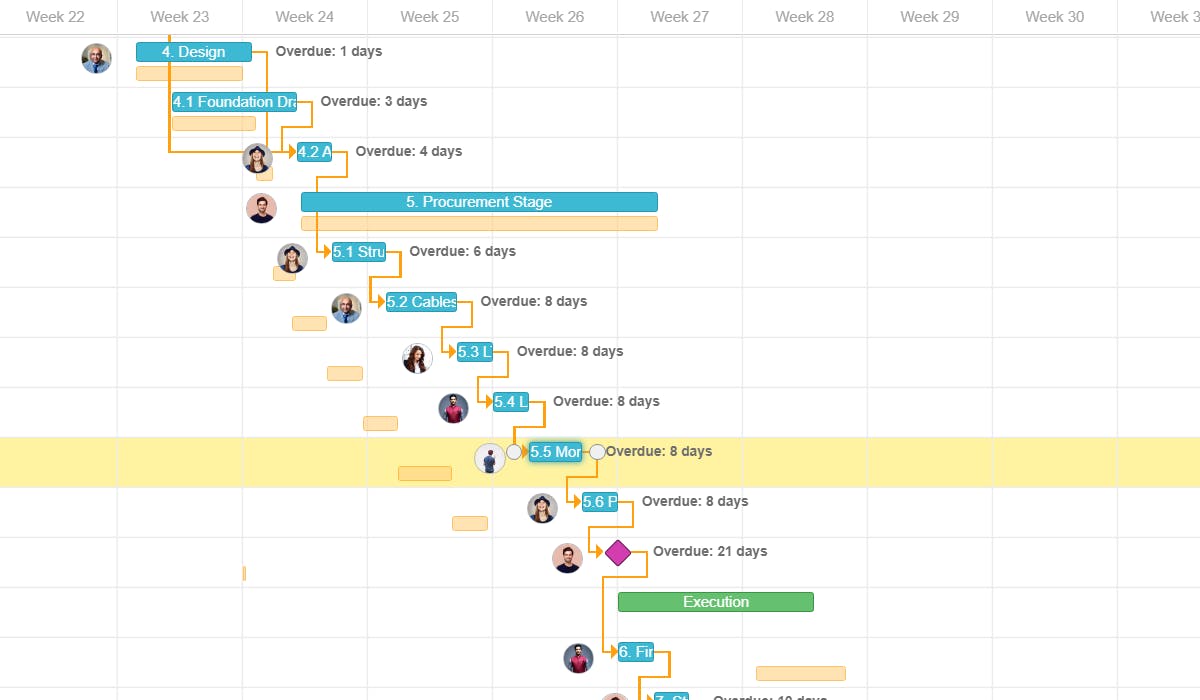 5. Establish proper communication
Constant communication is the key to facilitating transparency. It's best to choose a tool like SmartTask for a smooth and streamlined communication window with your clients.
6. Keep a trail of everything
Everything should be documented and signed off to avoid any misunderstandings and disputes. These documents should be easily accessible by both manager and client.
On SmartTask, you can store and share important files and information using task attachments and descriptions.
7. Ensure proper alignment
Share what is relevant and aligns with the needs of the client. Establish the scope of the project as decided. Also, develop the key performance indicators they are looking for and track them regularly. This will also keep them informed on the project's success.
How do you build trust with clients?
Building trust with your clients is surely one of the most important things for every business. This is how they turn prospects into clients as well as keep existing clients happy and for a longer period. Here are a few tips to gain your client's trust:
Respect their time: Everyone's time is precious. It is very important to respect their time, schedule, plans, needs, etc. Respond promptly. Log on to a scheduled call early so that they don't have to and wait, keep meetings short, straightforward, and productive.
Learn about their way of working: When you are building a project for them, they should be able to trust you with their work. So, do your homework, learn about them in & out and you will already be able to impress your clients.
Listen to them closely: If you look closely into the underlying fundamental problem, you may uncover solutions to make your client's life a bit simpler. And that's just one approach to show your commitment and establish some credibility. For example, look for flaws and missing pieces in your client's process and improve upon them.
Do ground-level work: Clients can sometimes articulate the challenges they desire to fix. Other times, they simply know what outcomes they desire. Get closer to meeting client expectations by asking them to give a thorough project brief; talk to them about projects they consider successful and similarly about failed projects. This will help you get a better hold of the client's perspective and definition of project success.
Deliver the unexpected: If possible add in a sweet gesture for your clients. This is where you can change their "nice to have" in reality. Or even delivering a project above the expected quality and deadlines, can also impress them and win their trust.
Work Efficiently With Your Clients On SmartTask
SmartTask makes it easy to manage and communicate with clients. You can set deadlines, share expectations and plans, and notify your clients as progress is made.
1. Groups, Projects, and Tasks for managing clients
You can share groups, projects, and tasks privately with your clients while also ensuring that they only see what they need to.
Try creating a group for each client and adding related tasks and information there. You can also invite clients as guests with limited actions to read, comment on, or edit specific items.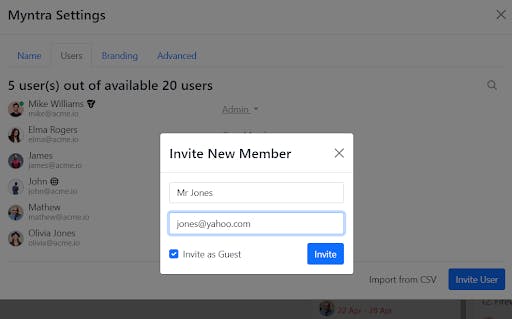 2. Process for new client saved as a template
In most cases, you will have to create the same set of action items when you're starting with a new client. Instead of recreating those groups, projects, and tasks, you can simply save them as templates!
Get started directly with our existing public templates. You can select among the various templates and add the one you need directly to your Workspace.
3. Tag clients in Task comments to get approval
Tagging clients in comments makes comments actionable and useful. However, when working with clients, they're even better for approval and feedback!
Once you have added your clients to your workspace as guests, tag them in task comments to get their approval on the work done or about to be done. They will also be able to reply to that comment to let you know to proceed or if they have any updates or suggestions.
4. Utilize custom fields to reduce the number of calls and emails
SmartTask's custom fields will allow you to keep your clients updated on the status of your work.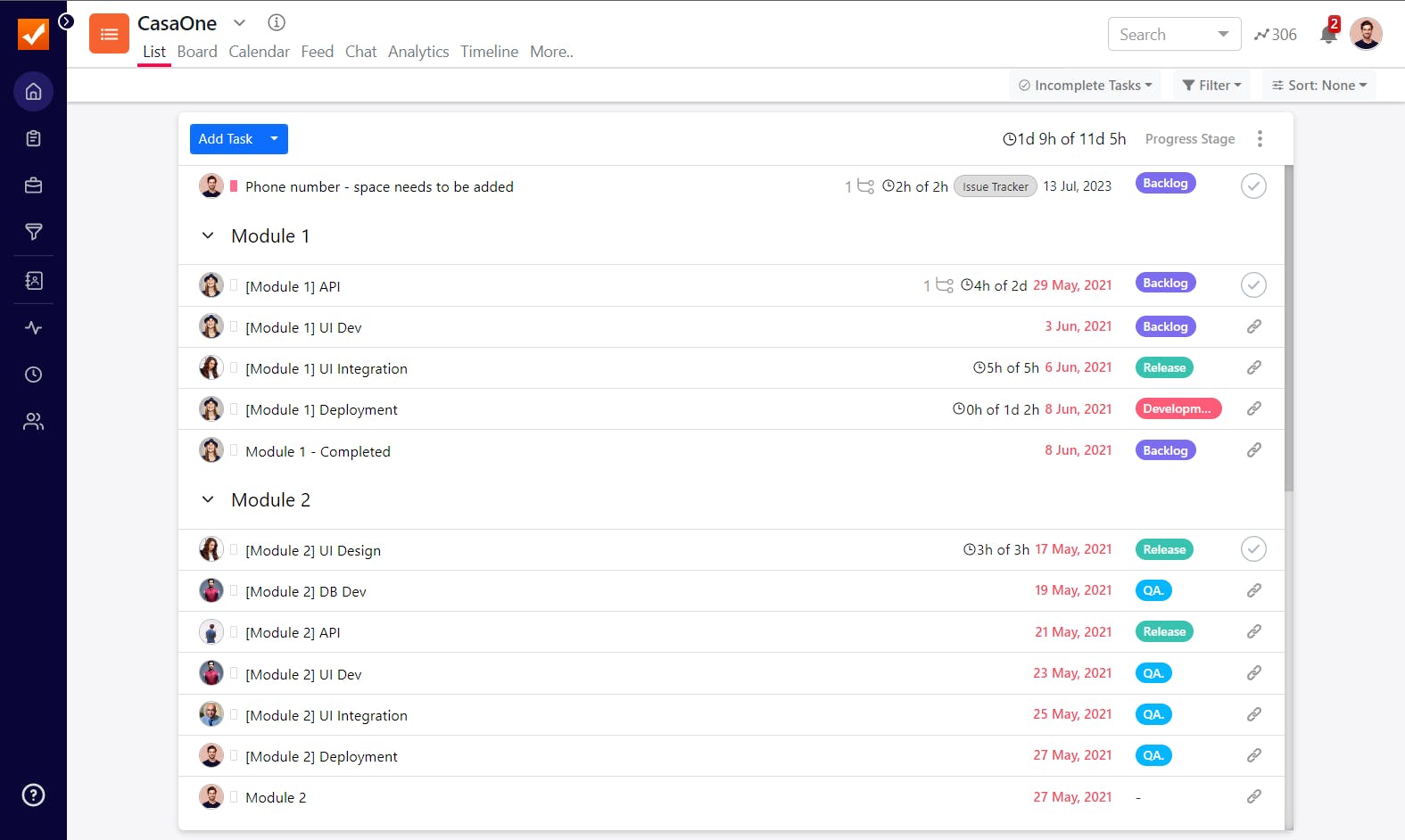 Using custom fields you can add more information to all tasks and track where they stand. By simply looking at the task status, your clients will know what is going on, eliminating the need for daily update calls and messages.
5. Project dashboards to keep them updated in real-time
With SmartTask's project dashboards, you can keep your clients updated in real-time.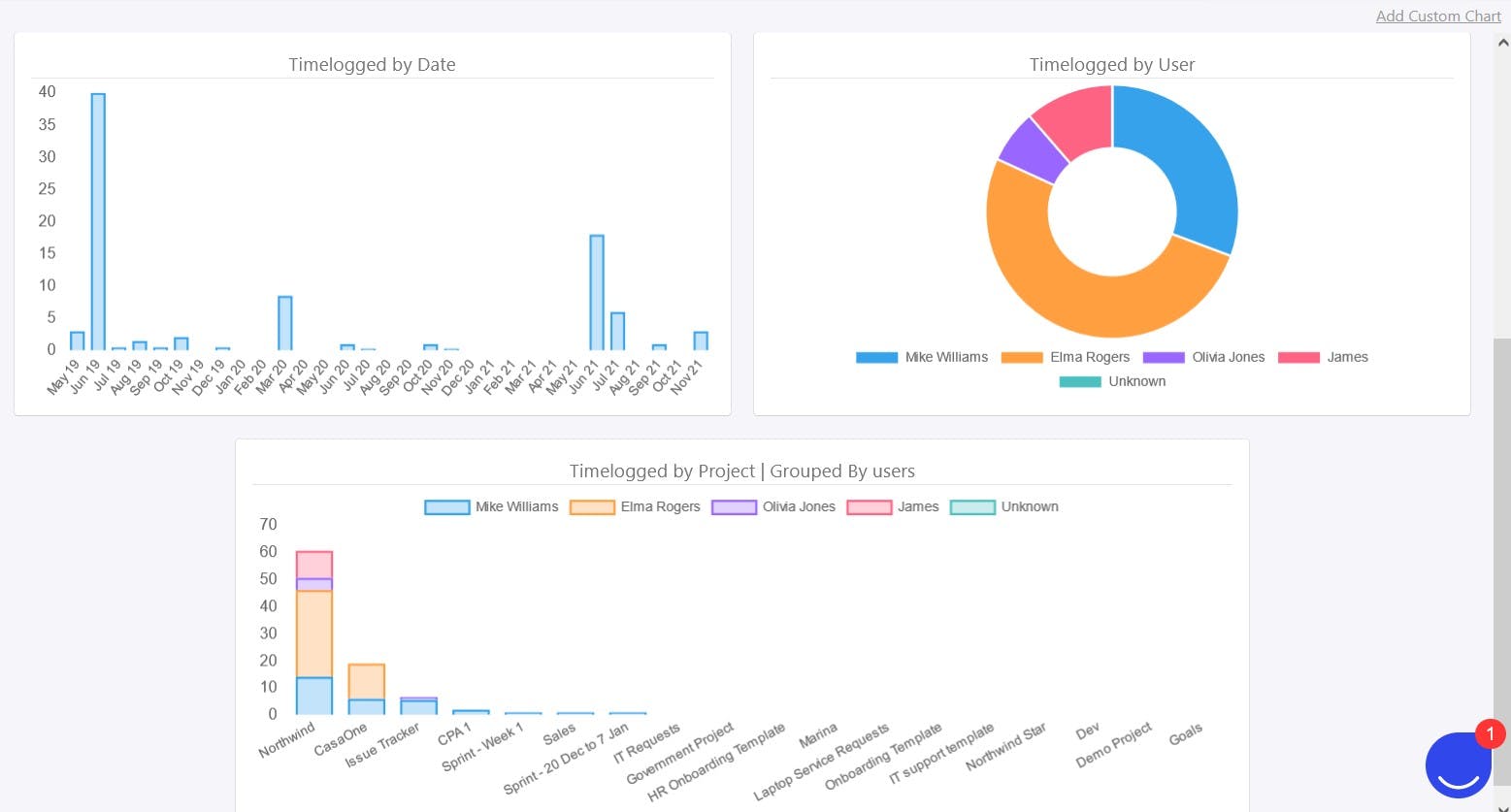 This means they don't have to keep wondering or asking you what's happening and how much longer will it take to reach their final destination.
6. SmartTask as CRM
SmartTask not just aids you in creating tasks but also to follow up with a prospective customer. On top of this, there's an added benefit that it also enables the company to track the journey of a customer through various processes about the sales pipeline.
Learn more about how to use SmartTask as CRM
When a task is associated with a contact, it is also added to the contact's activity feed for us to refer back to. Many times we don't remember what transpired with a contact in the last meeting and that is where the Activity feed is very helpful.
7. Sales Management with SmartTask
Track deal stage or milestone through the application of customized tags in SmartTask. Update teammates about the status of an account by tagging the stage of the sales process with tags such as Pitch Made, Meeting Scheduled, Deal Won, or Deal Lost. This will help in nurturing leads better.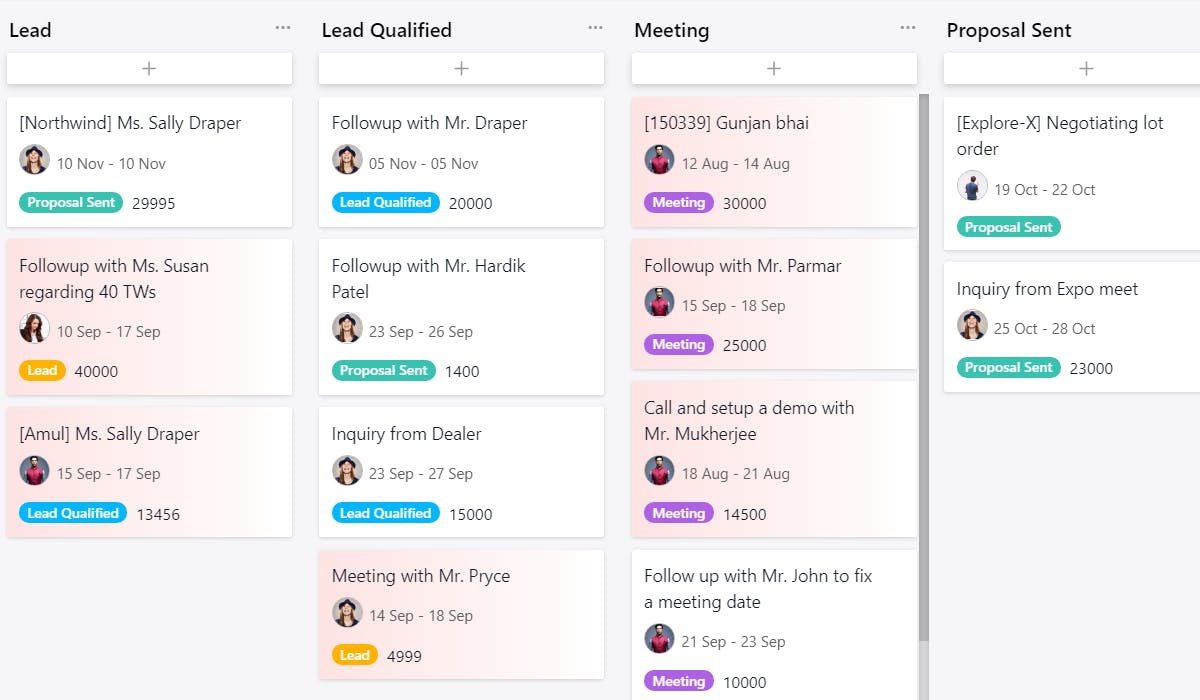 The sales pipeline also aids an organization to understand the impact of the strategic planning and improvise upon the same.
8. Use White labeling to camouflage SmartTask into your own brand's workspace
You don't have to be uneasy about working with your clients on a foreign tool.
With white-label you can replace SmartTask's branding with your own, making SmartTask truly yours and impressing your clients!
Watch this video to learn more -
Setup SmartTask on your custom domain to match your brand (Example: "app.brand.com"). Any mention of SmartTask will completely be removed once the white label is active.
Amazing right?

Manage your clients efficiently with SmartTask. Signup today for free!