SmartTask
Contents
11 Best Client Management Software in 2023 (Free & Paid)
By Angad SinghDec 28, 2022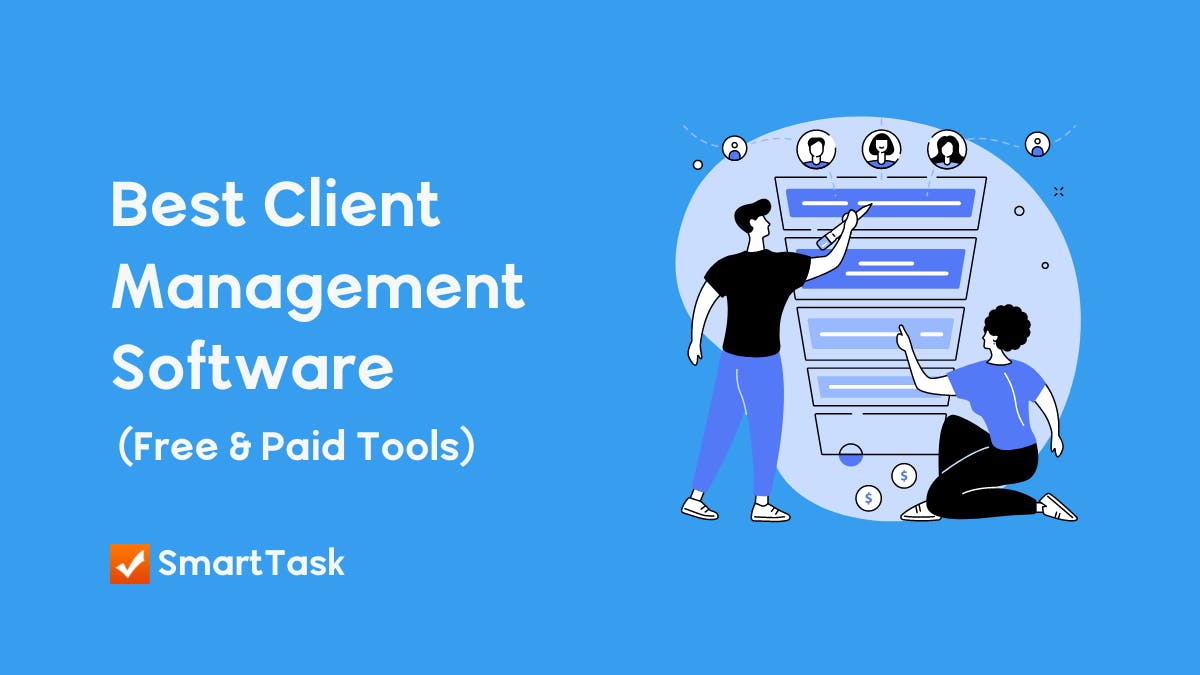 We're all told not to judge books by their covers. Yet, improved book covers increase visibility by 50%.
Client work is no different. Creating exceptional products and services is a great start. But clients turn into brand advocates when your delivery is just as good as what you offer.
That's where the right client management software enters the picture. From onboarding to upselling, it allows you to streamline and perfect every facet of your client experience.
Sounds like a worthy investment, right? And if you're ready to make it, this list of the 11 best client management software in 2023 is here to help.
1. SmartTask
Looking for the silver bullet to scale client happiness? Well, SmartTask is where your search ends.
We help you streamline all your client management workflows with ease. No never-ending implementation treadmill to be found here. Our UX works with you, not against you, making value discovery a quick milestone.
But that's just the beginning. Let's discover more by glancing at some of SmartTask's standout features.
Key Features
Guest Users, so you keep clients in the loop about project progress
Time Tracking and Workload View to help you optimize resource utilization for profitability
Portfolio View so you can manage multiple client projects from one convenient screen
CRM Analytics paint a visual picture of how sales are coming along
Contact Management to consolidate all accounts and contacts in one database
Voice & Video Calls to centralize all client communication
Call Recordings that help you enhance client understanding over time
White-Labeled Client Portal to help you deliver a spotless client experience
And more work management features to help you 3X your team's productivity
Pros
Unbeatable pricing
24/7 customer support
Even the free version has Portfolio View, CRM with project management, and Video Conferencing
White labeling add-on with a base plan of just $8/user/month
Cons
White labeling isn't present in the Premium ($5/user/month) plan
Best For
Teams (of all sizes) looking for the secret sauce to scale client happiness ;)
2. HoneyBook
In a market where client management solutions have a heavy sales focus, HoneyBook introduces balance. In one of their latest ads, here's how they self-identify:
"the project managing; invoice sending; client-wowing, payment processing; one-stop shop for your business."
As bold as this proclamation is, HoneyBook owns it with its feature set.
Key Features
Workflow automation to automate everyday business processes
Interactive proposals that help you make a great first impression
In-built scheduling to fetch appointments
Online payment processing
Contract management
Mobile app
Business dashboard that centralizes client comms
Pros
Sending contracts and invoices is easy
Interactive proposals cultivate an enviable client experience
Pleasing, modern UI that both impresses clients and helps your workflows
Purpose-built for independent professionals
Cons
Extra charges for instant payments (instant deposit fees is relatively high)
Only available for independents based in the U.S. and Canada
A dashboard where growing businesses can see relevant metrics is missing
Client dashboard could organize information more systematically
Best for
Independent professionals that don't need sophisticated pipeline management
3. Dubsado
Dubsado shares several strands of its DNA with HoneyBook. It stands similarly apart from CRMs best-suited for sales teams.
In fact, the industries it serves are arguably underrepresented in the marketing collateral that the big boys (like Salesforce and Hubspot) release. From photographers to event planners, marketers to makeup artists, Dubsado says that it's for everyone.
But does this claim measure up to reality? Well, both yes and no.
It leaves more to be desired in terms of team management (when you scale). But on the onboarding side of client management, Dubsado empowers underserved industries in powerful ways. Several reviews on G2 exclaim how the tool helps them dazzle clients in the early stages.
Curious about what features bring out this effect? Well, there you go.
Key Features
Customizable form templates that simplify first contact and approvals
Invoicing capabilities with automated reminders sent to clients
Client portal that centralizes your client interactions
White labeling to help make Dubsado your own
Workflow automation
Scheduling capabilities to fetch appointments
Pros
Pricing is bang for the buck for small teams and independent contractors
Automation helps automate and thereby speedup client onboarding
The team adds new features rather quickly
Powerful free version where you can add up to 3 clients
Cons
Not ideal for larger companies
High learning curve
The pricing system is complicated — on top of yearly fees, you have to pay extra monthly payments if you want more than 3 team members to use the software.
Best For
Small teams and independent contractors that want an edge when onboarding and interacting with clients
4. Teamwork
From all the entries on this list, Teamwork's brand story will be most resonant for agencies. The founders spent years handling client work themselves before building Teamwork.
Borrowing from an intricate understanding of challenges in agency work, they've built a platform with an unmissable client focus. When assembled with all its components (Projects, Desk, Chat, CRM, and Spaces), Teamwork emerges as work and client management's love child.
That's not to say that it's without faults. From their UI being hit-or-miss to costs shooting through the roof when you buy all add-ons, there's a lot that can steer you away from Teamwork.
Key Features
Portfolio view to manage multiple client projects
Workload management to optimize staffing for profitability
Client users
CRM as add-on
Teamwork Spaces (documentation tool) as an add-on
Time tracking
Teamwork Desk (customer Portal) as an add-on
Pros
Can invite unlimited client users to projects (from the Deliver plan onwards; $9.99/user/month)
Gantt chart view available in the free version
Holistic work management tool built from the ground up with a client-management focus — the founders ran their own agency before launching Teamwork
Easy data import from major work management platforms (Basecamp, Asana, Wrike, ClickUp, Trello, and Monday)
Cons
Portfolio View, Workload view, and custom fields are available only from the Grow ($17.99/user/month) plan
Plenty of users echo complaints of an unimpressive UI
CRM and other client management-centric features need to be purchased separately (as an add-on)

Best For
Agencies, creative teams, and professional service firms that see value in the Grow plan ($17.99/user/month)
5. Wrike
Wrike has been around for 15+ years in the collaborative work management space. Along this long growth journey, it has evolved.
Just recently — in its annual conference in late October 2022 — Wrike announced major changes to their platform. Even James Clear, the author of Atomic Habits, shared wisdom on the eve of this announcement. So, suffice it to say that it was a big deal.
The team revealed several exciting updates, bridging everything under the new Wrike Lightspeed moniker. AI-powered improvements took center stage. However, the presenters also showcased new client management features.
Here's a glimpse:-
Key Features
Effort management and time tracking
Request forms for external collaborators
Customizable user types (can add client users)
Easy-to-setup CRM
Customizable reports for clients
Pros
Robust client management solution that's scalable in varied business use-cases
Wrike Lightspeed — the platform's new version — sports a modern, improved UI for a reasonable price
Handy resource management features that prove useful when handling multiple clients
Cons
Reporting features, though present, are too lightweight yet to deliver true value
A couple of users report that the mac application is significantly slower than the web version
A CRM template would've been nice
Customizable user types are only available in the enterprise version
Best For
Mid-sized and large teams that couldn't make the likes of Hubspot and Salesforce work for them
6. ClickUp
ClickUp is a great tool for self-starters. From your first introduction to ClickUp to your Nth project, you're likely to discover more and more features along the way.
Now, that's both good and bad. Good because the team also keeps adding new features to truly bring all your work to one app. You always have new tools to improve your workflows. And the bad? Well, the training and discovery never really end. A sense of mastery is a target forever slipping away with ClickUp.
Regardless, it can easily accommodate several client management workflows. Here are the best features that make it happen:-
Key Features
CRM (easy setup)
Client portal (easy setup)
Time-tracking
Whiteboard and Docs
Extensive project management features
Pros
A perfect set of lego blocks for self-starters — can scale the platform to accommodate infinite possibilities
Pricing is bang for the buck — even the free version gives you a tangible understanding of what ClickUp can deliver
Support documentation is extensive — there are multi-media answers to most questions users may have
Massive integrations library
Cons
Platforms slowdowns have been a persistent issue for a while but a resolution is hopefully near with the 3.0 release
Steep learning curve — the ever-presence of new features can sometimes feel like treading a minefield when you just want to focus on the task at hand
ClickUp can overwhelm your email inbox if you don't take out the time to customize notifications
Best For
Small and medium teams with the time and savvy to create no-code solutions from ClickUp's building blocks

7. Zoho CRM
Zoho has made waves by bringing pocket-friendliness to what industry titans like Hubspot and Salesforce offer for small fortunes. Their CRM continues this legacy.
However, Zoho's price points aren't a result of cutting corners. They put real love into their products, evident from the positive buzz they generate on the internet. Yet again, their CRM stands true to this blueprint.
Loved by most users who give it a shot, Zoho CRM is a bagful of handy client management features that help build lasting relationships. Here are a few that stand out:-
Key features
Blueprint — mimics offline processes precisely in the CRM
360 degree view of your clients
Omnichannel capabilities — can connect with customers easily
Pipeline management
Condition-based automation
Custom reports & dashboards
Pros
Price point is great
Omnichannel capabilities are great to centralize client outreach
Works flawlessly with the rest of the Zoho One platform
Cons
You cannot delete users, only deactivate accounts, which can be a compliance issue for countries that follow GDPR laws
Support is reportedly limited for certain time zones
2-factor authentication proves to be a poor user experience for several users
Power users notice app slowdowns and other issues when operating at scale — some suspect issues with Zoho CRM's system architecture
Best for
Small and medium-sized teams that want a sales-focused client management solution that's easy on the pocket

8. Salesforce
Salesforce is among the earliest and biggest SaaS success stories out there. The platform stuck to its guns and offers a sales-heavy approach to client management.
That's not implying that Salesforce doesn't give you avenues to optimize other parts of the client experience. In fact, you can choose from 15+ tools to supercharge business growth from all fronts.
But let's not dig into that rabbit hole just yet. Instead, here's a rundown of the features that best help you dazzle clients:-
Key Features
Contact Management
Opportunity management
Einstein Analytics
Trailhead (extensive support documentation)
Lead management
Sales forecasting
Pros
Deep market penetration — most mid-level professionals are familiar with it
One of the most powerful CRM out there — ROI is exceptional once you shed growing pains
Advanced reporting capabilities
Secure enough for enterprise teams
Cons
The crowded interface can overwhelm new users
Nearly impossible to set up without training, especially for large teams — bad initial setup can have a domino effect that's both costly and frustrating
Expensive — small teams trying to run lean can't afford it
Have to purchase several add-ons to find the quickest path to value
Best For
Enterprises that want a reliable CRM
9. Keap
Previously called Infusionsoft, Keap simplifies client management right out of the box. Already responsible for driving $2.6 BILLION in online sales for customers, it's a well-deserved entry to this list.
Purpose-built for small business growth, this CRM escapes the urge to solve everything at once. Instead, it helps you drive improvements in three focus areas: client management, sales, and marketing.
Care to know the features that enable the above? Well, here you go.
Key Features
Personal dashboard
Workflow automation
Marketing (email and text) automation
Landing pages creation
Business line
Easy appointments
Invoicing and payment processing
Pros
Reliable support emboldened by thorough help docs
Purpose-built for small businesses
Cultivates a quick and easy experience for making first contact with clients
Product updates are frequent and useful
Cons
As one reviewer puts it, very hard to learn and practically guarantees the need to pay for training
Doesn't scale into a work management system like some others on this list
More affordable than industry heavyweights but still too expensive for small teams with more than three members
Best For
Small businesses that want a mix of marketing automation and client management
10. Hubspot
Hubspot is one of the internet's most loved brands. And why shouldn't it be? From pioneering inbound marketing to democratizing software-led growth with powerful free tools, Hubspot has done plenty to earn mass goodwill.
But this universal appeal is a twin-edged blade for small businesses. Early on, you can squeeze enough mileage out of Hubspot's free CRM. However, the more scale-ready plans have daunting costs (Professional Sales Hub starts at $450/month).
And if you thought that was high, wait till you discover how much Hubspot's bundled solutions cost. The Professional CRM suite (with tools for marketing, service, sales, ops, and content management) will weigh your wallet down by $1600 every month.
Still, Hubspot CRM is a worthy investment for client management if you can foot the bill.
Key Features
Sales forecasting
Contact and account management
Pipeline management
Scheduling
Dashboard and analytics
Content management
Marketing automation
Pros
Impeccable support that justifies the high price point, especially for larger teams
A gradual learning curve made bearable by an extremely intuitive UI
Small businesses can do a lot even with the free Sales Hub plan
Hyper-detailed help documentation and free learning resources
Cons
Paid plans are a no-go for small businesses
Dashboards are available but lack advanced customization
Best For
Small businesses that can make do with the free version and larger teams that aren't turned away by Hubspot's pricing

11. Monday
In its annual conference, Monday claimed that the Work OS helps users save around $6 million a year.
How does that happen? Well, Monday's many low-code no-code building blocks come together to speed up your daily workflows. Even with client management, Monday streamlines your efforts so you can focus on delivering value.
The features that stand out here are:-
Key Features
Request forms to capture client requests
Customizable boards and dashboards
Simple yet powerful automation
File management & docs
Large integrations library
Time Tracking
Pros
Automations are ridiculously simple to set up
Superb help documentation
The portfolio work (in the works) seems to be excellent
Works out of the box but is insanely customizable
Vibrant, modern UI that's nice to look at
Cons
The simple, board-based interface can begin to break when contact lists become sizeable
Pricing tiers are confusing and a big no-go for small businesses
No live chat feature
Lacks forecasting abilities
Some users report delay in sync between multiple devices
Best For
Enterprises already using the Monday Work Management platform

Final Verdict
Hey! Glad you made it to the end of the list. Hope you found the client management that's right for your business.
But if you're still weighing options, consider SmartTask. 20,000+ teams — including Amul, ABB, Adecco, and Ecolab — use it to deliver a terrific client experience.
Here are some of the best compliments we've received,
"A perfect mixture of Task Management and CRM."
"Best work management tool in the market. The CRM is great with call recordings and detailed sales analytics."
"Overwhelmingly robust."
And we're confident you too would find something to add to the list ;)
Reinvent Client Management Process with SmartTask Today!
FAQs
1. What is client management software?
It's a tool that helps you automate and improve your client-facing workflows. Here are some use cases it covers:-
streamlining handoffs,
onboarding clients,
tracking billable hours,
and centralizing feedback.
2. What is a good client management system?
It needs to check a few boxes:-
1. Be intuitive and easy-to-adopt, even at scale.
2. Help with managing multiple projects, typically with a portfolio view.
3. Help every team member on a client project track billable hours and then bring that info into one place.
4. Have a client portal that supports white labeling.
5. Feature reliable, 24/7 support.
We're proud to say that SmartTask passes this assessment with flying colors ;)
3. What's the difference between CRM and CMS?
CRM means customer relationship management whereas a CMS is a content management system. CRM software helps you manage all your customer relationships. On the flip side, a CMS allows you to create, edit, collaborate on, publish, and store content.
4. How do you track client communication?
It's a good idea to bring client comms under one roof. Splitting it across different platforms like email, slack, and WhatsApp can create problems later. A tool like SmartTask helps here. It lets you invite clients to tasks as guest users or centralize all interactions on a white-labeled portal.