SmartTask
Contents
ClickUp vs Jira: Which One's a Better Project Management Tool?
By Viraj MahajanOct 26, 2022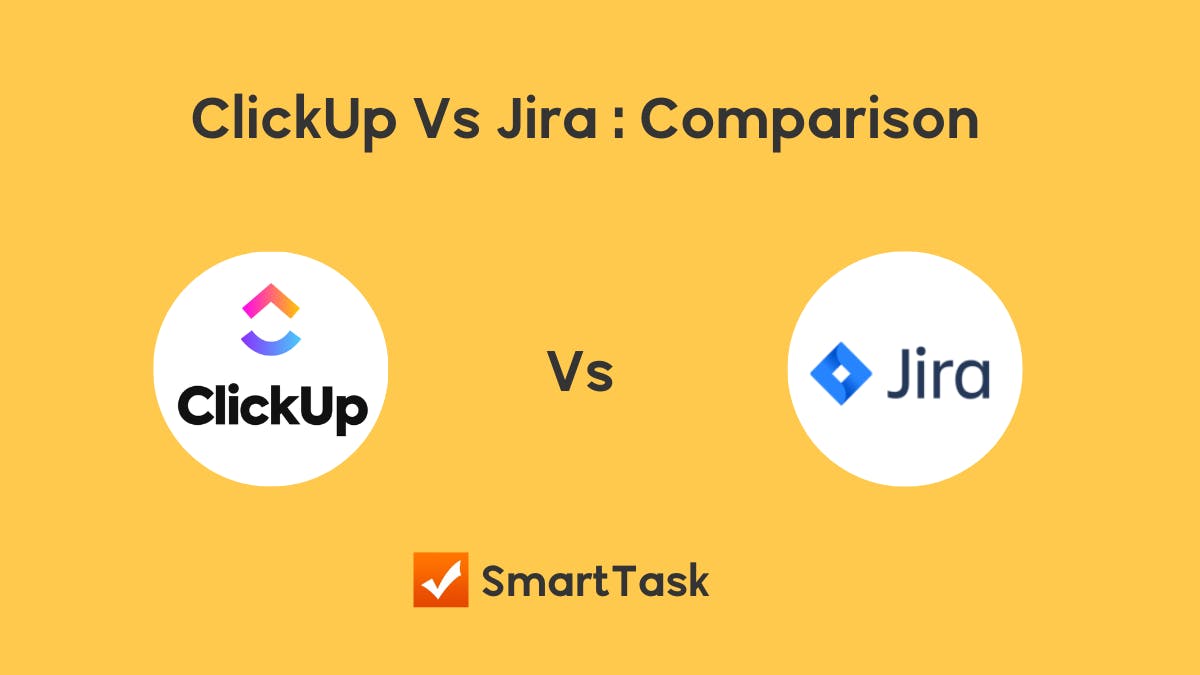 Project management is not just about timings, budgets, and task deadlines. It is about so much more…
By 2027, most of the work that we know today will be project-based. The need for good project management tools has never been more obvious.
Thankfully, there are a plethora of options available that ensure smooth workflow, save time and money, reduce collaboration complexities, and help you make better business decisions.
ClickUp and Jira are two of the most popular and widely used project management tools. Yet, which one is best for your team?
Let's dive into a deep analysis of both software to find out!
What is ClickUp?
ClickUp is a versatile cloud-based project management tool that boasts of replacing all other tools you use for workplace planning, organization, and collaboration.
It was founded in 2017 and has, to date, helped nearly 800,000 teams boost their work productivity. The software is suitable for teams of all sizes and can easily be tailored to your requirements.
Zeb Evans, the company's CEO, strongly supports the idea of a 4-day work-week. No wonder ClickUp aims at making its users more productive and saving them at least one day each week.
What is Jira?
Started in 2002 as an issue and bug tracker tool, Jira has evolved into an excellent project management software. It is specifically aimed at testing, debugging, tracking, and managing software development projects.
The software roadmaps create a flexible framework for what every agile team hopes to accomplish and show how the elements fit together.
ClickUp vs Jira: What are the Key Differences?
Features

ClickUp

Jira

Activity Dashboard

✅

✅

Agile Methodologies

✅

✅

Backlog Management

✅

✅

Brainstorming

✅

❌

Client Portal

✅

✅

Contact & Content Management

✅

❌

Customizable Templates

✅

✅

White Labeling

✅

❌

Call Recording

❌

❌

Real Time Editing

✅

❌

Bug Tracking

❌

✅
Both ClickUp and Jira offer a 'truck-load' of features to make you dexterous at managing projects.
However, both software lack a few essential features like white labeling, real-time editing, call recording, etc. These features are quite essential especially if you are a medium or large business and handle multiple projects at once.
SmartTask, on the other hand, is delivering a strong suite of solutions with CRM, Time-Tracking, White-labeling, and even Client Management - all under one roof.
1. User Experience
Did you know that nearly 70% of businesses fail due to a bad user experience? That's how important it is.
In an era where everyone prefers easy-to-use applications and will simply shun a cumbersome one, user experience is the top feature you must look at before using a product.
If the software is too complex to use in the first place, there's a high possibility that it won't be good at solving the problem you want it to solve.
Let's see how well ClickUp and Jira perform in this case.
ClickUp
From the very beginning, ClickUp has aimed to remove inefficiencies and frustrations faced by project managers in the current ecosystem.
That's evident with their intuitive UX.
The shortcuts enable users to switch between multiple tasks without closing any subtasks.
Furthermore, project managers can view the progress of every task assignee in real-time. This saves a ton of time wasted on project update meetings.
Apart from that, there are so many customizable templates to choose from that make every bit of project management as frictionless as you can imagine.
Robust automation itself saves you several hours every week.
The best part is that users from both, tech and non-tech backgrounds will find it easy to use.
Jira
Jira is an excellent tool for tracking, planning, and managing issues for software development teams.
Its intuitive dashboard makes it easy for users to view project progress. The different view options like calendars, boards, lists, and timelines ensure a smooth toggling between multiple projects.
The customizable templates save new users a ton of time.
However, keep in mind that Jira is targeted toward IT teams. This means that the UI might seem complex to users with non-tech backgrounds.
Verdict: Although both ClickUp and Jira have a pretty good UX, ClickUp wins this one. That's because it is targeted to a specific audience and can easily be used by freelancers as well as businesses of all sizes.
Furthermore, the customizations are quite complex - a loophole easily taken care of by SmartTask.
2. Project Management
When talking about project management tools, it is important to discuss how well ClickUp and Jira perform at their core tasks.
After all, that's what you're here for.
An inefficient tool can cause discrepancies in your workflow which may end up costing 30% of your company's revenue.
ClickUp
ClickUp stands tall when it comes to its performance and ease of use. It not only allows project managers to organize and track all the projects but also makes team collaborations a cakewalk with Whiteboard and an in-built chat feature.
The tasks can easily be broken down through the checklist feature which makes it easier to follow.
The dashboard view helps you understand the task hierarchy and which task needs more attention.
There are so many integrations within the software which eliminates the need to switch between multiple applications.
Moreover, you can easily keep a track of projects right from your smartphone through their mobile application.
Jira
Jira is excellent for agile development teams.
You can choose a project based on your needs from their Kanban, bug tracking, and scrum boards.
Jira also makes bug-tracking (for which it was originally built) smooth through its dedicated bug-tracking template.
Project managers can get real-time insight into the project's progress through their excellent reporting capability. You can create up to 15 reports at every stage, right from planning to the final delivery.
However, there's no chat feature to communicate with the team within a project.
Verdict: ClickUp wins with flying colors here. Jira's lack of a chat feature within projects is a huge drawback considering the importance of communication in project-based tasks.
3. Customer Support
No application is fool-proof and you're bound to get stuck somewhere while using any software.
Good customer support is a promise of customer satisfaction and minimal friction.
Are ClickUp and Jira committed to meeting their customer's expectations? Let's find out.
ClickUp
ClickUp offers extensive support documents to help you through some most common issues faced by users.
Apart from that, you can even hire ClickUp consultants to ensure your smooth onboarding and a good overall app experience.
There's also live chat support available. However, it is technically a waste of time considering they'll more than often ask you to send an email instead.
Jira
Jira too has detailed guides to all their products and use cases. These are especially helpful when you need to customize your board to accommodate your internal processes (which is a bit complex.)
However, their customer support is a nightmare. The chat support just sends out automated texts which are mostly of no real help to users.
As per reviews on Trustpilot, Jira simply doesn't respond to support requests even after repeated emails.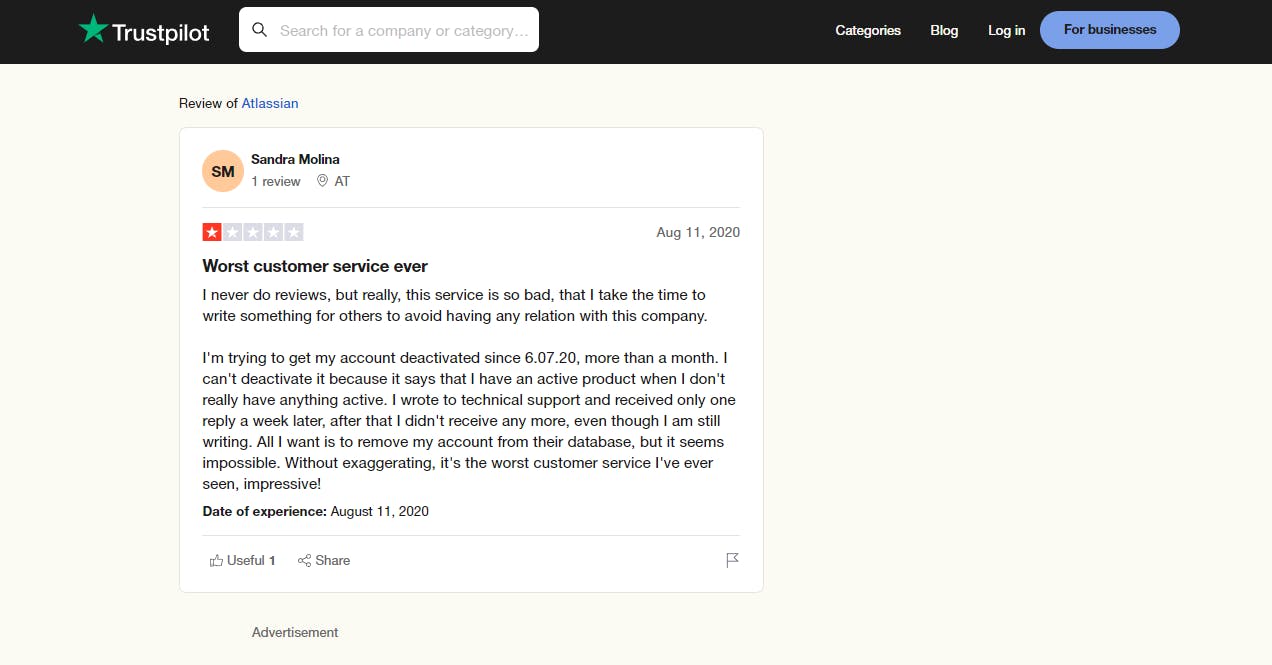 Verdict: Though ClickUp's customer support is several steps ahead of Jira's, both software fail to meet customer expectations. SmartTask, however, offers 24/7 customer support that helps you solve any discrepancies you might face.
ClickUp vs Jira: Pricing
Both ClickUp and Jira offer free plans and are quite affordable. Here's a comparison between their prices to help you better understand it.
ClickUp




Jira




Free

$0

Free

$0

Unlimited

$5

Standard

$7.50

Business

$12

Premium

$14.50

Business Plus

$19

Enterprise

On request

Enterprise

On request






ClickUp's free version is best for personal use and offers up to 100Mb of free storage, apart from numerous handy features.
Jira's free plan is free for up to 10 users and offers up to 2GB of storage. However, the features are limited and not suitable for a team of 10 or more members.
ClickUp or Jira: Which one is best for you?
Although both ClickUp and Jira are excellent project management platforms, they do fall behind in several areas.
Both offer customization options but it's complex. The Jira customer support is poor. ClickUp may be slightly better, but again, the live chats are as good as automated texts - they offer no real help.
Choose SmartTask to save yourself from these loopholes.
SmartTask is an all-in-one project management software that offers you all the best features of ClickUp and Jira and more, minus the loopholes…
Easy customizations that aren't complex
An integrated CRM to eliminate the need to purchase third-party software
24/7 customer support that offers real support to distraught users
Advanced features like call recording at no extra cost
More affordable plans for large teams
What our clients have accomplished with SmartTask?
SmartTask has empowered teams across many departments and industries to optimize and orchestrate their processes. Learn more about any of these case studies.
● Amul India — a global leader in consumer products — began solving requests and approvals 33% faster by applying over 75 automation rules to support requests' workflow.
● ABB — the largest technology firm, saved 600 hours of work time per quarter, releasing teams from manually writing over 3,000 messages by applying automation to 46% of all email communication.
Get your free consultation on SmartTask today 😎
FAQs
1. What is better Jira or ClickUp?
Jira is a more powerful tool that is well-suited for larger teams and more complex projects, particularly in software development, while ClickUp is a more versatile tool that can be used by teams of all sizes and across all industries. It's best to evaluate the specific needs of your team and the projects you'll be working on to determine which tool is the best fit.
2. How reliable are Asana Vs Jira Reddit Reviews?
Asana Vs Jira Reddit Reviews can be useful for those seeking information about the products, but it's important to keep in mind that not every opinion posted on Reddit is fully objective. It's best to read multiple reviews from different sources like SmartTask blogs, G2 Reviews, Capterra User Reviews and so on to get a well-rounded perspective on both tools.