SmartTask
Contents
ClickUp Vs Notion: Detailed Comparison (Features & Pricing)
By Angad SinghJan 15, 2023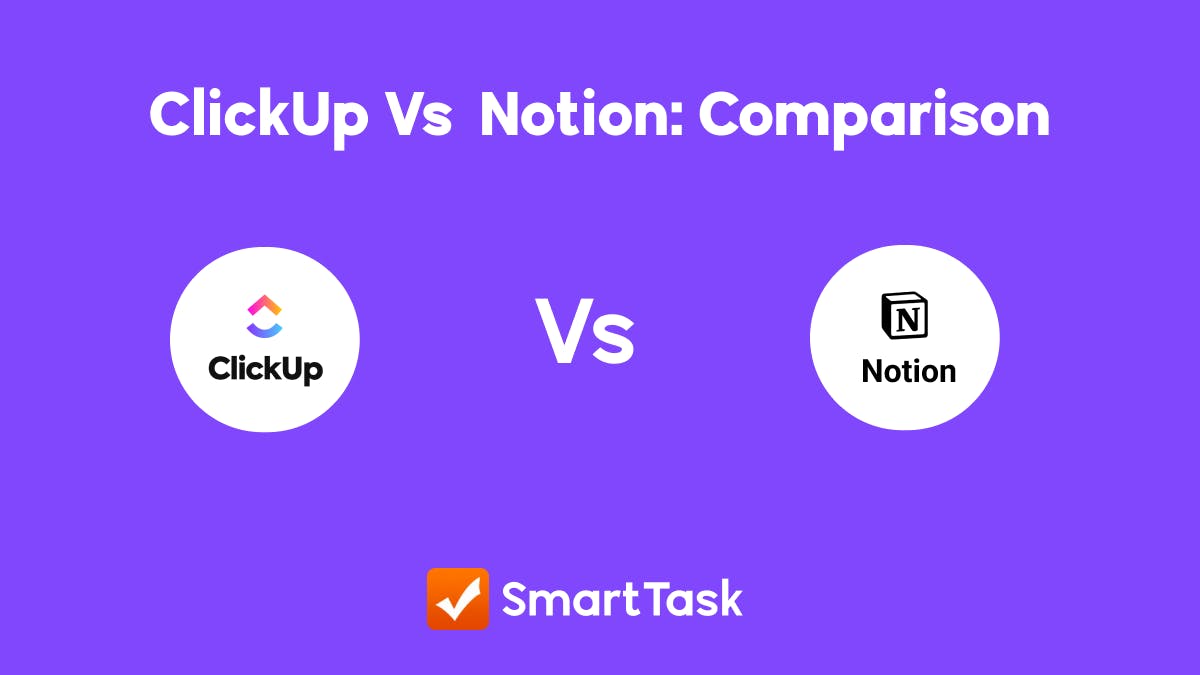 ClickUp vs Notion is an interesting comparison. The tools differ in fundamental ways. Right from their look and feel to the way each structures information.
However, what ties them is how flexible they are.
Both ClickUp and Notion are like driving stick-shift. You're always in control of the engine speed of your project management vehicle and can customize the hood & exteriors as much as you like.
But is that added control a good thing?
Also, does ClickUp give you more control over your projects than Notion? Or is it the way around?
Well, time to strap onto our seatbelts and whoosh into a detailed showdown.
Let's go!
What is ClickUp?
ClickUp is an all-in-one productivity platform with a singular mission. It is to make using multiple productivity apps a thing of the past.
The company has raised $537.5M so far and is a hyper-growth story through and through.
In its own words, ClickUp is one app to replace them all.
What is Notion?
Notion is a project management and note-taking app that hit the shelves just a year before ClickUp.
It is loved rigorously by its user base and has birthed one of the most passionate product communities out there.
Valued at $10 billion, Notion helps 20 million users make their (work) lives better.
In its own words, Notion is one workspace for every team.
Differences Table
Here's a big-picture look at how ClickUp and Notion differ.
This quick analysis of Clickup Vs Notion makes one thing clear. ClickUp does have more features than Notion. But, there are some shortcomings that even ClickUp has but SmartTask doesn't.
Food for thought, isn't it?
ClickUp Vs Notion: Key Differences
Task Management
Poor task management is a cardinal sin for any work management tool. Thankfully, neither ClickUp nor Notion is a sinner on this front.
But, how do ClickUp and Notion enhance the experience of task management? Are there features native to both that help you accomplish more?
Let's find out.
ClickUp
Before we put ClickUp's task management capabilities under the microscope, let's see how ClickUp arranges information.
Everything you add follows a straightforward hierarchy:
Spaces > Folders > Lists > Tasks > Subtasks > Checklists.
Another thing you ought to know is that 9/10 times, you'll be adding items to a list. You can do that with the add task button within ClickUp's (default) list view...
Or use the super handy quick access button at the bottom right corner that also lets you:
open the calendar,
fire up the notepad,
create reminders,
generate new docs,
start time tracking,
and record a clip...
All in less than a few seconds
When adding tasks, ClickUp makes your setup easier with several pre-configured fields. That saves you the trouble of building everything from scratch. However, you can add custom fields when needed.
What about project views? Well, ClickUp gives you 15 of them.
The usual suspects (List, Kanban, Gantt, Timeline, Calendar) are all there. But the ones that spice things up are views unique to ClickUp.
There's Map View that gives you a geography-based breakdown of the tasks in your Folder. Then there are Mind-Map and Whiteboard Views to help you brainstorm and tie ideas together.
Plenty of ways to organize and manage tasks, right?
Lastly, ClickUp empowers you against grunt work with easy-to-setup automation and the ability to create recurring tasks.
You can also rely on templates and duplicate tasks to save time.
Notion
Unlike ClickUp, Notion wasn't built from the ground up with task management as a use case. It started off as a beautiful note-taking app and has now expanded its horizons manifolds.
Notion's hierarchy reflects the same. It isn't split into spaces, groups, lists, and tasks. Instead, you have workspaces with an infinite hierarchy of pages.
This means everything in Notion starts with an empty page (unless you use a template).
The upside?
Everything you build, from task management systems to company wikis, is as customizable as your imagination permits.
By nesting pages within pages, you can add several layers of detail to all you create. It does take a bit of work, but a rewarding experience awaits once you get past the toil.
A fully-configured Notion not only becomes capable of managing tasks like ClickUp but becomes an intimate extension of your (or your team's) personality. That's why folks who once fall in love with Notion rarely give it up.
However, you should know that Notion doesn't support recurring tasks or have intuitive workflow automation. Further adding to the discontent is the lack of a quick-access button.
Verdict: ClickUp wins since it takes a more specialized approach to Task Management than Notion. However, you may want to check a more intuitive tool like SmartTask. It's free forever, just saying.
User Experience
Both Notion and ClickUp come with punishing learning curves. But, is there a marginal winner among the two?
Let's zero down on that, and dig into all things user experience.
ClickUp
In terms of look and feel, ClickUp is a lot of white space with some colors sprinkled in. Aesthetic enough to please most folks.
Coming to the user experience, using ClickUp mostly feels like managing organized chaos.
Is there a broad structure to how things are organized? Sure. You will know your way around most, if not all, things in ClickUp if you've used project management software in the past.
But at the granular level, there's enough customization to warrant frequent visits to ClickUp's help docs.
A perfect demonstration of this is how ClickUp offers two scrolls worth of options just to configure how you get notifications.
No doubt you'll acclimate to the complexity at your disposal and even begin to love it for what it is... but it'll be challenging at first.
However, templates offer a neat workaround to bypassing part of ClickUp's learning curve. They cover most use cases you can think of.
Notion
Notion is beautiful to most eyes. It embraces a minimalistic aesthetic and pairs it with youthful elements like emojis, page icons, and cover images.
In terms of user experience, Notion is hard to make sense of for absolute beginners.
As we mentioned earlier, everything in Notion starts as an empty page... which poses a steep learning curve.
Thankfully, Notion boasts one of the most endearing user communities out there. Die-hard users pour a ton of passion into creating templates and adding value to the lives of other Notion users.
There's an infectious sense of pride in Notion users that ClickUp can use more of.
Verdict: Even though ClickUp is not as much a blank canvas as Notion, its marginally better ease of use is not enough to offset Notion's UI advantage. So, Notion takes the lead here (well, if you don't take SmartTask into account).
Time-Tracking & CRM
Even with fundamentally different origin stories, ClickUp and Notion serve a near-endless list of use cases.
That's made possible only because of how feature-rich the two work management tools are. But how do the two fare in terms of CRM and native time-tracking?
Let's shed some light on that.
ClickUp
ClickUp does time tracking natively and makes it a feature that's insanely easy to use. Thanks to the quick access button, you can start tracking time anywhere in the app.
When tracking time from the task view, you can also add estimates for how long a task will take.
The cherry on top are the insights ClickUp lets you piece together from all the time data it collects. You can even use this information in Workload View to ensure none of your team members is overworked.
Coming to the CRM side of things...
ClickUp requires you to manually bring building blocks together to implement a CRM workflow. Templates help here, but there's no native (ready out-of-the-gate) CRM implementation in ClickUp.
Notion
Though there are ways to implement time-tracking in Notion (like using formulas), there is no accessible, easy-to-use option that you can use.
Talking of CRM capabilities...
Templates can do the trick, but Notion doesn't offer a native CRM implementation either.
Verdict: ClickUp wins because of its excellent time-tracking features. But, wouldn't you want to try a tool that not only has native time-tracking but also an in-built CRM? Lucky for you, that's SmartTask ;)
Wiki & Docs
Countless folks on the internet claim to use Notion as their second brain. That's only a consequence of how brilliant Notion is for building docs & wikis.
Along the same lines, ClickUp assertion as the one app to replace them all holds weight because it boasts powerful Docs.
So, let's see how both implementations compare against each other.
ClickUp
ClickUp Docs are well...
A little Notion within ClickUp (with rich formatting, widgets, and even the ability to have cover images).
They are powerful enough to replace external text editors. All-in-all a great resource to create company wikis and other resources.
However, the frustrating bit about ClickUp Docs is that they exist as a separate entity accessible via the navigation pane on the left.
Somehow, they feel isolated from everything else in Groups and Spaces and are not as sophisticated and refined as Notion's pages.
Notion
Docs and Wikis (pages) are the very soul of Notion. The scaffolding upon which everything else stands.
From visual appeal to responsiveness, everything is top-notch here.
Collaborating on Notion docs is also a breeze, with the ability to add comments and @mentions.
There's little to complain about here and a lot to take inspiration from.
Verdict: Notion wins. No surprises here.
Pricing
ClickUp and Notion are pretty fair in terms of how they're priced.
Broadly speaking, Notion will dent your pocket less than ClickUp and give you more customization but fewer features.
With that in mind, let's go through detailed pricing plans for each.
ClickUp
ClickUp has a free forever plan for small teams that are getting started with project management.
On the paid front, there are several options for you to pick from, including a custom enterprise plan.
Here's ClickUp's pricing in detail:-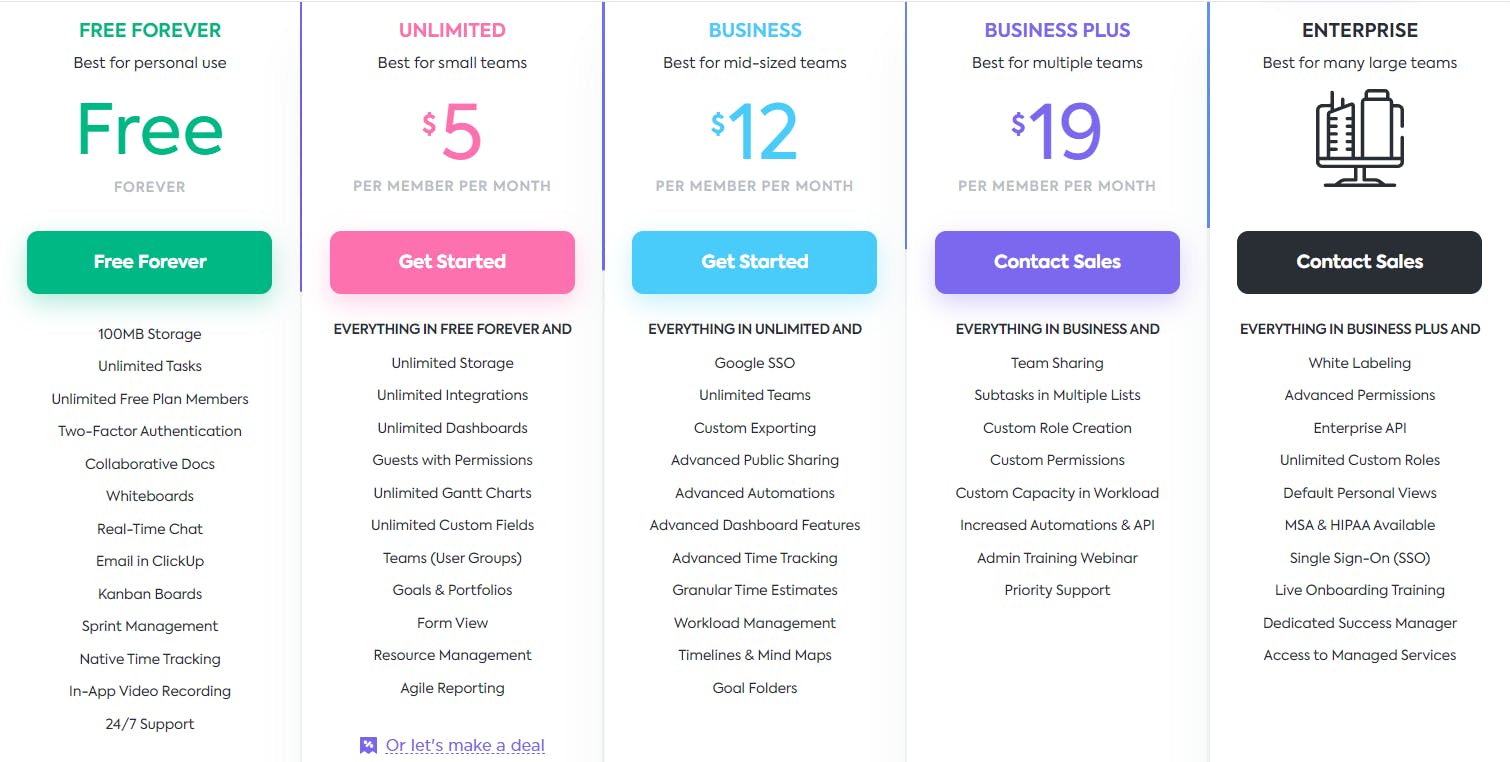 Notion
Solo users are a sizable chunk of Notion's customer base. So, it's easy to see why Notion has a paid personal plan at $4/month on top of a free option.
Beyond that, there's just one team plan that you can choose unless you solicit a custom enterprise contract.
Here's a quick look over all of Notion's plans:-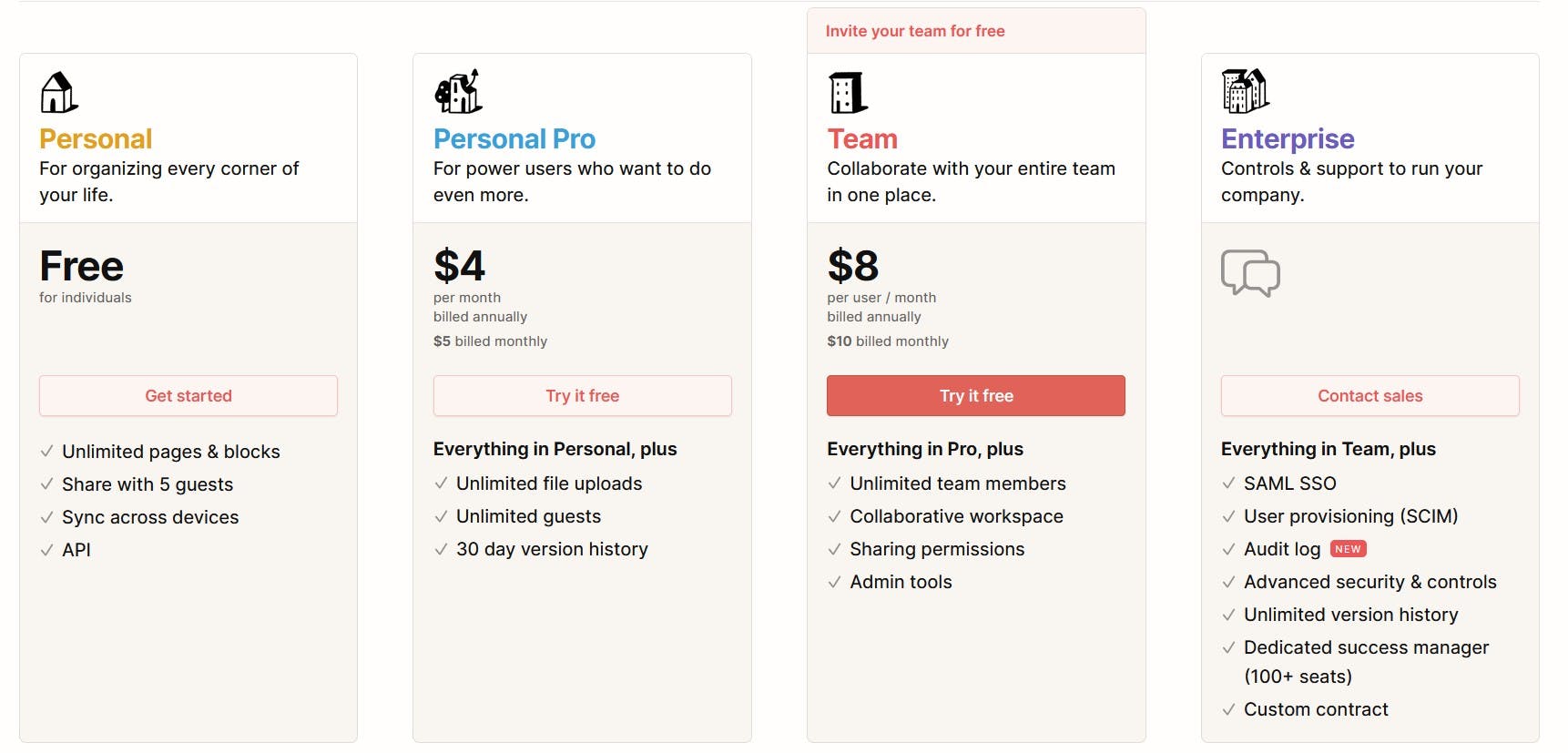 Verdict: Well, pricing is quite similar for both Notion and ClickUp. It's mostly a matter of what features you desire. And only to give you the full context, here's SmartTask's pricing too: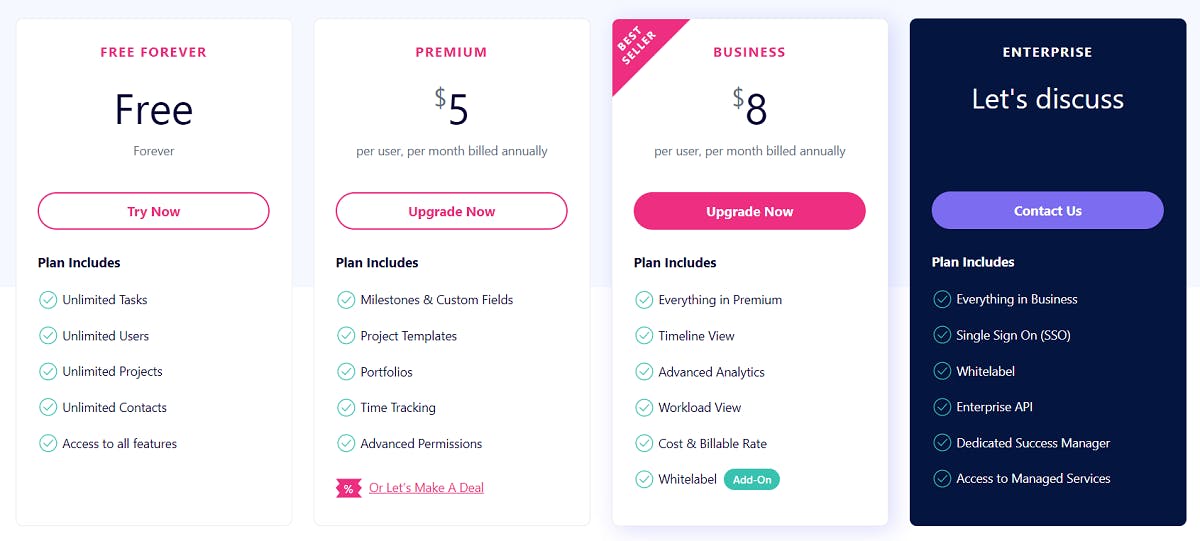 Click Vs Notion: Which is Better for Your Team?
ClickUp and Notion are very similar in how much control and freedom they offer users (Hint: it's a lot).
But, here's a common gripe that users face with both: the grueling learning curves.
After spending hours struggling to make sense of ClickUp or Notion, you may just want to give up on project management software altogether.
What if you want to avoid that possibility? Well, then you'll love hearing about SmartTask...
A tool that feels more like a gentle hike to the top instead of a treacherous climb that leaves you gasping for air.
And want to know what sweetens the deal further?
SmartTask, an award winning software, gives you a native CRM, time-tracking, white labeling, and in-app call recordings for as low as $5/user/month.
Aren't you glad to know it exists?
How Our Clients Use SmartTask
Here are some cool things our clients have done with SmartTask:
Enerlyf — a company making devices that optimize AC usage and reduce energy bills by 35-40% — uses SmartTask's in-built CRM to streamline sales and accelerate follow-ups.
Sundyota Numandis – a decade-old pharma company – used SmartTask to supervise all details when opening a new RnD/Manufacturing plant in Sanand, Gujarat.
You too can follow suit ;)
Get a free consultation on SmartTask today.
FAQs
1. Does ClickUp integrate with Notion?
Yes, ClickUp does integrate with Notion. The integration allows you to connect your ClickUp tasks with your Notion pages, so you can easily access your tasks and project information from within Notion. This can be very useful for teams who use both platforms for different purposes, for example, Notion for note-taking and ClickUp for project management.
2. How reliable are ClickUp Vs Notion Reddit reviews?
Reddit is a unique juggernaut. If you're looking for polarising takes on which software is best, ClickUp Vs Notion Reddit Reviews can help. But, every now and then, things take a more wholesome turn. The case of ClickUp vs Notion on Reddit is one such instance. A post from Sept 2022 states how ClickUp + Notion > ClickUp OR Notion. The claim is mostly met with consensus. "Been using both for about 3+ yrs", says a reply to the post. "Notion is my memory, ClickUp is my boss telling me what to do", echoes another. However, Redditors don't gloss over ClickUp's performance issues. Neither do they ignore how Notion is more suited for personal use than for businesses. So, what do you do if you want a business-ready project management tool that isn't laggy? Well, you use SmartTask.
Frequently Asked Questions (FAQs)
1. What are the key features of ClickUp?
Customizable Views: Projects can be organized using views like List, Board, Calendar, Gantt and more. One of the standout features of ClickUp is its Dashboard view, where you can customize the view for your clients or internal team the way you like, with a combination of different charts, lists, and calendar views.
Time Tracking: Time tracking as a feature is generally not available in most project management tools. However, with ClickUp offering time estimates and time logs at the task level, it's possible to generate different reports at the organization/project level.
Free Forever offering: Most of the tools in the market block some or the other feature in their Free plan, but that's not the case with ClickUp. It allows you to try all the features in its Free Forever plan.
2. What are the key Features of Notion?
Wikis - You can document policies, contracts, company goals, project details — any important info related to your company — and work in one central location.
Customizable building blocks: Notion allows you to quickly create pages that may be a board, gallery, doc or table.
Powerful inter-connections: The ability to link content between pages is one of the best features of Notion, in my opinion. One doesn't have to copy-paste stuff but simply connect or duplicate the block in the current page, and it would make sure the data connection is preserved.
3. Is Notion a good project management tool?
Notion is a very customizable work management tool but is it a good project management tool? We have written an in-depth article talking about this exact topic. Please check it out here - Notion as project management tool