SmartTask
Contents
25+ Best Work Management Software & Tools for 2023
By Aastha ShawJun 14, 2023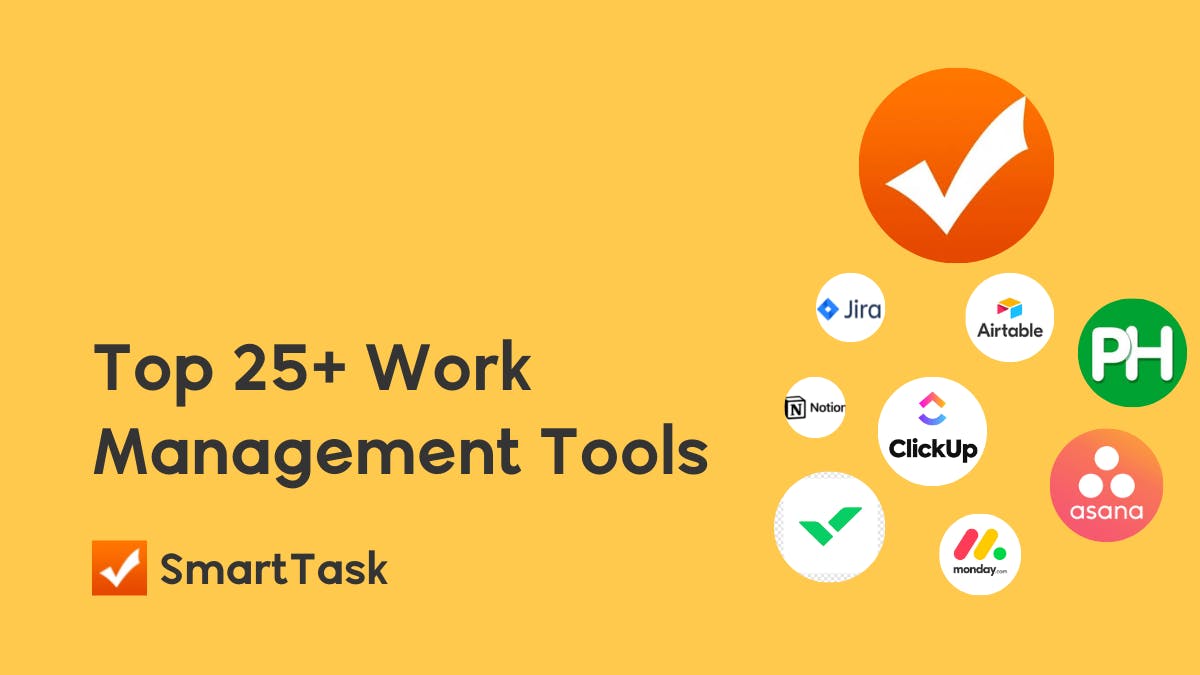 Every enterprise, whether small or big, finds it difficult to keep tabs on the progress of their projects and teams. In such scenarios, tools like CRM software, project management software, and invoicing software come to the rescue.
However, a recent study conducted by HubSpot shows that 82% of employees lose hours every week in managing different apps. It means that the tools we love using so much are not making us efficient at work.
This is why organizations need an end-to-end work management tool that caters to business needs and saves time from juggling between different apps.
Read: How Work Management Software helps streamline your work processes?
Top 25 Work Management Tools
There are many work management tools present in today's market and choosing the right one can be a little tricky.
To help you out, we have researched and come up with 25 best work management tools that will help you manage your work effectively.
SmartTask is a cloud-based collaboration and project management tool that caters to day-to-day business needs across various industries.
This award-winning tool is well-known for providing a great user experience and enabling teams to be more productive and efficient.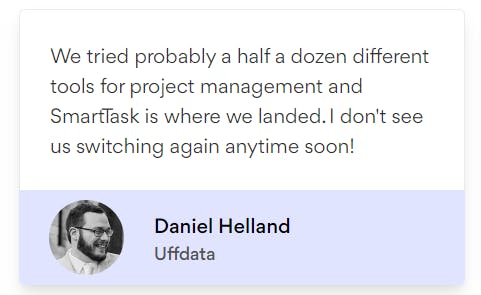 From sales to operations, task management to reporting, SmartTask brings everything into one platform, saving you a lot of time.
It offers different project views such as Lists, Kanban, Calendar, Gantt, and Timeline making it easy to manage your tasks.
Also, the time and expense tracking feature ensures you never miss a deadline or overrun the project budget.
Finally, the inbuilt communication features such as video calls, chat, mentions, comments, custom fields, and automated check-ins make collaboration easier than ever.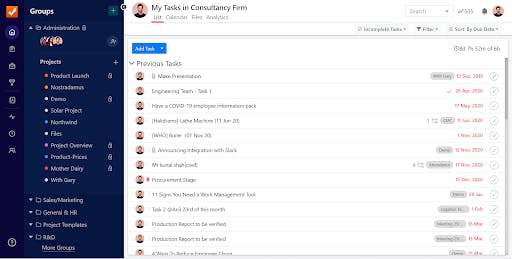 Key Features
To-do lists: Multi-functional lists perfect for day-to-day work, application tracking, issue tracking, and more.
Multiple Views: Board, List, Timeline, Gantt, Calendar- pick a view that suits you the best.
Milestones: Milestones are significant achievements in the project's progress. Track all your milestones using SmartTask.
Timeline View: Tackle complex projects with timeline view. Keep a track of everything your team is working on, what's completed and what's still remaining.
Portfolio: Have an overview of all ongoing projects - their status and predicted completion date in a single view.
Auto-Schedule Tasks: If a task runs late and takes 2 more days to do than planned, it automatically moves all other dependent tasks.
Custom Charts: Create Charts to analyze your data with endless possibilities and customizations.
CRM Analytics: Visualize sales analytics- estimated sales, sales funnel, and user-wise analytics.
Sales Pipeline: Move inquiries across multiple stages and have clarity on past conversations and next action points.
Automated Check-Ins: Replace status and standup meetings with automated check-ins.
Guest Users: Invite external collaborators like Clients, Vendors, and 3rd parties and collaborate together.
Comment: Directly comment on a task to clarify exactly what needs to be done, mention teammates or other tasks or projects.
Feed: Access the entire discussion about a specific project from a single place. Goodbye, long chain email threads.
Instant Messaging: You can send messages and chat with your team anytime. VoIP calls and video conferences can be done with the click of a button.
Time Tracking: Know exactly how much time it takes to finish a task by each team member.
Project Budgeting : Keep track of all the budgets by hours spent on tasks associated with that particular project.
Productivity Scoring: Analyze team's performance over time with export functionality.
Integrations: 1000+ integrations to help you have everything that you need in one place.
Mobile Apps: With SmartTask's iOS and android apps stay connected with your team on the go!
Pros
It is easy to use.
Built-in CRM with project management functionality
The time tracking feature boosts productivity
Multiple views and custom charts make managing projects easier than ever
It is very affordable.
Cons
On the first use it may seem like the features you are searching for are not there. However, once you start using the tool you would be able to find a lot of advanced features.
Clockify is the most popular time tracking and employee timesheet software. It is used by teams of all sizes. It is the only tool that provides completely free time tracking for unlimited projects with unlimited number of users.
Powered by automation, Clockify saves organizations from tedious employee management tasks. You can set the duration to each task, check who is working on it in real-time, track productivity and billable hours. It also offers additional features like reporting, client invoicing, timesheet approvals, project templates, and customization options.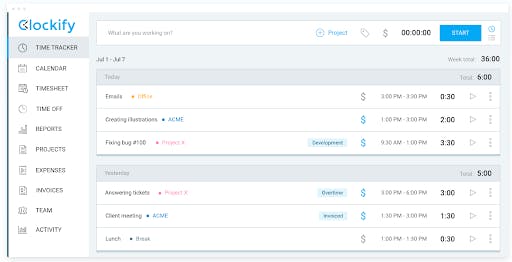 Key Features
Bulk project edits
Time-off Tracking
Time and expense tracking
Budgets and estimates
Billing and invoicing
Targets and Reminders
Timesheet and Calendar
Attendance Tracking
GPS Tracking
Pros
Easy project Grouping
Accurate time tracking
Excellent Reporting
Cons
Can be glitchy sometimes
Doesn't include scheduling software.
Clockify does not currently have PTO management features.
Infinity is a work management tool that offers an unmatched level of flexibility to its users. The tool's highly customizable interface allows you to create workflows that match your needs and liking in just a few minutes.
In other words, it allows you to structure work using boards, folders, subfolders, and items, display your data in 6 different ways, give more depth to each and every item by using attributes such as date, status, and member, collaborate with your team and stakeholders, and more. If you don't feel like building the entire workspace from scratch, simply load one of the templates in the templates gallery and you're ready to go.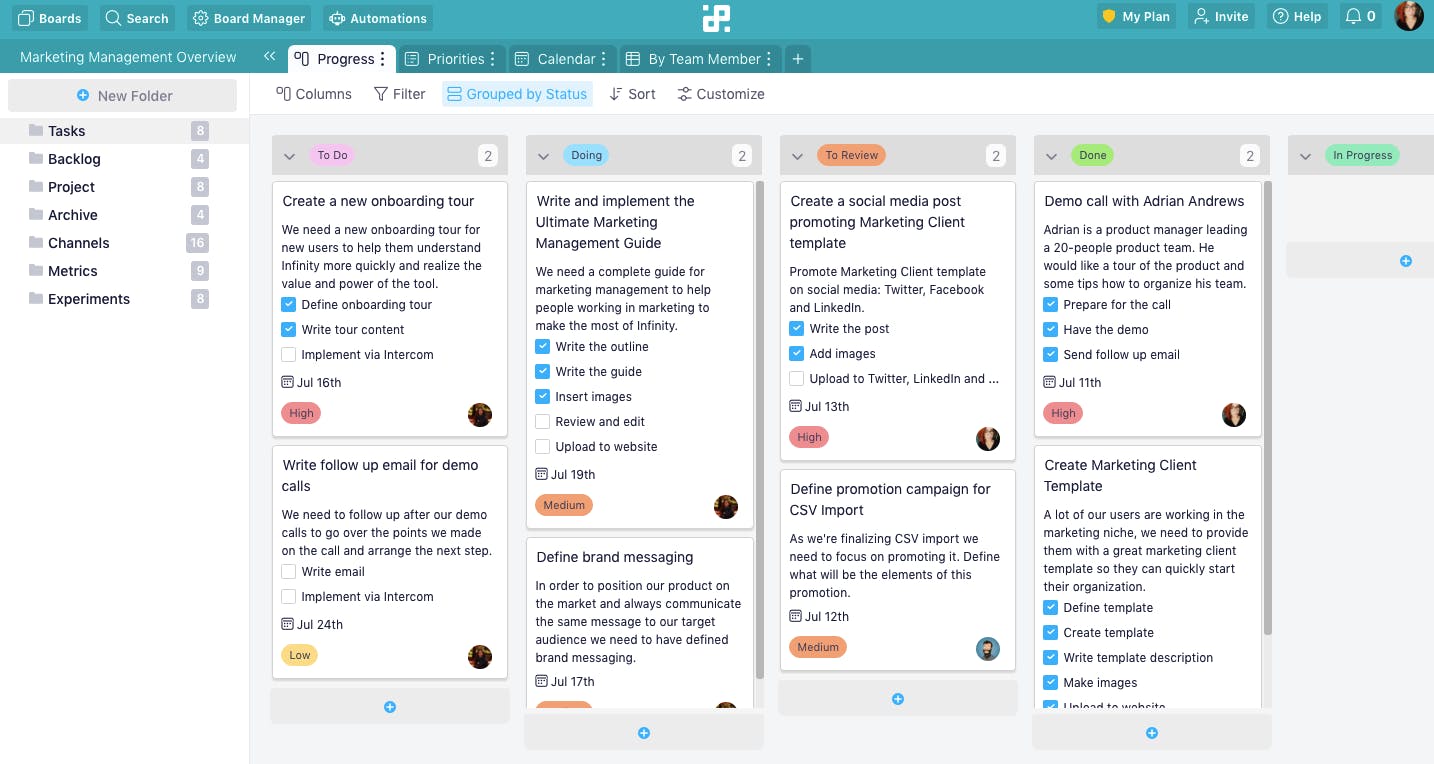 Key Features
Multiple dashboard views
A bunch of data customization options
20 custom attributes including checkbox, checklists, progress bars, etc.
Team collaboration and easy file management
Reminders, recurring tasks, and IFTTT automations
E-mail and in-app notifications
Priority Management
Activity Tracking
Time Management
Resource Management
Pros
Has an adaptive structure
Appealing, easy-to-grasp-on interface
Affordable lifetime subscriptions
More than 3,000 integrations via Zapier
Cons
Hard to import historical data
Does not integrate with Microsoft teams
Designed to provide a collaborative space for teams, ProProfs Project helps bring team members together to deliver work on time and within budget. Using the tool, you can track tasks, deadlines, and resources on a single platform. You can set up your project dashboard within minutes and monitor progress in real-time using Gantt, Kanban, Calendar, and List views. Also, you can easily customize workflows to adjust to project and team needs.
So, ProProfs Project makes it significantly easier to handle everyday workflows, whether you are a freelancer or run an enterprise. Besides, it caters to management needs across industries, be it creative, human resources, IT, marketing, or consulting.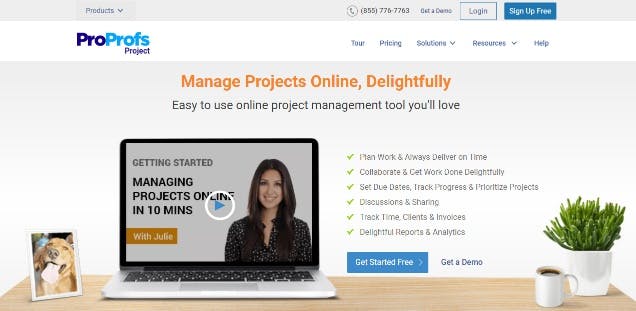 Key Features
Automation for recurring tasks
Alerts and notifications
Automatic invoices
Task prioritization
Task dependencies
Ready-to-use templates
Task comments
File sharing
Drag and drop scheduling
Pros
Multiple project views
Time tracking
Multi-device access
Cons
Weak reporting system
Lacks good third-party integrations
Plutio is a cloud-based all-in-one business management platform that includes all the features a small business owner or freelancer might require.
It allows you to manage projects, communicate with clients, share files, create proposals, send invoices, and get paid - all from one app. It also offers a variety of integrations (Zapier, Integromat, and so on) and can handle up to 20 languages.
And if you're after "your own" Plutio, there's a White Label option you can use.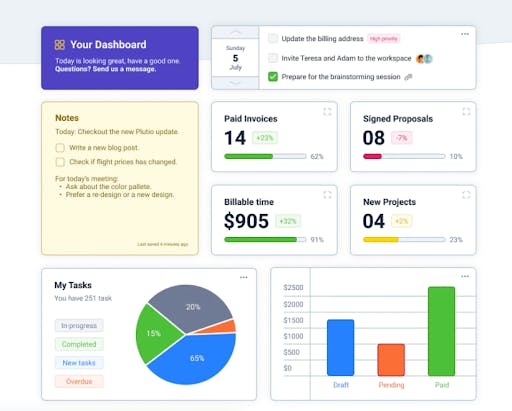 Key Features
Project Tracking
Project Tracking
CRM
Built-In Customer Service Inbox
Forms and Surveys
Time Tracking
Live Team Chat
Calendar with Google Calendar Syncing
Company Wiki
Legally Binding Contracts
Custom Branding
Daily Task Digest Emails
Client Portal
Time Tracking & Timesheets
Invoicing & Proposals
Data Security
Pros
Streamlines client onboarding process with proposals, contracts, invoicing and project management all in the same place
Reduces time spent on administrative tasks
Let's you white-label and take credit for the platform
Cons
Template Library is still growing
Takes time to learn how to use all of the features
Some features are not as advanced as stand-alone options
Fast development pace sometimes results in more bugs
Teamwork is one of the oldest work management software in the market. It helps small to medium businesses collaborate and manage different operations of a project effectively.
You can personalize your Teamwork account to match the look & feel of your brand, and create a custom URL for login. You can also customize the features appearing in each project, such as the overview page, the list of milestones, tasks, and so on.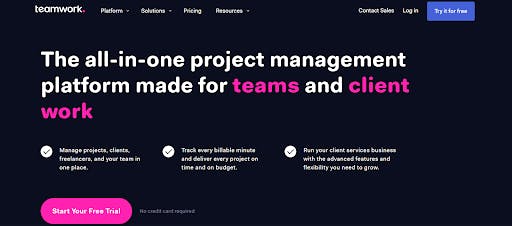 Key Features
Cross-Project dependencies
Workload management
Document management
Kanban view, interactive Gantt charts, and Custom fields
Project templates
Risk/Benefit analyzer
Instant messaging & email integration
Social collaboration platform
Budget and forecasting
Time & budget tracking
Pros
Instinctively easy to use
Supports access controls
Cons
No chat option within the team
Lacks the options of automating tasks and creating custom reports
Many important features are available with expensive subscription plans
7. Fyle
Fyle is a real-time expense management software that simplifies receipt collection, credit card reconciliation, and expense reporting for employees and finance teams.
Employees can track and submit receipts from everyday apps like Gmail, Outlook, Slack, Teams, and more. Fyle integrates directly with Visa and Mastercard to bring real-time reconciliations on cards you already have. You don't have to wait for statement uploads or broken bank feeds. Employees get notified via text message when they make a card spend and can reply with a picture of the receipt for automatic reconciliation.
Fyle also enables Finance teams to simplify managing expenses with easy approval workflows, pre-submission policy checks, and integrations with NetSuite, Sage Intacct, QuickBooks, and Xero.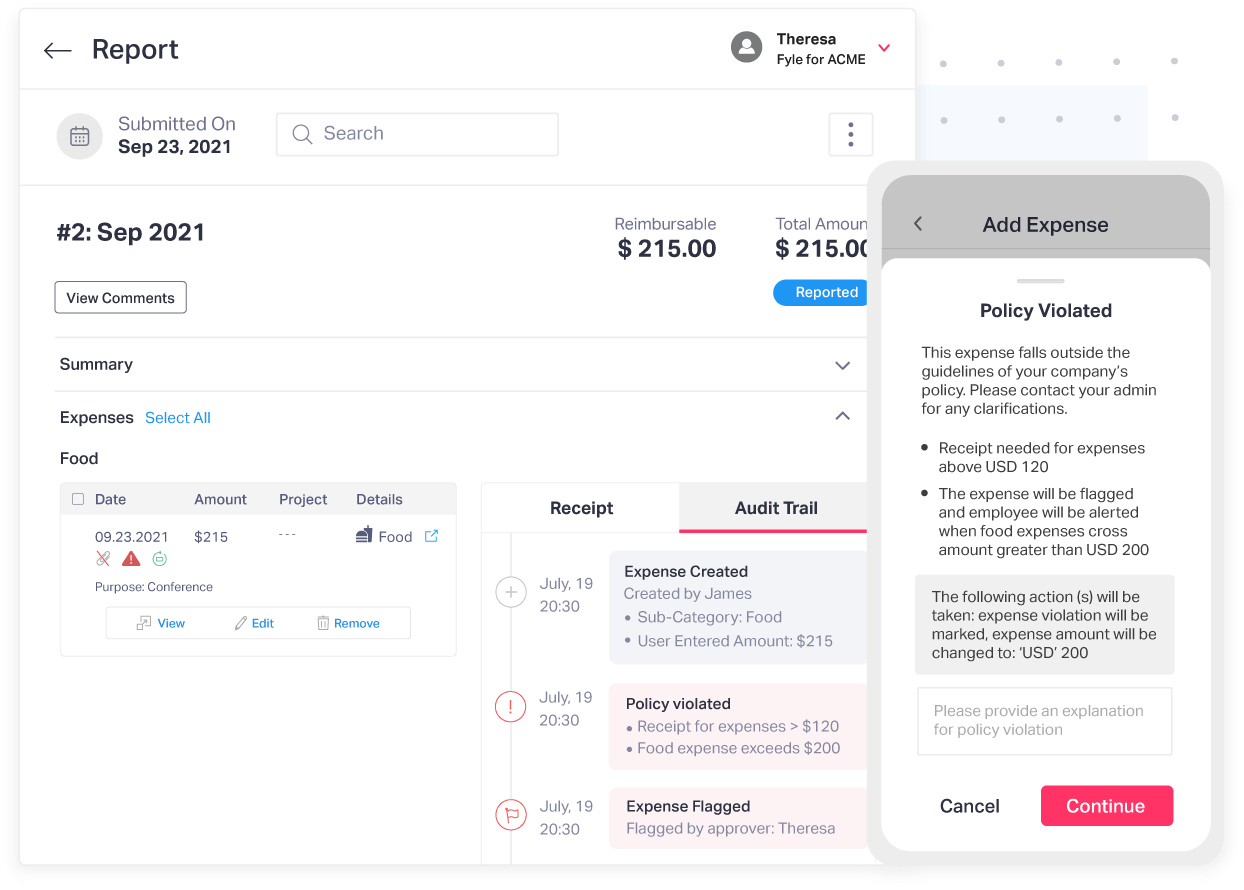 Key Features
Integration with Visa and Mastercard for real-time credit card reconciliation
Easy receipt tracking via Gmail, Outlook, Slack, Teams, SMS and more
Self-serve, bi-directional integrations with accounting software
Mileage tracking powered by Google Maps
Constant compliance with digital audit trails and real-time policy enforcement
24/7 customer support
Reimbursement via ACH
Easy approval workflows
Pros
User friendly interface
Saves time and eliminates manual effort
Boost in productivity and efficiency
Mobile accessibility
Responsive customer support
Cons
Slight learning curve
Implementation can take time
8. Monday
monday is an award-winning work management tool used across a variety of industries. Its clear and intuitive interface makes it easier to plan, organize, and track your workflows.
In addition to project management, it can also be used as a CRM, or to manage your marketing campaigns, track issues, and manage customer projects. It provides a collaborative space for your teams to stay aligned, agile and efficient in everything they do.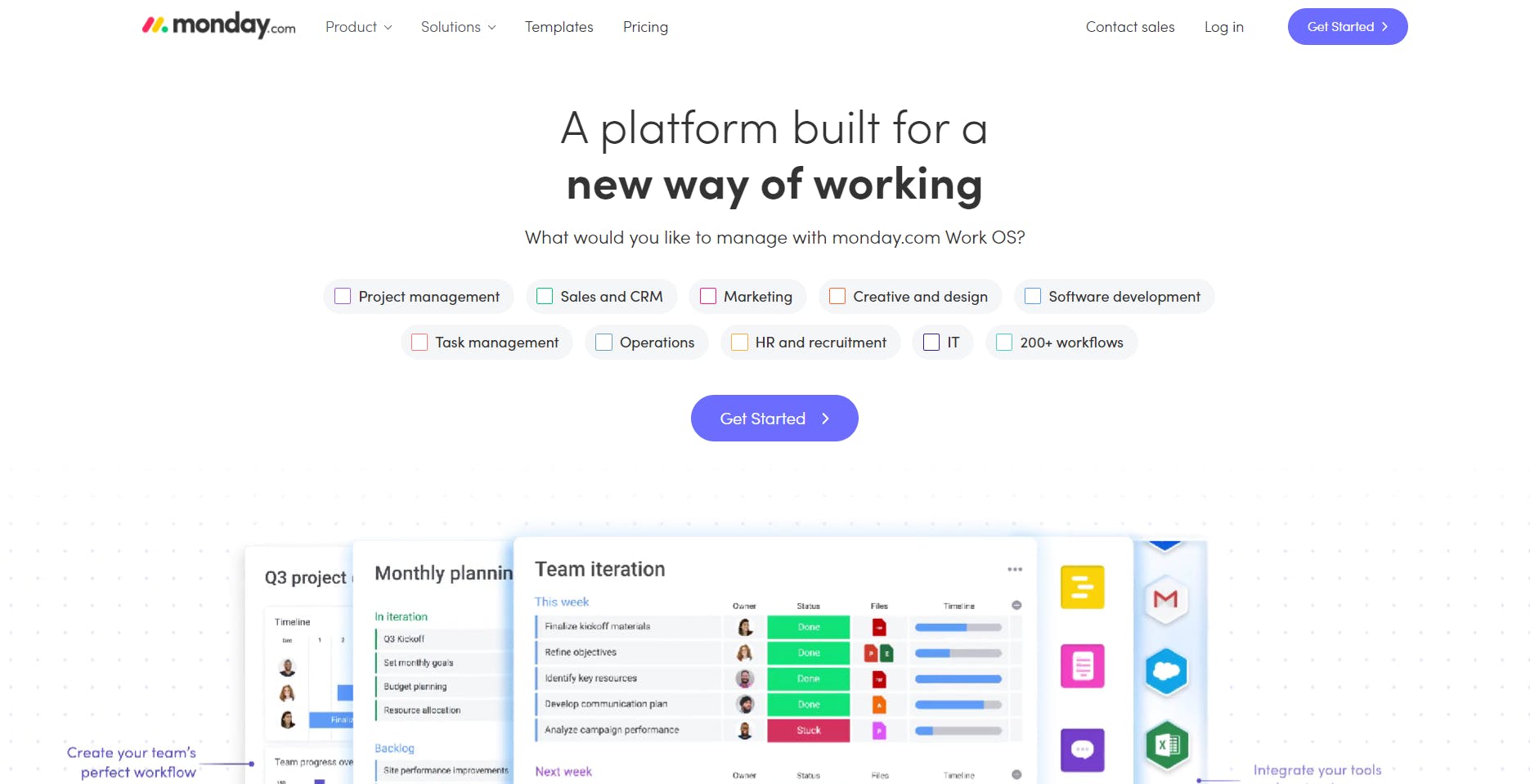 Key Features
Customizable Team Dashboards
Customizable Workflows
monday workdocs
Task Scheduler and Prioritization
Shared Calendar
Collaboration & Communication
File Sharing and Document Management
Time Tracking
Budgeting
Resource Management
Pre-designed Templates
Pros
Attractive interface
Most robust Kanban workflow enhancement
Encourages transparency and accountability
Handy project visualization tools
Seamless Collaboration
Cons
Gantt charts locked to standard plan and above.
Platform limits some basic functionality such as activity log and file storage at the lower pricing tiers
Expensive to manage large-sized teams
9. Avaza
Avaza is an all-in-one work management tool used by professionals and teams for automation of processes like project management, time and expense tracking, invoicing, scheduling and team chats. It is suited for any industry that needs to invoice clients and manage team collaboration smoothly.
It includes a one-of-a-kind feature that lets you turn emails into tasks. This synchronization saves a lot of time and keeps work moving forward. Project tasks can also be viewed as lists, kanban, gantt charts or even in calendar view, providing plenty of options to set up task management the way you want it.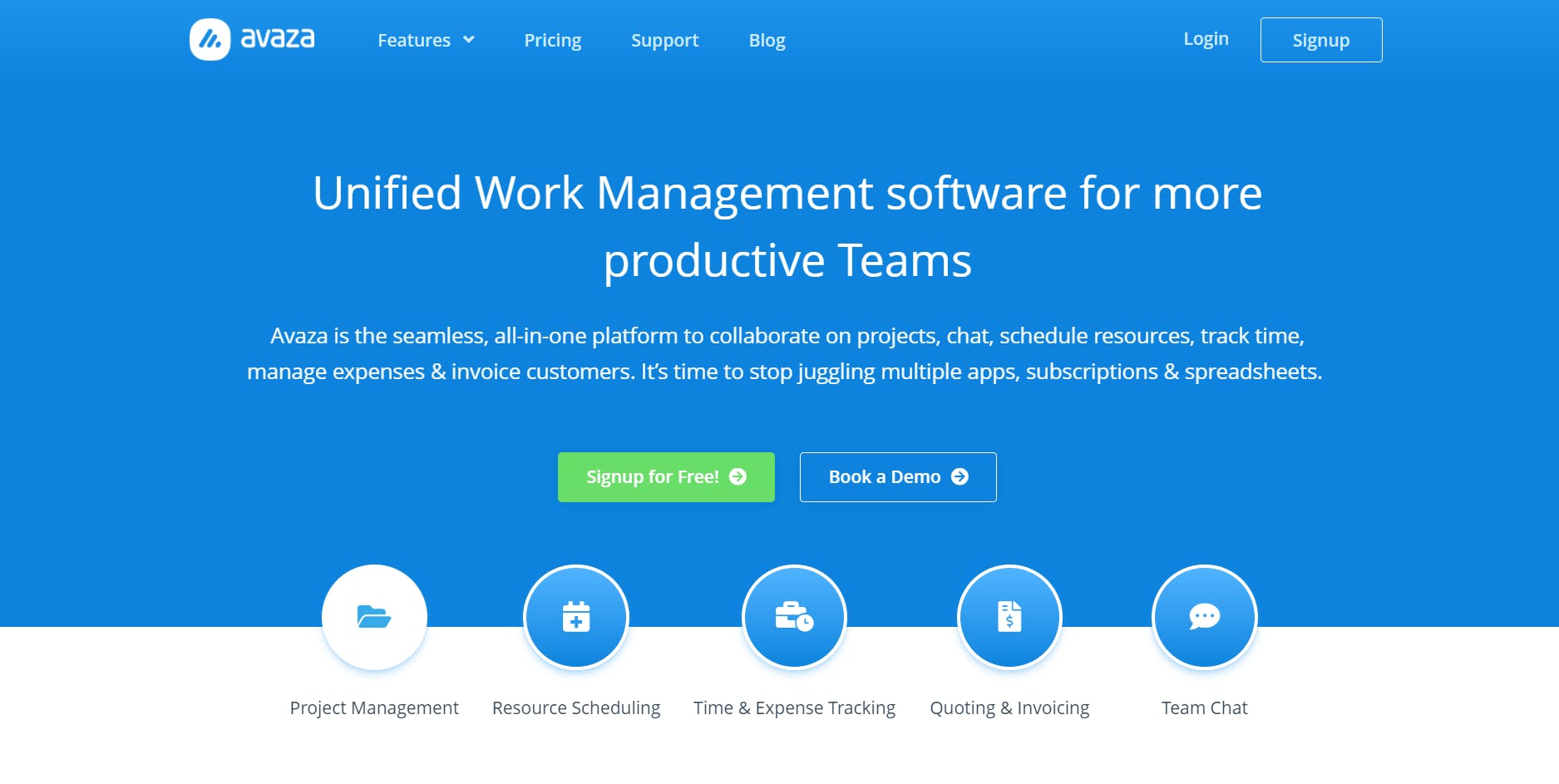 Key Features
Project & Task Management
Team Collaboration
Resource Scheduling
Time & Expense Tracking
Quoting & Invoicing
Advanced Reporting
Pros
Great for task management and tracking time
Clean and intuitive user interface
Strong reporting features
Team Collaboration
Cons
No due dates can be assigned on subtasks
Currently lacking advanced integration options with popular payroll providers to automate common employee-related payments.
10. Scoro
Scoro is a business management tool focused on professional advertising and creative agencies. Their enterprise-level reporting and integrated time management are the key features that made them favorite among this industry.
It is great for automating routine operations like quoting and billing as well as track sales performance & goals. However, it does not do much for solo entrepreneurs, and industries that require specified data entry.

Key Features
Customizable KPI dashboard
Shared team calendar & schedules
Phases and milestones
Contact management
Time tracking and billing
Invoicing & quoting with pre-set templates
Pros
Gantt charts show real time project updates
Good for tracking quotes and orders
Provides management for‌ any billable work ‌scenario
Cons
Can take some time to get familiarized with the platform
Limited templates for quotes, purchase orders and invoices
The pricing model is difficult and a bit expensive
11. StudioCloud
StudioCloud is a business management software for artists and creators such as photographers, designers, tattoo artists, and so on.
It provides a unified system along with cloud syncing, client management, scheduling, reporting, online booking, and much more. It is an easy-to-use software that works on both Mac and PC and includes free cloud services.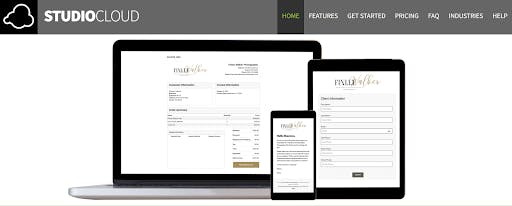 Key Features
Client & employee management
Time tracking
Easy access to client data, sales figures, calendar, and schedules
Invoices and quotes from customized price-lists
Bookkeeping and easy to use finance reports
Automated, personalized text, email reminders, payment requests, etc
Automated marketing campaigns
Easy online booking facility for clients.
Pros
Sleek easy-to-use dashboard
Provides an easy and convenient way to book online
Offers a Freemium
Proficient administration
Cons
Limited to small teams and service industry
Nor payroll services
Doesn't have robust tools and features to manage goods and inventories
12. Zoho Workplace
If you're looking at integrating multiple business requirements into a single workflow, then Zoho Workplace can be a great option. It brings context from sales, marketing, or finance into your productivity apps so that you can focus on the core issue.
It can be integrated with other Zoho bundles such as CRM, Finance, and Recruit to manage almost every aspect of your organization in one system. However, at times, they have issues with their user experience and integrations.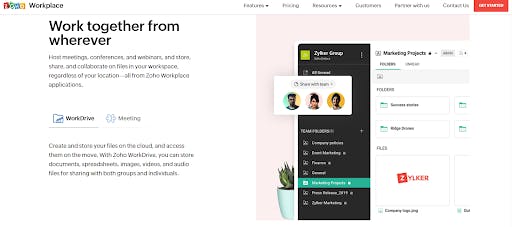 Key Features
Time management and scheduling
Tasks, notes, and bookmarks
Calendar and resource booking
Email retention and eDiscovery
Online file management
Quick access and search across Zoho
Real time collaboration
Corporate social network
Advanced analytics & reporting
Pros
User-friendly
You get to choose just the feature and integration you want rather than paying for everything.
Cons
No live chat feature
No social integration
Can be a little buggy
13. Trello
Trello is a visual, collaborative work management app and the first to come up with the Kanban boards. It is widely used by startups because of its generous free plan, ease of use, and user-friendly interface
The boards and different integrations make organizing pretty straightforward. You can also add members to your tasks and track their progress as they complete them. However, Trello is not much of a traditional project management software and cannot be used for managing complex projects as it lacks many important tools. It is best suited for simpler workflows, smaller projects, and office-related tasks.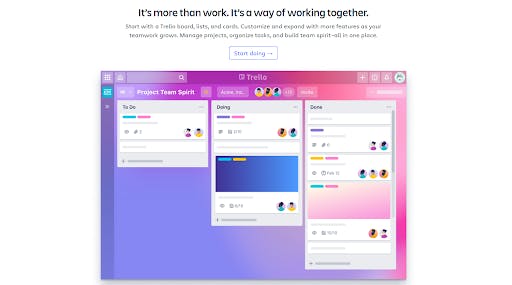 Key Features
Comments
Alerts and notifications for task activities
Dashboard customization
Ready-made templates
Document management
Private/Shared access administration
No code automation
Bulk data export
Pros
Real-time updates
Responsive design
User-friendly
Flexible and customizable kanban app
Cons
Commenting feature needs improvement.
Limited storage.
Many features like time-tracking and billing require add-ons
No swimlanes
14. ClickUp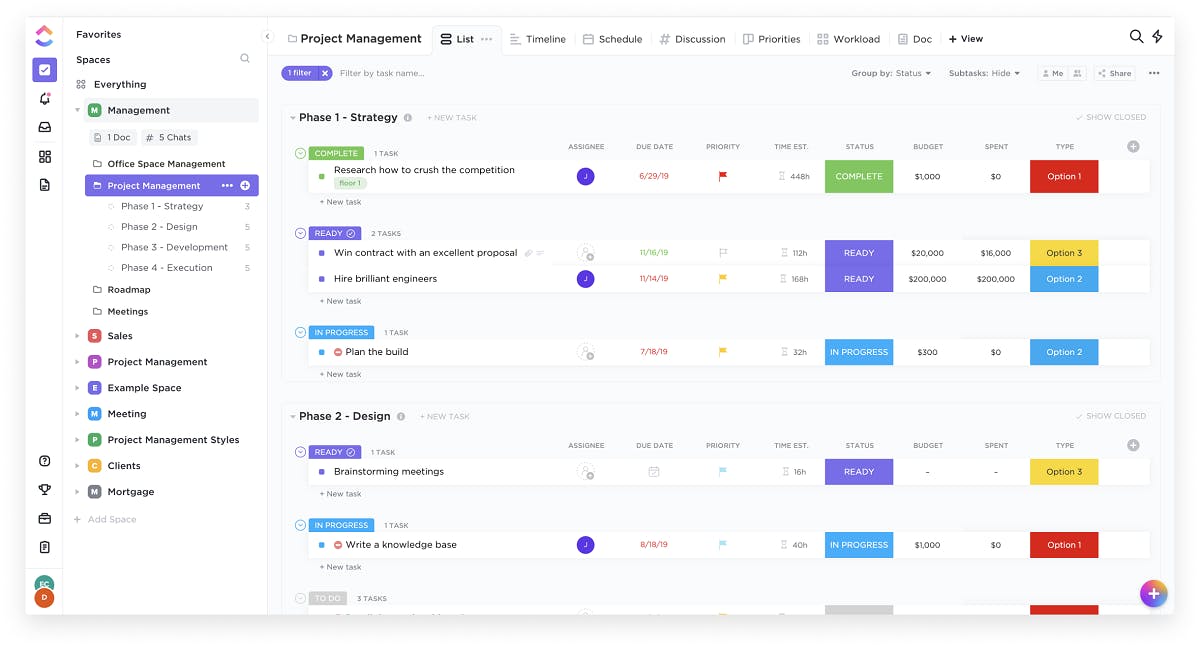 ClickUp is a flexible work management tool that empowers you to manage your workflow with literally dozens of customizable features. Each Space, Folder, and List has its own set of optional features to choose from.
With the core mission to increase the productivity of the team and reduce the friction of using multiple apps, ClickUp offers almost everything you need to take care of your workload. The multiple views and inbox feature provides a clear view of all the projects and assignments in one place, making it easier for teams to organize and manage their tasks.
Key Features
Task prioritization
Scheduling & time tracking
Custom fields & dashboards
Work collaboration and file management
Deep task recurring
Threaded comments
Milestone & status tracking
Baseline assessments
Resource allocation
Automations and templates
Pros
Free forever plan allows unlimited members
Unlimited file storage on all paid account tiers
Can email (set-up) a task directly from Outlook
Cons
Can be buggy
Very task oriented, cannot track on a project level
Needs more flexible reporting
Read-only guest permissions are limited to a paid account
Granular customization options result in a time-consuming set-up
15. Refrens
Refrens.com is a comprehensive platform designed to assist freelancers, consultants, and small businesses with various administrative tasks such as invoicing, expense management, and customer relationship management.
Key Features:
Invoicing and Billing
Expense Management
Client Management
Estimates and Quotations
Multi-Currency Support
Pros:
Ease of Use: An intuitive interface that makes it easy for users to navigate and use the platform.
Free to Start: One significant advantage of Refrens.com is that it is free to start, making it accessible for freelancers and small businesses with a tight budget.
Integration: Can be integrated with various payment gateways, providing a seamless transaction process for its users.
Excellent Customer Support: Robust customer support, with assistance readily available to help users navigate the platform.
Cons:
Limited Customization: Although Refrens allows for some customization, the options may be limited compared to other more advanced systems.
No Mobile App: Refrens.com doesn't have a dedicated mobile application, which could make it less convenient for users who prefer managing their business on the go.
16. Smartsheet
Smartsheet is a leading cloud-based, enterprise work management tool and the only platform that can scale from a single project to end-to-end job management.
It empowers teams to manage projects, automate workflows, and rapidly build new solutions—using no-code tools they love, and backed by the security IT needs.

Key Features
Multiple views
Resource management
Time tracking and Reporting
Issue Tracking
Automation
Easy Content Collaboration
Custom Email Domains
Forms
Secure permission controls
Pros
Custom and powerful Dashboards
Sheet-to-sheet linking
Automates relevant business processes
Cons
Limited calendar view
Changes don't update in real-time
You need to pay for zapier integrations
17. Bitrix24
Bitrix24 is one of the best free online collaboration tools. It offers task & project management, CRM, web tools, HR, and automation features.
You can create projects, groups, tasks, calendars, and track time within each project. It even allows clients and partners to take part in projects. Armed with task templates, repeating tasks, and checklists, Bitrix24 helps you automate your work saving time and efforts spent on regular chores.

Key Features
Task Planner
Gantt Charts
Task Templates
Team collaboration
Workgroups
Group Calendars
Time management
MindMap and Billable Hours
Task and General Reports
Automation
Pros
Helpful in distributing workload
Manage leads from different sources
Automated sales process
Cons
Poor reporting feature
CRM system can be too buggy
Unorganized
18. Wrike
Wrike is a cloud-based work management tool that helps teams track, collaborate, and share projects. It is ideal for creative teams as it provides performance data, high-level digital marketing tools, project synchronization, and workflow management across the organization.
It also has advanced reporting capabilities that can help you make the most of your resources and achieve your company's goals. Additionally, with Wrike's automated approval systems and visual proofing, you can shorten your feedback and approval process. But, if you are small team, wrike might not be a good option for you.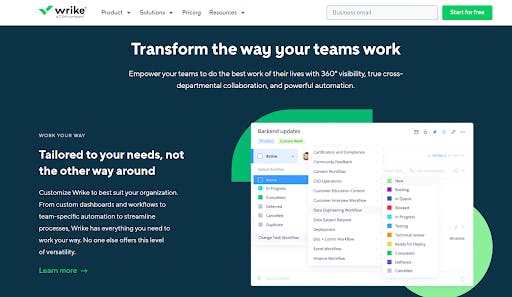 Key Features
Team Collaboration
Auto-Assignment of Tasks Based on Statuses
Prioritization
Centralized feedback tracking
360-degree visibility
Digital Publishing
Time Tracking
Custom Request Forms
Budget Management System
Pre-Made Tailored Templates
Pros
Holistic, comprehensive task modeling
Real-time project reports
Many options and opportunities to customize
Cons
Complicated and Clunky
No subtasks in the freemium plan
Managing work in calendar view is tricky
Does not manage contracts
Lack of customer support
19. Kissflow Project
Kissflow is a work management tool that enables businesses to discover, create, and modify unlimited business applications with an intuitive and easy-to-use interface. Even non-technical people can set up applications as the platform does not need complex coding.
KissFlow comes with a couple of useful views (List, Kanban, Matrix) to keep an eye on data and progress at all times. Also, you can easily get reports, centralize all communication, get automatic reminders, and do a lot more within the tool. But, it can take some time to set up everything and get familiarized with the platform.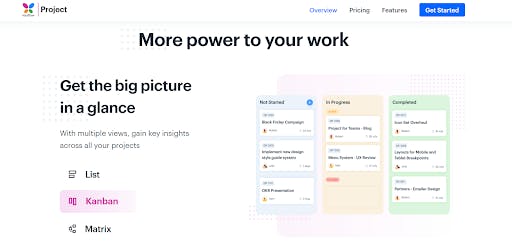 Key Features
5-Step App Wizard
Hands-­Off Workflows
Team Collaboration
Mentions and comments
Custom Forms
Time Tracking
Activity Log
User Roles
Insightful Reports
Issue Tracking
Real-time updates
Automatic Reminders
Pros
On hold, in progress, and done states available for tracking progress
Powerful reporting features
Great customer support
Cons
No Gantt chart
No ability to set up recurring tasks
Not intended for complex projects
20. Basecamp
Basecamp is a project management and team communication tool that puts everything you need in one place. It is popular in the web design industry and one of the first few project management applications.
With to-do lists, calendars, due dates, and file-sharing, Basecamp provides a way for teams to keep track of priorities and actionable items. But, It is an outdated software which has not updated its features in a long time. So, if you are looking for some modern management features, you may not find them.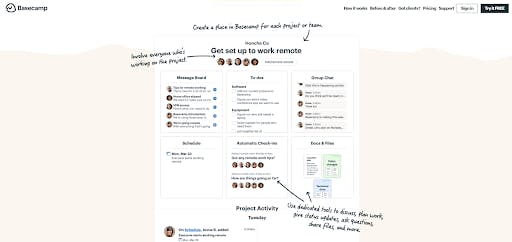 Key Features
Message Boards
Schedules
Documents & File Storage
Separate Dashboards
In-context Collaboration
Real-time Group Chat
Check-in Questions
Client Access
Hill Charts
Email Forwards
Detailed Reports
Pros
Easy to set up and flexible
Bookmark to-do lists, messages, etc. for quick access
Flat monthly price for unlimited users
Cons
No proofing tools
Lacks advanced features like Gantt charts and timesheets.
Cannot assign priority levels to tasks
21. Airtable
Airtable is a tool that resembles a well-designed spreadsheet but has the capability of a database. It enables you to adapt any work process through databases rather than sheets.
You can use it to manage projects, track and arrange inventories, plan events, and more. It provides grid, calendar, kanban, and gallery views for workload management. You can also automate tasks, send notifications, and integrate it with other applications.
It is an editor's choice among collaboration apps because of its extraordinary customization feature, versatility and ease of use. However, it is best suited for smaller sized businesses.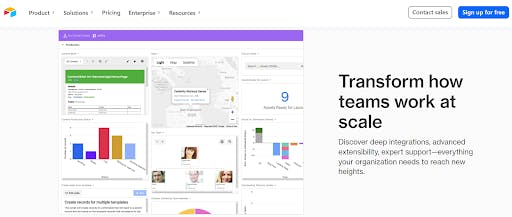 Key Features
Team Dashboards
Relational Database Capability
Link Records Between Tables
Filter, Sort, and Rearrange Records
Customized Views
Customizable Fields
Collaborative Workspace
Resource Management
Real-time Changes
Automated Backup
50 Airtable Apps
Pros
Drag and drop tools
Milestones and due dates visible in calendar view
Ability to embed Airtable data in other places
Cons
Limited features
Reporting tools are not available
Can be expensive
22. Asana
If organizing tasks & meeting deadlines is your top priority, then Asana is a good choice. Although popular for task management, Asana is widely used for managing workload.
With a bunch of rich features and integrations, Asana organizes your projects & tasks and helps you track them from beginning to end. You can choose between four different views, set up tasks & subtasks, milestones, and assign tasks to different team members.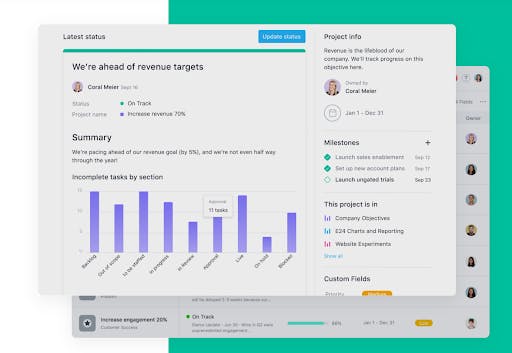 Key Features
Customizable Fields and Forms
Copy projects
Sync Tasks Across Projects
Dependencies
Custom Templates
Team Tracking
Team Collaboration
Reporting Options
Export Your Projects
Automations
Pros
User-friendly interface
Create realistic project plans with Gantt charts
Timeline view makes it easier to manage dependencies
Capable free version
Cons
Communication features are not up to the mark
Excessive Notifications
Not ideal for graphics-intensive work
Prices slightly higher
23. Workfront
Adobe Workfront is mostly focused on enterprise work management, but can be configured to support any team or project, regardless of the industry.
It acts as a centralized hub that connects strategy to delivery, integrates people and data across the enterprise, and manages work from start to finish helping teams deliver measurable outcomes. Workfront empowers businesses to offer excellent client experiences at every step of planning and execution.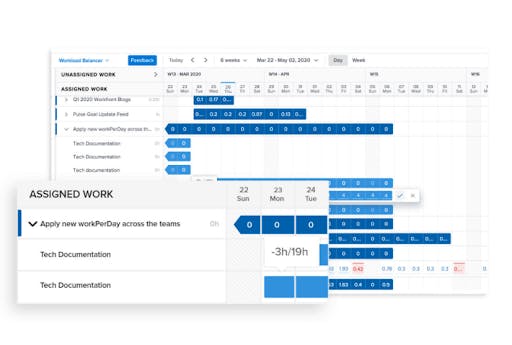 Key Features
Centralized Projects
Capacity Planning
Recurring Tasks
Portfolio Management
Resource Management
Automated Workflows
Reports and Dashboards
Team Collaboration
Scheduling
Time Tracking
Real-Time Reporting
Budgeting and Estimation
Enterprise-Grade Security
Pros
Easy to streamline process
Very versatile
Real-time and accurate information
Cons
No included chat app or timer
Not for businesses aiming for a flat org chart
Rich customization requires several weeks' setup time
24. Odoo
Odoo is an innovative, open-source software packed with hundreds of well designed business applications. Its intuitive database caters to a wide array of business requirements including CRM, sales, project management, manufacturing, inventory, accounting, and more.
The unbeatable, seamless nature of Odoo Project helps businesses become more productive. Every module is interconnected to provide a fully-integrated experience, allowing teams to collaborate with other departments efficiently from one unified platform.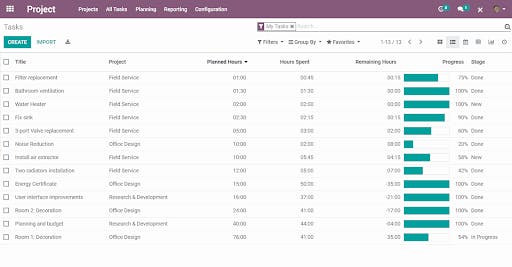 Key Features
Filters and Groups
Gantt Charts
Pivot Table analysis
Team chat and Real-time Collaboration
Group calendar
Time tracking & Timesheets
Activity Log
Email integration
Automate actions
Forecasts
Customer alerts
Invoicing
Pros
Great project management and tracking features
Customizable reports
Shows profitability of every project in a glance
Cons
Can be hard to maintain
Complicated Pricing
25. WORKetc
WORK[etc] is an all-in-one cloud-based CRM with scalable features to match the needs of any business size. It allows you to manage and track all parts of a client lifecycle.
From the initial sale to bids, projects, delivery, billing, customer service, and follow-up sale, WORK[etc] is there every step of the way. It also facilitates integration with the company's email clients and accounting products.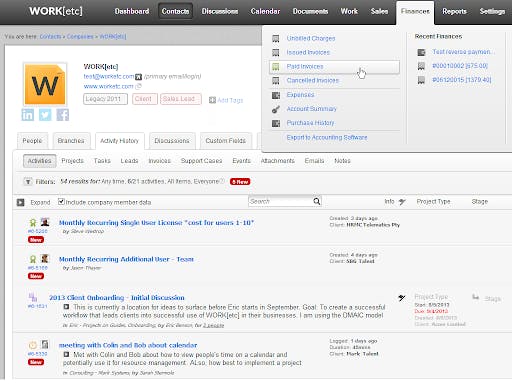 Key Features
Custom Fields, Gantt Chart, etc
Triggers and Dependencies
Sales Management
Customized Sales Process
Operations
CRM
Document Management
Timeline
Time Tracking
Monitoring and Reporting
Pre-made templated
Granular Permissions
Billing and Finance
Helpdesk
Pros
Easy timesheet management
Comprehensive integrations with email systems
Easy to create and export expense reports
Cons
Can be hard to understand and overwhelming
Dates cannot be changed
No resource allocation features
26. Paymo
Paymo is a modern project management solution for small businesses and hybrid teams. It is used by people from different departments all over the world including creative professionals, web designers, marketers, and business consultants.
It offers a rich feature to help you keep a track of the entire lifetime of a project - from creation until getting paid - without having to use and pay for several apps.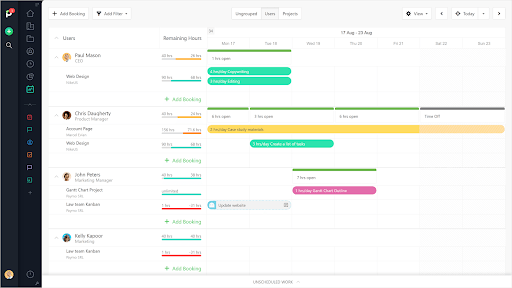 Key Features
Milestones & Alerts for Major Events
Gantt Charts & Portfolio Gantt Chart
Critical Path Creation
Team Collaboration
Activity Tracking
Time & Expense Tracking
Resource Management
Billing & Invoicing
Customizable time and work reports
Contact Database
Customizable Templates
Pros
Comprehensive project management tools
Extensive time tracking
Actionable insights and reports
Cons
UX is a bit complicated
Switching between projects/ tasks can be fiddly
Lacks client portal
27. LiquidPlanner
LiquidPlanner is a work management tool that emphasizes on smart resource planning, risk management, and scheduling.
The features have been designed in a way that allows users to allocate resources per task, manage workload by team members, and accurately predict progress per project so deadlines and budgets are met. It comes with an automated scheduling engine that calculates when you'll complete your projects.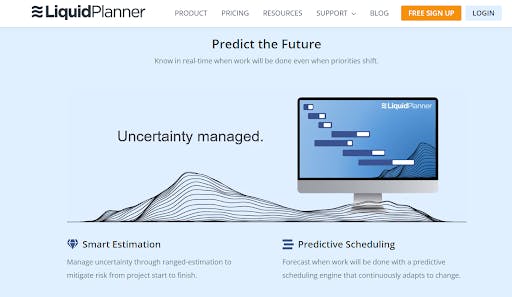 Key Features
Priority-Based Scheduling
Team Collaboration
Time Tracking
Drag-and-Drop Prioritization
Analytics & Reporting
Workspace Chatter
Client Sharing
Baseline View
Task Management
Project Planning
Pros
Automated, intelligent scheduling
Project best and worst case scenarios
Rich management and insight tools for a variety of resources
Good time tracking feature
Cons
Might take a lot of time to set up projects and get familiarized
Gantt chart is not interactive
No milestones or nonimage attachments
28. nTask
nTask is a project management software that has two important features. One of them is the issue and bug tracking for development teams where they can assign issue severity & status, track issue progress, and link it to tasks or projects.
Their second feature is that they have timesheets where members can update their work time for specific tasks and get it approved by the team leaders.
It also offers kanban boards, timesheets, gantt charts, and many other useful features. nTask makes it easier to plan, manage, analyze and collaborate on your tasks faster than ever.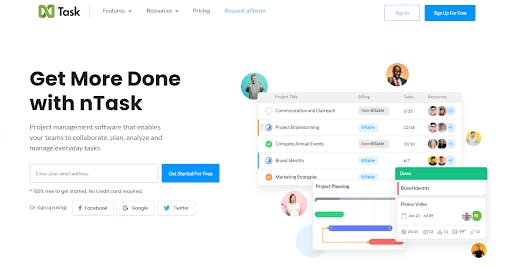 Key Features
Multiple Assignees
Categories, Labels, Custom Fields, and Filters
Task Comments & Collaboration
File Sharing Document Management
Risk Management
Progress Meter
Time Tracking
Budget Summary
Real-time Notifications
Task import and export
Pros
Easy to use
Manage progress with Gantt charts
Offers Freemium
Cons
Rigid Interface
Lacks advanced reporting features
Navigation can be a clickfest at times
Privacy is a bit iffy
How to select the right work management tool for your business?
It's important that whichever work management tool you opt for should be compatible with your organization's current workflow and business goals.
Here are a few things that you should remember before deciding upon a tool:
Analyze your current procedures to identify the right tool. For example, if your business uses an agile methodology, then choose a tool that supports that methodology.
Determine what features you'll need to streamline work management based on your organization's structure.
The larger the team and the volume of work, the more sophisticated a software solution you should opt for.
If your workflow is labor-intensive and includes too many repetitive tasks, explore an automated work management process with automatic data syncs, updates, pre-designed templates, and so on.
Ensure that the work management tool you choose aligns with your primary business objectives, such as boosting team productivity or scaling business growth, and enables your team to achieve them.
After all, if you deploy technology, you want it to be adopted by your entire team and fulfill your objectives.
The Benefits Of Using Work Management Tools
1. Improved Planning and Execution
Planning is critical to saving time and effort. It is an important part of every project development cycle. Work management software can be an asset for managers when it comes to delegating workload to team members, meeting deadlines, and executing projects efficiently.
Project Planning takes careful thought and time for the team to understand and outline all the major steps towards their goal. A work management tool allows project managers to specify the work sequence, prioritize tasks, and set milestones.
2. Better Collaboration and Coordination within your Team
One of the biggest perks of a work management tool is an efficient collaboration between intra- and inter-departmental teams focusing on a common goal. Regardless of the size of the project, each team member has a specific role and responsibility. It is critical to maintaining internal connectivity, ensuring smooth project execution and timely deployment.
A good work management system like SmartTask helps you keep everyone in the loop and improves collaboration. Teams can effortlessly share their inquiries or status updates with the right person to get immediate guidance. You can even share files with teams and clients with ease.
3. Robust Resource Allocation for your projects
While it is necessary to manage resources efficiently to ensure smooth accomplishments of business processes, it can be difficult to allocate resources as per the complexity of tasks and capabilities of resources.
The work management tool enables enterprises to define materials, resources, & tools required for running a project life cycle seamlessly. An ideal work management tool can also enable companies to hire resources that might seem unnecessary at that moment but can save overheads & increase ROI in the long run.
4. Adaptive Team Workflow
Keeping the entire team in a loop is quite a task, but with the right work management tool, it is easier than ever. The tool can act as a platform that brings every team member together and makes them work together. The project manager can easily track the activities of various team members and check the real-time progress of assigned tasks.
It is also possible to find out how much time it will take to complete the task. The work management tool is especially useful for bigger projects as the manager can put various members together for collective work. As a result, the company can leverage the benefit of a strong team workflow & accomplish all the goals on time.
5. Better Time Control
Work management systems usually make it their job to help you track time, never miss deadlines, and be more productive.
With the time tracking features of Work management tools, you'll be able to make the correct time estimates, keep up with your team's hours, and simply do more.
6. Monitoring Tasks
It's important to track the performance of the project at every stage to obtain long-term success and ensure on-time delivery. The work management tool monitors every task to achieve this objective seamlessly.
You can also fetch the performance data of every team member & continuously monitor every stage of the project through this tool. A work management tool assists you to optimize all the projects effectively.
Ultimately, using a strong work management system will lead to more reliable, faster production and more efficient internal processes.
Go ahead and choose the one that suits your business requirements and budget.
Choose SmartTask as Your Go-to Work Management Tool