SmartTask
Contents
A Complete Guide to Work Management in 2023
By Aastha ShawDec 1, 2021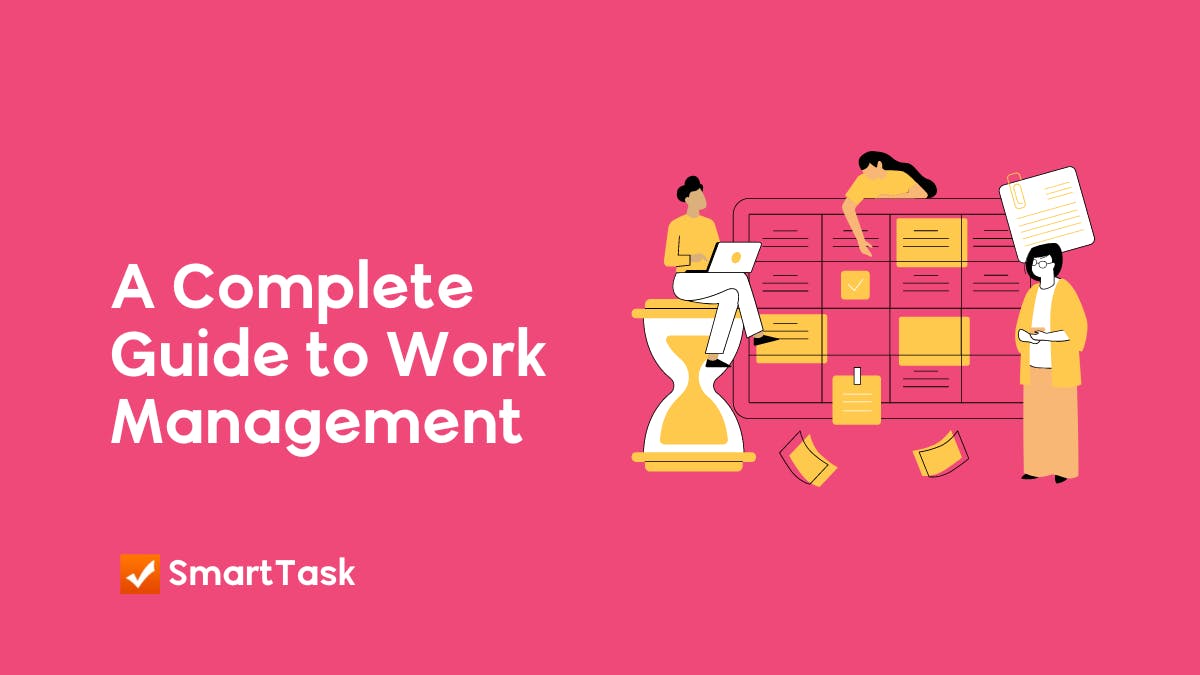 Did you know around 90% percent of startup businesses face terrible failures within the first five years of starting up?
According to U.S Small Business Administration (SBA), about 66% of small businesses fail in the first 2 years.
Pretty scary figures! But, what is causing all these failures? When looked at closely, one of the common causes of these failures was found to be poor Management - cost overruns, delays, and miscommunications.
Optimizing your workload with an effective work management system can save you from falling into such hazardous situations. It is an efficient solution that can help you face various management challenges.
Let's look at the basics of work management.
What is Work Management?
Work management is a superpower that saves your day, every day.
It is the answer to " How can we boost the success rate of our projects, products, and services? " or "How to improve our work processes to achieve our business goals?". It transforms and streamlines your business by integrating processes and procedures that improve :
Scheduling of work
Meeting clients' expectations
Utilization of assets and resources
Performance evaluation
Work management ensures consistency in your employees' work and aligns it with your company's vision and values.
Work Management covers a vast business area including:
Project management
Resource management
Time management
Process management
Client relationship management
Business Intelligence
Get your work management streamlined
Work Management Vs Project Management
The terms "work management" and "project management" are often confused with each other. This misunderstanding is reasonable because, in business lingo, we frequently think of all work as a collection of several smaller projects.
Project management focuses on a single deliverable, even if that deliverable includes multiple other deliverables. Work management, on the other hand, is focused on processes and structures that can be taken from one project and modified to fit the needs of another.
To clarify further, let's take a look at this table comparison below: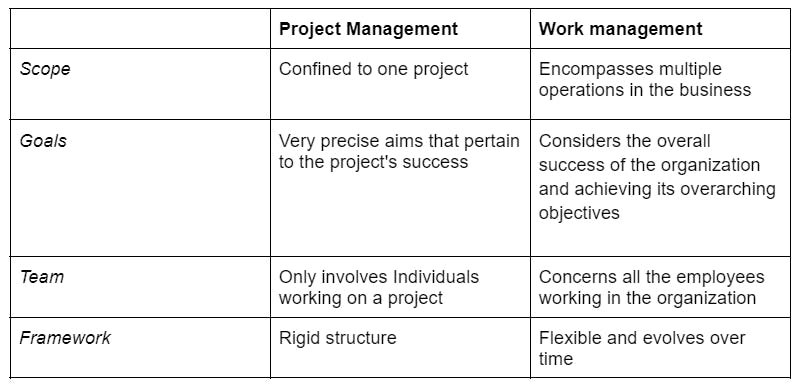 The Work Management Process

Work Planning
Planning is critical to every business. If something does not start right, most probably it isn't going to end well. A poorly written business plan or no business plan at all can be detrimental, even if the underlying idea is viable.
For example- A work plan should show research on the market, competitors, customer purchasing behaviour, and acceptable pricing. Without well-researched information, you're just guessing who your clients might be, how much they might pay for services, what might motivate them to choose your company and buy from you instead of someone else.
When planning is done properly the team has clear visibility of what the project's timeline is, how many milestones are there and who's responsible for what. With a good work management tool, it's possible to understand the deviations from the original plan. Check the baseline comparison below.

Work Delegation
As a leader, delegating is important because you can't and shouldn't do everything by yourself.
A Gallup study shows CEOs who thrive at delegating produce 33 percent more revenue. Delegation is crucial for a team's success as it empowers your team, builds trust, and assists with professional development. It also helps leaders to identify who is best suited to take on particular tasks or projects.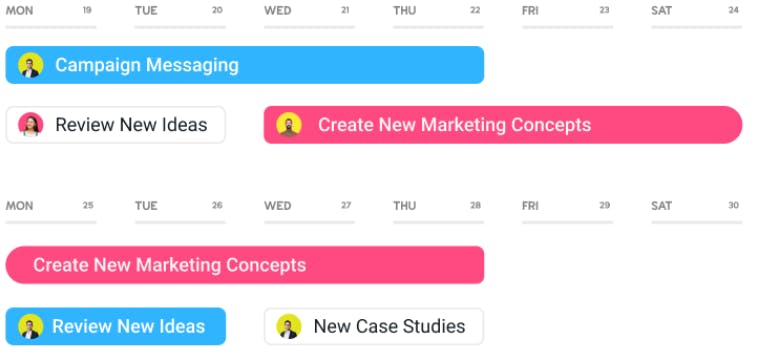 SmartTask helps you tackle complex tasks with ease by breaking them down into smaller chunks of subtasks, adding relevant instructions or any informations, and assigning them to your team. This in return empowers employees, they now have a clear picture of what they need to get done today, tomorrow, and next week.
Work Execution
Work execution is the process of carrying out the devised plan while following a well-established strategy and schedule. Proper execution of work is any day more important than the strategy itself.
Jamie Dimon, now CEO of JPMorgan Chase, opined, "I'd rather have a first-rate execution and second-rate strategy any time than a brilliant idea and mediocre management." And it is true no matter how great your strategy is if your implementation wheels are stuck in the mud you will never get your expected results.
Work Collaboration
In the modern workplace, employees spend around 80 percent of their time on activities that require collaboration. Work Collaboration refers to the practice where people work together to achieve a defined and common business purpose.
The right collaboration software like SmartTask can make a difference when it comes to avoiding these risks and enabling teams to work together efficiently. With SmartTask, your team can assign tasks, have instant communication through chat and video conferencing too.
Time Management
Time management is the skill to organize and split your time among various activities. People who fail to manage their time effectively often struggle to prioritize all the tasks they have ahead of them. This can lead to missed deadlines, financial problems, damaged client relationships, and poor reputation.
You can avoid this with the time tracking feature of SmartTask. It lets you set a time estimate for each of your tasks. Whenever someone works on a particular task they can log in their working time. So that, you know exactly how much time it takes to finish a task by each team member in comparison to the estimated time.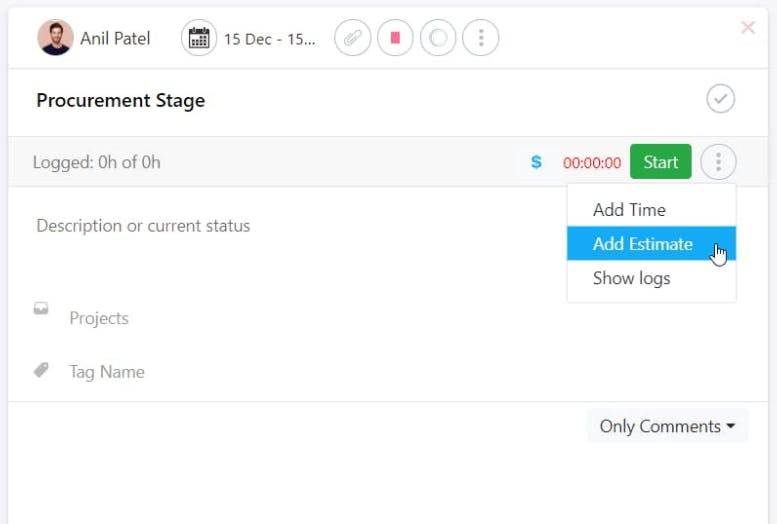 With this data, you can conduct a time audit to analyze where and how effectively you are investing your time, helping you to have better time control and management skills.
Work Analytics
Work Analytics is the process of analyzing work-related data by applying a set of metrics. Workplace management is a dynamic system that is always changing. You must document your work process and assess the plan's effectiveness after it has been implemented and reviewed.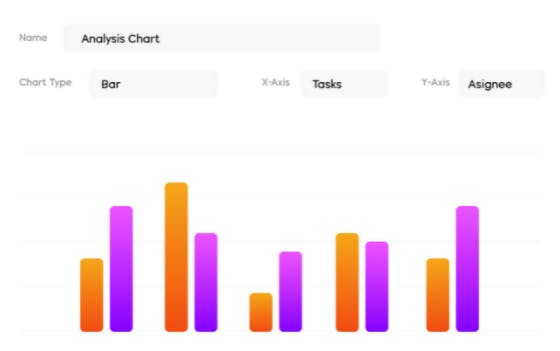 A good work management tool would let you filter out data with multiple filter options and create customized analytics views.
How does a Work Management Software help streamline your processes?
Work management software prevents the back-and-forth navigational difficulties by consolidating all tasks, deadlines, resources, and conversations onto a single platform, rather than siloing them into separate places.
Here's how a work management software can lower your burden and help streamline the business processes like a pro!

1. Inspires cross-collaboration:
Proper collaboration is very important to increase the efficiency and success of the team. Trying to juggle between endless email threads and WhatsApp messages is a pain we have all endured.
With a work management software your communication - description of work, discussions, and files are in the context of a task. Everyone has a clear understanding of what needs to be executed with corresponding deadlines.
2. Updating clients on work progress:
Why waste time in generating progress reports for your clients? With a work management tool, you can invite the client on the platform as a guest user with limited rights. There is no longer a need for manual updates, the client can simply log in and check the progress.
Having clients on the same platform as your internal team improves collaboration. A good work management tool will allow clients to easily share their feedback, queries, and ad-hoc tasks with the internal team.
3. Manage all the work in one spot from anywhere:
It's a piece of cake to track tasks or projects from start to finish with a work management application. All your work data is secured in one place. This means you can access all the information anytime and work individually or with your entire team from anywhere across the globe.
You can also get your work done using your mobile phones. Access your workplace, respond to crucial messages, transfer important files, and monitor updates on the go using SmartTask's android and ios apps.
4. Divide the team's workload evenly:
Delegating work to the team may sound like a simple task, but dividing the responsibilities fairly making sure each team member is not over-worked or under-utilized is not so easy. To improve workload management, it is best to delegate assignments to specific persons based on their skills and availability.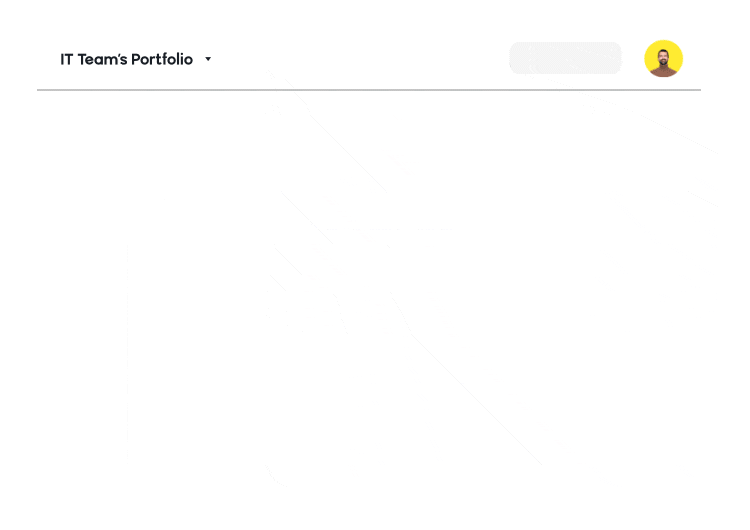 A good work management software has a workload view that displays resource utilization. If someone is overworked, you can reschedule or reduce their work ensuring that they do not get too stressed.
5. One-stop solution:
Gone are the days when managers required 10 different apps for managing projects, clients, teams, sales, and other important aspects of the business.
A work management software comes with all the necessary integrations like MailChimp, google calendar, Zapier, google calendar, etc and acts as a centralized hub making it easier and faster to get the work done.
6. Hassle-free file sharing and management:
While working on a project, team members can get easily overwhelmed with the heavy workload. Along with all their responsibilities, it can be hard to manage and keep a record of all the documents/ files that have to be worked upon or shared with others.
Work management software like SmartTask comes with google drive, google sheets, dropbox, and other such integration, allowing you to effortlessly share files with everyone working on the projects while keeping all information safe. This maintains the workflow and ensures that your team can work without any interruptions.
7. Better project management:
Managing projects is not an easy task. A project manager has a lot on their plate from planning to evaluating. Staying up to date with who is doing what and if each component of the project is on track is a crucial part of the project manager's job. Keeping up with each member of the team, particularly those working offsite and third-party service providers, can eat into your working day.
All of these can be time-consuming yet very important to get an idea of the direction in which the project is going. Work management software can be an asset to managers for tracking multiple projects and making the follow-up process easy to deal with while increasing work efficiency.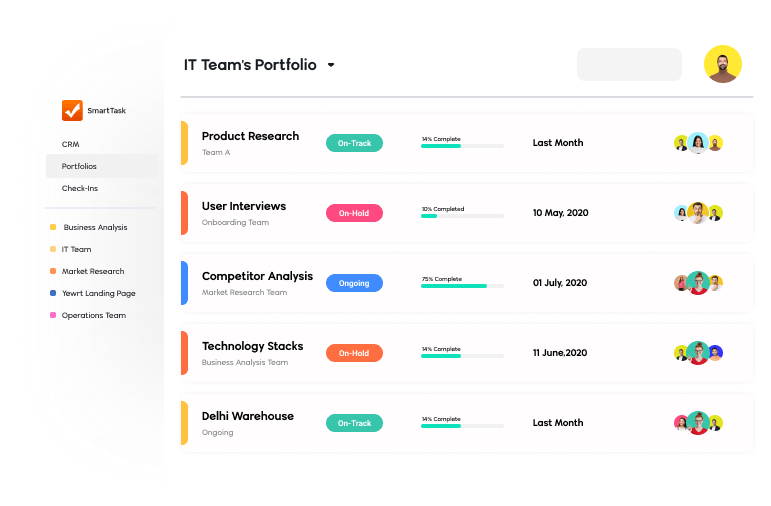 You can have a bird's eye view of all the projects and their current using milestones, timeline view, portfolio view, or Gantt chart view as per your preference to stay updated with the progress, evaluate your team's performance and guide them effectively at every step.
8. Client Management and Sales Tracking:
Anyone in the business knows that without clients, there is no business, but client management can be tricky. Not being able to manage client relationships leads to ineffective sales calls, missed opportunities, and unhappy customers. To deal with this most businesses employ customer relationship management (CRM) software.
SmartTask's built-in CRM helps you track sales activities, maintain seamless communication between the sales and operations team, and centralize all your customer interactions in one place without having to utilize two different tools.
9. Have fewer meetings:
A lot of valuable time is spent just updating your team about the work. Using work management software with features like portfolio view provides an overview of all the tasks and reports on project performance in real-time. You can also use newsfeed and status update features to post specific questions and important updates/ announcements that your team can respond to on the platform itself.
SmartTask's automated check-in feature saves the time that you spend on status update meetings by asking important questions through check-ins. Frequency can be monthly, weekly, and even daily! All the responses are compiled in a thread that can be accessed anytime.
10. Time management and Budgeting:
Keeping an eye on the budget and ensuring that there are no project delays is also an important role of management. A work management software helps you plan and track budgets, get a financial overview of your company.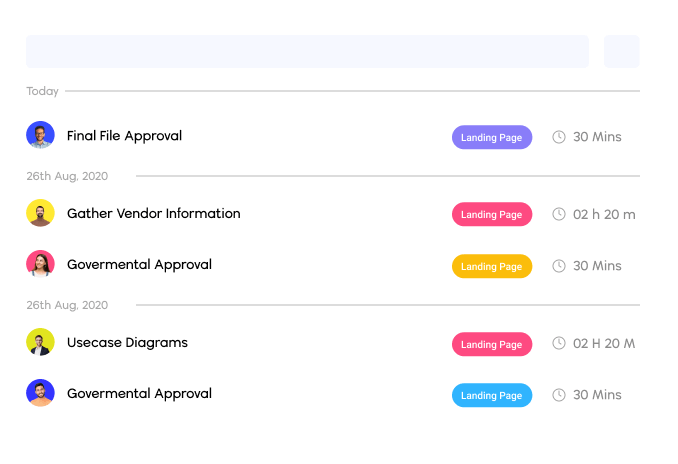 You can set a cost and time estimate on the tasks and the tool will help you track how much time has been spent on a particular task and detect where too much money is being spent. Here's a youtube video elaborating on how this can be achieved in detail.
So that, you make informed judgments as your projects move forward, and maintain your budget by allocating hours and resources as needed.
11. Customize and add all relevant information:
Every project is different and so are its processes, stages, and requirements. Work management software provides the convenience of organizing the work based on tasks, stages, priority, etc. Custom fields feature even lets you add more information on each task in a way that suits your team's specific needs.
Moreover, you get a clear view of all the ongoing or upcoming projects and their processes using board view, tasklist view, calendar view, timeline view features. You can set your view as per your preference. For example, if you have a workflow where a task passes from multiple stages, then the board view will be perfect: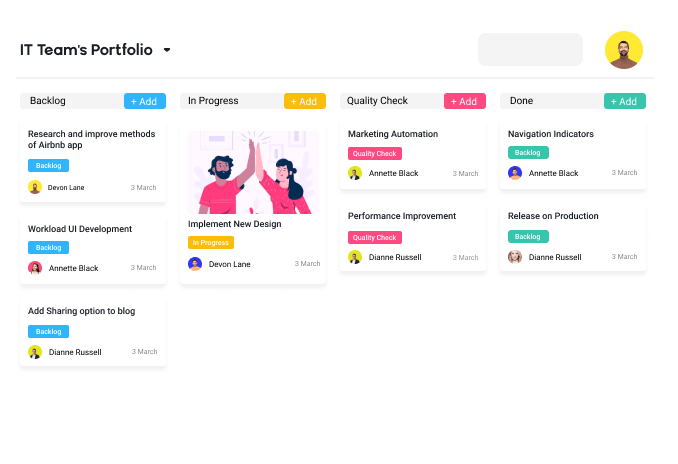 Or to have clarity on upcoming deadlines and events switch to the calendar view: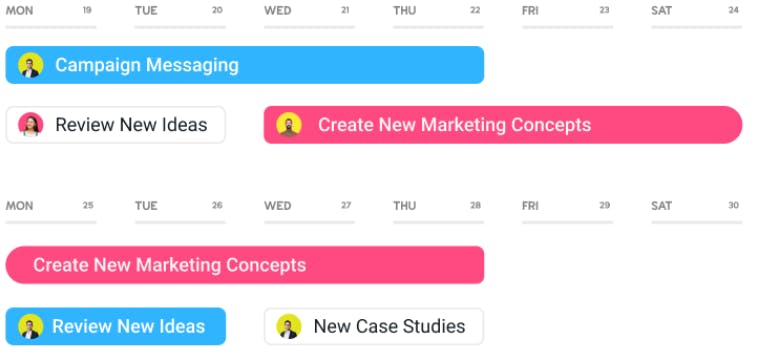 The Best Work Management software in 2023
When it comes to management, SmartTask is the perfect tool to accomplish your goals and skyrocket your profits by improving the way your teams work.
SmartTask helps you with:
Task Management - Organize and manage your tasks with subtasks, deadlines, custom fields, timeline view, task updates, and much more.
Project Management - Track multiple projects with ease using portfolio view, project milestones, baseline comparisons, auto task scheduling.
Customizations - Organize and manage your tasks better using custom fields, advanced search, filtered views, and custom charts.
Client Relationship Management - Track inquiries through the sales pipeline and predict estimated sales through sales analytics.
Team Collaboration - Collaborate easily and have clarity on tasks and responsibilities using task dependencies, automated check-ins, workload, file sharing, and guest user features.
Time Tracking - Timelog activity, task estimation, project summary to help you understand resource utilization.
Analytics & Reporting - Analyze your data with multiple and varied analytical views, advanced search options, productivity scoring of your team, custom charts, and rich reporting features.
Moreover, its seamless integrations with tools like Mailchimp, google drive, google sheet, dropbox, slack, etc makes it easier than ever to take care of every aspect of your business from file management to client management from a single spot, anywhere anytime.
The Best Work Management app in 2023