SmartTask
Contents
How to Create and Utilize a Project Baseline
By Aastha ShawApr 10, 2022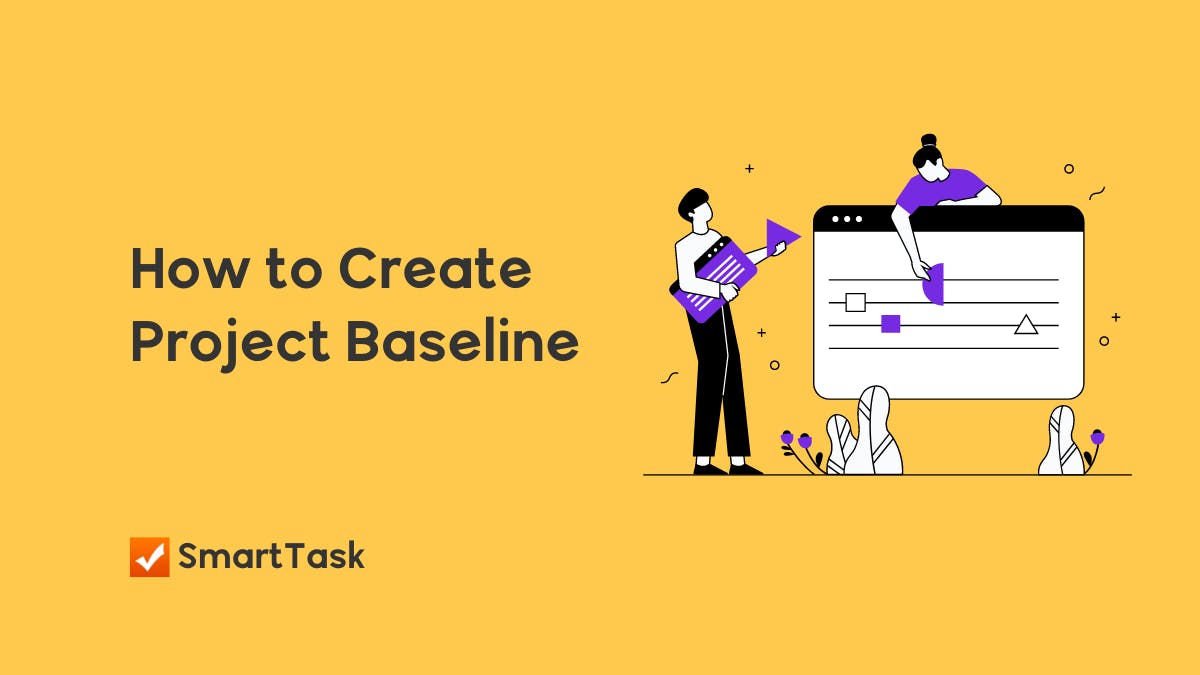 The idea of not following a rule book is often cherished but the same does not apply in the project management world. For better project performance, a project manager must understand how critical it is to have a set scope, deadline, budget, etc. In other words, they live and swear by project baselines to achieve the project goals effectively.
A project baseline is a simple yet important tool used by project managers to track the development of a project and walk it towards success. In this article, we will walk you through the basics of project baseline and also how one can utilize the same for optimum results.
What is Project Baseline?
Project Baseline is a tool used to compare actual project performance with a previously decided plan. Baselines are decided and executed at the outset of each project after consultation with clients and project managers. This 'fixed' reference is used to analyze the progress and performance of your project over time.
In simple words, if you wish to understand how knee-deep you are in the project, you should look at your project baseline. Clearly, this metric is important to project success or project failure.
The Components of Project Baseline:
The project factors - cost, schedule, and scope are required to evaluate a project's performance at any given time. These project components are comparatively known as performance measurement baseline (PMB). Let's take it one at a time and try to comprehend the baselines.
Cost Baseline - It is the total cost or the approved budget of a project.
Schedule Baseline - It is the timeline of the project that must be followed from start to end in order to finish the project before the deadline and within budget.
Scope Baseline - It includes all the deliverables of the project and the work needed to meet them.
The PMB enables you to understand the impact of a modification in one component on other components. Integrating these three baselines with the relevant project management tools and processes is critical to project success.
Example of Project Baseline:
Let's use an example to try to grasp the idea of Project Baseline better.
Suppose you decide to employ a few folks to help you construct a swimming pool. You then decide on a budget, timeline, and project scope.
Budget = $5000
Timeline = First 2 weeks of September
Project Scope = Deliver swimming pool as planned
The project's deliverables and the work that is to be done will be included in the project's Baseline.
This was a very basic example of a project baseline. And every project, no matter how simple or complex, must have a baseline to function properly.
Here's what a high-level project baseline looks like: (Yellow square is the baseline while blue is the current timeline)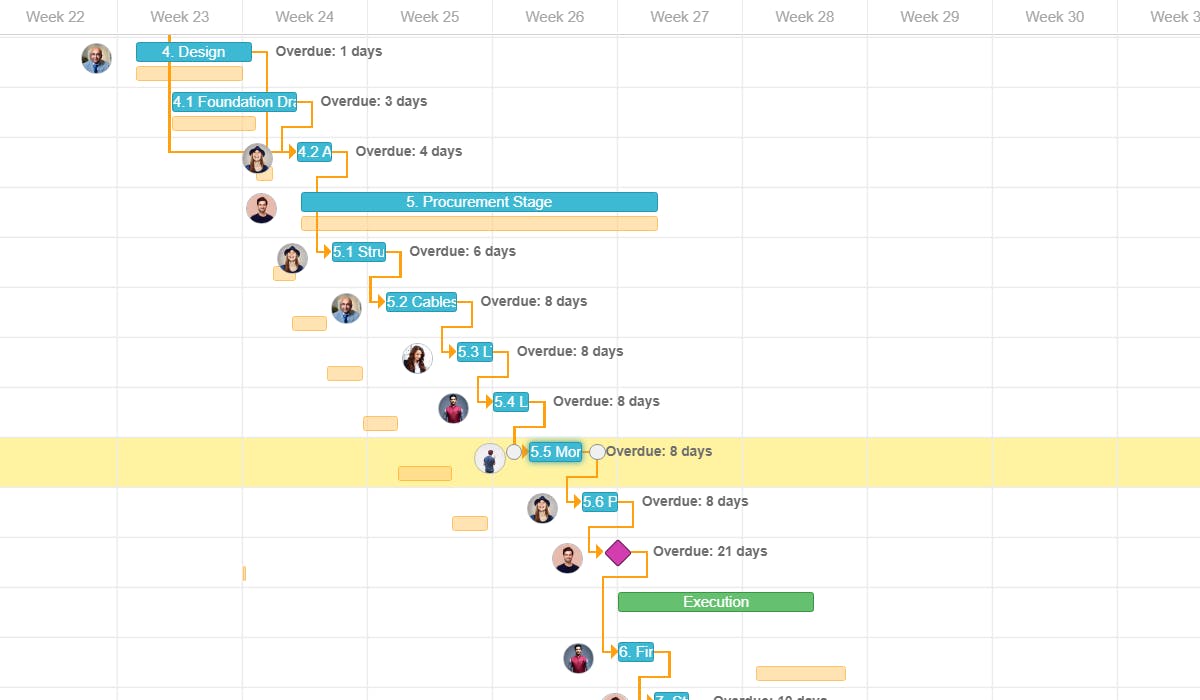 How to Create the Ideal Project Baseline?
You can easily establish a great project baseline in just 6 simple steps:
Step 1: Establish your scope baseline
The first and the most important thing to baseline your project is defining your project scope. Start by asking yourself the following questions:
What are the project goals/ objectives?
What problems does the project solve?
What are the expected deliverables?
What are the key steps in the process i.e, the milestones in your project?
What are the limitations of your project?
What should your process or delivery approach look like?
By finding the answers to such questions you will be able to craft a proper scope statement including your goals and deliverables.
Step 2: Create a work breakdown structure
Next, you need to prepare a work breakdown structure that aligns with your project scope. Here is how you can do it:
Outline all the work required to meet the end goal of the project.
List all the resources needed to get the work done.
Group large deliverables into smaller ones, so all team members can easily understand the path to completion.
Divide all the work into tasks and further into subtasks.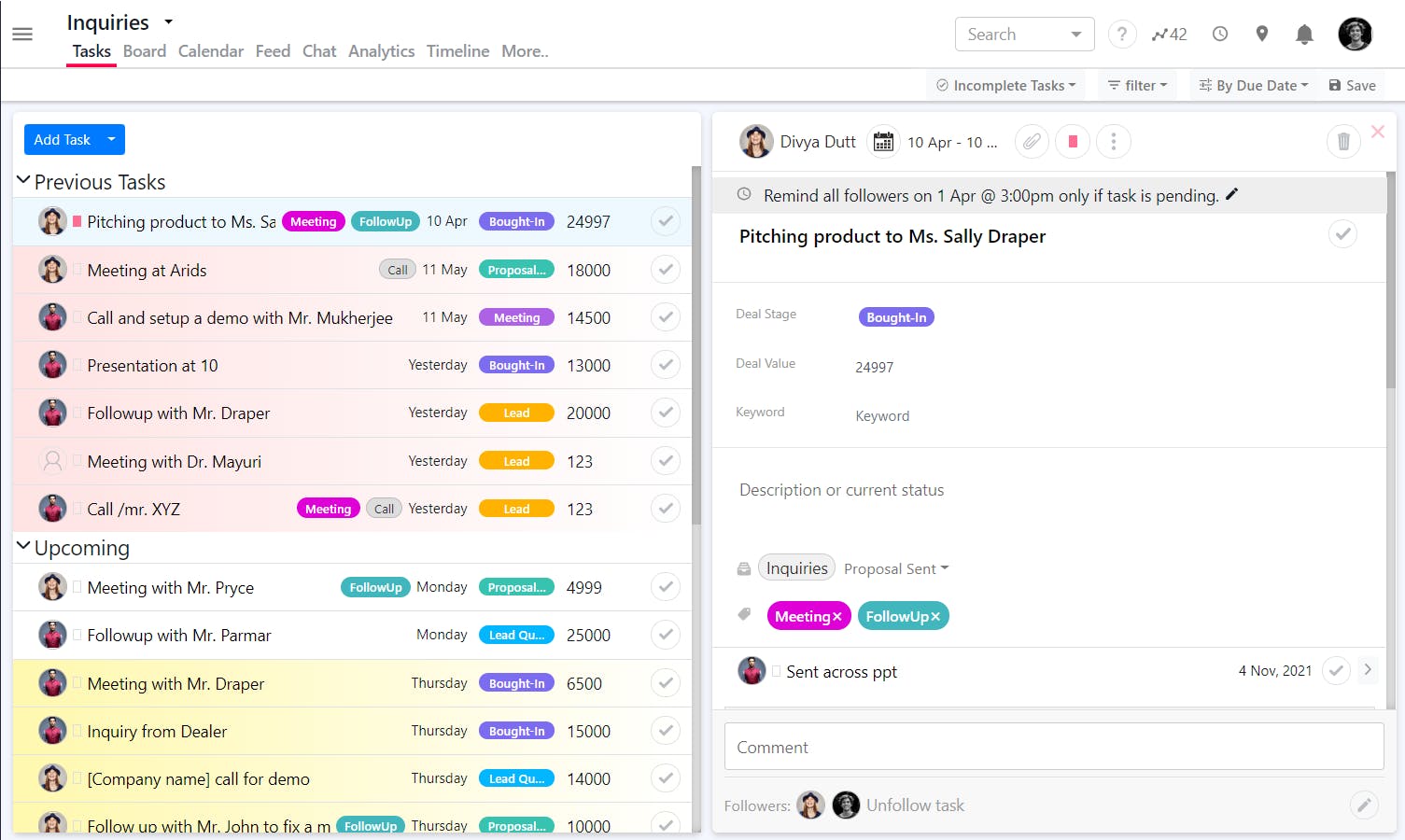 Don't forget to include detailed descriptions of the tasks so that there's no room for error.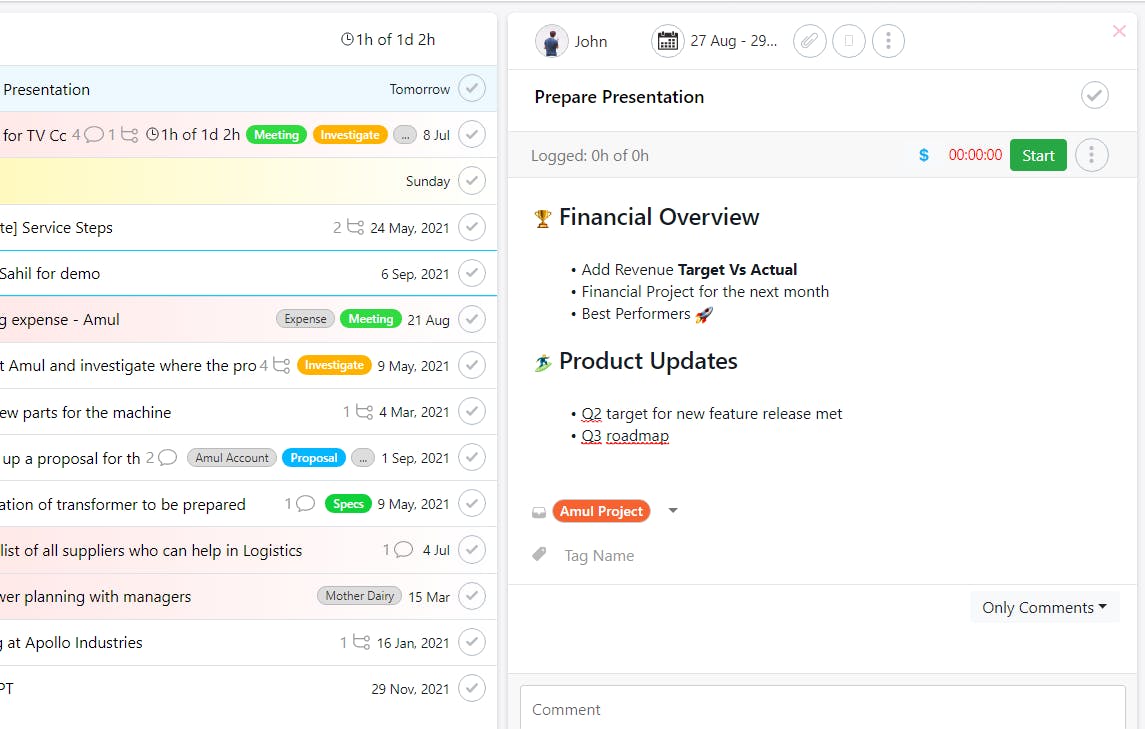 Also, it's best to define task dependencies at this stage so that you can organize all the work systematically, identify critical paths, and set accurate schedules.
Step 3: Establish your project schedule
Now it's time to factor in the milestones, set time estimates and due dates for all the tasks/ subtasks, and finalize a project deadline based on the estimates.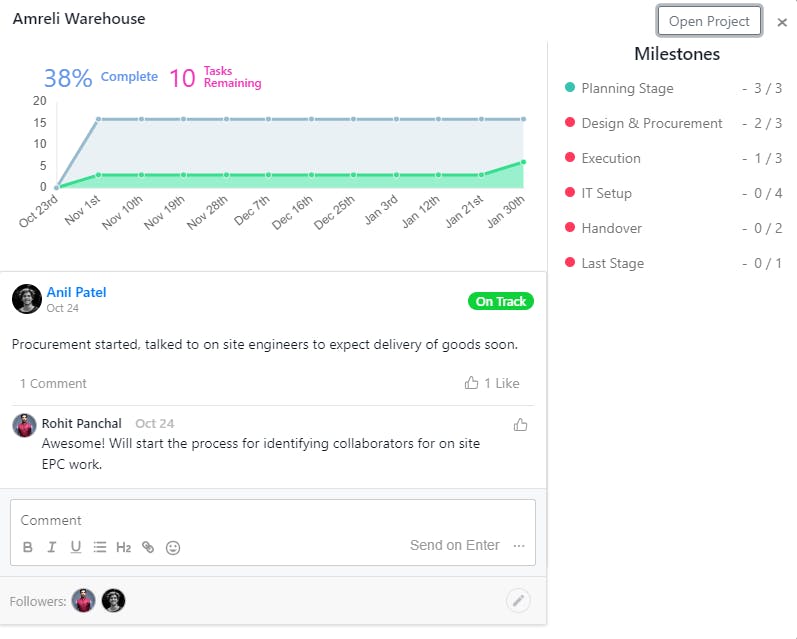 Step 4: Plan the total cost of your project
Once you know the required work , resources, and timeline, the next step is to figure out the cost associated with them. Make sure to include key elements such as hourly rates, available resources, and assets, cost of new resources, rents, bills, and advertising costs.
Also, don't forget to add a factor of safety for emergency resources in case any sudden challenges or delays come across.
Step 5: Work towards stakeholder buy-in
This is the final step and the one you should never underestimate. You must get your detailed project baseline and plans approved by the stakeholders if you don't want to work on unnecessary changes. (Checkout Project Scope management article to know more)
Organize a meeting to discuss your plan, address any questions or concerns your customers/stakeholders may have, and make changes in real-time. If drastic changes are happening, make sure to take care of the following:
Alert concerned people about the changes who need to be alerted.
Figure out what changes in your processes and systems should be reflected.
Analyze if these changes can be made in compliance with the existing budget and timeline. If not, convey the same to the stakeholders/customers to avoid running out of resources and surpassing the deadline.
Your end goal here should be to identify potential flaws and roadblocks in your plan and address them before your project even begins. Begin the project work only when your final project baseline is approved by the stakeholders.
Final Step: Save the baseline in the Timeline view
Lastly don't forget to save your baseline in the Timeline View. This is how you visualize and track whatever you've planned so far. Once you assign all tasks and set due dates, here's what you should be able to see: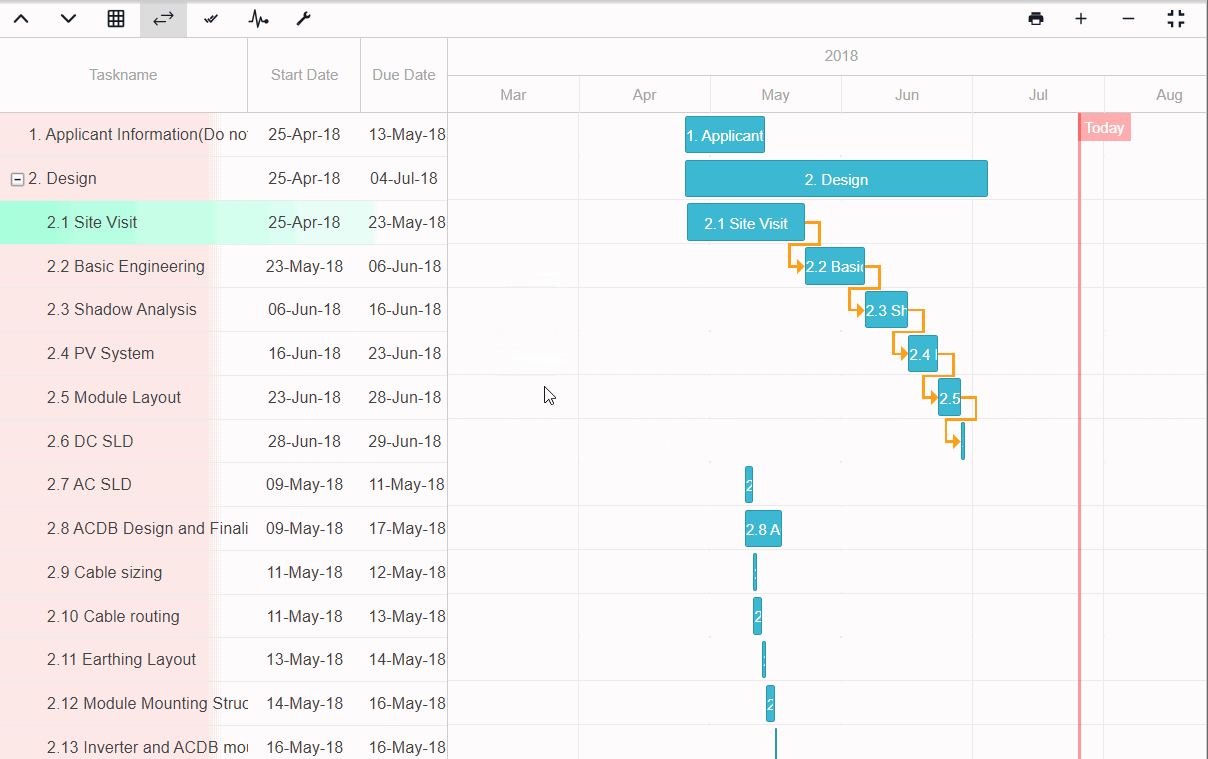 With SmartTask's timeline view you can easily share your project baseline with your team and keep them updated in real-time. It even lets you visualize the dependencies and the critical path of your project and helps your team to proceed on the right track.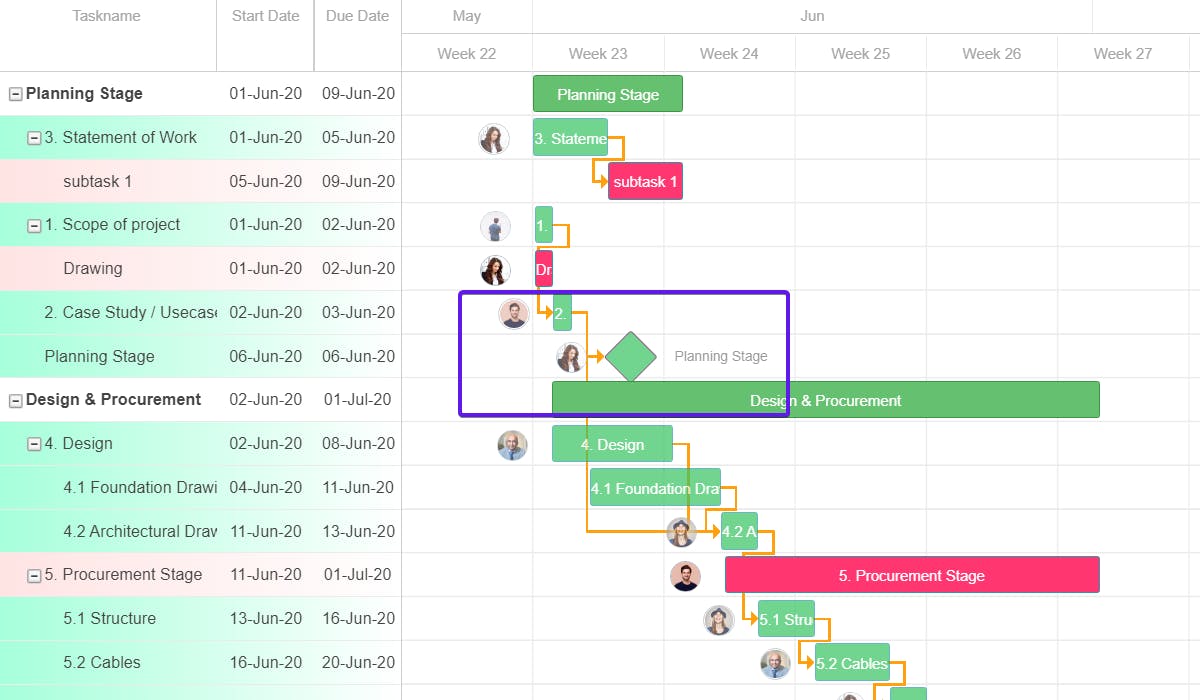 Resist changes to project baseline and why?
A project is baselined to lock in the original plan. It is an important measurement tool for analyzing a project's performance. Project managers must resist changes to the baseline during the course of the project, as these changes can cause confusion, and disruption, and impede the smooth flow of a project.
Any adjustments in the baselines (if needed) should be done at the start or before initiating the project work and communicated to the project team.
However, if the project's scope changes radically, it may warrant an update in the project's baseline.
When should you update a project baseline?
A project is generally re-baselined when it undergoes major changes. Here are some situations which might demand updating your project baseline-
Unforeseen changes in team availability
Sudden change request
The costs are out of control
Re-planning of project
Planned schedule becomes obsolete due to materializing risks (i. e. issues) or opportunities
Any case of unexpected challenges or emergencies
More detailed planning requires adjustments to the previously scheduled activities
Changes to other project requirements and constraints.
Your goal while updating or re-baselining should be to learn from the mistakes and come up with a better plan that would meet the challenges and deliver the expected results on time.
Any changes to a baselined project have to be approved by senior managers and stakeholders before moving forward because you cannot keep changing and updating your project baseline again and again.
How to use your project baseline?
Once you've created the project baseline, you can use it for all kinds of project performance measurements and tracking. Here are three ways in which you can use baselines to better manage your projects.
1. Comparing the work done by the set baseline
The sole purpose of baselining a project is to make sure that the project progresses on the same path. Thus it is extremely important to revisit your project baselines regularly and analyze if the project performance is according to expectations.
As a project manager, you must compare the baseline schedule to the actual work progress, once every week. While assessing the performance you should look for:
Tasks completed ahead of schedule
Tasks that are running behind the schedule
Milestones that were missed (or, in exceptional cases, reached early!)
Changes in resource allocation that have an impact on the project timeline
Changes in scope that have an impact on the project timeline
Trends in project delivery speed throughout the project as a whole and specific departments or workstreams.
Changes in the project timeline could affect the costs.
Essentially, you're checking to see if you're making the required progress. It's common for there to be minor differences between your anticipated and actual dates, but hopefully, your critical path and major milestones aren't too far off from where you expected them to be.
It's best to use a tool like SmartTask that makes monitoring and managing projects in real-time easier. With the timeline view, you can easily track the progress and analyze if your project is following the critical path and baseline.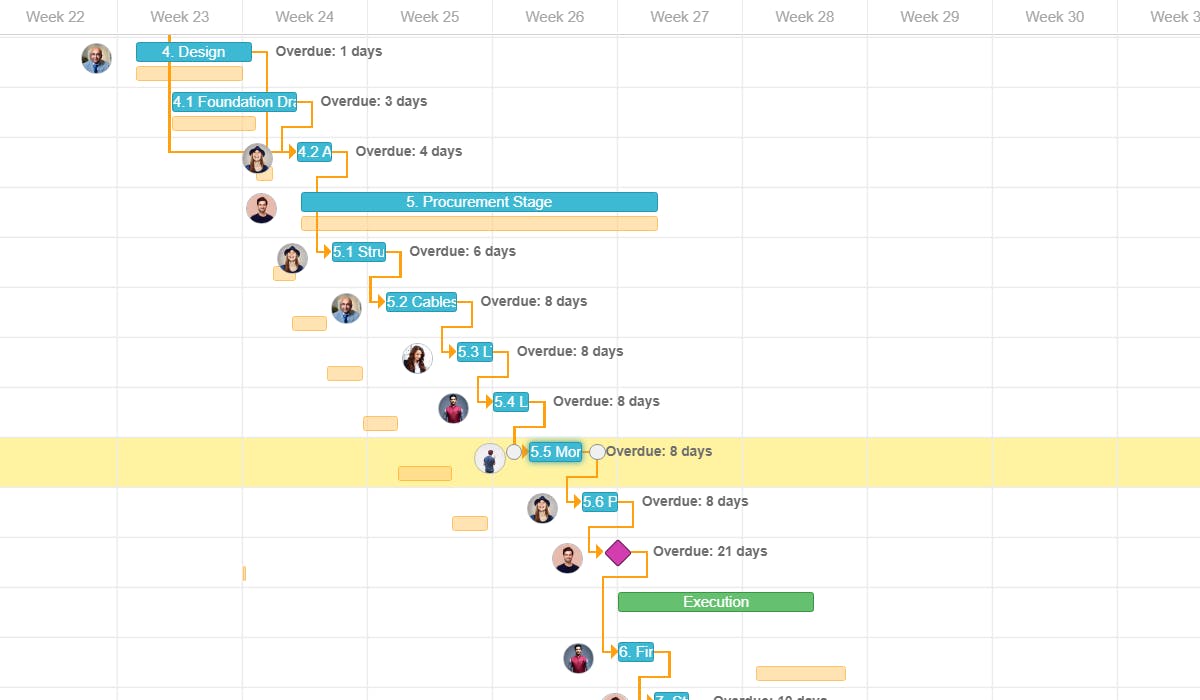 2. Taking the measures to stick to the original plan
It is recommended to resist changes to your project baseline as it can be chaotic and drag your project towards failure. But, it also becomes highly necessary to make a few minor adjustments in your plan( and sometimes major changes as well) to ensure that your baseline is not affected and the project delivers the expected on time without overrunning the budget.
Suppose, while comparing the project progress you find out that a task in the critical path of the project is running behind or another task is likely to get delayed due to a dependent task, or resource issue. What do we do in this case? After all, we cannot sit back and wait for a cascading effect that can get your entire project off the track
Here are some corrective measures that can be taken to avoid swaying away from the baseline:
First of all, if this task falls on the critical path, you need to take action ASAP!
Figure out, what's the cause of the delay - is the task-dependent on any external factor (material delivery, equipment problem, etc).
- Try to fix the issue or make changes in the task priority if possible (without affecting your deadline or budget)
- Check if any future task can be done before or if multiple tasks can be done parallelly to make up for the lost time.
If the task is delayed due to internal factors such as another task running late or due to the task assignee.
- Assign more people and resources if possible to get the tasks (that are running behind) done on time.
- Try to guide the assignee so that the task can be completed in the set duration.
- In case, the assigned person is already responsible for other tasks which are causing the delay, then reallocate the task to someone who is under-utilized.
- If none of this is possible, then can another task on the critical path be aimed to be done simultaneously or in a lesser duration allowing for time for this task.
Analyze the pattern and the error in your estimates based on the existing problems.
Re-estimate resources for the upcoming project phases and tasks to prevent unwanted changes and issues. (This can cause little changes in your baseline, but not all changes are bad. This change will certainly make your project baseline better and more successful.)
THE GOAL here is to make sure that the critical path and hence the project's deadline are not affected. If you prevent this from happening, it means you are running as per your project baseline and doing fine so far.
A point to remember- When you are imposing any changes in the project, it is critical to communicate all the changes effectively to all team members and concerned parties. Never underestimate the importance of communication in a project's success. Always choose the right communication tool for your business for an effective exchange of information across the organization.
3. Analyzing the achievements
There is a review meeting at the end of the project to determine whether the project met the original goals and objectives. You might know them as KPIs, OKRs, or success criteria, but you should have some kind of original benchmark to compare the outcome of the project.
The project's objectives will span a wide range of topics and quality measurements. And project baseline is a great tool for determining whether or not data-driven success criteria were met. You may also use it as a resource to better understand the impact of changes on the project and come up with better plans for the future.
How SmartTask can help you to set and utilize your project baselines?
Baselining a project and monitoring it becomes super easy with SmartTask.
SmartTask is a project management tool that has won many hearts in a very short span of time. It has been awarded for providing the best user experience. Its functionalities make managing projects easier and teams more efficient.
Here's how SmartTask can be the perfect tool to set and utilize your project baselines:
Tasks and Sub-tasks: Break down the project work into tasks and subtasks.
Assigning Responsibility: Assign them to specific team members and anyone involved as followers.
Baselines: Set cost estimates, durations, and due dates for each task based on the baseline.
Rich Text Description: Add details, instructions, and expectations in the task in the description section.
File Attachment: Attach important documents and files such as the project scope, to the task itself.
Video Conferencing with Chat: Any discussions and updates can be exchanged through task comments, chat, VoIP, and video meeting features in real-time.
Calendar View: The calendar view can be shared with the entire team and stakeholders so that they are aware of the routine, upcoming tasks, and events.
Milestones: Set and track important tasks as milestones.
Timeline View: The timeline view, a very useful feature when it comes to project baseline, can be used in various ways. We can use it to estimate the timeline of the project and allocate resources based on that.
Task dependencies and Critical Path: With the timeline view, you can easily visualize the dependencies and the project critical path.
Time Tracking: You can track the time spent by an individual on a task and calculate the billable hours and cost to ensure the baseline budget is not violated.
Project Dashboards: There are multiple project dashboards which make monitoring the project performance easier. Especially the portfolio view, allows you to keep an eye on multiple projects at a time. This is indeed a great feature for project managers.
And when it comes to monitoring the project performance, the timeline view enables you to compare the project progress to the baseline. This helps you to figure out any delays, bottlenecks, or challenges and fix them while there is time.
Auto-schedule Tasks: In case, a task is running late and you want to shift the project timeline, the auto scheduling feature reschedules all the tasks for you based on the current progress.
Resource Management: SmartTask also helps with workload management. This means you can easily track who is working on what, if they are underworked or over-worked, can it be affecting the baseline schedule, and reassign the tasks if needed.
Invite Guests: Apart from the internal team, communicating any changes and progress with the stakeholders is a very important point that you must not skip (Until you enjoy doing extra work, and want failed expectations). With SmartTask, you can add stakeholders, and clients to your project with limited rights. This keeps them in the loop and saves you from unnecessary paperwork, hours of meetings, unwanted changes, and chaos.
White-Label: The white-labeling feature even lets you brand SmartTask's platform. Therefore inviting your clients to your online workplace won't be a problem anymore.
Custom Analytics: Once you are done with the project you can easily check on the performance, key metrics and download it as a report for evaluation and future reference.
This is how you can set a project baseline, utilize it effectively, and walk your project towards success with satisfied stakeholders and met expectations.
Get started with SmartTask for free and try out the process for yourself. We bet you will see better project results, productivity and efficiency.
Get a free consultation on project baseline
FAQs
1. Why is it important to have a baseline in project management?
A project baseline literally provides the groundwork for the success of the project. It is an essential tool for:
Providing visibility into each team member's primary responsibilities
Creating a fruitful outcome
Monitoring the progress of the project as well as its performance
Identifying possible challenges and areas for improvement
In other words, the lack of a well-defined project baseline can result in scope creep, expense overruns, deadline delays, and, ultimately, project failure. This is why, throughout the project lifecycle, all partners, customers, and stakeholders must be aligned, aware of, and supportive of the project baseline.