SmartTask
Contents
Importance of Communication in Project Management
By Aastha ShawMar 6, 2022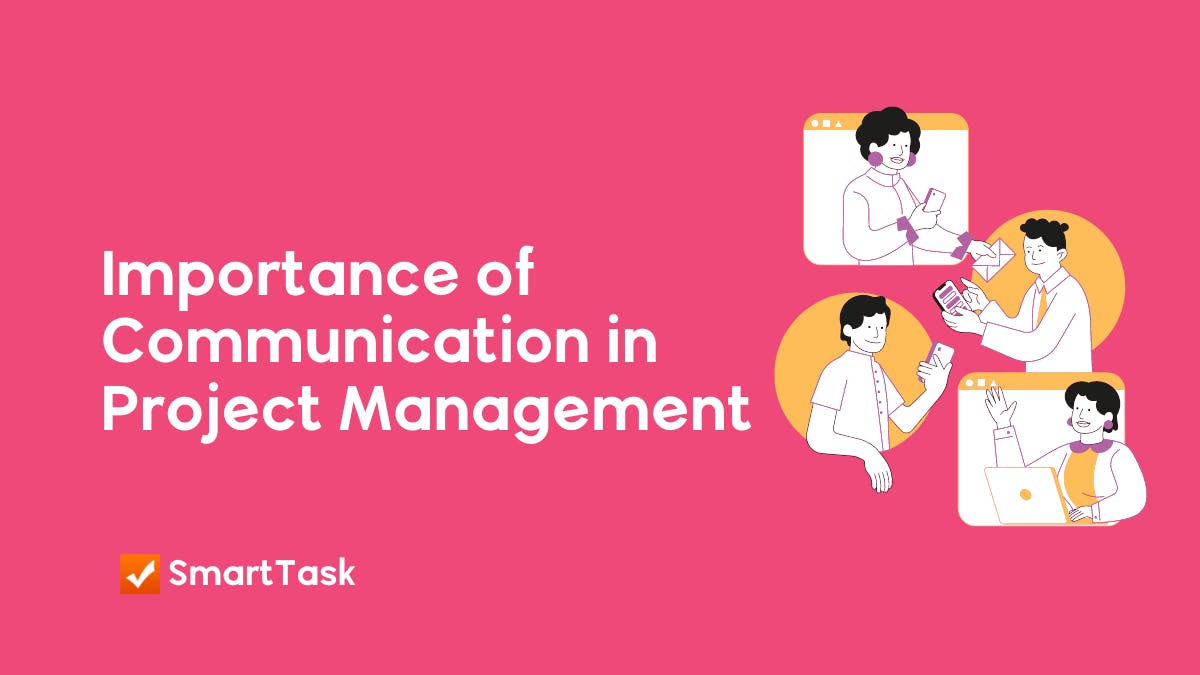 Without communication, a project cannot be successful. Period.
Dealing with all the intricate details, dependencies, decisions, and approvals a project involves would be impossible to get things done without effective communication.
It is surprising to learn that one out of three projects suffers from a communication failure. Companies risk $135 million for every $1 billion they spend on a project, and $75 million (56 percent) of that $135 million is at risk due to ineffective communications. This clearly indicates the critical need for organizations to address communications deficiencies at the enterprise level.
How does communication fail in projects?
When your communication plan fails, it affects the quality of the work done and leaves your clients dissatisfied. Some of the primary reasons your project communication might fail are:
1. Miscommunication:
Miscommunication is the biggest culprit in project failures. When changes and updates are not communicated correctly and on time, it creates confusion among coworkers and different departments. This confusion further leads to errors, missed steps in process, conflicts, and more. All these scenarios will ultimately result in delays or budget over.
Consider a scenario where your sales team is unaware of the promotion campaigns started by your marketing team. In this case, they won't be able to deliver the promised deals to the customers, leading to frustrated customers. This will also result in internal conflicts, where teams will point fingers at each other for inefficiencies and poor deliverables.
2. Lack of stakeholder engagement:
Much of a project's success depends on the practical and extensive exchange of information among its stakeholders. In fact, one out of three projects failed due to poor stakeholder engagement.
If the project managers do not communicate with the stakeholders effectively, there could be a significant difference in project expectations, ultimately affecting the final outcome.
3. Confusion among team members:
Poor communication leads to expectation issues with stakeholders and causes confusion and misunderstandings among team members about what is expected from them.
Failing to state their responsibilities explicitly and task expectations results in low-quality work and errors. Fixing such errors again leads to time delays and budget overruns.
This is why you need to bring both your internal and external communication onto a single platform.
A productive communication tool will prevent confusion and conflict from bogging your project down. It will help you keep your key players aligned with the project goals and what is expected of them.
With effective communication in place, it's easy to maintain transparency across all parts of project management. The best decisions are made, and team-wide trust is established, translating into efficient project delivery.
How to improve communication in project management?
1. Set clear expectations
When you kick off a project, ensure everyone—including your team and stakeholders—knows the project goals and what's expected of them.
Here is how to do this:
Develop your project purpose. It is the mission statement of what and why you want to achieve.

Set review frequency for your project, as it acts as the center of all your project communication.

Ensure your team and stakeholders have access to your plan so they can track progress every step of the way. Make sure you invite them to the project with necessary permission (In SmartTask you have comment only, edit and admin rights at project level).

Set project structure. Determine all the work required to complete the project, set milestones, and the tasks required to achieve them.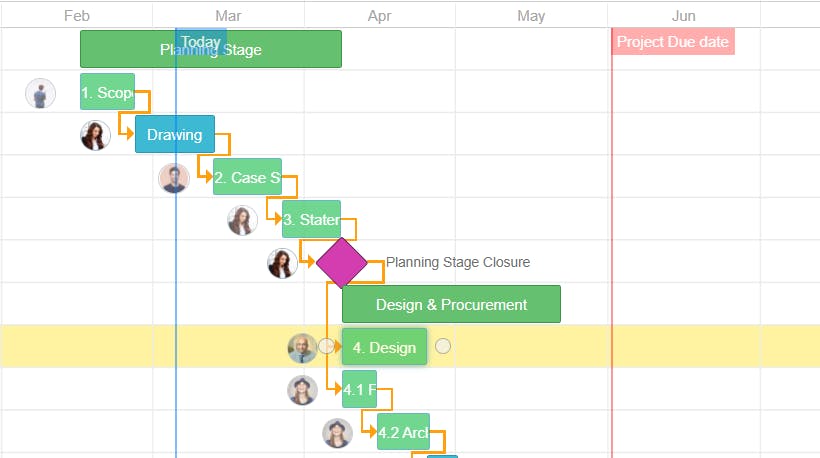 Set task dependencies so as soon as the previous task is completed the person doing the next task is notified.

Finalize the project and milestone owners. Delegate the responsibilities and ensure everyone knows what needs to be done before getting started with their tasks.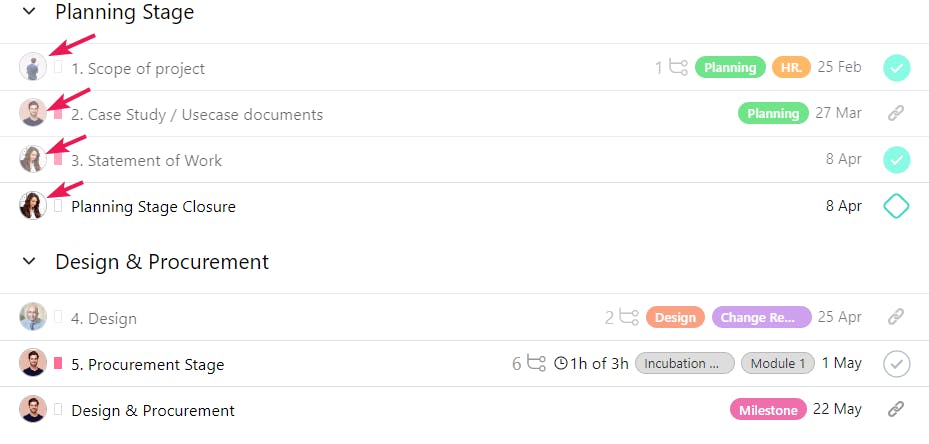 Determine tasks where client or external party involvement would be critical. Some tools allow you to invite clients as guest users and collaborate with you on projects.

Set realistic timelines and standards. Don't overpromise. Deliver what you are expected to and within the deadlines. Meet the deadlines and quality standard expectations.
Make sure your plan is flexible enough to deal with any changes and challenges that come your way.
Being honest about what a project win looks like, whether on the administrative or frontline communications end, will make setting (and resetting) expectations much easier as the project moves forward.
2. Streamline internal communication
Now that your project plan and structure are in place, its time to streamline your internal communication.
Here's why you need to establish proper internal communication:
As a project manager, it's essential to keep an eye on the task's progress. Proper internal communication allows team members to keep you updated on the progress and inform you about any delay, problems, or assistance needed.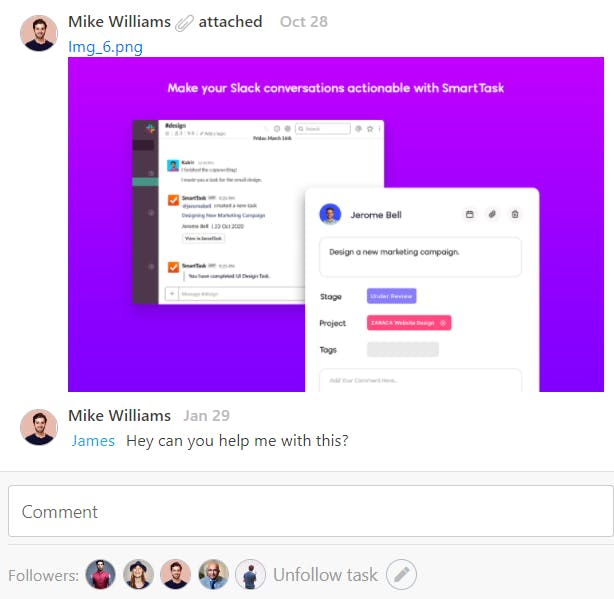 Setting task dependencies helps notify the next person when the previous task is completed.

Define exactly what are the expectations of a task. This will help your team work better and avoid any unnecessary reworks.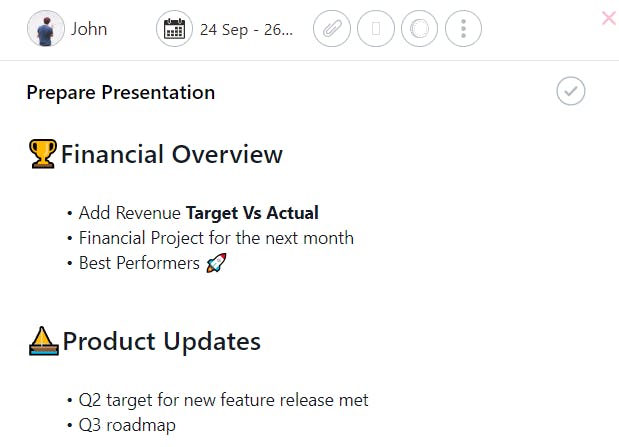 Rather than calling up or emailing your team members every time to give feedback or instructions about a particular task, you can use SmartTask's task comments feature. This will save your time and keep the entire task conversation in one place, making it easier for everyone involved.
Often, you need to take care of work-related stuff on the go. However, it's not always possible to write an email in such a situation, which might delay a task. Thus choosing a tool that allows you to send an audio recording for fast updates through a mobile phone can save you from unwanted halts.

Discussing project deliverables and reviewing them as a team is critical to building a solid project. You can use VoIP and video conferencing to hold regular meetings to discuss work, identify and eliminate any potential risks in your project scope, and make better decisions.
Setting up a proper communication channel will ensure the critical information flows throughout the organization and things get done smoothly on time.
3. Structure client communication channel
Managing clients & keeping them in the loop is again very important. Without effective communication to help them understand the project's progress, there can be a lot of confusion and dissatisfactions.
In fact, a lot of times, there are task-dependent on the client's approval and inputs. If you don't convey such things beforehand, you'll have to follow up repeatedly, which will ultimately delay the project.
Here's how you can work on better client engagement:
Add your clients to your projects as guest users so that they can get all updates and express their views as well.
Give them access to create and allocate tasks to put forward what they want. This will help you meet their expectations better.
Share your timeline with your client so that they understand project deadlines and how their decision might affect them.
Add them as followers on tasks to keep them informed about what's happening and when a milestone is achieved.
Better client engagement and clear communication will save you from scope creep and help you meet their expectations better.
4. Keeping internal department in sync
As mentioned before, it's vital to keep the internal departments of your organization in sync. Not having transparency and proper communication will lead to miscommunication, internal fights, conflicts, and ego clashes.
Here's how you can prevent such conflicts and keep your teams in sync:
Ensure all department heads are informed about all ongoing projects and important updates. You can hold a meeting to do the same and explain their involvement.
By using a tool like SmartTask, you can create a task that can stay in different projects simultaneously. For example, if your IT team is working on a task requiring procurement, the same task would also be visible in the procurement team.
With the same task being shared across IT and Procurement teams' projects both the teams are notified when any updates like custom-field changes are made to the task.
5. Status updates and meetings
Hold regular status meetings, also called scrums or standups. These brief meetings are necessary to keep everyone informed about progress and blockers. You can decide on the frequency of such meetings. It can be daily (15 minutes) or weekly (50 minutes).
You can also replace your daily standup meetings with status updates & automated check-ins. Automating status meetings would save hours every week. You just need to set daily, or weekly check-ins, and your teammates can respond to your query.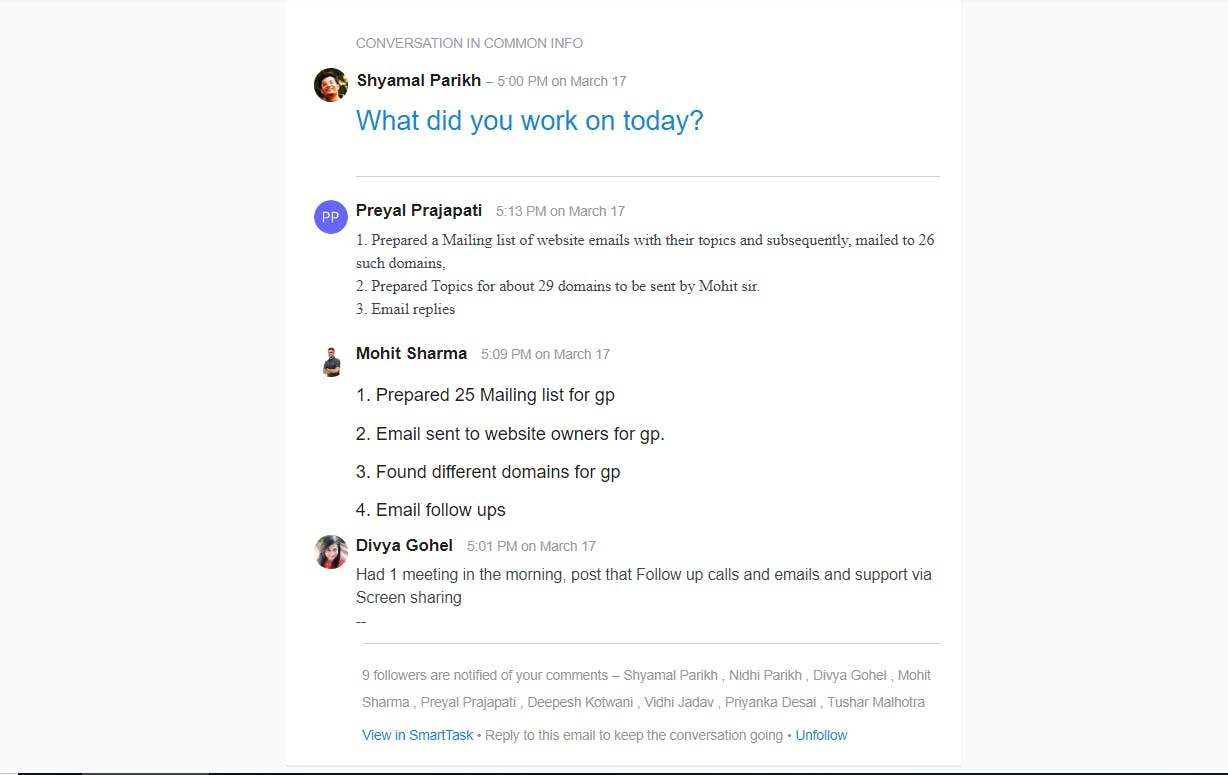 Bottom line: No matter what you do, stay open to discussing how you communicate with your team. While you want to know what's best for the project, you're also open to adapting to set a tone of positive collaboration.
All that together will lead to success. You can count on it.
A transparent and collaborative project plan is your best tool for communicating and tracking all the details, deadlines, and to-dos that will lead your team and project to success. And SmartTask makes planning easy!
Create, monitor, and collaborate on all your project plans in minutes and manage multiple projects with ease. From team collaboration to customizable views and workload management, SmartTask provides you with all the features that you need to streamline your communication effectively and ensure projects finish on time and under budget.
Best of all, it's all wrapped up in a simple and intuitive interface your whole team will love.
Try out the Best Communication Tool for Free
FAQs
What is the importance of effective communication in project management?
As already said, effective communication is the foundation of successful projects. When communication is effective, there is no room for misunderstanding or conflicts, leaving all parties involved satisfied and feeling accomplished.
What are the different types of communication in project management?
There are three types of communication a project manager must be aware of:
Interactive communication
Push communication
Pull communication
What is a communication plan in project management?
A communication plan is one of the most effective ways for stakeholders and teams to stay aligned in project management.
A communication plan is like a roadmap for communicating data, information, and knowledge. The action plan identifies the content, goals, responsibilities, sources, audiences, and channels for effective planned communication.
What should a project communication plan contain?
A project communication plan must address:
Project communications - A list of all the plans, documents, reports, meetings, and schedules that should be communicated as part of the project.
Internal communications - The process of communicating any changes related to a project, such as policy updates, changes in the project plan, etc.
Process communications - A plan for communicating all the information critical to completing a process.
How to create a project communication plan?
Follow these 5 easy steps to create a good project communication plan:
List the communication needs of your project
Identify the purpose of your communications
Choose the right communication method
Establish a cadence for your communication
Identify the key stakeholders related to each communication
What are some of the best communication tools?
Some of the best communication tools are SmartTask, Slack, Zoom, and Google Suite.
However, each tool comes with its own set of benefits. Here is a list of 25+ communication tools and how they help you, so you can decide for yourself which tool would fit your requirements the best.