SmartTask
Contents
18 Best Work From Home Tools (Features & Pricing)
By Nidhi ParikhAug 17, 2022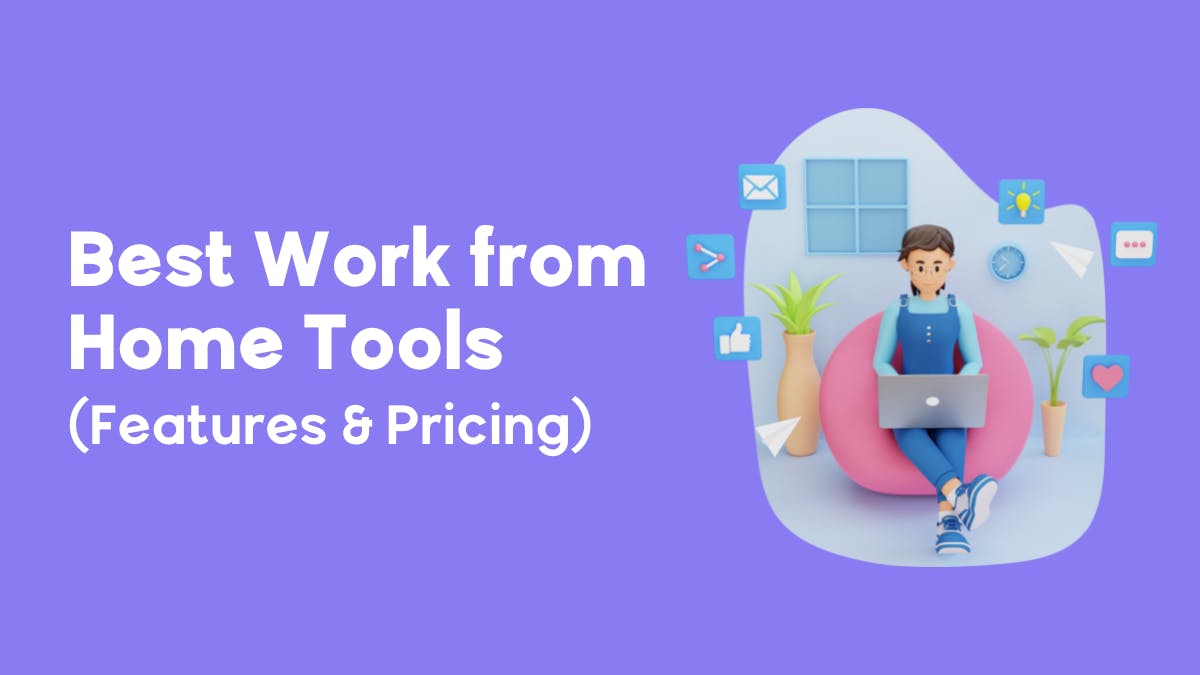 Before the pandemic, we thought of remote work as driving through a picturesque pathway.
No stressful commutes, all mountains, and beautiful scenery.
The tables turned.
Remote work soon turned into loud honking on a crowded highway.
In the new age, endless context-switching and unending zoom meetings can quickly turn it into an overwhelm-fest.
Thankfully, it doesn't have to be that way.
Even the team at SmartTask is 100% remote...
And we pin our hopes on productivity tools to eliminate busy work and make working from home a total joy.
Here are the top 18 work-from-home tools that we swear by…
For collaboration and project management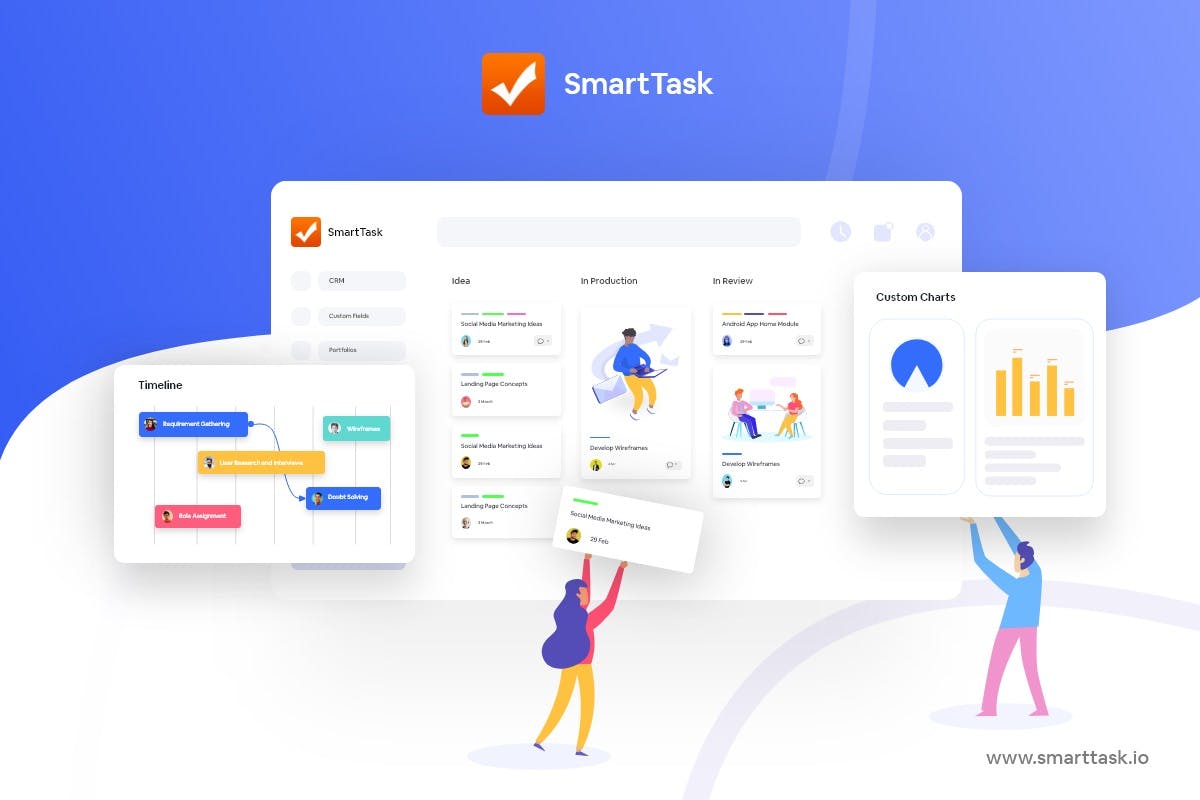 Did you know companies use an average of 37 different tools to run their day-to-day operations?
Think about all the notifications your team's been getting on a daily basis.
SmartTask was created keeping in mind this problem. It packs all your team's needs in one.
From managing projects to teams and even clients, you can do it all. They have 50+ templates that you can use to get started immediately.
Here's how companies are making use of SmartTask to reduce their tool list from 8 to 1:
Work management: Assign tasks to your remote team with due dates, priority labels, and tags.
Project management: Have different views (Timeline View, List View, or Board View) and track progress through portfolios.
CRM & Sales: Move inquiries across different stages, have data on past conversations with clients, and view sales analytics in real-time.
Team communication: Have video meetings, and discussions on tasks through comments, DMs, and voice-recorded messages.
Time tracking: You can activate time tracking for each task to understand cost implications and productivity.
File-sharing: Attach files to tasks so that everyone has access to it whenever they need them.
Automation: Save hours of time by automating repetitive tasks in your projects.
Integrations: No need to switch tools. Integrate with over 1000+ tools to work from one single platform.
Pratik, our content marketer, who's a pro at guest posting shares his experience of working with SmartTask:
"It's because of SmartTask that I have never missed any deadlines. Guest posting usually involves a lot of stages. But with SmartTask, I have streamlined the entire process by creating custom fields like being drafted, under review, sent for publishing, etc., and moving the tasks from one stage to the other. The best part is that I can even attach files to the tasks so I have one single platform where all the work takes place."
2. Nuclino
Nuclino calls itself your team's collective brain. And rightly so!
Trusted by over 12,000 teams, you can create wikis where your team can share, organize, and retrieve internal company knowledge.
You can even create projects and visualize work in multiple views.
Where it misses out on extensive project management features, it stands tall with a clean interface and user-friendly design.
Probably not an ideal solution if you're looking for a hardcore project management tool.
We still love it though for its collaboration and organizing features!
Pros:
Type and work faster with slash commands, hotkeys, and more
Enter @ in an item to link it to another item to create clusters for better organization
Cons:
Not ideal for project management; the features finish as soon as they start
Very few integrations
3. Slack
Slack is ubiquitous in modern workspaces.
Whether you want to ask a quick question, share an update, or discuss some exciting news like the GoT prequel coming on August 21st 😉, Slack is the go-to app.
At SmartTask, we take it a step further. We've created various channels like "Tips for writers", "Random", and "Fun" where we share inspiration and make sure our team has a lot to talk about even if we're stuck in different corners of the world.
Pros:
Alternative to disruptive work calls and long threads of emails
If you have employees working in different timezones, you can get access to the Team Time Zone extension that shows you who's within prime working hours and who's in some deep zzzz....
Easily search for key information among hundreds of messages
Cons:
Minimum file storage (Slack deletes your files over time)
If you're not careful, the number of messages can turn from 1 to 25 and the experience can be more distracting than useful for your team
4. Miro
Do you miss those brainstorming sessions with your team?
We sure do!
That's why Nimisha, the super-cool product designer at SmartTask, recommended Miro.
We fell in love with its collaborative whiteboard platform where we made use of sticky notes, images, mind maps, and drawing capabilities to discuss design projects.
The tool also comes with visual capabilities that help you see tasks, dependencies, and workload across the project.
Need our honest review?
The tool is great when it comes to collaborating for brainstorming and idea generation.
But otherwise, it has a lot of features that make the user experience a little clunky.
Pros:
Interact with sticky notes, voting, and live reactions in meetings
Make use of the mapping feature to plan projects and create a WBS
Readymade templates to get started quickly
Cons:
The UX can be a little complex, especially for new users
A little clumsy if you're working with large teams
For virtual meetings and consultation
5. Zoom
During March 2020, when COVID-19 took over the world, Zoom saw its daily meeting participants rise from 10 million to a mammoth 200 million.
Since then, Zoom has been a preferred video-conferencing app for the remote workforce.
What makes it unique?
You can add up to 1000 participants.
Have meeting recordings and transcripts
Collaborate with the help of a whiteboard
Switch to "Zoom Rooms" which are conference rooms built for team collaboration.
Pro-tip: Make use of Zoom to have a fun Friday session with your remote team as we do at SmartTask. It brings the fun elements of the office to remote work and promotes bonding.
Pros:
Screen sharing to explain a process or task to someone
Ability to attend meetings from your mobile
Various backgrounds so you don't have to worry about broadcasting your messy room to hundreds of people
Cons:
Too many subscriptions and add-ons make the tool costly
Zoom normally supports 720p while we have all come to expect 1080p as the bare minimum
6. Loom
Let's suppose, your coworker sent the content structure for review. You want to provide some additional tips.
Instead of writing down a wordy message or inviting the person for a meeting, log in to Loom and record your message and screen and quickly send it to the concerned person.
The best part?
You only need to share the link.
The recipients can watch your recording without having to log in.
Pros:
The starter plan is free
They have a Chrome extension
Intuitive to use
Cons:
Does not perform well if your internet connection is slow
Video editing can be a little tricky
For file storage and synchronization
7. Google Drive
If you have ever received a text message at 11 in the night saying, "Mate, can you please send me the updated version of the report?" you know the importance of Google Drive.
Uploading your files on Google Drive means everyone gets access to the latest version of each file.
You can even access the files on Google Drive from anywhere, making team collaboration seamless.
Pros:
Set privacy settings to ensure that only the people you invite can view and edit the docs.
Integrations with a lot of tools such as Evernote, Slack, and SmartTask
Ability to access files from mobile
Cons:
Free plan comes with very little storage.
Has file size limits
Can't upload files larger than 5TB per day
8. Dropbox Paper
We have all heard of Dropbox, but Dropbox Paper could be new to your ears.
The tool helps you collaborate in real-time on your documents.
But then how is it different from Google Docs?
With Dropbox Paper, you can turn your meeting notes or project plan into action items.
It supports various media so you can collect inspiration from YouTube for your marketing campaigns or tweets for your content strategy.
Pros:
Works best to document and share ideas
Create a calendar for important product launches
Get access to readymade templates
Cons:
The UI is lacking and can be rather confusing
Downloading and uploading large files takes a little more time
9. Internxt
Worried about the hundreds of documents and files you store or send to your team? With remote work, the security of your files is everything.
Perfect for spread-out teams working with confidential files, Internxt is a cloud storage service that keeps users' data 100% safe, private, and secure.
Along with its flagship cloud storage service Internxt Drive, the company also has Internxt Photos for anyone who wants to be sure their pictures and precious memories stay private and Internxt Send for encrypting and sending large files (up to 5GB) to anyone.
Need more security for remote workers? Internxt has also released several free privacy services including a Virus Scanner, Password Checker, and Byte Converter.
Pros:
Totally private: Absolutely no unauthorized access to information.
10GB free plan and three paid plans to cover any business needs.
Include additional privacy services at no additional cost.
Cons:
Young service: Currently lacking extra features offered by larger (less private) competitors.
For automation and scheduling
10. Zapier
Do you feel your days slipping away even though you've worked 6 hours manually entering prospect details?
It doesn't have to be this way.
Zapier automates your workflows by connecting to your favorite apps and leaving you with more time to work on the tasks that actually help you grow.
All you need to do is define the trigger step (lead coming through a Google Ad) and select the action you want to automate next (the details being uploaded on a Google Sheet)
You can automate hundreds of such actions with a single Zap.
Pros:
Automate entire workflows
Simple and intuitive user interface
Integrations with 5000+ tools
Cons:
The pricing can be steep for startups and SMBs
11. Calendly
Sending 10 emails across 3 days just to schedule one meeting?
Switch to Calendly instead!
In three simple steps, your meeting is scheduled.
Set in your time availability
Send that link to your guest
They pick a time and your meeting is set
Ishan, our business development executive who is a fan of all things sales, uses Calendly to schedule meetings and demos with prospects.
In his words, "Calendly has been a great addition for me and my sales team. I'm able to let prospective clients book a consultation call with me without my having to fumble with a calendar to find a date and time that works for both of us. I get an email notification once a time slot has been selected which allows me to plan my work day accordingly."
Pros:
Offers different types of meeting options
Makes it easy to reschedule and cancel meetings
No calls or emails needed
Cons:
Very few personalizations and customization options
12. Scribe
Ever spent an hour explaining different processes to new hires?
It can be tedious. And worse if the new hires forget to take notes.
Scribe, a how-to guide automation tool solves this problem.
How does it work?
When you click "Record" and execute the process on your computer, Scribe automatically creates a step-by-step guide with instructions and corresponding screenshots.
Pros:
Make a tutorial for your team members in a few minutes
Doesn't have too many features which ensure quick decision-making
Ability to add custom branding to your guides
Cons:
Lack of text formatting options
For managing distractions and increasing productivity
13. Brain.fm
Facing multiple distracting noises at home?
Or want to be more productive?
Brain.fm promises to do that in just 15 minutes.
It makes use of functional music to help the neurons in your brain engage in different kinds of coordinated activity such as focusing on creating ideas for your marketing campaign.
The tool mixes science and music and gets you the best of both worlds.
Angad, the content creator at SmartTask who is an expert when it comes to picking the right analogies, shares his experience:
"I love that Brain.fm is backed by the latest neuroscience and has an in-built Pomodoro timer. I've been using it for a month and feel myself getting into more deep work sessions than before. I also love its UI"
Pros:
Creates a productive environment
Has different music types for different activities
Cons:
The pricing can be expensive
14. Freedom
A month back, I used to start researching for my article and half an hour later, one tab would lead to another.
In the end, you'd find me laughing at some cat memes or scrolling through Amazon.
I chanced upon Freedom then. It blocks distracting websites and apps or the entire internet (if that's what you prefer) for the time period you select.
You can even plan sessions that recur weekly or timely.
Pros:
Sync various devices to activate a Freedom session in multiple devices
Enable locked mode to prevent breaking a Freedom session
Play ambient noise (nature, cafe, library) that help focus on work
Cons:
The paid version can be expensive for freelancers or solopreneurs
15. Forest
Are you a tree lover? And someone who has an equal passion for scrolling endlessly on social media?
Forest is THE app for you then.
How does it work?
Whenever you want to do some focus work, "plant a tree" in the app.
The tree keeps growing while you keep working.
If you leave the app halfway, your tree dies :(
That's not all!
Each tree you plant adds to a forest. You can even compete with your teammates to see who can grow a lush forest first.
Yash Gurnani, the Content Marketer at SmartTask who we call a social-media pro, makes use of Forest to focus while working remotely.
"I use Forest for productivity. It's a really intuitive app. It's so great that people are motivated to show off their trees on the leaderboard (me included :P) It's just like what Pokemon Go did. They motivated people to walk and the reward? People were excited to show their friends the pokemons they caught."
Pros:
The reward framework gets people motivated to do focus work
Free version
Ability to play ambient music
Cons:
The in-app purchases options and ads in the free version make the experience a little frustrating
16. The sound of colleagues
This app was made in response to the strict work-from-home policy in Sweden during the pandemic.
It offers you a wide range of office-like sounds so that you can replicate some office environment while working remotely.
The platform is easy-to-use. You just need to open it in your browser and select the sounds you want to listen to while working.
Pros:
Select from 9 unique sounds
The platform is completely free
Cons:
You'll have to experiment with different sounds as you could find some very distracting.
Additional Work From Home Tools
17. TimeCamp
A rich-packed employee time clock software is a must when you want to keep track of your remote employees' performance. By choosing TimeCamp, you can be sure your remote team's time management and attendance are in good hands.
It fills timesheets with daily activities and time entries. What's more, the app tracks the absences of employees and makes sure all the attendance papers are in order.
Remote team leaders can quickly estimate and check how the resources are utilized across the projects, how productive the employees are, determine costs and revenues, etc.
TimeCamp offers a free plan for unlimited users however paid plans start at $5.25 per user/month. 14-day free trial available.
18. Krisp
Krisp is an AI-powered noise canceling and echo reduction software built for online meetings. It helps you eliminate background noises from your microphone and speaker.
With Krisp, you can remove background noises, voices, and echo. You can also choose virtual backgrounds for your meetings, track talk time, generate meeting insights, and check call summaries.
Krisp offers a free forever version while its paid plan starts at $12 per user/month.
The Final Verdict
You now have all the ammunition you require to win against distractions, miscommunication, and multiple responsibilities.
In case you're guilty of forgetting things (or skimming), here's a quick summary of all the best work from home tools listed above.