SmartTask
Contents
10 Best Ways To Improve Work Performance
By Alejandro CarreraOct 21, 2021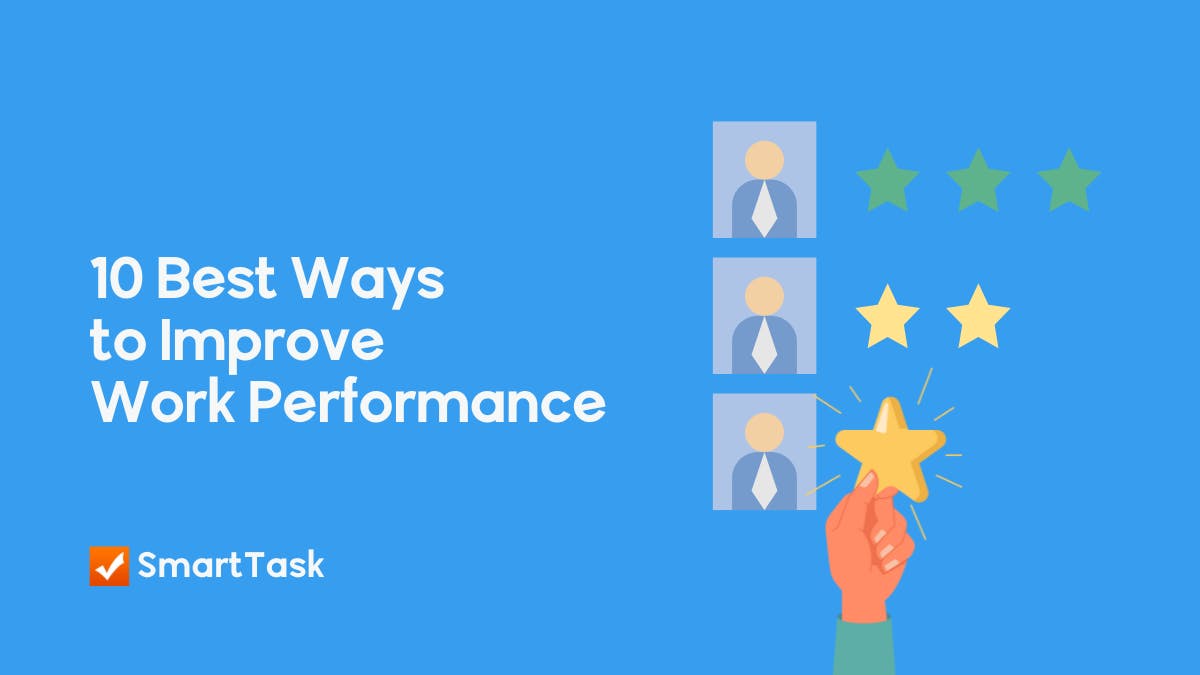 Low productivity means slow processing of the business plans resulting in slow or no business growth. There can be many reasons behind the cause. However, being in charge or manager, it is your duty to look out what is happening in your premises, where you and your employees lack, and the difficulties being faced so that you can tackle them at the appropriate time.
To help you out, we have compiled below some tips that you can imply to yourself and at your workplace. Know that implementing the following suggestions will guarantee to boost your productivity and work smarter:
1. Make use of the appropriate equipment:
Whether you operate in the service or product market, the main cause for weak results can probably be because of the lack of understanding of the equipment and resources that you're using for your proceedings.
Hence, to avoid it, you must ensure that you take their trial before you start working with any tool. As a result, see which tool stands out among them and works best for your work; choose that. Doing so will eliminate the risk of less production.
For instance, a wide variety of templates are now available on SlideModel, which can aid you in establishing better presentations and without consuming extra time. Work done quickly and effectively means you'll have more time to focus on the implementation of the plan suggested in the presentation.
Since we see new technologies in the market every now and then, don't lose sight of them. In fact, try to make use of new inventions; you never know what you might discover, such a software that will enable you to elevate your work to new heights. Therefore, keep yourself updated with the market news. Moreover, to ensure that your staff is confident and comfortable with any newly implemented application, you must conduct training sessions to teach them how to work with the equipment for effectiveness.
2. Say no to multitasking:
It's tempting to try to complete several jobs at once, especially if they appear to be minor or simple. But it's not going to work. Take an example of a manager at a competitive agency. You would see them manage communications with possible clients, speak with various contractors, and manage and review work from freelancing while also doing your regular job.
Although they may believe that by doing so, they would be able to complete more work, whereas the case is not the same. We are kidding ourselves since whatever we have been trying to do simultaneously is adversely affecting both the quantity and the quality of our work. Therefore, it is better not to multitask and concentrate on one task at a time; that would help.
3. Urge desk organization and cleanliness:
Research has proved that working in a cluttered environment reduces productivity. Besides, whenever you are in need of something urgently, you fail to find it due to hundreds of documents scattered around your desks. Hence, to avoid such time-wasting horrors, make sure to maintain your desk tidy and try to be well-organized throughout the day. The more organized you are, the more productive you will be.
4. Prioritize essential tasks:
As an employee, you must be prepared to frequently be assigned a variety of duties that must be completed by a specific deadline.
However, sometimes you might have more tasks than your ability to handle. Therefore, to ensure that you retain your work performance, you must prioritize your activities in order of importance. For better understanding, we have given you two scenarios to explain it well, which are as follows:
If your particular project is due within a week and another is due in two months, you must focus entirely on the project whose deadline is due in the coming week. As a result, you would focus efficiently on leveraging your work performance and would be able to meet the deadlines effortlessly.
If time is not an issue, consider which of the projects will have the greatest negative influence on your company if it isn't completed as soon as possible. That's the one you should be doing.


5. Make smaller targets:
Looking at large goals on our calendar might be stressful and overwhelming, which will lower your productivity. Hence, to feel more in control, it would be helpful to divide the large project into smaller tasks.
For example, rather than writing about the whole project, break the procedure down into steps for all of the tasks that will be required to achieve the final product. Doing so will lower your stress level as the whole game is of your brain. It may seem much easier in this way and help you stay on track in your daily activities and make larger undertakings appear less intimidating.
In fact, as the leader, you must utilize Project Management PowerPoint Templates for displaying the project's complex data in a much understandable way. Furthermore, presenting the whole plan in the presence of your team will ensure that everyone is on the same plane and will save your time as you can clear their thoughts regarding any concerns right away in the meeting.
6. Strengthen your time management skills
Whenever you are to start a new project, remember that effectively managing your time is crucial. You do not have much time to squander on a project because you only work 40 hours per week on average since they all have deadlines that you must reach.
Therefore, if the work performance is not up to par, you must stress working on your time management. To do so, you can make a schedule for yourself beforehand. This way, you'll have more time to properly organize your time for each project before you start working on it.
Besides, avoid random distractions like chit-chatting with coworkers apart from the break and constant usage of social media platforms because that wastes a lot of your time.
7. Don't leave undone tasks:
We have all left a task undone and gone to begin a new project without giving much thought. Either the new one is a more intriguing project, or the one on which the work is already in process is way too boring to survive the day.
On the other hand, it sets off a cascade of issues that might result in delays and, as a result, a reduction in performance. Hence, regardless of the changing circumstances, it would be beneficial if you never leave a task incomplete. Only this way can you avoid any performance-related concerns that may impede office productivity.
Consider the following:
If a particular project is necessary, devote more time in order to complete it before shifting your attention away from it. Doing so, you will save you time because you won't have to re-acquaint yourself with where you left off when you return to finish it later.

In case you lack time to complete a particular task, make sure that you have divided enough time to make things done in such situations. This way, you can avoid the chaos and panic that a shortage of time can create.
8 Enhance your communication skills:
If you are working on a large project with a group of coworkers, communication will serve to be the most critical to the team's overall success. As a result, you must ensure that you are able to communicate well with your team.
Remember that informing them about everything, whether it is good or bad, will be critical in order to complete the assignment successfully. That won't be possible if you cannot convey your thoughts clearly and efficiently.
Communication skills are also helpful if:
Ask for assistance if you are having trouble with a certain aspect of the project so that you do not waste time figuring it out on your own.
Having a discussion over a problem that you are concerned about as it may have an impact on the project if it goes wrong. Communication skills will help you in making your coworkers understand it better so that the problem can be resolved before getting worse.
9 Become an enthusiastic learner:
The world is constantly changing, and so are the requirements for doing a good job with each new idea, approach, and innovation. Many things that worked yesterday are unlikely to work tomorrow. As a result, if you want to stay ahead, you must become an enthusiastic learner. It would help you stay updated with your industry news and living hacks to survive in this fast-changing world.
It is preferable to:
Read books, newspapers, articles relevant to your industry.
Listen to podcasts and watch videos to acknowledge expert thoughts expanding your knowledge.
You can enroll yourself in online learning courses.
Besides, never get offended or degraded if anyone corrects you in something. Instead, you must ask for feedback from your seniors so that you can evaluate your work, where you are wrong, and where you need improvement. Take your mistakes as another chance to prove yourself. You would be facing both types of criticism, so you must be prepared for that.
Remember, self-improvement in the workplace is only feasible if you learn regularly. Learn from your surroundings, learn from your mistakes, and then see how you stand out from others.
10. Do not work continuously; take a break:
Working continuously without a break can make you exhausted. Seeing the hours on the clock increasing, you may believe that you have worked so long; however that's not the case, no extra work has been done till then.
Hence, to make sure you work well and without wasting your time, you must take breaks in between. As for research, taking breaks in between work helps you concentrate more and also boosts your mood. By taking a break, we mean to rest your mind a little so that it can function quickly and efficiently.
For instance, you can take a five-minute break, stand up from your chair and walk around the corner. Or you can spend 15 minutes having your cup of coffee or tea in the cafeteria for a change of environment.
Conclusion:
Summing up here hoping that this piece of information might have added to your knowledge regarding your concern. Keep in mind that one of the most crucial aspects of all is to determine where your staff are having difficulties. Once you have figured that out, you'll be able to guide them appropriately.
Further, these recommendations will assist you in bolstering your efforts in that area. We believe that if you take into consideration the suggested tips, then you would definitely witness a huge change in productivity at work.