SmartTask
Contents
How Sarhad Dairy Increased Its Productivity By 50%
By Pratik ShindeFeb 28, 2022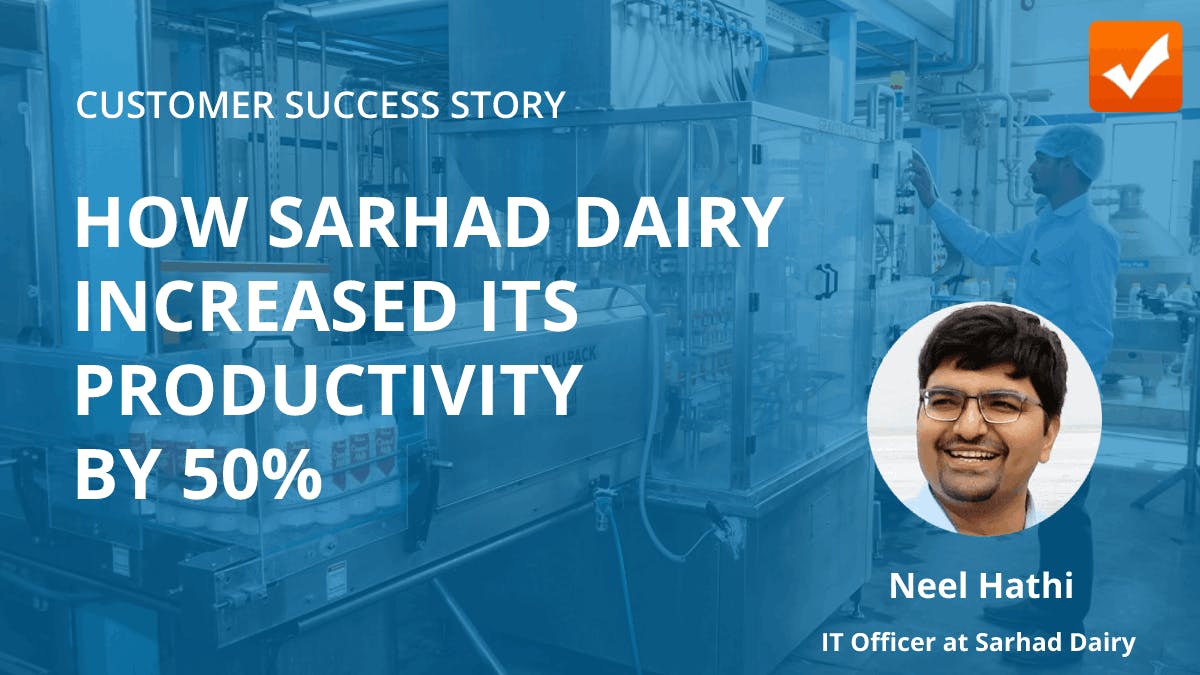 Sarhad Dairy - Overview
Sarhad dairy plant located in the Kutch area of Gujarat is a milk production union associated with Amul. It was established way back in 2009 with only 14 members collecting 1400 liters of milk daily. Today, they collect 5,00,000 liters of milk per day from 680 members around the Kutch area and have empowered more than 90,000 animal keepers.
Their primary activity is to collect milk from village co-operative societies aka members and process and pack milk and milk products under the brand name of "AMUL".
They were facing operational complexity issues, lack of productivity and accountability among employees, reporting issues, communication challenges, and no means to track work progress within their organization.
SmartTask brought revolutionary changes into their whole system by streamlining processes with automation, eliminating communication challenges, reducing process turnaround time to zero, increasing employee productivity by 50%, and reducing cost by 20%.
Challenges the Sarhad Dairy Faced
Operational Complexity & Lack of Productivity
Sarhad dairy was facing operational complexity and lack of productivity issues among employees. 30-40% of their staff work in the field where milk procurement and veterinary services are required. They were facing difficulty in managing these activities and keeping track of the same.
Keeping track of work activities through pen & paper was time-consuming and error-prone. Moreover, drawing insights from this was a highly inconvenient and strenuous activity. Adding to the complexity was communication being scattered across WhatsApp, Email, and in-person conversations.
It required major work to track who's doing what? Keep track of Deadlines? Number of service requests pending? And what needs to be done in the upcoming days and months? In addition, they were unable to understand resource utilization.
3 Layered Communication
There was 3 layer communication between society members, intermediate phone operators, and office staff. Because of this, it was difficult to address their issues quickly. Also, 70% of these members came from a rural background and don't have technical knowledge which further increased the challenges of Sarhad dairy.
No Track of Service Requests
Earlier Sarhad Dairy's phone operators would receive direct calls from end-users for any kind of service be it veterinary services, account-related queries or general milk produce related information.
Diverting these service requests to the right person meant going through a lot of internal hoops. Moreover, tracking the number of service requests generated and the corresponding type of service requests per day was impossible to analyze. This created a lot of stress on internal teams, who were unable to understand each team member's workload.
This also affected the turn-around time to address these service requests and in turn the SLA that they committed to their customers.
Their Requirements
A single place for communication and work-related information
Easy and simple way to track daily activities. Such that it doesn't require repeated training sessions for their internal staff to get the system up and running.
A work management tool that is able to store customer information like Society Code, Member Code, Veterinary doctor allocated for a particular region, and SLA for each customer.
Easy way for their end-user to request veterinary services and milk-related queries.
Customizable IVR solution for the end-user to place a call and log a complaint or service request.
Customizable analytics to understand the number of service requests, turnaround time, and resource utilization. Moreover, being able to identify bottlenecks.
Why Sarhad Dairy Chose SmartTask
They were searching for a work management solution that not only helps them streamline their processes and increase productivity but also can be integrated with IVR (Interactive Voice Response) services to automate service tickets within the organization.
Initially, they tried Asana, Zoho, and also some customized applications but they weren't able to fulfill their specific requirements. Especially the part where a service request can be linked to a contact within the system and being able to add custom data to both the service request and contacts.
Finally, they found SmartTask with which they were able to solve all of their challenges from streamlining their processes, executing projects, improving employee productivity, automating repetitive tasks, tracking work progress, and eliminating the communication challenges with their members.
Neel Hathi, IT Officer at Sarhad Dairy says "SmartTask provides integration with various tools such as Ozonetel, Twilio, Integromat, Zapier, Google Drive, and various IVR services. We were specifically looking for integration with IVR services which allowed them to create service requests when an end-user requested a specific service. That has made a major difference with all the other solutions available in the market."
The Results
We interviewed Neel Hathi, IT Officer at Sarhad Dairy to capture his experience so far with SmartTask. Let's see how's Neel's overall experience with SmartTask -

Neel Said, SmartTask brings revolutionary changes into our whole system. Our processes have become systematic, streamlined, and much smoother. I want to rate SmartTask 10/10.
He said, SmartTask is providing mobile applications for both Android & iOS devices is definitely a plus as the management team can easily assign tasks and track the work progress. Field staff can easily log into the system and perform the assigned tasks. We see no more blame games in the workforce. My overall experience with SmartTask has been overwhelmingly positive and our productivity has increased by 50%.
We're integrating IVR services with SmartTask. Through IVR service integration, customers and members can easily call us and raise tickets automatically. These tickets are auto-assigned to the concerned person handling that portfolio which is the major development we've made via SmartTask.
Process turnaround time has reduced to zero because the problem solving has increased drastically. The person with the problem can directly talk to the concerned person in the office and get the service request solved in no time.
After implementing SmartTask, Sarhad dairy successfully eliminated communication challenges and privacy issues within the organization. The communication time between the office and members is greatly reduced due to IVR service integration.
Then Neel said, Before using SmartTask we were using 3-layered communication. We had to have 2 operators to route our telephone calls to the respective territory incharge. With SmartTask, the role of operators and their costs have become 0 as of now. We've automated these tasks using SmartTask and our cost is reduced by 20%.
Further, Neel said, In the upcoming six months a new milk processing plant with a capacity of 4,00,000 liters per day will be integrated by June. We are also going to increase the chilling centers to 22, which will increase our daily collection. As of now, we're procuring 5,00,000 liters per day of milk in the Kutch area. We will be able to create a better balance between supply and demand after integrating a new processing plant of 4,00,000 liters per day. SmartTask will make a major difference in procurement and daily collection of milk and also in keeping the operations smooth.
The appealing feature we've found with SmartTask is the custom fields added during the runtime. In the project you can directly add custom fields, generate custom reports, CRM functionality, handle multiple projects with portfolio view, time tracking, and location tracking with visit log. We also like video conferencing, chatting, collaboration, Slack integration, and automated check-ins features. Integration with IVR is the best part. I cannot do all this with Asana or any other application.
Then he added, the main thing is if we have any kind of issue, such type of customer service. Looks like the SmartTask team does not sleep and is always looking to improve SmartTask. The team is available 24/7 to provide support whenever needed.
That was the success story of Sarhad Dairy.
Contact us today to create your success story.