SmartTask
Contents
ClickUp Vs Trello - Which is the Best Project Management Tool?
By Aastha ShawJul 10, 2022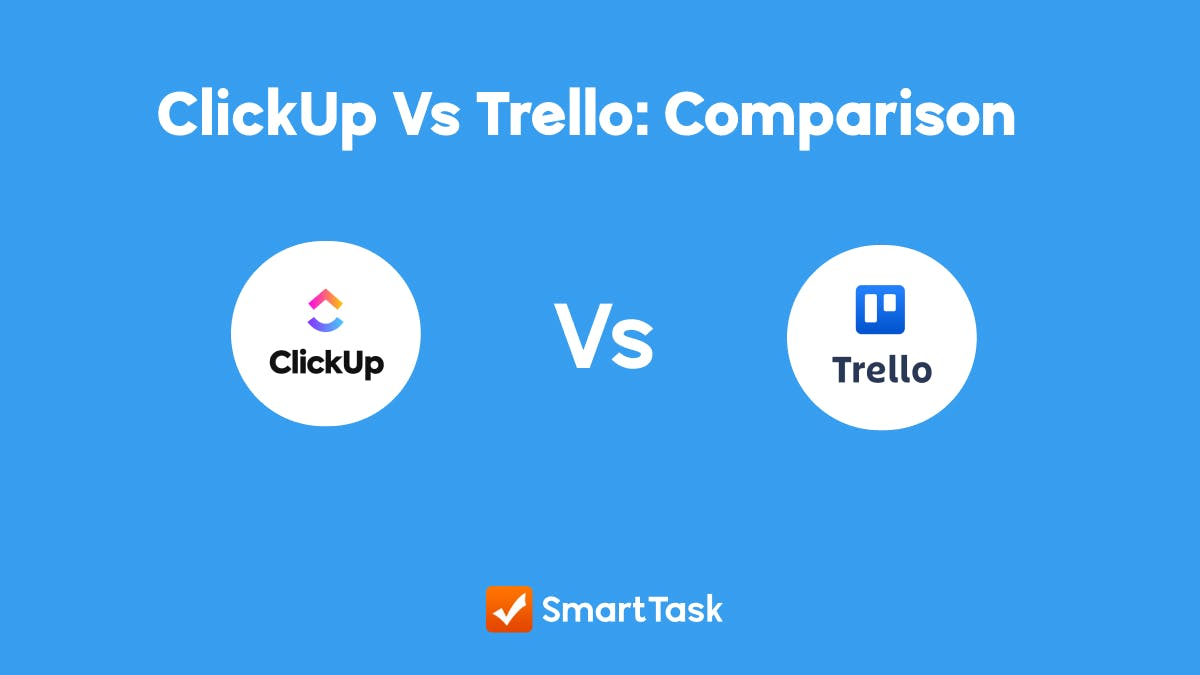 So finally you've decided to introduce a Project Management Tool in your organization. Honestly, it's the best decision you could make as a Project Manager. Congratulations on that! 😇
But the biggest challenge, I believe, is not convincing the management to invest in a good project management software, but finding the one that best fits your organization's needs. Now that you have landed on this page, allow me to assume that you've already made up your mind to go with either ClickUp or Trello and looking for an expert reviewer like me 🧐 to help you make the right decision.
At your service, mate!
Without further-a-do, let's go into deep dives on each of these tools to help you create perfect work solutions for your projects.
What is Clickup?
Founded in 2017, ClickUp recently ventured into the space of project planning and collaboration but has been successful in acquiring a wider market share compared to its counterparts.
With literally dozens of customizable features, it allows you to manage your workflow easily and is scalable to a wide range of industries, and is suitable for small start-ups and large corporations alike.
What is Trello?
Trello is one of those project management tools that brings a shared perspective to the life of a project in a fun, flexible, and rewarding way.
Famous for its Kanban Board, cards, and user-friendly interface, Trello is best suited for startups and small teams looking to organize their workflows in a collaborative setting.
Clickup Vs Trello - Key Differences
Even though they have some overlapping features, their strengths and weaknesses differ depending on project goals. Here we are going to do a comparative analysis of these 5 key features:
Different Views
Collaboration
Usability and Interface
Pricing
Customer Support and Onboarding

While we jump into the details, let me introduce you to SmartTask– which combines the best of both tools and much more.
Different views
ClickUp has gone beyond just Kanban-style board view and offers multiple ways to look at your tasks such as lists, Calendars, Maps, Timeline, Workload, etc. But do we really need these many options in the first place? Too many options only create complexity making the learning curve steep and navigation difficult.
Trello was exclusively a Kanban-style board that worked for most people due to its simplicity. But in order to keep up with the competition and the subsequent demand, Trello decided to introduce Timeline, Tables, Dashboard, and Calendar to its feature set that are only available on their paid plans
Winner: Clickup bags more points here for offering diverse views in its free plan. But if you are someone who mostly uses Kanban, then Trello will definitely be the better option.
Collaboration
ClickUp's chat view lets you communicate with fellow team members in real-time and actually feels rather similar to using Slack.
With ClickUp's chat view, it's possible to @mention any user on your workspace and they'll automatically receive the message on their main notifications feed. Lastly, the chat view even has slash commands which are reminiscent of Notion and help you format messages quicker.
Trello, on the other hand, tends to fall quite short on team communication. While you can integrate Trello with popular team chat solutions such as Slack or Google Hangouts, it doesn't have any native real-time communication.
This means that the majority of your communication inside Trello itself will consist of commenting on task cards and tagging your colleagues to ensure they see it – leaving much to be desired.
Winner: It's obvious that ClickUp wins this case for having native team communication features. However, both the tools lack many more important features that help with external communication, such as attaching contact details to tasks, call recording, VoIP, etc.
Moreover, when it comes to handing over tasks from one team to another, say from sales to operations, or operations to accounts, it becomes even more difficult to communicate important details.
In this case, a tool like SmartTask that combines CRM with Project Management can be your savior. It allows you to chat, VoIP, video conference, attach contacts, record interactions with clients, set up and track inquiries throughout the sales pipeline, and analyze data through sales analytics.
Usability and interface
Trello is easier to use if you're looking for a platform that can be up and running in minutes. All you have to do is sign up for an account, create your workspace, add a couple of team members, and start assigning task cards.
ClickUp, on the other hand, boasts a wide range of functionality, leading to a steep learning curve and complexity. Again, a perfect balance appears to be lacking due to ClickUp changing its interface frequently.
Thus, even with ClickUp's extensive documentation on its knowledge base, it is still going to be confusing and harder to use for most new users when compared to Trello.
Winner: Trello's simplicity gets it a decisive victory in the ease of use category. But why not opt for a tool that has all the necessary project management features and is easy to use?
Customer Support and Onboarding
Both ClickUp and Trello provide decent customer support, a good knowledge base and demo videos to get started with.
Trello also has community and support operatives. Whereas, ClickUp has no such community for users to discuss their problems and use cases. Also, there have been a lot of complaints lately regarding their support system.
Winner: Trello here is slightly better than Clickup because of its stable support system and community.
But when it comes to addressing queries and assisting customers personally, both tools offer slow support to all users and onboarding support only to premium and enterprise users. While SmartTask offers onboarding support to all its users and a fast 24/7 customer.
Pricing
ClickUp's free plan is rather feature-rich in comparison to some of its competitors. You'll be able to add unlimited number of team members, share files with 100 MB cloud storage capacity, and utilize most of the core features that bring people to the platform.
However, the free plans still lack many important features such as Goals, Portfolios, Timeline, Workload, etc. These features are included in different subscription plan that starts from $9 per member per month.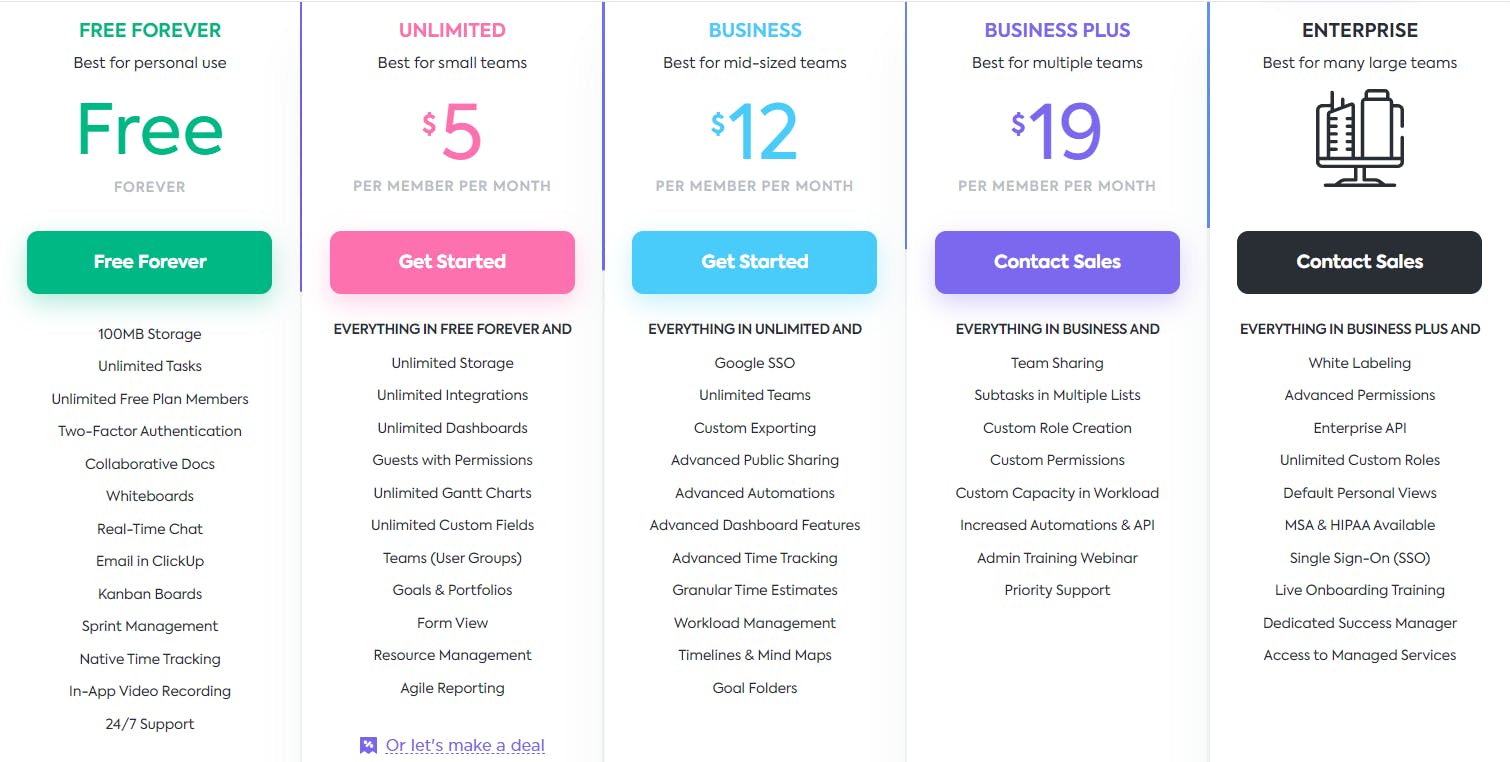 Trello offers three paid plans as well as a freemium tier in which you can have up to ten boards in your workplace and generate an infinite number of task cards. Unlike ClickUp's free plan, which includes 100 MB of cloud storage, Trello's free plan includes limitless storage for files smaller than 10 MB.
Likewise, you can add as many freemium users to your workspace as you wish without switching to a paid plan. Your individual file size restriction increases to 250 MB if you upgrade to the Standard (6/month per user) plan.
However, its freemium and standard plans lack a lot of important features, as seen in the following price chart.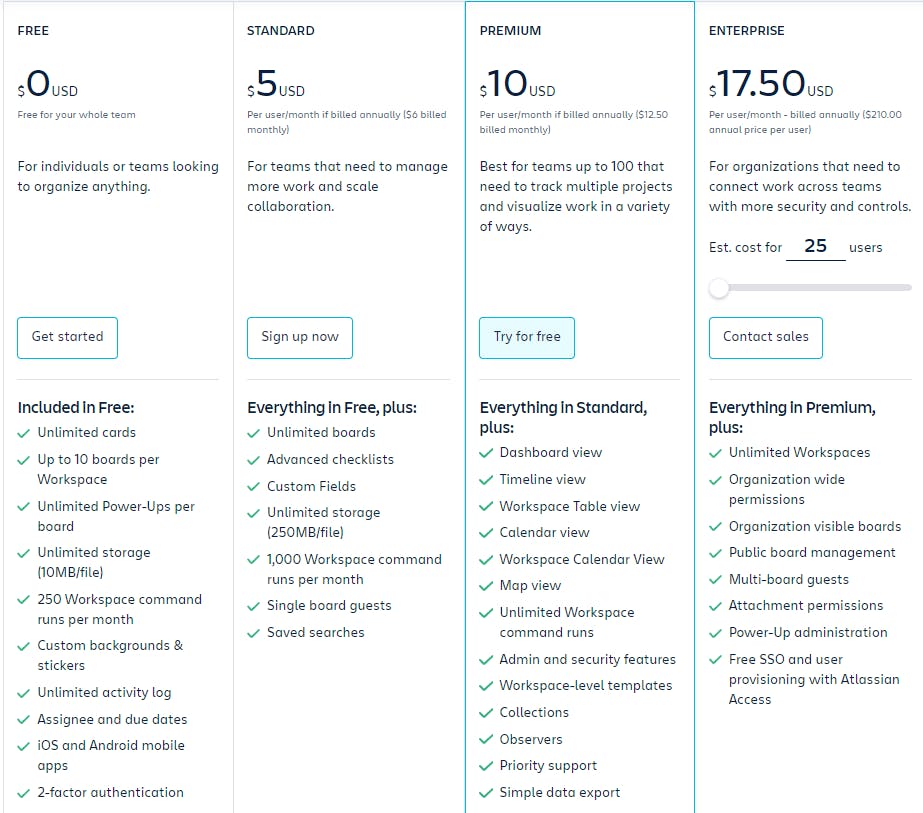 Winner: It completely depends on your requirements. If you are looking for more features in a free or paid plan then go for Clickup. If you require limited features then Trello can be a better as well as cheaper option.
Which is the best tool for your team in 2023?
While Clickup wins the upper hand at providing more features and flexibility, Trello holds the ground for a strong kanban core, and its simplicity.
However both tools have certain drawbacks which keeps them away from being a perfect project management tool, which calls for a better alternative that provides you with– all the necessary features, great UX, 24/7 customer support, affordable prices, ready-to-go templates, and more, then SmartTask is just the tool you need.
What is SmartTask?
SmartTask is a visual project management platform and digital workspace that gives you everything you need — whether your work consists of simple tasks or complex cross-functional projects spread across your organization.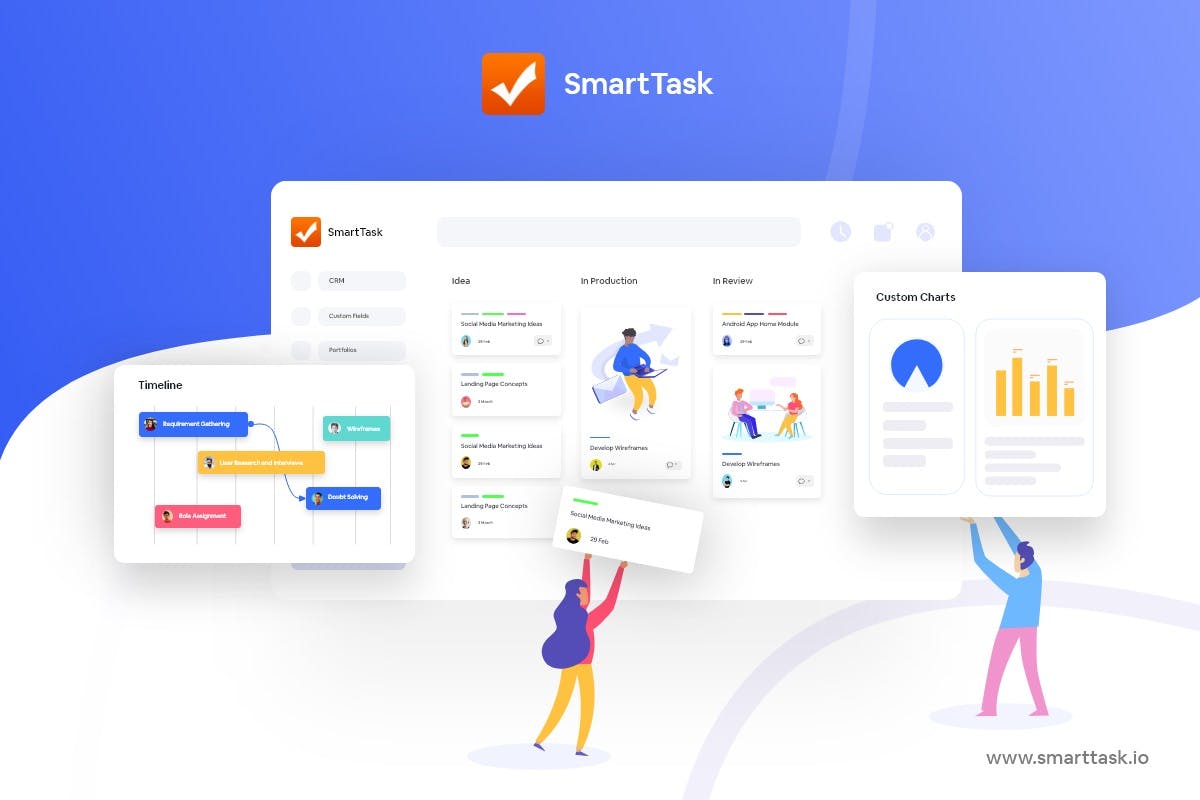 How SmartTask is Better?
SmartTask makes managing projects, teams, and information a lot easier with its powerful set of features and functionalities. Here's how:
User-Friendly- SmartTask has an intuitive interface and easy usability.
Task Management - Organize and manage your tasks with subtasks, deadlines, custom fields, timeline view, task updates, and much more.
Project Management - Track multiple projects with ease using portfolio view, project milestones, baseline comparisons, and auto-task scheduling.
Customizations - Organize and manage your tasks better using custom fields, advanced search, filtered views, and custom charts.
Client Relationship Management - Track inquiries through the sales pipeline and predict estimated sales through sales analytics.
Team Collaboration - Collaborate easily and have clarity on tasks and responsibilities using task dependencies, automated check-ins, workload, file sharing, and guest user features.
Time Tracking - Timelog activity, task estimation, and project summary to help you understand resource utilization.
Analytics & Reporting - Analyze your data with multiple and varied analytical views, advanced search options, productivity scoring of your team, custom charts, and rich reporting features.
Reminders - Alerts, notifications, and reminders to keep teams on track.
Pre-made templates- To kickstart your projects without having to start from scratch every time.
1000+ integrations - Seamless integrations to help you achieve almost everything from one single platform.
Pricing - Freemium and paid plan starting from $5 per user per month.
Support - 24/7 support and onboarding assistance for all users.
Available on almost every platform- Web, macOS, Windows, Linux, iOS, and Android.
SmartTask is a one-stop solution that can adapt to your requirements, making work easier, productive and efficient, and not the other way around!
FAQs
1. Does Trello offer time tracking?
While Trello is an easy-to-use Project Management tool, it lacks in-built Time Tracking capabilities. One can utilize Trello Power-Up to integrate with dedicated time management tools like Timedoctor, Hubstaff, Everhour, etc. -which will cost you some extra dollars & time - again.
2. How reliable are ClickUp Vs Trello Reddit Reviews?
It's important to keep in mind that ClickUp Vs Trello Reddit Reviews may not always be reliable. They can be influenced by personal biases and experiences, which may not align with your own specific needs and requirements. Additionally, some users may be more critical or more positive than others, which can skew the overall perception of a product. It's best to look for reviews from authority blogs like SmartTask who are helping businesses with similar needs to your own, with information that's more relevant and useful to you.