SmartTask
Contents
How a Solar Company, Topsun Energy is being more productive
By Pranav MistryJan 20, 2019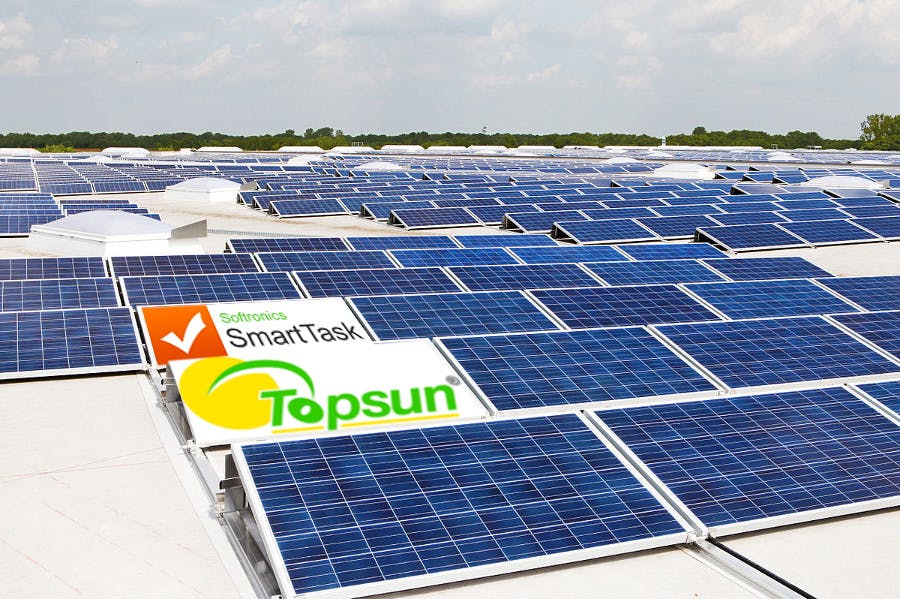 Solar projects are experiencing a huge bloom these days. There is a lot of competition out there. You have to be the best in order to stay relevant. Topsun Energy has been a pioneer with 20+ years of experience in providing Safe & Quality Solar Crystalline Photovoltaic products, project services and round the clock customer support.
" An unproductive team is a slow death of the company."- says Chanakya Patel (Director, Topsun). With his years of experience, Mr. Patel knows that it takes a lot more than a good product to run a company. In today's competitive market it is crucial to execute more projects in less time and be best at customer support.
Being the Technical Director Mr. Patel realized the challenges the company might face. Manual work management (using Excel Sheets) works perfectly fine, so does walking ten kilometers instead of driving a car there. When you start a company, there's so much going on and resources are limited so are time, money and people.
SmartTask helps Topsun organize all of their workflow so they can move fast and stay aligned with their ambitious vision.
Sales:
On an average closing, a deal requires 5 follow-ups. Do you think a person meeting and talking with at least 10 prospects a day would be able to remember each conversation? The answer is a simple NO!
A sales executive in a company like Topsun is busy meeting, calling and surveying sites with multiple prospects. Which means he is always overloaded with information like status updates, follow-ups, meetings, etc.
Topsun uses SmartTask to track deals throughout its pipeline and later hand it over to the project team for execution.
"Forgetting conversations, critical pain points, action points are a thing of past" says Mr. Chanakya Patel.
Sales Forecast: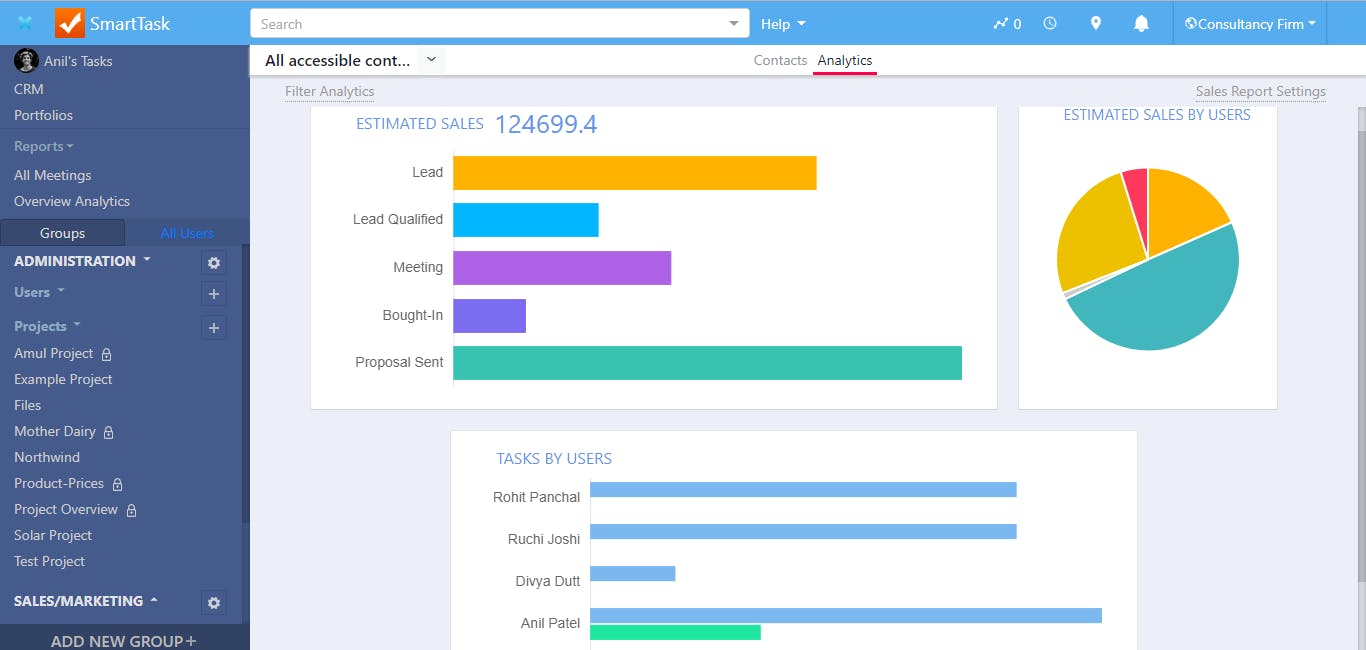 CRM in SmartTask lets you look at past sales, lead count, pipeline and win rate so that you can create a sales forecast. Your CRM can even project future sales and customer growth based on your current and past sales behavior stored in the software.
Customer Interaction History:
With this feature, Topsun can add contact information of a prospect and record each interaction. This builds up customer history. Easily handover the task to another teammate if need be.
Project Management:
Having a Process template for your project is a great practice if you don't want things to turn chaotic. The best way to do this is to take your work and organize it and set priorities.
Project Template: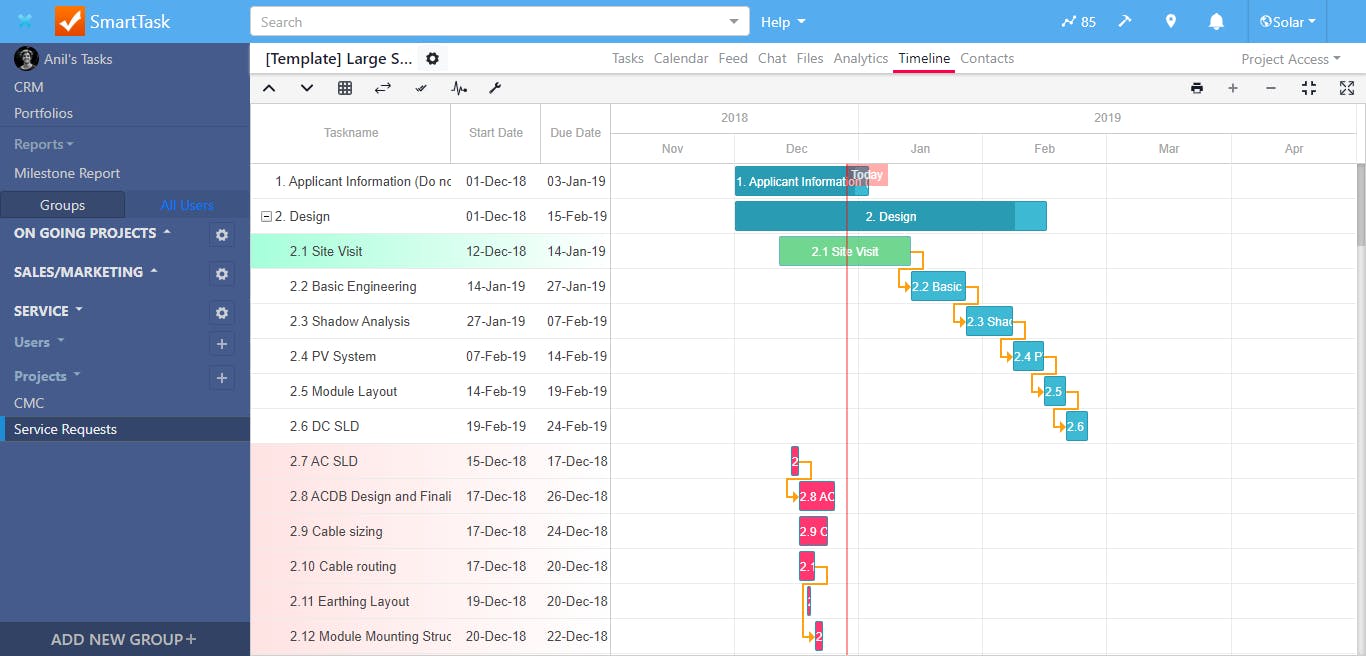 Topsun used to work on Excel sheets to execute their projects. But working on excel meant information falling through cracks, tasks getting delayed, forgotten. Moreover, without reminders and notifications, Excel was no longer a viable option.
With project templates available in SmartTask scheduling workflow and tracking project progress became simple. They utilize Timeline to handle task dependencies and follow which tasks are pending, overdue and dependent completed on time.
No need to remember what transpired, what's coming up or who's doing what. Everything is systematically managed with SmartTask.
Today, Topsun relies on the structure they've built in SmartTask to run their entire business. It's embedded in almost everything they do.
The simplicity and flexibility of SmartTask is perfect for their needs, and it lets them structure and organize their work in a way that makes the most sense for their business.
Service Requests: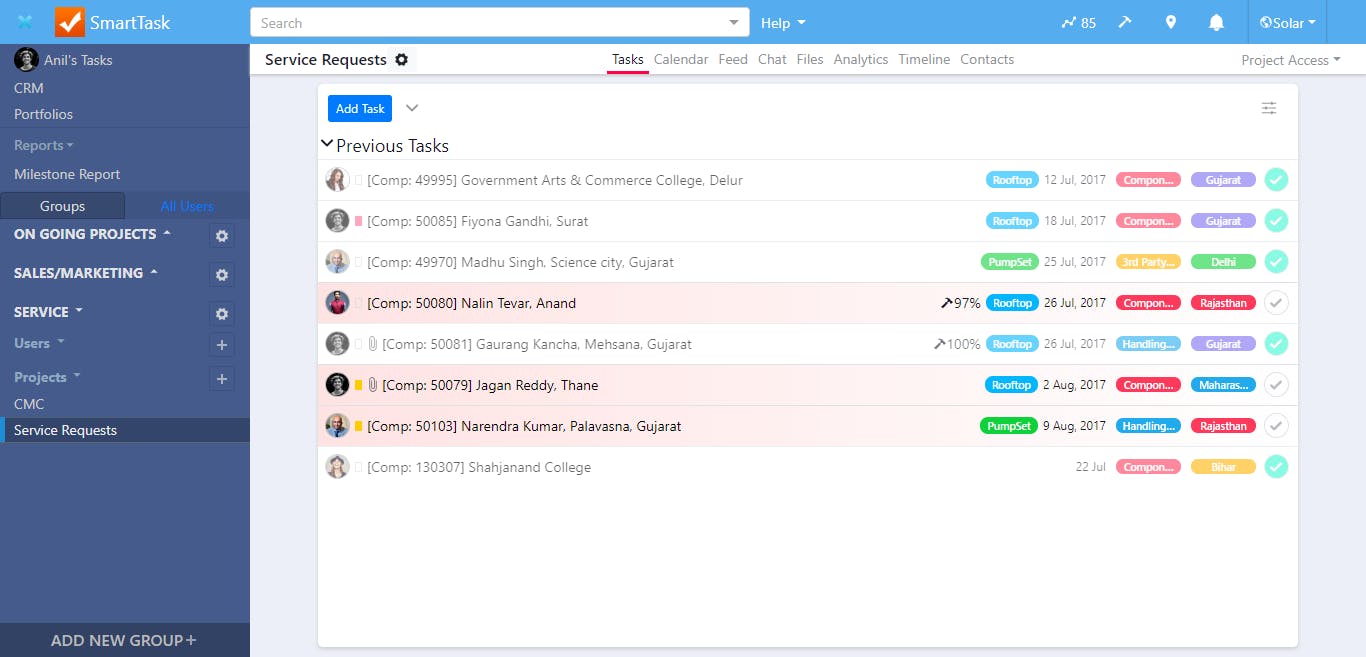 Installing equipment in remote areas comes with a whole set of problems. Events like storms and heavy rainfalls can affect the equipment negatively. Thus Topsun needed a place where they can collect all the customer Service Requests.
With SmartTask they can easily record service requests and allott it to the responsible person. A unique complaint ID number is generated for each complaint. With SmartTask's Zapier integration, SMS are sent on the creation of service request and on its completion. Moreover, they can analyze which type of service requests occur most often with custom charts.
With inbuilt CRM in the system, their sales team can track service requests, manage Comprehensive Maintenance Contracts and follow up with clients with ease (more here), making SmartTask a perfect tool for their company.