SmartTask
Contents
Top Factors Affecting Productivity in a Workplace
By Nidhi ParikhJul 26, 2022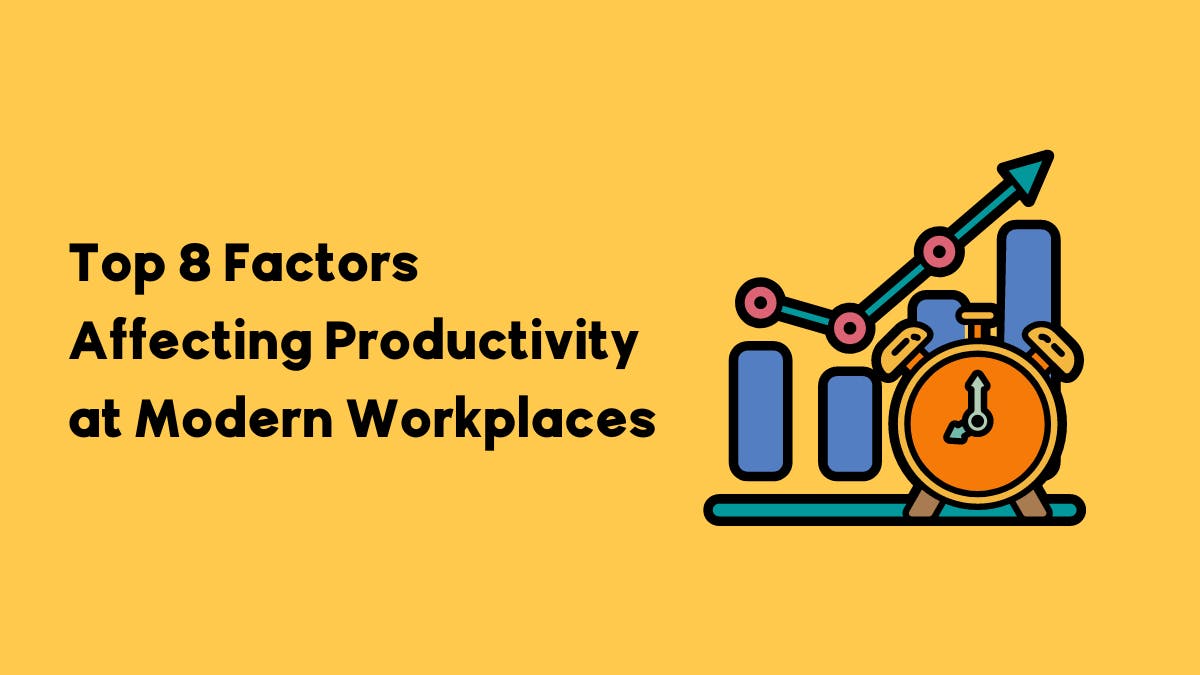 As a team lead, have you ever wondered why some teams are more productive than others? Why are teams with 100 people successful while some teams fail even with 10?
Is it because they have better personnel on their team or they are working harder?
Nah!
That cannot be the only reason.
There's more to team productivity than we think.
Let's unlock the secret code to productivity and find the strategies that can take your team productivity to the next level.
8 factors affecting productivity
Team productivity depends on a lot of different factors from having the right kind of leader to making use of the right kind of tools. Let's explore all these factors.
1. Communication
In a recent report by Grammarly, The State of Business Communication, it was found that teams lose an equivalent of an entire workday each week due to poor communication.
Is that it?
No!
When we turn that into costs, it amounts to a staggering $12,506 per employee every year.
Think about the time and money you can save by just getting your communication right.
Here are some simple yet effective tips to do just that:
Have everything properly documented: Where will your teammate find the marketing report of clients? Where can he access the client's contact details? Which tasks does he need to perform today? Your employee should be able to see all of this from wherever he's working.

Pay attention to your written communication: If your team is working remotely, most of the communication is written. This means your team doesn't have facial expressions, tone, or body language to contemplate better. This can lead to unnecessary misunderstandings. For example, someone sent in an email saying, "We published four blogs this month." Is it a bad thing or a good thing? You have no way to know. Thus, always pause before replying and re-read your messages for the right tone and impact before you hit the "Send" button.

Always over communicate: Sharing too much is less harmful than sharing less or irrelevant information to a task. Always explain the tasks in detail to help your teammate deliver tasks exactly the way you want.

Ensure accountability: Let's suppose your project got delayed by 5 days. If you are not able to pinpoint the reason for it, there's no accountability. Who said what? At when? Which task got delayed? Why? These are things you should be able to track.
Pro Tip💡: Have everything documented and accounted for, always re-read your written communication and over communicate. Do these things and you're all set to have productive two-way communication.

2. Time management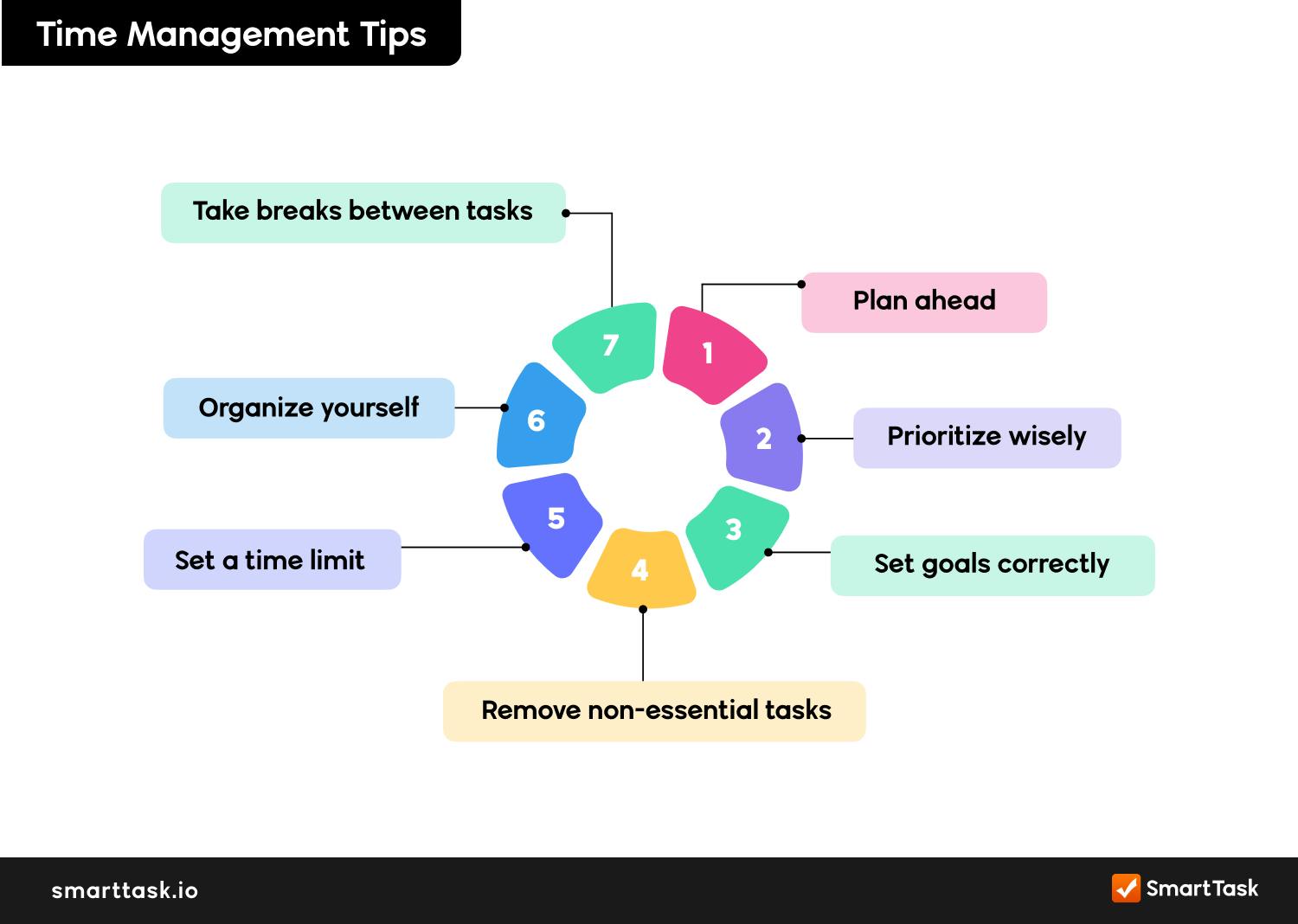 If you're seeing too many delays happening in your projects, one reason might be that the team is not performing well. Another more probable reason could be that your team is spending so much time on non-value activities that they are not getting enough time to work on the important tasks.
Your focus should be on eliminating or curtailing the time required for non-value activities such as unnecessary meetings, manual tasks that could be automated, admin tasks, and so on.
Consider these two statistics:
An employee spends an average of 3.1 hours checking the work email.
An average worker is only productive for 2 hours and 53 minutes.
What if your teammates are spending the most productive hours checking emails? Or attending unnecessary meetings?
Scary, isn't it?
This calls for better time management.
Pro Tip 💡: Improve time management by tracking down those non-value adding tasks. Cut back on them, automate tasks or simply ask your team to find creative ways to deal with these activities.

3. Technology
Have you ever had a teammate say, "I couldn't analyze this report because I didn't have the report as Sarah was on leave?" or "Working on new projects takes time as I have to start everything from scratch?"
If yes, this is a sure-shot sign that your team is not getting the tools to help streamline their work and get things done more efficiently.
Here are tools every team must have:
Project management tool: Every team handles projects, big or small. You can make use of a PM tool such as SmartTask to stay updated on multiple projects, assign tasks, comment on them, and collaborate.

Cloud storage: You can make use of tools such as Google Drive to store all your files in one place.

Communication: Emails are not meant for everyday communication. Task management tools with in-built chat can help you communicate..

Brainstorming: You can either opt for video conferencing tools such as Skype or resort to tools specifically built for ideation such as Mindmeister.
Pro Tip💡: Give your team access to tools that improve collaboration and team productivity.
4. Leadership
What do you think of when you hear the word "Nike"?
Their slogan — Just do it, right?
In the book Shoe Dog: A Memoir by the Creator of Nike, Phil Knight brings forward an interesting story.
In his words, "I'd been unable to sell encyclopedias, and I'd despised it to boot. I'd been slightly better at selling mutual funds, but I'd felt dead inside. So why was selling shoes so different? Because, I realized, I wasn't selling. I believed in running. I believed that if people got out and ran a few miles every day, the world would be a better place, and I believed these shoes were better to run in. People, sensing my belief, wanted some of my belief for themselves. Belief, I decided. Belief is irresistible."
There's a lot to leadership. One important part of it is to make people believe in themselves, that they can work on even the most challenging of tasks. Phil Knight was brilliant at that. But there's a whole lot where that comes from.
So much that we can write an entire book on it.
Worry not! We won't make you read one, at least not right away.
Here are all the important things a leader must do in just a few bullet points:
Keep a track of workload: You might not even know when your A-star employee is on the verge of burn-out. A great leader not only knows his/her teammate's strengths and weaknesses but he/she also makes sure work is allotted in such a manner that no teammate is overworked or underworked.
Lead by example: When you arrive in every meeting 10 minutes late, you're unknowingly creating an environment where punctuality is not considered important. Want your teammates to work with focus on important tasks? Or to be right on time? One simple way: show them how.


Create an atmosphere of gratitude: Employee engagement, performance, and productivity is 14% higher in organizations with recognition programs. As a leader, all you need to do is acknowledge your team member's accomplishments, either personally or publicly. You can even go one step ahead to find out how that teammate would like to be recognized.


Create a safe environment: What would you like more: your teammate hiding a mistake that would cost you a lot at the end or him coming up to you and owning that he made a mistake? To have the latter one happen, you need to be authentic and create a safe environment for your team.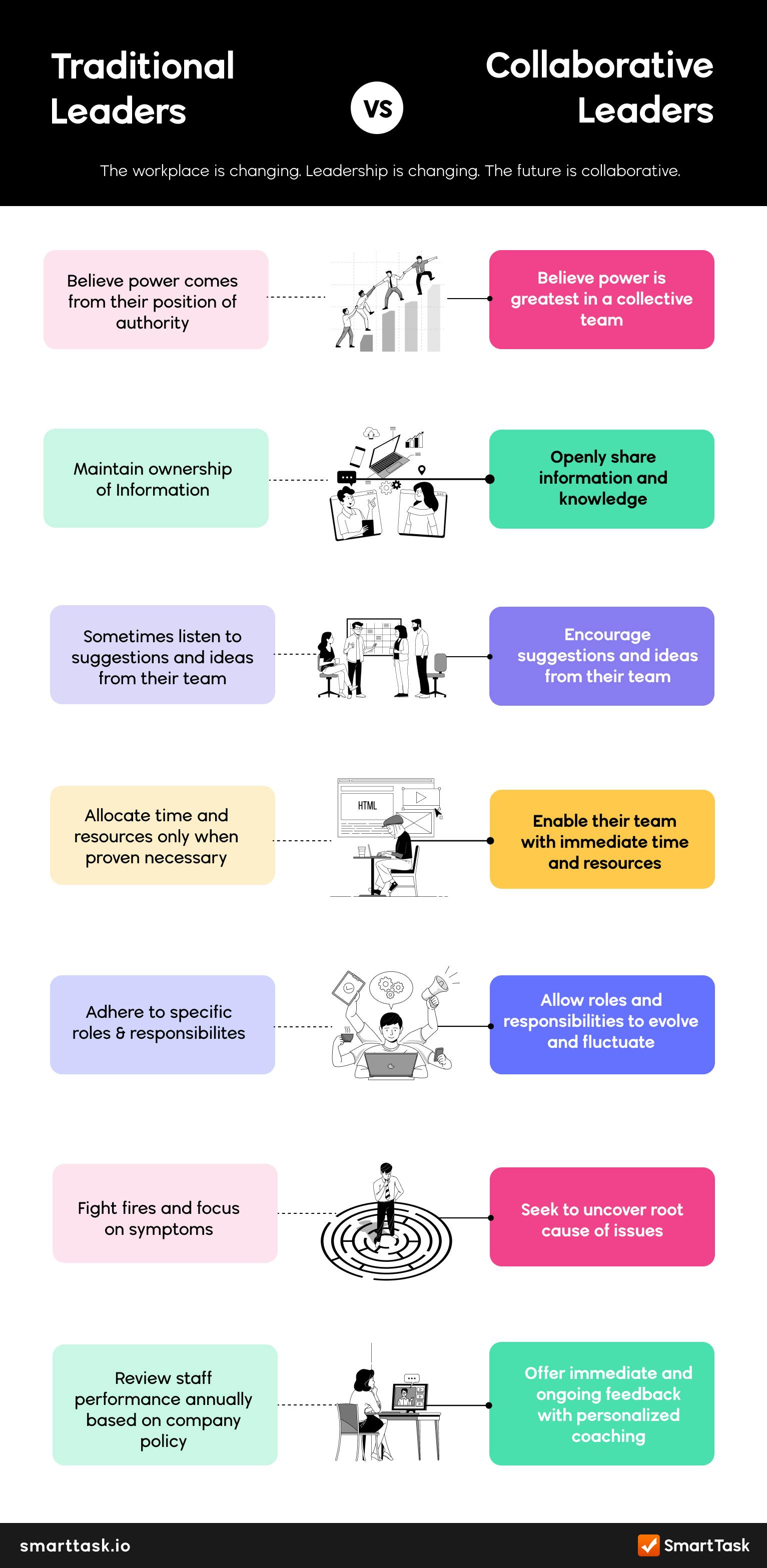 A great leader can help improve the team's productivity by managing workload efficiently, leading by example, recognizing teammates, and being authentic and vulnerable.
5. Calendar transparency
Do you love to shower your team with surprise meetings? Or have you ever had a meeting where half of the team seemed zoned out?
One way to solve this problem is by having some level of calendar transparency. You can do this by taking your team's calendar in consideration while scheduling meetings or ask them the same on a group chat.
This step becomes even more important when you're working remotely and you have teammates that work in different time zones.
Pro Tip💡: Decide on the availability of each team member and the ideal time for meetings and "Deep work" periods.
6. Training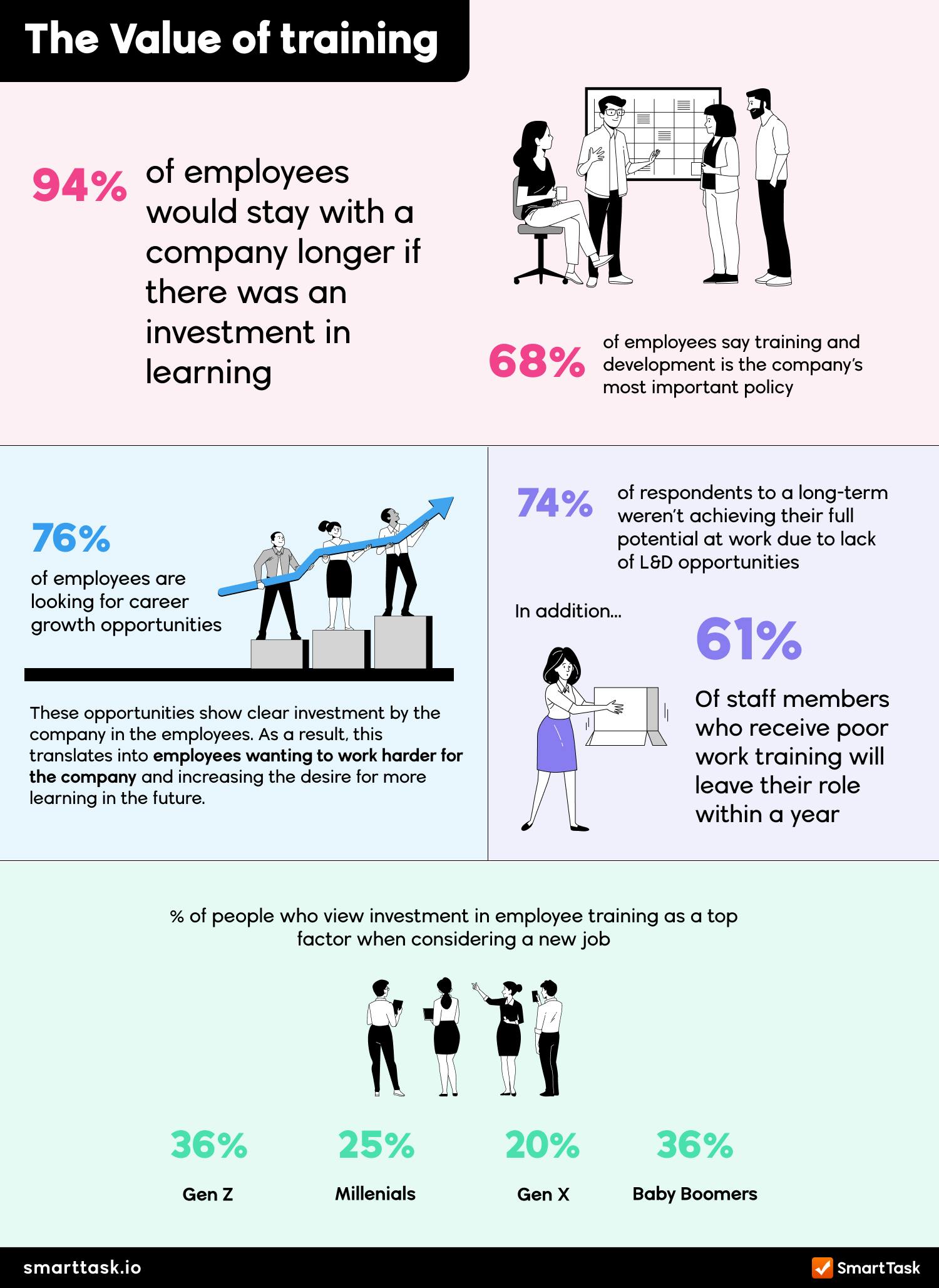 Your team will be motivated and productive when they're constantly learning new things and getting the skills to stay abreast in their careers. There are many cost-effective ways in which you can deploy training:
Have peer-based learning: Everyone in your team is great at something. If Person X is great at analytics in your team, have them act as a coach to anyone who wants help in that area or has questions regarding the same.

Set time aside for upskilling: Give your teammates a few hours every week to upskill themselves. You can even create a library for training resources for every field.

Create modules: A new joinee on the team may not know the nitty-gritties of how you work. Create templates and modules in a project management tool so that you don't need to explain the same things to every member that joins the team.
Pro Tip💡: Keep your teammates engaged with challenging projects, constant upskilling opportunities and readymade modules and templates.
7. Conflict Management
Most of us have been privy to a workplace conflict at least once in our lives. When you consider that everyone in a team comes from diverse places, with different perspectives and belief sets, there are bound to be disagreements.
The goal is not to completely eliminate these disagreements. If everyone agreed with each other on the team, there would be no growth and a dearth of creative ideas as well. Instead, your goal should be to manage these conflicts smartly.
How?
By not jumping to conclusions, taking the time to listen to both ends, asking questions, and then getting both the sides on the same page.
Pro Tip💡: SmartTask is one platform that has all your conversations and task comments in one place. With such accountability, you can curtail the amount of conflicts that arise due to misinterpretation and miscommunication.
8. Team bonding
Liberty and freedom were at their best when work from home, or perhaps anywhere, became a norm during the Pandemic outbreak. On the flip side, the lack of human connection made a lot of people feel isolated which led to a subsequent drop in productivity.
Whether your teams are working from the office or remote, getting your team connected is a sure-shot way to increase productivity. And this can only be done by organizing team bonding activities once a week, where everyone can interact with each other in a casual, fun setting.
Case Study: How SmartTask helped Sarhad Dairy increase its productivity by a whopping 50%?
Sarhad Dairy was established way back in 2009. When you consider the amount of work they do daily — collecting 500,000 liters of milk every day from 680 members, you realize that it's not easy to make processes efficient throughout the organization.
But with SmartTask, they were able to do so.
Let's delve into the problems they faced and how the tool came to their rescue.
Problem 1: Communication problems
With almost 30-40% of their staff working on-field, keeping track of work activities through pen and paper brought forth a lot of errors. So, they switched to digital communication. That posed another problem. Everything was scattered in Whatsapp, email, and in-person conversations. No tracking could be done.
Solution: SmartTask helped them have one platform to manage all their communication. Tracking could be easily done without any loss of accountability.
Problem 2: Managing the number of service requests
Their phone operators used to get a lot of calls from end-users for services like account-related queries, veterinary services or general information. Diverting these phone calls meant going through a lot of internal hoops. The workload management was ineffective, to say the least.
Solution: We helped them with a customizable IVR solution for the end user to place a call and log a complaint, with all these details getting stored in the tool and always available for review. The managers could also see the workload of each team member through a simple chart in SmartTask.
All of these solutions and the other functionalities of SmartTask helped Sarhad Dairy not only increase its productivity but even reduce costs by 20%.
Want to see results like these for your organization as well? Join the growing list of companies associated with us. Hop on a call with us today.
Join the growing list of companies associated with us. Hop on a call with us today.