SmartTask
How a Task Management Software Can Keep Your Team Well Organized
By Nidhi ParikhMay 23, 2019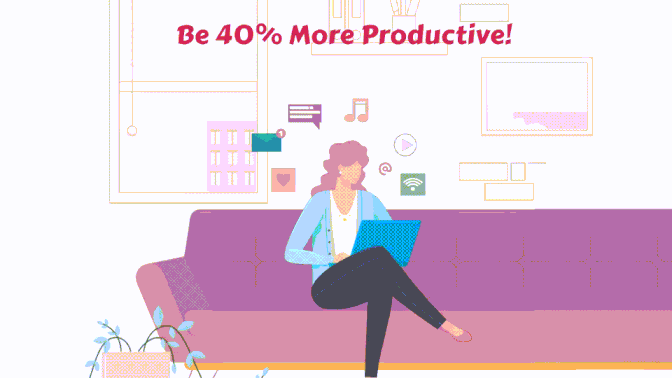 WHAT IS TASK MANAGEMENT SYSTEM?
A task management system is basically a structure or framework that you design to help manage all the tasks and projects in your life. Every manager has more than a few tasks at their hand all at once and it can be difficult to sometimes manage those. As task management system is designed to help you manage all the tasks at hand.
If you don't have a task management system, you are simply relying on your brain to do all the heavy lifting, to remember everything, and remind you of it at precisely the right time. Your brain cannot handle all this. However, the brain is really awesome at thinking creatively and problem-solving but beyond that, it is a horrible task management system, to say the least.
Think of your brain like a computer and once you have your computer's memory filled with photos, videos, or whatever, the computer starts to slow down. It is simply not able to process things as quickly. If your brain is so busy trying to remember all the tasks that you have to do, your thought process is not going to be as clever.
To help you with task management, there are a wide variety of systems and tools out there. There are 6 major components that every task management must have:
· Capture: Managers and teams need to have some sort of way to make note of all the tasks and ideas.
· Assign: Every single task is assigned a due date and is broken into smaller projects. Also, a task requires resources to complete so a task management tool must be capable of noting the resources needed to accomplish a particular task.
· Review: This is perhaps the most important component and shockingly most managers and teams don't have it in their task management systems. By regularly reviewing all of your projects, your brain gets used to it and starts to trust the system.
· Estimating: When the manager knows the estimated time to finish a task, it becomes easier for them to set deadlines.
· Collaboration: The online task management software is more of a collaboration tool as it enables managers and teams to work collectively towards a common goal.
· Status Update: Progress report of various projects is summoned at a single place in task management software. The reports may be presented in a graphical format depending on the tool.
WHY YOU NEED TASK MANAGEMENT SYSTEM?
In the debate on whether to implement a task management software or use project management tools to oversee work tasks in your organization, let's take a look at some of the benefits of project management.
1. ACCOMPLISH MORE: Task management software allows managers and teams to accomplish more work in less time with fewer people and as a result, with less cost overall. This happens because the business is able to utilize the resources at their disposal in the best possible way. Also, a task management tool keeps a track of every penny and every bit of resource spent on a particular project. This not only helps the teams to accomplish more but also stay within the budget.
2. INCREASED PROFITABILITY: Since a project planning software allows the teams and managers to accomplish more in less time, they can take up more work which basically translates to increased revenue and profitability.
3. BETTER CONTROL: Task management tools provide better control over changes to the scope of work. Back in the days, teams were trying to improve their workflow so as to suit the software. Today, the business environment is dynamic and requires a system that allows teams and managers to upscale their business. Furthermore, the task management software adjusts itself as your business grows.
4. MORE EFFICIENT AND EFFECTIVE ORGANIZATION: As mentioned above, a manager has hundreds of things going on their mind and it is very difficult to remember everything exactly when you need it. A task management system comes very handy at such times because it streamlines the process, tasks, and activities and so on in the organization. And since all activities are streamlined, the organization automatically becomes effective at what they do. Task management tool provides real-time updates on issues in the projects. This is particularly useful in resolving issues at the earliest.
5. INCREASES QUALITY: Since issues are resolved, more tasks are done, and better control is exercised, all this contribute to increased quality of work. The better the quality of work, the more customers will choose you over competitors.
6. REDUCTION IN POWER STRUGGLES: Task management software leads to better utilization of resources. When this happens, power struggles are automatically reduced.
7. MAKE GOOD COMPANY DECISIONS: Task management software delivers solutions to a customer and ultimately it will increase the business.
8. FREE FLOW OF COMMUNICATION: Task management tools come with an inbuilt communication system where all work-related talk takes place. Communication should really not take place on e-mails as both managers and team members already have a bunch of unread e-mails. A work-related e-mail may get dumped in the heap of unread emails which may cause trouble later. Therefore, all work-related communication should take place in one location.
9. ACCESSIBILITY: Since the software is for everyone to use, it is always accessible on the cloud. There is no need to install anything or any requirement of high-tech equipment. All the managers and users need a device connected to the internet. This way, everyone on the team can access data anytime irrespective of their location.
10. SECURITY: Cyber-attacks have increased in the last couple of years and therefore it is very important to keep all the business data confidential. Task management tools have built-in security features that keep all the sensitive data secure.
11. COLLABORATION: Teams and managers can collaborate on different projects at the same time and know the progress on different tasks. Since they work collectively, projects and tasks are completed quickly and without any mistake.
TASK MANAGEMENT SOFTWARE:
Task management software is an extension of the to-do list. It is like a structure to help managers and teams accomplish large tasks with a fair amount of ease. Without such a system, managers will be left guessing as to what they must do next. This kind of tool tracks the project from the very beginning till the end. Projects are further divided into small tasks which make delegation easier. Also, it is equipped with capabilities to predict any delay in the future which is pretty useful for devising alternate courses of action in advance.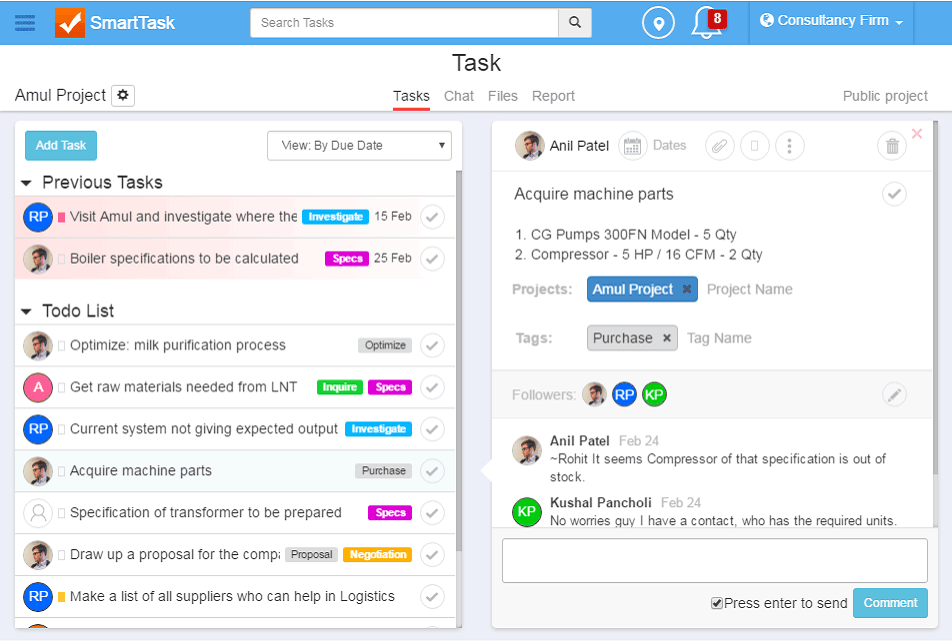 Different businesses have different requirements and searching for the best task management software in light of those requirements is not easy. Here are some tips which will help you select the best task management software for your business. Let's get started!
1. SCAN THE INTERNAL ENVIRONMENT OF YOUR BUSINESS: The size of the company and the number of employees in it play a pivotal role in determining the kind of task management software you will need. Aside from this, also take into consideration your products, services, and the industry in which you operate. Your team must be welcoming of the change and even if they don't, they must not resist the change as the system's benefit will be in front of them after just a few months.
2. THINK OF THE TASKS WHICH YOU WILL DO WITH THE HELP OF THE SOFTWARE: Before zeroing in on any particular system, make a list of things that you intend to do with it. Once this is done, make a list of features that will help you to accomplish the projects. Submit this to the vendor and they will come back to you with the best task management software for your company. In the end, it's your duty to ensure that the solution is scalable and falls within the budget range.
3. TRY IT BEFORE FINALIZING ANYTHING: Try out the fully functional software for a brief period before purchasing it. During this time you will get to know whether the team is actually using the software. At the end of the trial period, you will be able to make a more informed decision.
Business today takes place on e-mails and spreadsheets. On top of this, employees play different roles which extend the to-do list even further. To improve teamwork, centralize activities, manage tasks anywhere, and keep the clients happy, online task management software seems a pretty reasonable choice.
The business must find software that satisfies all their needs and requirements. It should be compatible with the applications that you already use in your organization like CRM software. No matter how good the tool is, the business will have to tweak it up to match their requirements. With proper research, you can come pretty close to buying the best task management software for your company.
MAJOR BENEFITS OF USING A TASK MANAGEMENT TOOL:
Inculcating online task management software is a lengthy process. It is first implemented on a trial basis and manipulated according to the business requirements. It marks a big change in the company and employees often resist the change. Here are 13 benefits of deploying a task management tool which might lower the degree of resistance to any such change in your organization:
1. BETTER PRIORITIZATION: Prior to implementing the task manager, managers had difficulty prioritizing all the tasks that were given to them. There are multiple channels of information coming in like voicemail, e-mail, text messages etc. With the task manager, they have a very specific list of to-do's. All tasks are prioritized and it is clear what the expectations are.
2. CAN BE USED AT ALL LEVELS IN THE COMPANY: A task management software is broadly used and accepted at the stores starting from the shop floor team, executive team, field management etc. They have adopted task manager as the de facto standard for communicating tasks down to the stores and execution on those tasks, measuring their performance, quality, and the timeliness of those tasks.
3. SIMPLIFYING WORK FOR STORE MANAGERS: Task manager simplifies the life of the store manager because the tasks are prioritized. Store managers don't have to juggle multiple to-do lists and they are able to focus on the most important things which are essential for giving the customer a good shopping experience. Store managers are also able to see which tasks are completed when they are not in the store. The task management software enables the manager to measure the performance and the execution of those tasks corporately and provide the customer with a very consistent service.
4. PROVIDING A LINE OF SIGHT INTO TASK COMPLETION: Task management software equips the corporate users with a line-of-sight to all of the tasks that are being performed by various teams. Also, the highest priority tasks are executed in a timely fashion.
5. WORKING COLLECTIVELY ON PROJECTS: There are a number of teams working on the same project. Every member in each team is equipped with a task which is a part of a much larger task. Project management software enables different teams to lodge their progress in the system which is visible to all teams. Other teams can use this information to adjust their speed. Also, meaningful discussions about the project using documents, charts, graphs and so on can take place in an organized manner.
6. EXTERNAL AND INTERNAL COMMUNICATION: Outstanding work in the context of the projects is always available on the system which can be seen by both internal members and clients as well. This eliminated the need to manually communicate to everyone progress reports.
7. BUDGETING: Budget is indeed a very important consideration in the project. All businesses are constantly looking for ways to complete the task at hand within the budget. A task management system comes pretty handy for ascertaining the budget. It reassesses the budget in light of any delays or unexpected business events. It also gives information about the planned and actual budget which allows the managers to adjust the project accordingly.
8. MONITORING: Monitoring tasks is key for every business if they want to achieve long term success. Since the task management system is designed just to do that, it gives manager insights into whether or not the task will be completed in a timely fashion.
9. SHARING DOCUMENTS: As mentioned above as well, when integrated with already functional company applications like the CRM software, task management system becomes more useful. Sharing of documents, wireframes, and specifications and so on is done smoothly and in a transparent manner.
10. COLLABORATION WITH CLIENTS: Collaboration with clients is just as important as a collaboration with the team. Communication with clients and suppliers is facilitated by task management software. Also, clients can see data relevant to their project on the system.
11. BETTER DECISION MAKING: All the above pointers contribute to one thing; better decision making. Since all work-related talk takes place in a centralized location, managers can use it to make better and quicker decisions.
12. CUSTOMER SATISFACTION: Customer is king and it is very important to satisfy them for earning their trust and getting repeat business. All a customer wants is timely completion of their project within budget. Task management software streamlines the various processes involved in completing a project and makes deliverability within the prescribed timeframe a possibility.
13. 24 X 7 ACCESSIBILITY: This feature of task management software is particularly useful when the deadline is approaching. People that work from home or late in the night are largely benefitted from this system because it is accessible 24 x 7. All you need is a handheld device with an internet connection.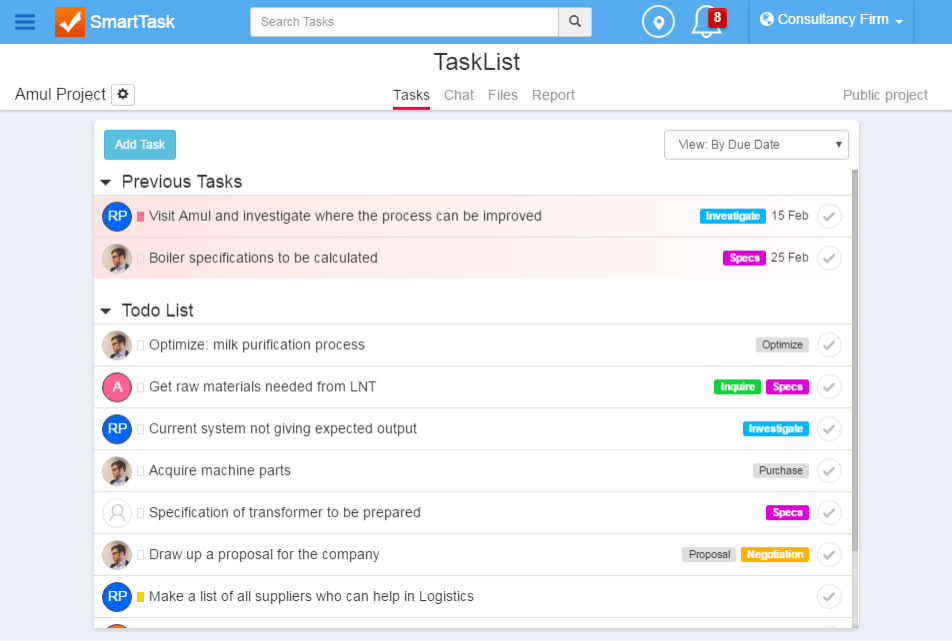 Online task management software is particularly useful for big companies with big marketing teams. Nevertheless, small companies with a staff of over 10 persons may also deploy such a tool. It makes workflow on the most complex of projects smooth which ultimately translates to saving money and time.
WHY SMARTTASK IS THE BEST TASK MANAGEMENT SOFTWARE FOR YOUR BUSINESS?
SmartTask task management software plays a pivotal role in making a team more cohesive and functional. All work related information is summoned in one place for teams to draw conclusions, make decisions, and get work done in an effective and efficient manner. The user interface of SmartTask is simple yet functional. It comes integrated with useful features like a search bar, custom fields and charts, mobile application, inbuilt chat system etc.
ADVANTAGES OF SMARTTASK:
SmartTask has a bunch of really useful features which make it the choice of online task management software of small and big companies alike. General Electric and Reliance industries make use of SmartTask. It handles integration with CRM software of the company pretty easily.
Custom fields and charts of SmartTask is a joy to use. All business information is in stored in one place for instant access. It facilitates collaboration between teams and with clients. This results in effective communication of project status to clients and they are also updated about any delay or modification in the project.
SmartTask has a very friendly and intuitive user interface which allows companies to quickly adapt to the changes.
WHAT IS SMARTTASK TASK MANAGEMENT SOFTWARE?
Businesses today operate in a dynamic environment. Tasks performed are also increasing at a rate never seen before. As a matter of fact, an average employee accomplishes over 5000 tasks per year. Hours spent following up on tasks has gone up manifolds in the last decade or so. Usually, phone calls, e-mails, meetings take place to discuss the status of a task. Even after all this, the list of tasks never seems to end. Due to the dynamic business environment, phone calls, e-mails, meetings are no longer feasible to handle tasks.
SmartTask brings a whole new framework for getting things accomplished. All tasks and conversations are summoned in a single place by SmartTask which is particularly useful in finding the exact information you need. SmartTask creates a soothing work environment by eliminating the need for the manager to remember everything.
ADVANTAGE OF SMARTTASK TASK MANAGEMENT SOFTWARE:
1. BETTER USE OF TIME: Instead of searching for outstanding tasks in diaries, SmartTask gathers all the pending work and conversations in one place for easy retrieval. Also, SmartTask prioritizes tasks which basically mean that the manager can straight away start working on top priority tasks.
2. ALWAYS PREPARED: Sales executives have uncountable negotiations throughout the day and it is very difficult for them to remember exactly which deal they finalized with which lead. SmartTask allows sales executives to mark leads, meetings, and follow-ups. Also, they can store conversations in the system which can be retrieved anywhere anytime to devise future sales pitch and strategy.
3. SEARCHABLE INFORMATION: With SmartTask information flow is organized. Clear and precise information leads to better decision making procedure. Also, each team member can pool in their ideas in the system and the most feasible idea may be pursued.
4. NEVER FORGET A TASK: There are hundreds of tasks that a manager has to remember. Failing to complete a task may cause a cascade of delays in the subsequent tasks. With SmartTask a manager can create a monthly or weekly sheet of the tasks to do. Also, delegation becomes a possibility with SmartTask. SmartTask also reminds the manager about payment dates, due dates of bills and so on.
FEATURES OF SMARTTASK TASK MANAGEMENT SOFTWARE:
Here are some features of the SmartTask task management software:
1. DOCUMENT MANAGEMENT: Different documents, charts, graphs etc. are stored inside of the software and can be retrieved anytime using the inbuilt search bar.
2. PROJECT MANAGEMENT: SmartTask can track progress on different projects at the same time.
3. ACTIVITY MANAGEMENT: It breaks bigger tasks into small pieces which are then delegated to team members. Progress on all activities is lodged in the system which makes it easier for the manager to track progress on tasks as a whole.
4. COLLABORATION: Teams may work on different tasks but their goal is the same. SmartTask facilitates collaboration among different teams. Also, collaboration with clients and suppliers becomes possible with SmartTask.
5. BUDGET MANAGEMENT: Each project has a particular budget. SmartTask makes sure that the project is completed within the prescribed budget.
6. BRAINSTORMING: Everyone in the company can throw in their ideas in the system. The most suitable idea can then be pursued with consent. All this is facilitated by the SmartTask.
7. STATUS TRACKING: Each activity is closely monitored by SmartTask and gives real-time progress reports to the manager.
8. CRM INTEGRATION: This is one of the best features of the SmartTask software. It is compatible with existing CRM software of the company.
9. EMAIL INTEGRATION: Approaching deadlines, priority tasks, delays etc. are communicated to the manager via e-mail.
9. FILE SHARING: Different teams can share documents, files, charts, graphs and so on with each other.
10. DISCUSSION BOARDS: There is a chat system inbuilt where meaningful discussions can take place.
Some other features of SmartTask include; idea management, project templates, contact management, custom fields, Gantt charts, portfolio management, requirements management, project budgeting, and dash board.
SmartTask is suitable for startups, small and medium-sized enterprises, and agencies. It comes as a web application and is also available on the Google Play Store. There are 2 versions of the software. The free version has limited functionality and only 20 users can use it. The premium version is chargeable at INR 330 per user per month. All features are available for use in this version. Contact SmartTask for a free demo of their task management software.
Subscribe to SmartTask Blog
Get the latest posts in email.