SmartTask
Contents
A Complete Guide To Successful Campaign Management
By Aastha ShawJun 1, 2022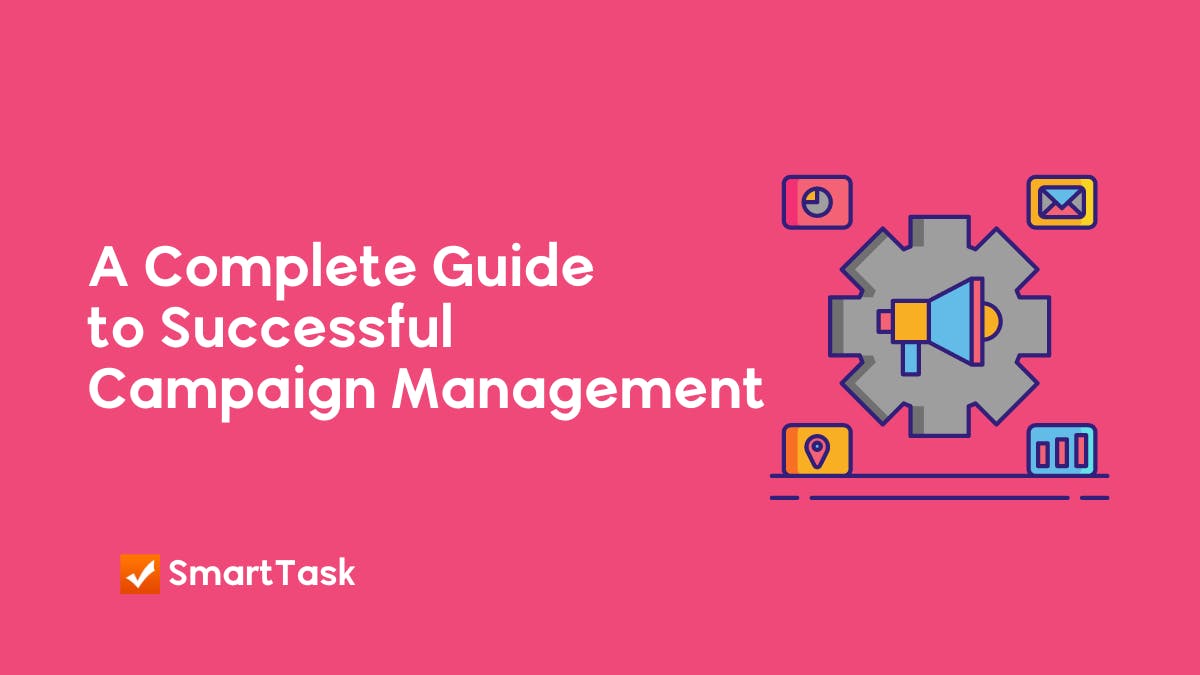 Marketing campaigns are critical to the growth of any business. Your marketing efforts help you establish your brand name, stand out from the crowd, and reach out to your target audience. Failing to focus on your marketing campaigns can cost you a lot of buildup and growth opportunities.
We know it can get daunting and overwhelming to manage and monitor different campaigns at the same time, even if you're a market leader. If you have ever run a campaign, I'm sure you may already be familiar with challenges like these:
Lacking time and resources to manage everything
Problems in collaborating and communicating information
Difficulty in setting and meeting deadlines across your campaigns
Inability to track and manage campaign goals properly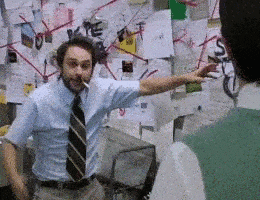 To prevent becoming trapped in such a predicament, you must have an effective campaign management system in place.
So in this article, we will walk you through the basics of campaign management and will uncover the tips to manage your campaigns in a time-saving, resource-efficient, and productive way.
Let's get started:
What is Campaign Management?
A campaign is a specific initiative within a wider strategy.
For example, your company would perform marketing activities year-round, and you are likely to have an overarching strategy that describes those activities. Then, over the years, you probably will be conducting many marketing campaigns, such as promoting a new service. These targeted activities are what we refer to as 'campaigns'.
Planning, managing, and executing these new marketing initiatives is referred to as Campaign Management. Though it may also involve other business activities such as advertising, sales, and customer service.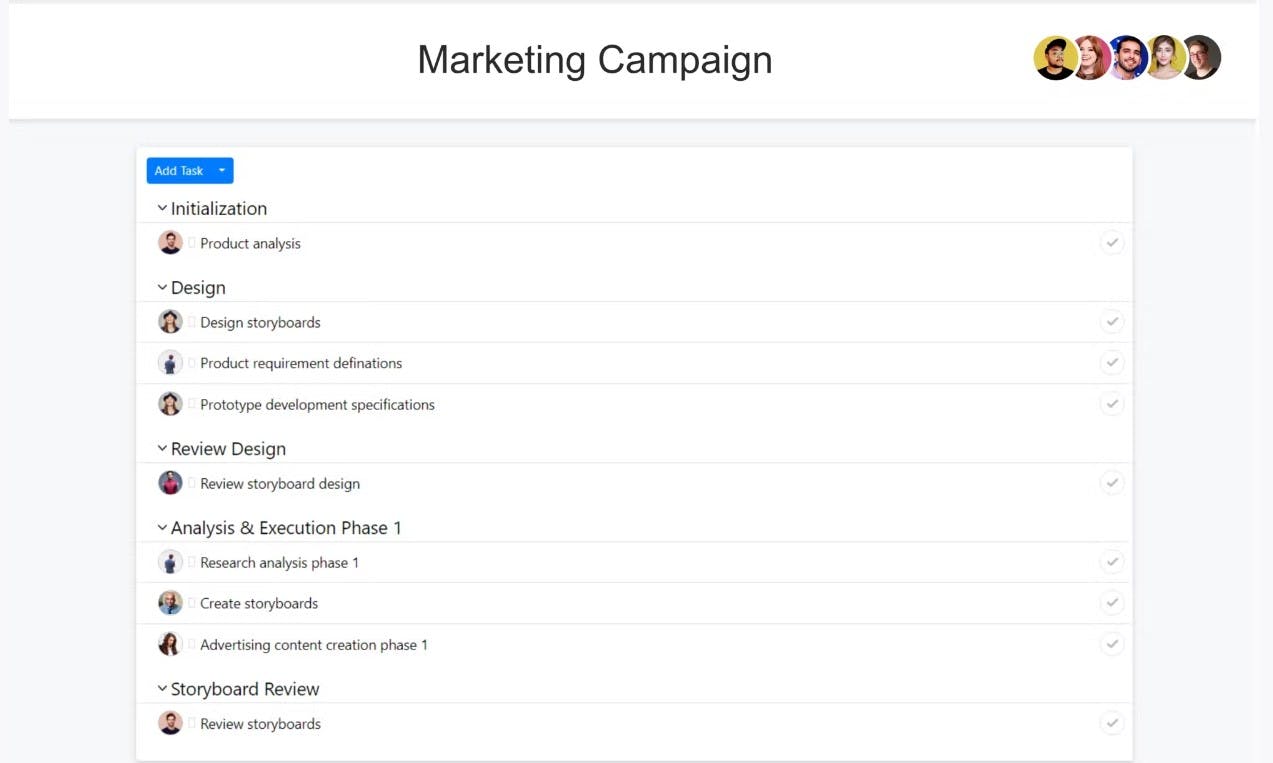 To track campaigns, teams use a complex network of spreadsheets, emails, and meetings. It can get challenging to manage them as the number and complexity of campaigns increases.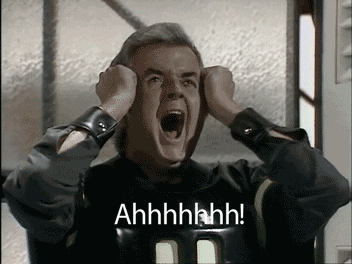 Fortunately, there are campaign management and collaboration tools that can make a marketing team's job much easier and more efficient.
What is campaign management software?
Campaign management software helps campaign managers to create, plan, execute, and track campaigns.
These tools also allow you to delegate work, define responsibilities, manage teams, and establish clear communication.
Usually, campaign managers employ a full-fledged project management tool like SmartTask to manage and track all their campaigns.
SmartTask helps automate much of the planning and execution and speeds up the process of rolling out a campaign and monitoring it while keeping your costs down.
Steps to Effective Campaign Management Using SmartTask:
Once the strategic planning is done, and you have built your marketing campaign project on the software, these tips will help you manage it as work gets underway.
1. Kick off your campaign with a clear brief of what is expected from whom
Anyone working on a campaign is usually referencing the brief constantly to ensure they're staying true to the overall goal and message. Putting the brief or project scope in the description of the project or tasks makes it easily accessible anytime, saving campaign managers from constantly getting pinged to get clarification on the brief.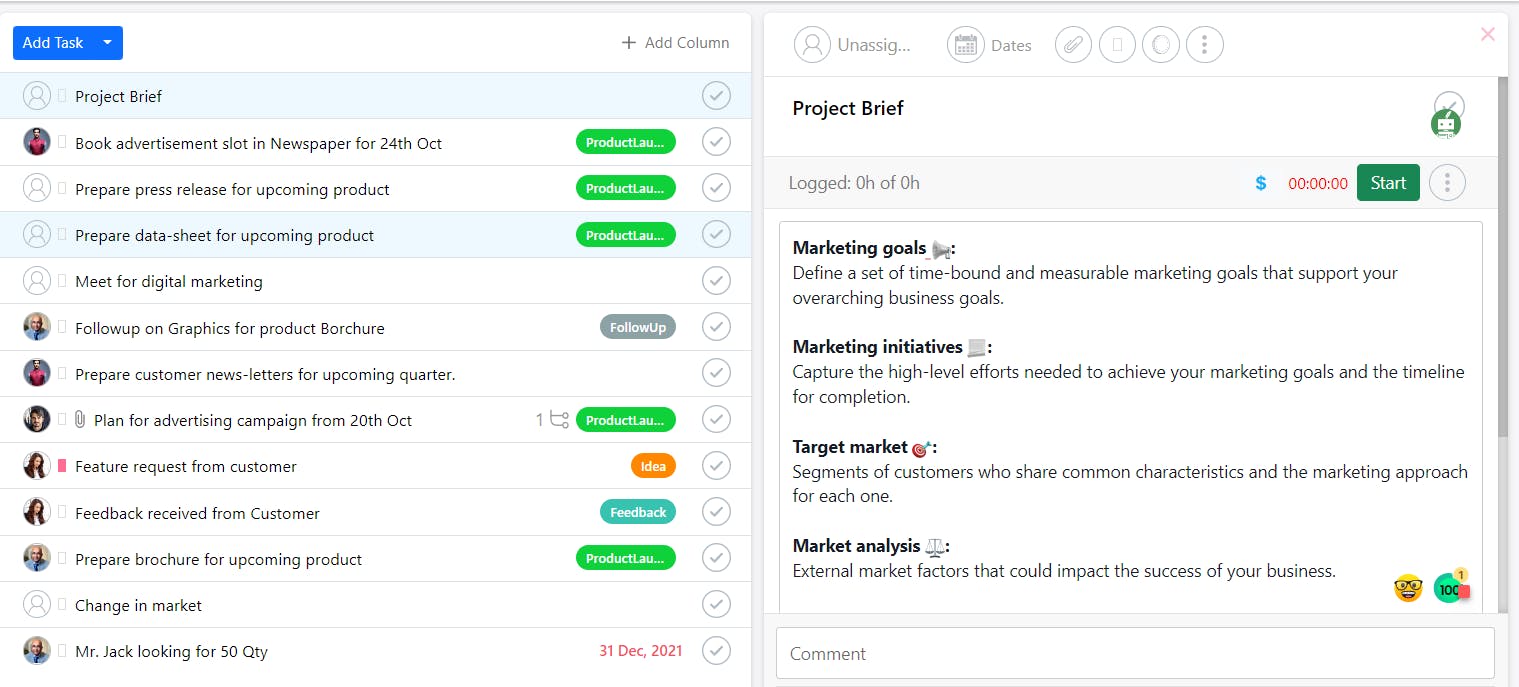 Make sure to assign newly created tasks to the appropriate team members to ensure transparency about who is working on what.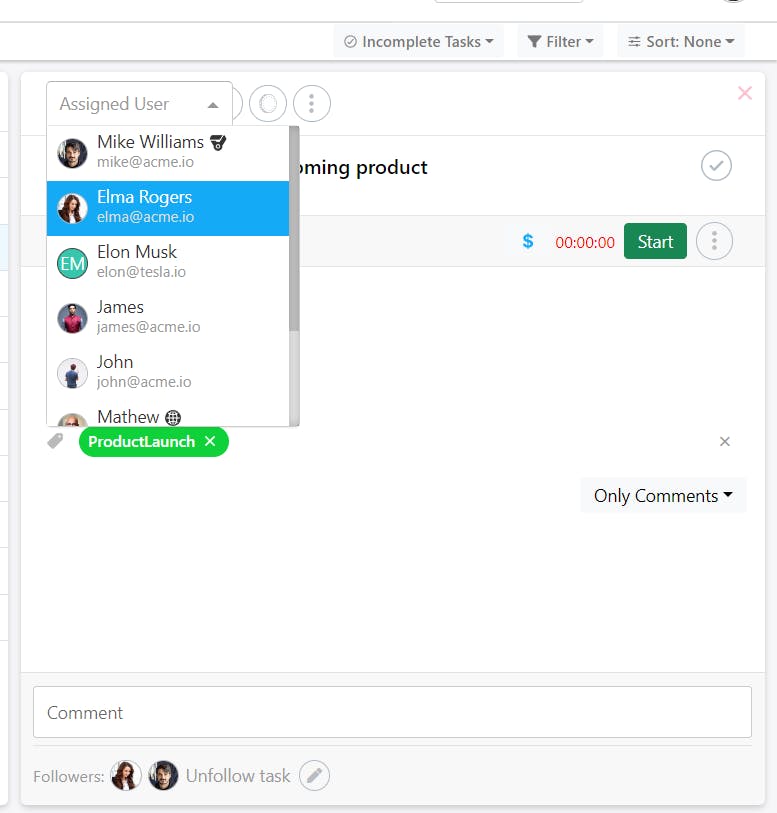 2. Schedule important events and tasks for your marketing campaigns
A marketing campaign needs to follow a strict schedule for all the activities that take place. It becomes easy to visualize and plan your campaign's schedule with SmartTask's calendar view.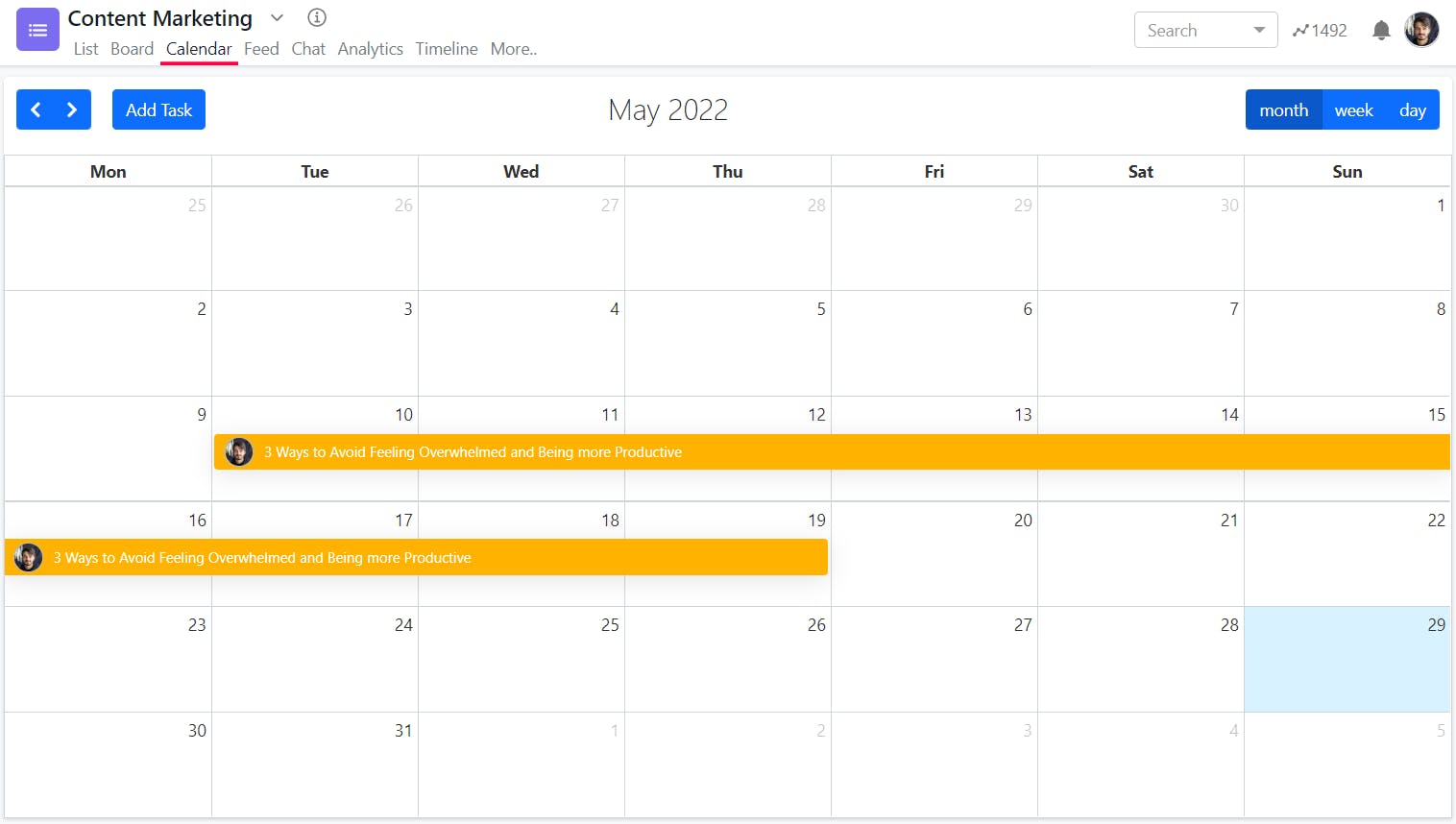 Also, you can easily share the calendar with your team and shareholders to ensure everyone knows the plan that is to be followed.
3. Map out your project plan with a clear timeline
Prior to launch, marketing campaigns have many critical deadlines and dependencies that need to be taken care of. A timeline helps you map these out in your plan before you start to ensure all the pieces fit together to achieve your goal.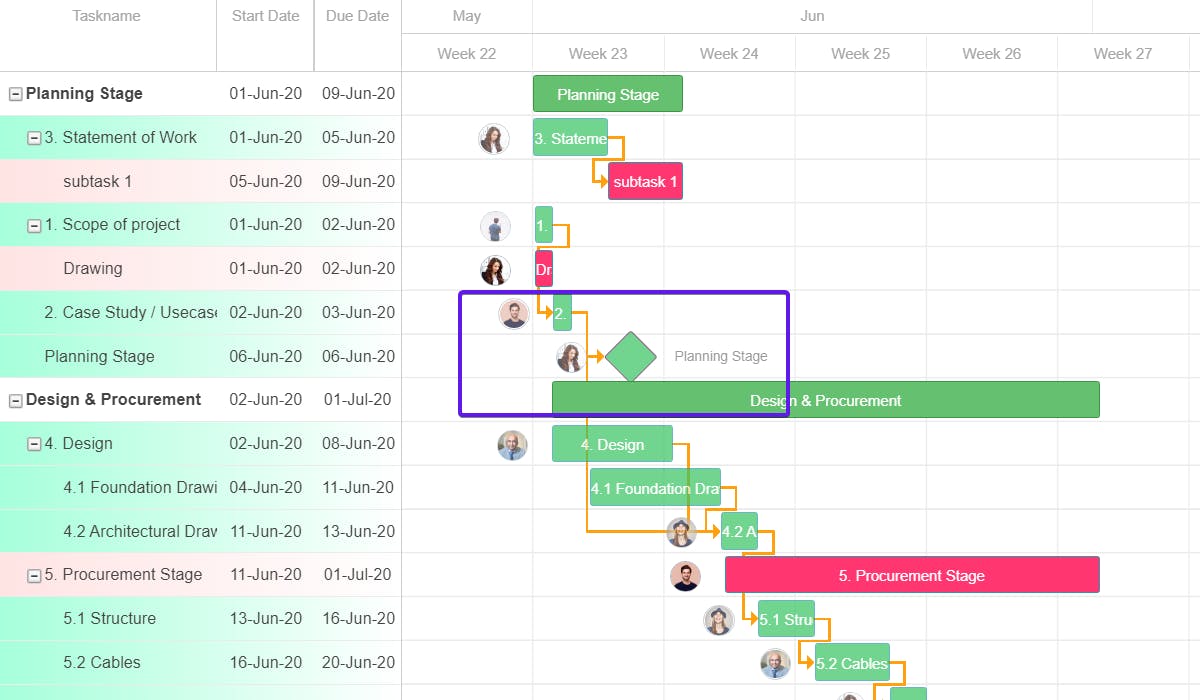 With an overview of your project's timeline, you can check if any important events are colliding and reschedule them, simply by dragging them.
If there are tasks that are to be completed in a certain order, you can create dependencies between them. It also shows you the critical path which should be followed to meet the deadlines on time.
You can also save your initial plan as a baseline for future reference.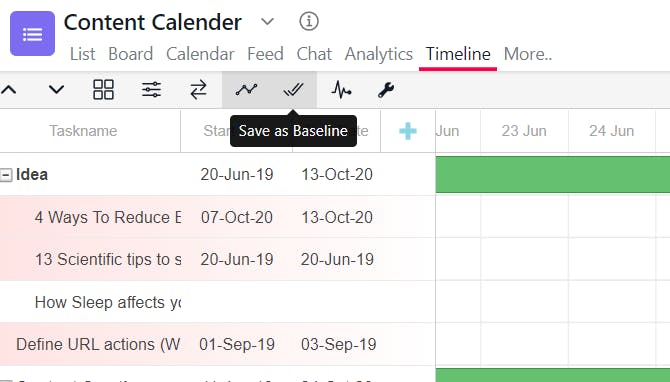 4. Capture relevant creative brief details and action them faster to meet deadlines
Creative briefs help marketing teams capture important details about a campaign's goals, audience, and requirements. Such documents should be easily accessible to your team at all times because they can slow down the entire process if not completed on time.
Attaching the docs to the task itself or sharing feedback and important information directly via task comments and mentions, makes it easier to keep track of everything and implement briefs and feedback at the earliest.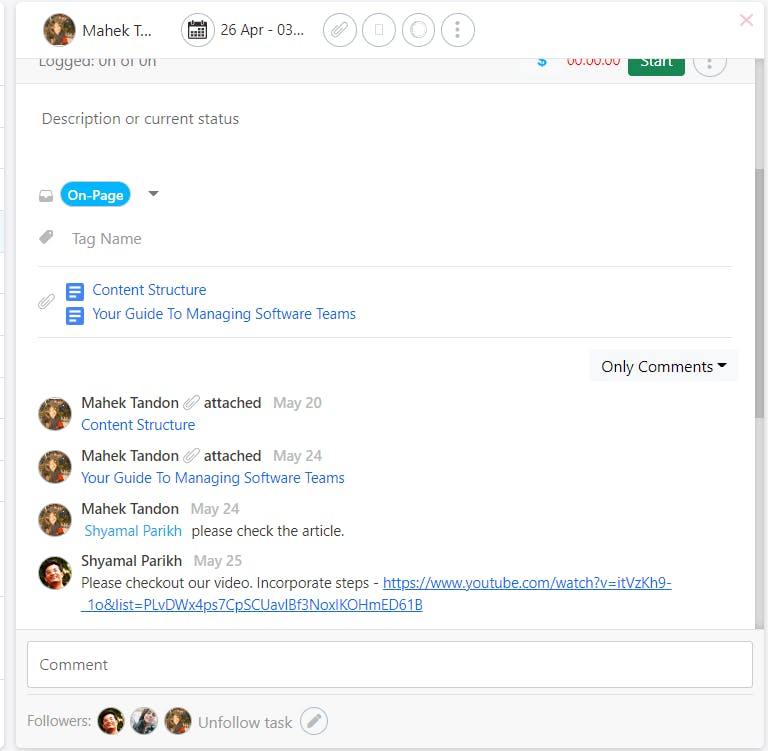 You can also add stakeholders and clients as followers on the task, and tag them in comments for review and approval.
This helps your team collaborate better, work faster, get approvals quickly, and hit the deadlines on time.
5. Have more effective meetings to discuss the campaign strategies
Regular meetings with your team, agency or cross-functional partners make it easier to see where work stands and what topics you should really cover. Focus more on discussing strategies and ideas instead of doing general updates around the room.
You can create a recurring task for regular meetings, and use the video meeting option on the task itself.
The benefits of conducting meetings on SmartTask are that you can create tasks for action items as they come up in the meeting; you can take notes and mention important points as task descriptions or comments.
You can also mention the agenda behind the meeting and the important things to be discussed in the task description box so that nothing is missed out.
For regular updates, you can use the SmartTask's news feed feature and keep everyone posted on what's happening.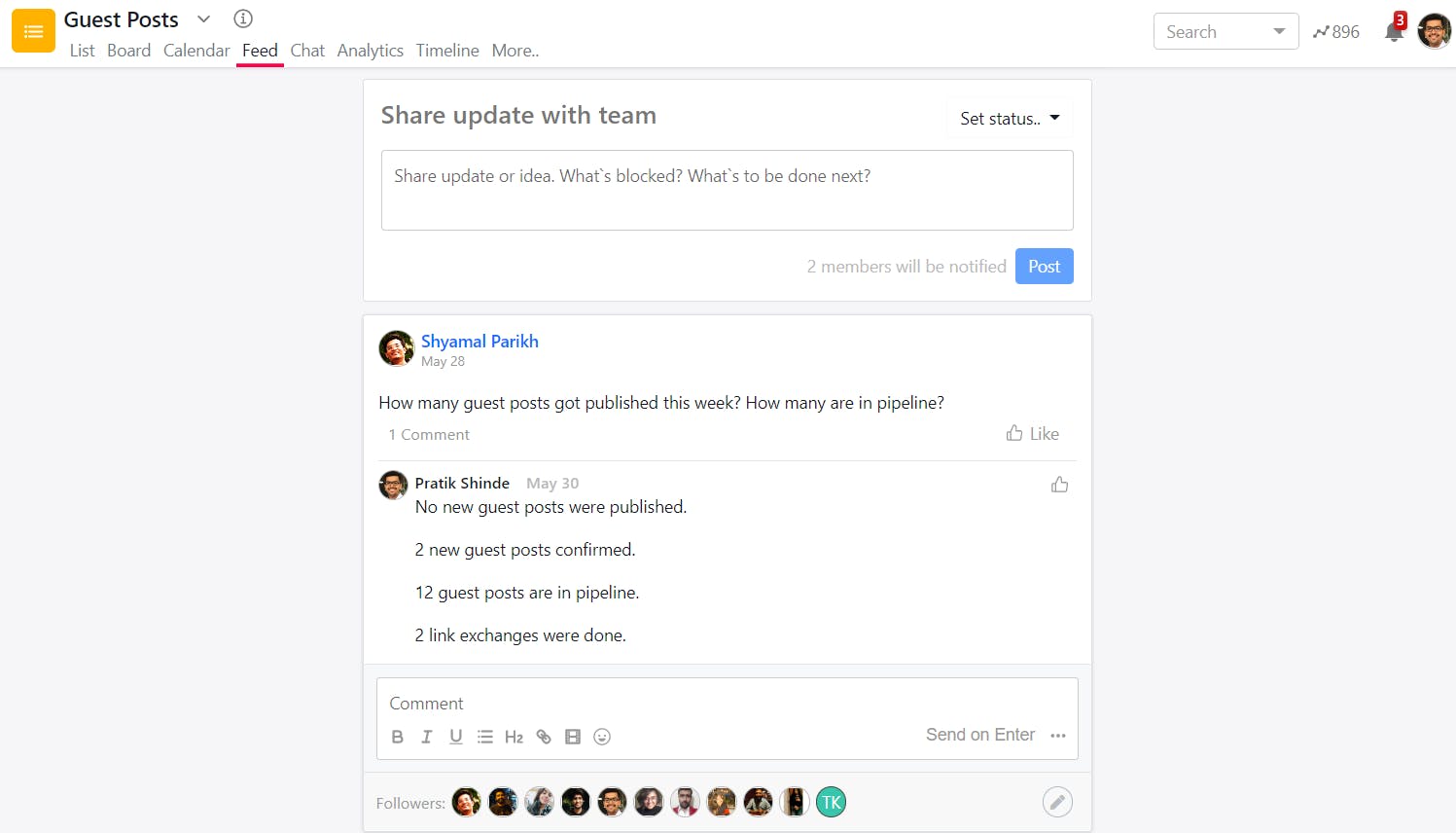 6. Manage priorities and organize campaign work with custom fields
While using spreadsheets, you might sort and filter columns to make crucial facts easier to see. Custom fields are a far more powerful substitute because they help you add more information to each task and track it in a way that suits your team's needs.
You can add a "priority" custom field to your campaign project, and prioritize each task or as needed so that each teammate knows where to focus their attention. Then you may sort your project to show the highest priority tasks at the top to ensure they're on schedule.

7. Prevent duplicate work by tracking campaign tasks in more than one project
Campaign work often ties into other marketing activities—maybe as part of a sales activity, customer service, or product launch.
Teams might not be aware of work happening in other initiatives or projects, which means they spend more time coordinating or might even end up working on the same thing twice.
However, with SmartTask, you can create the same task under multiple projects without duplicating work or managing the same task in two places. This saves time and prevents the two teams from putting in extra effort on the same task.
The tasks are the same across every project you add them to, so all the files and comments stay in one place. This allows teams to use it as per their requirements, and stakeholders will see it in a context that makes the most sense for them.
8. Monitor the progress of all your campaigns with Portfolios
To get status updates and see team bandwidth, managers usually piece together information in meetings, emails, or spreadsheets, which can be time-consuming and inaccurate.
Instead, create a project portfolio to get an overview of all your campaigns at once. At a quick glance, you will be able to see the progress of all these campaigns.
You can further get insights on the project status, number of tasks pending, deadline, priority, and owner in just a few clicks.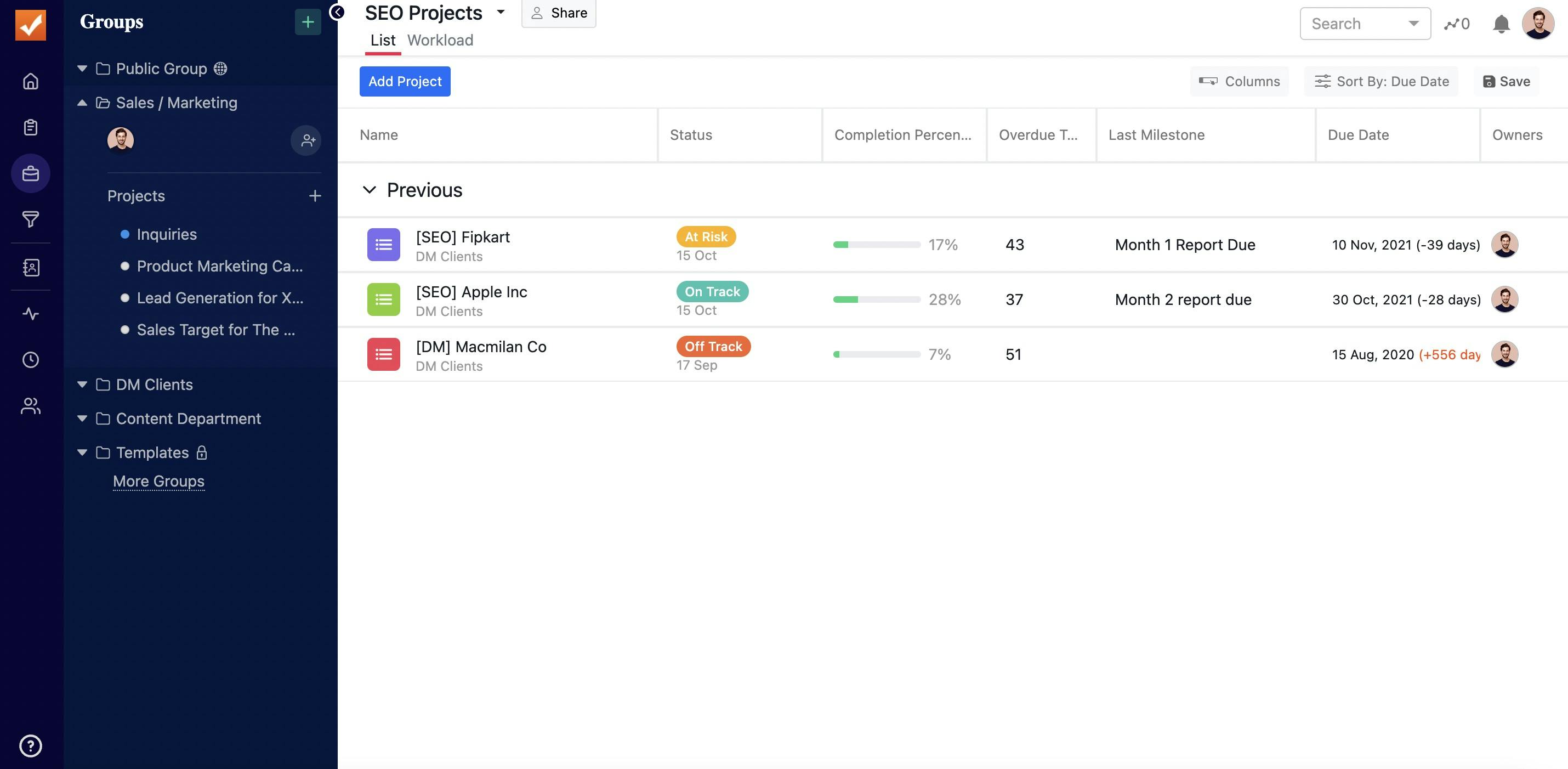 9. Manage staffing across all campaigns and balance the workload
It's important to understand the capacity of your team based on the work assigned to them and make sure no one is under or overworked. Such insights can be obtained with SmartTask's workload view.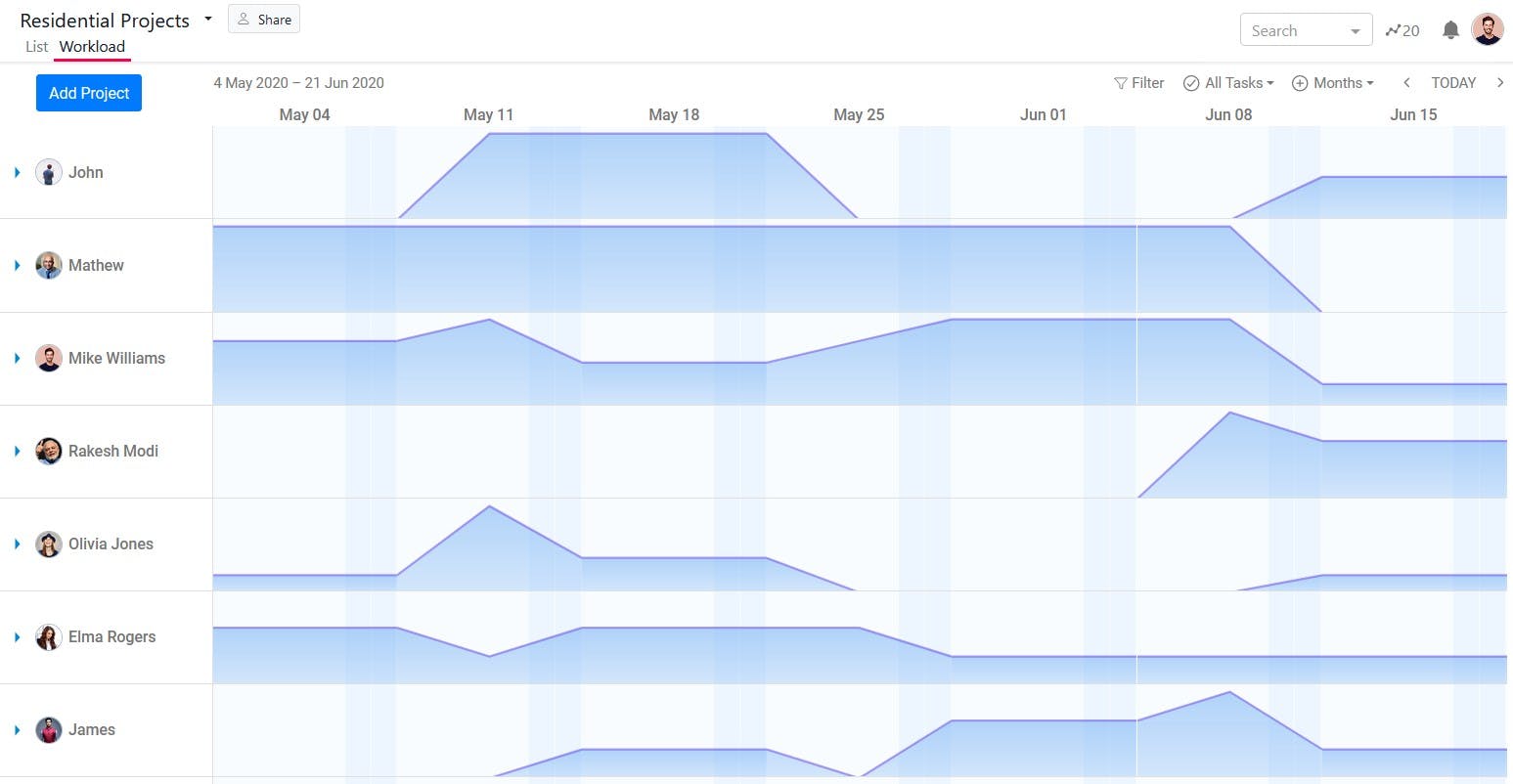 Having this knowledge will help you make informed staffing decisions. If you see someone is overworked, you can either extend their deadlines or transfer the task to someone who is underutilized.
This way, you will be able to balance workloads and complete projects on time.
10. Save time on every campaign and never miss important steps with templates
Though each campaign can vary, there is likely a core set of tasks that need to happen every time, or for each campaign type.
Instead of spending time recreating the plan for each campaign from scratch, you can build projects and save them as templates in SmartTask.
Once you save your project or process as a template, you can use it for future campaigns. You can always make changes to the template as needed.
SmartTask already has many existing templates to help you get started with your campaigns.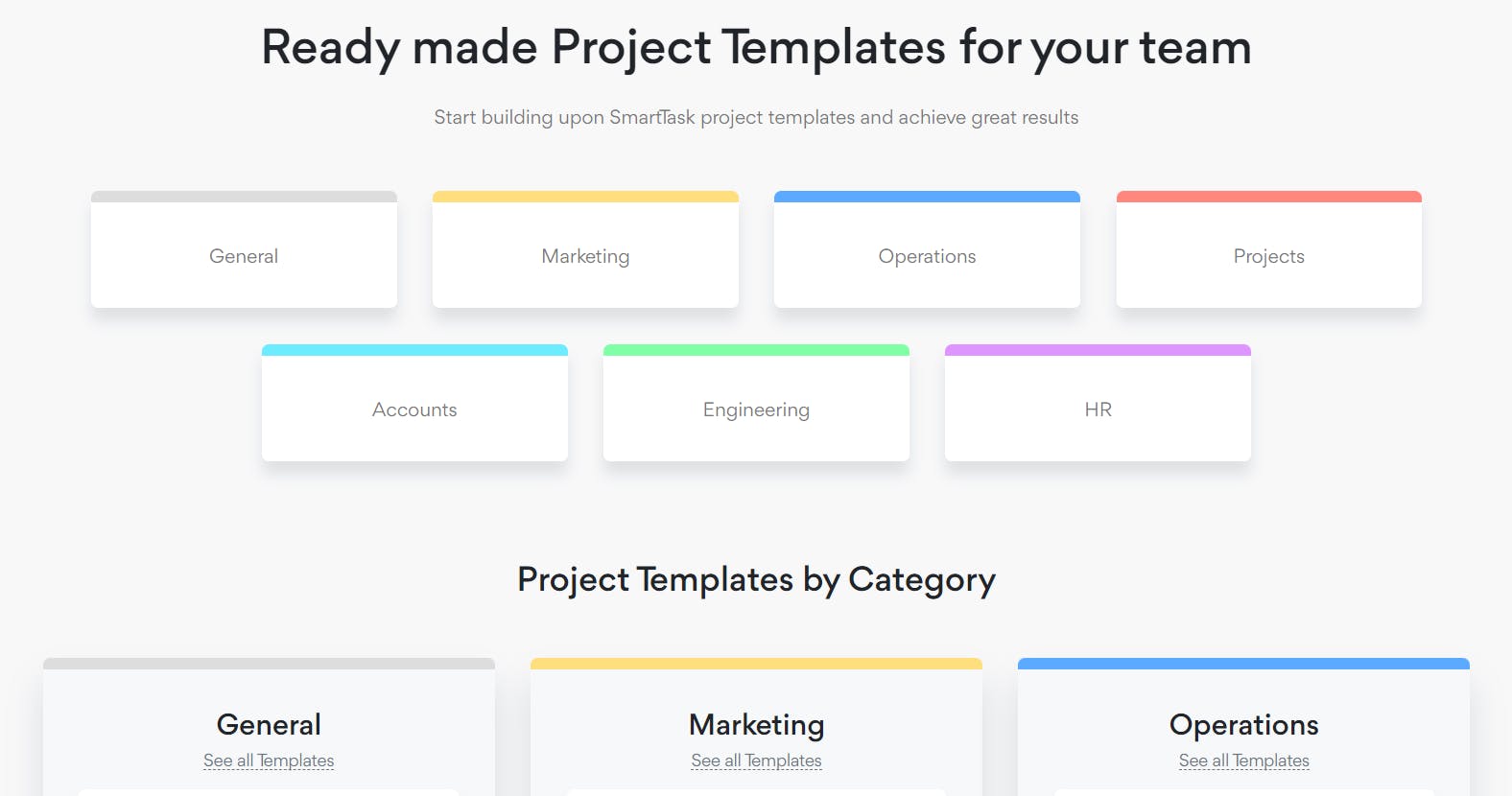 This is how you can manage and monitor your campaigns and teams effectively.
No matter what area of expertise you have or what level of expert you are, SmartTask is a robust tool that can help you increase your productivity and maximize your business.
Best Campaign Management Software: SmartTask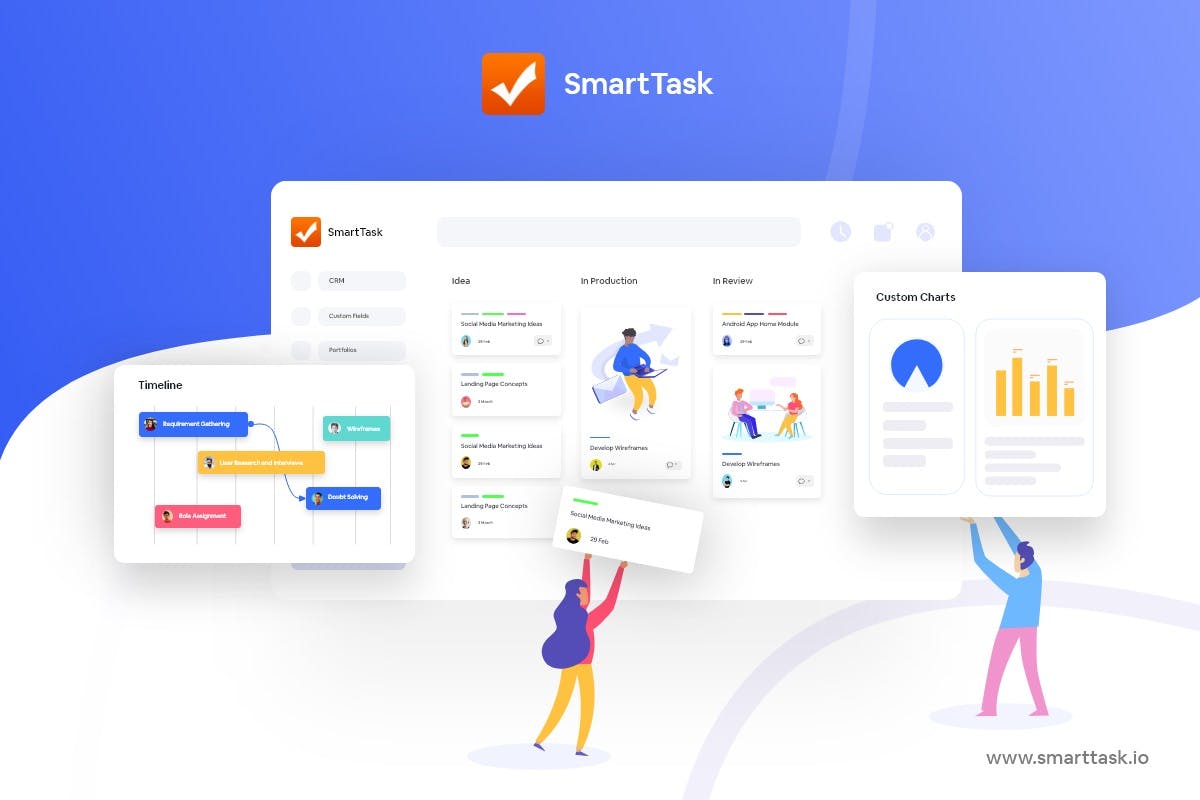 The fact that SmartTask helps you at every stage – from planning to tracking – leaves no doubt that it is one of the best tools for managing campaigns.
It is a robust project management tool that makes a manager's life easier while making the teams productive and more efficient.
It offers a range of features and functionalities that will help you manage your projects/ campaigns with ease:
Multiple Views: Each team prefers looking at data differently. With SmartTask, they have an option to choose between Board view, List view, Timeline, Calendar view, and more.
Portfolios: get a high-level overview of everything that's happening in the Workspace.
Workload view: Plan and allocate resources effectively such that no team member is under-utilized or overworked. It also helps you predict resource requirements.
Time Tracking: Track the exact time your team members have spent on a particular task. This helps with transparent and error-free client billing.
Task Management: Set task dependencies, due dates, priority, and tags.
Comments & File Sharing: Share all important information, attach files, and give feedback through comments on the task itself.
Newsfeed: Save hours of standup meetings with feed updates and automated Check-Ins.
Team Communication: Seamless real-time communication with individuals or teams via chats, voice-recorded messages, and video meet.
Automation: Automate repetitive project tasks for better project performance.
CRM & Sales: Visualize sales analytics - estimated sales, sales funnel, and user-wise analytics. Move inquiries across multiple stages and have clarity on past conversations and next action points.
Project Dashboards: Customizable dashboards that help you analyze your projects, and get updates on work progress in real-time.
Guest Users: Invite clients or third-party collaborators as guest users with limited access.
White-Label: The white-labeling feature lets you brand SmartTask's platform. Therefore, inviting your clients to your online workplace won't be a problem anymore.
Custom Analytics: Once you are done with the project, you can easily check on the performance, and key metrics and download it as a report for evaluation and future reference.
Reminders: Alerts, notifications, and reminders to keep teams on track.
Pre-made templates for marketing and other processes as well.
1000+ integrations: Seamless integrations to help you achieve almost everything from one single platform.
Available on almost every platform: Web, macOS, Windows, Linux, iOS, and Android.
It's Free Forever!
Get a free consulation on managing your marketing campaigns with SmartTask today.
FAQs
What Does a Campaign Manager Do?
A campaign manager controls and oversees the 4 aspects of campaign management: planning, execution, tracking, and analysis.
This role may be undertaken by a dedicated project manager or, as is often the case, by a department manager such as a sales or marketing manager.
What are the different types of campaigns?
Typically, campaign management refers to advertising and marketing initiatives, but it may also extend to sales and support.
Let's take a look at different types of campaigns:
Advertising campaigns - The ads we see on various platforms and even offline through banners and posters.
Marketing campaigns - The promotion of a brand via social media, blogs, emails, content marketing, collaborations, and other forms of digital marketing.
Sales campaigns - These are mostly targeted at converting leads and retaining existing customers/ clients.
Customer support - This is again aimed at retaining your customer base and improving their experience with your brand and products.
How to plan a successful marketing campaign?
Before you start the planning process, understand who your target audience is.
Set campaign objectives to fit your goals and a budget to support the actions needed to achieve those goals.
Properly segment your audience to drive campaign efficiency, provide a better customer experience, and increase conversions.
Determine an ideal marketing mix in terms of content and channels. For example, lead generation campaigns could use PPC advertising, email marketing, account-based marketing, or social media advertising. Thought leadership campaigns could use blogging or content marketing.
Create compelling offers and CTAs. Motivate your target audience to take the desired action, such as clicking through to the offer, visiting a store, leaving a review, or taking another step in the buyers' journey.
Use analytics to measure campaign success and understand what's working and what's not.
Use the right tools to visualize, manage, and track your campaigns and teams throughout the entire process.