SmartTask
Contents
How to Create a Successful Product Launch Plan
By Shyamal ParikhMay 16, 2022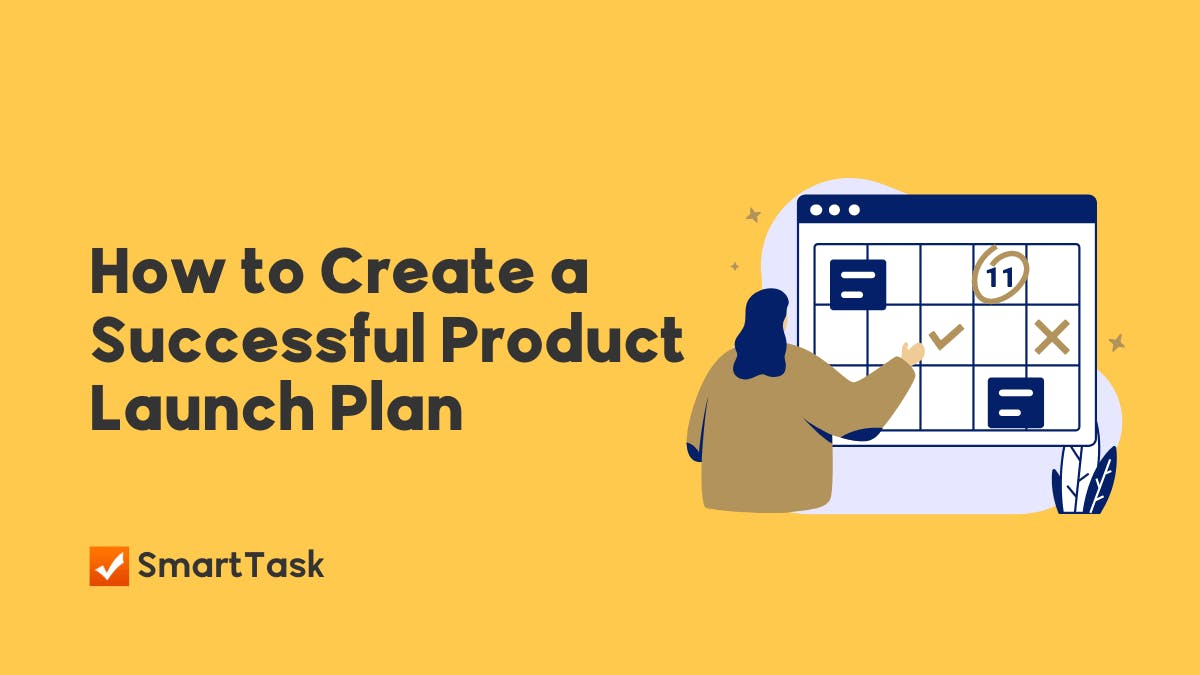 Launching a product can be an incredibly exciting and simultaneously scary experience. It's a lot of risks but can also be very rewarding. Having a great product launch plan can make sure it's more the latter than the former.
Having a successful product launch means having a comprehensive and holistic product launch plan. By not having one in place your product faces a much greater chance of failure.
But what exactly is a product launch plan?
What is a Product Launch Plan?
As obvious as it sounds, a product launch plan is, well, a plan to help you launch your product.
This is the plan you use to bring a new product to market. Consisting of different strategies and procedures, the goal of a product launch plan is to ensure that when you launch your product both your colleagues, partners and customers know what it's all about.
Ace Team Collaboration with SmartTask. Features such as Task Comments, In-built Chat, Video Conferencing, and Reminders ensure that all your team members are on the same page from beginning to end.
Why do you need a Product Launch Plan?
The reason why you might consider making use of a product launch plan is the same reason you would need the plan to accomplish anything.
As the old adage goes, "Those who fail to plan, prepare to fail".
Product launch plans enable you to determine whether or not your strategy is effective, list the type and extent of resources you require, perform competition analysis, and a host of other criteria that you'll need to understand for your product launch to be successful.
What Should a Product Launch Plan include?
Here are elements of a great Product Launch Plan:
1. Have Clear Launch Goals
It's important to have a clear idea of what you want from your launch.
Your goals may be purely sales-orientated, client-focused, or about demonstrating the superiority of your product as opposed to your competition. All of these are fine goals to have, but it's good to know what your specific goal is to help focus your planning.
2. Identify your Business Intent
Your business intent is incredibly important. It is the reason your business was formed. What makes it special and what needs does it aim at addressing?
By being able to put into words what makes you better or different from your competitors, you enable your colleagues, partners, and customers to understand your business better.
3. Identify your Potential Customers
Consumer research should be a part of your day-to-day activities as a company.
This enables you to not only understand your target audience or clients but understand what they need and want from you and your products.
Creating consumer or buyer profiles helps you understand who is buying and using your product and what they want from you in general. Backed by data like product demand analysis, surveys, and interviews, these profiles act as an example to inform the rest of your product launch plan.
To provide value to your customers, you need to understand just what it is your customer value.
4. Analyze your Competitors
Thousands of years ago, Sun Tzu spoke about the merits of knowing your enemy. Ask anyone in any field, anywhere, and they'll tell you that nothing has changed.
Knowing what the competition is up to is important.
If you don't know what the competition is up to, you may wind up launching a product or campaign that simply doesn't compete.
You can accomplish a lot by seeing what is and isn't working for them. By looking at what their product offers, what they do right and wrong, and what makes your product better you'll know exactly what message to send and relate to your target market.
5. Create a Solid Product Positioning & Product Messaging
Finding out where your product stands in the market and how you'll present your product to your audience are vital parts of your product plan.
Doing so will require key knowledge of several factors such as how much you'll charge, how it fits and integrates with different applications, your target audience, what makes you better than your competitors, and what exactly you and your product represent as a brand.
From this, you'll need to find the words to articulate your product while staying "on-brand". Use this to influence everything your brand uses to communicate.
It's important to remember to communicate this information with every aspect of your team. They're vital when it comes to your product and ensuring consistency, knowledge-wise, across your brand.
6. Decide which Marketing Channels you will focus on
When it comes to advertising and marketing, it's important to remember to tell a story through your messaging.
This messaging should be persuasive and communicate your brand values to both your customers as well as your team. It should also be adjusted to fit the tone of the marketing channel you'll be using and your target audience. These channels include:
Social Media. From Facebook to Instagram and these days Tik Tok, today's world is increasingly Social Media orientated and if you're looking to access Gen Z and Millenials, social media simply can't be forgotten.
Email Marketing. While many may think of email marketing as spammy and ineffective, branded product launch emails are still one of the most effective ways to communicate with potential customers. It's also a sign of professionalism that can never be understated.
Blogging. Blogging is still seen as an open honest means of talking to an audience. As such, its impact cannot be forgotten, especially if you're communicating your product to an already interesting base or a base that could gain value from what you have to offer.
SEO & Link Building. Google's algorithm is one of the most important factors when it comes to being seen by customers looking for the type of product you have to offer. When a potential customer is searching for what they need, it's excellent SEO and Link Building that will have your website, content or product appear at the top of that list.
Online Advertising. Online advertising can offer you the most direct route to reaching the customers you're looking to acquire. With increasing digital targeting thanks to vast amounts of data collection in today's world, online advertising is one of the most effective options out there.
7. Perform Beta Tests
Often glossed over, beta tests are crucial when it comes to launching a product.
When you launch a product, more often than not, you tend to see the benefits and none of the negatives.
Especially when it comes to user experience or interface issues. Feedback is extremely important if you want to improve your product and by opening up your product to beta tests, you can ensure the product you're offering is the one the customers want and need.
When it comes to fine-tuning, there's no better teacher than opening yourself up to a bit of criticism.
8. Create Your Pitching Deck
If you have to pitch your idea, strategy, or plan, it's important to make use of a pitching deck.
Investors, executives, and bosses need you to boil down and simplify your plan while still keeping it informative.
A great pitch deck helps you raise funds but its most important goal is to get you to the next meeting and is used to tell the story of your business.
9. Participate in Startup Competitions (If you're a Startup)
Being a startup is hard. Especially if you're low on funds. That's where startup competitions come in.
Startup competitions are a great way for you to network, pitch your idea to investors and ultimately, help get your product or business off the ground and help it move from idea to reality. There's a huge amount of competition out there, so try and pick competitions that offer a variety of rewards and benefits, even if you don't win.
Startup competitions help you become even more intimately familiar with your business, perfect your pitching skills, provide feedback, validate your idea, and can even help you sprout new ones.
10. Announce your product on Product Launching Platforms
Product launch platforms are a great way to announce your product at little to no cost while achieving great exposure.
Platforms offer a wide audience who can download and test your product and give you access to journalists, bloggers, and other members of the industry that are relevant to your product. There are more than a few options out there, but the most popular and effective are:
BetaList
ProductHunt
Launching Next
Each option offers something different so you must choose the right one for you, your product, and its goals.
SmartTask offers a ready-made template that allows you to plan every stage of a product launch with ease.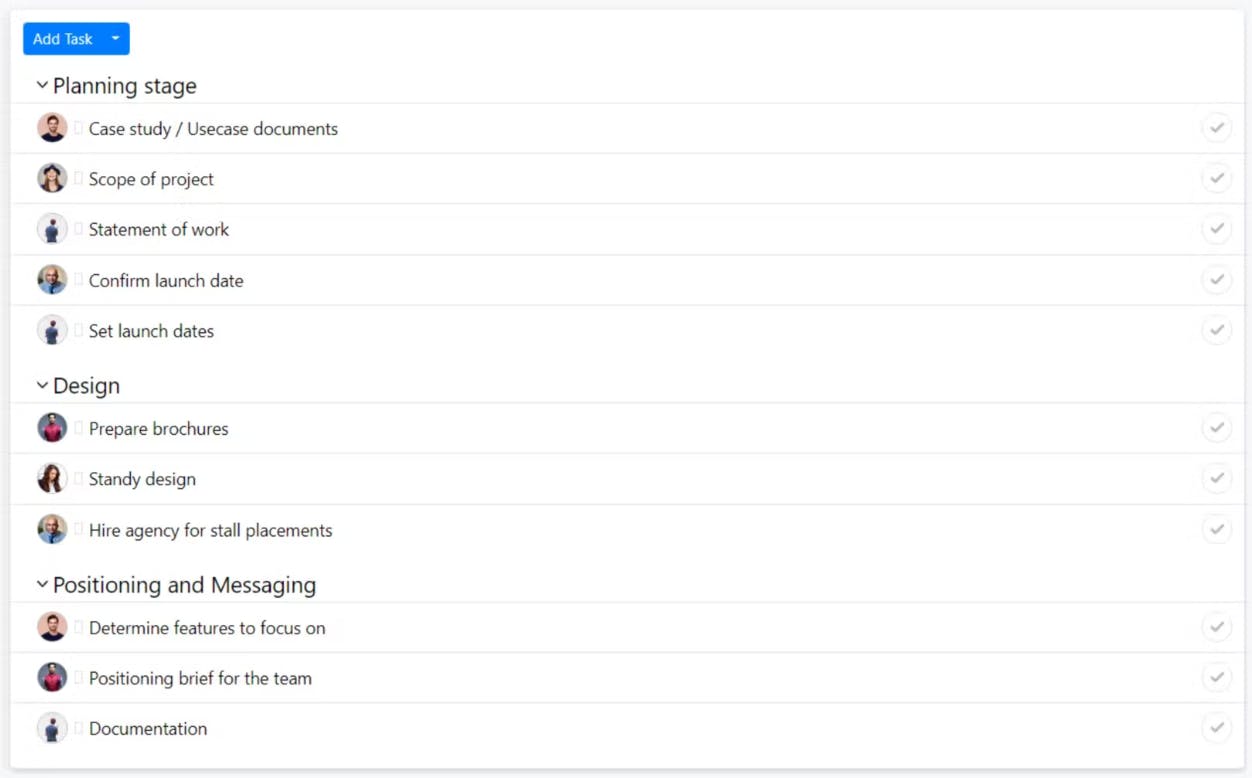 Product Launch Plan Checklist
When you're developing your product launch plan, it may be useful for you to make use of a checklist to make sure you have everything covered. For you to have a successful product launch, it's imperative that, at the very least, you consider the following things:
Determine your brand's story, value, and aims
Research and define your audience
Define what success looks like for your product
Identify your key marketing channels
Perform beta testing
Communicate your product to your employees, colleagues, and partners
Use a product launch platform to gain access to journalists and bloggers
Make use of a tool like SmartTask to plan your product launch
Launch
Final Thoughts
No two product launches are, or should ever be the same.
That's why it's important to get your project planning right so the product launch flows as smoothly as possible. Each product launch plan should be custom-tailored to that individual product and the customers it addresses.
A successful product launch is extremely dependent on the project management software that's built to take care of end-to-end planning without switching between different tools. It's safe to say that a successful product launch is highly dependent on how you organize the project scope.
The saying that if you fail to plan, you plan to fail, exists for a reason after all.
Create your product launch plan with SmartTask today!