SmartTask
Contents
Project Initiation Guide – How to start a project the right way?
By Aastha ShawJul 15, 2022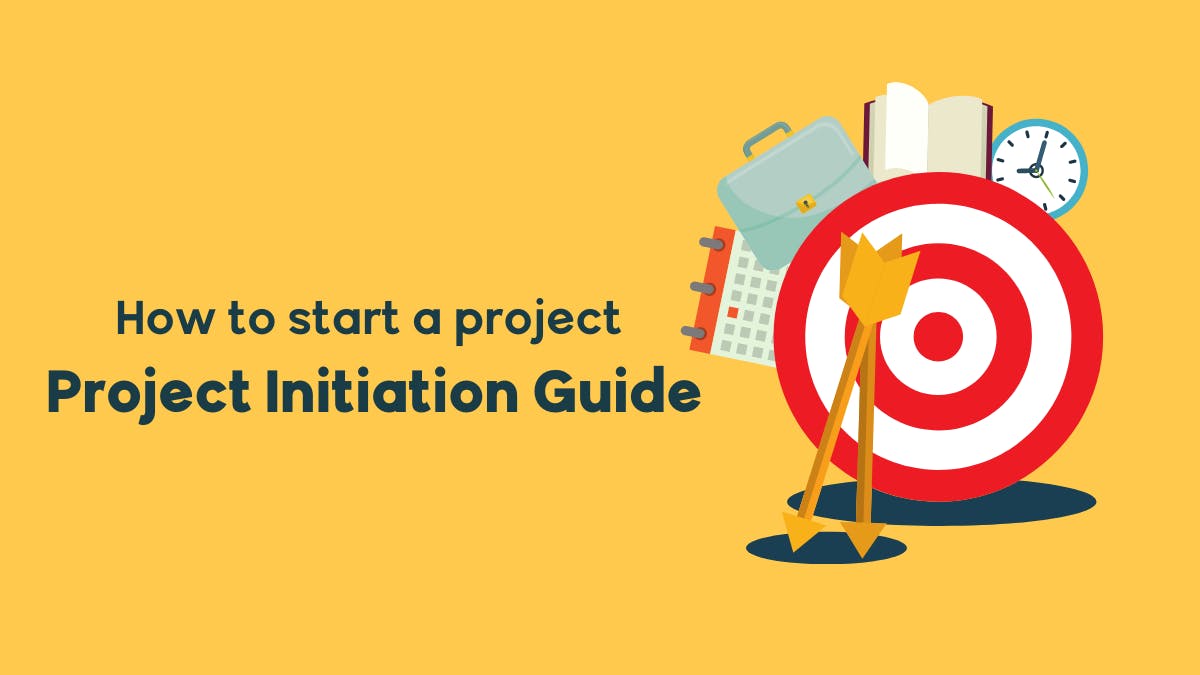 Congratulations on getting a new project! It's exciting at first to be given the lead to manage projects, but soon the clouds of dilemma, doubts and uncertainties start to persist. Like every other Project Manager in the company, you too, want to deliver your best.
But where to begin?
How do you ensure a good start that lays the foundation for a successful project?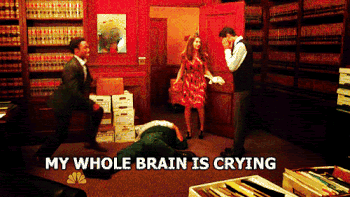 From estimating and scoping to assigning resources, briefing your team, and the all-important first meeting with the client, there's a minefield of tasks that can shape how your project develops. You have to set the tone for success.
So, here we are going to equip you with the right tools, steps, and all you need to know about project initiation to start off your project the right way and hopefully ease the future path.
Let's get started!
What is the Project Initiation Phase?
Starting a new project is exciting, but it's important to make sure your initiative will actually add value before jumping into the planning phase.
That's where project initiation comes in—it offers a structured approach to demonstrate your project's business case and prove that the work you'll do is feasible. Whether you are operating digital marketing agencies or an Online business, Project Initiation is important for any organization.
Project initiation also ensures that you loop in stakeholders early on, so you can secure essential resources, gain visibility for your project, and prevent costly roadblocks down the road.
Once you get the green light in your initiation phase, you can get started with the planning phase of your project.
The Project Initiation Process - 7 Steps to Start Right!
Once you've come up with an enticing new project idea— Here's how to approach the first phase of project management and lay a solid foundation for your new project.
1. Define Your Goals
First things first: decide what you want to achieve. Put thought into the goals and purpose of the project. Set your main goals first, and then break them down into smaller goals that will ultimately lead you to success.
Document your goals and objectives in a project charter or project statement. There are other important factors related to the project to be included in the charter, such as – scope, constraints, budget, etc (we will be covering these in the following steps).
As you decide on your goals, make sure you have a place to map them and share them with your team and stakeholders.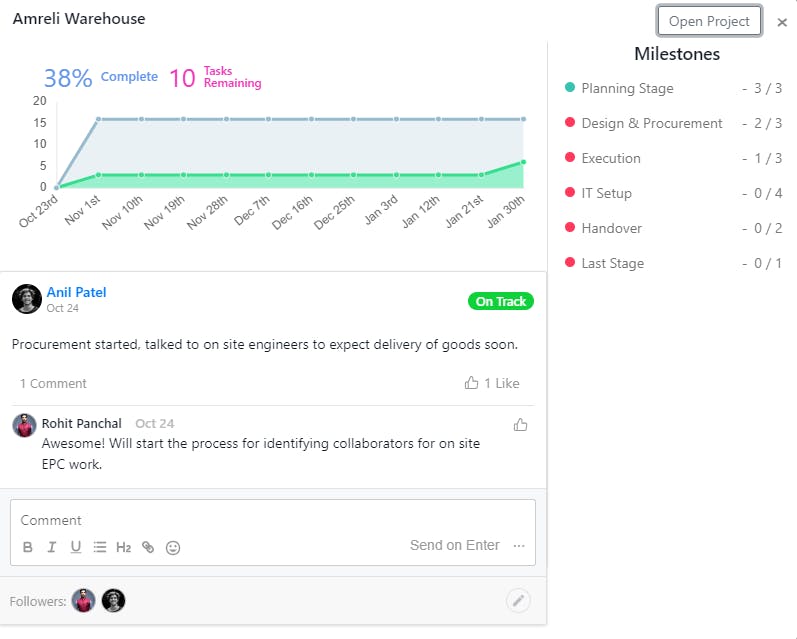 The best way would be to store it on your project management tool where all the work would be happening throughout the project. Make sure to pick a project management tool that can adapt to your organizational needs and not the other way around.
2. Outline The Scope
Once the goals are set it's time to outline the project scope to achieve those goals.
The project scope is a key document that provides all stakeholders and the workforce with a clear understanding of the key goals and why the project was initiated. It mostly includes:
A detailed breakdown of all work to be performed by a project team
Any important elements that may impact the outcome
Constraints that might limit or negatively impact the outcome of the project, including resources, timing, or lack of information
Defining what will not be a part of the project
Milestones that provide the exact date that something will be delivered or completed
The final deliverables that will be provided to the customer at the end of the project
Now that you know what work is required, start creating tasks and subtasks based on it, and make sure you are defining what is expected of the tasks so that your team would be on the same page as you.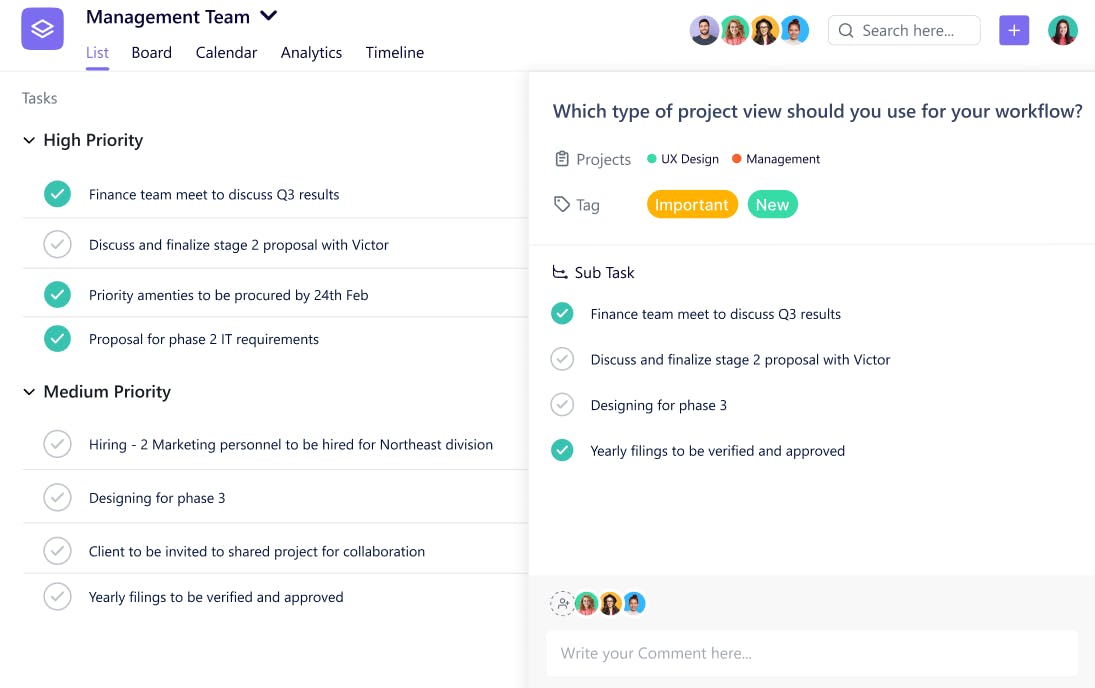 3. Budgeting and Timeline
Once you've broken down work into smaller components and have a rough project scope, you can now break down the timeline of each. You may break tasks down into hourly, daily, weekly, or even monthly chunks, depending on your project's timeline.
You should provide a rough estimate for tasks that are dependent on other tasks or are less clear in terms of timing. Someone looking at your project brief should be able to understand how the tasks will be executed.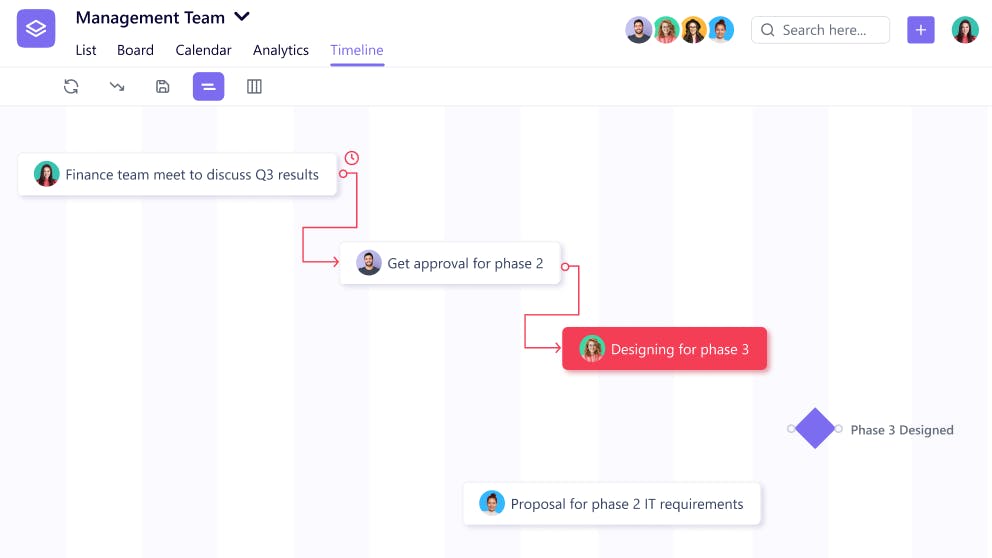 Give yourself some wiggle room! If you think something might be completed somewhere between November 3-6, for example, put November 6. Worst-case scenario, you finish early. 😎
Now that you have a timeline and team shape ready, put the cost against it.
Make sure to run a thorough cost analysis before coming up with the project budget and keep room for emergency scenarios such as machine breakdowns, strikes, team members falling ill, procurement issues, etc.
4. Defining Who Is Involved And When
Once you know what is going to happen with the project, it's time to get stakeholders on board.
Whether it's a client or internal stakeholder, it's really important to be clear on who is doing tasks, signing off deliverables, or reviewing and providing feedback. Once you are clear on who is involved, define when and how communication will take place with the stakeholders.
Review what you feel is necessary for updates and meetings with your core stakeholders and how often. Depending on the requirements, the updates can take the form of daily standups, weekly reviews and reports, twice-a-month meetings, a meeting after every phase, and so on.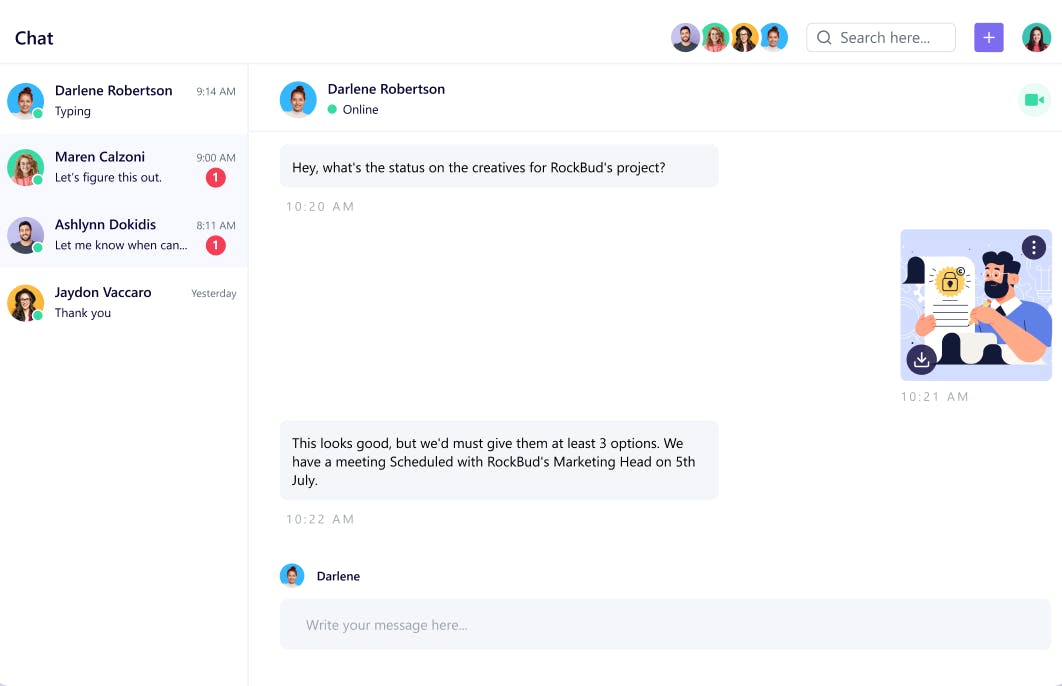 It would be best to invite them to your workspace so that they would know what is happening at all times, making your work a little easier.
5. Assemble the Team
Setting up the right team is crucial to project success. To start with, review your project deliverables and work out what team structure you need.
When you're thinking about who to book on a project, make sure to take into account the following:
Availability (will they have the time to dedicate)
Skills (what will they need to do)
Experience (what will they need to have worked on before)
Budget (can you afford them)
Stakeholders (how will they need to communicate)
It's a good idea to speak with the varying discipline leads if you have them so that you don't make assumptions.
Once the team is in place, conduct an internal kick-off meeting where you explain the objectives, and assign roles and responsibilities to each team member.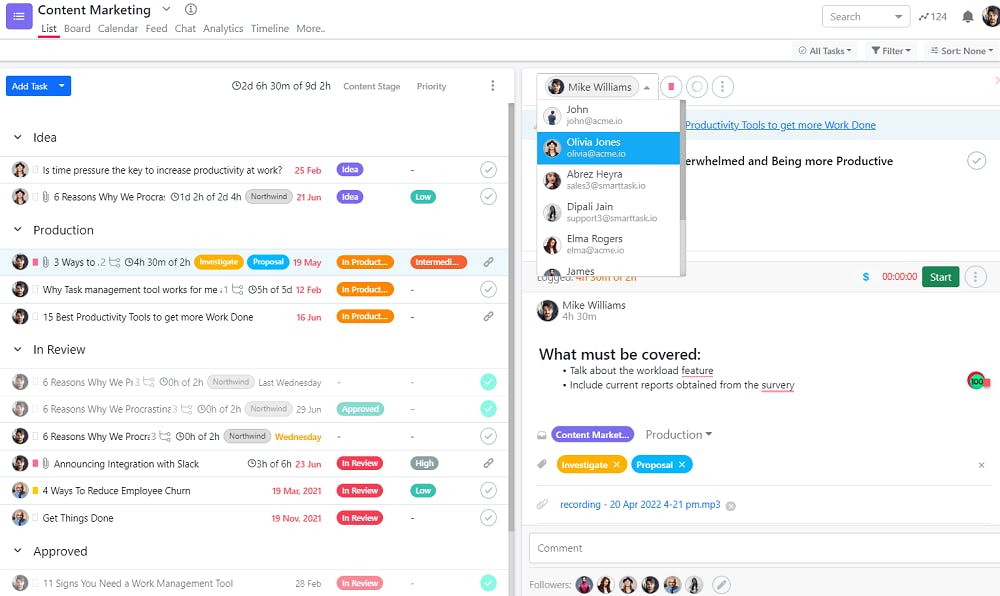 Assigning roles and responsibilities early in the project's life cycle also increases overall accountability on the team, which will assist you later on as the manager.
6. Project Kick-Off Meeting
Once you are done with team formation, it's time for the kick-off meeting to introduce the team and stakeholders where you sync up and discuss everything that will guide the project to success.
Make sure you have a clear agenda. Keep your meeting contained and relevant. Here are a few things to run through in the meeting:
Introducing your team and describing the roles and responsibilities
Discussing the project deliverables, timeline, milestones, dependencies, budget, and risks
Setting clear expectations
Setting the tone for the coming weeks
Keeping stakeholders involved from the start and receiving their approval on everything will help you stay away from major changes, delays, and disappointments later on.
7. Tracking and Monitoring
Once you have the approval, it's time to get into action!
With your tasks in place and roles assigned, you can get a smoother start to your project.
As your project unfolds, don't forget to regularly track the progress of your project. Here's why tracking your projects is important:
Maintaining the project requirements and quality by ensuring tasks are completed on time.
Ensuring that critical deadlines are met.
Monitoring employee workload and capacity to make sure everything is done on time without overstressing anyone.
Identifying challenges on time and taking necessary actions on time.
Tracking the cost so that your project does not run out of budget.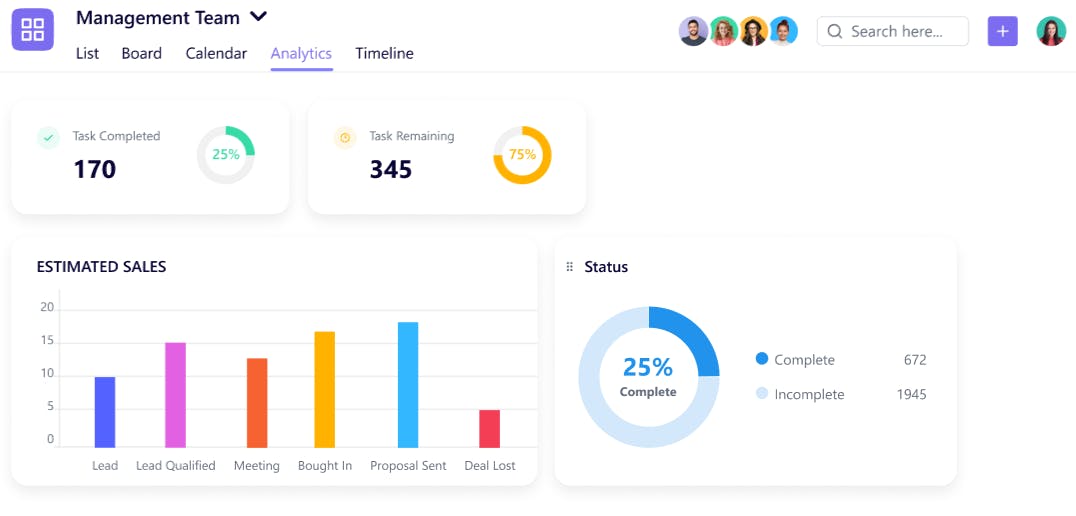 Half your work will be sorted and simplified with a robust project management tool by your side.
A free and user-friendly tool like SmartTask can go a long way in taking care of all your project needs, from documenting to managing teams, communication to time tracking, reporting to billing, and much more.
Join 50,000+ Project Managers Who Manage Their Work Using SmartTask