SmartTask
Contents
monday.com vs Asana: 2023 Comparison (Features, Pricing)
By Angad SinghJul 28, 2022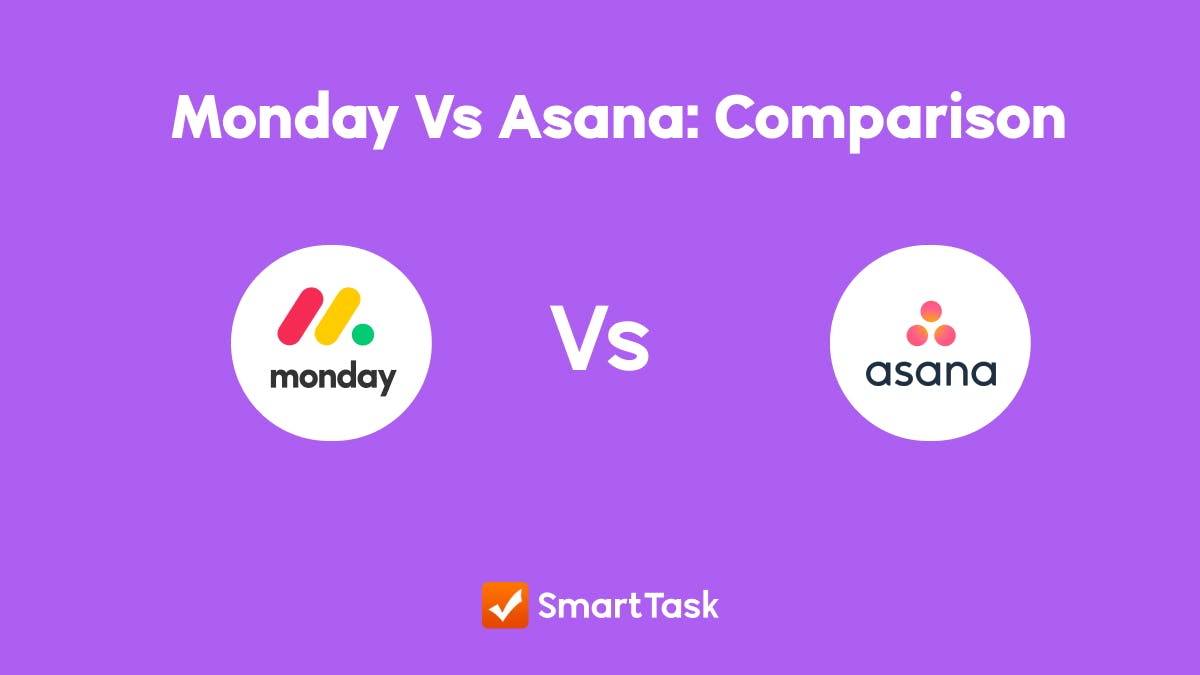 David vs Goliath. Ali vs Frazier.
Batman vs Iron Man.
Coffee vs Chai (or Chai Tea Latte, if you're white).
History has borne witness to countless showdowns.
And today... another shall enter its books.
The stage is set for two work management gladiators to go toe-to-toe.
It's Monday vs Asana.
The stakes are high, and only one shall emerge victorious.
So, scroll along, wise reader...
Read the blog to the end and find out who wins this duel.
What is Monday?
monday.com is a platform that boldly enters the work management arena as a Work OS: a single source of truth to handle all your workflows.
It is razor-sharp in its positioning and offers end-to-end products for different aspects of your business.
In Monday's own words, it fosters a new way of working.
What is Asana?
Asana is the brainchild of Dustin Moskovitz and Justin Rosenstein.
The former is among Facebook's co-founders, while the latter dropped out of Stanford to join Google as a product manager.
The duo has spent the last 14 years scaling Asana and making it the work management extraordinaire it is today.
In Asana's words, it makes work work for you.
Monday vs Asana: Sneak Peek
Monday Vs Asana: This is how they compare for a fly on the wall: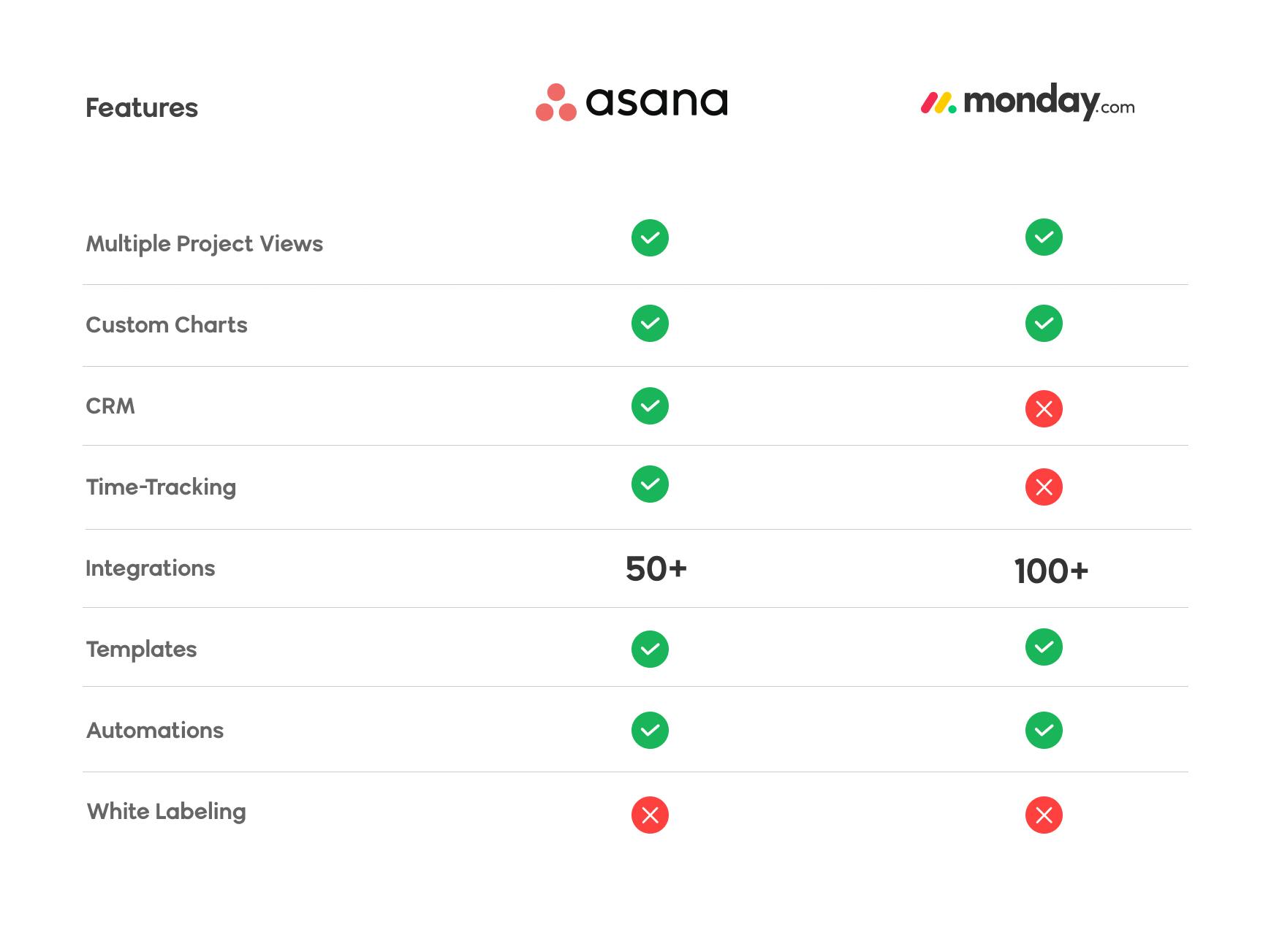 Monday Vs Asana : Key Differences
Time for the nitty-gritty. Here's a detailed comparison between the two:-
1. Task Management and Communication
When using project management software, most of your time will go into adding new tasks and tracking old ones.
These features make it easier to do so:-
multiple project views,
visual dashboards,
milestones,
dependencies,
sub-tasks,
custom fields, and
in-built communication tools.
Let's see how Monday and Asana compare on these fronts.
A. Monday
Monday can present projects in 10+ views, including Table, Kanban, Calendar, Gantt, Workload, and Timeline.
Creating sub-tasks, dependencies, milestones, and custom fields isn't beyond Monday's range of abilities either.
What about customizable dashboards? Cakewalk for Monday.
Where the ultimate work OS falls short is in-built communication. There's no way for you to DM other people in your team or project.
The best you can do is leave comment updates on tasks.
B. Asana
Asana can do all that Monday does and a bit extra too.
It lets you create nested sub-tasks (sub-tasks within sub-tasks) and boasts more interactive Gantt charts in its Timeline view.
Multiple project views and customizable dashboards are a standard affair.
Creating dependencies, custom fields, and milestones is pretty straightforward too.
But where Asana most outshines Monday is in its team communication features. You can add comments to tasks, send DMs to specific members, and even broadcast project updates to the entire team.
Verdict: The force is strong with Asana here.
2. User Experience
Airbnb guests stay 2.4 times longer and spend 2.3 times more money compared to typical tourists.
Why do you think that is?
Hotels can be just as comfortable to stay in, if not more.
Because AirBnbs are more hospitable than hotels, period. They offer a better user experience...
Does any of Monday or Asana also offer the same? Let's find out.
A. Monday
Monday has positioned itself in the market with surgical precision.
Daring to be more than a plain old project management solution, Monday proudly declares that it's a work OS.
How else does Monday strengthen its identity? By splitting into dedicated products (Projects, Marketer, Sales CRM, Dev) for different use-cases.
The result? Monday feels crystal clear in what it offers and becomes more than another brick in the wall.
The icing on the cake? Monday is vibrant and colorful.
Setting things up demands a little effort...
But once that's over, you end up with a work management solution that's just fun to use.
B. Asana
Asana holds mindfulness as one of the company's core values. Going by their design language, it's clear they take it seriously.
Every nook and cranny of the tool feels deliberately crafted to not be overwhelming.
From the gentle onboarding experience to the unicorn-themed celebrations on task completion, Asana keeps everything breezy and comforting.
The outcome? A beautiful project management software with enterprise-grade capabilities that even beginners can use.
Is the system perfect? Nearly but not quite. When building advanced workflows, be prepared to leave the moment and enter discomfort.
Verdict: Monday wins but only by a hair. We love its youthful energy and the fact that it wears its ambition on its sleeve.
3. Templates, Integrations, and Automations
Templates spare you the grunt work of creating a product launch plan from scratch.
Integrations ensure your project management tool complements your business tech stack.
Automations give you more time to manage projects well...
And all three come together to help your workflows achieve peak form.
Let's see how Monday and Asana benefit from this trifecta of power-ups.
A. Monday
Monday has a template gallery rich enough for nearly every use case under the sun.
You never have to build off a blank slate unless you choose to.
What about integrations, you ask?
Well, Monday's been around for a while and links seamlessly with 50+ apps, including Zapier, Microsoft Teams, G-Suite, Zoom, Slack, and Adobe Creative Cloud.
The cherry on top? Monday's automations are so easy to set up that even Spongebob could do it.
B. Asana
Asana's template gallery isn't as extensive as Monday's but is comprehensive nonetheless.
You can choose from dozens of options that cover several use cases.
Coming to integrations, Asana makes a clean sweep here. It integrates with 100+ apps, including Zapier, Microsoft Teams, Salesforce, G-Suite, Figma, and Adobe Creative Cloud.
Lastly, automating workflows is pretty direct in Asana as well. The setup happens via the workflow builder, where you can create triggers and corresponding actions.
Verdict: This one was a close call, but Asana takes match point post the deuce.
Why did Asana win?
It offers just the right amount of workflow customization. The upside? You escape decision fatigue and get to work faster.
4. CRM and Time-Tracking
Monday and Asana share elite status in the project management sphere.
Think of them as supercars on a highway crowded with everyday automobiles: a Tesla and a Ferrari roaring amongst Toyotas and Volkswagens.
Now, here's the thing about supercars. Everyone knows they can do what a car does; take you from A to B.
What makes them super is the oomph they lay on top of their utility.
In Monday's and Asana's case, said oomph comes from features laid on top of project management excellence: time tracking and CRM capabilities.
A. Monday
Monday supports native time-tracking without the need for integrations. You can leverage it by adding a time-tracking column to a group of tasks. Super, right?
What about CRM capabilities? Well, Monday's got a dedicated product for that use case.
B. Asana
Asana fails to take the cake here. On paper, it affords you time-tracking and CRM capabilities.
For time tracking, Asana depends on integrations. Not the neatest implementation, we agree.
And can it function as a CRM? Not as well as Monday can. Asana offers templates for account tracking, pipeline management, and lead tracking.
But they're not as robust a solution as Monday's in-built Sales CRM.
Verdict: The Tesla outshines the Ferrari on this part of the road. Monday wins.
Pricing
Asana offers three plans to choose from and an added choice to customize costs for enterprises. Monday, on the other hand, has a more intricate pricing structure.
Let's dive into both.
Note:- Pricing info is based on Monthly payments. Plans are cheaper if you pay yearly.
A. Monday
The bulk of Monday's cost comes from what you pay for the core Work Management platform, which offers four plans to choose from. Any tailored products you buy serve as add-ons to the core.
Here's a glimpse into Monday's core plans: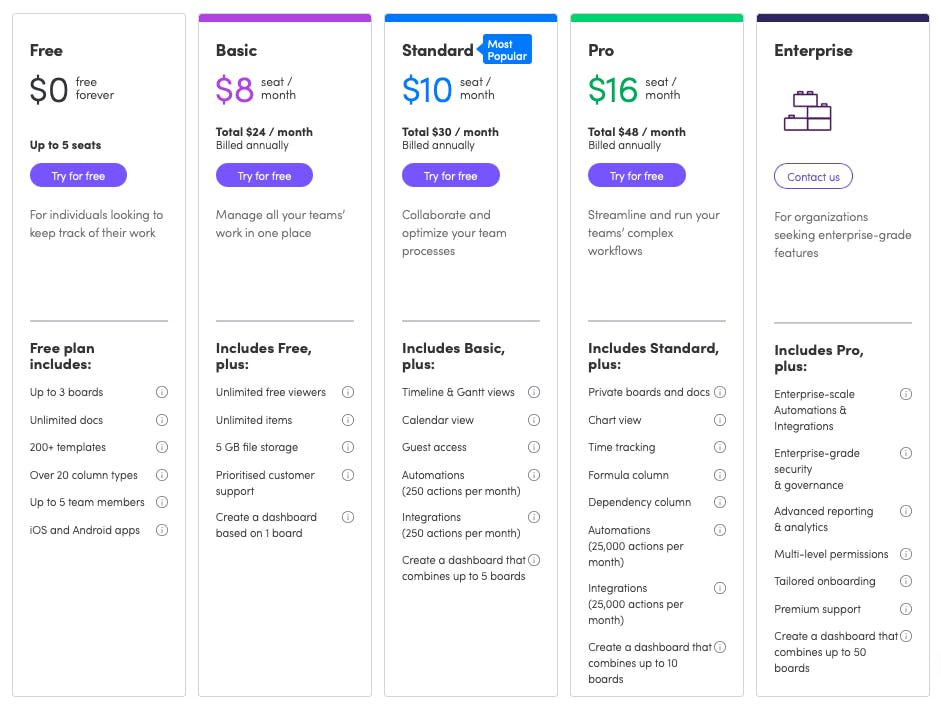 B. Asana
At a quick glance, Asana can seem costlier than Monday. The difference blurs significantly when you consider what Monday's add-ons cost.
Here's what their plans look like:-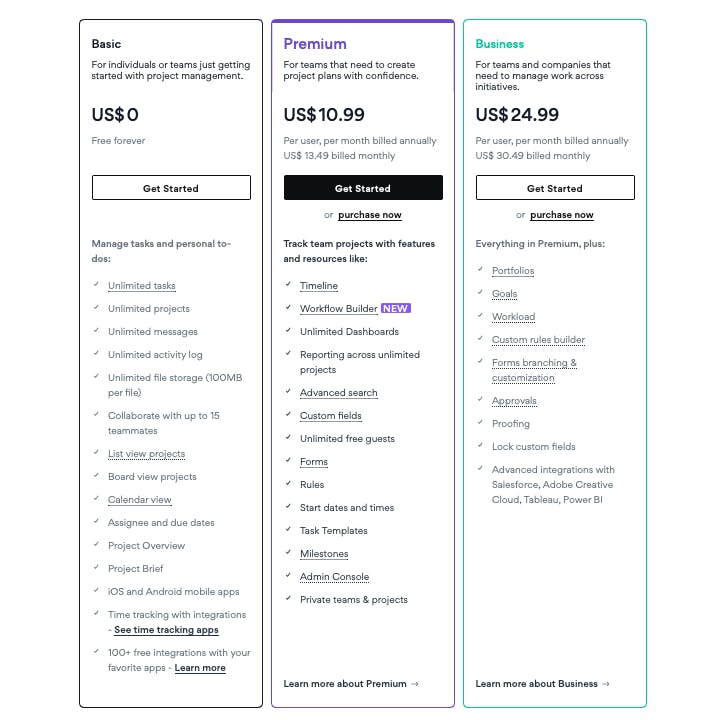 Like Monday, Asana's enterprise plan also has extra bells and whistles.
Verdict: Both contenders deliver enough value for the price they charge. This one's a tie.
Monday vs Asana: Which is the Best Tool for your Team in 2023
Monday and Asana are both excellent tools with enterprising folks shouldering their growth.
They squeeze enough project management power into their products for you to send even rockets to space.
But who really wins this contest?
Wildcard alert: Smart Task.
It boasts Asana's mindful approach to task management, integrates flawlessly with your favorite tools, and empowers you with in-built time-tracking and CRM.
Oh, and Smart Task also makes client management a breeze with white-labeling.
End of story? Not yet. We do all that Monday and Asana do without breaking your bank.
Our pricing is like the Godfather would've said, "an offer too good to refuse".
What our Clients have Accomplished with SmartTask
Are we a better product than Asana? One of our clients thinks so and we couldn't be more flattered.
How capable is our in-built CRM? See what Enerlyf has to say ;)
Sarhad Dairy — a milk production union that collects 5,00,000 liters of milk every day — switched from Asana to SmartTask and increased employee productivity by 50%.


Enerlyf — a company making devices that optimize AC usage and reduce energy bills by 35-40% — uses SmartTask's in-built CRM to streamline sales and accelerate follow-ups.
FAQs
1. Does Monday work with Asana?
Zapier is a web-based automation tool that allows users to connect different apps and services together. It can be used to integrate Asana and Monday by creating what are called "Zaps."
A "Zap" is a pre-configured workflow that connects two apps together. For example, you can set up a Zap that automatically creates a task in Asana whenever a new task is created in Monday, or you can set up a Zap that automatically updates a task in Monday when a task is completed in Asana.
2. How reliable are Monday Vs Asana Reddit Reviews?
If you search for Monday vs Asana Reddit, you'll not run into too many posts comparing the two. Instead, you'll see r/wallstreetbets poking fun at how both Monday and Asana's valuations are overblown. Interestingly, their jokes/predictions did carry some weight. Both companies are now seeing dipping stock prices, contracting runways, and sizeable layoffs. Scroll some more, and you'll find a Redditor expressing that Jira is better than both Monday and Asana. Replies to the post found the claim to be rather tall. They highlighted how Jira is too complex for non-technical use-cases.
Get More Done with SmartTask. Book a demo now.