SmartTask
Contents
11 Best To-Do List Apps in 2023 (Review, Features & Pricing)
By Viraj MahajanNov 5, 2022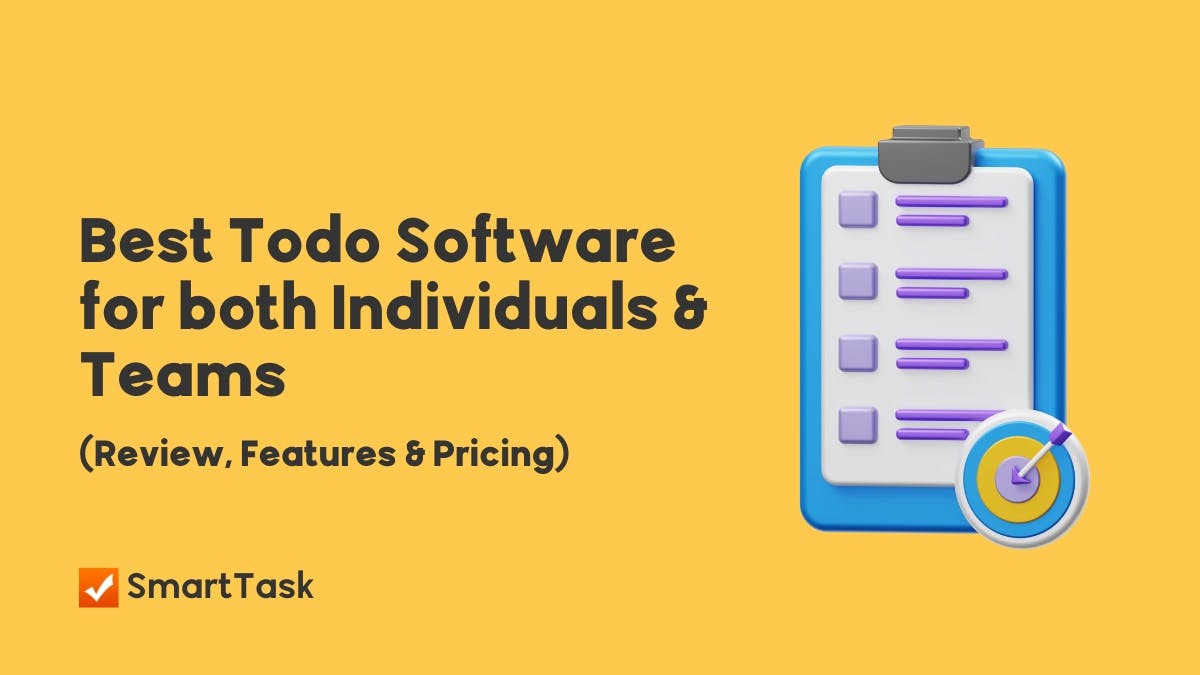 Gone are the days when sticky notes were the only method to manage tasks. Thanks to the ever-evolving technology, there are millions of to-do list software available.
A to-do list software helps you to write, organize and track important events. But with a sea of available options on the market, choosing the best task management software can be overwhelming.
No sweat, we're here to assist you by making complex matters easy. Without further ado, let's dive deep into different to-do list software available in the market at the moment.
Let's get started!
11 Best To-Do List Apps in 2023
1. SmartTask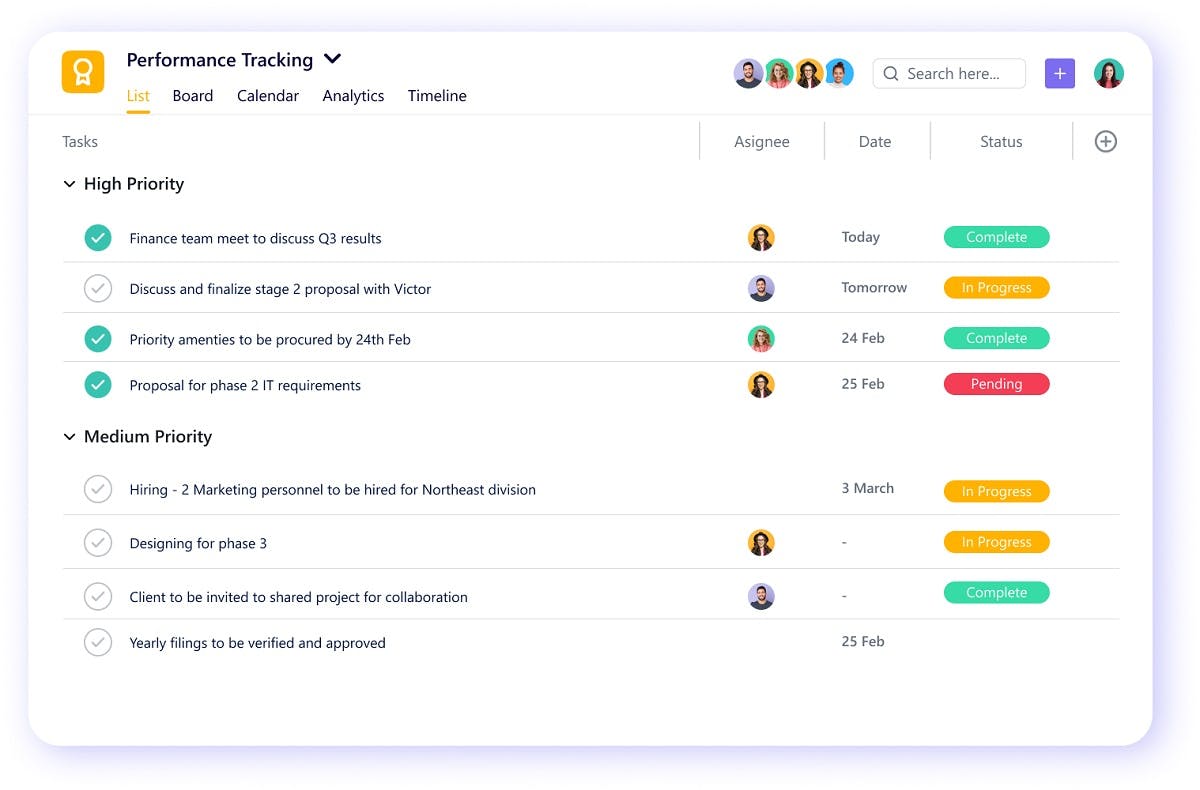 Failing to get crucial tasks done can cost you a fortune, especially if you don't know what to track in the first place. SmartTask is the all-in-one project management software that allows you to keep a close eye on the work - enabling you to manage day-to-day activities across teams and projects under one roof. Not to mention, it is a fast, flexible, customizable, and easy-to-use tool in our to-do list apps.
Exclusive Features
SmartTask is filled to the brim with exclusive features. So, get ready before you dive into what a single task management software can do for you!
Task Management - Manage all your tasks anytime and every time with SmartTask. You can customize the to-do list, add subtasks and track progress with a few clicks.
Set Reminders - Avoid missing out on important tasks by setting reminders. The to-do list software notifies you about important events on mobile, desktop, and email.
Multiple Views - Look at the tasks and projects through numerous options, including List view, Board view, Timeline, Calendar, etc.
Portfolio View - One of the best SmartTask features that allow you to easily manage multiple projects is the Portfolio view. You can view the project status, timeline, and more in one go.
Time-tracking - Track the time of all your tasks to get an idea of resource utilization, cost implications, and budget. What's more, you can even get an estimation of the time spent on each task. Cool, right?
Team Collaboration - SmartTask makes it easy to collaborate with your team. Instant messaging, automated check-in, custom charts and fields, video conferencing, etc., reduce your workload to a large extent.
Advanced Search - The top-notch software allows you to quickly search for tasks. It won't be wrong to say that SmartTask is SMART!
Set Priorities - Do you have something important after a week and don't want to miss it? Fret not; the tool allows you to set priorities for different tasks.
Rich Text Editing - SmartTask offers rich formatting that helps you to add detailed descriptive statements for each task.
And that's not all! There are multiple other valuable benefits that SmartTask brings to your table. Want to know more? Get in touch with us!
Pros
In-built project templates and custom automation available to enhance work efficiency and reduce workload
Integrate SmartTask to 1000+ apps with minimum efforts
Easy-to-use project management software with a user-friendly interface that can be operated without learning
All-in-one platform to manage and track all your business-related tasks, project, and more
FREE to use! Yes, SmartTask is a free forever to-do list software.
Best Suited For
SmartTask is the best choice for startups, freelancers, SMEs, and large enterprises.
2. Asana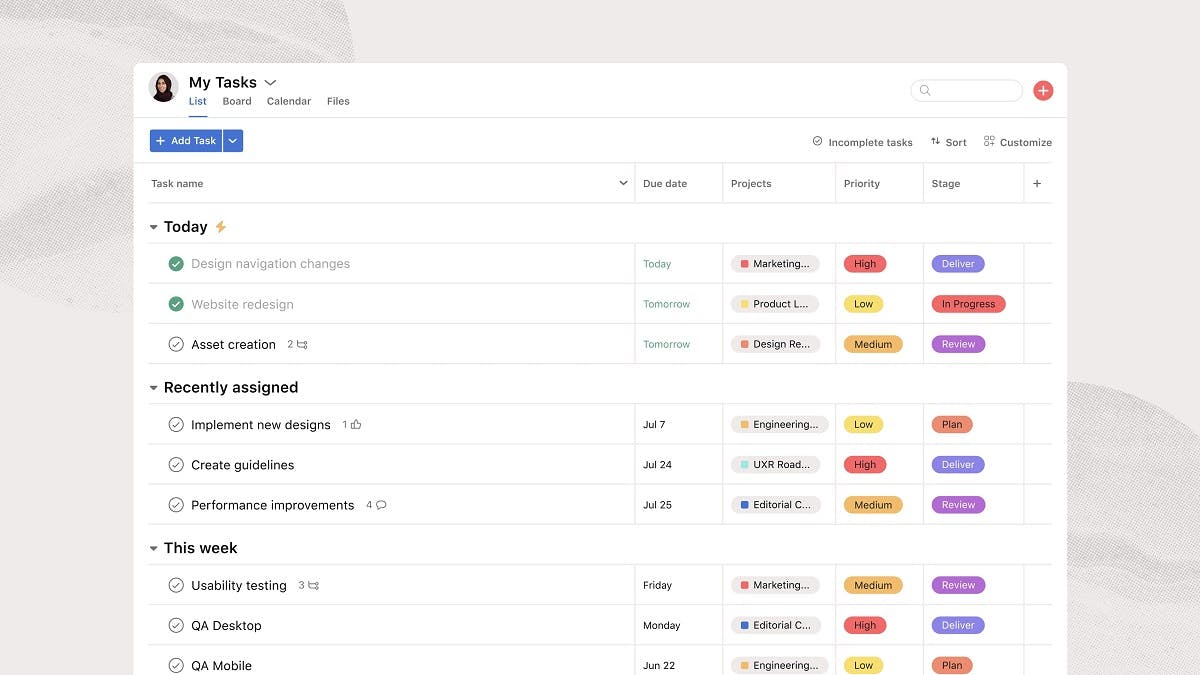 Another tool on our best to-do list apps is Asana. The excellent collaboration tool helps the users to manage different tedious tasks in one place.
Even though Asana is a good project management software, many users find it confusing at first glance. You have to spend hours mastering the tool before you can enjoy its features.
Exclusive Features
Feature-rich software that includes online to-do lists to plan your work
Add details such as assignees, attachments, and descriptions to each task
Set reminders for your chores so nothing slips through the cracks
Pros
Custom fields to track everything important
Keep the teammates in the loop by sharing real-time updates
Available on Android, iOS, desktop, and web
Cons
Higher prices as compared to the competitors
A confusing interface that requires a massive learning curve
Unavailability of a time-tracking feature
Best Suited For
Although Asana is suitable for any company, the recent feature focuses more on helping enterprises. That said, SMEs and individuals face hard times using Asana.
3. Toodledo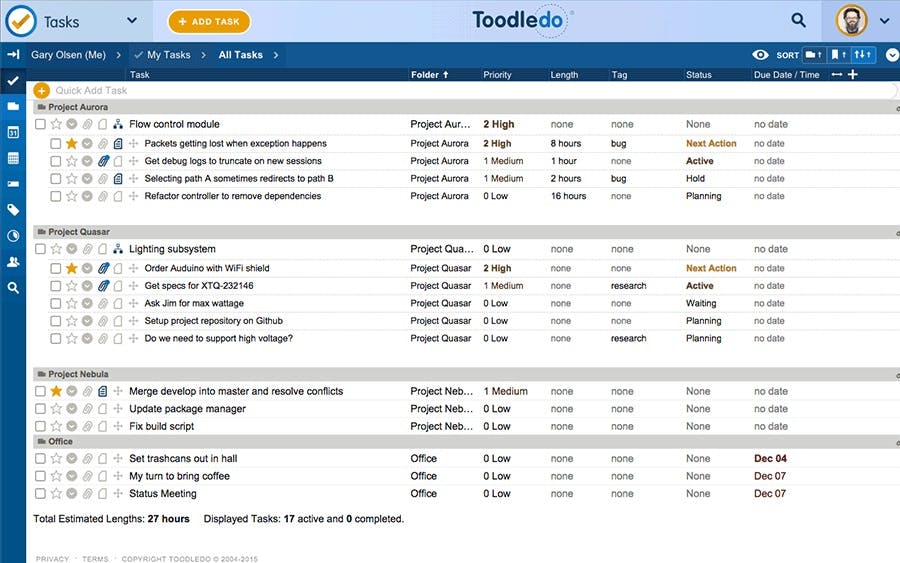 Toodledo is another member of the task management software family. The powerful tool has some handy features to organize your work and manage tedious tasks.
The rich features and intuitiveness of the software allow the users to prepare online to-do lists, notes, etc. The flexibility offered by the task management software makes it a practical choice.
Despite the benefits, many users complain about the chunky interface of Toodledo. If you want a work management tool with a clean interface, Toodledo might not be the right fit for you.
Exclusive Features
Habit tracking
Customizable to-do lists
Basic task management
Easy synchronization with different platforms
Pros
Time tracking feature that enables you to understand the time spent on each task
Offers a robust cross-platform support
Cons
Requires a lot of learning and customization to use the app
Chunky interface
The free version does not include basic collaborative features
Unavailability of preset templates in case of simple task management
Best Suited For
If you love to customize everything on your to-do lists, Toodledo is the right choice. However, SMEs and enterprises should look for another option.
4. Todoist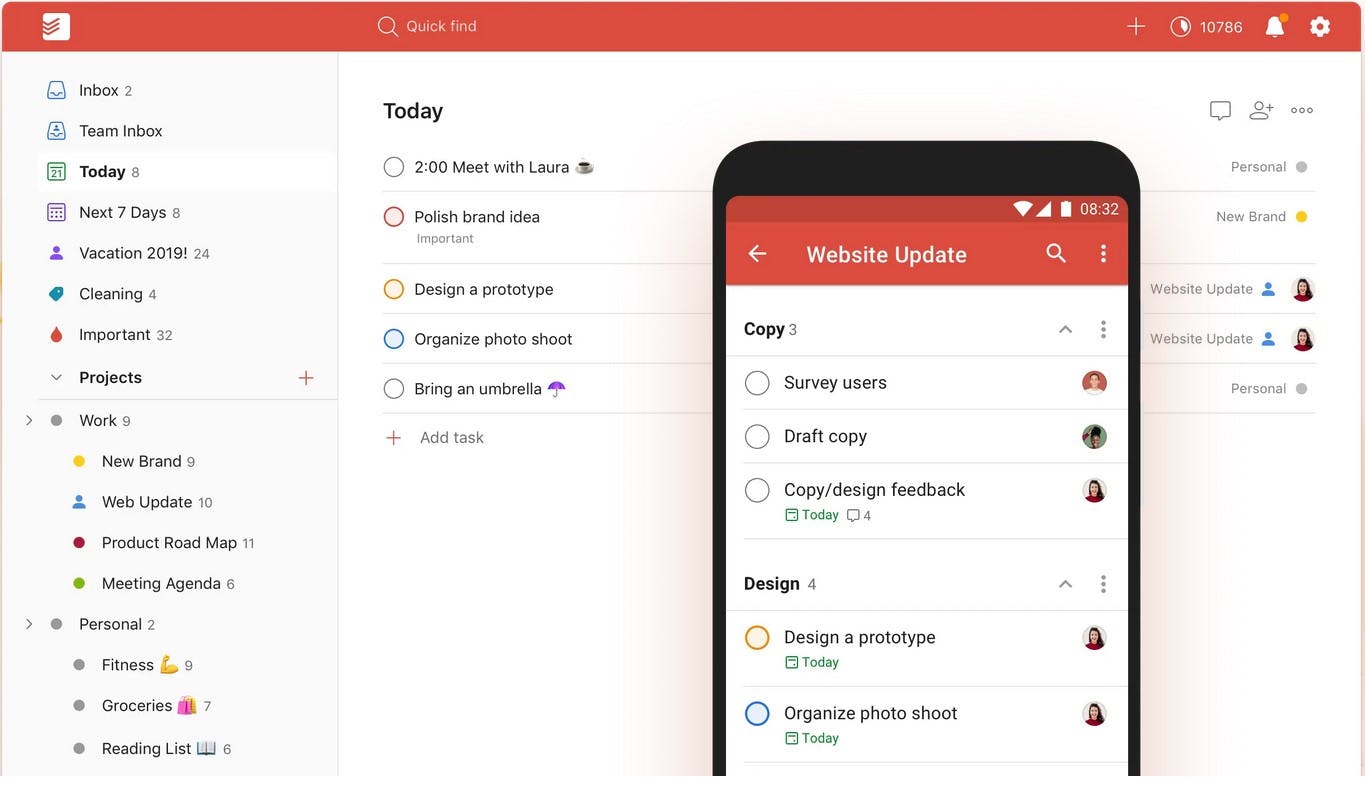 Managing everything from grocery to shopping can be hard when there are many things on your mind. But Todoist task management software makes it easy for individuals to strike a perfect work-life balance.
The tool has a user-friendly interface and Google calendar integration to keep your events and tasks in one place. On the other hand, the karma feature delivers small reports that show weekly productivity based on color-coded projects.
However, one downside to the Todoist is that it is not an advanced task management software for your team. That said if you are looking for a to-do list software that can help your team align their day-to-day activities, avoid Todoist.
Exclusive Features
Set priorities for your tasks
Add subtasks to minimize the confusion
Get notified with reminders when you need to do a task
Pros
Built-in project templates available to get started in no time
Minimalist user interface
Multiple powerful third-party integrations
Cons
No time tracking feature
Limited calendar view for tasks
Lack of team collaboration features
Best Suited For
For users looking for an app for personal use, Todoist is the right fit.
5. Google Tasks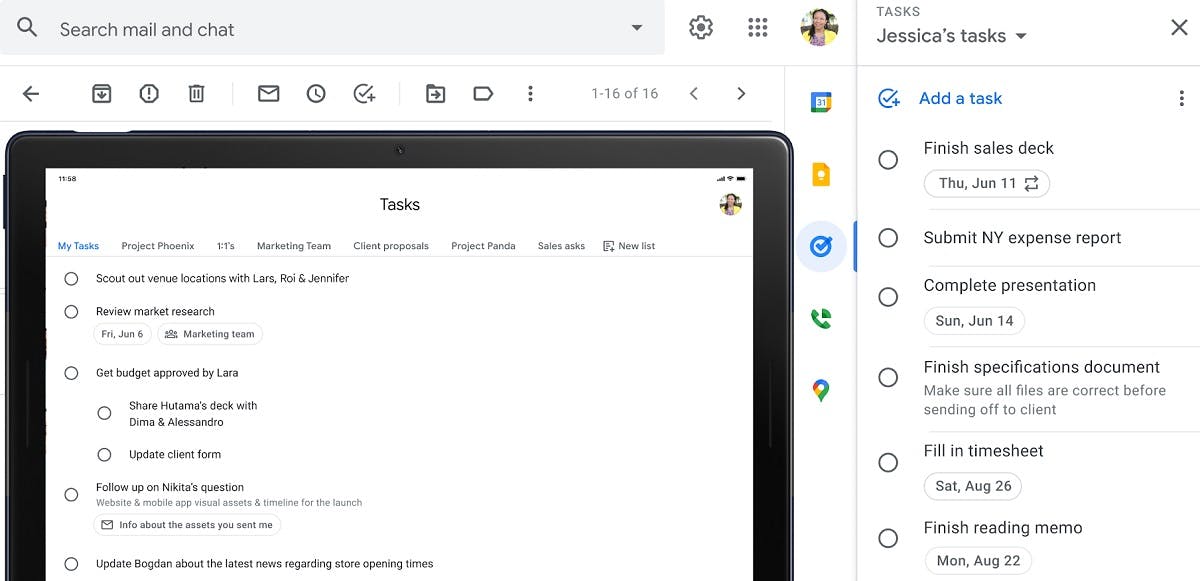 The reliable user interface of Google Tasks makes it suitable for creating a task, adding lists, creating subtasks, and setting reminders. A unique feature of the work management tool is that you can generate a work task from email.
Amazing, right?
Exclusive Features
Multiple lists
Reminders
Notifications/alert
Add subtasks and sort tasks
Pros
Free to use
Clean and reliable interface
Cons
Not suitable for complex work planning
Lack of efficient customer support system
The time-tracking feature is not available
Best Suited For
Users who want a to-do list app with basic features can try Google Tasks.
6. Any Do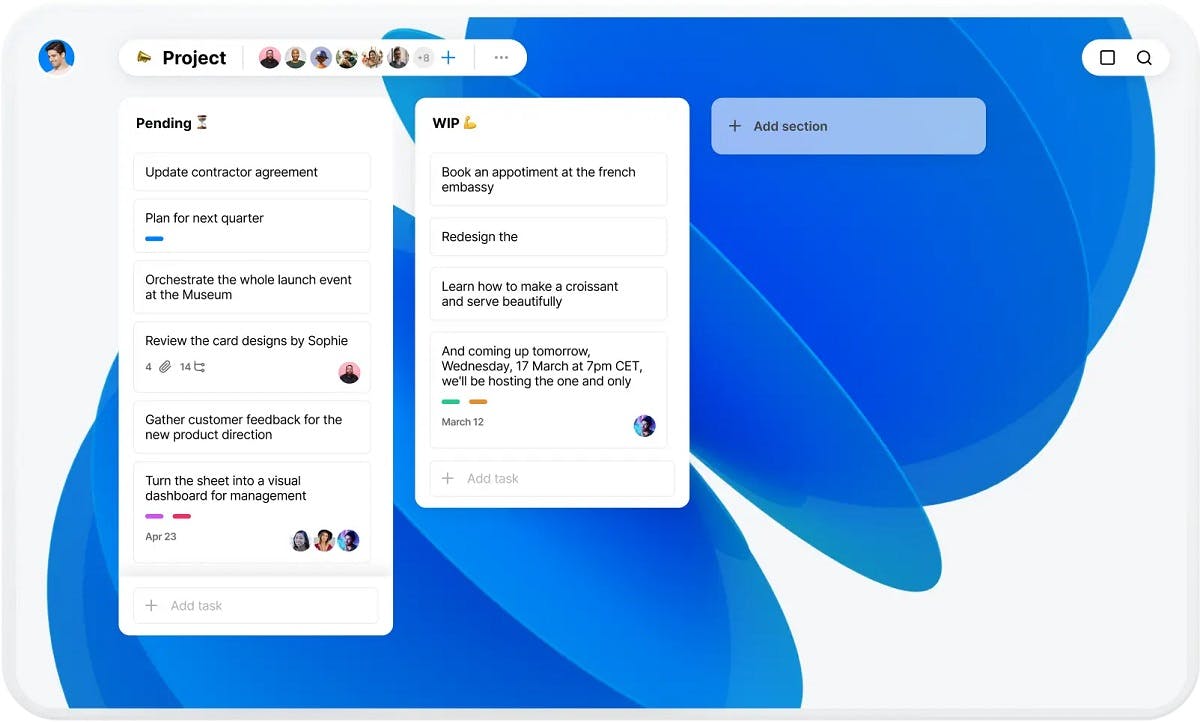 If you are looking to get more done in less time, Any Do could be the right pick for you. It is used by millions of people and is considered an award-winning app for managing tasks, family projects, and more.
The best part about Any.do is that users can set reminders (daily, weekly or monthly), assign tasks to teams, and monitor the project progress in one place. However, the interface of the tool is complicated and challenging and does not suit most users.
Exclusive Features
In-built calendar app
Recurring, smart, one-time, and location-based reminders
Pros
Organize tasks, make lists, and set reminders in one place
Multiple platform availability
Cons
Lack of features for advanced tasks
The free version lacks many advanced features
The desktop version is confusing and cluttered
Best Suited For
The tool can integrate with Outlook and Google calendars to keep your tasks and appointments in a single place. If you find it tricky to keep everything at one location, try Any Do.
7. Things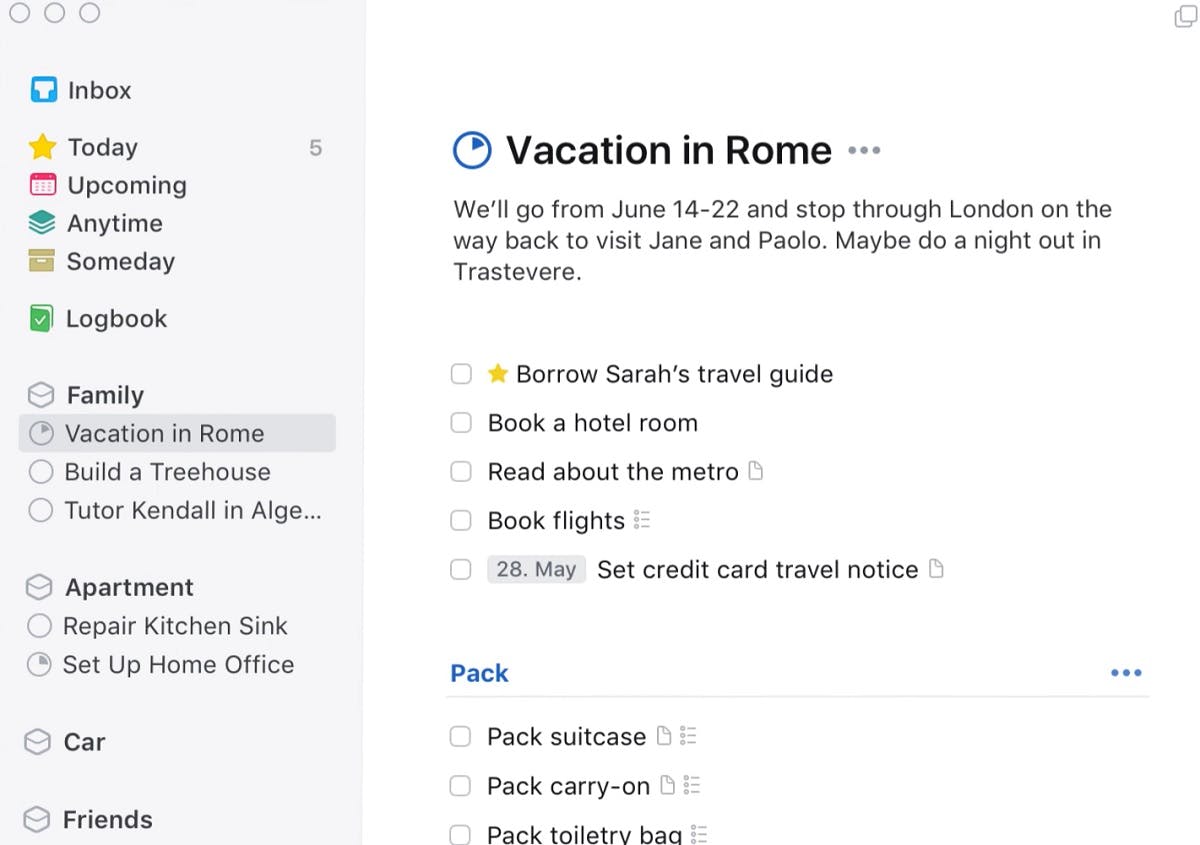 Things is best known for its uncluttered interface and white space. The Magic Plus button enables you to add tasks conveniently.
However, the work management software is only for iOS and Mac users. Android users have to look for other software from our to-do list apps.
Exclusive Features
Calendar events
Checklists
Headings
Quick search
Pros
Calendar integration available for calendar view
Only one-time purchase
Uncluttered and simple design
Cons
Lack of collaboration features for teams
Not compatible with android devices
The free version is not available
Best Suited For
People who work solo and are looking for a tool with a minimal interface can choose Things. However, the software is a misfit for teams who require collaboration.
8. ClickUp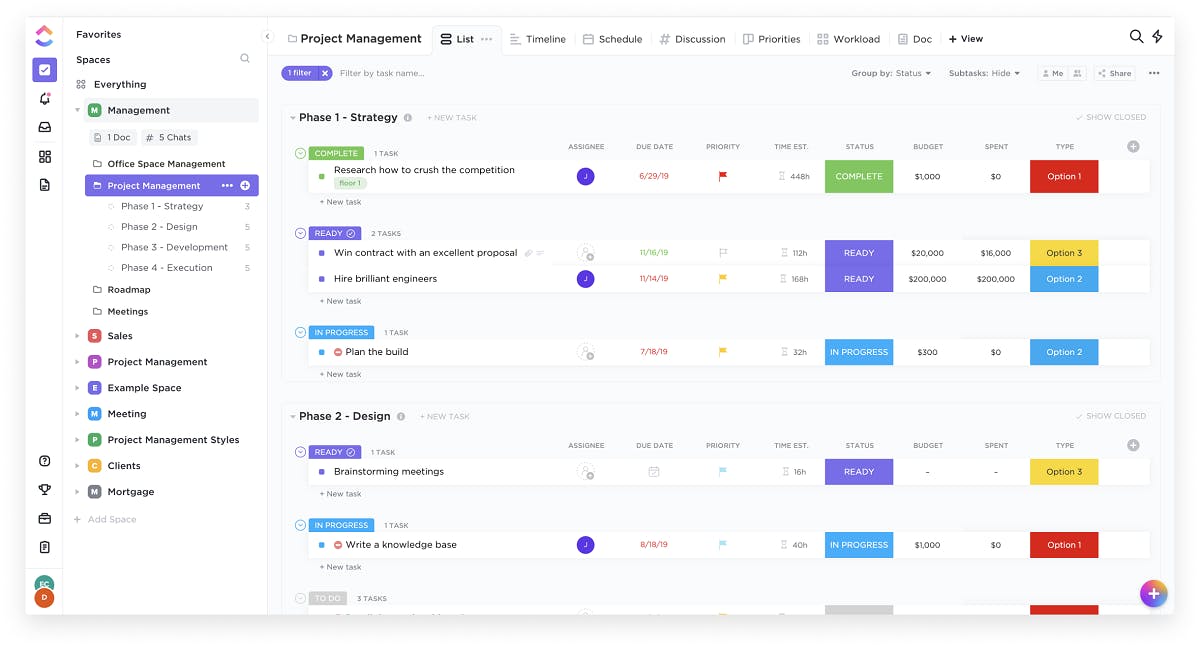 ClickUp is another project management software on our list that suits different team sizes. The tool has some nifty extra features that make managing tasks easier. However, many features often confuse the users and make them quit the software. In our opinion, not really a great to-do list software if you are not tech-savvy and looking to streamline personal work and priorities.
Exclusive Features
Create smart list
Calendar sync
Schedule tasks automatically
Notepad to note down anything
Pros
Multiple integrations
Easy to create reminders
Easy task management with drag-and-drop functions
Cons
High learning curve
Lots of unnecessary customizations
Cluttered UI
Best Suited For
Small teams who can handle the customization can effectively use ClickUp.
9. Quire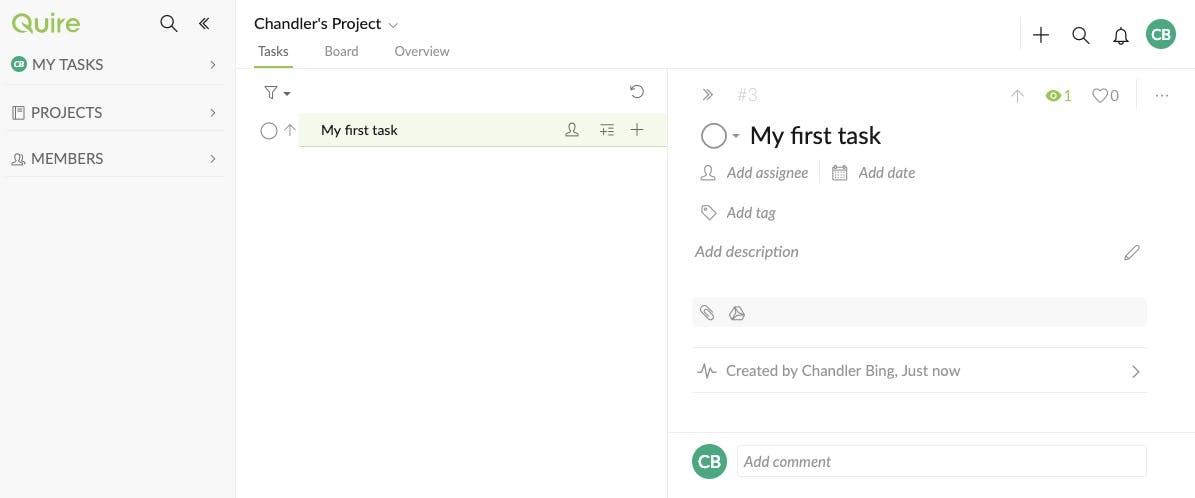 Quire is a to-do list software equipped with some pretty cool features. The app has a unique feature that allows you to break down tasks and complete them without getting overwhelmed.
Have a wedding coming up? This is the app where all stakeholders can collaborate and work in tandem.
Exclusive Features
Nested task lists
Reminders and notifications
Set priorities
Pros
Intuitive and simple UI
Integration with Slack, Google calendar, and Google Drive
Cons
No built-in templates
Lack of chat support
No time-tracking feature
Best Suited For
Quire is suitable for small and midsize enterprises to make a list of tasks and manage projects across teams.
If you are a large-sized enterprise that wants to access in-built templates and time-tracking features, look no further than SmartTask. Try it now!
10. Bear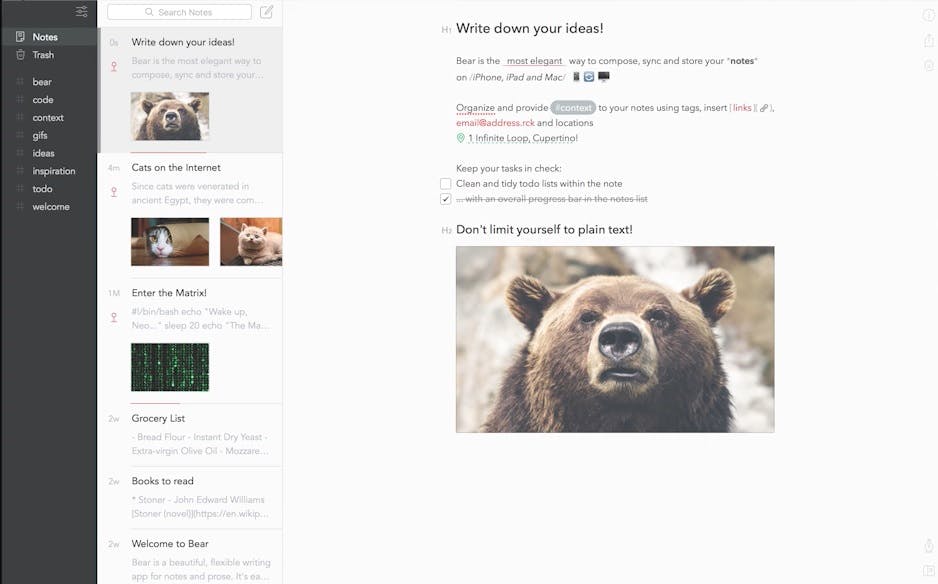 Bear is one of the feature-filled note-taking apps on our to do list apps. The handy app is perfect for personal use and your business team.
Before you get excited to purchase the subscription, here is the harsh reality - the tool is only compatible with Apple devices. No android user is allowed. Oops!
Exclusive Features
Multiple themes
Rich text editing
Photo and images support
Multi-device sync
Pros
Customization available
Easy to handle advance markups
Cons
Not compatible with android devices
Newbies finding it hard to use the app
Lack of features in free version
Best Suited For
People looking for an intelligent workload management app compatible with iOS can choose Bear.
11. TickTick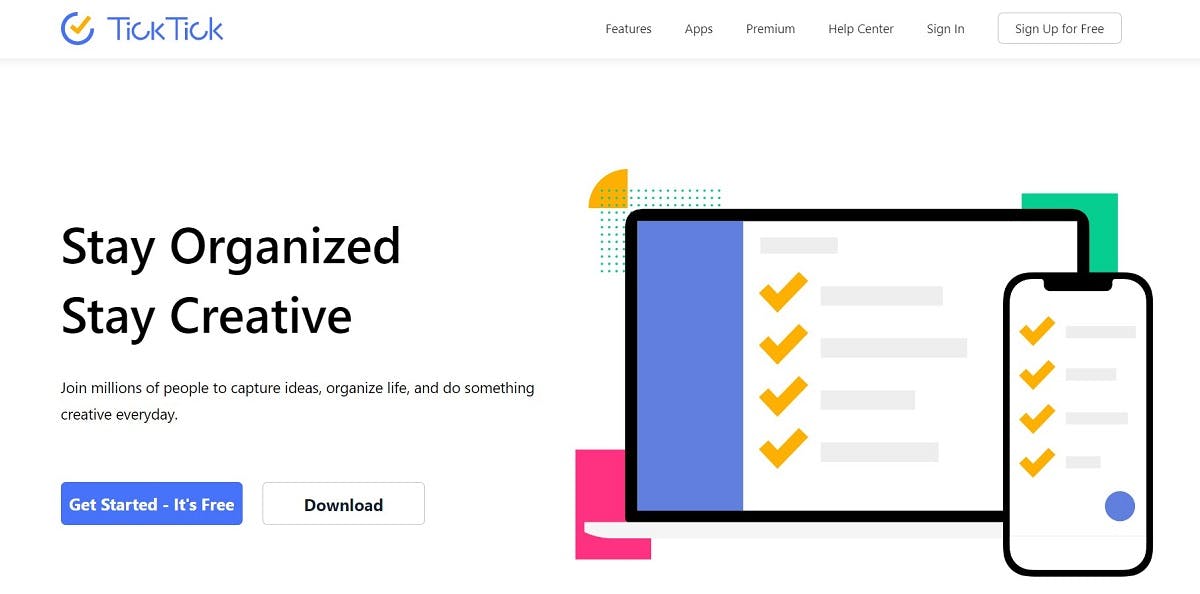 TickTick has multiple unique features that allow you to manage tasks and track progress. You can organize the tasks using tags, due dates, and lists without hassle.
One highly appreciated feature of TickTick is the tool's ability to convert any task to a note with just a single click. In terms of Reminder, the to-do list app allows setting two reminders per day in their Free plan.
But the major glitch in usage is that the app dramatically fails to provide a quick glance at tasks. It requires the user to switch to a full app to track progress.
Exclusive Features
Built-in Pomodoro timer
Habit tracking tool
Location-based reminder
Tomorrow dedicated view
Pros
Turn email into tasks
Multiple calendar views
Set a password to open the app
Cons
Complex UI
Lack of integrations to other apps
Best Suited For
TickTick is considered to be a reliable project management software for personal use. You can track daily activities with the habit-tracking tool and stick to your routine.
But if you are a business owner looking to leverage the power of multiple work tools in one, SmartTask is your best partner. Give it a try for FREE!
Stay Productive with a Powerful To do List App
With so many tools on the list, it becomes tricky to pick the right one. Isn't it?
If you are confused about which of the available to-do list software enables you to commit to your list to actually get things done, check out SmartTask.
SmartTask isn't just a to-do list software; instead, it is your complete productivity app. It makes life easy by eliminating repetitive tasks and organizing what to do next.
Give SmartTask a try and experience its unique features. It's FREE!
FAQs
1. What features should a to do list app have?
There are a few features that you must look at when choosing a to-do list software, such as the user-friendly UI/UX, main views, color-coded labels, collaboration options, and a wide range of tools to organize and track progress.
2. Why do you need To do List App?
One of the most preeminent reasons to choose to-do list software is the organization of all the tedious tasks in one place. Instead of getting overwhelmed with the completed and uncompleted tasks on your table, a to-do app enables you to feel organized and mentally focused throughout the day. To-do list software like SmartTask will help you systematically track events and tasks to minimize wastage of time and maximize productivity.
3. How do you make a to-do list more effective?
A to-do list is much more than a simple list of things you do in a day. The best way to ensure you get the maximum benefits from your created to-do list and mark each task done at the end of the day is by choosing a feature-rich project management app. Instead of creating a random mishmash of everything, you must focus on making a different list for each initiative or project. Users can then sort work by priority or project to ensure they do the most important tasks first and avoid getting overwhelmed at the end.
4. Are to-do lists effective?
In a word - yes! To-do lists are an effective way to track your tasks and beat the work overload. However, it is vital to use them effectively to avoid stress and disillusion and be better organized. SmartTask is an easy-to-use and feature-rich to-do list software that keeps your tasks organized and reminds you of work and events that will soon be overdue.
5. What should you not do with a to-do list?
Usually, people add a long list of tasks and events to their to-do tool, which often leads to frustration. If you want to make the best use of a to-do list, avoid writing a list of non-important tasks, allocate time frames to each event, and track them. Prioritizing tasks leads to improved productivity value. A systematic approach to creating a to-do list will enable you to boost your productivity and get the work done on time.