SmartTask
Contents
10 Best Todoist Alternatives in 2022
By Aastha ShawJan 24, 2022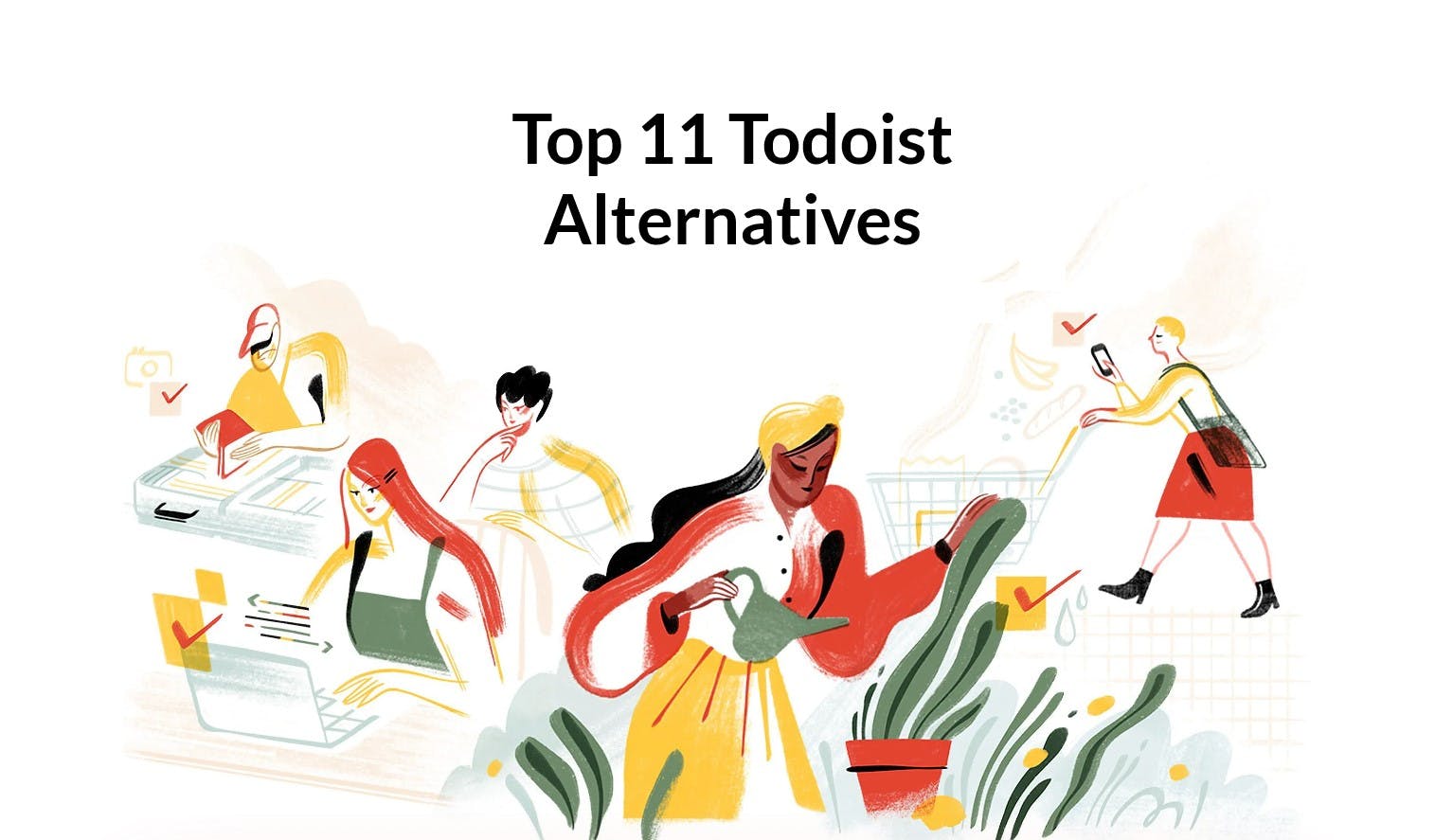 Todoist is one of the best personal to-do list apps out there. It is simple, straightforward, and keeps things organized for you - be it a grocery or a shopping list. That's why it has over 10 million installs on mobile app stores and is one of the highest-rated mobile apps.
However, it misses out big time on team collaboration features. It does not have the basic tools needed to streamline tasks and communication when it comes to teams or complex projects.
So, what are the disadvantages of using Todoist?
Here's what it is missing:
Lacks Critical Views: Customizations, user-wise task bifurcation, filters, and views such as task, timeline, and portfolio view; allow users to modify the tool to fit their individual or business preferences. However, Todoist lacks these critical components to create a better workspace and increase productivity.
It's just a Todo-list: Todoist does not have the ability to customize or add more dimensions to tasks. For example, there is no way to add data through custom fields such as dropdowns, text, number, or date fields.
Not built for Teams: Being able to communicate and collaborate on tasks within the tool is critical for teams. However, Todoist lacks essential team features like dedicated chat, video conferencing, and news feed.
No Hierarchy: Todoist does not have a proper hierarchy like departments and then teams under it, which may be okay for solo users. But for teams, a flat structure can become very complex. Thus, it is important to have tools like SmartTask that organize teams based on hierarchies ( departments >>projects >>tasks), making it easy for team members to navigate and conduct work.
No Search Views: Probably the biggest pain point for teams. They should be able to slice and dice their data to understand it in a better way. Unfortunately, this critical ability is missing from Todoist.
No reporting features: Reporting is the most important feature of any project or task management tool. After all, reports reflect the progress made, goals accomplished, and help you analyze if you are on the right track. Though todoist has a productivity score there is no option to look at the in-depth data or create customizable charts.
Limited Project features: Todoist lacks the ability to divide projects into stages, milestones, timeline view, and portfolio view. These features are critical for managing complex projects and gaining a high-level overview of how aligned initiatives are progressing.
Lacks Time-tracking: Todoist does not have time-tracking feature which is very crucial for monitoring existing tasks, team productivity, and setting cost estimates.
Todoist Pricing:
Though Todoist has a freemium version, considering the lack of basic functionalities, you may not feel justified to pay for the pro or business plans.
The Pro plan starts from $4 monthly/per user
The Business plan starts from $6 monthly/per user
It is definitely quite expensive. That's why you need alternatives for Todoist.
The Best Free Todoist Alternatives in 2022

1. SmartTask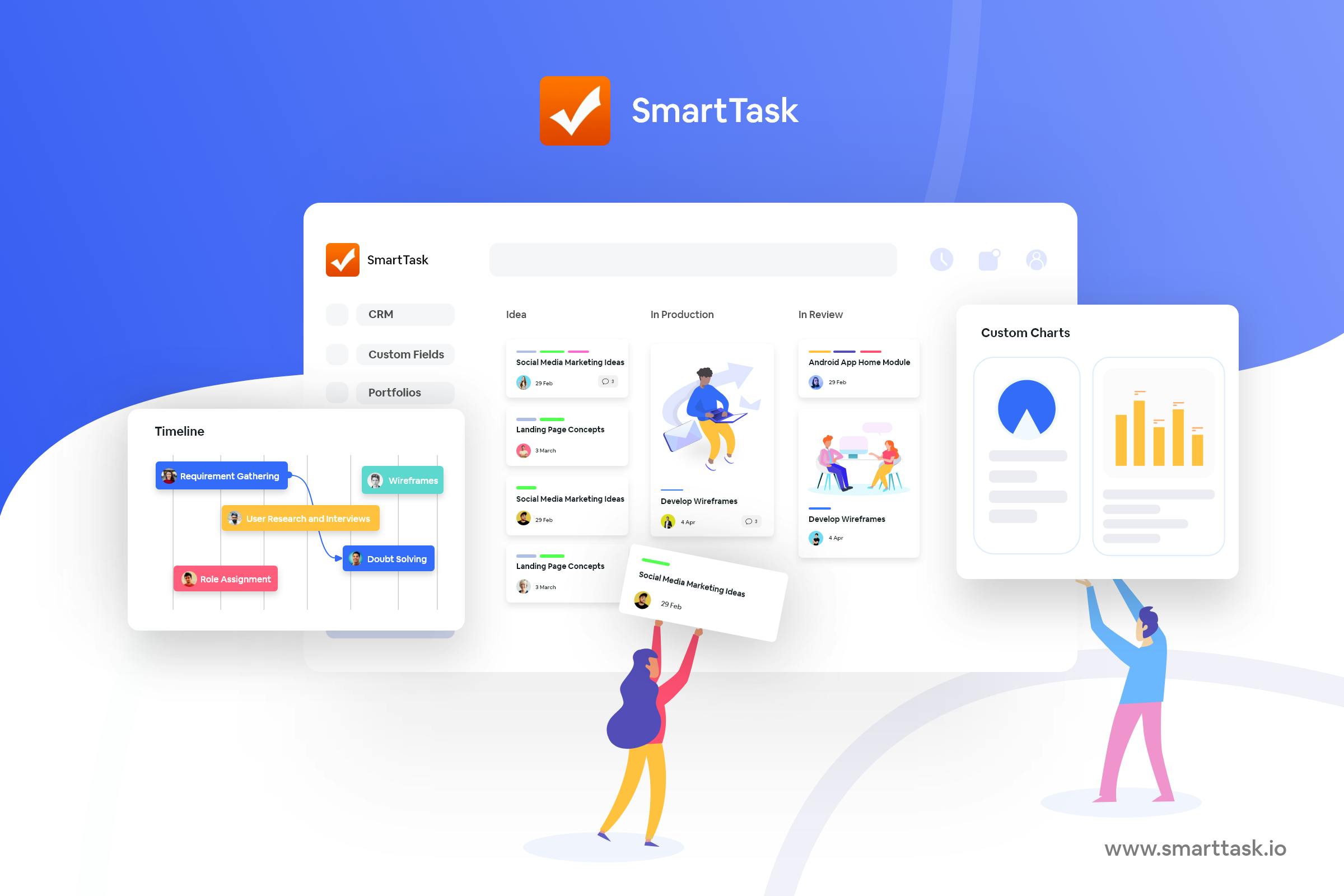 SmartTask is a no-fuss, easy-to-use application that brings tasks, teams, projects, and portfolios into a single platform. It can be a perfect fit for teams across sales, marketing, IT, customer support, and more.
Unlike Todoist, it has a proper hierarchical structure and multiple project views that simplify organizing and managing work. It provides real-time communication & collaboration through in-built tools that improve individual and team productivity.
Its simple interface, great user experience, and a plethora of important features such as custom charts and custom fields make it one of the best todoist alternatives.
Key Features:
Replicate your processes - Create different workflows for day-to-day work - facilities request, sales tracking, applicant tracking, issue tracking, and more.
Multiple Views - Manage tasks easily with multiple Views such as Board, Gantt, Calendar, and more.
Milestones - Set milestones to track significant achievements in work progress.
Portfolio - Tackle multiple complex projects at a time using the portfolio view.
Custom Charts - Streamline your projects better with endless customization possibilities.
Emails to Tasks - Create tasks directly from your email inbox. Convert your emails into tasks.
Task Management - Set task dependencies, due dates, priority, and tags.
Comments & File Sharing - Share all important information, attach files, give feedback through comments on the task itself.
Newsfeed - Save hours of standup meetings with feed updates and automated Check-Ins.
Team Communication- Seamless real-time communication with individuals or teams via chats, VoIP, and video meets.
Powerful Search - With extensive search options find and organize matching tasks across the organization. You can also save your search results as reports.
Guest Users- Invite clients or third-party collaborators as guest users with limited access.
Time Tracking - Know exactly how much time is spent on a task by each employee,
Project Budgeting - Set estimates and track the billable hours on each task and project to keep an eye on the project budget.
CRM - Visualize sales analytics - estimated sales, sales funnel, and user-wise analytics. Move inquiries across multiple stages and have clarity on past conversations and next action points.
Productivity Score- Analyze team's performance over time with karma points.
Reporting - Download customized reports of your team, task, project progress.
Reminders - Alerts, notifications, and reminders to keep teams on track.
1000+ integrations - Seamless integrations to help you achieve almost everything from one single platform.
Pricing:
It is FREE FOREVER.
Premium plan starting from $5 monthly/ user
Business plan starting from $8 monthly/ user
Available on: Windows, macOS, iPhone, iPad, Android, Chrome, Safari, and Firefox.
2. Tick Tick

At its core, TickTick is a to-do list and a lightweight task management tool designed to enhance solo productivity. It helps you keep a track of your current tasks and plan what's next.
Unlike Todoist, TickTick seems more geared towards people who juggle different kinds of tasks and projects. It lets you keep track of multiple task lists on a single screen, which comes in very handy.
It offers 5 powerful calendar views and also a kanban board view. However, the board view is not as powerful as offered by a full project management app like SmartTask.
If you are a freelancer or a small team looking for ways to stay on top of your tasks, then TickTick can be a solid Todoist alternative for you.
Key Features:
Task management includes task creation, recurring tasks, assignees, scheduling on the calendar, subtasks, prioritization, and tagging.
Intelligent task creation using Siri.
Separate room for simple note-keeping
Comprehensive, shareable to-do lists for personal and professional use.
Multiple reminders for schedules including location-based alerts.
Pomo time tracker.
Calendar Widgets for the home screen.
Data synchronization and backup.
Pricing:
Freemium
Premium annual plan starting from $27.99.
Available on: iOS, Android, Mac, Windows, Web.
3. Quire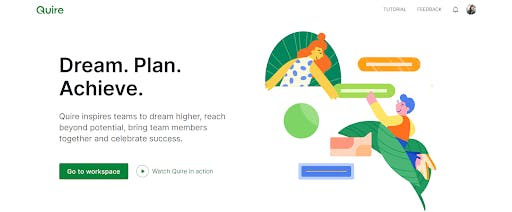 Quire is a cloud-based project management tool for small and medium-sized enterprises that helps them manage to-do lists, tasks, and more while also facilitating team collaboration.
Quire, as a Todoist alternative, breaks down goals in hierarchical lists to accomplish more. It
allows teams to visualize their workflows and improves real-time collaboration. It offers task management, document management, real-time editing, communication tools, discussion boards, and more.
Its clean and intuitive design helps you visualize your workflow to better manage and focus on your tasks. This platform is well suited for small businesses that are looking to expand their project and task management capabilities.
Key Features:
Create and manage projects using different views like Kanban. Timeline, Grid, etc.
Create tasks, subtasks, recurring tasks, add details, add multiple assigns, set deadlines, and labels.
Manage your tasks list with a voice-controlled virtual assistant like Siri and Google Assistant.
Personalized lists to stay focused on the right tasks.
Different authority levels for different members.
Share projects and tasks with clients.
Easy file sharing.
Instant messaging
Reminders and notifications.
Pricing:
Free plan great for solo users
Professional plan starting from $ 10.95 monthly/ user
Premium plan starting from $ 18.95 monthly/ user
Enterprise plan starting from $ 24.95 monthly/ user
Available on: iOS, Android, Web.
4. Trello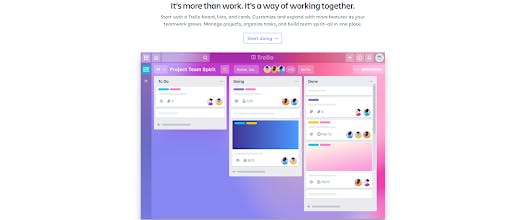 Trello is one of those task management tools that bring a shared perspective to the life of a project in a fun, flexible, and rewarding way. It is undoubtedly one of the powerful Todoist alternatives.
It has a pretty neat and easy-to-understand user interface. The boards, cards, and powered integrations make it easier to organize and manage your teams and tasks.
You can also set WIP limits to your task lists and clearly identify the number of items that can be added to a list. This greatly helps with capacity planning.
If you are a startup, or small team looking for a collaborative tool to take care of office-related tasks and simple workflows, then Trello can be a good option. However, to track time in Trello, you need to rely on third-party integrations aka power-ups.
Key Features:
Create tasks, recurring tasks, set assignees, labels, and due dates.
Multiple views such as kanban, timeline, calendar, map - to manage your projects.
Organize, label, and transfer Trello cards across different project management phases.
Built-in workflow automation for simple projects and repetitive activities.
Checklists within tasks for monitoring progress.
Comments within tasks to provide timely feedback.
Get alerts and notifications for task activities
Pricing:
Free plan with basic features
Standard plan starting from $5 monthly/ user
Premium plan starting from $10 monthly/ user
Enterprise plan starting from $17.50 monthly/ user
Available on: iOS, Android, Windows, macOS, Web.
5. Asana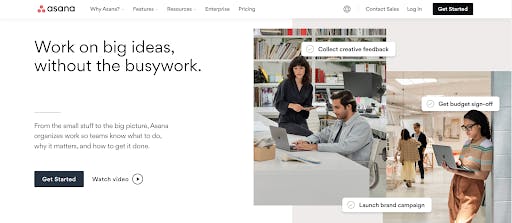 Asana is one of the top project management tools that managers swear upon. Its robust set of features can cater to every team size when it comes to managing complex projects.
Its simple interface and functionalities help teams stay focused on the goals, manage multiple projects, and daily tasks. With the timeline feature, you can map out your project schedules, and keep a close eye on your deadlines.
It also allows you to create task dependencies to identify relationships.
This Todoist alternative also comes with an in-built library of project templates best suited to diverse team types. Use these templates to jump-start your projects.
Key Features:
Create tasks, subtasks, set priorities, deadlines, assignees, comment, converse, and share details – all in one place
Set and track milestones to keep significant events in check
Different views, inbox, filters, and advanced search options for better organization and management.
Portfolio and Reporting feature to track team and work progress.
Limited access and Guest users
Automate various manual processes like assigning tasks, triaging, updating Asana fields, etc.
Reusable and customizable project templates.
Pricing:
Basic Free plan
Premium plan starting from $ 10.99 monthly/ user
Business plan starting from $ 30.49 monthly/ user
Enterprise plan (Details available on request)
Available on: iOS, Android, Web.
6. Teamwork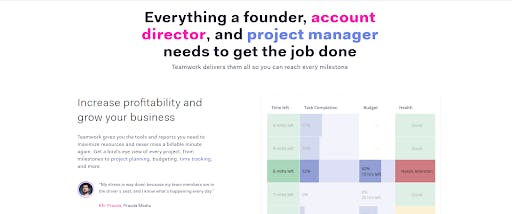 Teamwork is a decent project management tool designed for client work. It stands out as a great todoist alternative due to its time tracking features and the ability to tackle multiple projects at once.
Manage your work with an easy-to-use Kanban interface and multiple options for customizing your workflow. Its colorful templates and themes allow you to match the look of your brand.
You can easily customize the features appearing in each project, such as the overview page, the list of milestones, tasks, and so on. Teamwork also integrates with peer tools such as Teamwork Desk and Teamwork Chat.
Key Features:
Using the calendar, get a quick overview of the key impending milestones, events, and activities.
Customizable Dashboards for a glance of activity timelines and lenses to save for future use.
Offers Kanban view, interactive Gantt charts, and Custom fields.
Collaborate with Notebooks, update and compare notebook versions.
Enable your followers to stay up-to-date without having to assign them an action.
Table view, Profitability Report, Project Time Budget, Resource Scheduling.
Integrate Teamwork in your Spaces, Desk, CRM, and Chat to get an uninterrupted workflow and make team communication actionable.
Pricing:
Freemium
Pro plan starting from $10 monthly/ user
Premium plan starting from $10 monthly/ user
Enterprise plan (details available on request)
Available on: iOS, Android, Web.
7. Wrike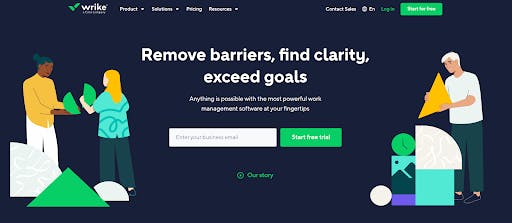 Wrike has developed nearly everything you need to work your way, from custom dashboards and workflows to team-specific automation to expedite procedures.
Providing solutions to numerous teams like marketing, creative, business operations, professional services among others; Wrike intends to reduce the amount of time spent on everyday chores.
You can customize your workflows by automating them without manual intervention.
It guides you to gain 360° visibility instantly, removes silos by providing unprecedented visibility across departments, and quickly locates information and helps you make decisions in real-time.
Designed specifically for working professionals to help them tackle the daily burden of tracking multiple things at once.
Key Features:
Three-Pane View to keep everything at reach.
A personalized app experience via AI Work Intelligence.
Shareable Dashboards to collaborate across boundaries with teammates from other departments, contractors, and clients.
Custom fields and workflows, real-time reports, and report templates.
Forms and Requests to create and fulfill tasks.
Productivity integrations use MS Project, Excel, and RSS.
Pricing:
Freemium
Professional plan starting from $ 9.80 monthly/ user
Business plan starting from $ 24.80 monthly/ user
Enterprise and Pinnacle plan (details available on request)
Available on: iOS, Android, Windows, Mac, Web.
8. Any.do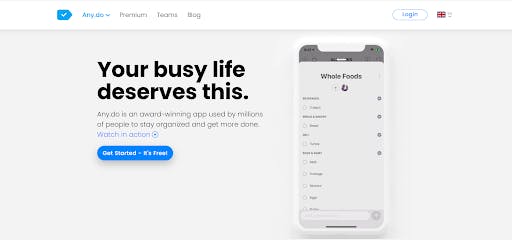 Any.do is another great Todoist alternative. It is an optimal all-in-one task list, calendar, planner, and reminders app that syncs seamlessly across all your devices. The crossroad of personal and professional to-do lists, fitting into your busy life.
The user interface is very nicely developed with the user's needs in mind.
Its "moments" and location-based reminders make it a strong productivity tool. Add smart reminders with beautiful themes so that you don't forget a thing.
With Any.do, you can take your collaborative work or personal projects to the next level.
Find your work-life balance when everything is put together in front of you. Combine all your social events, day-to-day tasks, and business meetings in one app to notably help you juggle.
Key Features:
Reliable Recurring Reminders to keep you on track.
Unlimited Daily Planner to stay focused on the most critical chores.
Add to-do lists directly from your email inbox.
Build lists, add custom tags, schedule tasks for a specific time and date, create sub-tasks, notes, and attach files.
Convert WhatsApp chats into tasks and reminders using speech recognition.
Focus mode to keep the distractions at bay.
Integrates with Google Calendar, Outlook, Slack, Whatsapp, and many more for an easier workflow.
Pricing:
Offers a decent Free plan
Monthly plan starting from $2.99
Annual plan starting from $26.99
Available on: iOS, Android, Windows, Mac, Web, Chrome extension.
9. OmniFocus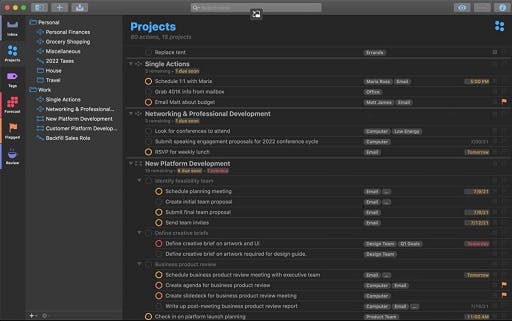 Keep track of all things important to you with OmniFocus. It's a robust, albeit costly, to-do app for Mac and iOS that's a fantastic choice if you're working alone. It's also highly suited for people who follow GTD.
It functions like a second brain, capturing and organizing all of your actions in a powerful and simple-to-manage system. It syncs with all of your Apple devices and the web, making it simple to add a task.
It is an excellent todoist alternative for busy professionals. You can focus on the right things at the right time with Omnifocus to manage your clutter.
Key Features:
A free syncing system to keep your data consistent across all the devices. It's secure and encrypted.
Inbox to save your thoughts, change them into tasks, set a due date, assign a project, and add tags whenever you want to.
Batch editing lets you select multiple actions and modify them all at once.
Use Siri to add an action directly to Omnifocus.
Use Flexible Inspectors and drag to move things according to your preference.
Review feature that periodically reminds you to go through your projects and actions and make sure everything is on track.
Pricing:
Monthly subscription starting from US$9.99. Offers a free 14-day trial.
Available on: iOS, iPad, macOS, Web
10. Workflowy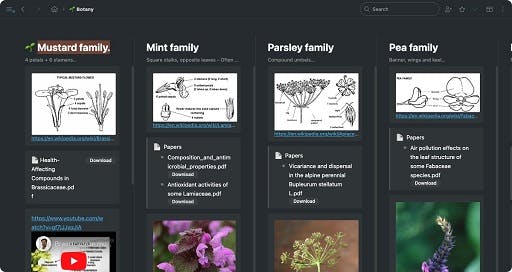 WorkFlowy is a web-based program for organizing tasks such as everyday work, team projects, research papers, journals, and wedding planning. It offers a simpler way to organize your brain and has a strong terminal for hierarchical lists.
Organizations often replace text editors and spreadsheets with Workflowy to get a smoother workflow throughout their day. It has a clean and distraction-free interface that quickly captures important notes, plans, and your to-do's.
Thousands of entrepreneurs, writers, engineers, and students use Workflowy to keep your work in the flow.
Key Features:
Search across all your papers instantly with the help of their Global Search; no more lost files.
Use tags to filter and visually identify items for quicker access.
Expand + Collapse feature lets you focus on what's important at hand.
Share your created documents easily with anyone on or off Workflowy.
Backlinks are automatically created which can be used as references for later.
Pricing:
Free basic plan
Pro plan starting from $4.99 monthly.
Available on: iOS, Android, Web, Windows, Linux, Mac.
Choose The Best Todoist Alternative
Picking a decent Todoist app alternative doesn't have to be a complicated process.
Just go through these Todoist alternatives and choose the app that aligns with your team and business goals.
While every tool has its own set of advantages, SmartTask clearly is the best free Todoist alternative that has a lot more to offer.
You get customizable dashboards, portfolios, milestones, custom fields, automations, real-time collaboration, and many more, all FREE for lifetime!
Signup on SmartTask today and get your work done!
Try SmartTask - The Best Todoist Alternative