SmartTask
Contents
Monday Sales CRM: Review & Comparison in 2023
By Yash GurnaniJan 17, 2023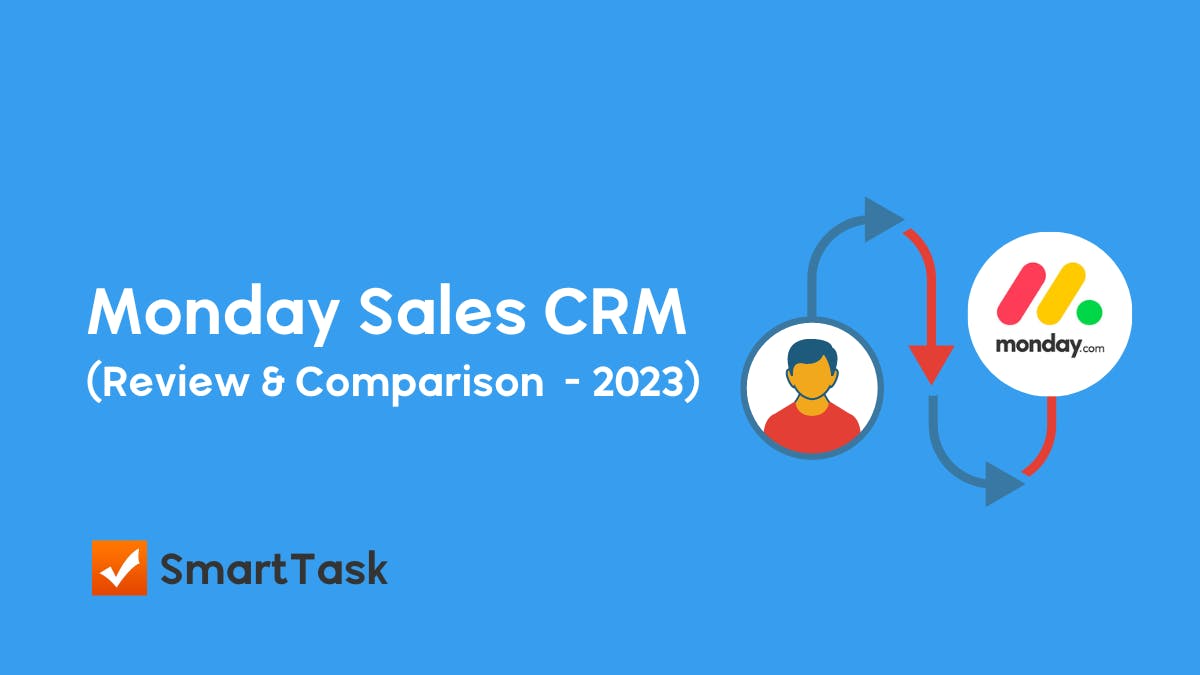 Monday, the most dreadful day of the week!
We all hate Mondays but, guess what? The solution to your Monday Blues is actually a CRM called Monday.
Ironic, right?
The ease of use and well-structured templates are the USP of this product. But, what does a project management tool have to offer when it comes to CRM?
Well, a lot. Come, have a look!
What is Monday Sales CRM?
Monday Sales CRM is one of the four product offerings by Monday. It is a CRM tool that can be used to boost the productivity of your team. The CRM part helps in managing leads and customers whereas the project management tool lets you handle your team and projects.
This deadly duo of CRM and project management tools can be experienced when you have to contact a lead and assign tasks to your team simultaneously. The ease that this app provides can only be experienced when you utilize all its features.
With the help of centralized communication offered by the Monday CRM, you can communicate effectively by using templates, automatically logging sent emails, and keeping track of interactions.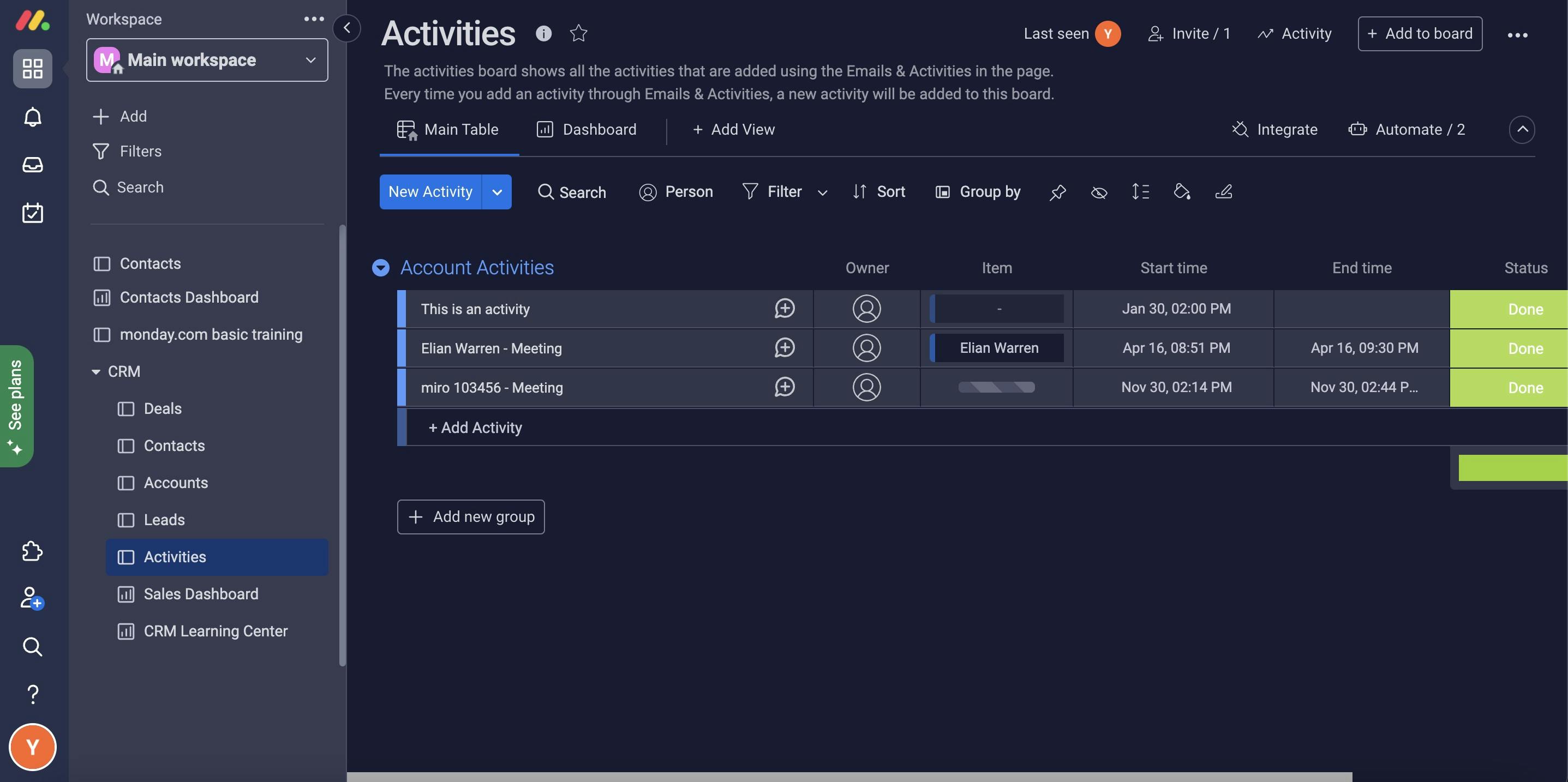 As visible in the above image, the sales CRM helps the team manage deals, contacts, accounts, leads, activities, and much more. It also lets the user analyze sales by using the Sales Dashboard. Using this CRM, managers can keep an account of the users and their data without any hassle.
You can manage your sales targets using Monday and do a lot more. Come catch a glimpse of what this amazing tool has to offer:
Key Features of Monday Sales CRM
Monday Sales CRM lets its users manage leads, contacts, and teams and provide them with different functionalities with the help of fully feature-packed templates. Have a look at these key features of Monday Sales CRM:
1. Sales Dashboard
Every sales team has to report their sales, revenue, and profit to analyze the growth of the company. Monday has a sales dashboard that can make their work easier. It has different widgets like charts, graphs, etc. that can be customized according to the requirement.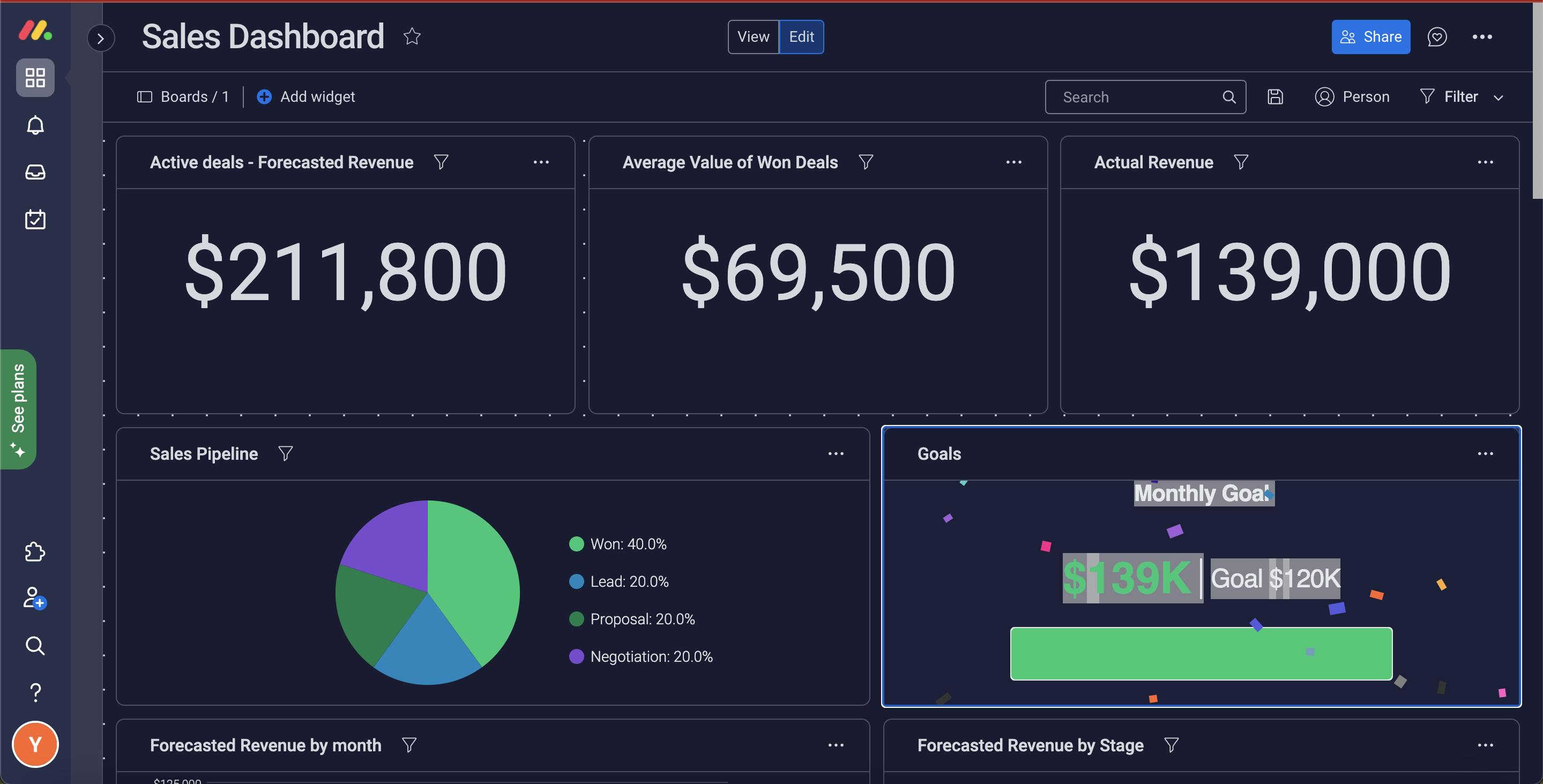 However, the sales dashboard is a project dashboard with pre-configured widgets. It lacks some of the feels that a CRM tool like SmartTask has. SmartTask provides a customized dashboard for every team with Advanced Analytics to keep track of their revenues and profits.
2. Mobile Compatibility
According to the report, around 68.1% of people browse websites from their phones. Also, there are times when we cannot operate on a laptop/PC. With Monday's mobile app, which is compatible with almost every device in the market, your sales team can access task details, and stay updated and connected on the go.
So, now you can access your data on the go while you are commuting to any other place or when you don't have any access to your laptop.
3. Contact Management
Managing contacts and following up on leads is one of the most important parts of the sales process. To ease this process, Monday sales CRM has a contact management template. With this template, you can keep a record of task priorities, phone numbers, emails, and whatnot.
But, this template looks like a modified list with customized columns. It is difficult to link the organization to a person's contact. Also, viewing a record of a contact's past activities is not possible.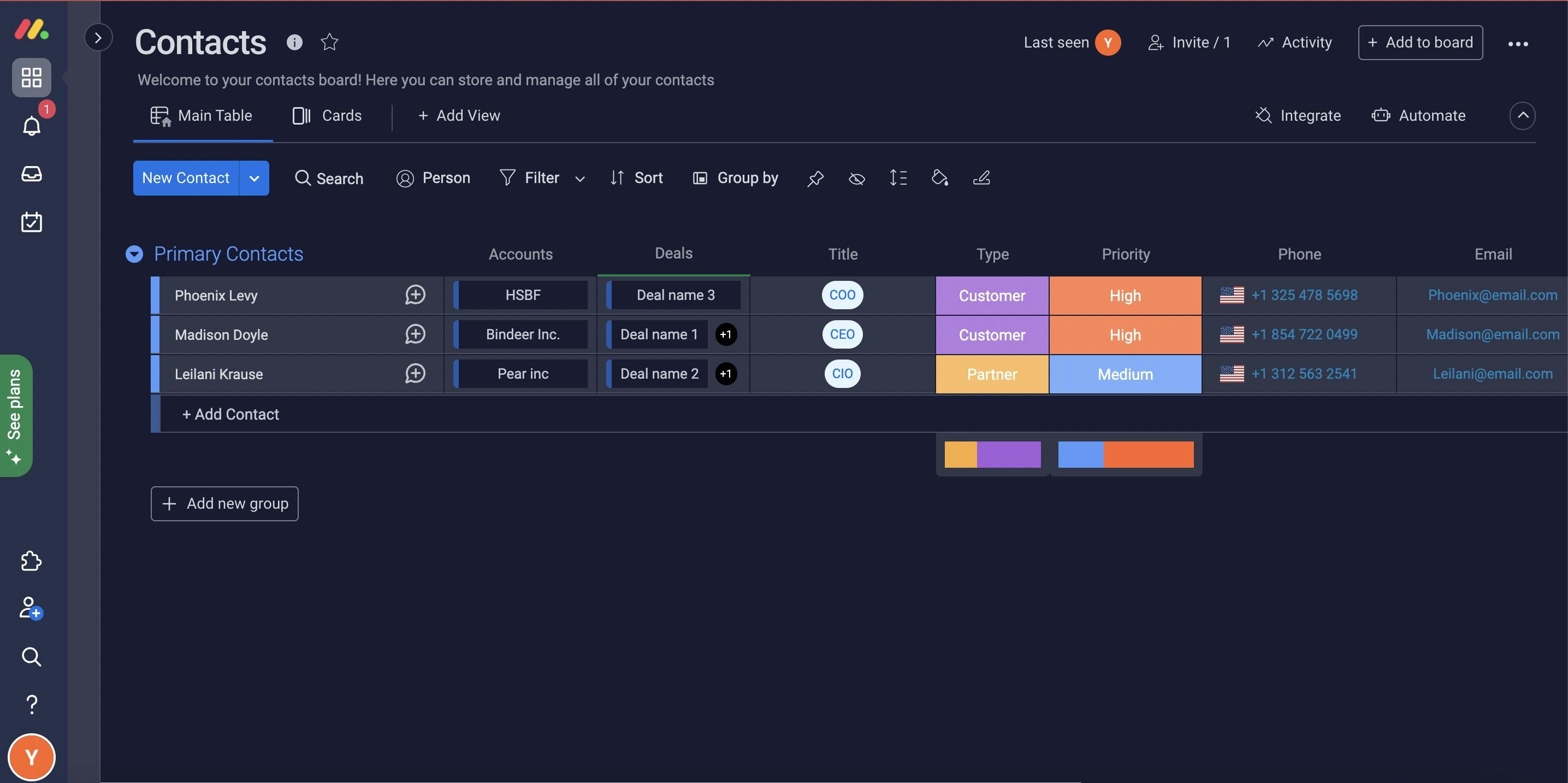 As you can see, the lack of functionality can be observed here in the contact management template.
4. Customer Tracking
Contact management is more difficult than lead generation. A lead needs constant follow-up before it gets converted. There are various stages through which the leads pass through before getting converted. Monday CRM helps in keeping track of those stages and the entire lead generation process.
We all loved these features of Monday. They are competing directly with all the CRMs out there. Monday is a great project management tool but, how far has it come when it comes to CRM?
Is Monday an ideal CRM?
Umm... Spidey has the answer: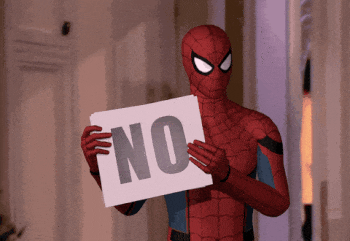 Let me explain why!
Although Monday is a great project management software, it lacks the functionality of a top CRM tool. It is pretty much a basic list with CRM functionalities, but comparing it to a CRM tool is like comparing apples to oranges.
Now comes the time to point out the differences between Monday and other major CRM tools like SmartTask. Keep an eye on these differences to pick the best:
1. No Contact Management
Contact Management helps in deciding the buyer's intent by keeping a track of data like phone number, email, chat history, and meetings.
Monday Sales CRM has a customized template with multiple tags in the name of Contact Management. The half-baked features couldn't be compared with a full-blown CRM. SmartTask, on the other side, has great features that can help in various sales stages ranging from fetching a lead to converting it.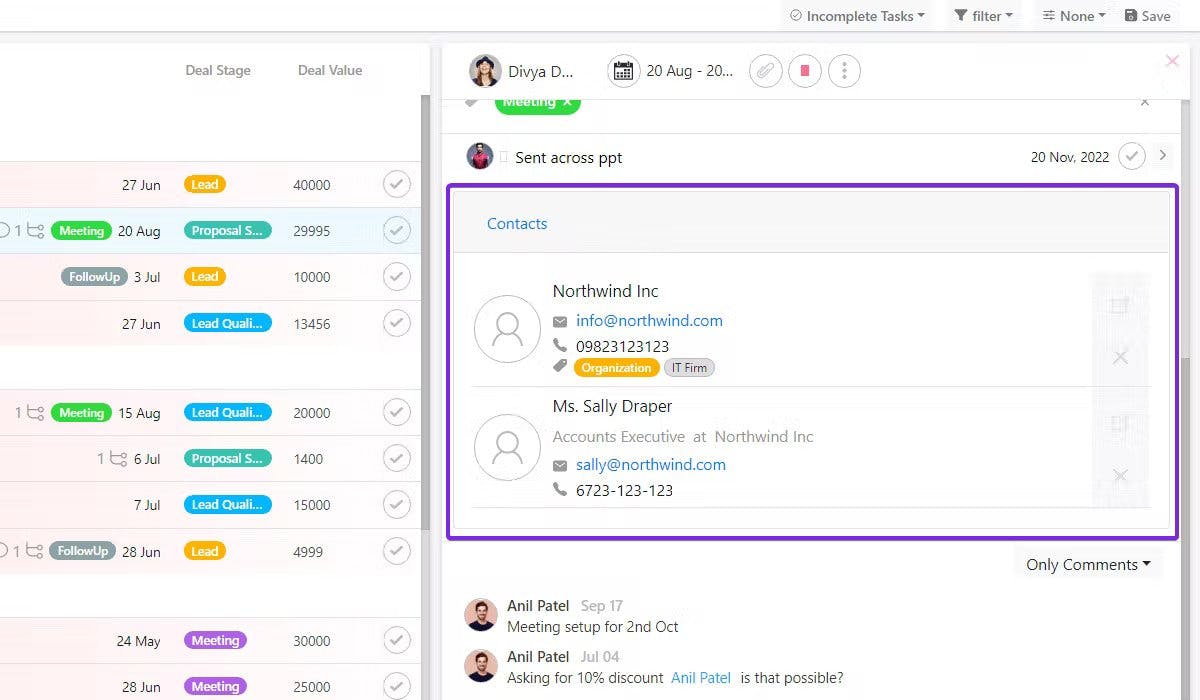 It has everything a CRM should have. You can attach contacts to a particular task and assign your colleague to it. A sales pipeline can be created and analytics of the same can be checked in the CRM.
2. Not a CRM
Monday Sales CRM is a regular project management software in disguise as a CRM. It is not an actual CRM but just a bunch of templates combined. Because of its ultimate flexibility, Monday almost does the job but lacks the authenticity of a CRM.
On the other hand, SmartTask ☝️ has an inbuilt CRM that helps in managing companies, leads, and their deal stage. It keeps your sales team on their toes with real-time updates on their leads.
3. No Activity View under a Contact
Monday CRM lets us store the information of a contact. But, what next?
Who would keep track of the activities that are done on the project? SmartTask will. It has an activity view that keeps you updated on all the activities related to that particular contact.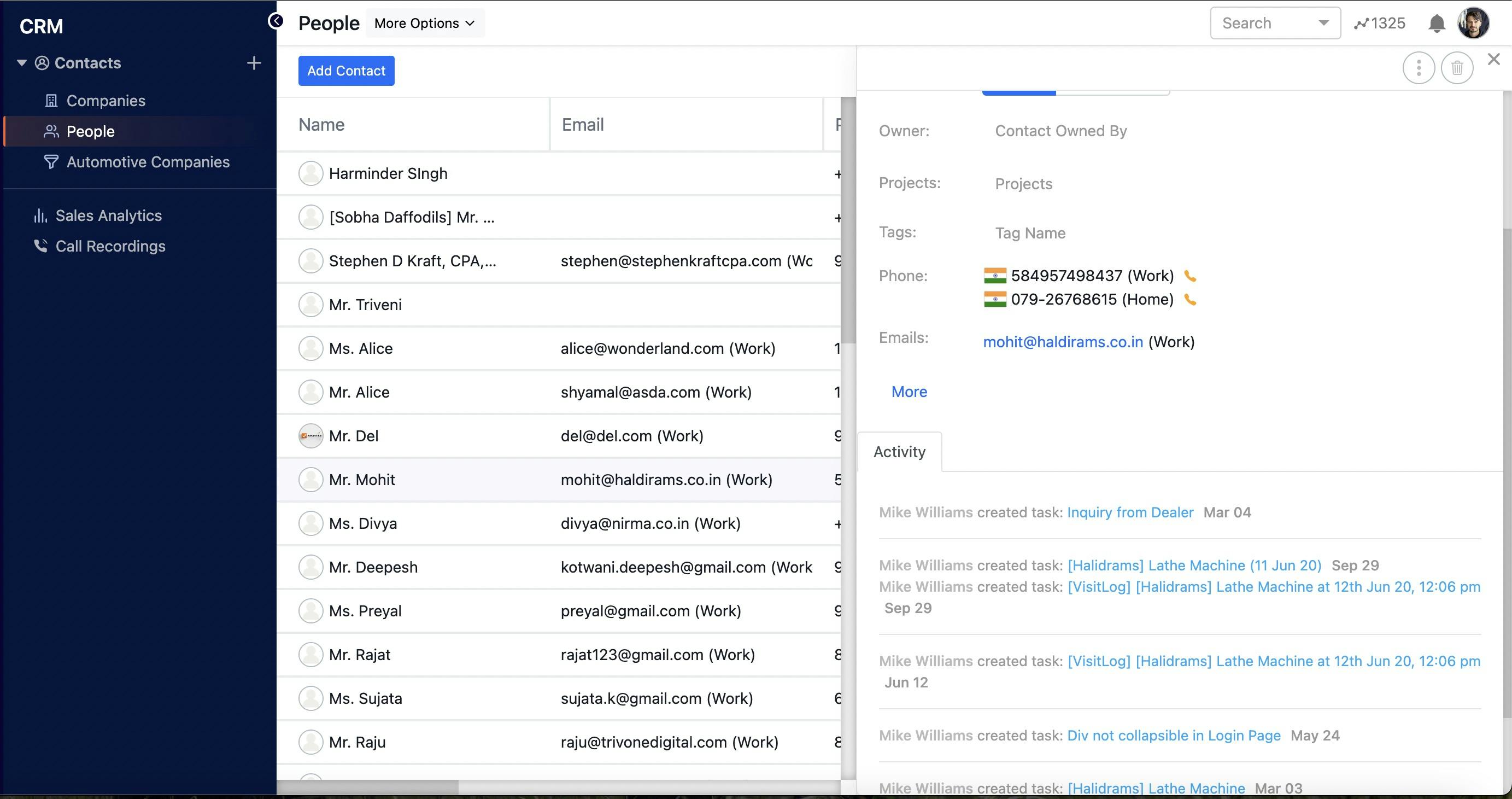 4. Limited Sales Dashboard
Monday has a pre-defined and limited sales dashboard. It doesn't offer much room for customization. Whereas, SmartTask offers full customization that lets you track sales according to the deal stage and many other metrics as shown below 👇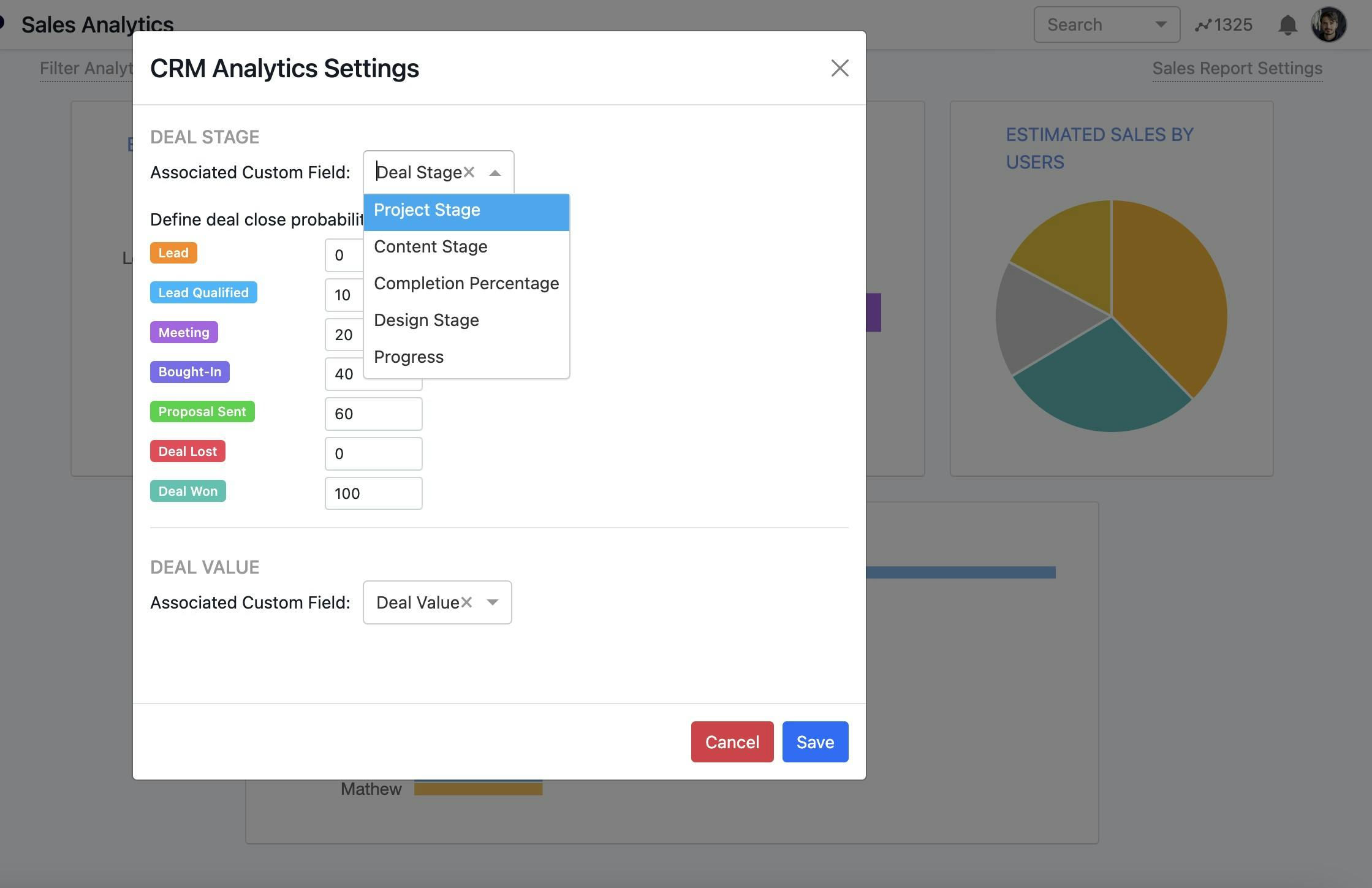 5. Click to Call and Video Conferencing
Monday lacks two great features that SmartTask has. Those legen-wait-for-it-dary features are Click to Call and Video Conferencing. These features are a boon to salespeople as they can directly call or host a video conference with their clients from the app itself.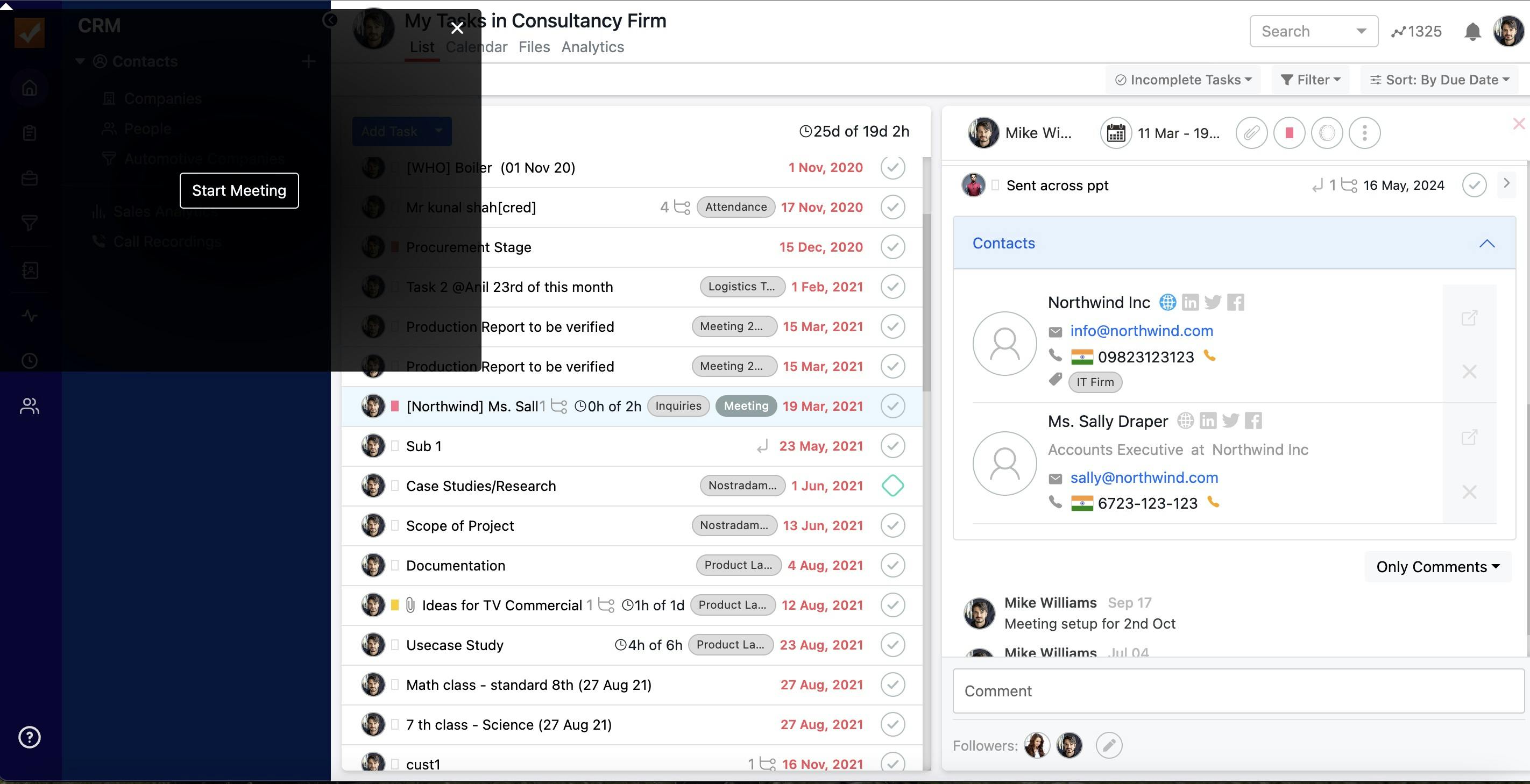 Call Recording - Another remarkable feature that SmartTask has is Call Recording. You could store the recordings for every call you do from the app. It helps you in analyzing the details that were discussed in the call.
Call Filtering - SmartTask also offers Call Filtering option that helps in sorting calls according to the duration, caller, and receiver. This feature comes in handy when you want to find an important recording.
6. Not having an Advanced Search Option
Like SmartTask, Monday doesn't have any advanced search option that can search across the CRM. This feature comes in handy when you have to search for a lead urgently. It helps in saving a lot of time and providing ease to the CS team.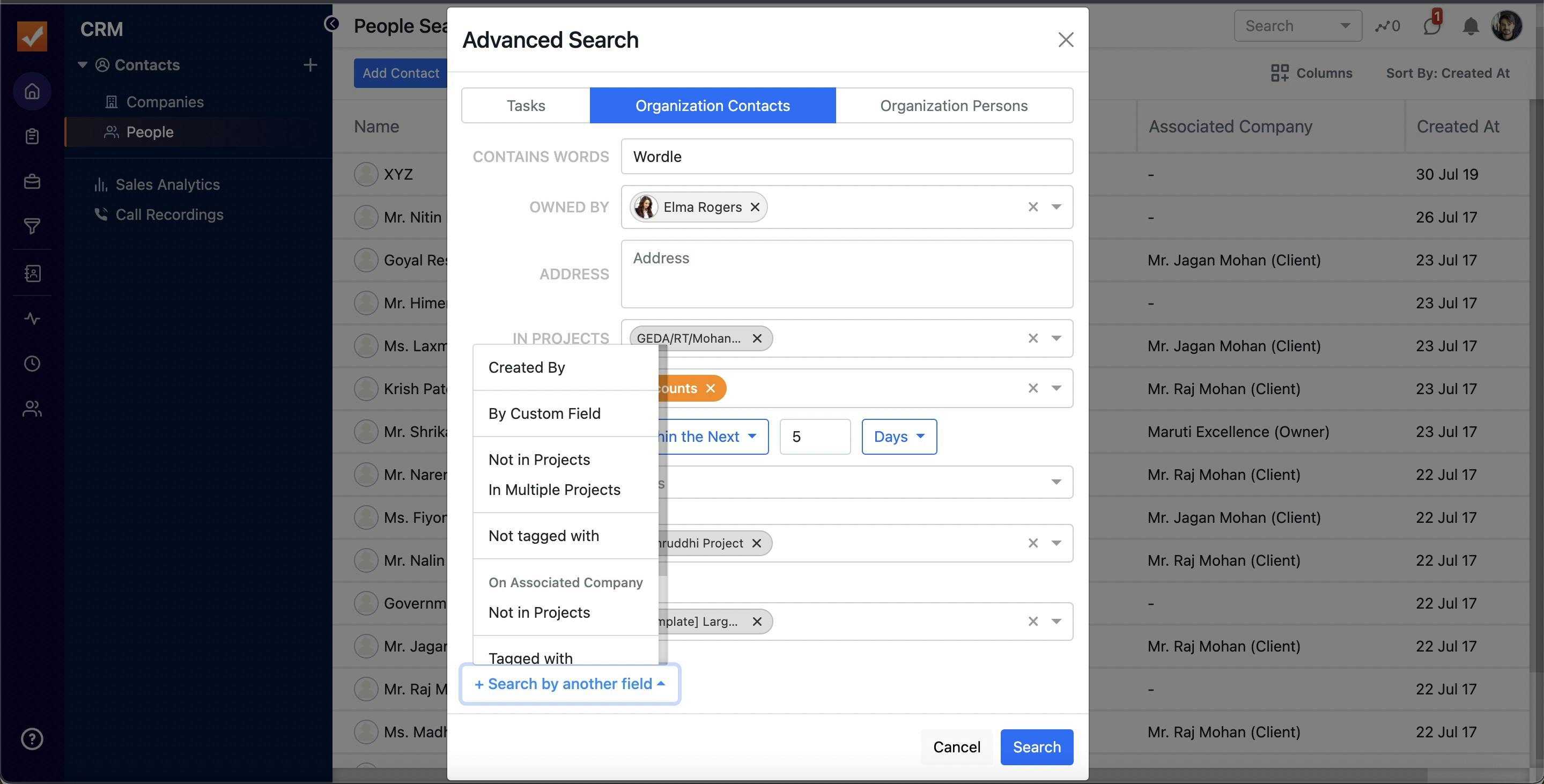 As seen in the image above, one can search across organizations, tasks, and contacts in every possible combination with SmartTask's Advanced Search.
7. Limited Support
The only thing that limits Monday to be the best CRM out there is its mediocre support. They are hard to get when you need them the most. On the other side, SmartTask provides you with unmatched service and great support. So, you know whom to call when in trouble!
8. Not Value For Money
Monday is best for you if you are a team of 2 people. But, once you grow more significant, the problem also grows with you. (We meant cost here, gentlemen!). Monday is one of the most expensive tools out there.
SmartTask, on the other hand, offers a Free Forever plan, unlimited tasks and projects.
9. No Advanced Charts
Monday doesn't provide advanced analytics of deals done or leads captured but SmartTask does. And this is why we prefer it to track leads, sales, tasks done by different users, and anything under the sun.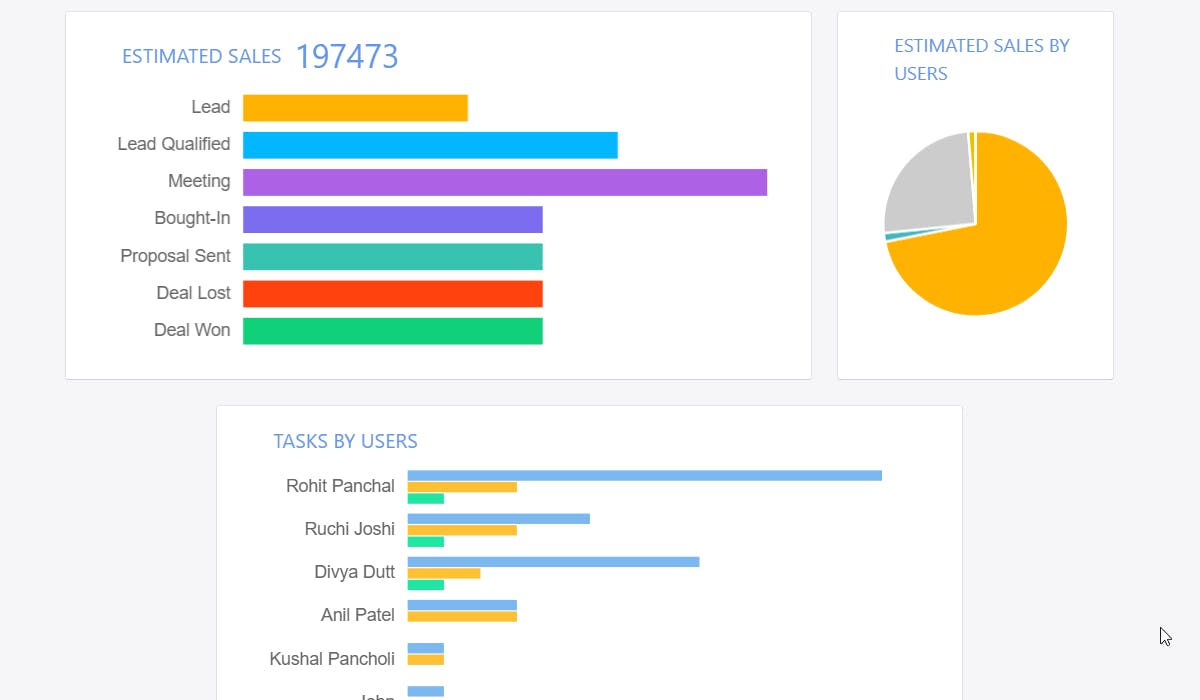 SmartTask: The Best Alternative for Monday CRM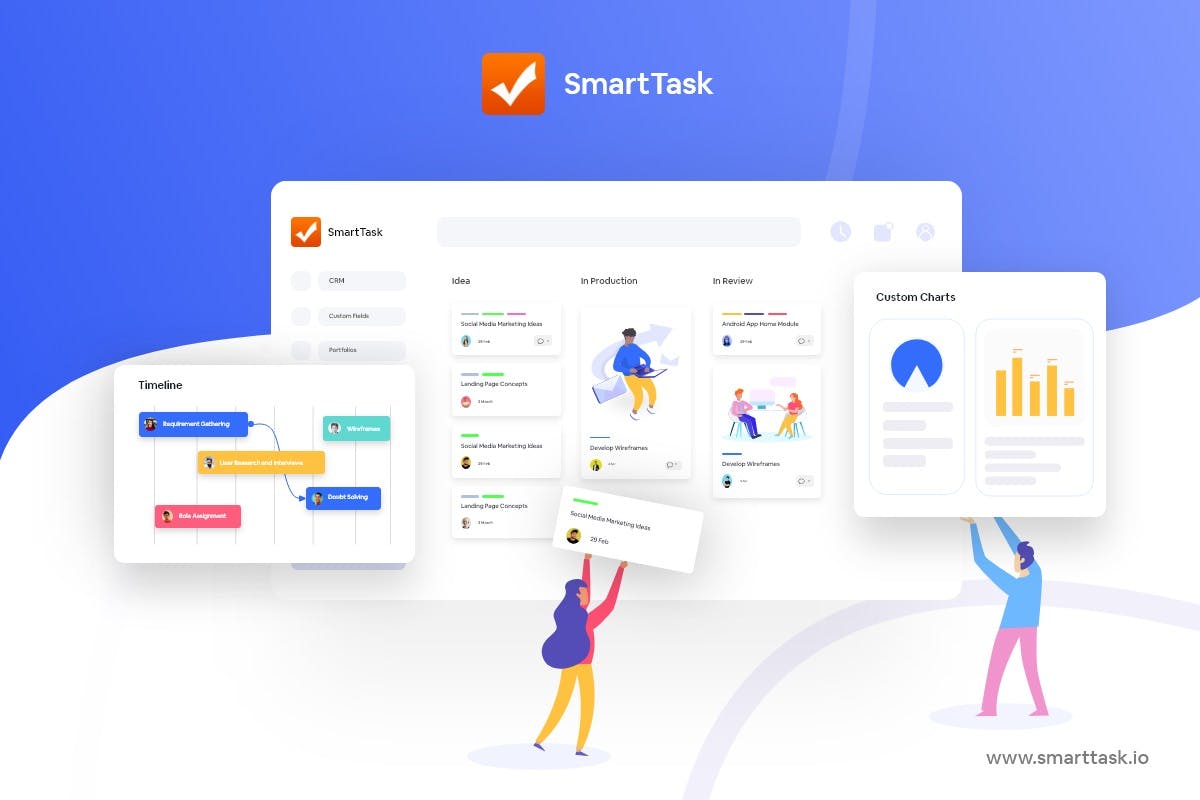 SmartTask is an all-in-one cloud-based project management tool with a built-in CRM. It has one of the best CRMs out there.
Would you like to know more about this amazing tool?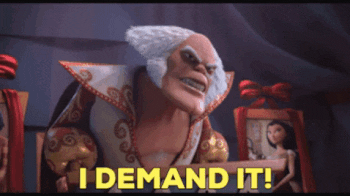 Okay, here you go.
SmartTask CRM helps you in keeping track of leads at every stage in the buyer's journey. Right from fetching the lead to converting it, the lead gets nurtured in SmartTask. Let's have a look at these steps:
1. Contact Management
In the first step, the CRM helps you in managing contacts with prospective customers. It keeps the data handy along with detailed information about the lead.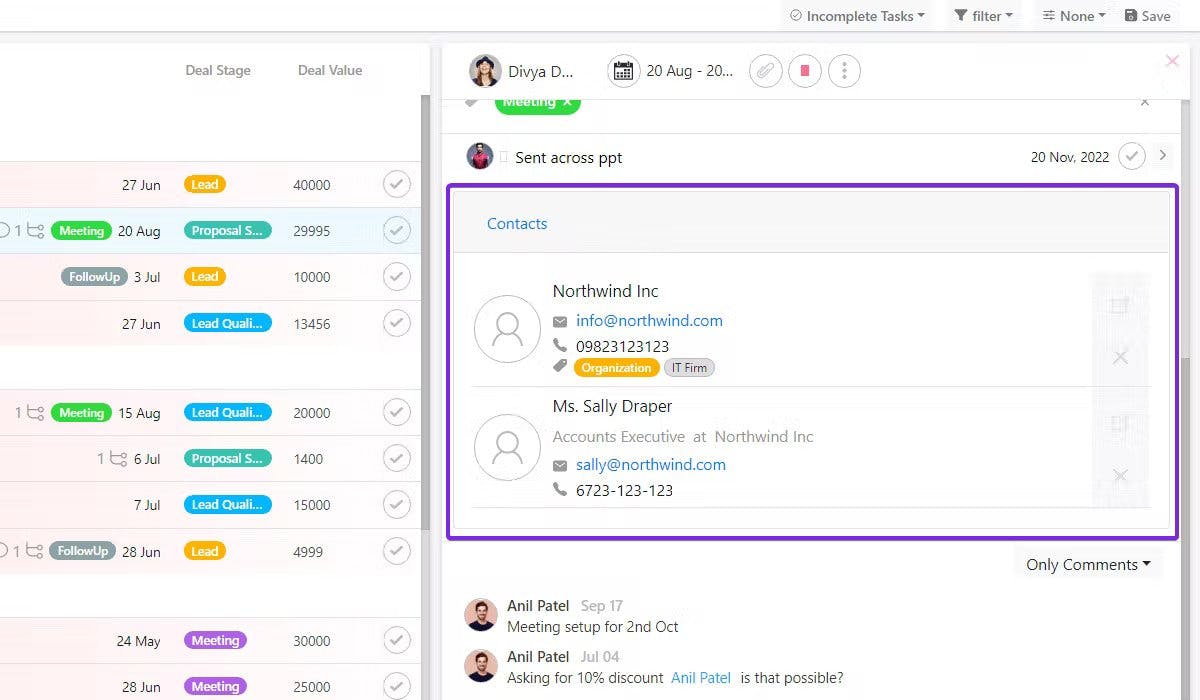 2. Track Deal Progress
This board view helps the sales team to keep track of the lead stage. Whether the lead is newly fetched or it is at the end of the buyer's funnel, this function will help us in tracking the progress of the same.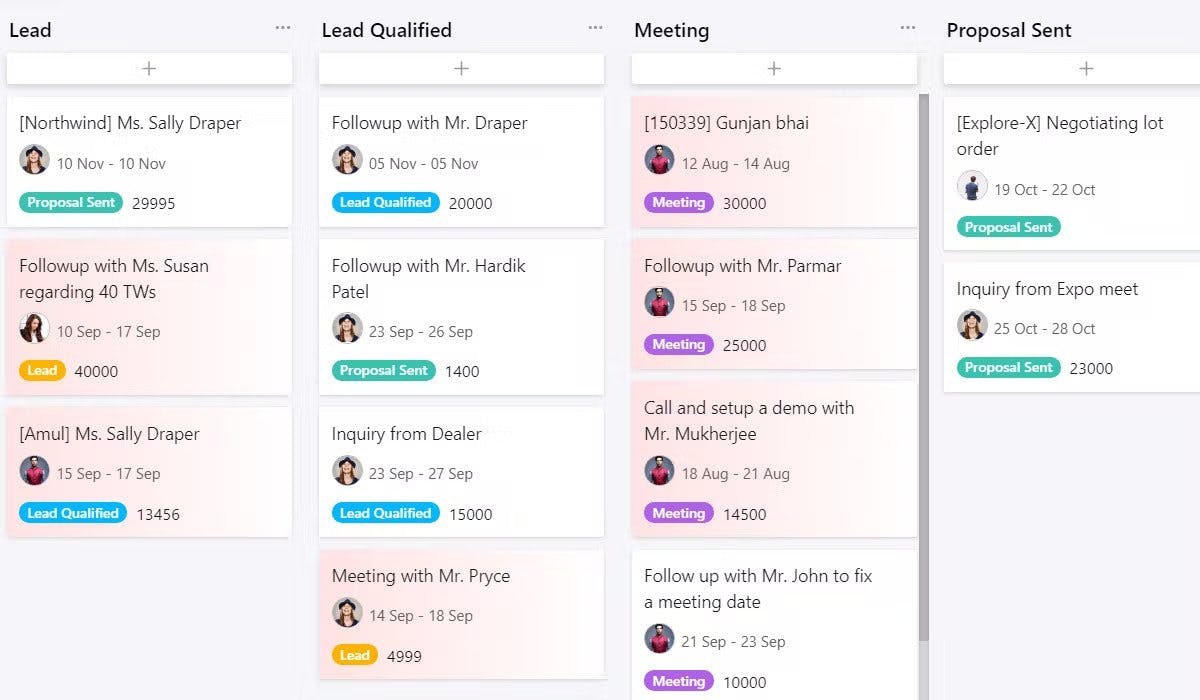 3. Sales Analytics
As far as we know, sales reporting is the most dreaded job that everyone most probably hates to do. Well, SmartTask becomes a savior here by churning all the data and reporting it. The best thing about analytics? It's fully customizable.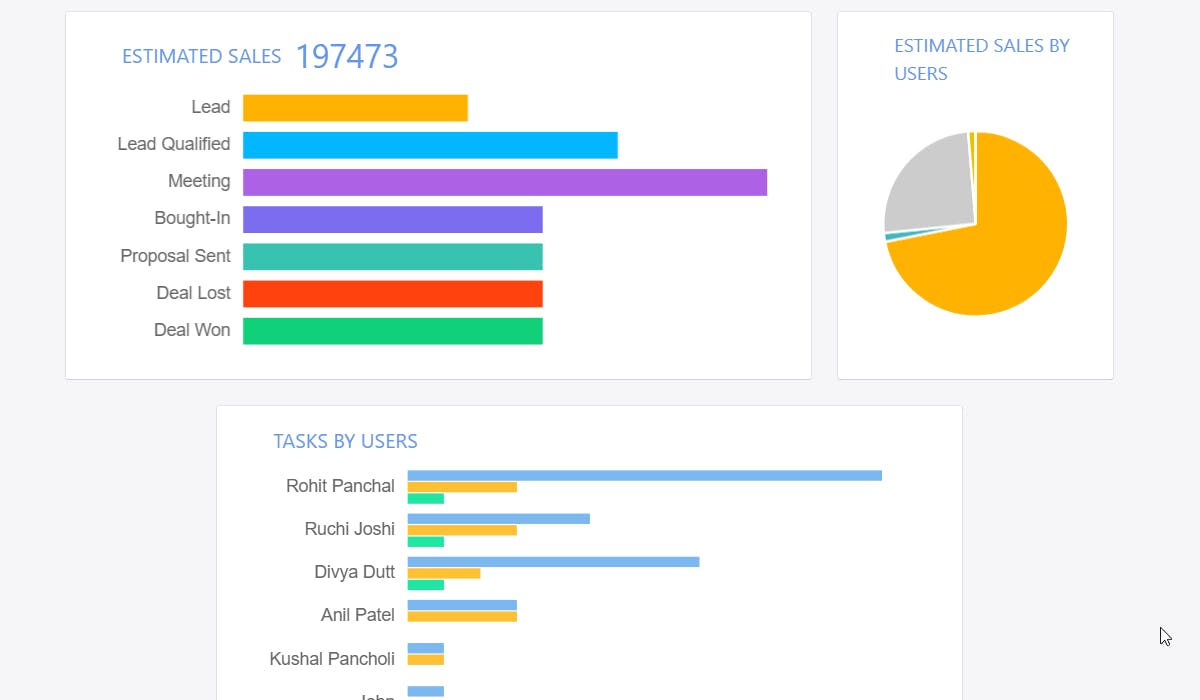 We know you had those butterflies by hearing the word, "fully customizable". So, when are you going to try this?
4. Call Tracking
A lot of times we have to analyze the customer behavior and target accordingly. This feature helps in making calls and tracking them in the CRM itself.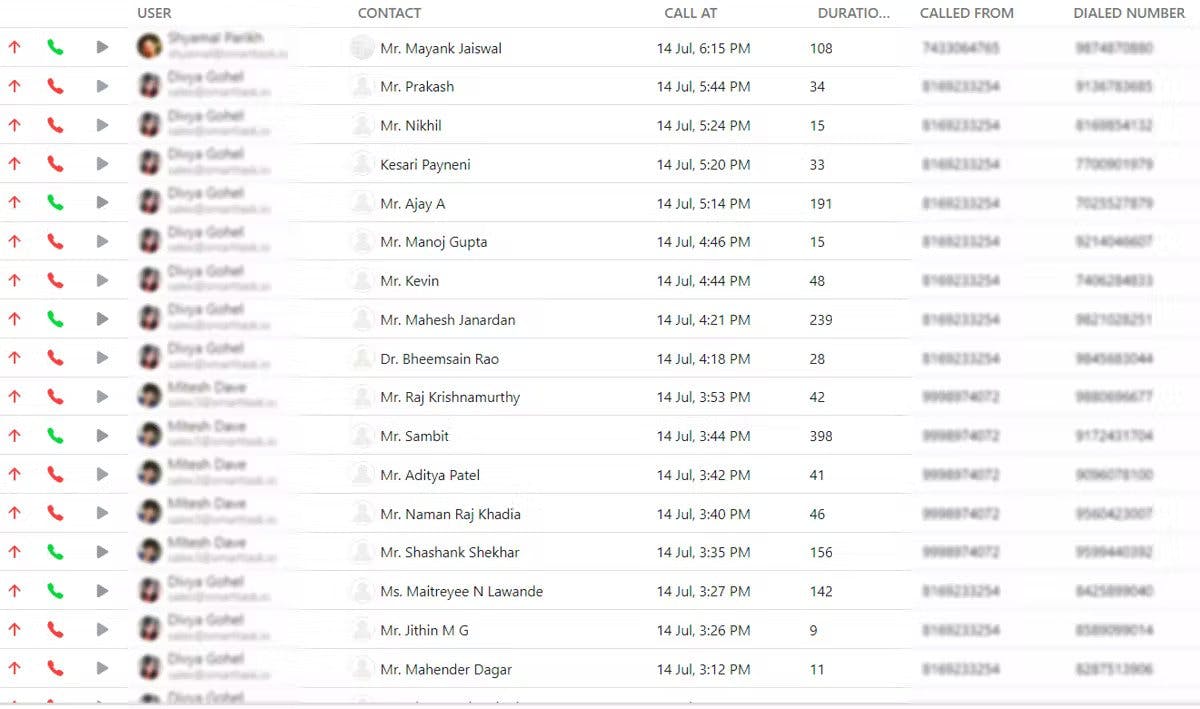 Conclusion
Looking at all the aspects, we concluded that,
Monday is a great project management tool but when it comes to CRM, it lacks functionality. It can compete with great CRMs, thanks to its customizability but, it can't beat an actual CRM. (Btw, here's a list of other sales tools you may want to checkout).
Whereas, SmartTask is an all-in-one project management tool with a built-in CRM that helps manage people and track leads along with it. Do try SmartTask for your customer success team today.
Get your free consultation on SmartTask CRM today.