SmartTask
Contents
10 Best SaaS CRM Software Tools to Use in 2023
By Angad SinghFeb 5, 2023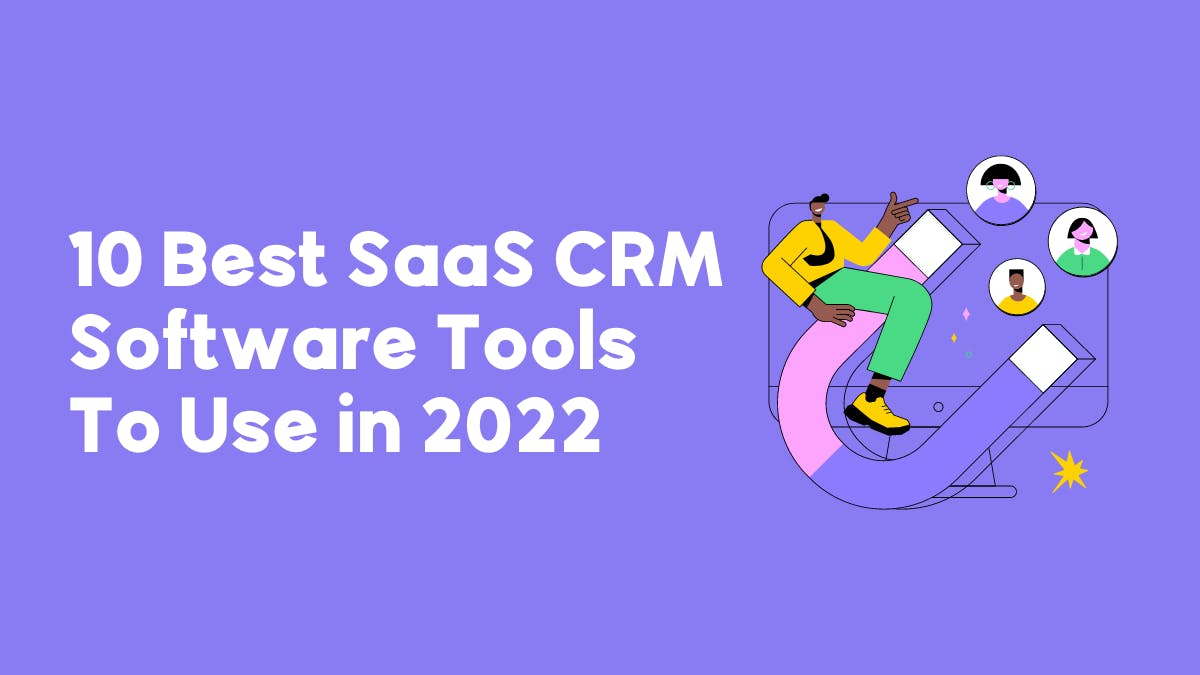 Customer relationships define nearly everything about a business's ability to succeed. The more you connect with your customers, the more you can sell.
Retention, arguably the most important metric for SaaS companies, also depends heavily on how customers perceive your product experience.
So, it's a no-brainer for SaaS companies to use CRM tools. They allow them to build relationships, increase sales, improve processes, and deliver better support. Of course, that isn't news for SaaS veterans.
However, there's a changing tide that only a few have been able to identify. With too many tools beefing up tech stacks for SaaS professionals, one-in-all solutions offer an edge that dedicated platforms don't.
With that in mind, here is a list of the top CRM tools that give you the most horsepower for your expense:-
1. SmartTask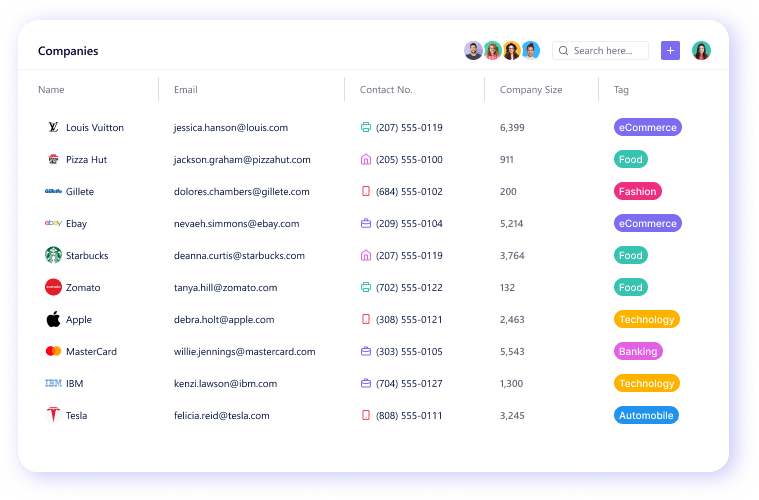 SmartTask is a complete work management solution that perfectly toes the line between being a dedicated CRM tool and a holistic platform.
It offers top-of-the-line project management capabilities and integrates them flawlessly with an in-built CRM.
With simplicity as a guiding principle, SmartTask's CRM strays clear from workflows that are too complex.
That's what puts SmartTask at the top. It is a CRM that naturally scales into an all-in-one work management tool or vice-versa.
Key Features
Contact Management
Pipeline Management
Inquiry management
Call tracking and recording
In-app video conferencing
Cross-team communication
Task and project management
White labeling
Sales Forecasting
Dashboard analytics
Pros
Clean UI with an intuitive user experience that poses little to no learning curve
A diverse feature set that you can discover gradually
One tool for several use-cases: Sales, Marketing, Customer Success, Operations, and Product Management
24/7 support; customer success manager assigned even at the most basic paid plan
The best value-for-money of all the tools compared here; plans start from $5/user/month
Cons
Sales forecasting needs you to define constraints manually
Best For
Fast-growing startups that need an insanely scalable solution
Enterprises that want top-of-the-line functionality with the best ROI. SmartTask's Enterprise plan goes for $8/user/month. No kidding!
2. Salesforce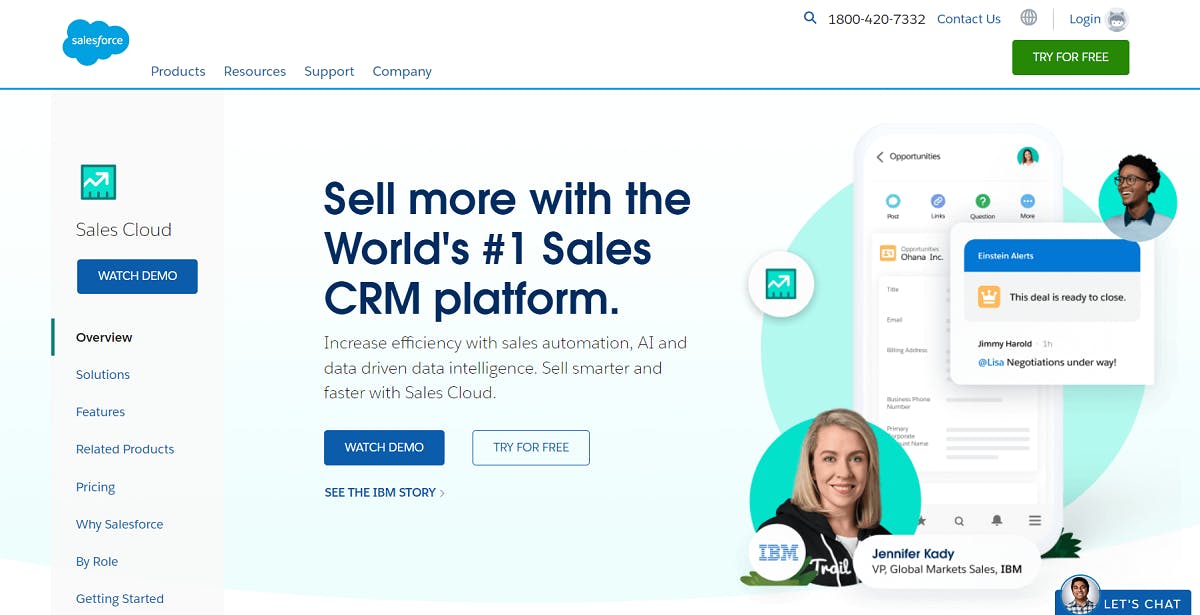 Salesforce is among the most popular CRMs to ever have entered the market. It offers a powerful blend of customization, ease of use, and scalability that other intuitive CRMs lack.
It does come with a bit of a learning curve. Especially as you begin warming up to some of its advanced capabilities. However, the training resources Salesforce provides are unparalleled, and so is its support.
Key Features
Account and contact management
advanced marketing automation
Sales forecasting
Customizable reports and dashboards
Workflow automation (Process Builder)
Lead scoring
File sharing
Task management
Pros
Ease-of-use that co-exists with insane potential for customization
A mobile app that keeps you connected to your customer data, even when you're on the move
Bountiful integrations
AI-powered decision making
Impeccable training resources
Cons
Pricing is too expensive for small teams
It's billed annually. No monthly plans
Too intricate for teams that haven't used a CRM before
Best For
Hypergrowth teams that need a scalable solution
Enterprises that want a feature-rich CRM with tons of integrations
3. Zoho CRM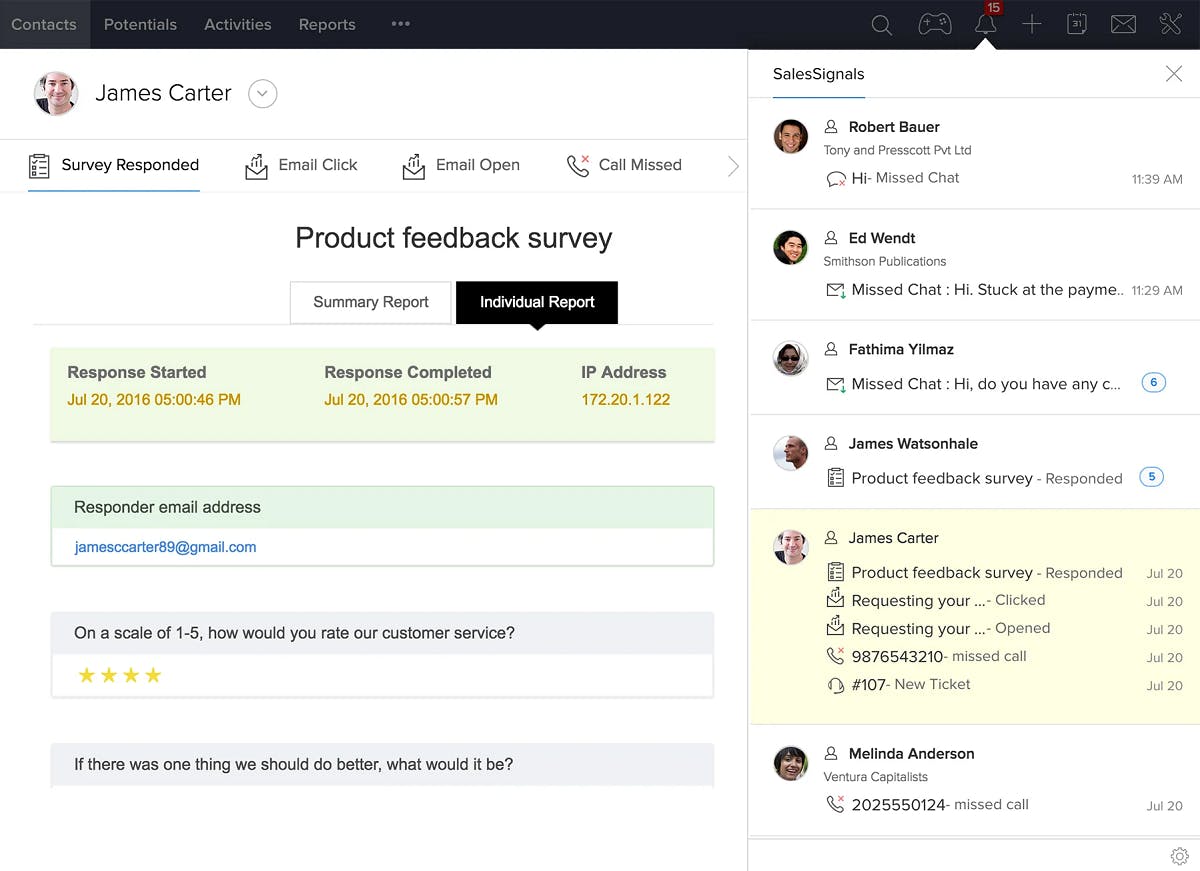 If affordability is the driving force behind your purchase decision, Zoho CRM is likely your best bet. It is a scalable solution with balanced features like opportunity tracking, workflow management, sales pipeline management, and automation.
Like SmartTask, HubSpot, and Monday, Zoho can also serve as a holistic business management platform if you pair the CRM with other Zoho products.
Key Features
Lead management
Deal management
Contact management
Workflow automation
Reporting and analytics
Live chat
email automation
Sales forecasting
Journey orchestration
Pros
A bang-for-the-buck purchase with plans starting from $12/month.
Highly accessible. Comes in 28 different languages.
Great mobile app
Can integrate with other Zoho products to form a holistic work management platform
Several integrations to help consolidate your tech stack
Cons
UI isn't as intuitive as the other CRM tools on the list.
Automations aren't robust enough
Customer support can be a point of contention for some users
It is known to be buggy at times
Best for
Small teams looking for an affordable yet scalable CRM
4. Pipedrive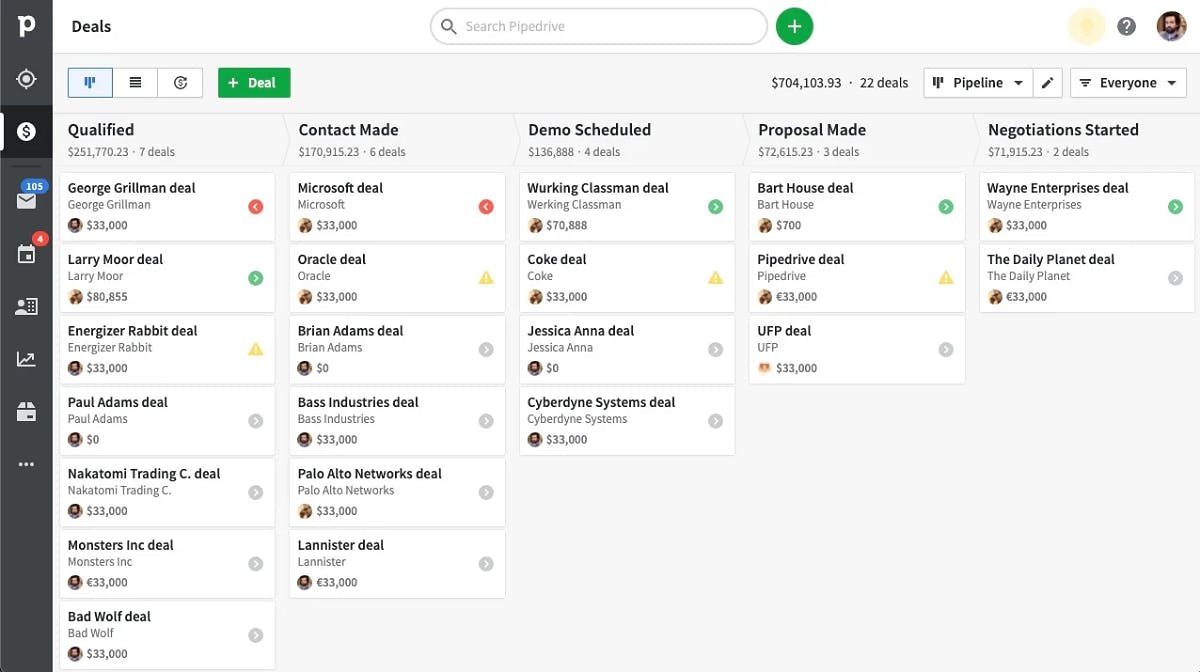 Pipedrive may not have as many bells and whistles as some of the other entrants on this list. However, it wins hearts with its exceptional ease of use and affordable pricing.
But the downside is that you can't use Pipedrive for all your work management needs. It's a platform built solely to manage sales pipelines. So, it can't offer the scalability that the likes of SmartTask, Monday, HubSpot, and Zoho can.
Key Features
Opportunity management
Pipeline visualization
Custom fields
Task management
Lead tracking and scoring
Intelligent sales assistant
Customizable sales pipelines
Workflow automation
Smart docs
250+ integrations
Pros
A very intuitive platform that doesn't pose much of a learning curve
Provides API access
Can make phone calls from within Pipedrive
Handy workflow automation
Very affordable; pricing starts at $14.90/month
Cons
Prone to slowdowns as reported by some users
It isn't as customizable as Salesforce or some other tools on the list
UI can be a bit lackluster for some users
Scalability is limited
Best For
Small and medium businesses that want a functional and easy-to-use CRM
5. HubSpot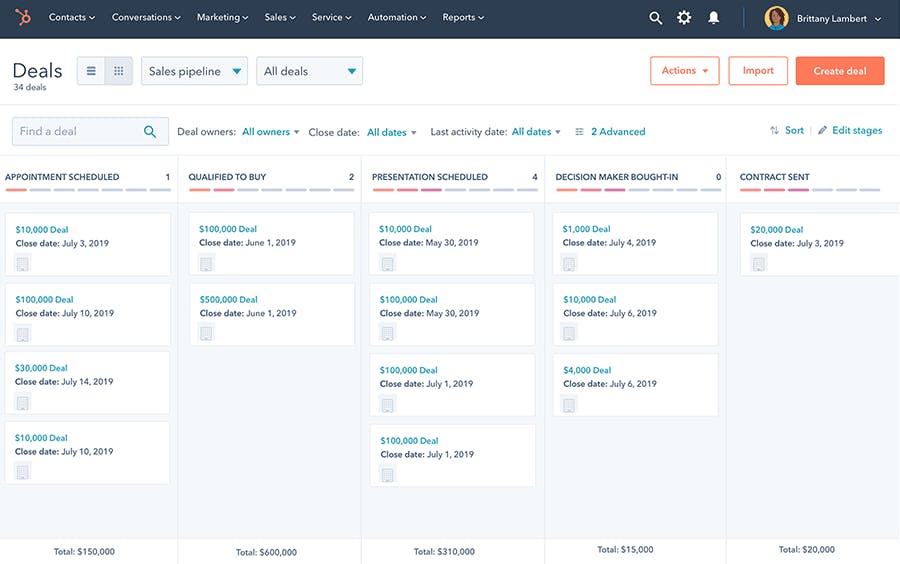 HubSpot is not only a popular CRM solution but one of the biggest SaaS companies out there. Period. It birthed the inbound methodology: a framework that has completely transformed sales and marketing.
Even as a free tool, HubSpot CRM gives you plenty of features to bring order and predictability to your sales process. You can obviously take things up a notch by investing in paid plans, especially if content marketing is a big part of your business.
Key Features
Contact management
Sales automation
Live chat
Record customization
Predictive lead scoring
Conversation intelligence (AI that helps you gain insights from your teams' phone calls)
Sales analytics
Conversation routing
Pros
Functional free-version
Phenomenal onboarding experience
Intuitive enough to be grandma-friendly
Integrates flawlessly with other HubSpot solutions)
Amazing learning resources (HubSpot Academy)
Cons
Not as automation-ready as some of the other tools on this list (especially Salesforce)
Paid plans are not cheap. Start at $45/month
Best For
Companies that rely heavily on content marketing for lead nurturing
Small teams that can derive value from a free CRM
Teams already using other HubSpot solutions
6. Microsoft Dynamics 365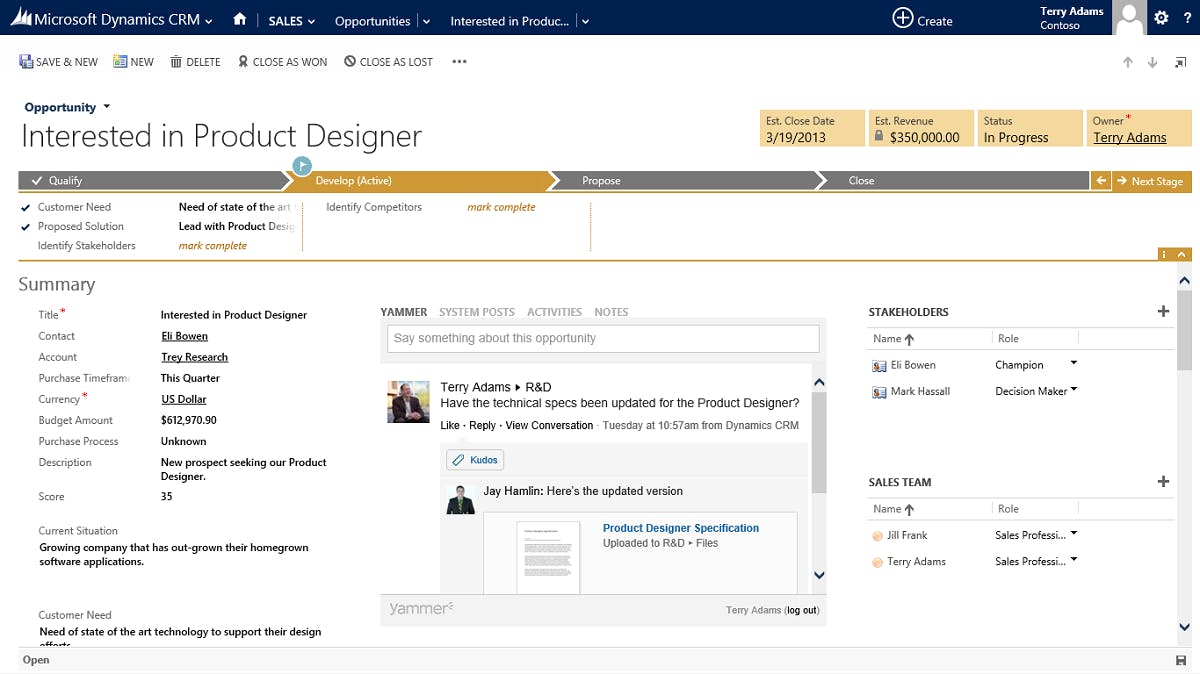 Microsoft Dynamics 365 is a platform that forges two SaaS solutions into one: ERP (Enterprise Resource Management) and CRM (Customer Relationship Management).
It is an enterprise-ready product that helps businesses drive efficiency across various verticals.
Key Features
CRM with Project Management
Pipeline visualization
Reporting, analytics, and sales forecasting
Custom fields
Social CRM capabilities
Marketing automation
Quote management
Order management
Contact management
Opportunity management
Pros
Integrated flawlessly with other Microsoft products
Supports mobile access
Can handle complex enterprise needs
Has powerful AI-based capabilities
Offers tons of customization
Developed by a big name like Microsoft: readily invites customer trust
Cons
Isn't the most intuitive CRM to use; tough to use without thorough training
It is better suited for enterprise users than SMBs
Complicated pricing
Best For
Enterprises that need a powerful tool to realize complex customer journeys, Dynamics 365 is a wise investment
7. Monday Sales CRM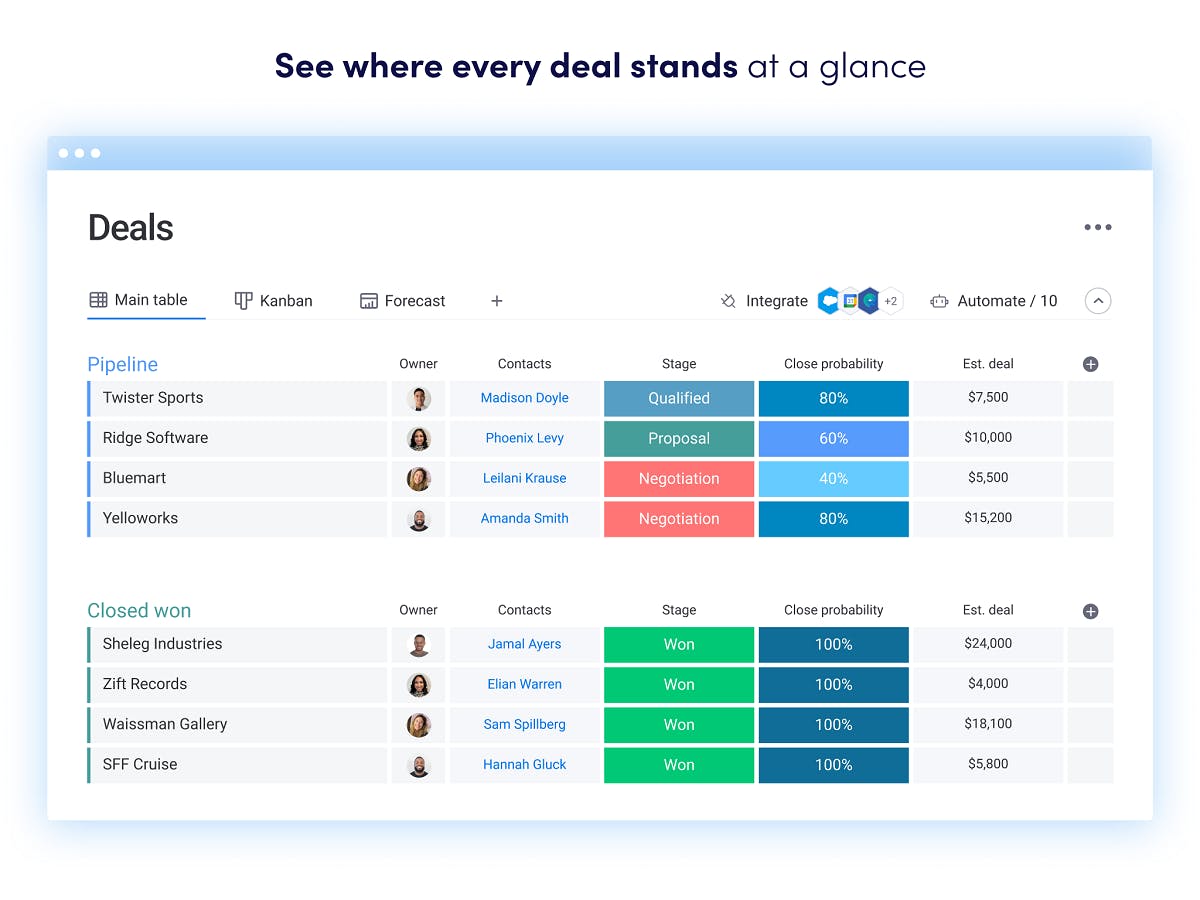 Monday is work management OS split into various products, one of which is the Sales CRM.
The product is powerful enough to offer you a 360-degree view of your customers and empower sales professionals to close deals more efficiently.
Key Features
Account management
Deal management
Sales forecasting
Sales docs
Customizable pipelines
Templates to help with setup
Email tracking and automations
Dashboard analytics
Lead scoring
Team goals
Pros
Robust project management capabilities
Connectivity with other products in the Monday Work OS
Fair pricing
Modern, colorful UI
Reliable support
Near-endless customization
Support several integrations
Cons
Not as specialized as some other tools on the list
Plans start at $10/user/month, but you can't purchase less than 3 seats/month. So, the minimum pricing for this tool effectively comes out to be $30/month
Best For
Teams already using other Monday Work OS products
Small and medium-sized teams that want to leverage Monday's product management roots
8. Apptivo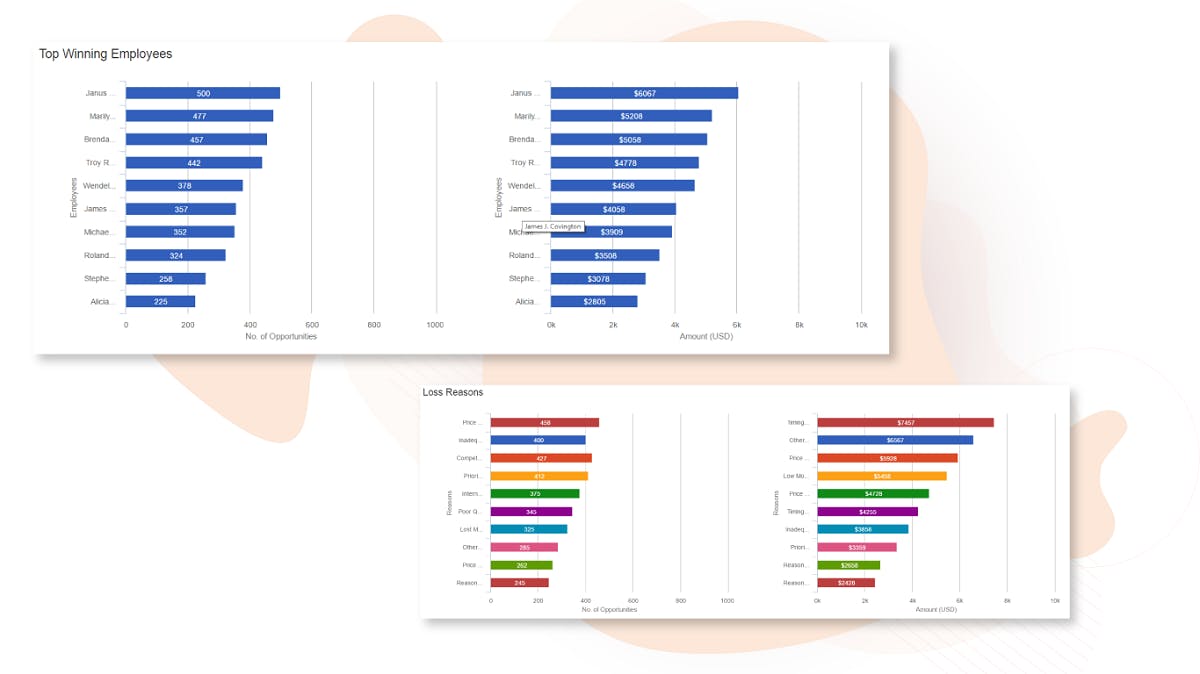 Apptivo CRM is a platform that helps you manage sales pipelines and customer relationships with a suite of multiple apps: customers, contacts, leads, opportunities, and cases.
The CRM platform can further be connected with other Apptivo products to create a consolidated work management solution.
Key Features
Lead management
Custom forms for lead capture
Opportunity management
Customizable pipelines
Custom fields
Project management capabilities
Reporting and sales forecasting
Automated workflows
Bulk emailing
Pros
Very customizable platform
Can turn into a holistic business management platform
Customer support is super responsive
Functional mobile app
The tool received consistent updates
Highly affordable; plans start at $10/month for one user
Cons
The UI is a bit dated
Setting Apptivo up takes a while; the learning curve is steep
Several users report performance drops
Best For
Small businesses that desire a scalable yet affordable platform
Enterprises that need spot-on customer support but don't mind navigating a dated UI
9. SugarCRM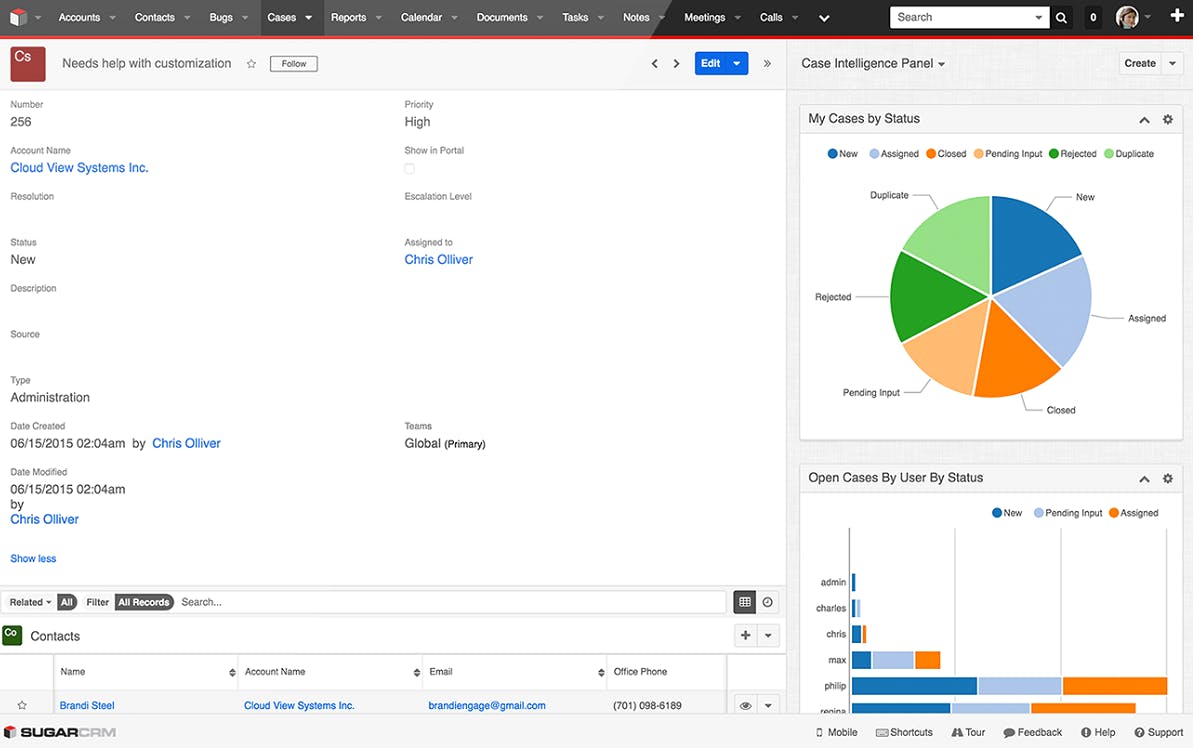 Sugar CRM is a dedicated offering for sales professionals that doesn't advertise the promise of turning into a full-fledged work management system. Instead, it dons its specialized nature with pride.
The tool is an expensive purchase but packs a feature-set diverse enough to entice professionals looking for a long-term CRM fix.
Key Features
Marketing automation
Account management
Contact management
Lead management
Opportunity management
Pipeline management
Reporting and analytics
Call center automation
Sales forecasting
Lead scoring
Omni-channel communication (email, chat, and call)
Pros
Strong reporting capabilities
Satisfactory support with plenty of training resources (Sugar University)
Customizable screen layout
Cons
The tool poses a steep learning curve, even for folks experienced with CRM tools
The UI can feel uninspired to those seeking a modern, more intuitive experience
The pricing ostracizes small teams from the get-go; the cheapest plan is $49/month
Best For
Experienced sales teams that need a dedicated CRM platform and don't mind grappling with a challenging learning curve
10. ClickUp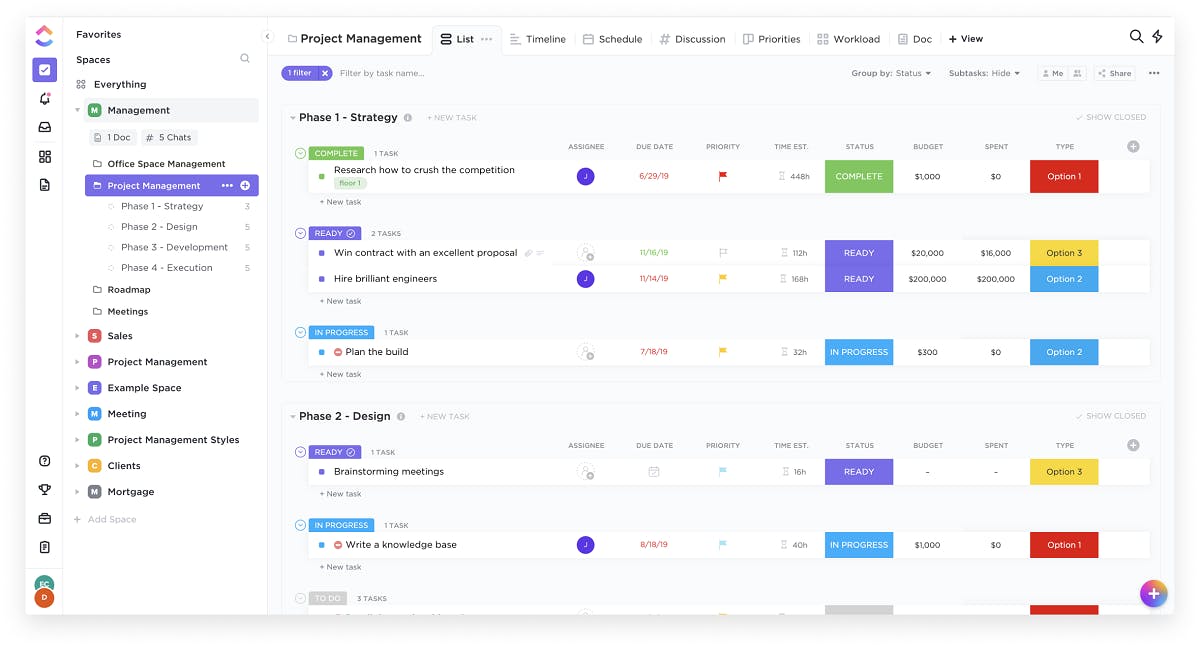 Unlike all the other tools in the list, ClickUp is a project management tool first and a CRM second.
Even though the same can be said for SmartTask and Monday as well... What's different about ClickUp is that its CRM capabilities don't exist by default. You'll need to set them up yourself (based on a template).
Nonetheless, the payoff after your toil will be worthwhile.
Key Features
Account management
Collaboration tools
Project management features
Pipeline management
Dashboard analytics
Automations and lead capture forms
Order management
Docs
Pros
Functional Free-Forever plan
Affordable pricing; plans start from $5/user/month
Can become the only productivity, CRM, and communication app you use
Cons
CRM needs manual setup
The implementation of CRM features is not as specialized as the likes of Salesforce, Pipedrive, SugarCRM, and Hubspot
Best For
Fast-growing small and medium that want one app to manage everything
Final Verdict
So, that's the end of the list, folks. We hope that you were able to find the right CRM tool for your company by the time you got here.
But if you're still uncertain about which one is the right fit for you, cross your fingers and go for the best.
Try SmartTask out for one project...
And find out why business legends like Amul, ABB, Adecco, and Ecolab, along with 20,000+ teams, love working with us.
What do you say? Are you up to the challenge? ;)
Get your free consultation on SmartTask today!
Frequently Asked Questions
1. What are some ancillary tools that one needs to buy with a CRM
CRMs today provide a lot of features but a complete coverage of Marketing and Sales is rarely possible. Here are some tools your team may need that completes all needs of your team:
1. Project Management Softwares:
These is specific piece of software fulfilling needs like client project management, employee onboarding, ad-hoc projects, etc.
Some well known softwares are Todoist, SmartTask, Asana, Trello, etc.
2. Emailing Softwares:
There are 2 type of emailing softwares.
Transactional emails - OTP, Password Reset, critical updates and notifications. Softwares like Sendgrid, Mailmodo, Postmark, Mailjet, etc.
Marketing emails - Bulk emails, campaigns, etc. Softwares like Mailmodo, Mailchimp, ActiveCampaign are wellknown for this niche.