SmartTask
Contents
11 Best Gantt Chart Software in 2023 (Free & Paid)
By Angad SinghNov 13, 2022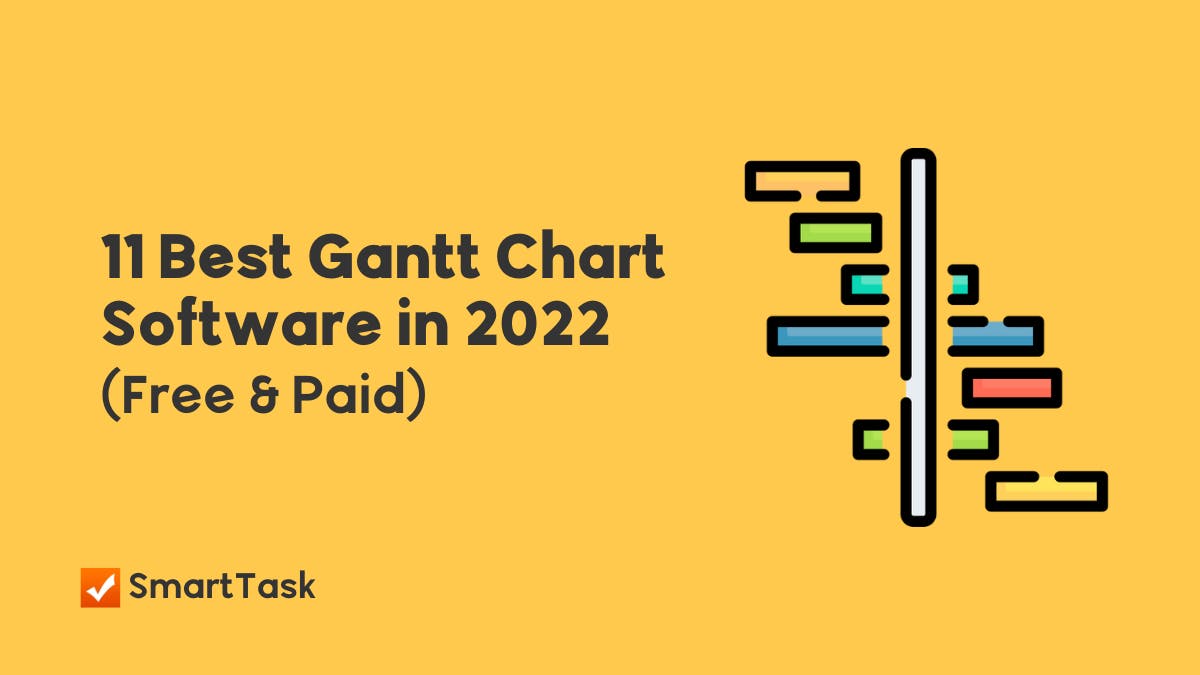 Gantt charts—often touted as the most prominent tool in a project manager's arsenal—offer an accessible window into how a project unfolds over time.
They help you anticipate bottlenecks long before they happen and inform contingency planning from the get-go. Meaning? Making Gantt charts helps you set projects up for success.
So, it naturally follows that project management software worth your consideration should excel at creating and leveraging Gantt charts.
With that as the central wisdom for this blog, let's go over the 11 best Gantt chart software money can buy:-
1. SmartTask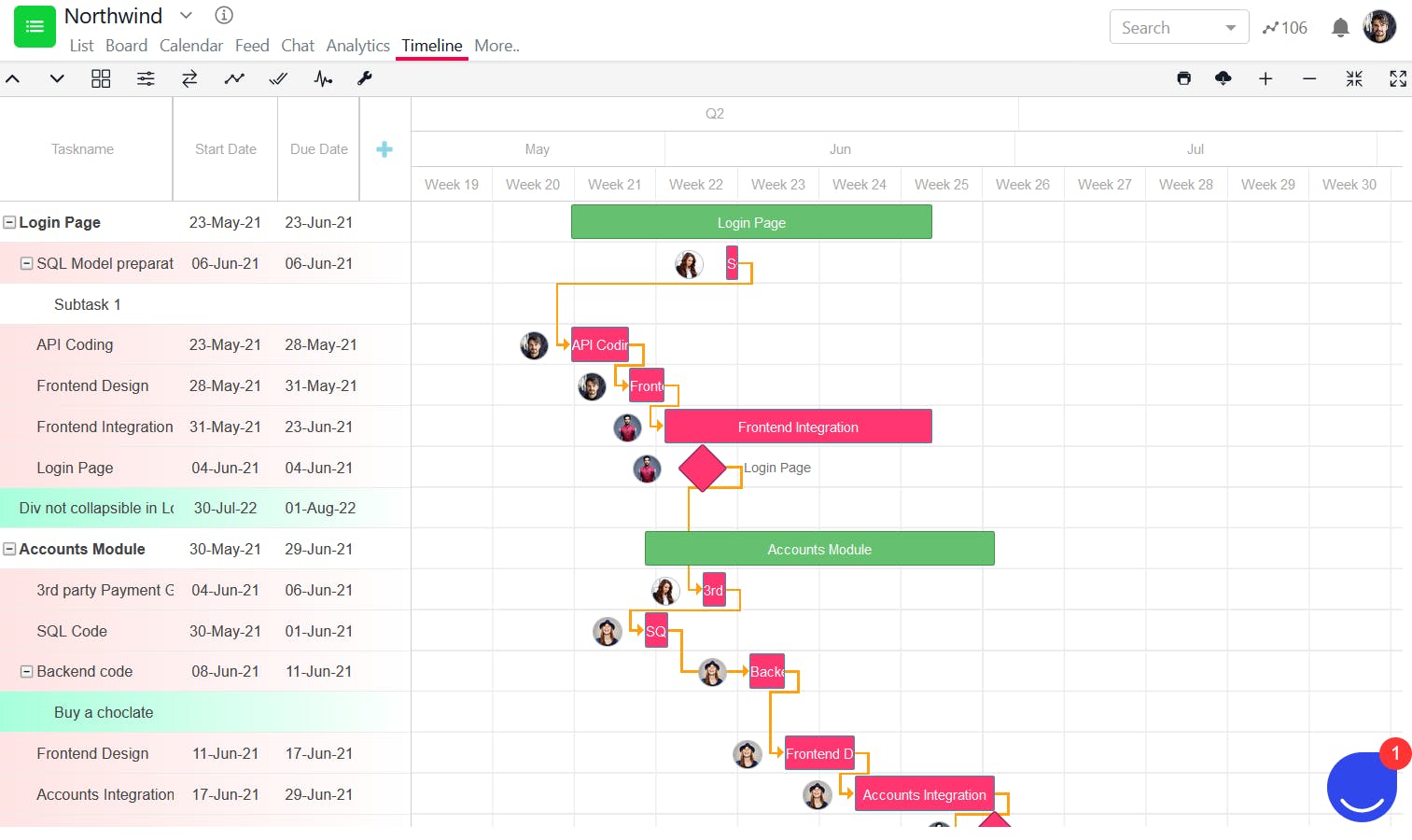 SmartTask is the work management solution you get when you marry simplicity to scalability. This may sound paradoxical, but a mere 10 minutes of managing projects with SmartTask will convince you otherwise.
With a near-endless feature set at your disposal, there is little you cannot achieve using SmartTask.
Handling multiple projects with ease?
Bringing cross-functional teams together?
You name it.
Of course, all things Gantt charts are also a part of this list.
Key Features
Project Baseline to inform you how big or small the gap between your initial plan and real-time execution is.
Gantt chart Milestones and dependencies to add depth and context to your projects
Auto-scheduling to reflect the ripple effect on even the smallest changes in your project
Drag-and-drop task/dependency creation (and modification) to make Gantt charts truly interactive
Multiple project views to help you visualize progress from multiple vantage points
Native time tracking and workload management to ensure your team performs its best without being overwhelmed
White Labeling and modular access to tasks and projects so that you strike the perfect balance between privacy and collaborative effort
And more work management features to help you 2X your team's productivity
Pros
Intuitive Gantt charts that are easy to create and update
Unbeatable pricing
24/7 customer support
100 uses of Gantt charts even in the free forever plan
Cons
Auto-scheduling of dependencies requires the press of a button (a minor inconvenience for some users)
Suitable for
Teams that want the best gantt chart software on the list (that's also a complete work management solution) without breaking the bank
2. ClickUp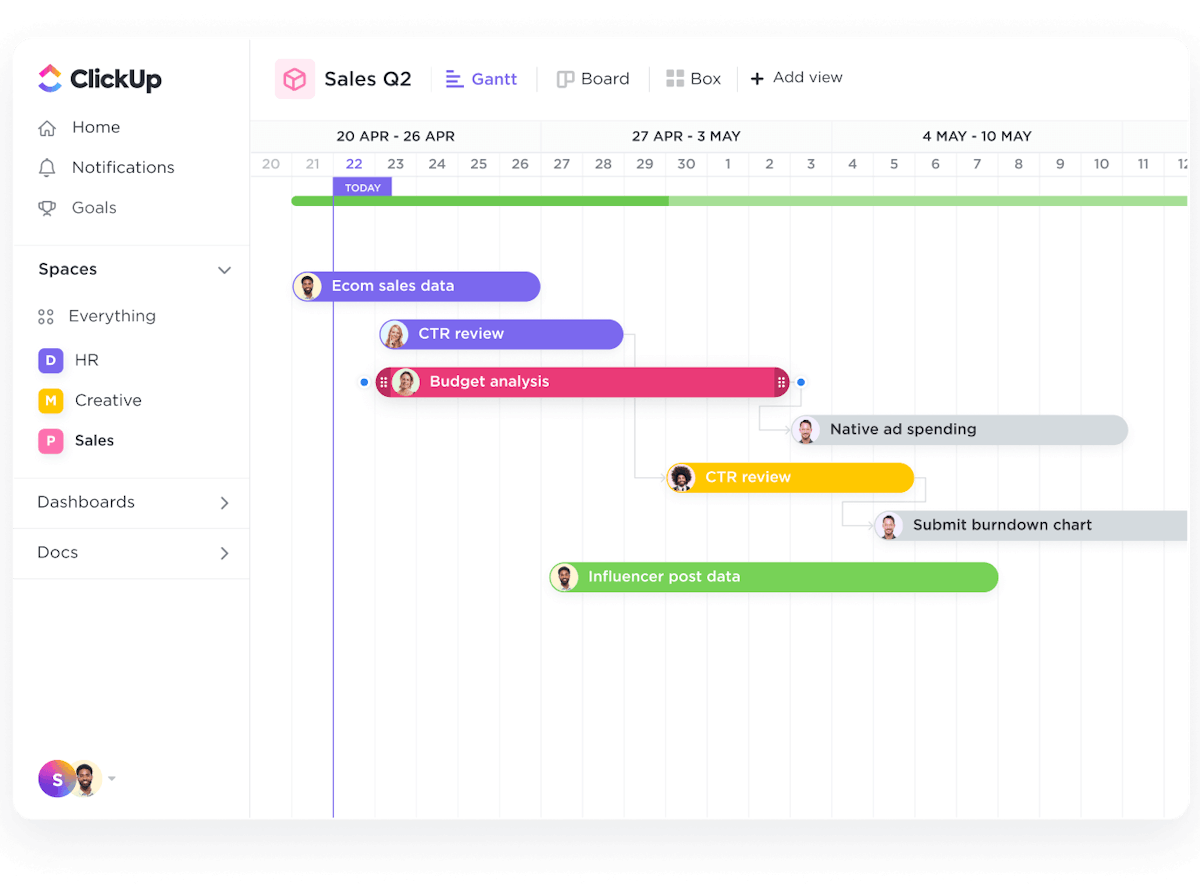 ClickUp is a strong choice for teams that detest using multiple apps to manage their workflows. It is a one-stop solution with more project views than most competitors.
It brings project management, team collaboration, wiki management, resource planning, and more under one roof — with customization infused into every nook and cranny.
For Gantt chart creation, ClickUp exceeds most expectations and delivers a friction-free experience, even for freshly-minted project managers. However, this seamlessness seems to break down for large teams with complex workflows.
Users on Reddit and review aggregator sites like Capterra have reported persistent performance issues. So, we hope the upcoming ClickUp 3.0 release (likely to launch in Feb 2023) introduces users to a faster, more reliable in-app experience.
Key Features
Multiple project views
Critical path calculations
Milestones and dependencies
Time-tracking
Resource management
Pros
Impeccable support
Interactive Gantt charts — can create dependencies on the fly, zoom in, zoom out, etc.
Modern UI
Savvy filtering and sorting options
Customizable color coding
Cons
Users reporting performance drops since more than a year
Too many customization options can be a twin-edged sword
UI can feel overly crowded to those who prefer a more minimal aesthetic
Suitable for
Small and mid-sized businesses that want a holistic project management solution

3. Instagantt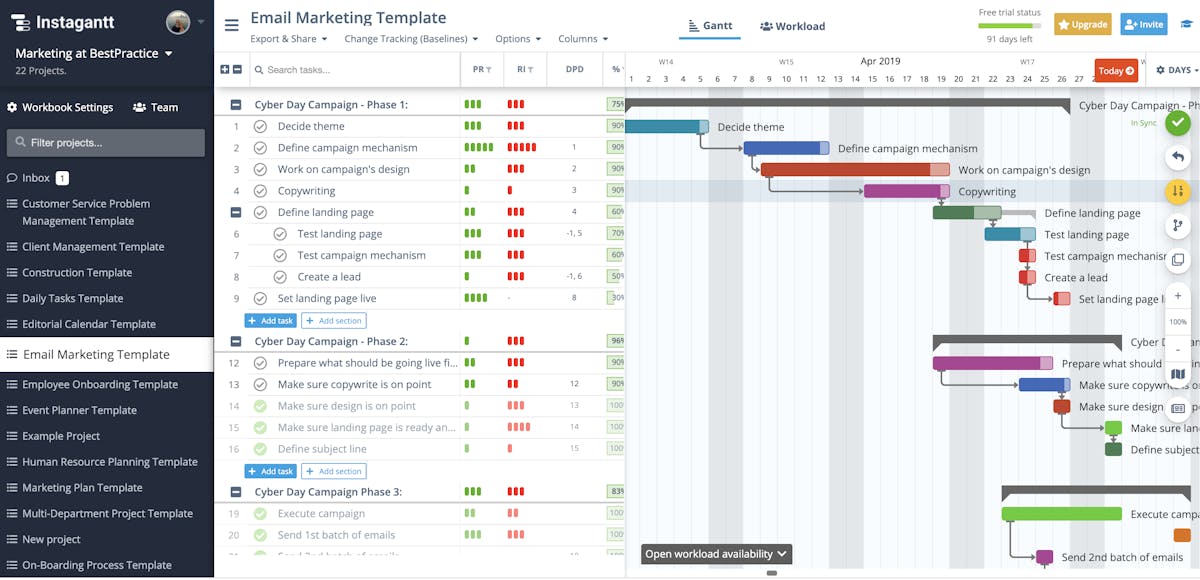 Instagantt originated as a mere integration for another work management heavyweight: Asana. Several teams report incorporating both Asana and Instagantt into their workflows, thanks to the two-way communication between the apps.
However, the tool has refined over time to evolve into a standalone offering. Instagantt now offers a no-nonsense solution to project management for teams that go heavy on Gantt charts.
Where it could improve the most is in the number of integrations. Apart from Asana, there's not much else that you can connect with.
Nonetheless, it's difficult to argue against the ROI the tool delivers. Donning an easy-to-understand UI, Instagantt can enhance your team's productivity for as little as $5/user/month.
Key Features
Dependencies and milestones
Task management
Workload management
Time Tracking
Board and Kanban view
Project Baseline
Portfolio management using Gantt charts
Pros
Affordable pricing
Seamless integration with Asana
Customizable color coding for progress bars
Cons
Limited project management features
A dated interface when stacked against the competition
A concerning lack of integrations
No free version; can sign up for a 7-day free trial instead
Suitable for
Small and medium teams that want a bang for the buck and don't need sophisticated project management features
4. Wrike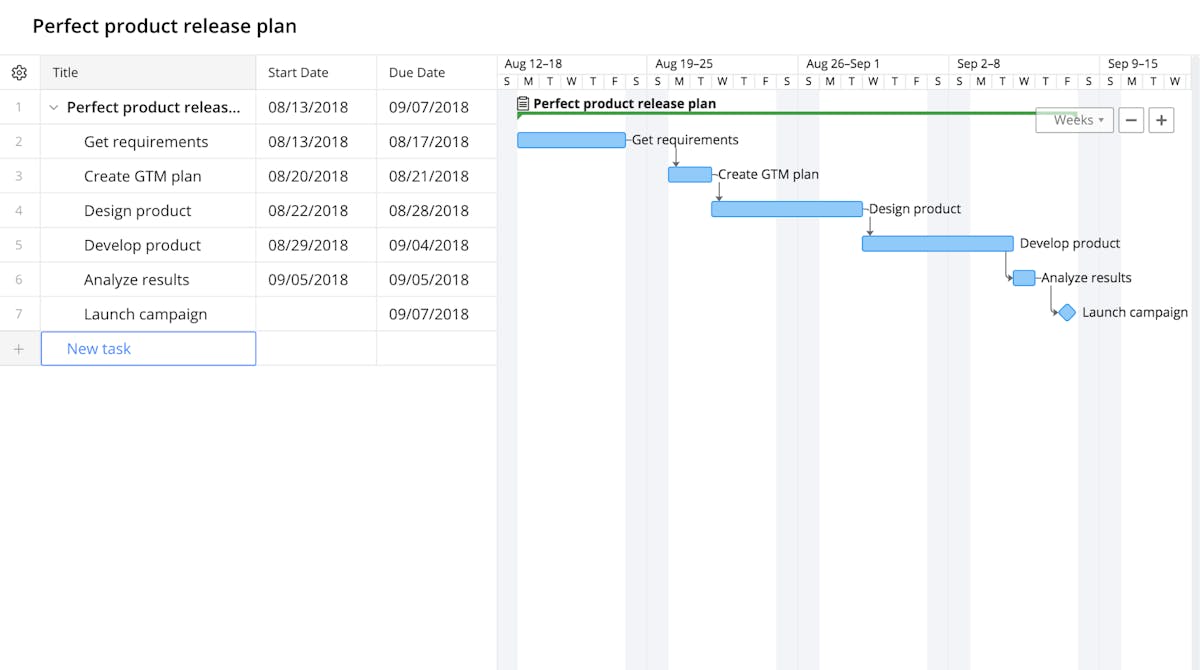 In its own words, Wrike strikes the perfect balance between speed, style, and substance. It is a complete work management platform that places everything from basic to advanced productivity features at your fingertips.
The tool's implementation of Gantt charts is straightforward. Instead of trying to reinvent the wheel, Wrike nails the basics. It equips you with a seamless Gantt chart creation experience that is reliably consistent and sans a learning curve.
However, teams newly onboarded onto the platform complain about Wrike's excessive approach to notifications. More room for personalization here can do wonders for Wrike's adoption rate.
Key Features
Dependencies and milestones
Personal dashboard
Mobile apps
Resource management and budgeting
Time tracking
Intelligent critical path analysis
Snapshots and baseline
Proofing features for quick approvals
Pros
Easy imports from Microsoft Project
The project timeline adjusts automatically in line with the changes you make
Negligible learning curve
Cons
Limited file storage capabilities
Too many notifications sent to email
UI can feel a little uninspired to some users
Suitable for
Small and mid-sized teams that don't run projects with heavy storage demands
5. Monday
Monday Work OS is among the frontrunners among tools that provide a holistic work management experience. It is available as a suite of products with a dedicated solution each for product managers, marketers, developers, and salespeople.
Talking about Monday's Gantt chart capabilities, they are by no means half-baked or ill-implemented. However, they leave more to be desired. The lack of interactivity, especially when creating dependencies, stings the most.
Key Features
Dependencies and milestones
Baseline and snapshot
Color-coded progress bars
Critical path
Multiple project views
In-built time-tracking
Extensive template library
Pros
Vibrant UI
Powerful automations
Convenient sorting and grouping options
Can also use Gantt charts as a dashboard widget
Cons
Gantt charts don't support drag-and-drop controls
Convoluted pricing
Suitable for
Small teams new to Gantt charts
6. MS Project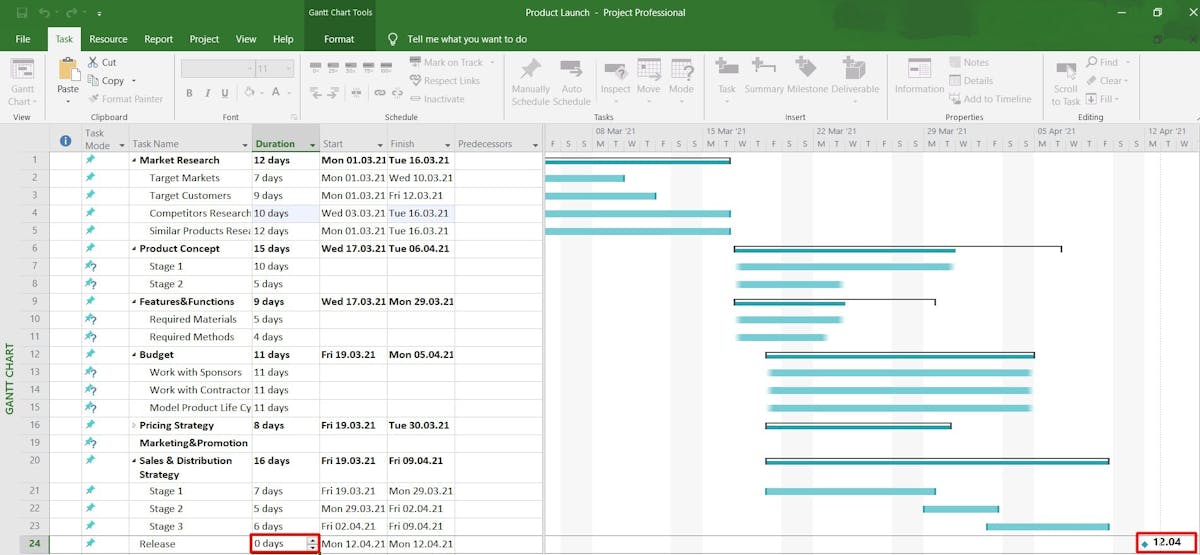 Microsoft Project is perhaps the most scalable, if not the best Gantt chart software on this list. It comes both as a desktop client and a client-based solution (part of the Microsoft 365 product suite). So, you'll need to carefully parse through the various subscription options to find the right fit for your business needs.
Once that's done, you'll have access to a super-reliable Gantt chart tool with sophisticated capabilities relevant to enterprise teams. Organization switching from excel will appreciate the somewhat familiar interface.
Key Features
Milestones and dependencies
Advanced reporting
Dynamic scheduling
Enterprise-grade security
Portfolio management
Resource management
Time tracking
Pros
Can use without internet access
A great value proposition for teams familiar with the MS product suite
Reliable customer experience
Cons
Difficult to master, especially for small teams with limited Gantt chart experience
Pricing only makes sense to mid-sized and enterprise teams
No free version
Suitable for
Enterprise teams accustomed to Microsoft-powered workflows
7. nTask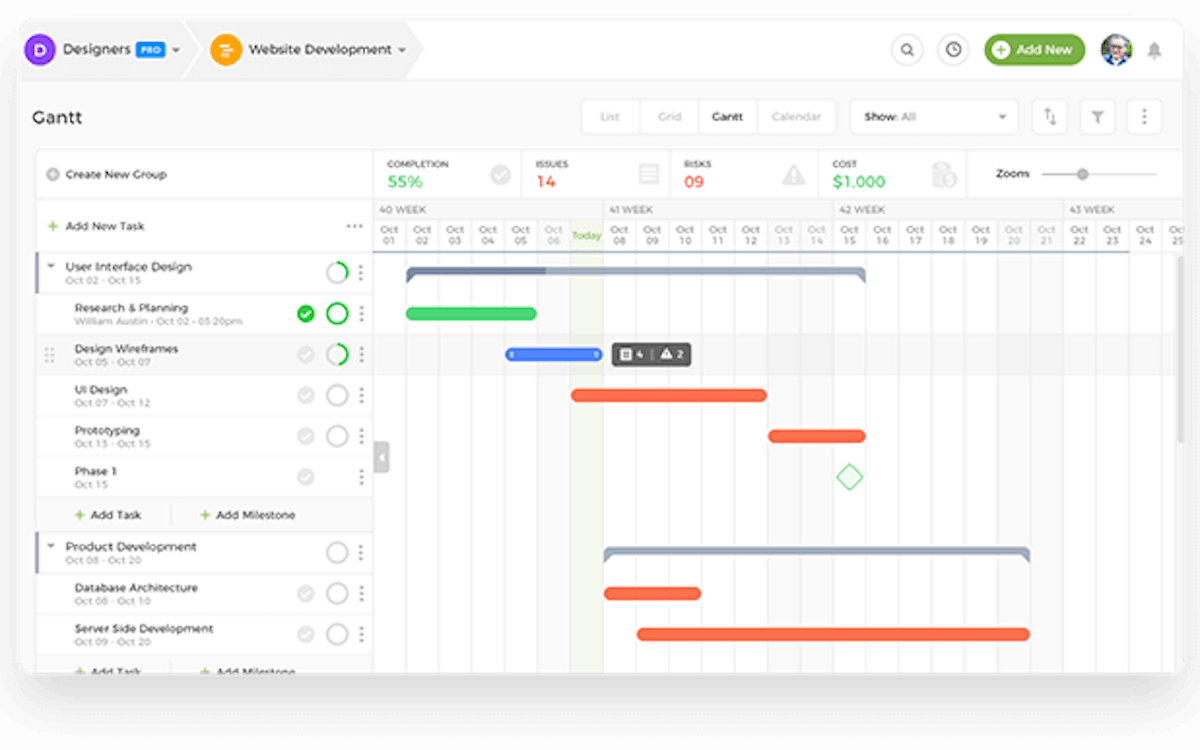 nTask is yet another modern project management platform that takes a jab at unnecessary meetings and provides a faster, more efficient way to bring teams together.
It packs all the standard features you'd expect from a work management tool in 2023 — Gantt charts being no exception. Where it lacks polish is day-to-day task management. For instance, you can't see pending tasks for each user and need to drill down for such details instead.
Lastly, nTask doesn't offer Gantt charts in the basic plan ($3/user/user). You'd have to spend at least $8/month/user to get Gantt Charts up and running.
Key Features
Milestones and dependencies
Time Tracking and budgeting
Resource management
Risk management
Critical path
Issue tracking
Baseline
Pros
Intuitive UI
Powerful collaboration features, including meeting management
Affordable pricing
Cons
Lacks auto-scheduling capabilities
Pricing is a little disheartening
Task management capabilities can be more advanced
Suitable for
Fast-growing teams that want powerful risk management features alongside functional Gantt charts
8. ProofHub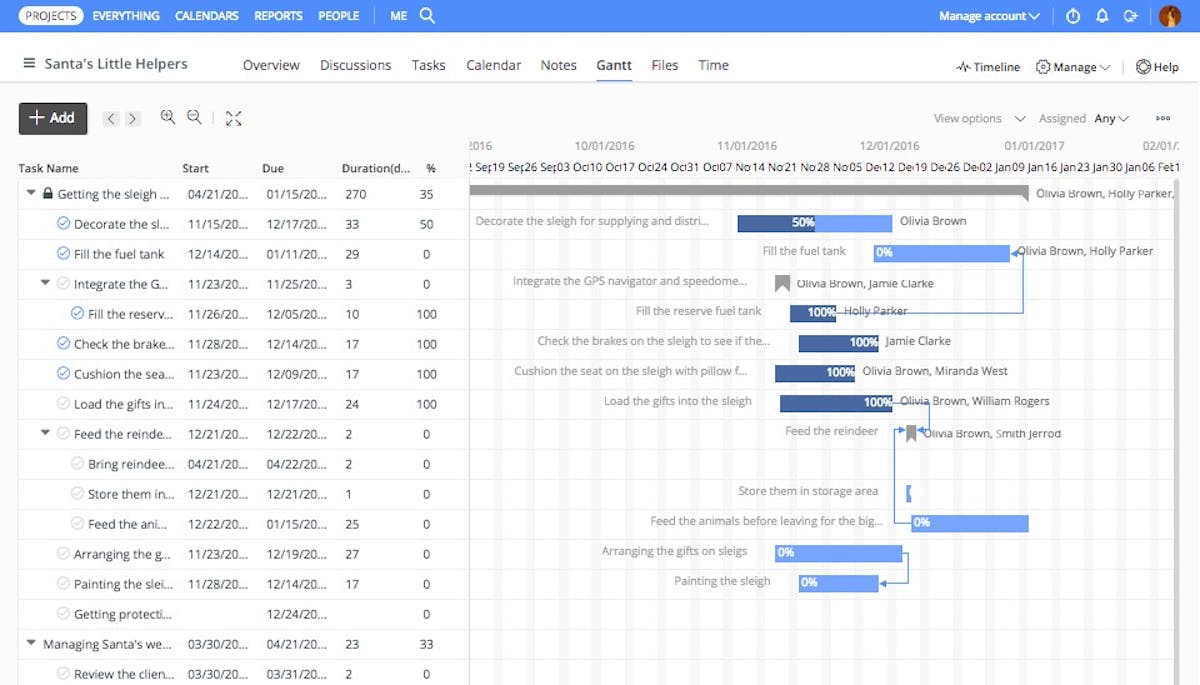 ProofHub is an all-in-one project planning software with its pricing as the differentiator. Instead of a per-user per-month cost, ProofHub users pay a flat rate to take home all the features the tool offers.
Depending on your team size, that may or may not be an enticing proposition. Regardless, ProofHub's Gantt chart implementation is dependable enough to warrant a mention on this list.
Key Features
Drag-and-drop task management within Gantt charts
Dependencies and milestones
Critical path
Project Baseline
Markup features for approvals and collaboration
Time tracking
Can add tasks via email
Pros
Flat pricing (don't need to pay per user); very affordable for small and medium-sized teams
Proofing/markup features for creative workflows
Can add unlimited users to projects
Easy-to-use UI
Cons
Lack of a free plan
Some users report slow loading speeds
Suitable for
Creative teams that want a value-for-money Gantt chart software
9. Teamwork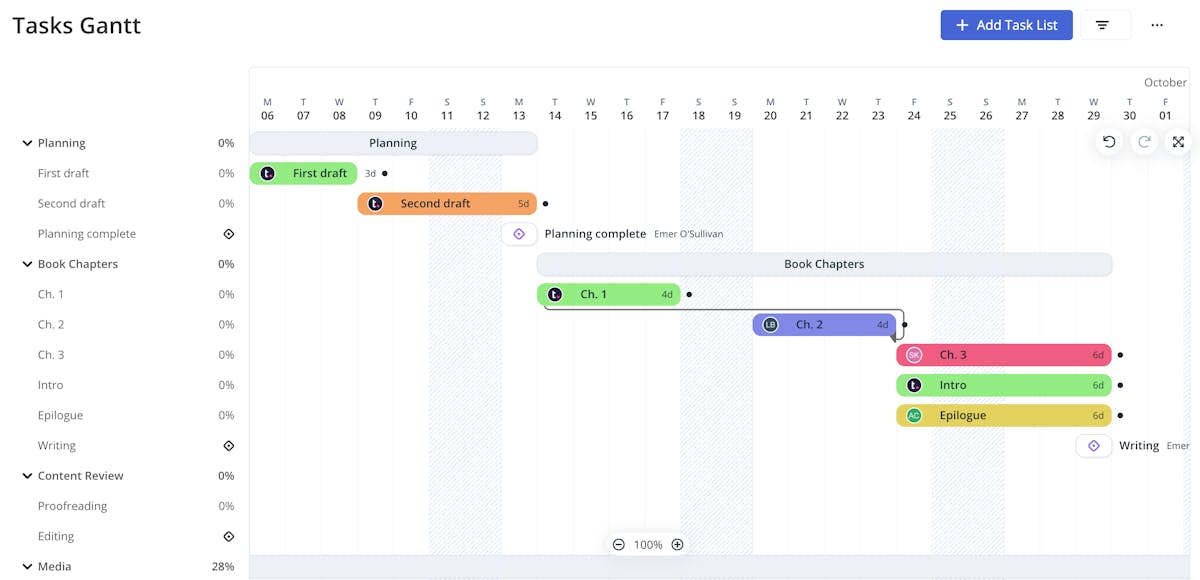 Looking for a work management solution to boost your creative agency's productivity? Teamwork may be where your search ends.
👉 Start with a Free Digital Marketing Agency Template
With several collaboration-centric features (including Gantt charts), it takes busywork off your hands, giving you enough runway to unleash your creativity.
Key Features
Dependencies and milestones
Automated scheduling of dependencies when you make changes
Color-coded tasks
Resource management
Profitability optimization
Client collaboration
Time tracking
Pros
Collaborating with stakeholders is seamless
Neat UI
Gantt charts are available even in the free forever plan
Cons
Competitors offer better pricing
Suitable for
Small and medium-sized teams that are big on client work
10. Paymo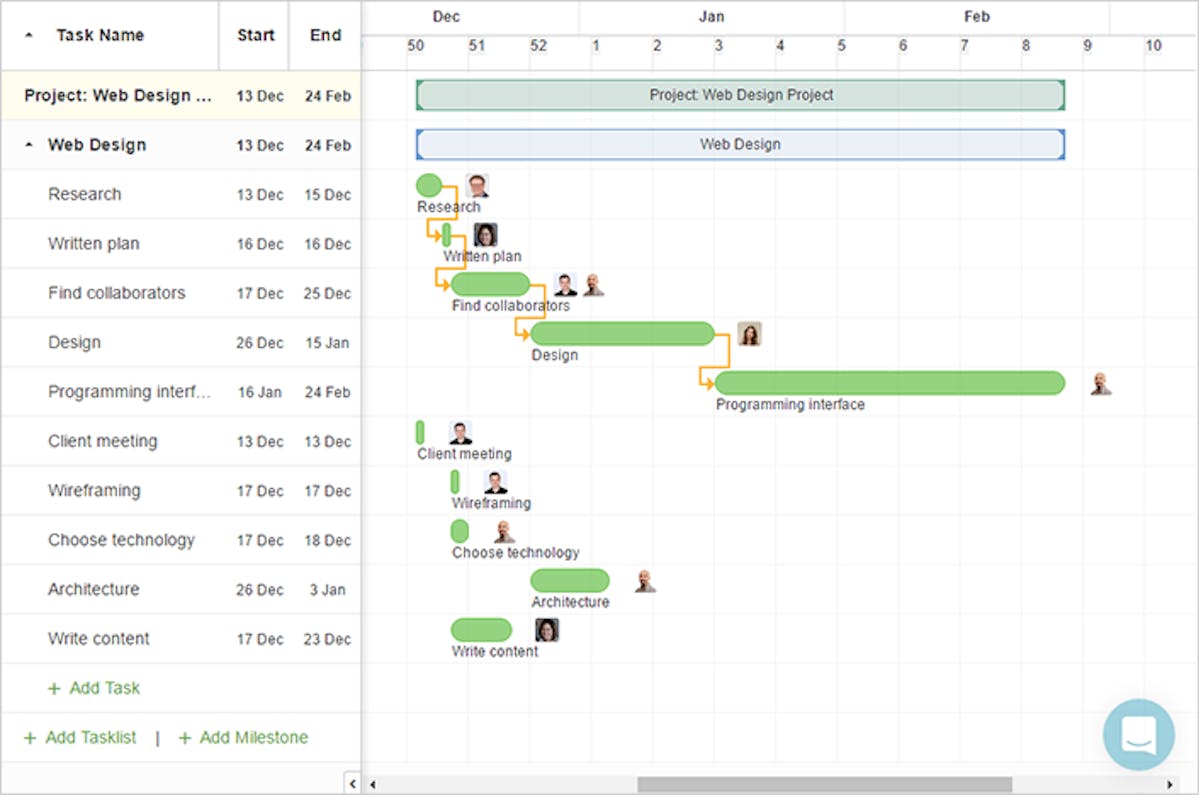 Paymo is yet another great addition to this list of the best gantt chart software.
With impressive invoicing capabilities alongside interactive Gantt charts, it is a good bet for teams that frequently work with contractual workers and freelancers.
However, we wish it delivered better value for its entry-level and mid-tier paid plans.
Key Features
Dependencies and milestones
Project baseline comparison
Critical path analysis
Visual depiction of broken dependencies
Time tracking and project invoicing
File proofing
Multiple project views
Resource management
Pros
Drag-and-drop task creation and modification in Gantt charts
Fresh UI with a calming feel
Cons
Gantt charts are only available in the most expensive plan, starting at $20.79/user/month
Suitable for
Medium and large teams that require robust invoicing features on top of Gantt charts
11. Height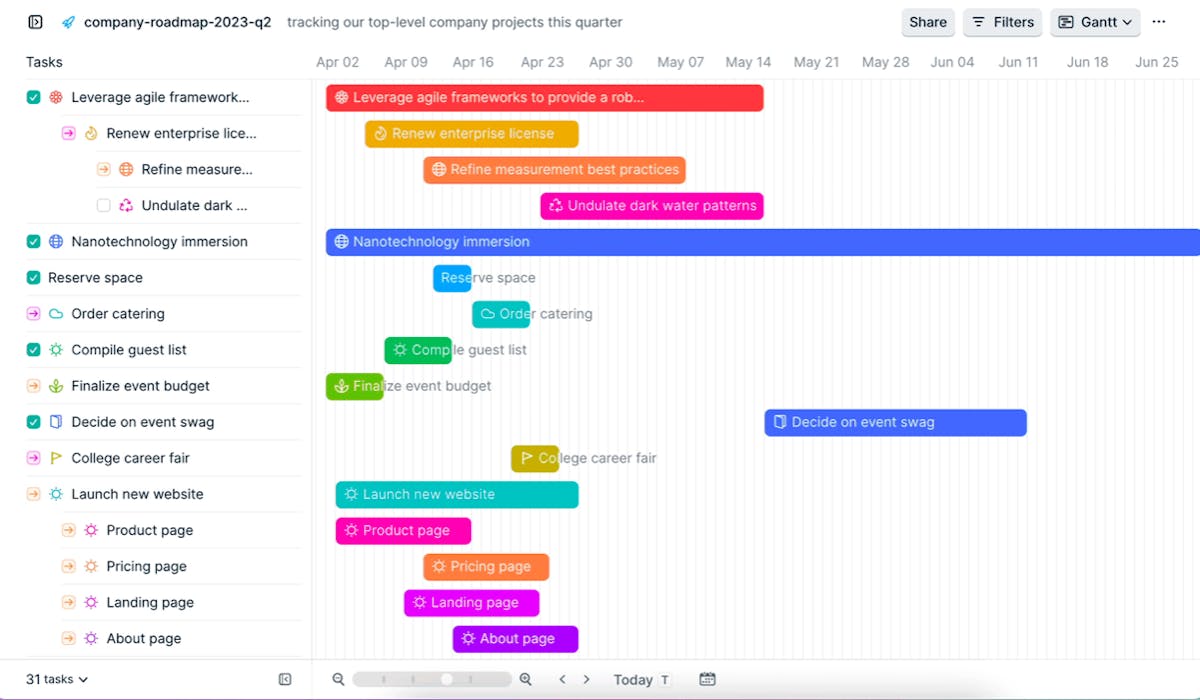 Height, the final entry in this list, is a newcomer in the project management market. It boasts a modern UI and unique features like the ability to turn code (from any IDE) into tasks (in the Height app).
Its take on Gantt charts isn't anything new per se but does feel refreshing compared to several alternatives in the list.
Key Features
Sophisticated task management capabilities
Convenient integrations
Top-of-the-line security features: SOC 2, data encryption, and intrusion detection
Easy Gantt chart sharing
Color-coded tasks
Useful sorting options
Turn code to tasks (using the IDE of your choice)
Pros
Snappy and clutter-less UX
Vibrant design with light and dark themes
Cons
Common Gantt features like critical path analysis, project baseline comparison, and milestone tracking are missing
Limited pricing options to choose from: only one paid plan with clear pricing
Suitable for
Software teams keen on using the code-to-task feature
Final Verdict
Well, now you know the 11 best Gantt chart software in our books. Hope that it helps you decide on one that's right for your goals.
But if you're still unsure, might we suggest taking a leap of faith with SmartTask? 20,000+ teams — including Amul, ABB, Adecco, and Ecolab — have done it before. None of them seems to regret it.
We're certain neither will you ;)
Experience the Smart way to creating Gantt Charts (and much more). For FREE!