SmartTask
Contents
How to use Google for Project Management?
By Aastha ShawMay 8, 2022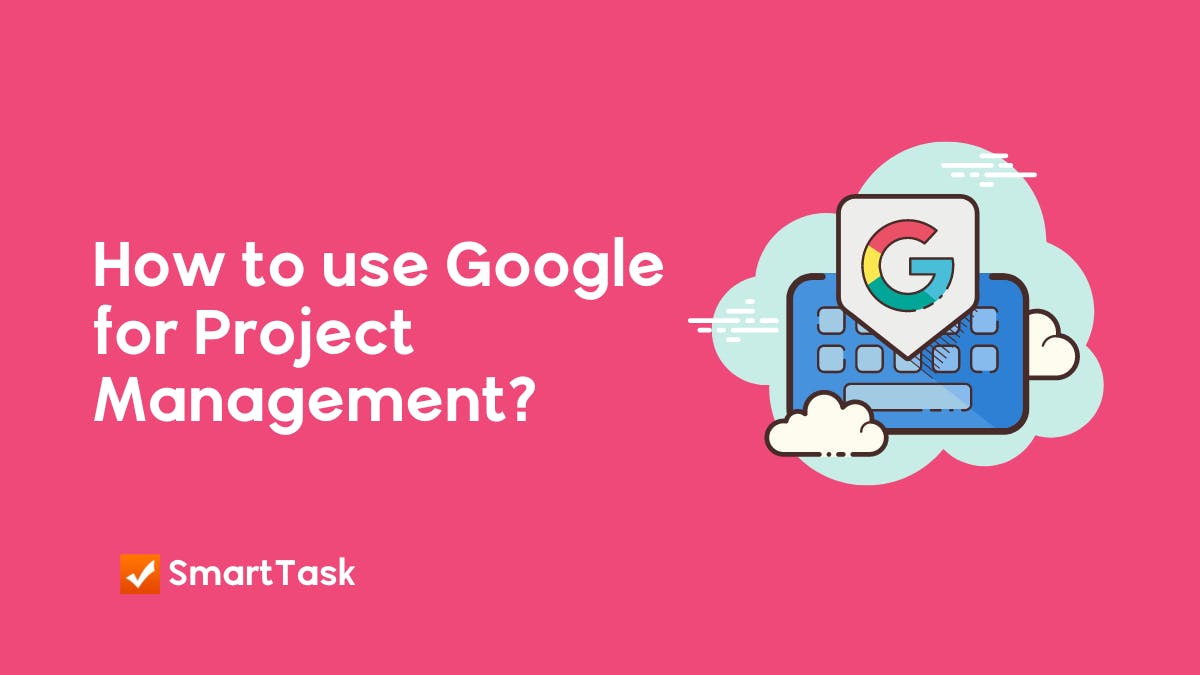 How does Google help in project management?
Google offers collaboration and work management capabilities to anyone with a Google or Gmail account. Google's business tools further allow managers, teams, and employees to collaborate and communicate within an organization's workspace.
However, when it comes to project management, Google can come off a little short-handed. Google's tools might be useful for tracking day-to-day tasks, but the case may not be the same for complicated projects.
So, why exactly do we call it 'Google Project Management? Is it even realistic?
Let's get into the nitty-gritty to uncover the same:
How do Google apps help with project management?
While Google Workspace offers an extensive suite of apps to users, most of those apps are built to help teams and individuals connect, collaborate, and work.
Let's dig in to explore how these Google apps assist with project management -
1. Google Sheets
We all are aware of this cloud-based spreadsheet that allows you to store, edit and collaborate on your data in one place. Using a shared Google spreadsheet, you and your team can create task lists and a detailed project plan. With some extra effort, you can also create a basic dashboard to have an overview of all your tasks and projects.
However, it is just a spreadsheet and not suited for managing tasks, and projects. It lacks reminders, an ability to quickly filter tasks by assignee, sorting, and having tasks. recur on a fixed interval and much more. Not to mention project management features like Timeline, Board, Portfolio view, etc are also missing.
So, no matter how you use it, it is not as effective or easy as using a task planner and nowhere near to using a project management tool.
2. Google Docs
It won't be wrong if we say, Google Docs has been a total game-changer for writing, editing, and sharing documents online. It is arguably the most simple and fast online word processor out there. You can even allow access to all your team members and invite them to collaborate, comment, and suggest on the same doc.
Apart from creating and editing documents, it is no-fit for managing tasks or projects.
3. Google Drive
Another Google tool that has been a work lifeline for most of us. It offers 15GB of free storage space with offline capabilities so that you can easily organize all your files and folders in a better way. The best part is you can easily give access to any specific file or folder to your team or stakeholders.
While it's a great Document Management software, it's not made for project management use-cases.
4. Google Slides
Google Slides is pretty much similar to Microsoft Powerpoint with the capabilities of collaborating in real-time. You can use Slides to create presentations or sketch out your vision of the project using diagrams, tables, and other visual tools.
5. Google Calendar
Google Calendar helps you stay on top of upcoming meetings, deadlines, events, etc. You can create your project schedule with all task dates and then share it with your team and stakeholders, for better transparency.
6. Gmail
The most used Google app- Gmail. It comes in handy to share project details and feedback, send out important updates, and communicate with your client/vendor via emails, personal messages (Gchat), or video calls (Gmeet).
However, finding relevant information and scrolling through multiple threads is a pain. Especially when it comes to managing internal work and communication.
7. Google Tasks + To Do
Google Tasks is like a personal to-do list available on the sidebar of your Gmail account. If you want to keep a tab on all your tasks and their due dates, Google Tasks can do a decent job. Google has also launched the To Do app that allows you to access all your tasks in full screen on your desktop and mobile.
These Google apps definitely aids in managing your day-to-day work and communication but the question remains -
Does Google have a project management tool?
As we saw most Google tools are made for very different use cases. However, there are no real project management tools in the Google Workspace currently. Only the planned 'Google Tables' (to be launched soon), is what comes closest to a project management tool.
Google Tables allows you to manage pipelines in your funnel and automate certain processes with bots. For instance, Tables can help you keep track of how your IT tasks are coming along.
Google Tables Key Features:
With table relationships, you can link tables as you would with a traditional database. A "parent" row in one table can have multiple "child" relationships in another.
You can share tables and workspaces with various access rights, such as editors, commenters, and viewers.
You can use Bots to automate tasks, including email notifications and updates to data.
Using Forms, you can collect information from people who do not have direct access to your table.
A kanban board view to keep a tab of all your projects, tasks, and due dates.
You also get dropbox, tags, checkboxes, and checklists, to organize your data better.
Various templates to help you get started.
While Tables is remarkably Google's most project-centric tool, it's still far from ideal. A table is all you get to manage projects and there is not much you can really do around it. There's no progress tracking, no timeline view, no reporting, and a lot of missing important project management features.
So, yes… Google does offer an app for project management, but it certainly is not enough.
Limitations of Google Project Management and Solution To Them:
This section will help you decide whether or not Google Workspace apps be enough for you to manage your projects.
Don't worry we won't leave you all appalled with the fact that there are no dedicated project management capabilities in Google. We've actually got you an antidote! Read on to find out:
Drawback 1: No way to track the project's progress, goals, milestones
Each project has its own goals and milestones that must be met. And it is important to track your project's progress to see if you are sailing in the right direction.
Unfortunately, Google apps do not provide you with a way to track your progress and how close you are to your goals. All you get is to mark your goals/milestones, and their due dates, nothing else!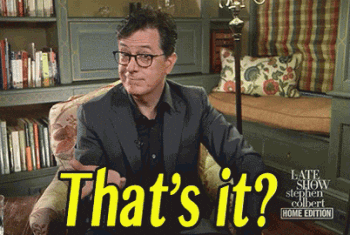 👉 But on the other hand, with SmartTask, you can easily set, manage, and track all your tasks, projects, baselines, and milestones using various views and analytics.
The best way to do so is via utilizing SmartTask's timeline view that can help you track how things are progressing in real-time, whether you are on schedule, what are the milestones, dependencies, critical path, and more.
It even lets you compare your current progress with the project's baseline, so that you can identify the barriers in your way and take care of them on time.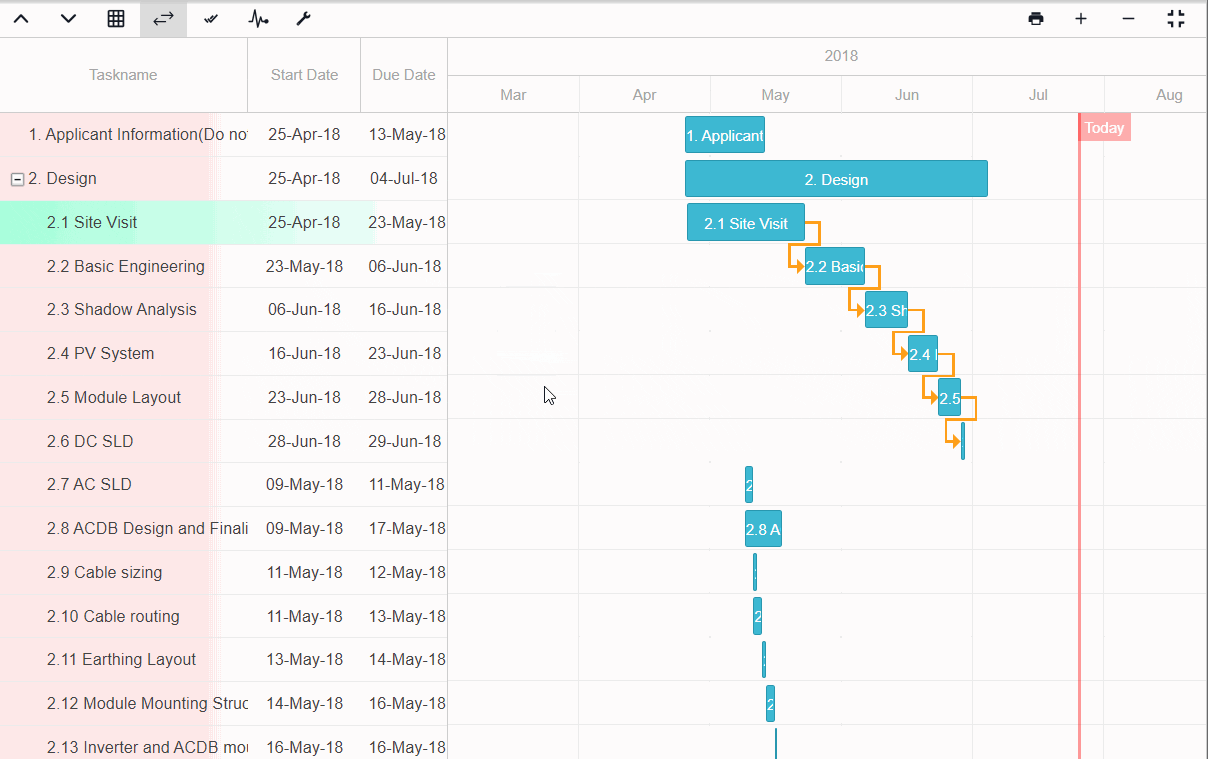 Drawback 2: No way to monitor multiple projects
Monitoring projects helps you identify potential roadblocks, keep operations and team in sync, and ensure everything goes as per the plan.
However, Google does not offer a proper tool to monitor your projects. The only way to gauge a project's performance is by looking at tons of rows, columns, and sheets. Thus, dealing with even one complex project can be adamantine, SmartTask let alone help you manage multiple projects at the same time.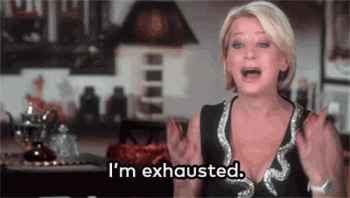 Why distress yourself by spending hours every day trying to monitor your projects with Google, when all it takes are a few clicks with SmartTask?
👉SmartTask's portfolio view is just what you need to monitor multiple projects in a no-brainer and effective way.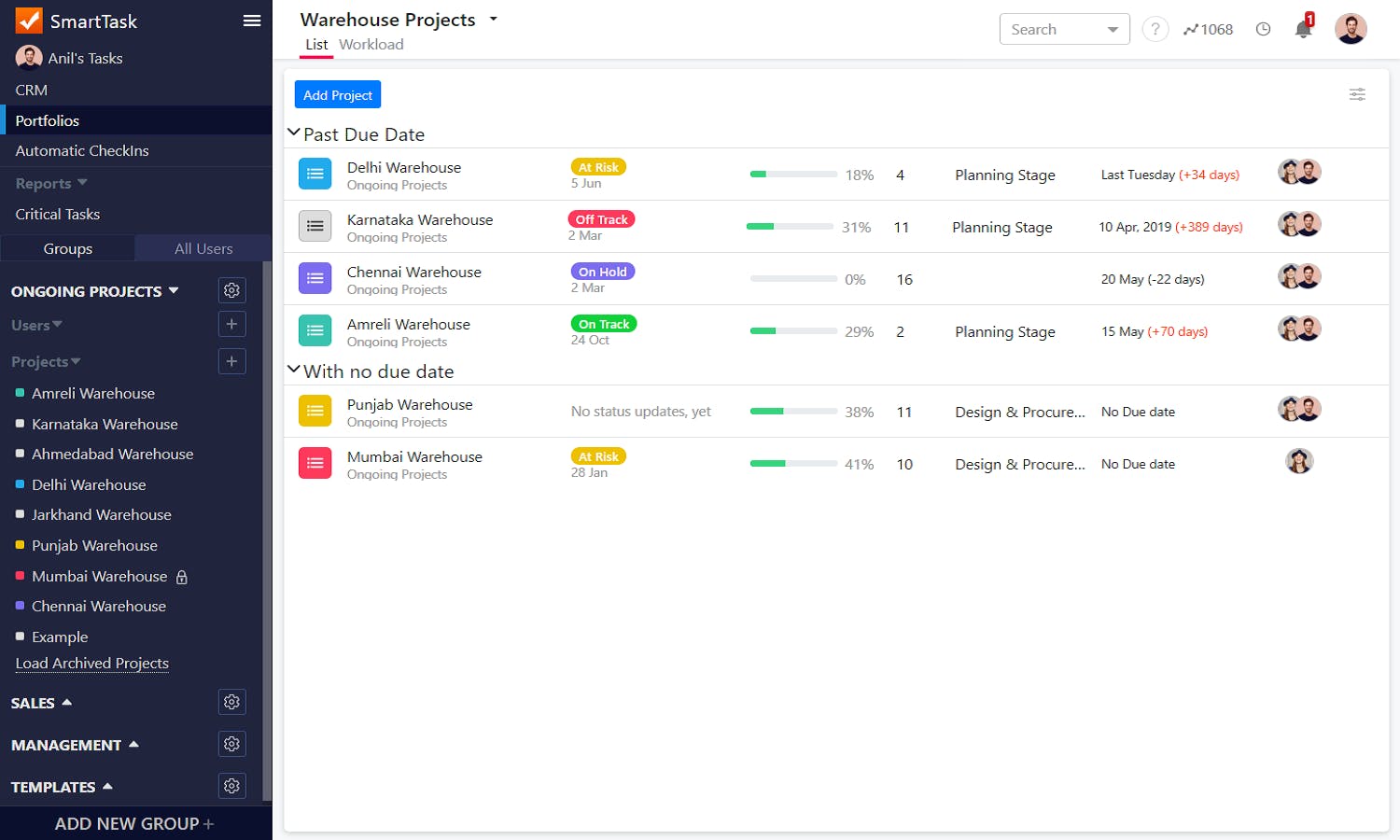 You can house all the projects you are managing simultaneously under one portfolio and have a high-level view of them together. You will know which project stands where at a glance.
You can even skim down to more detailed information like- who are the project owners, what are the overdue tasks, milestones, and other analytics.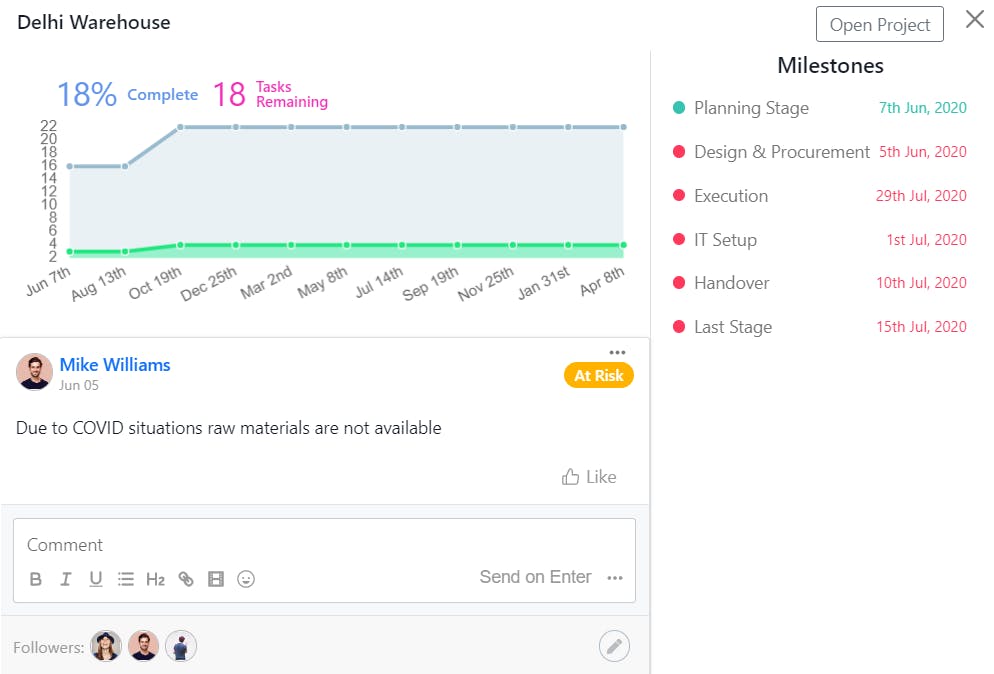 Drawback 3: Not an effective way to collaborate on tasks
Google apps let you collaborate on a shared sheet, doc, etc, and is doing quite a good job there, but is it enough when it comes to project management?
Certainly not. You have no way to collaborate or communicate right where your tasks are using google apps.
Yes, Google Tables does integrate with Slack and Google Chat, but you'll still need an external tool for basic project communication. And project management requires a lot more than just sharing files and sending messages, right?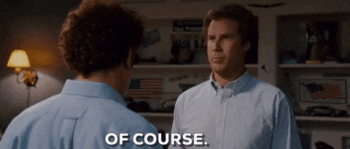 👉 The best thing about SmartTask is it makes real-time collaboration and communication really easy for teams. Here's how:
Communication in one place: All your conversation happens in the same place where the task is, so no more switching between different tools.
Accountability and Responsibility: You can mention other team members on a task, to address them or get their approval.
File-Sharing: You can attach files, documents, and drive links to each task. This means no more surfing through 100s of files to find the right one!
Rich Text Description: Outline important details, and expectations from a task, using the task description field.
Video Conferencing and Voice Messaging: For Video meets, voice recording, and chat on personal, task, and project levels. This will help you connect and discuss project progress with your team and stakeholders.
News Feed view: Lastly, the newsfeed and automated check-in features make updating your teams about the priorities, changes, and feedback easier.
Automated Check-ins: You can also schedule a progress check-in question, and your team can answer it. This saves a considerable amount of time that would otherwise be spent reaching out to them personally or daily update meetings.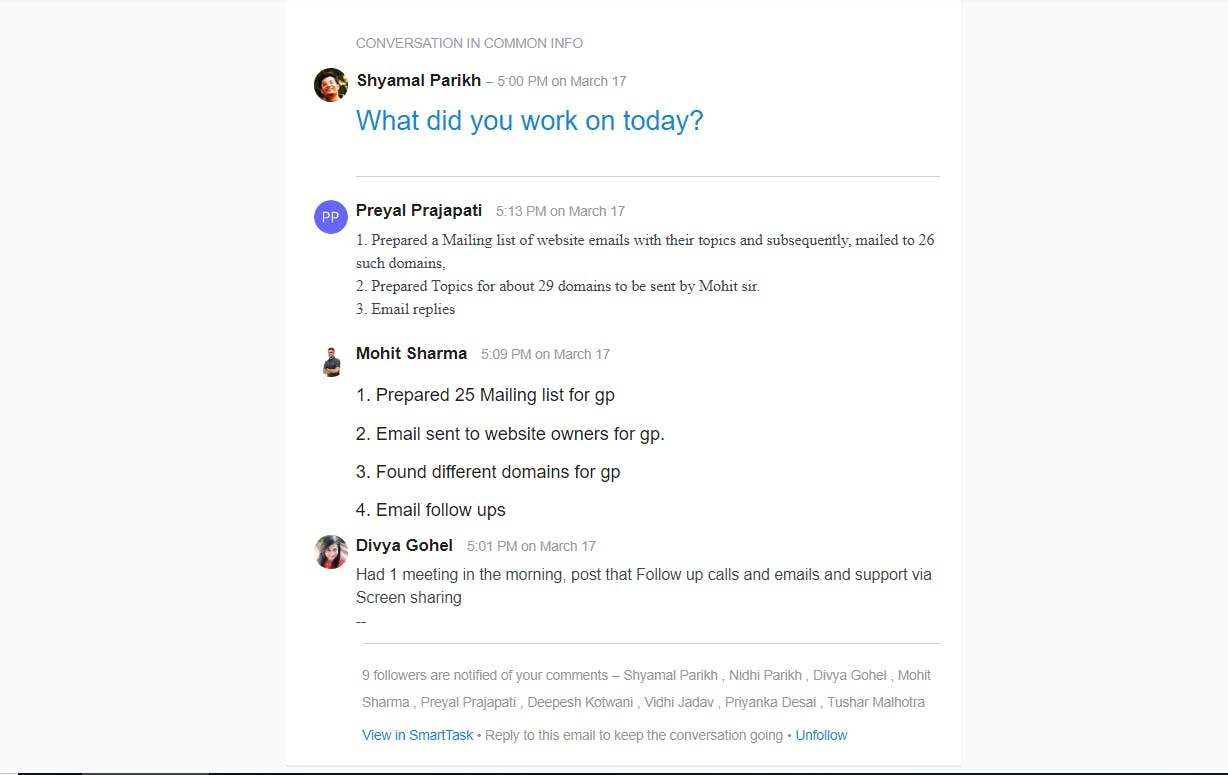 Drawback 4: Workload management
A crucial part of effective project management is to manage your team and their workload properly. Failing to do so can result in inconsistencies in workflows, overshot timelines, and a stressed team.
Unfortunately, there is no app in Google Workspace that can help you manage the workload of your team.
👉 SmartTask's workload view helps you track each employee's tasks, and total workload. It will give you insights on how many and which tasks they are working on, pending tasks, and if they are under or overworked.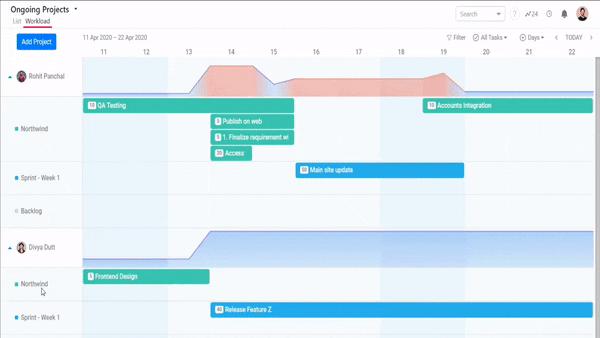 With such details, you will be able to locate and deal with challenges hindering your process, while creating a balanced work environment where no one is overstressed.
Drawback 5: No time management
Effective time management is necessary for the timely completion of projects. It can be achieved by breaking down projects into tasks and assigning a specific time for each task.
However, Google project management tools do not have such time management features that allow you to track time spent on each task. This leads to poor decision-making, and project delays.
👉 SmartTask has an in-built time tracking feature that lets you add time estimates to each task and track the time spent completing them. It helps project managers in figuring out the cause of delays and enables them to deliver on time. Ultimately, this results in timely project completion within the scheduled budget.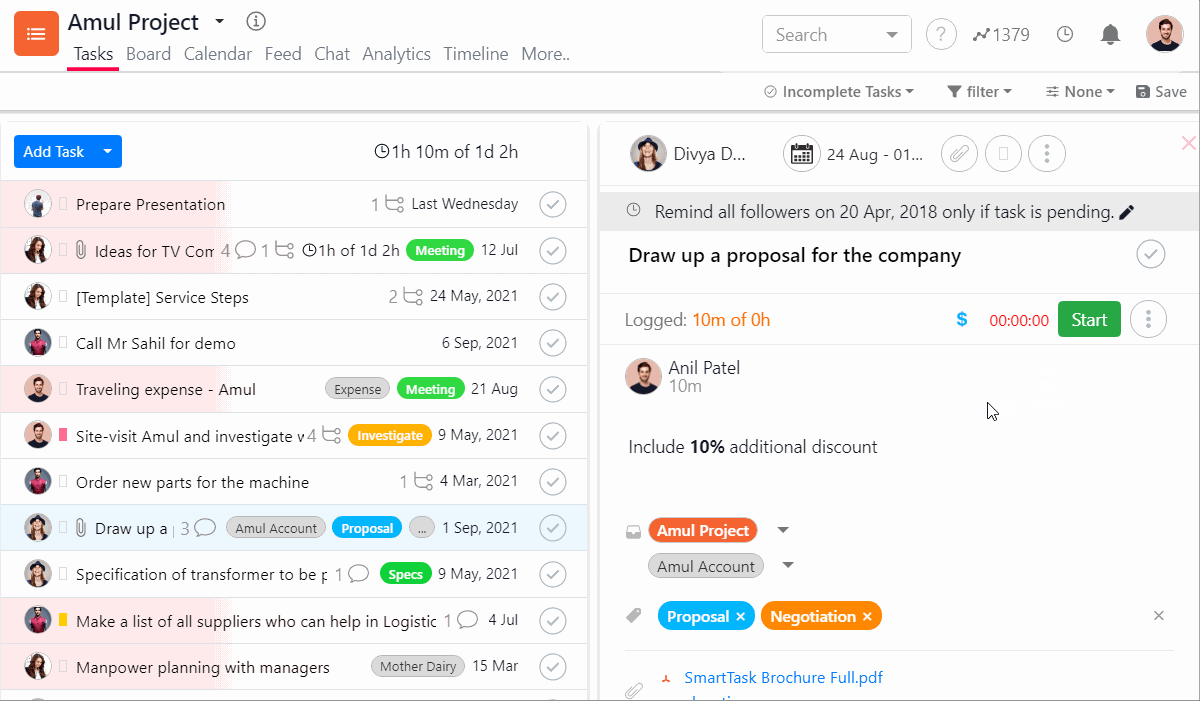 Drawback 6: Scattered apps
One important factor that cuts down on your productivity is juggling between various apps.
Google Workspace is loaded with various useful apps, but they are scattered, making it difficult to manage projects.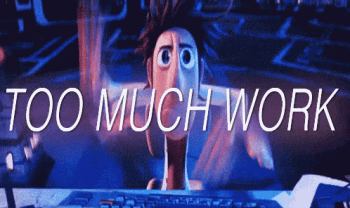 👉 Instead, you should go for a comprehensive tool like SmartTask that provides everything you need to easily manage your projects, teams, and communication under one roof.
This saves a lot of your time, and efforts while making teams more productive and efficient.
Finally, Is Google really an effective solution for project management?
The bitter truth here is - Google is not an effective solution for project management, no matter how much we love using them for our personal use.
It might be okay if you are solo, or a small team with simple projects and workflow, but for bigger teams and complex projects, Google Project Management is not a compatible choice. It would require a comprehensive and strong-featured tool like SmartTask.
SmartTask- The Best alternative for Google Project Management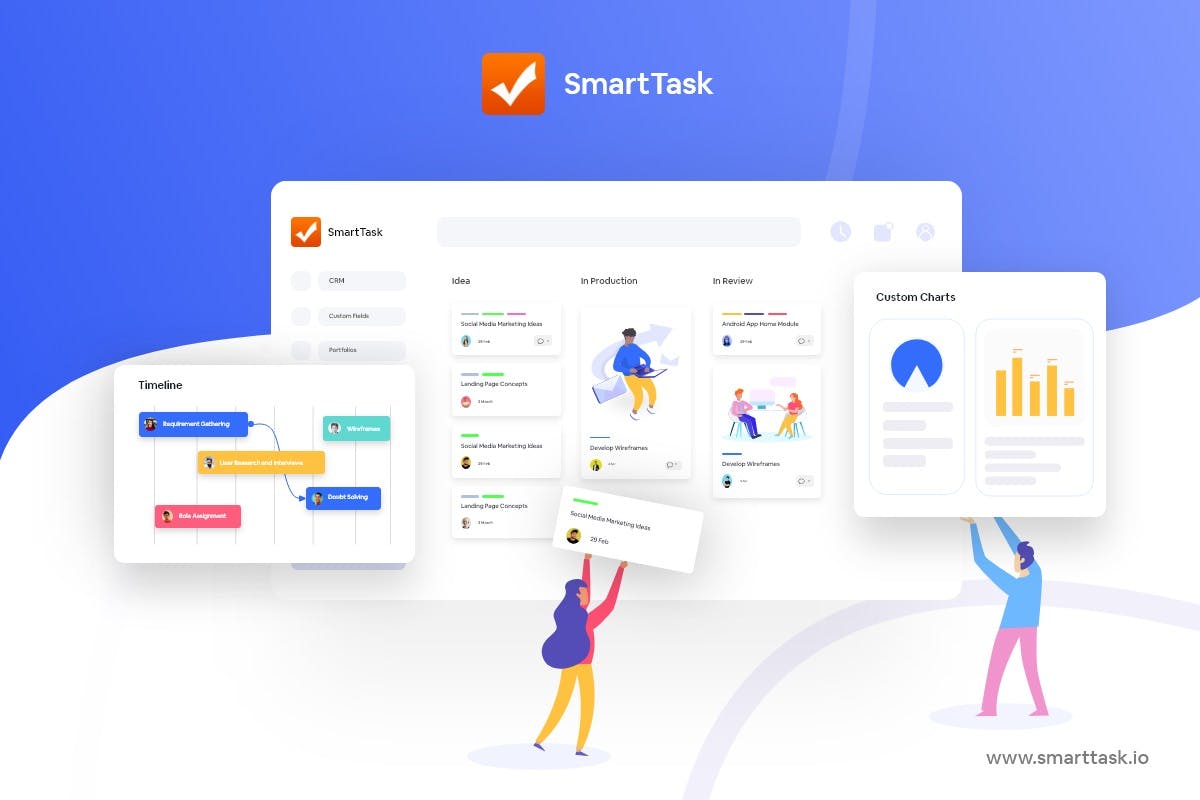 By now you might have understood what SmartTask offers and the different ways it can help you. But let's get a more clear picture. SmartTask is a full-fledged project management software that has almost everything a team requires. Here's an overview of what you can achieve with SmartTask:
Multiple views - Manage tasks easily with multiple Views such as List, Board, Gantt, Calendar, and more.
Milestones - Set milestones to track significant achievements in work progress.
Portfolio - Tackle multiple complex projects at a time using the portfolio view.
Custom Charts - Streamline your projects better with endless customization possibilities.
Emails to Tasks - Create tasks directly from your email inbox. Convert your emails into tasks.
Task Management - Set task dependencies, due dates, priority, and tags.
Comments & File Sharing - Share all important information, attach files, and give feedback through comments on the task itself.
Team Communication - Seamless real-time communication with individuals or teams via chats, VoIP, and video meets.
Powerful Search - With extensive search options find and organize matching tasks across the organization. You can also save your search results as reports.
Guest Users - Invite clients or third-party collaborators as guest users with limited access.
Time Tracking - Know exactly how much time is spent on a task by each employee.
Project Budgeting - Set estimates and track the billable hours on each task and project to keep an eye on the project budget.
CRM - Visualize sales analytics - estimated sales, sales funnel, and user-wise analytics. Move inquiries across multiple stages, and have clarity on past conversations and next action points.
Productivity Score - Analyze team's performance over time with karma points.
Reporting - Download customized reports of your team, task, project progress.
Reminders - Alerts, notifications, and reminders to keep teams on track.
1000+ integrations - Seamless integrations to help you achieve almost everything from one single platform. (Psst most of these integrations are free)
Pricing - It offers a great free plan with unlimited users and most of the features, while its paid plan starts at $5 per user, per month.
Available on - Windows, macOS, iPhone, iPad, Android, Chrome, Safari, and Firefox.
Get SmartTask for free today and manage your team with unmatched ease and efficiency!