SmartTask
Contents
The Importance of Project Management in an Organization's Success
By Aastha ShawSep 24, 2022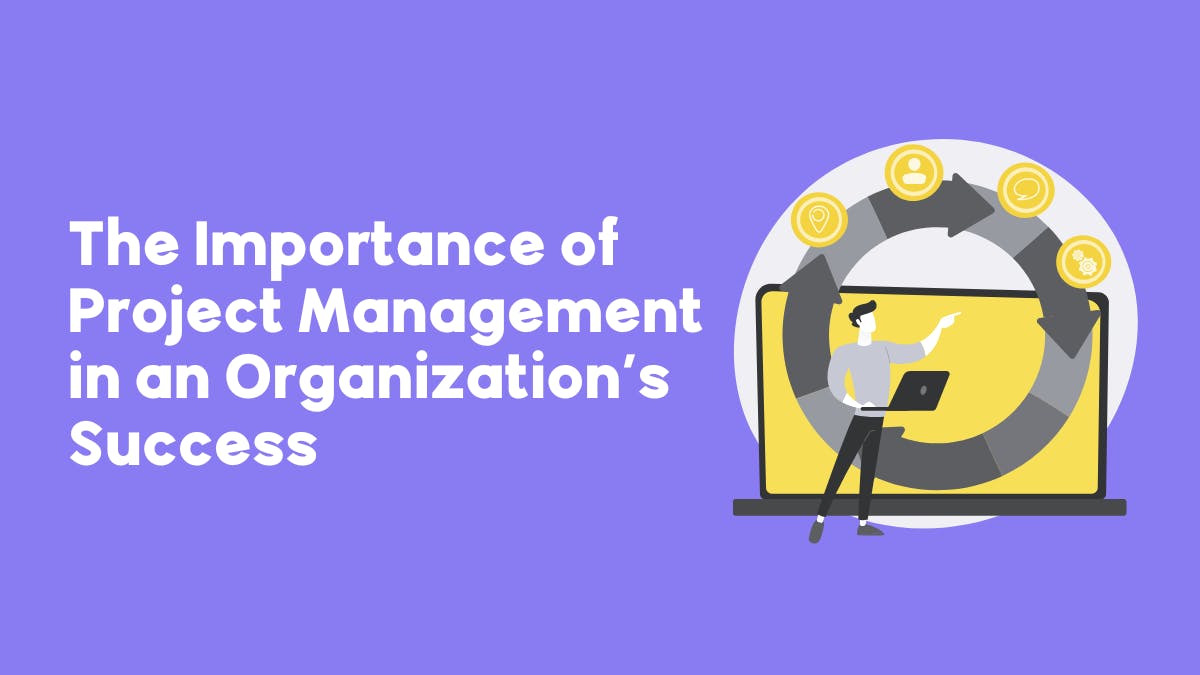 According to a Gartner report, the project failure rate is roughly 50%.
The reason for such a staggering figure is that most projects are subjected to unrealistic planning, poor prioritization, and inefficient resource allocation. These are common elements that contribute to project failures, coercing project managers into building efficient workflows. More efficient workflows mean minimizing operational costs and maximizing productivity.
Therefore, it's important to understand the importance of project management and how to implement it successfully.
Why Do You Need Project Management?
Project management is critical to your business success. In fact, according to a McKinsey survey, almost 60% of senior executives responded that developing a strong project management discipline is a top-three priority for their organizations as they look to the future.
Project Management has various advantages that aid in the streamlining of project activities, the reduction of potential hazards, and the improvement of project performance.
It enables you to allocate resources, tasks, and accountability effectively ensuring that issues such as scope, budget, and time are not compromised. When done right, a well-balanced workflow can help your business achieve goals, increase ROI, as well as scale.
In case you're still on the fence about the importance of project management, here are a few points to consider.
1. Clarity on Responsibilities and Accountability
A project's success can't be guaranteed when teams don't understand what they need to do. With project management, you have clarity of objectives that direct your efforts towards a predefined business goal.
Once you have everyone on the same page, you can dice complex tasks into smaller chunks. This helps each team member to take complete responsibility for the tasks assigned to them, prioritize and focus better.
SmartTask's Solution: Task Activity Views, Dependencies and Baseline Comparison for better management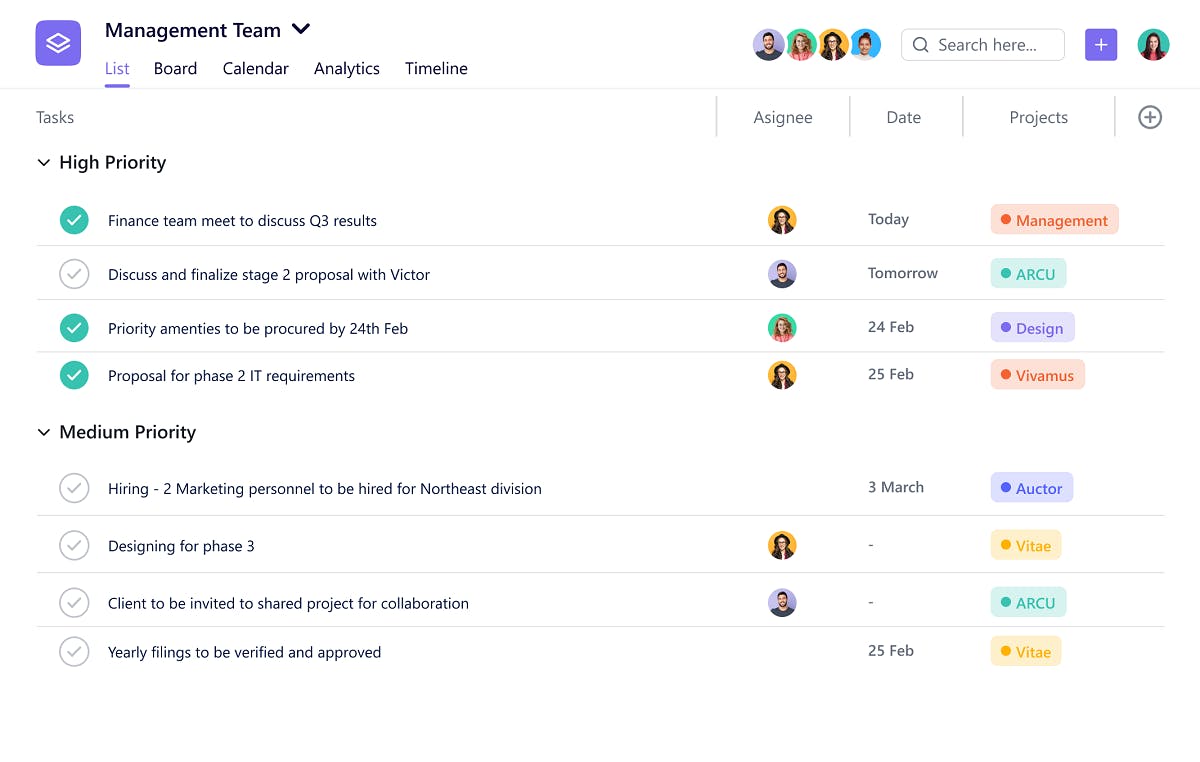 2. Effective Risk and Bottleneck Management
Every single project comes with its fair share of risks and challenges. It can be supply delay, cozy overrun, delayed tasks, scope creep, etc.
But when you are able to anticipate what might go wrong, it becomes much easier to implement effective solutions for risk mitigation and resolve bottlenecks even before they occur.
SmartTask's Solution: SmartTask's Engineering Project Plan template can come handy for creating a detailed project schedule with high level estimates and milestones. In addition, you can easily manage workflows, collaborate with teams in real-time, manage multiple projects and view advanced analytics in visual dashboard.
3. Optimized Resources Allocation
You don't want your best performers burn out and your talented lot sit idle.
So how do you enable resources to achieve their maximum potential, especially when you have multiple projects going?
A good project management system gives a bird's eye view on workload that can help distribute the workload evenly, as well as make informed decisions pertaining to scheduling your resources. This can help save time, and cut down on costs while delivering on time.
SmartTask's Solution: Use Workload, Productivity Scoring and Custom Charts to know who's under and over utilized in the project setting.
4. Collaboration and Communication
When working across multiple teams and departments, it's important to create a work environment that's collaborative and transparent. But if you're still stuck with century old methods of communication (hello outlook) the communication gap can get wider pretty fast resulting in a pile of undelivered work.
But, don't worry, we've compiled a list of best communication tools that will help you streamline communication with teams and stakeholders. The right collaboration tool will help you achieve your goals faster, even if your entire team is working remotely!
Does SmartTask has a solution that brings together the power of 10 collaboration tools into one?
We bet so!
SmartTask Solution: Enable effective team collaboration and communication with features like file sharing, automated-check ins, task update notification, instant messaging and video conferencing.
It also promotes more transparency and provides a sense of accountability to everyone involved in the project, helping them work better, identify problems and brainstorm ideas together.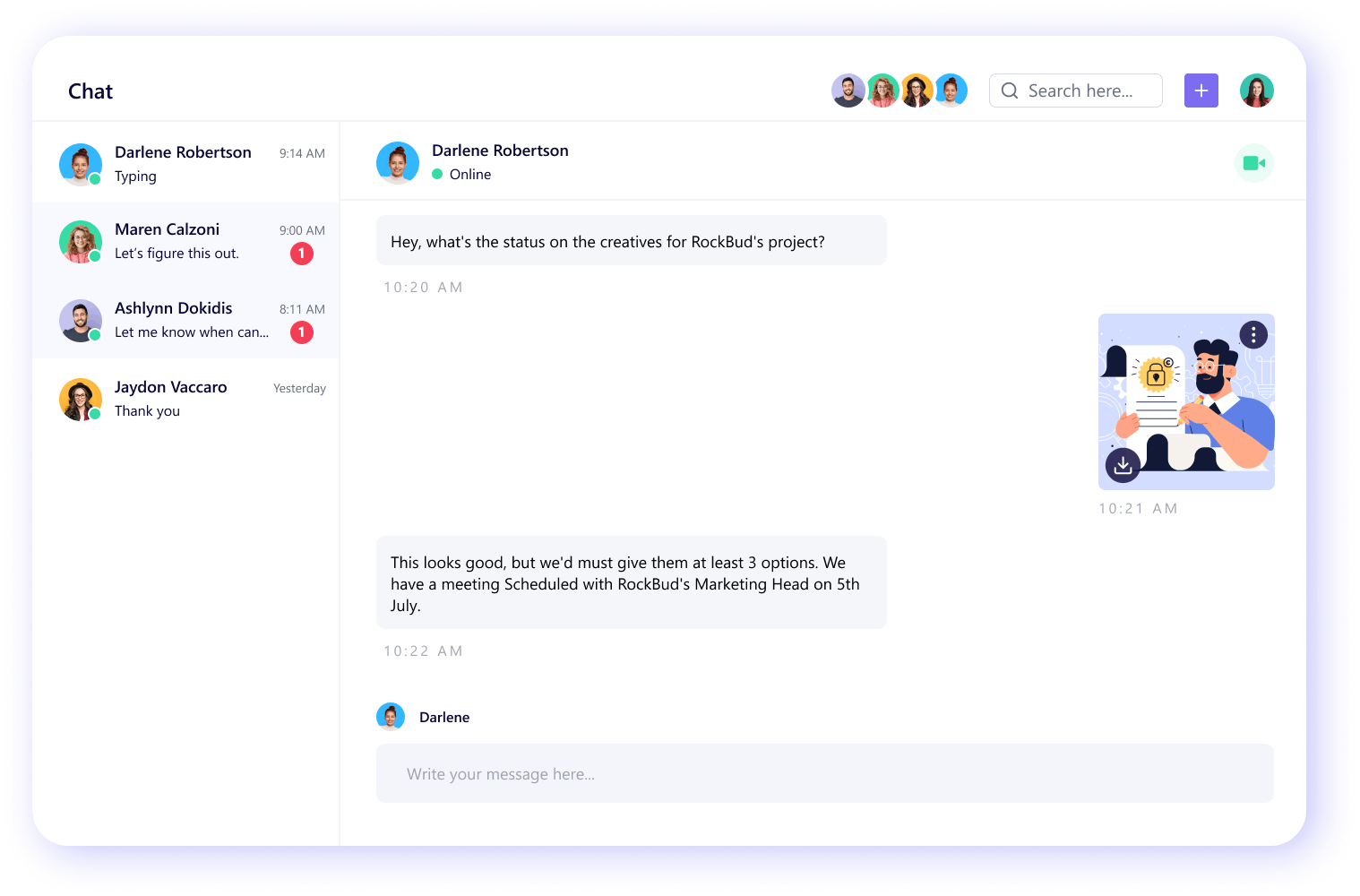 Want more tips to level up team collaboration?
Put a Pro in Project Management with SmartTask!
For a project to get marked "Success", the project planning has to be efficient too!
Fortunately, there are project management tools like SmartTask, that can help you manage every aspect of your project - from planning to execution, analysis and analytics.
Here are four ways that SmartTask can help you plan, track, and manage your next project towards success!
1. Task Management
SmartTask's task management abilities help you stay organized and complete all the project tasks efficiently within the deadlines.
You can create tasks and sub-tasks under your projects and then add task details, set task priority, and due dates, and add time & cost estimates to each task. This helps you know which tasks are important and how much time should be spent on them while keeping the cost in check.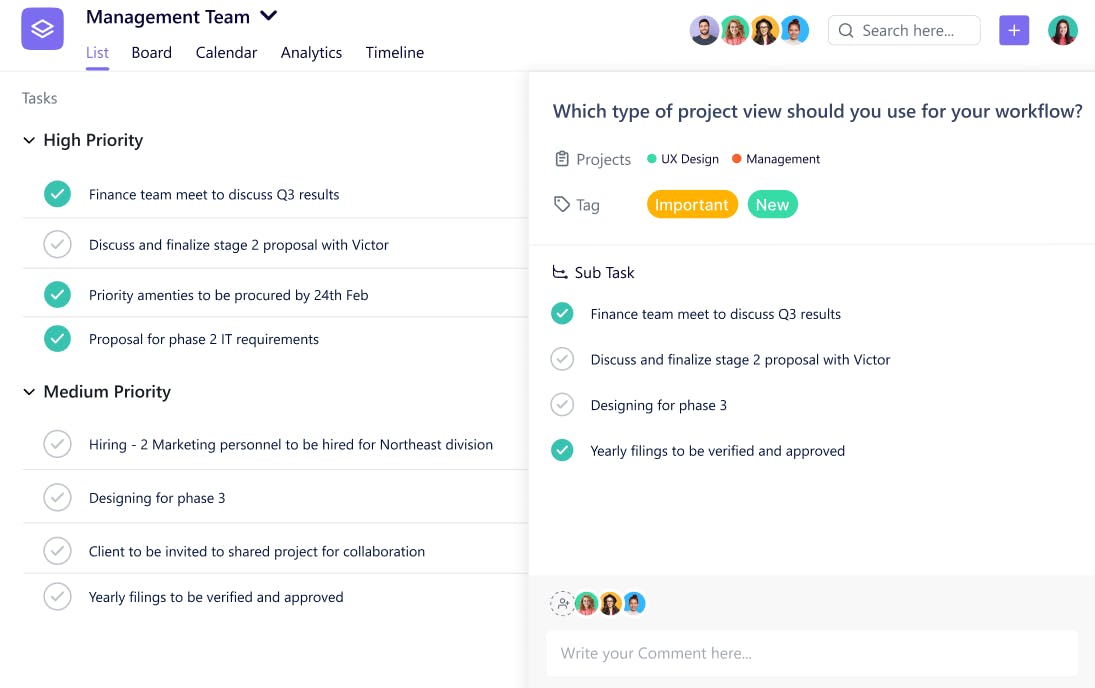 You can also add more team members, managers, and stakeholders who influence the task as followers to keep them in the loop.
Finally, when it comes to tracking the progress of your tasks, you can use the custom fields, tags, and multiple task views to track the stage of the task, who is working on it, what stage it is in, and when will it be delivered.
Especially, with the Kanban boards, tracking the progress of each task becomes much easier, and you get a visual depiction of your project's workflow and team's overall progress.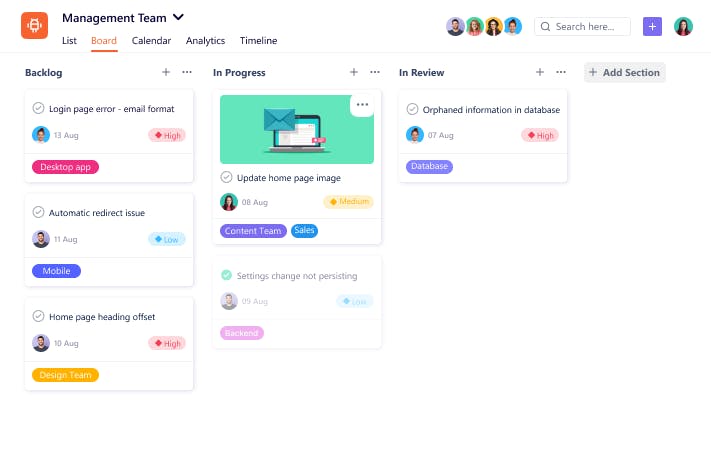 2. Planning in Multiple Views
A solid start lays the groundwork for project success.
SmartTask assists project managers and teams in effectively starting projects with efficient planning and scheduling.
It aids in the prioritization of critical tasks, the avoidance of missed deadlines, the reduction of risks, and the delivery of desired outcomes.
You get multiple views that allow you to plan and see your projects in the way you like.
Calendar view: View your team's work, project tasks, milestones, upcoming deadlines, and events in one calendar—so you hit everything on time without any misses. Share the calendar with your team, track progress, update tasks, as well as leave comments directly from the calendar view.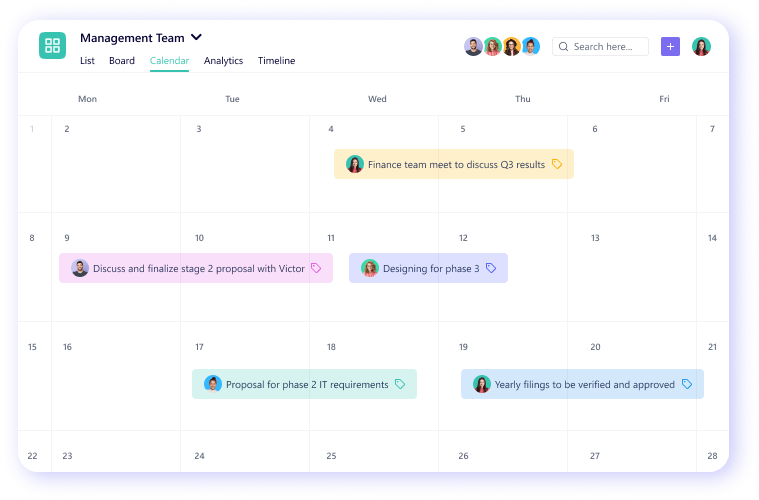 Timeline view: Keep everyone up to date on team projects and workflows with the timeline view. Keep up with project changes, by adjusting timelines, priorities, and tasks. Visualize progress, add dependencies, and move tasks to reschedule quickly.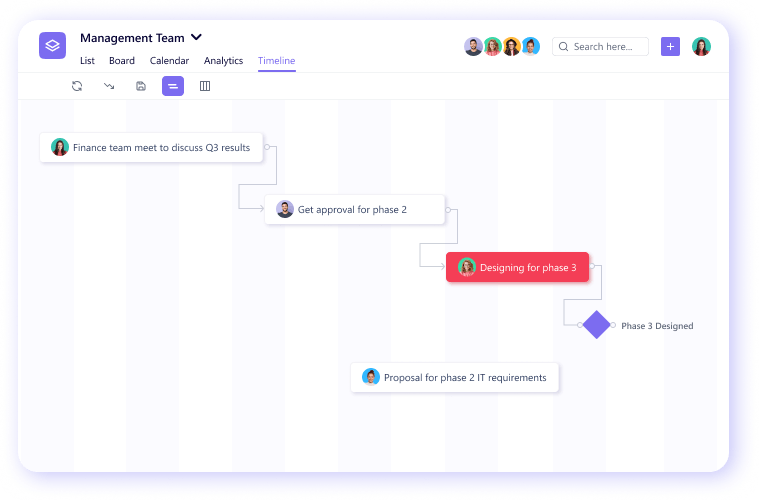 Portfolio view: Organize and track all of your team's multiple projects in a single view. Get a high-level overview of how all your projects are progressing, then drill in for more details to address risks.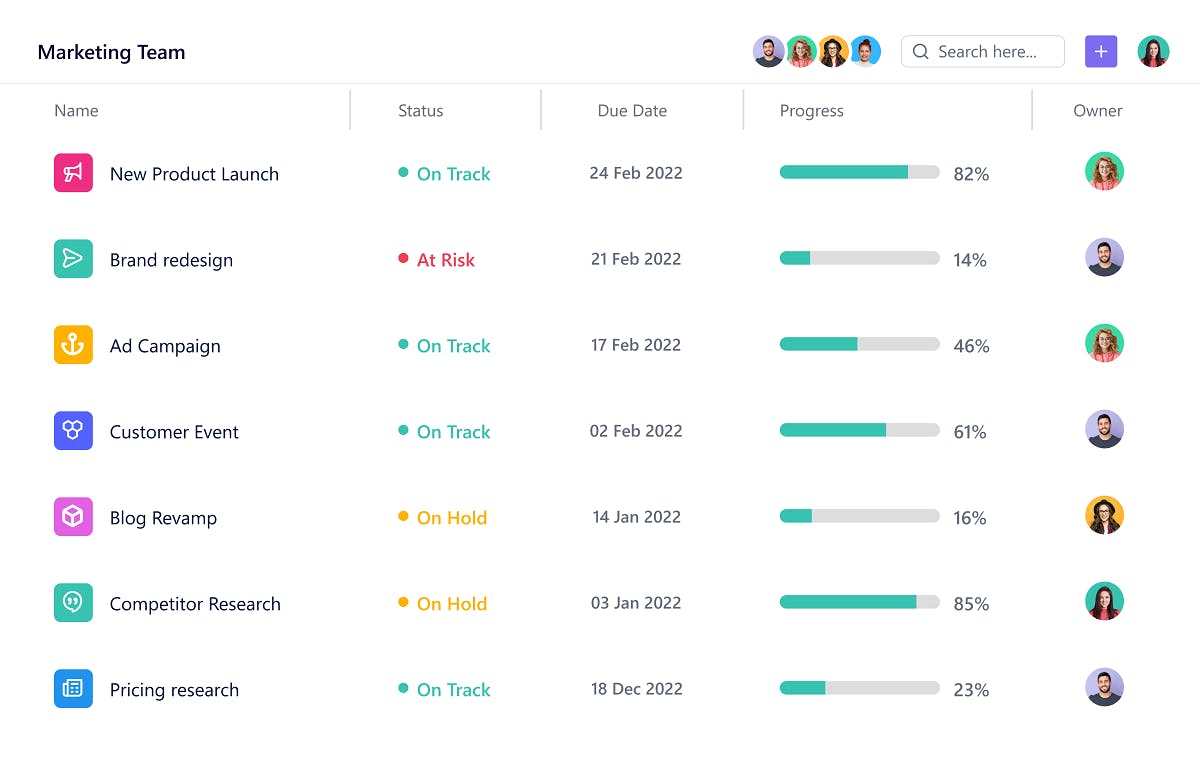 Workload view: Have an overview of each team member's work goals. Then plan and allocate resources effectively such that no team member is under-utilized or overworked. It also helps you predict resource requirements better and reassign tasks accordingly.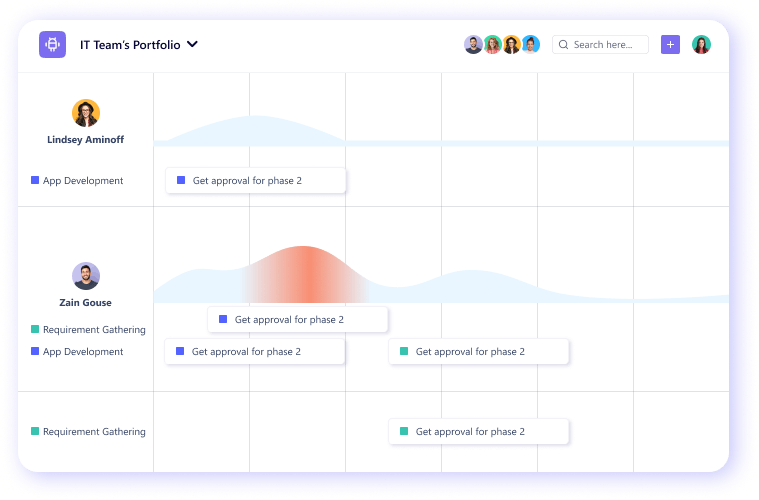 3. Time Management
The biggest constraint on any project is time, along with budget. If you don't know how to set and manage a project timeline, it is unlikely to finish the project on time. This might also lead to cost overruns along with failed targets, and unmet expectations.
To avoid this from happening, you need to have a better hold on where and how your team is spending their time, You can only succeed in doing this with time management and time tracking features at your organization. Fortunately, SmartTask has a vast list of features you need to keep the project and team goals in sync.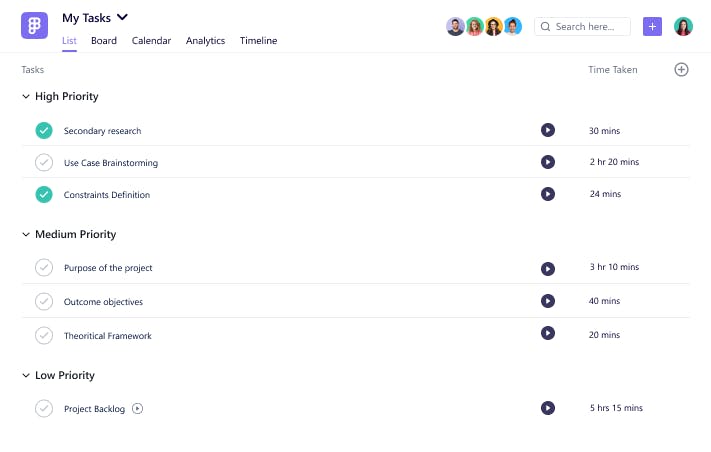 Time log: Conveniently add the time devoured on each task by switching on the timer right when you start the task. If you are taking breaks, you can simply pause the timer. You can also track the time spent on subtasks.
Time estimates: Plan and manage the time spent on each task. Set a time estimate for all your tasks, stick to it, and deliver on time.
Cost & Billing: Keep a track of your billable hours and cost. By setting cost estimates for the task and tracking the time being spent, you can ensure your project costs never overshoot the budget.
Timesheets & Activity log: With access to our smart timesheets, your team can keep the project manager updated on the progress being made in real-time. You can further dice, and slice the information however you like. This can be done on the basis of task priorities, tasks, team level, project level, or a specific team member.
4. Real-time Collaboration & Communication
Dealing with all the intricate details, dependencies, decisions, and approvals a project involves, it would be impossible to get things done without effective collaboration & communication.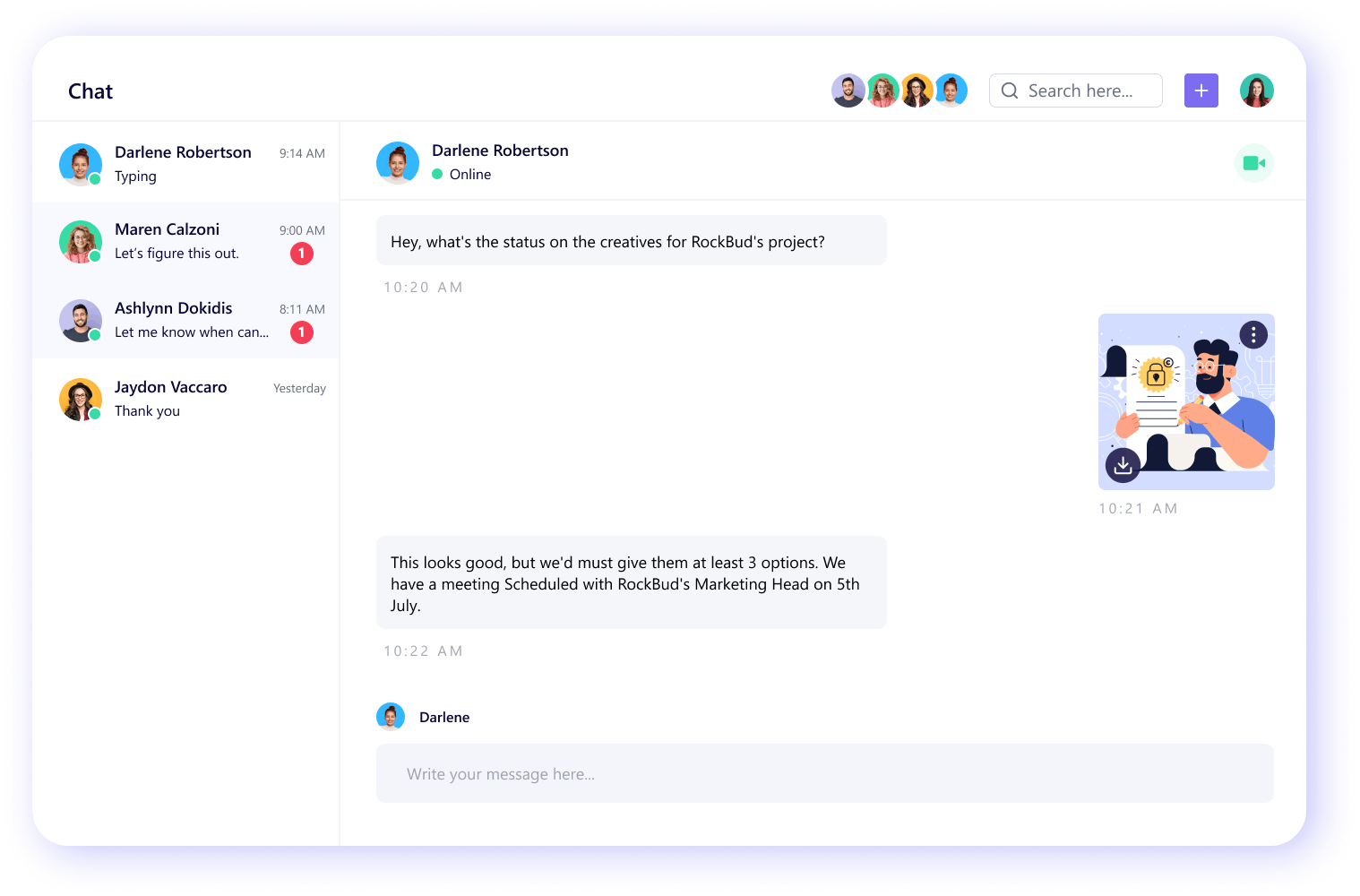 SmartTask offers all the necessary features that ensure all your teams and stakeholders are aligned and updated on the project in real time.
Task Description: Define exactly what the expectations are for a task. This will assist your team to work better and avoid any unnecessary rework.
Task comments: Use task comments to drop feedback, queries, important files, or updates in the context of the task. It saves time while keeping the entire conversation in one thread, making it easier for everyone involved.
Audio recording: Sometimes typing too many things on the comment can be time-consuming, instead, you can just record yourself and put it as a comment in the task for the team to refer to.
Instant File Sharing: You can easily attach your files or add links to your cloud and google drive so your entire team can access them from anywhere. It is better to get project management certification to understand all the concept in Project and Task Management for users.
Instant Chats: Advanced in-built chat that allows you to effortlessly engage with peers on a personal or project level. You can easily exchange ideas, share files, organize a video conference, and solve problems while you're on the go.
VoIP and Video Conferencing: Hold quick voice calls and video conferences to discuss and share updates with your team members and stakeholders directly from the task.
Status Update & Automated Check-ins: Save hours every week by replacing your daily standup meetings with status updates & automated check-ins. You just need to set daily, or weekly check-ins and your teammates can respond to your queries.
5. Ready-to-use Templates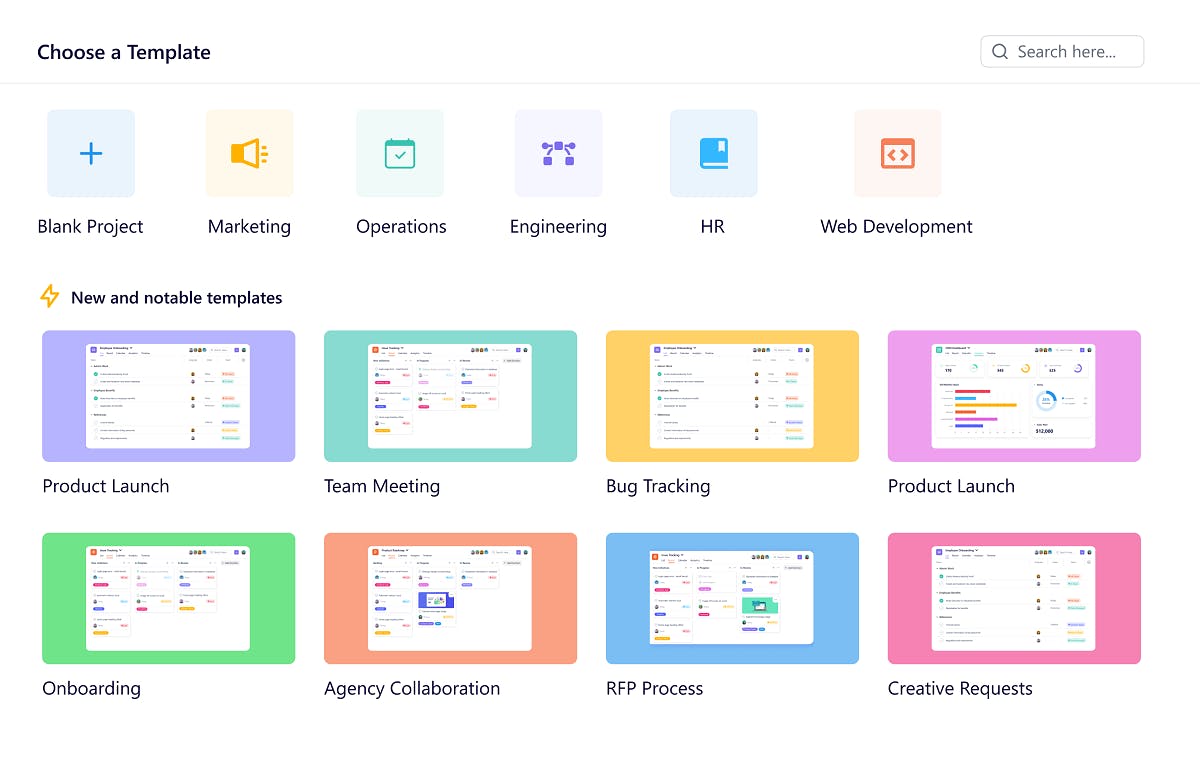 Starting from scratch and rebuilding the workflow for every project takes a lot of time and effort.
SmartTask allows you to save your projects and workflows as templates, which helps you speed up your project planning phase for similar upcoming projects. You can easily edit your existing templates as per your requirements.
Bottom Line
The importance of project management cannot be overstated. A project, no matter how big or small, will always require a good project management software at its core.
A tool like SmartTask paves the way for streamlined and effective project management. It allows you to initiate project planning with simplicity and remain ahead of the competition by assuring maximum positive outcomes.
Ace Project Management with SmartTask. It's Free Forever!
FAQs
1. What is Project Management?
According to PMI, project management is "the use of specific knowledge, skills, tools, and techniques to deliver something of value to people."
Simply put, project management refers to the process of guiding a team to achieve goals or complete deliverables within a specified timeline. It entails project documentation, planning, tracking, and communication, all with the purpose of successfully delivering work within time, scope, and budget restrictions.
2. What is the Importance of Project Management in Organizations?
Organizations are often confronted with new challenges and opportunities. The globe and marketplace are fast-paced, full of uncertainty and growth opportunities. Without the practice of project management, businesses would drown in a sea of failed projects and procedures, with few alternatives for rescue.
Thus, to survive and prosper, all organizations must take project management seriously.
3. How to Become a Project Manager?
There are two roads to becoming a project manager. You can adopt the "conventional" approach, in which you set out to become a project manager, obtain a qualification, and begin working as a project manager.
You can also continue to gather project management experience and work your way up the project management career ladder without taking a project management course, earning a degree, or becoming certified.
Here's how to go about it:
Do a skill gap analysis and try to develop the project management skills you are missing.
Gain project management experience by taking on related internships and work roles.
Enhance your project manager resume with the skills and experience you have developed so far.
Look for entry-level positions- project coordinator, operations coordinator, associate project manager, etc.
Consider a project management credential by undertaking some professional certification courses related to project management.
4. Why Choose a Career in Project Management?
Project managers put together groups of individuals to work on projects or goals for businesses and other organizations.
If you're organized, interested in people, and eager to advance in your career, project management could be an excellent career choice.
Currently, there are a lot of opportunities in the project management field, and it also has a lot of benefits, including high demand, better salaries, growth chances, and self-improvement.
5. What Does a Project Manager Do?
Project managers are often in charge of completing a company's most essential initiatives, and as such, they must have great leadership, coordination, and motivational skills.
Project managers are generally on hand to handle difficulties and solve problems that develop throughout a project, in addition to overseeing all elements of project planning and execution.
Here are some of the key responsibilities of a project manager:
Planning everything from execution to delivery.
Identifying the quickest and easiest way to accomplish whatever the client or stakeholder wants.
Delegating work effectively and directing the team to achieve a common goal.
Managing the resources and making sure the project is finished on time and within budget.
Monitoring project progress and the team's work.
Having a closely knit and collaborative team.
Tracking roadblocks and taking measures to deal with them.
Coordinating with clients and keeping them posted on progress.
Managing documentation and reports.