SmartTask
Contents
Team Dashboard - A Complete Guide
By Yash GurnaniApr 21, 2022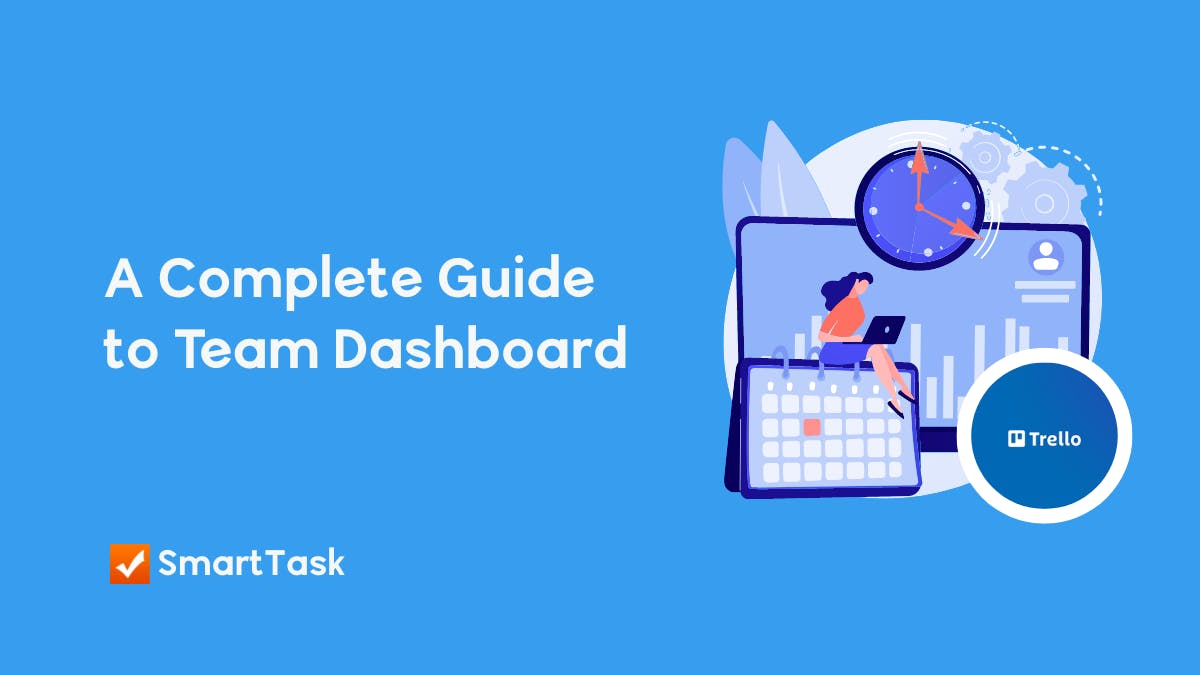 With changing times, managing a team is becoming tougher day-by-day for Project Managers and CEOs.
On the other side, employees are also tired of reporting every single thing and long meetings.
So, what is the solution to this problem?
You guessed it right. Team Dashboard.
But how? And what does it even mean?
Well, let's just find out!
What is a Team Dashboard?
A Team Dashboard, as its name suggests, is used to manage a team and its performance. It is mainly used to track the progress, productivity, and workload of the team. The team management dashboard helps you to make quick decisions that will help to increase productivity.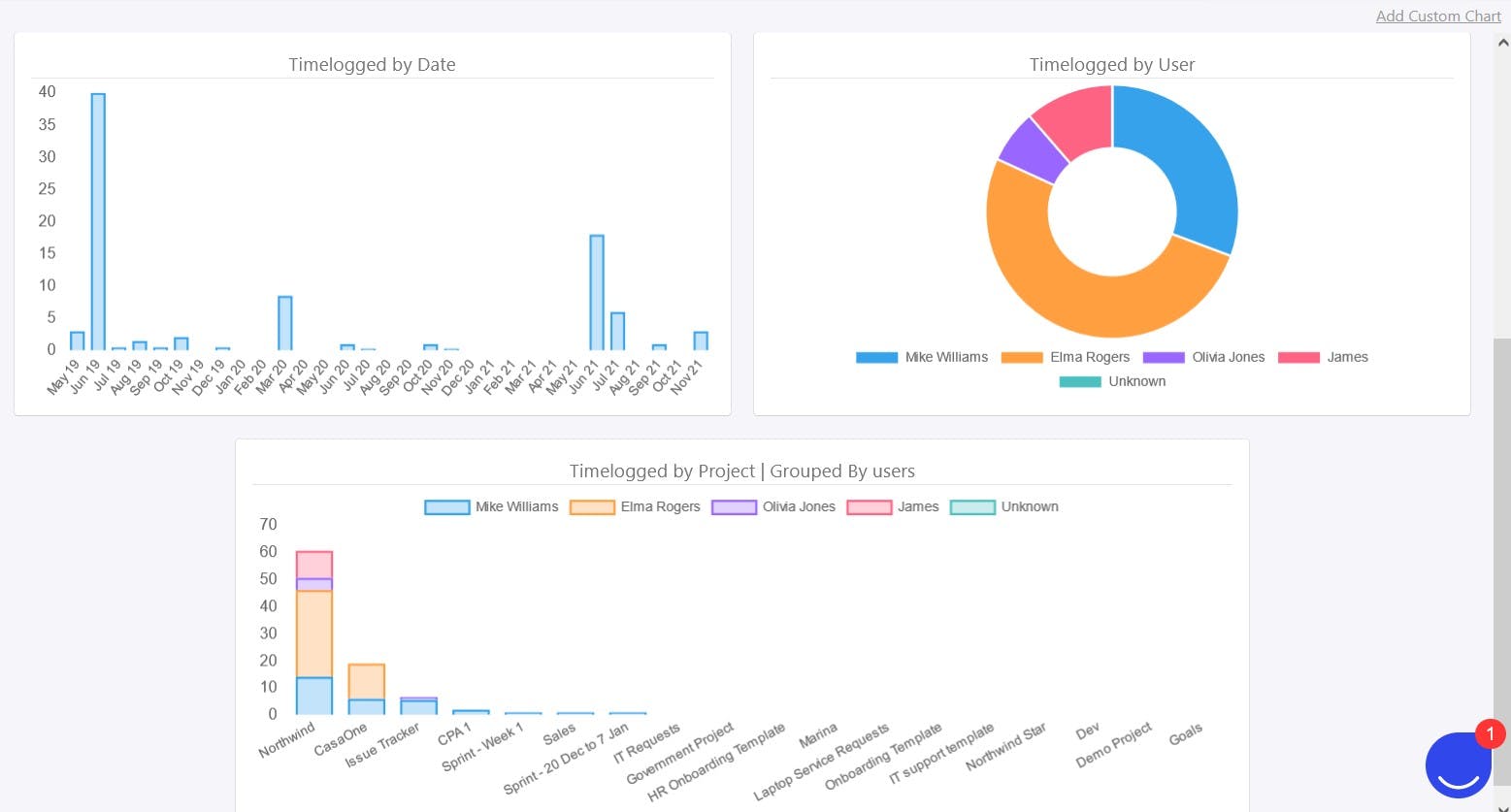 You can use team performance dashboard reports to quickly assess whether your team has reached KPIs or not. Various types of charts allow you to do a quick analysis. You can also manage your team's workload and optimize it for the best results. You can see how many tasks are pending or completed.
Well, we guess you are loving this dashboard feature, aren't you?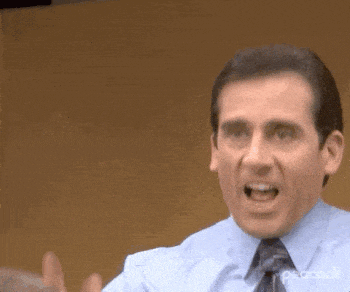 Types of Team Performance Dashboards
At SmartTask, we have 5 types of Team Performance Dashboards that will help you to manage your team's workload and productivity.
Yes, not one, but 5.
But, why is that? Why do you need 5 team dashboards?
Well, everyone has different requirements from their teams. Someone just wants to check the time taken by the team whereas some have to keep a check on the number of tasks performed by the team.
Here are 5 team dashboards that will help you:
1. Global Analytics View
Global Analytics View is a team metrics dashboard that will help you by providing a bird's view of all your projects. You know your team members are efficient and you just need to keep a check on them, then this is the perfect view for you to keep eye on everything on organizational level.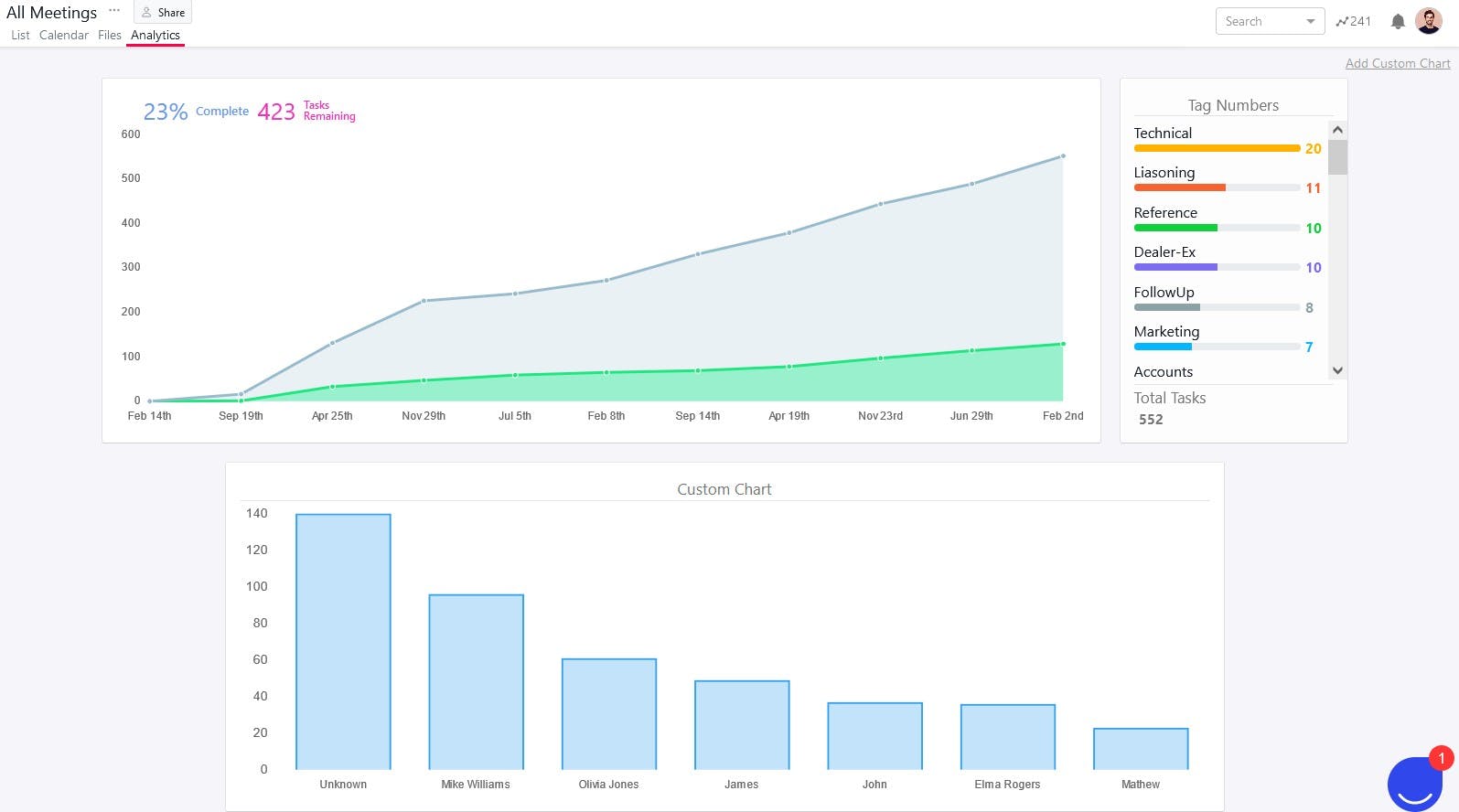 Whether you want to analyze your team's productivity or report it to your management, this dashboard would help you immensely. The best feature of this view is that you can add custom charts according to your requirement.
2. Portfolio View
Portfolio View is a team performance dashboard that allows us to view the team's progress for multiple projects at once. You can get an idea about team productivity by looking at the work done by them. You can easily track a team's progress by looking at the milestones achieved, due date, and status of the same.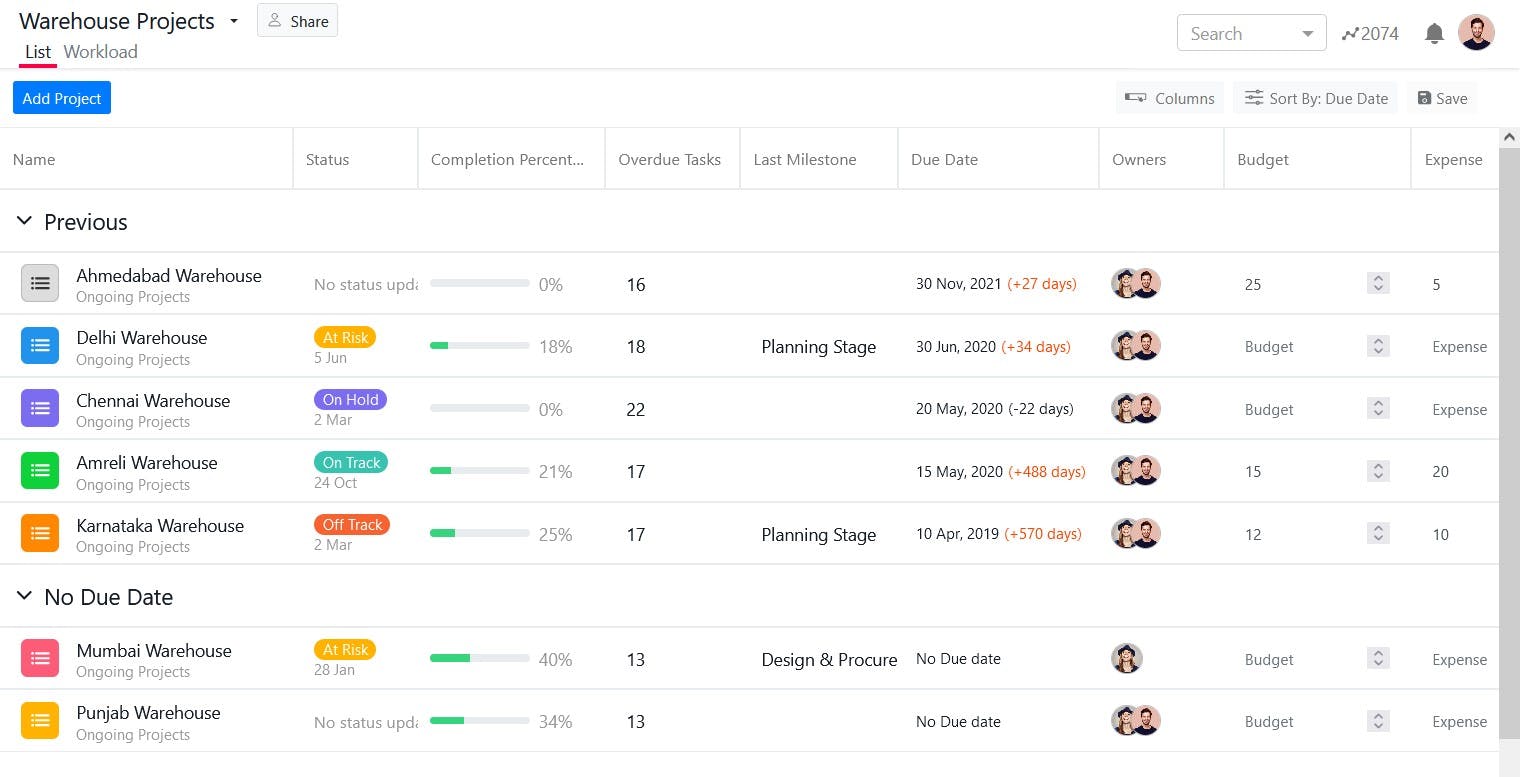 With the help of this dashboard, you can keep a check on the remaining tasks, milestones achieved, and missed by them. You can also invite clients as guest users to show them project's progress, which makes client management easier.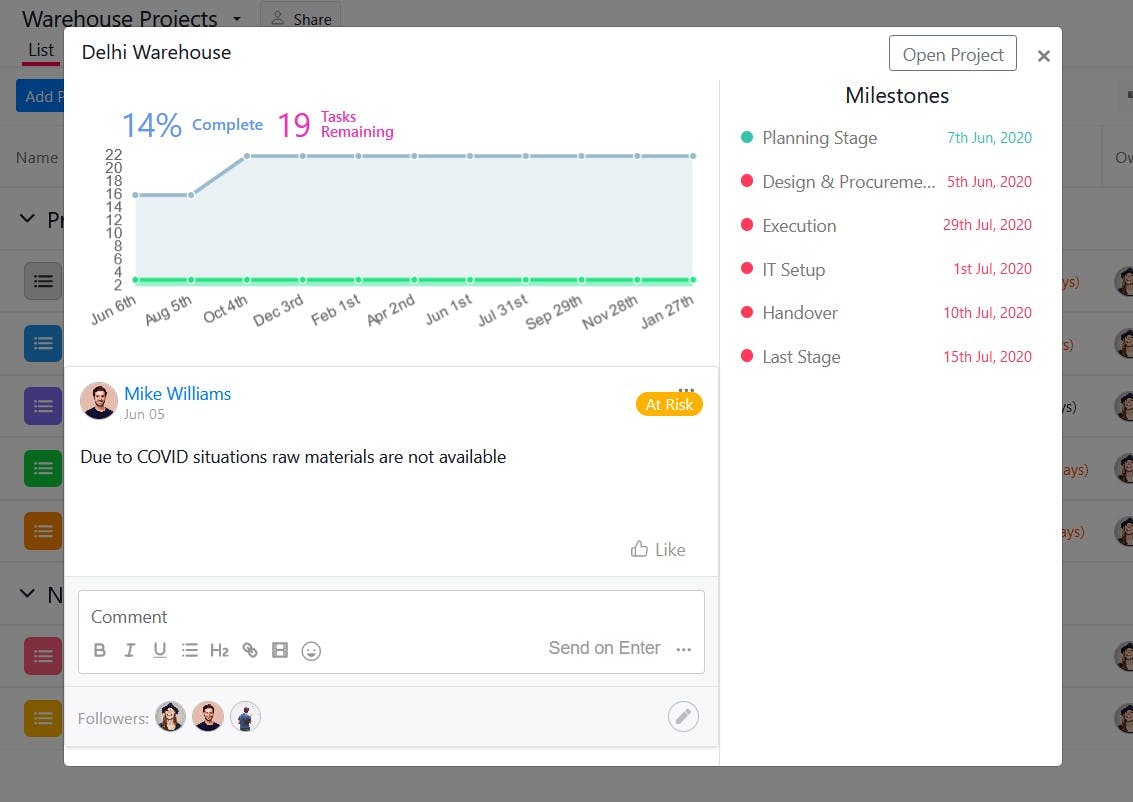 3. Workload View
Workload View is a team utilization dashboard that will help business owners, CEOs, and directors of companies to manage the workload of their team. You can increase or decrease the number of tasks assigned to your team members by keeping track of their workload.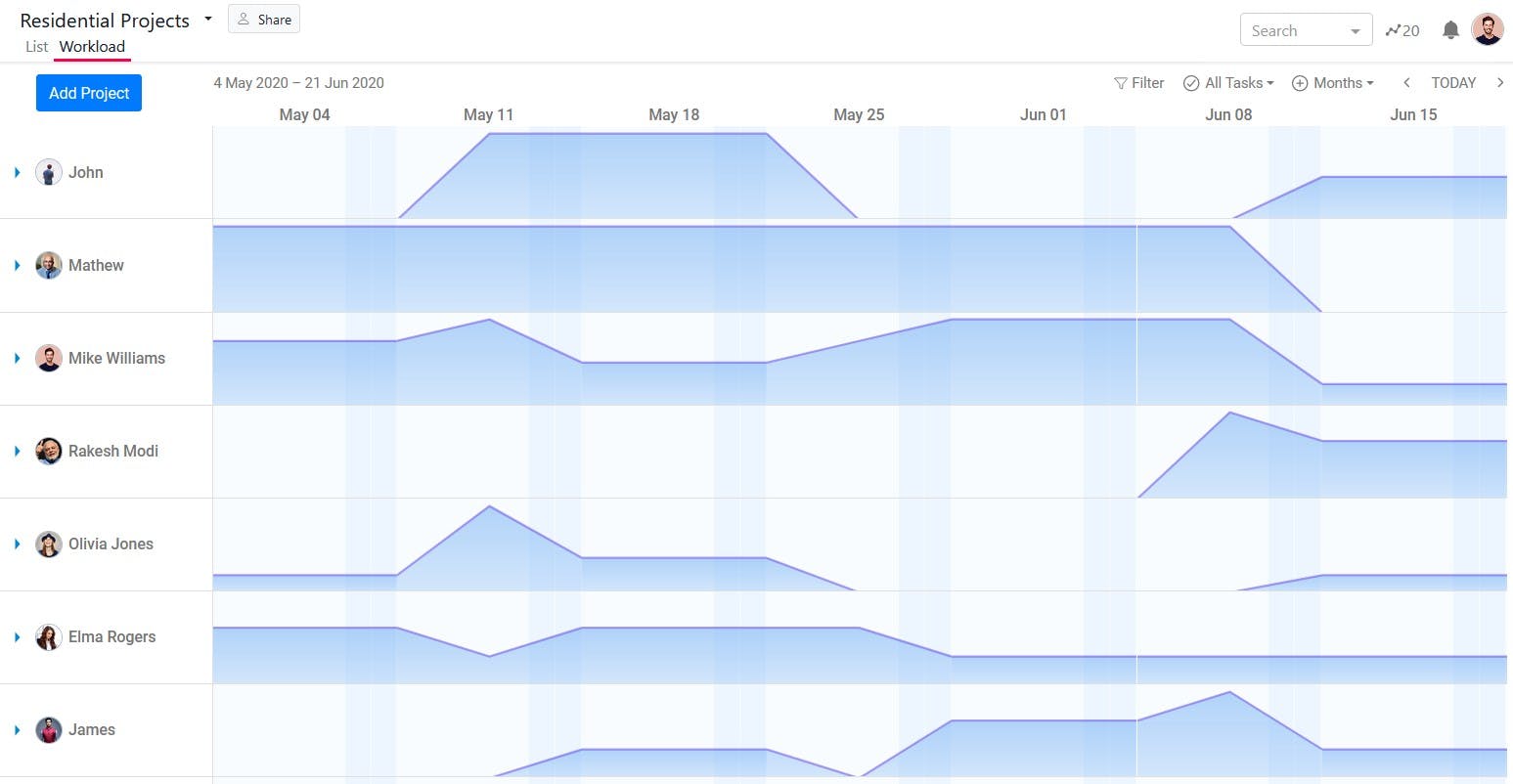 You can view the projects and tasks that are assigned to a particular team member. You can view reports daily, weekly, monthly, quarterly, and yearly too. You can also filter out the results with the help of custom filters. The best feature of this dashboard is that it can sort tasks out based on their status, i.e. completed and uncompleted tasks.
4. Project Analytics View
Project Analytics View is a team KPI dashboard that is used to track the KPIs of the team. You can track the work done by your team members in each project with the help of this dashboard. With the help of project analytics view, you can check your team's productivity in a particular project.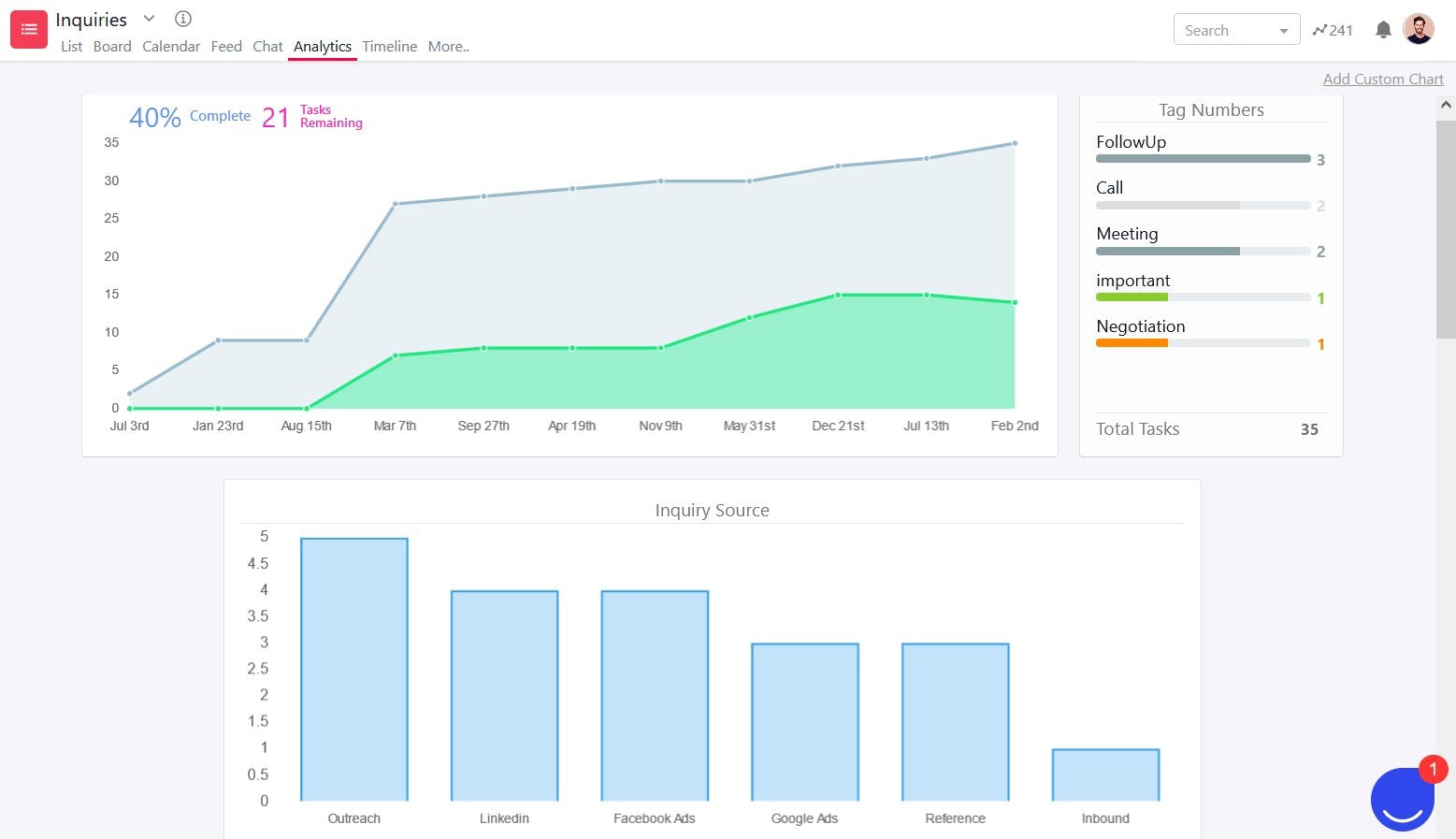 CEOs, SaaS Owners, and Project Managers would especially love this project team dashboard as this will help them to track various employees working on a similar project. Using this dashboard, owners will actually manage people and ask them to increase their speed by opting out of certain projects.
The best feature of this view is that you can customize it fully according to your requirement. You can create a graph of pending tasks, overdue deadlines, and many more like this by being specific with this customized team dashboard.
5. Time Tracking View
Time Tracking View is a team management dashboard that can help you to manage remote and freelance teams. This feature is literally a boon for those owners who outsource their work to other people. You can see how much work someone has done and then you can pay off their bills accordingly.

The best feature of this team dashboard is that you can see the insights in real-time. You can give your suggestions to freelancers or your remote team too with the help of comments. You can also check the status of the current task or project and avoid that kind of micro-management.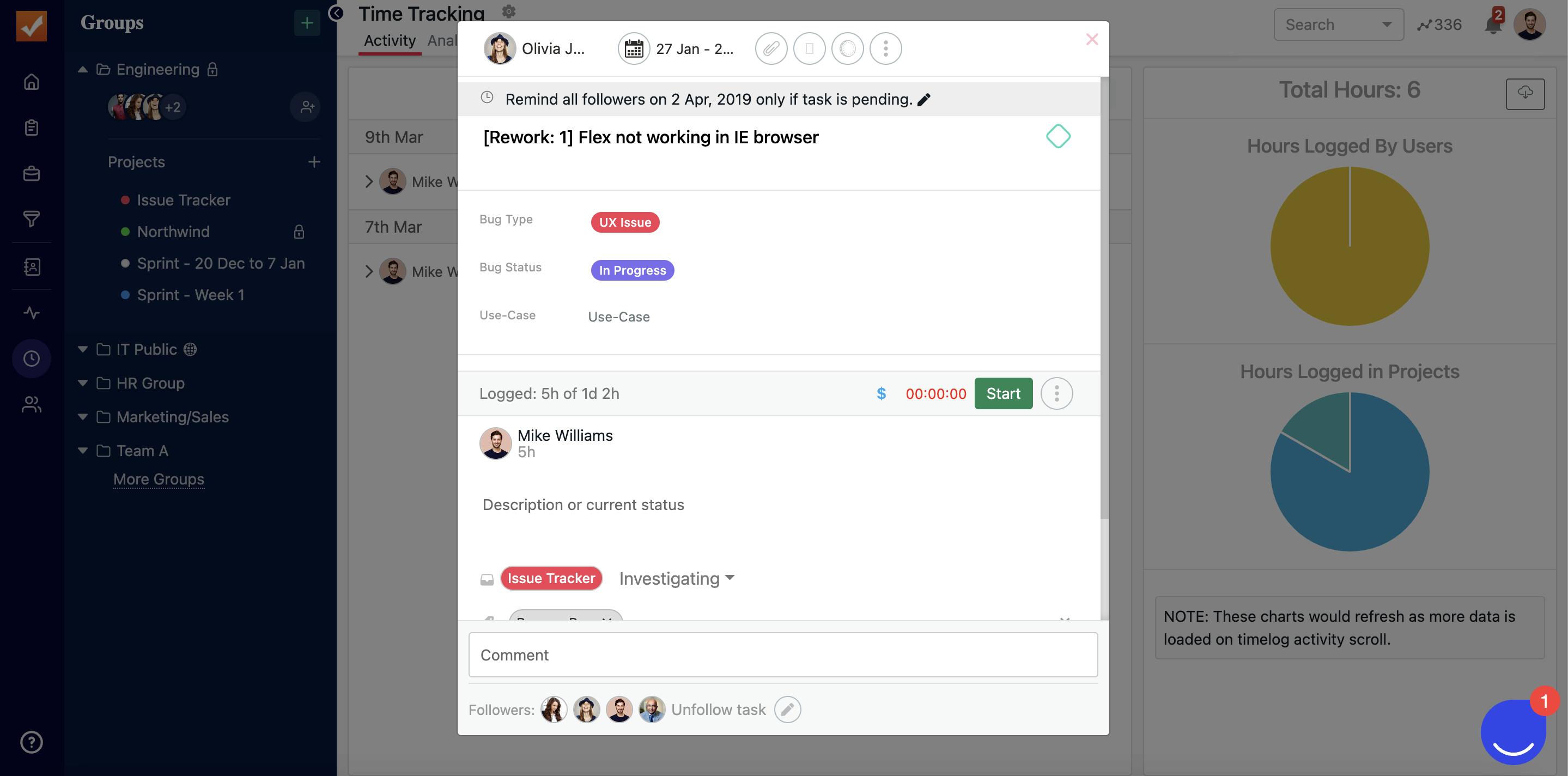 This feature will help business owners and entrepreneurs to save what they are short of, i.e. Time.
Examples of Team Management Dashboards
We just had a look at various kinds of team management dashboards. Now, we will look at various ways in which they can be utilized in the best possible manner.
1. Team Dashboard For Sales Team
The most important thing in any business is Sales. Nothing matters if you are not generating enough revenue. You can track your sales team's performance with the help of Project Analytics View and get an idea about how many tasks are pending or completed according to your plan.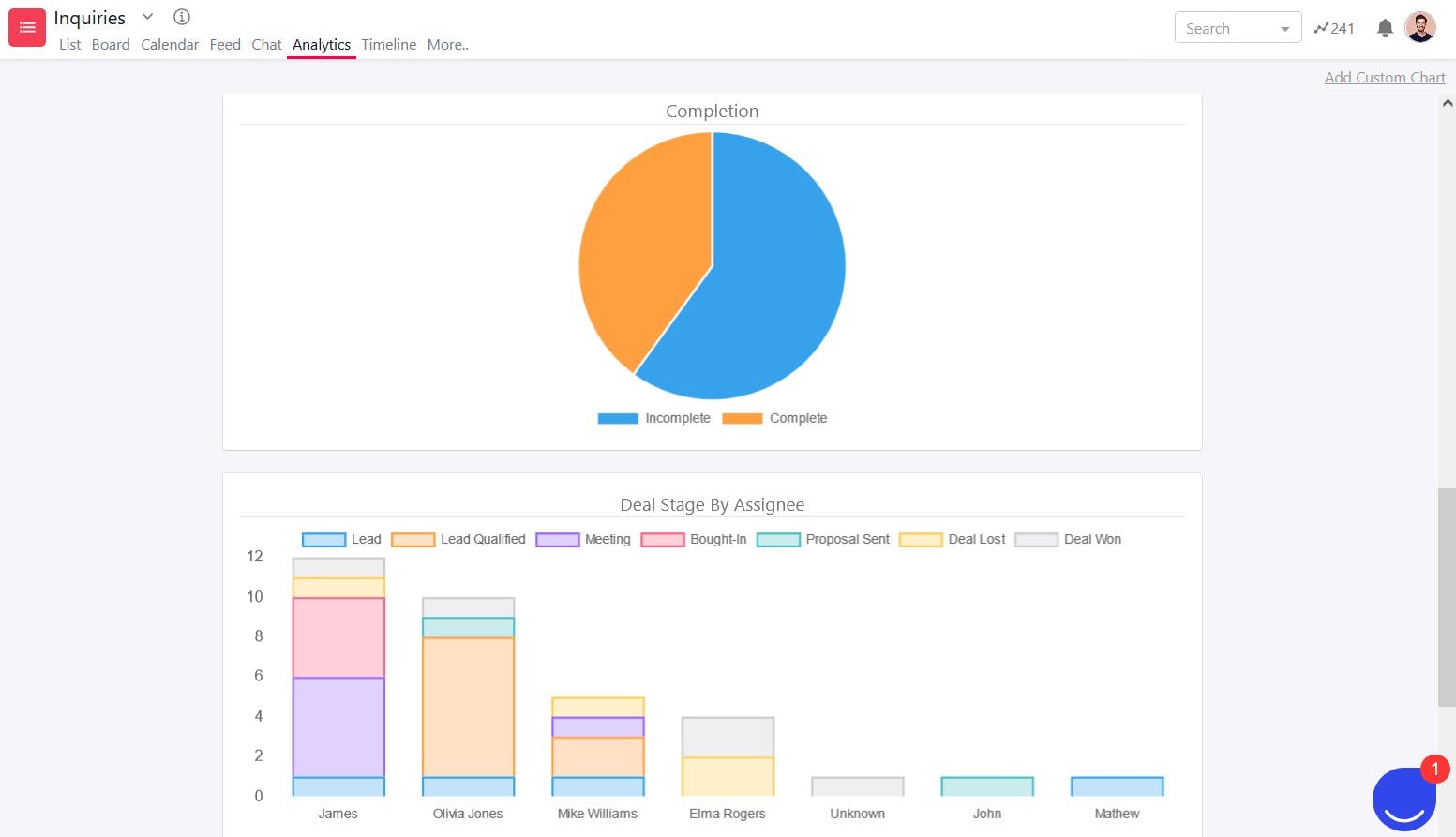 By keeping track of the deal stages, you can push your team to do better for reaching the later stage of the deal faster.
2. Team Dashboard For Digital Agency
You can get a brief idea about the ongoing projects in your Digital Agency with the help of Portfolio View. This view will help you in managing projects and your team.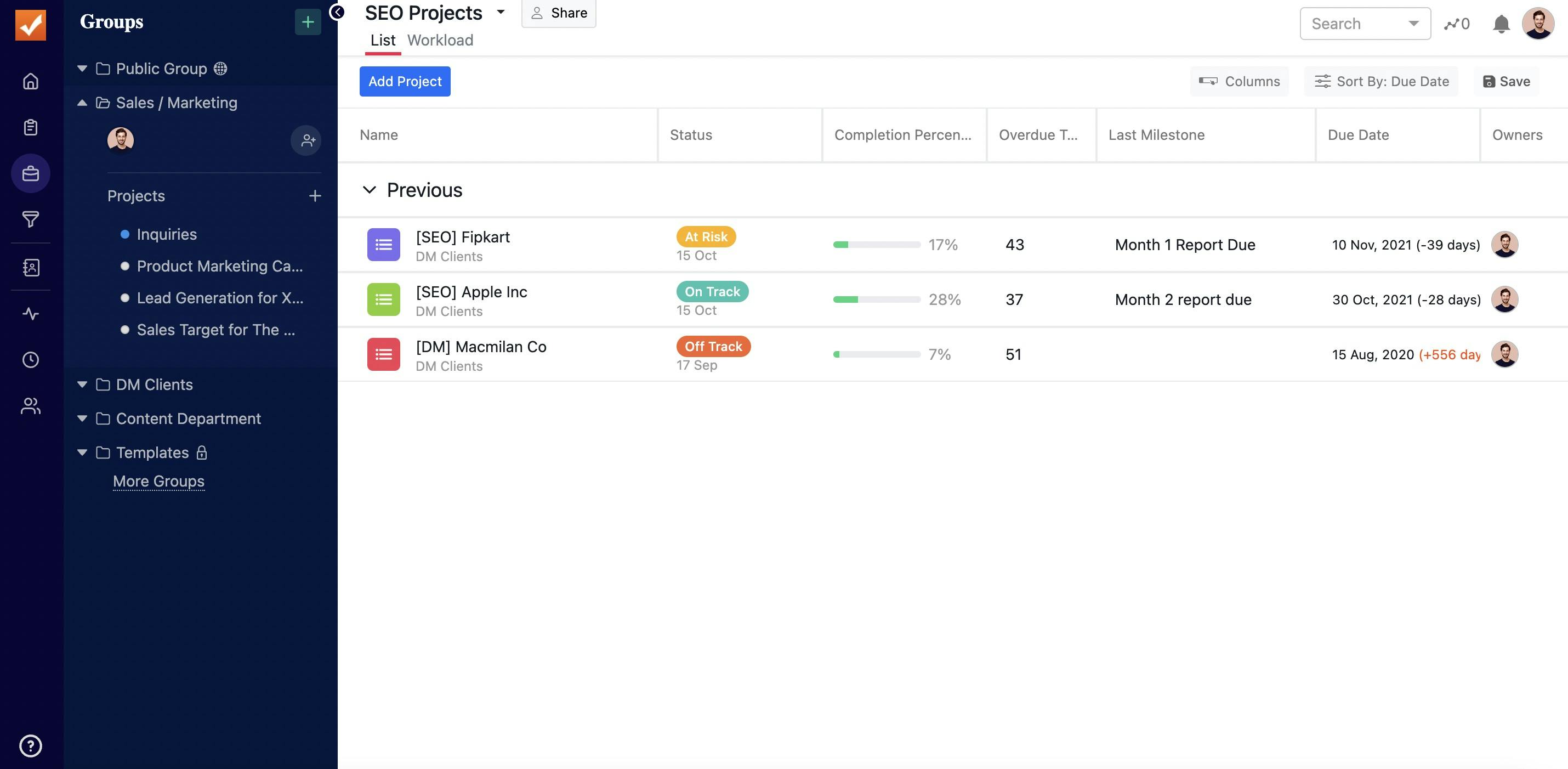 You can get more ideas about your current projects by clicking on them. You can ask about the updates on the current one by adding followers in your project.
3. Team Dashboard For IT Company
IT Companies need a team dashboard more than anything. They have many projects to maintain that range from development to debugging. You can use the Portfolio view to keep track of upcoming tasks and manage it.

You can also look at whether the milestones are achieved or not. And can get more details about them by clicking on each milestone.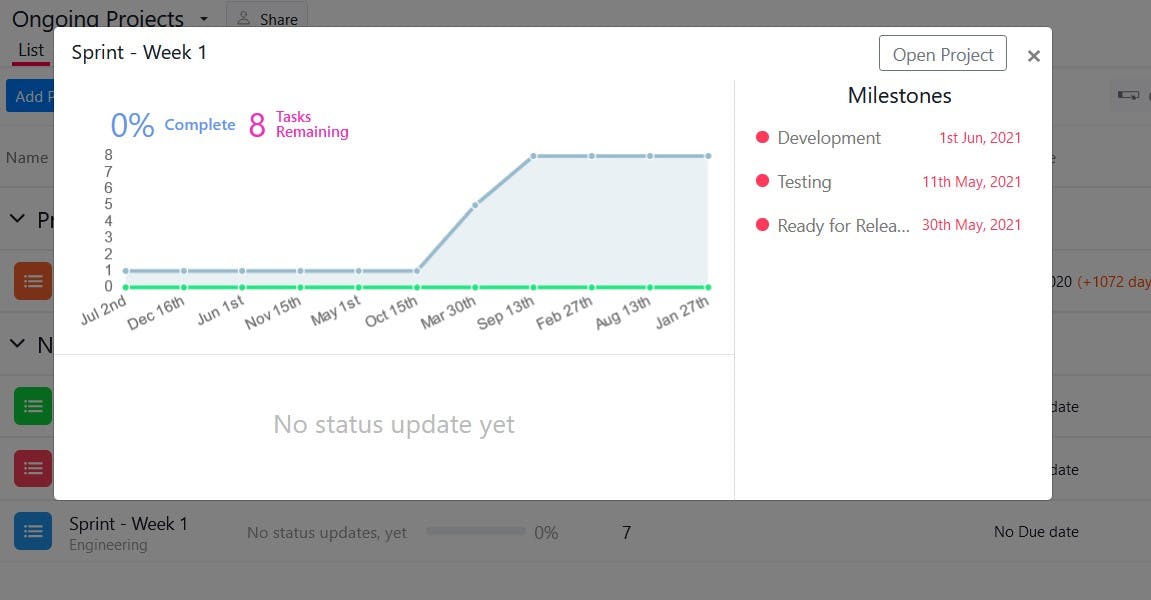 5 Ways Dashboards can Improve Team's Performance
How can Team Dashboards increase your team's performance? What are the main benefits of using Team Dashboards?
Here are five ways in which Team Dashboards can improve your team's performance.
1. Providing KPIs to Access Key Metrics
Team KPI Dashboard helps you by providing key performance metrics so that you don't have to go looking for every other person's tasks and its completion status.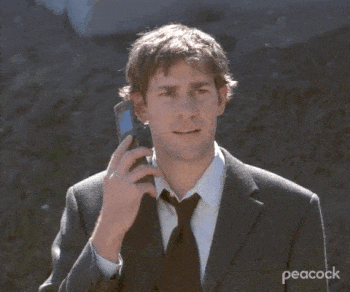 A dashboard shows KPIs (key performance indicators). You can always keep a look on them and align your goals with your team.
2. Providing Structure To Your Team
You can get updates about your current, due and upcoming projects. You can define your team's work hours and manage them properly to increase productivity. You can easily manage your team's schedule and avoid any over or under-utilization.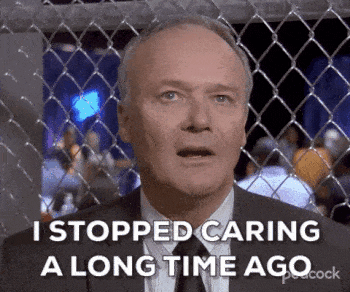 You should start taking action before your teammates become like this.
3. Get Real-Time Updates
The best thing about Team Performance Dashboard is that you get real-time updates. You can instantly measure what is working for your team and what isn't. Whether it is a new strategy or a new plan that you have implemented recently, you can get updates about it, and then you can decide how to move forward.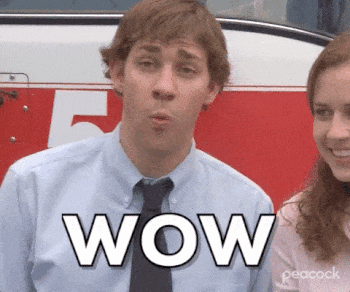 4. Easy Reporting
Making a performance report is something we all hate. Whether we have to present it to our clients or our owners, we hate making it. We know that this would be your reaction whenever you are asked to make a report on a team's performance.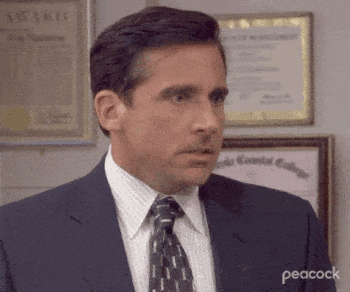 Team management dashboard solves this problem by providing key metrics. We can easily make reports and present it to our teams, owners, or clients without any hassle.
5. Identifying Trends
Team Dashboards are really helpful when you want to identify an uptrend or downtrend. You can easily check historical data and identify the trend that is forming. You can then take action to avoid any downtrend for your team. You can motivate them to work in a productive way by showing their performances.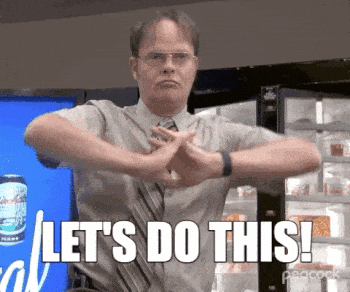 You can change the trends by working together with your team and resolving the issues.
Conclusion
So? You got to the end of this article.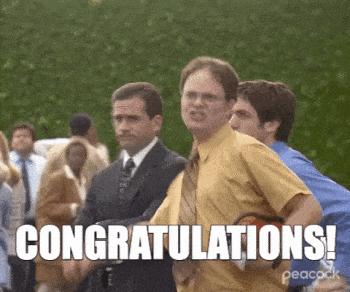 We hope that you get the idea about Team Dashboards and how to use it to manage your team and its productivity. You can get real-time updates, easy access to KPIs for reporting, identify trends and guide your team accordingly.
Start working with Team Dashboard on SmartTask today and increase your team's performance and productivity.
Try SmartTask for Free Today & Start Managing Your Teams Like a Pro!