SmartTask
Contents
11 Benefits of Workflow Automation To Improve Your Operations
By Radhika Mohan Singh RoyFeb 15, 2023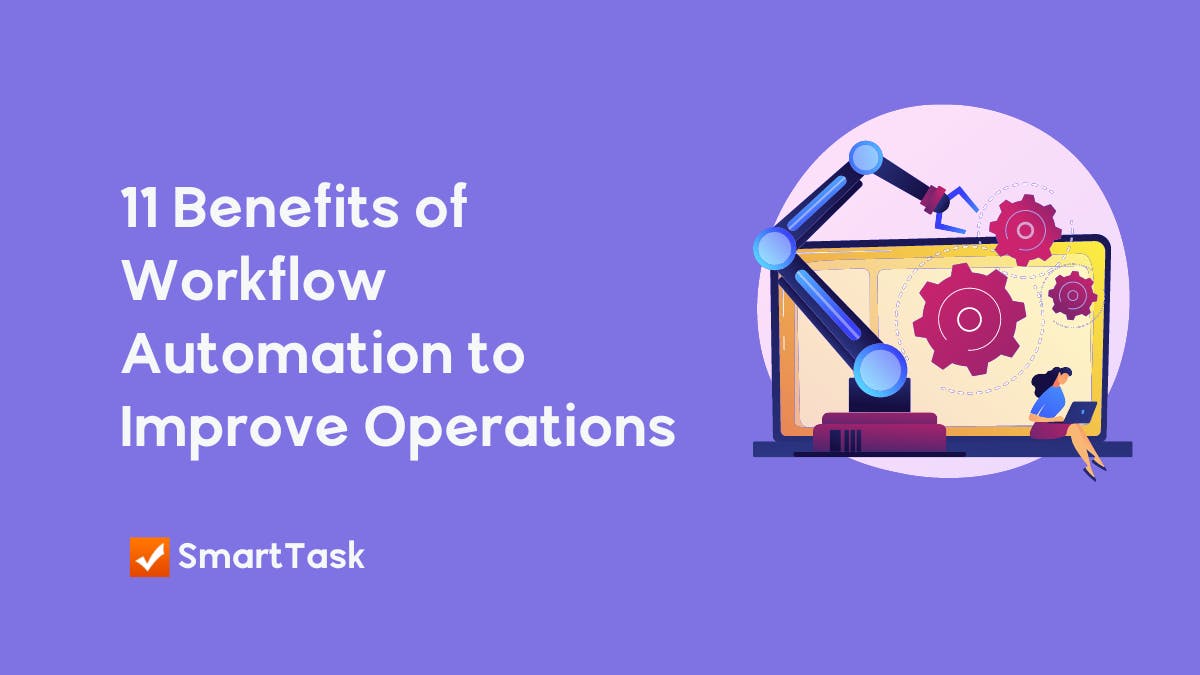 Everything is getting automated.
So why shouldn't you automate your daily work as well?
More than 70% of the population is working remotely, and to accommodate, 75% of businesses are already using automation software for process automation. While we were still working from the office, it was easier to define, track and remind team members of their daily tasks. But it became difficult with the implementation of the work from home model. Now even post-pandemic, the world still prefers working from home or a hybrid model of working. So how do you track or remind your team members of the task?
The answer is simple; you can track the daily activities by using a workflow automation tool.
But before you go investing in a workflow automation tool for your team's collaboration, analyze your team's requirement, budget and then cross-check with the tools available in the market:
Check reviews,
Check team's requirements
See if the tool is scalable?
Does it fit your team's budget?
Additional features the solution provides
Integration with other tools, etc
Also, run an in-depth analysis of your current business process and run an expert evaluation of the areas in which you can increase efficiency by integrating automated workflows into your daily business workflows.
Automation tools can help businesses thrive, and you do need them to keep up with the time. But without assessing the optimum use and its applications, even adoption of the best tool won't fetch great results for your team. We will tell you more about the benefits and the optimum use of workflow automation tool, but first:
What is Workflow Automation Software?
Workflow automation simplifies a series of tasks by defining and automating the effective task approach.
Workflow automation is defined as the approach of designing the flow of tasks, designs, documents, and information for all business daily activities so that teams and individuals can work independently in accordance with the business rules.
Businesses can also benefit tremendously with workflow automation tools as they get to automate manual tasks which require constant human intervention.
Some of the many benefits that organizations experience by automating repetitive and manual tasks are:
Work Efficiency
Work Productivity
Accuracy of tasks
Accountability for tasks
Job Satisfaction
Let's deep dive and explore the benefits of workflow automation tool:
11 Benefits of Workflow Automation Software
Now that we know what workflow automation software is, and you have a general idea about its importance. So let us look at the workflow automation tools benefits more closely:
1. Time-saving
As per this report, Gartner recently predicted that around 69% of the manual routine work done by the managers will be fully automated by the year 2024?
Most repetitive manual tasks are unnecessary, time-consuming, and act more as a deterrent in productive work. They also found that 30% of accounting rework done manually for error-fixing can be completely mitigated by using automation.
Isn't that interesting?
Using workflow automation software, you can ditch monotonous tasks, like manual task assigning, data entry, sending reports, and instead focus on projects and tasks that can help the company grow.
2. Cost-saving
According to Forrester, a 389% ROI was reported by companies who implemented a low-code workflow automation as part of their business processes.
Workflow automation just does not save time but also cost, wondering how?
Cost savings induced by the adoption of workflow automation solutions do not happen in a day, but it takes some time. Workflow automation basically ensures the most effective workflow for your tasks and removes any monotonous deterrent work from your daily work life. This, in turn, improves the productivity and efficiency of the organization, and efficient and productive workflows mean more revenue.
By employing workflow automation tools, you can scale up operations and improve customer experience.
3. Less Error
Did you know that even in a manual data entry job, businesses accept a 1% error rate?
But our question is: Why should you accept any errors?
With workflow automation, you can avoid any chance of error by tracking the whole process from end to end and informing the team of any foreseeable risks and errors. Or you can work out the kinks and avoid them in the future by using workflow automation software.
4. Team Collaboration
Yes, there are communication tools like Slack, chat, and even mail, so why is workflow automation required for team collaboration?
Workflow automation tools are not primarily for communicating with team members, it is for keeping track of daily tasks and collaborating with other team members for a business activity with the help of messages, documents, files, and other decks.
Workflow automation tools not just connect people but also software. You can connect your process stacks with workflow automation to keep better track of the task.
5. Work Transparency
By using the tracking feature of the workflow automation tool, you can assign and track a wide range of projects and remove the chances of repetitive tasks.
There are multiple people working on the same project most of the time, but different segments might be assigned to the individuals. In this case, avoid chances of repetitive work by different employees on the same project. And even improve accountability for tasks by assigning the sole proprietor of the project and tracking the progress on workflow automation software.
6. Streamline and Structured Process
Any new company or startup ends up wasting a lot of time in defining and streamlining processes for efficiency. And, in turn, ends up losing on revenue as well.
With workflow automation solutions, you can easily provide a well-defined flow structure to all your projects and tasks and reduce any redundancy. And thus improve the ROI and achieve the organization's revenue goals easily.
7. Juggle Multiple Tasks
For all you hustlers out there, workflow automation is an excellent tool for juggling multiple tasks and projects at the same time.
Requests, tasks, projects, chats, and supportive documents are neatly arranged on the workflow automation solution, so you can easily keep an eye on all running projects and payments and don't miss out on any deadline.
8. Eliminate Redundant Manual Tasks
Did you know that repetitive tasks cost $5 trillion in lost productivity annually?
With workflow automation, you can eliminate any repetitive tasks that can be easily automated like:
Assigning tasks
Data entry
Tracking projects
Approvals, etc.
With workflow automation solutions, you can configure the trigger steps based on conditions to automatically delegate tasks or approve tasks.
9. Improved Work Culture
With work from home being our reality right now, workflow automation gives the freedom to employees and teams to organize, track and review the project workflow and help them keep motivated and goal-oriented. And thus, workflow automation helps to align individual goals with business goals. Being a "great place to work" inevitably helps in furthering your employee advocacy efforts, moving it all into an upward spiral.
10. Improve Customer Communication and Transfer
If you are thinking that workflow automation can be solely used for internal team communication or only for project handling. You couldn't be more wrong!
There is a huge opportunity for marketing automation tools to streamline and automate the marketing communication with your customers. Think about the automation of content, sending, automatically triggered autoresponders that will take your customer relation to the next level.
You must know that CRM contains a detailed overview of all your customers, prospects, and leads. So how would workflow automation solutions help here?
Workflow automation solutions can be used for delivering some useful information on the previous contact points and communications with your clients. With that you can avoid any chances of duplicated messages that potentially overwhelm your customers.
11. Easy Search Process
The biggest benefit and advantage of a workflow automation solution is that it organizes the project, approvals, documents, etc., in a very systematic manner, so you can easily search for what you are looking for.
But for this, you need to set the right parameters so you can easily and quickly retrieve the data from the workflow automation system. This not just saves the document from being lost by being saved in silos but also saves a lot of time wasted on searching projects, customers, bills, supply chain data, employee's work, etc.
Automate Your Workflow
We all know that a streamlined and structured process helps in reaching the business goals faster. Workflow automation software helps in streamlining and providing structure to the company's work process and culture.
Don't trust us?
Try streamlining one annoying process manually and then with a workflow automation solution and see the effects for yourself.