SmartTask
Contents
Monday.com for Project Management: All You Need to Know
By Angad SinghOct 5, 2022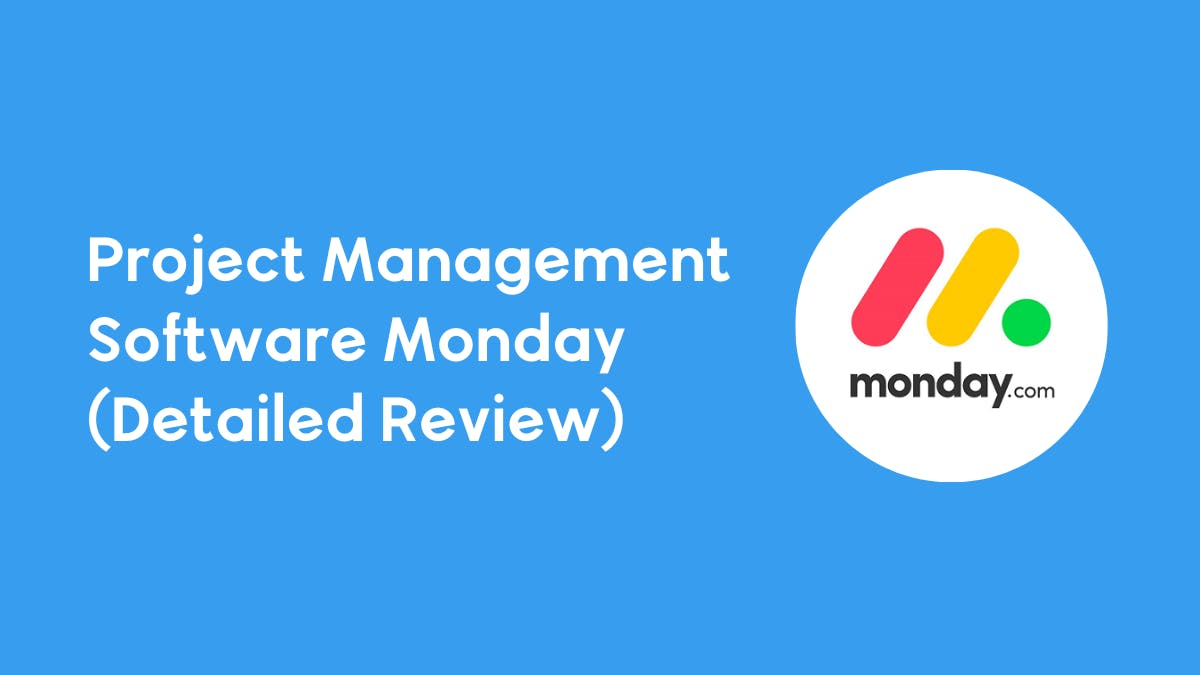 Mondays often feel like walking into a battlefield with little to no armor. With the entire week's workload staring you directly in the eye, feeling overwhelmed and off-balance is normal.
And that's precisely the feeling that Monday platform says it can help alleviate. But, is there any meat to this claim? Does the platform deliver on its promise?
We decided to put on our journalist's hat and find out.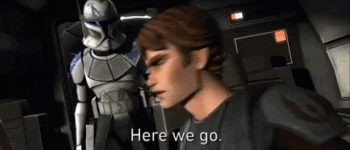 What is Monday?
Monday is a vibrant, youthful solution to all your work management woes. It now exists as a Work OS hosting five different tools under one roof.
The split is as follows: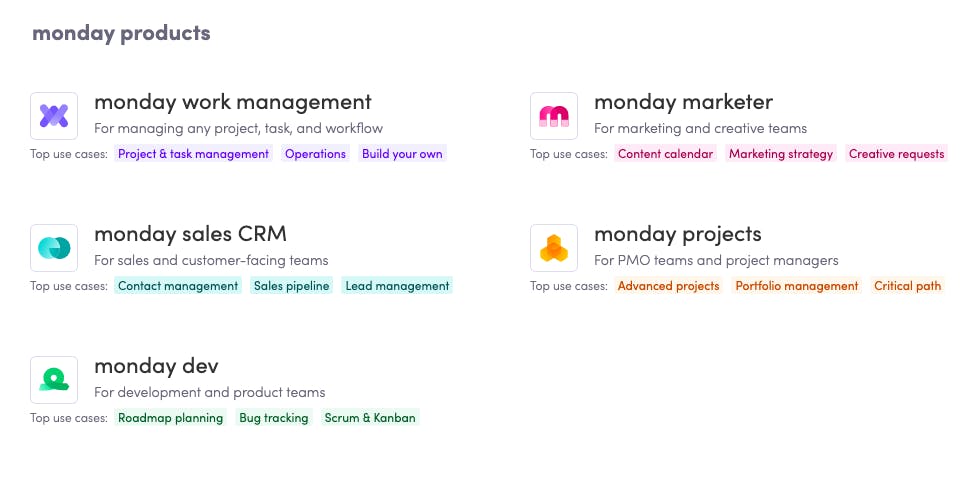 The Work Management platform acts as Monday's core, with the other four tools as product add-ons.
The Good
1. A Sight to Behold
Monday's UI offers a breath of fresh air, instinctively noticeable in all Work OS products. Everything in the brand's visual language — from futuristic illustrations to vibrant board designs — exhibits a modern and youthful take on work management.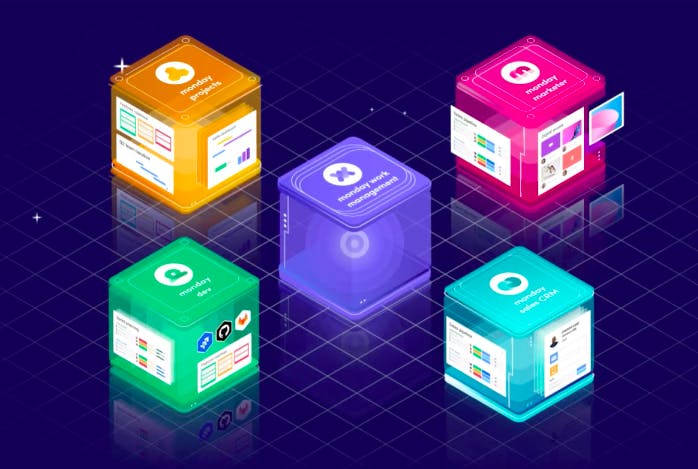 There's also a sense of scale to Monday's product experience.
Building automations, navigating the marketplace, setting up columns — all your interactions with the platform feel measured and significant.
Very little feels uninspired or half-baked.
In essence, using Monday's Project Management Software is a deeply visual experience. Every now and then, you'd find yourself slowing down just to appreciate how beautiful everything looks.
2. Want a Change of Scenery? No Problem
By default, Monday places all your data in tabular, spreadsheet-like structures called visual boards. This view is comparable to the List view in similar products. Of course, you can customize your experience from thereon.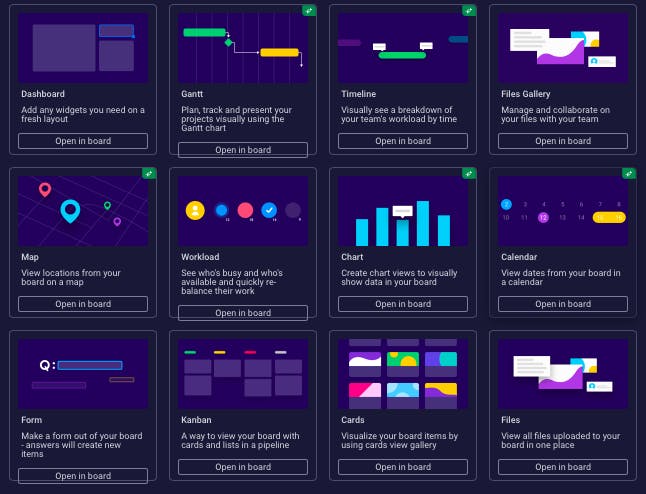 Like other top project management tools, Monday offers all the staple project views that managers expect to see. The Kanban, Calendar, Timeline, Gantt, and Workload views are all there. The rarer Files, Charts, and Map views enrich your choices further.
All in all, limited project views won't ever be a problem with Monday.
P.S. If you're wondering what's missing here, the answer is Portfolio View. It's surprising how Monday missed out on that one.
3. Limits to Scalability, What are Those?
Monday supports 200+ workflows right out of the gate. What does that mean in plain English? Just that the Work OS lets you manage most (if not all) of your business from one place.

And let's not forget about how Monday's core Work Management platform can expand with four other products. So, as you scale, your Work OS setup can do the same.
This is one of Monday's biggest strengths. It is one of the most scalable and versatile project management solutions money can buy.
4. Every Second Counts, Literally
Monday's implementation of time-tracking is near-perfect. To set it up, simply add a time-tracking column to the board of your choice. Next, hit start on the timer, and voila — you'll know precisely how long a task takes you once you stop the tracker.

You can also add sessions manually to ensure that your time-tracking data is as comprehensive as possible. Exporting your tracked sessions into an excel file is no trouble either.
Sadly, the caveat is that time-tracking is only available in Monday's Pro plan. That's disappointing, considering how competitors (including SmartTask) don't gatekeep this feature to such an extreme degree.
5. Superpowered Workflows Made Super Easy
Even in its base form — sans any templates, automations, or integrations — Monday Work OS is an excellent productivity tool.
But when you add these power-ups to the mix, it quickly turns from Tony Stark to Iron Man.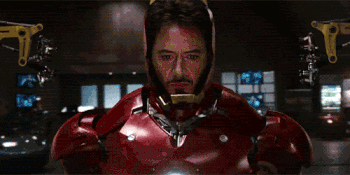 Whether you're planning a big party or a high-stakes product launch, the expansive template library has you covered. It ensures you never have to start from scratch.
Next, Monday's automations eliminate tons of busy work from your day-to-day. From notifying team members when a task status changes to creating items on a future date, you can put several mundane tasks on auto-pilot.
Lastly, Monday will possibly integrate with every tool in your tech stack. Salesforce, Google Drive, Zapier, Mailchimp, Microsoft Teams, GitHub... the big names are all there. Setting them up is a no-code activity — something even your grandma can learn.
All in all, Monday packs all the bells and whistles needed to fine-tune your workflows.
6. Data that Dresses Well
In one of their ads, Monday plays around with the tagline, "data makes perfect." This quip seems to come alive when you look at Monday's reporting features. With over 30 widgets to customize your dashboards, you have enough nuts and bolts to build your idea of perfection.
Not to mention how stunning your data looks when presented in Monday's signature design language. Colorful charts and crisp typography make everything a sight for sore eyes.
But most importantly, dashboards are available even in Monday's cheapest paid plan.
The Bad
1. Some Signal, Some Noise
Is Project Management Software Monday a better alternative to email chains and status meetings? 100%.
It centralizes progress updates, making deliverables clear for all team members.
Yet, it doesn't provide a means for instant communication, forcing teams that frequently bounce ideas off to rely on Slack and similar tools.
Granted that Monday integrates with several team communication platforms (including Slack), it still lacks a native solution. Interestingly, several of Monday's competitors don't share this bottleneck.
2. Live Support… Still Connecting
Monday's customer support, for the most part, is commendable. All paid plans come with 24/7 support, coupled with live & on-demand webinars.
For enterprise users, there's provision for a tailored onboarding experience facilitated by success managers. The help docs on the company website receive regular updates and answer queries that most new users will have.
But you'll be disappointed if you try to access live chat or phone support, especially if you're a free user. Response times for both can go up to several hours, depending upon your geography and plan.
3. Multi-Level Permissions Only for Enterprises?
Monday doesn't let you create private boards/dashboards unless you pony up enough cash for a pro plan. And that's just part one of the one-two punch.
If you want greater control over visibility and permissions, be ready to pay for the enterprise plan. That means you'll need to subscribe to Monday's most expensive pricing tier — suited for billion-dollar corporations — just to be able to create multiple admins for a board.
These odd choices chip even more goodwill away from an already frustrating pricing system, which we'll address soon in the blog.
The Ugly
1. Welcome to Complex City (Complicated UX)
Monday Work OS is a visual treat. With connected products to help you handle most use cases under the sun, it's a highly scalable software. It's also ripe with customization options that'd serve you at all levels of growth.
Now that we've given credit where it's due, time to address the flip side of the coin — a sentiment that hundreds of reviews across sites like G2 and Capterra echo. In its full glory, Monday can be infuriatingly complex to use.
The near-infinite list of templates, marketplace apps, and other add-ons can make mastering Monday akin to running on an always-on treadmill. Sooner or later, you'd run out of breath and fall flat on your face.
Another equally dismal outcome is that your team members may never brave the initial learning curve that Monday poses. That's an adoption nightmare, especially for medium to large teams.
2. The Big-Picture Here is Foggy (Unimpressive Big-Picture Planning)
Monday covers most bases when it comes to project & task management. It gives you custom columns, intuitive dashboards, helpful templates, and countless personalization options. But it leaves more to be desired in big-picture planning.
Monday's Timeline and Gantt views are phenomenal from a visual standpoint. However, unlike other work management solutions (like SmartTask), they are not interactive. You can't create dependencies between tasks, compare progress with the project baseline, or add milestones within the Gantt and Timeline views.
Lastly, the lack of a Portfolio view makes it laborious to manage multiple projects. These insufficiencies pile up, making Monday not the best choice for bird's-eye level project planning.
3. And That'll be Half a Kidney for the Visit (Convoluted Pricing)
Monday's pricing is a confusing mystery you'll have to piece together yourself. Each of the four products that add to the core work management platform has a unique pricing ladder.
What does that mean? You'll have to carefully assess plans for five different products to make an informed purchase.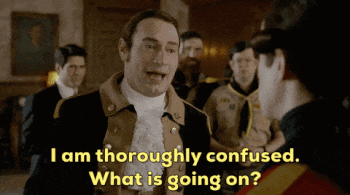 If that were all, we'd not place this discussion inside the deal breaker section. However, Monday's pricing becomes even more frustrating when you look at its Free, Basic, and Standard plans.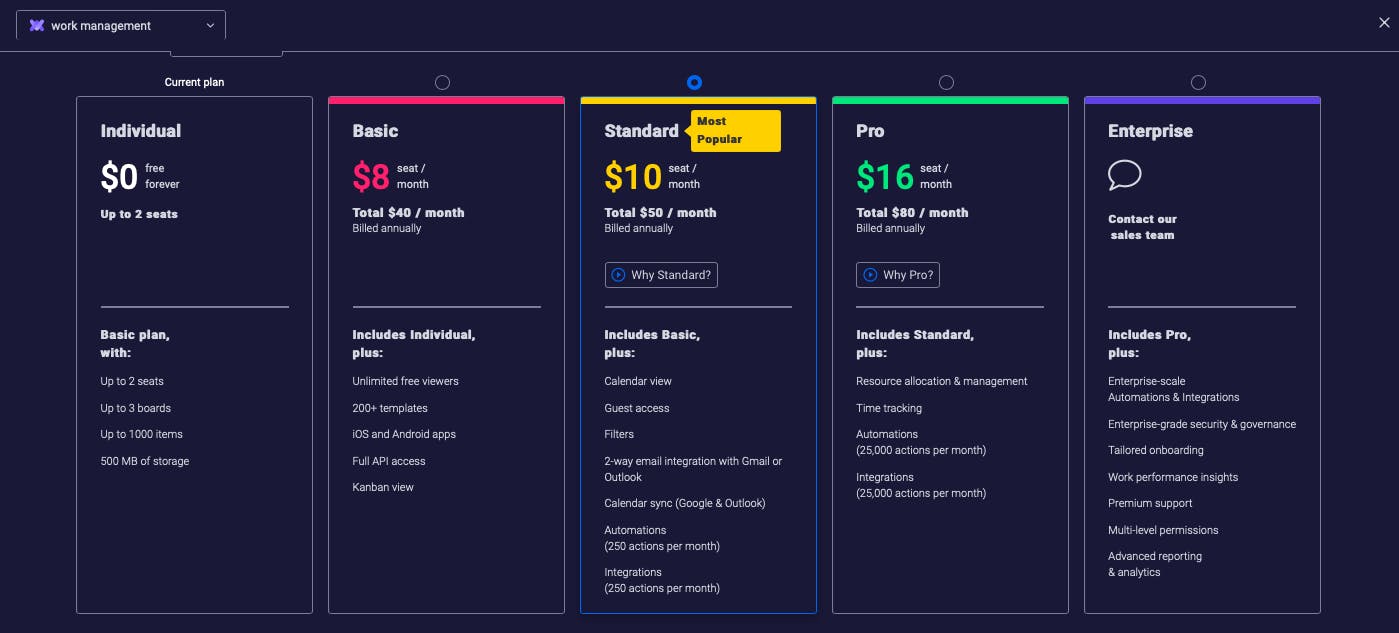 For the Free Forever or Individual plan, you get what you pay (or don't pay for). All you can do is create three boards. That's the equivalent of Google Sheets telling you to take out your credit card after creating three spreadsheets.
The Basic and Standard plans don't deliver value for money either. Time-tracking and advanced visibility permissions — two features that could've set Monday apart — are only available in the Pro and Enterprise tiers.
Not very charitable, especially when you see what Monday's competitors offer in their free and entry-level plans.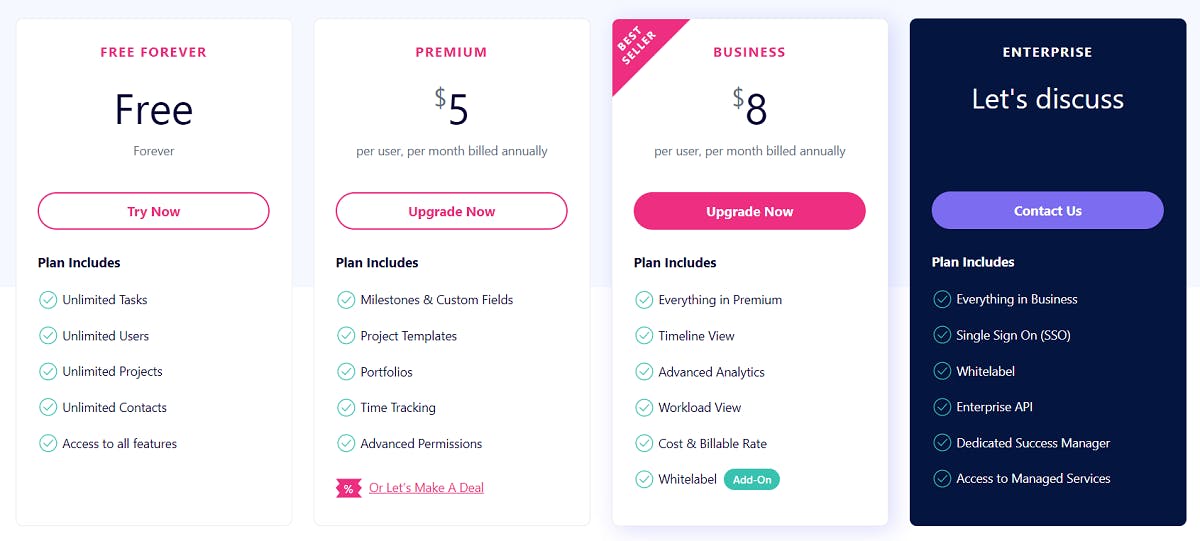 As you can see, SmartTask delivers much better value than Monday project management software, especially for its cheaper paid plan. For just $5/user/month, you get access to time-tracking and portfolios.
More importantly, SmartTask's pricing is understandable with just a quick glance. And we're also open to making a deal with you (not just at the enterprise level) that's different from what you see on the website.
The Verdict
We help 20,000+ teams manage a wide range of workflows and know how difficult it is to deliver excellence at scale. So, nothing against Monday, but here is our final impression.
Monday is a phenomenal work management platform, mostly held back by an odd pricing structure. All its other flaws would be much easier to forgive if Monday delivered better value for its entry and mid-level plans.
But, all hope isn't lost yet. SmartTask can fill the Monday Work OS-sized hole in your heart because it is:-
super easy to get addicted to,
has interactive Gantt and Timeline views,
offers features like time-tracking and portfolios even at the cheapest paid plan,
and has straightforward pricing, which is simply unbeatable.
But, if you still have your doubts, that's fair. Just keep reading ;)
Monday v/s SmartTask: Which is the Best Tool for your Team in 2023
Here's a bird's-eye view of how Monday and SmartTask compare:-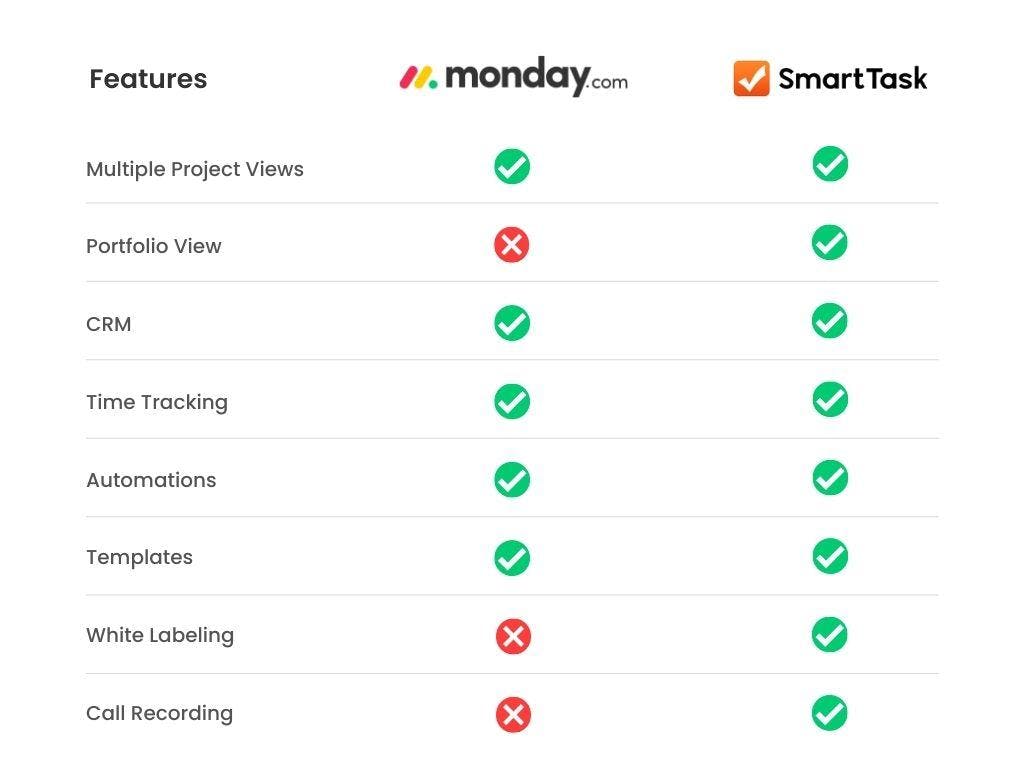 Monday's capabilities are no joke. But with rare features like portfolio view, white labeling, native call recording (and bang-for-the-buck pricing), SmartTask seems to be in a league of its own.
What Our Customers Have Accomplished With SmartTask
From leveling up productivity to boosting sales, here's a glimpse of the value our customers get:-
Sarhad Dairy — a milk production union that collects 5,00,000 liters of milk every day — switched from Asana to SmartTask and increased employee productivity by 50%.
Enerlyf — a company making devices that optimize AC usage and reduce energy bills by 35-40% — uses SmartTask's in-built CRM to streamline sales and accelerate follow-ups.
Get your free consultation on SmartTask today!