SmartTask
Contents
What is Workflow Management? (Meaning, Types, Examples)
By Nidhi ParikhSep 18, 2022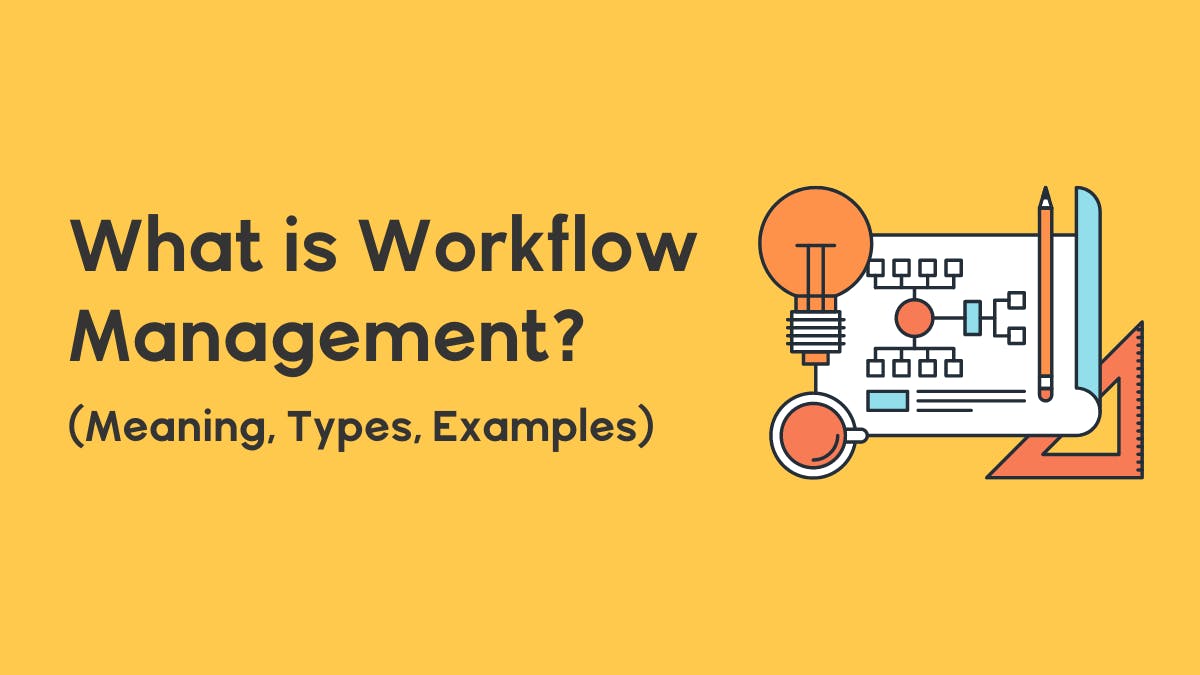 Running an organization is no cakewalk.
From HR to marketing, there are 10 different departments and 50 different projects.
Your team can easily get caught in a list of never-ending tasks, not knowing where to start and what to do next.
One solution to put an end to this madness — create workflows.
We'll break down everything about workflows (along with some workflow templates you can use) to give your team the ammunition it needs to work with clarity.
What is Workflow?
A workflow consists of steps that should be completed sequentially to achieve a goal or business objective.
A well-defined workflow covers these three things:
What activities need to be done?
What is the sequence in which they should be done?
Which role will be responsible for each activity?
Here's an example of our content writing workflow:

Automated Vs Manual Workflow
A manual workflow requires human intervention. For example, if you want to move a task from one stage to the next, you need to manually re-assign it to different team members.
On the other hand, an automated workflow simplifies your process by automating redundant tasks. For example, when you move an article from the "Writing stage" to the "Graphics stage", the assignee immediately gets changed from "Writer to "Graphic Designer"
The people following the tasks are also notified of this change immediately.
Types of Workflows
The three common types of workflows used by organizations are:
1. Process Workflow
This workflow is used when the set of tasks is predictable, repetitive, and doesn't require much change.
For example, Assigning tasks to writers. It's a simple, repetitive process where the manager creates a content calendar and assigns articles to available writers on the basis of their interests and caliber. The tasks are monitored from time to time to ensure timely delivery.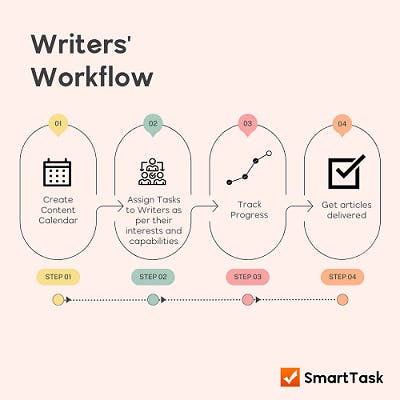 2. Case Workflow
This workflow has a defined starting point but doesn't have a fixed ending point at the beginning. The steps only get clearer as the activity begins and more data gets revealed.
For example: resolving a client query. The issue could be anything from not being satisfied with the article delivery to a lack of clarity on new marketing campaigns and so on. The steps involved in the workflow would change for each of these issues.
3. Project Workflow
Project workflow is similar to process workflow, but it allows for some flexibility. For example, it can be used to devise a marketing campaign. While some activities are fixed, you might need to modify a few if new data comes in.
To make things simple, you can create an automated project workflow in SmartTask and assign it to your teammates.
Common Workflow Obstacles
Making the perfect workflow isn't just about getting the sequence of tasks right. Here are some common workflow problems you must take care of:
1. Lack of Accountability
At Apple, they follow the concept of "Directly Responsible Individual" (DRI). Every activity/task at Apple, big or small, is assigned to a person who is directly responsible for it.
By explicitly assigning responsibility, they make sure there's less room for passing blame, fewer delays, and more clarity on who needs to do what.
For example: As soon as project A reaches the designing stage, it should be automatically assigned to the graphic designer responsible to create infographics and feature images.
2. Inability to Delegate
An inability to delegate may translate to a teammate getting overburdened with tasks.
This hampers the quality of work and may cause a ripple of delays in the workflow.
How to avoid this?
Get access to a Workload View chart to see the multitude of tasks your teammates are working on across projects and if anyone is overburdened.
You can then reschedule or reassign tasks accordingly.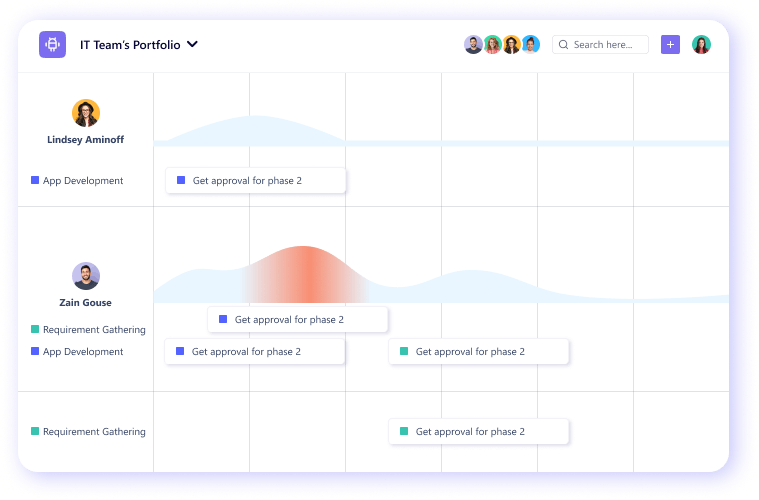 3. Overshooting Deadlines
Roger Beuller, a psychology professor at Wilfrid Laurier University would leave his office every evening with a briefcase full of work that he was planning to finish at home. The next morning, he'd return to the office with most work completely untouched.
This would happen time and time again, often leading to delayed work.
The reason: the planning fallacy. It's a phenomenon where we underestimate the amount of time it will take to complete a task.
If you're constantly facing the problem of overshooting deadlines, here are three ways to deal with this:
Take previous data into consideration while setting deadlines
Analyze possible risks and make mitigation plans. Set a buffer for your most important milestones.
Make sure your team has access to the resources they need.
4. Tackle Inefficiency
Companies lose 20 to 30% in revenue every year due to inefficient processes.
One way to do away with these inefficiencies is by automating non-value activities.
What would this look like?
Make use of multiple project views to keep track of project/process progress instead of following up with team leads individually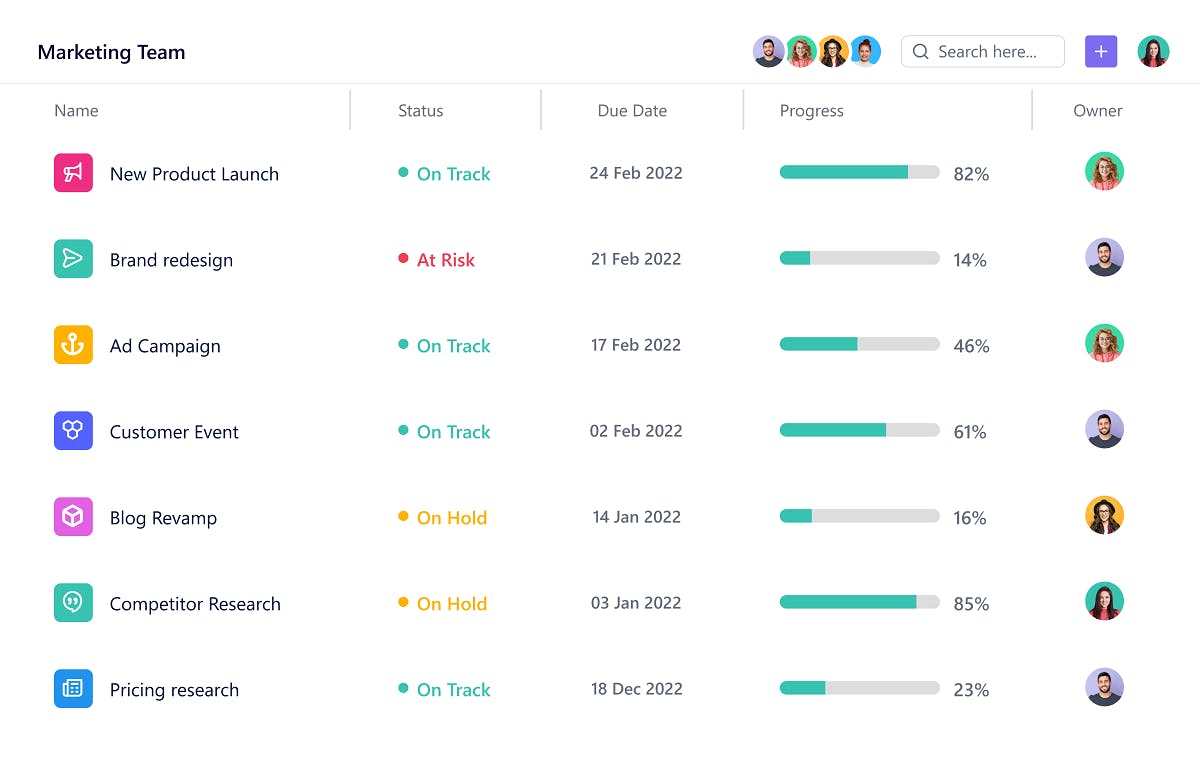 Activate time tracking for each task so you know where most of your team's time is being spent and take corrective actions if needed.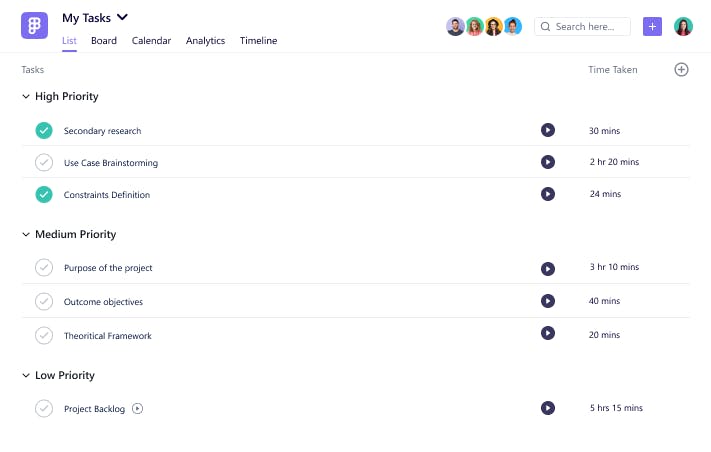 Automate recurring tasks and workflows so you don't need to start from scratch every time.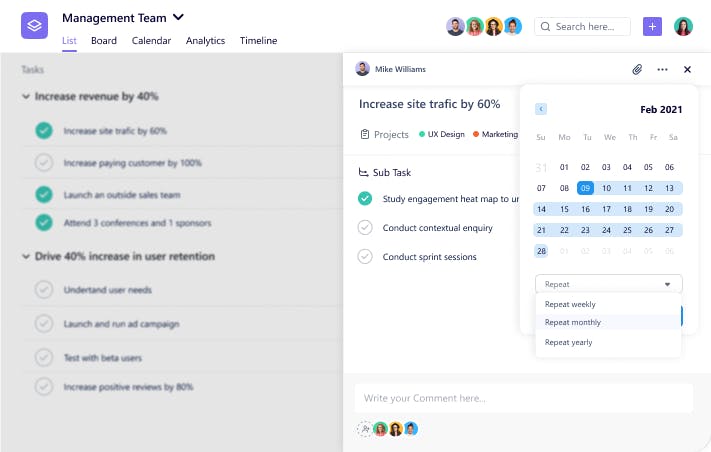 Auto schedule dependent tasks if any activity in your workflow gets delayed instead of having to change things manually.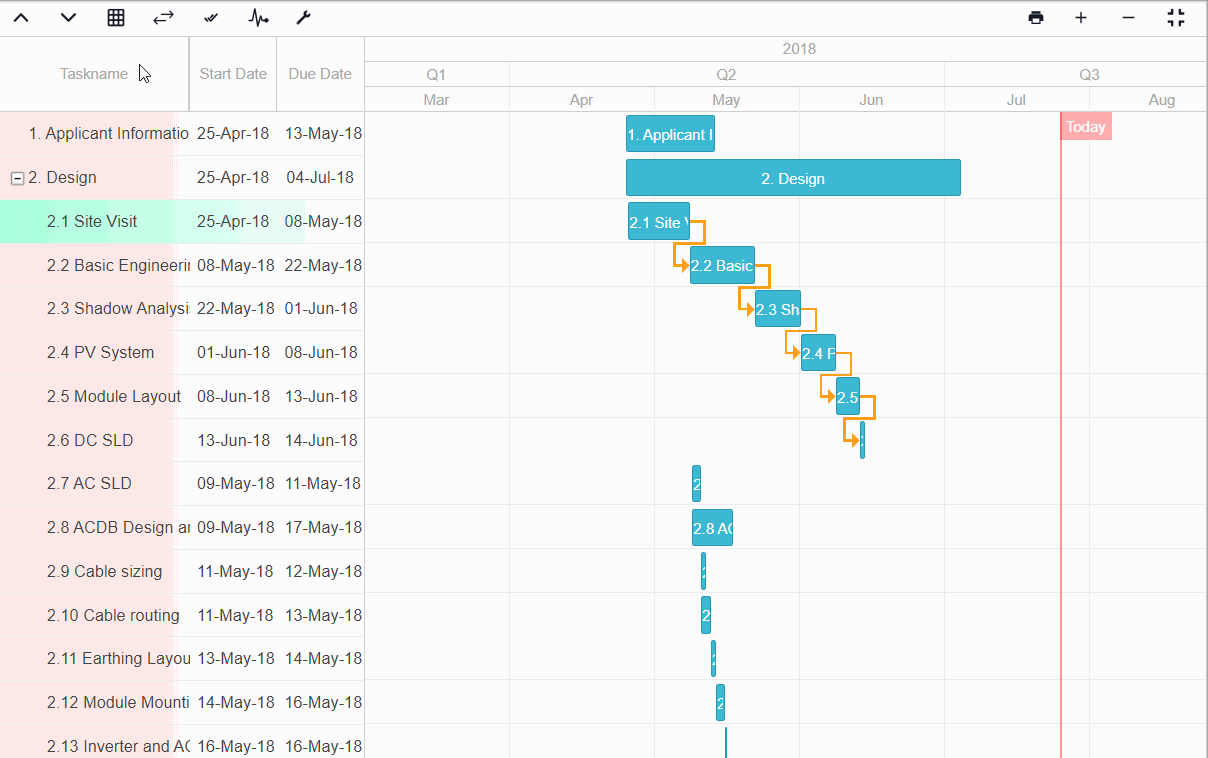 5. Inadequate Collaboration
Inadequate team collaboration creates barriers in your workflow and hampers smooth progress.
For example, the research analyst leaves a Slack message for the marketing manager: "Please review the data. I need to send it to the client today evening."
The marketing manager forgot to review it and neither responded to the message. What if the research analyst took this as a sign that the data is okay and sent it to the client?
This would lead to miscommunication, rework, and delays in the workflow.
Instead, switch to a project management tool where you can collaborate by leaving comments on task boards and assigning them to relevant people.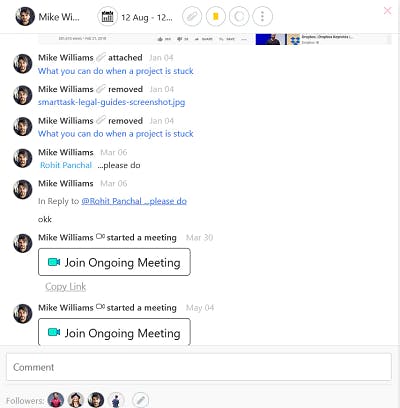 6. Not Accounting for Ad-hoc Requests
The average worker gets interrupted 10 times a day.
Ad-hoc requests in projects are common. Your client may add in a new requirement or your teammate may have to delegate their task to someone else.
Accounting for these ad-hoc requests and adding a buffer to your most important tasks makes sure your workflow's timeline doesn't get delayed.
You can even use analytics of previous projects to see how many ad-hoc requests appeared and how much time they took.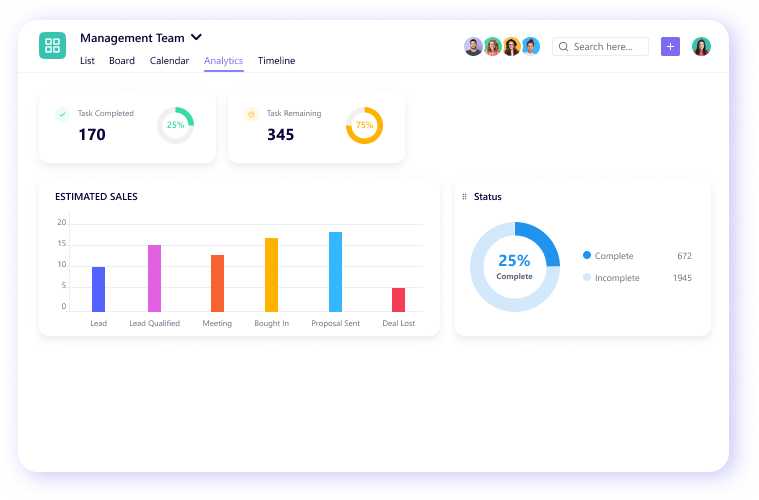 Workflow Management in SmartTask
Whether you're a web design agency or a construction firm, you need workflow management software to automate and manage multiple workflows.
Your search for the perfect workflow management software ends here!
SmartTask can be your most powerful alliance for managing workflows.
Here's why we think so…
Workflow automation: Automate recurring tasks such as assignee change, scheduling dependent tasks, and so on
Seamless collaboration: Get greater success with workflows by collaborating in real-time via chat, comments, and voice-recorded messages
Work management: Assign tasks with due dates, attachments, and important instructions
Custom task status: Set custom task status such as "Editing" so you can track progress of any task in the workflow in under a minute
Task priorities: Set task priorities for all tasks in the workflow so your team knows what to do first
Time tracking: Track time for each task to understand cost implications and productivity
Workload management: Make sure no employee is overburdened or underutilized by seeing their work commitments across projects
Project management: Get access to different views (Timeline, Board, Calendar, etc.) and track progress through portfolios
Integrations: Integrate with over 1000+ tools to manage workflows across tools
Join the list of our 20,000 top-performing companies that have managed to save countless hours with workflow automation and management.
Skyrocket your team's productivity with SmartTask
FAQs
1. What are the popular workflow examples?
Sending the same feedback form to customers to review your product is a workflow. Resolving support tickets is a workflow and so is disbursing the funds for payment.
If you look around, you'll find workflow everywhere.
Some of the most popular workflow examples are -
Employee onboarding and offboarding
Support Service Requests
Customer Helpdesk
Purchase Order Requests
Performance Assessment
Product Assembly
2. What are the components of a workflow?
There are three basic components within every workflow -
Input also known as start or trigger comprises information, materials, and resources required to finish a task
Work is the actions taken to perform tasks and move through the different stages of the task.
The outcome is the end result of each step of the task that also becomes the input for the next steps of the workflow. The delivery is the final output.