SmartTask
Contents
How to Track Employee Performance (Examples and Tools)
By Nidhi ParikhAug 8, 2022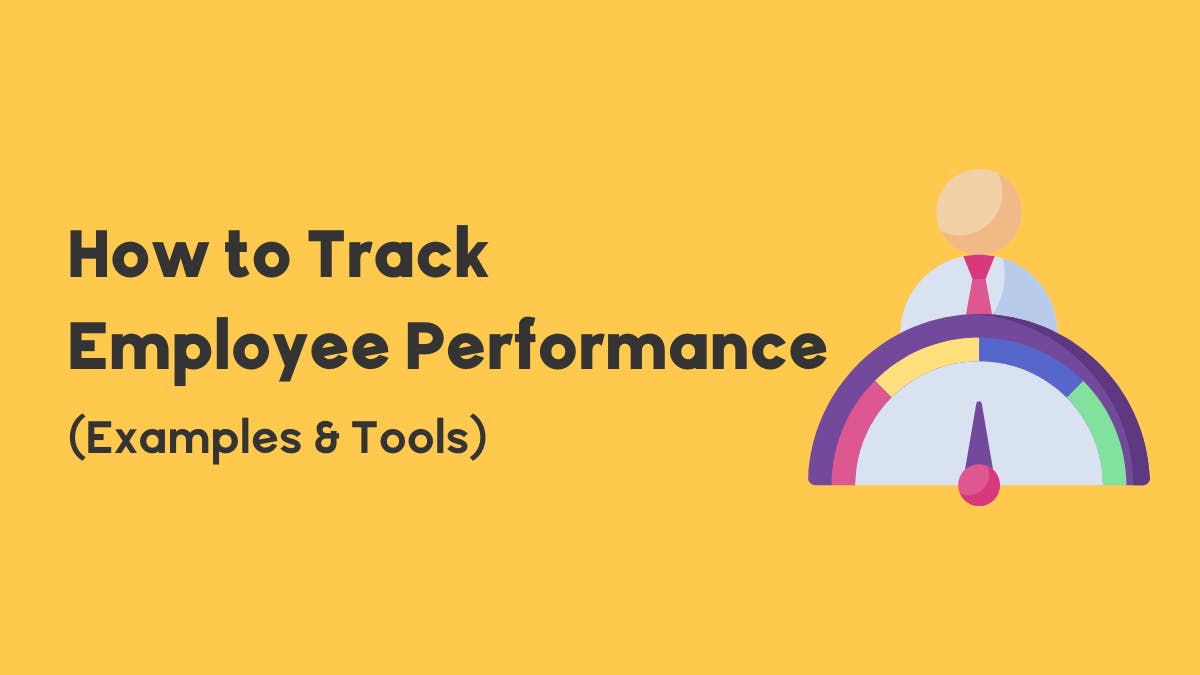 Mary clocks in for 8 hours every day, yet falls behind in content deliveries?
Larry is great with his pitches, but fails to meet weekly sales targets?
And Harnish? Despite being the champion of codes, took more than a week to fix the Fallout 76 Failure error.
What's really going on?
Are they not skilled enough or simply not making efficient use of their work hours?
Whether your employees work remotely or on-site, it can be difficult to unravel the mystery between over-promises and under-performances.
The end-all is: Tracking employee performance has become more complicated than simply calculating the hours at work.
If you've been looking for the holy grail to optimize work deliveries, the below tips will help you get more out of your employees, without the added pressure.
How?
Let's dive in.
1. Set out clear goals and expectations
Can you enter a race without knowing where to finish?
How would you measure your performance in the absence of milestones and goals?
Without clarity of thoughts, goals and expectations, employees cannot deliver the expected outcome.
Why?
They haven't seen the "Finish Line".
Here's how you can set goals using two popular goal-setting frameworks:
OKRs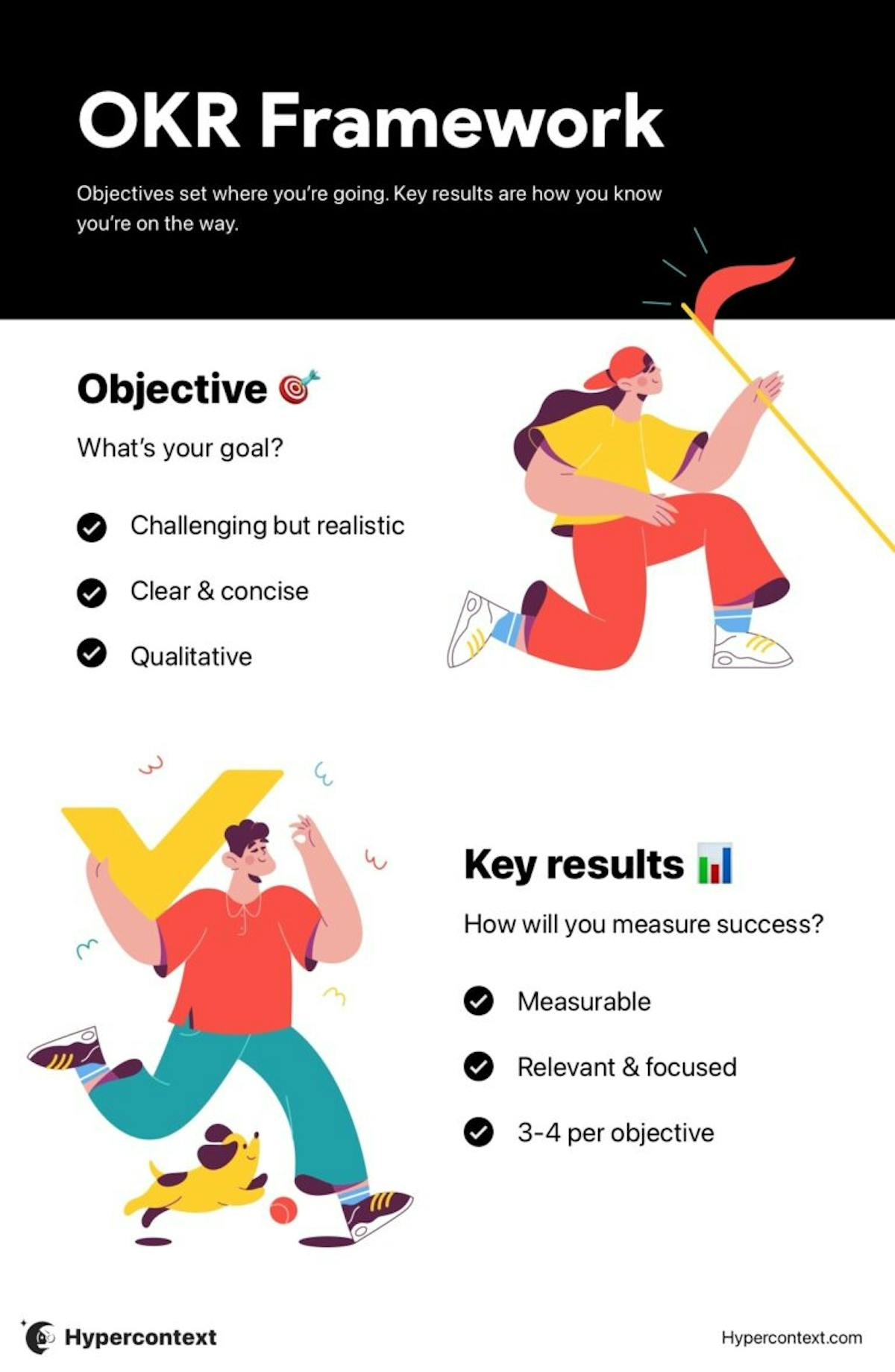 "Objectives and Key Results" is a framework where you define the goal as your objective. The objective is then broken into key results or milestones to measure performance along the way.
Here's an example:
Objective: Make responsiveness a priority for customer support
Key results:
Get a rating of 4 stars or above for the customer support metric on all feedback calls and surveys
Decrease reply time from 2 hours to 30 minutes
SMART Goals:
This framework helps the employees know their tasks as well as performance metrics explicitly.
Let's understand with an example
SMART Goal: Plan and execute 2 customer re-engagement email marketing campaigns by 31st August that is to be sent to 300 customers with an expected clickthrough rate of 12%
Specific: The team needs to plan and execute 2 campaigns
Measurable: 300 customers and a clickthrough rate of 12%
Achievable: The industry average clickthrough rate may be 11%. So your goal is ambitious yet achievable.
Relevant: Re-engagement campaigns can help increase revenue from existing or old customers
Time-bound: The goal needs to be achieved by 31st August
Pro-tip: Always break down your organizational/team goals into specific tasks for your employees to simplify execution and tracking.
2. Review work-in-progress on a regular basis
Have you ever seen a spider's web? Each spoke is connected to the other one. A project is like that.
If one task gets delayed, it hampers all the dependent tasks. These delays could shoot up the costs of your project and before you know it, your organization is losing millions.
To avoid this, review work-in-progress on a regular basis. With this proactive action, you can detect problems before they occur and resolve them accordingly.
You can either check random samples or monitor important tasks that have a direct impact on your project's scope.
Pro-tip: Managers are losing 8 hours every week to manual tasks. Switch to a better alternative like automated check-ins instead of relying on emails and physical check-ins.
3. Help employees with self-monitoring tools
Consider this scenario:
Situation A: You say to Lauren, "You're taking far too much time on reporting tasks."
Situation B: Your employees are making use of a tool to see how much time they are spending on different tasks.
Lauren is spending 3 hours on each report while earlier, the same tasks used to take on an average of 1 hour. You ask Lauren to brush up on her reporting skills.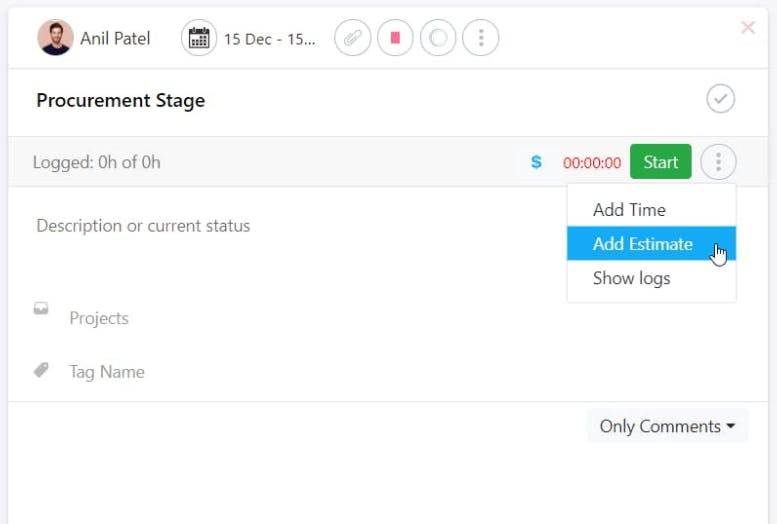 Which do you think is more effective?
Self-monitoring tools help your employees keep a track of their performance. This leads to better engagement and ownership over their tasks.
Instead of you having to nudge them to improve their performance, your employees can do it on their own with self-monitoring tools.
Pro-tip: Make use of a project management tool where you can enable time-tracking for all your tasks. You can then easily track employee performance on various tasks and projects.
4. Use productivity score
A person in our team always used to finish his tasks before time — sometimes that meant, even a week early. He soon resigned and switched to a competitor.
Why?
His efficiency was never acknowledged.
He got the same hikes as the rest of the employees, the usual perks, and the once in a while "You're valued" email.
Too often, managers are so caught up in seeing that their projects are on time that they miss out on acknowledgments and rewards.
That's where productivity score comes into the picture.
The productivity score shows how each employee is performing, how often they are completing the tasks on time, and also awards extra points when tasks are finished before time.
If you're a team of 20 or 25 people, calculating this score can be quite daunting and time-consuming.
We've a better way for you —
Pro-tip: Take into consideration the productivity scores for multiple projects. Compare those scores for each employee across projects. You'll get an idea of what projects challenge them and which they find tough to tackle. You can then assign training and projects accordingly.
5. Make use of charts
When you're handling multiple projects and large teams, there will always be a large amount of data to handle. This data could be the number of hours worked by each employee, the overdue tasks, the work-in-progress, etc.
What separates good organizations from great ones is how this data is used.
With a project management tool, you can easily turn this data into charts in less than 5 minutes and track employee performance.
Here are some charts you should keep a track of:
Workload chart: You may have two designers on your team. One may be occupied in 5 projects while one may be working on just 1 project. You can easily see this workload distribution in the tool and make sure no employee is overburdened.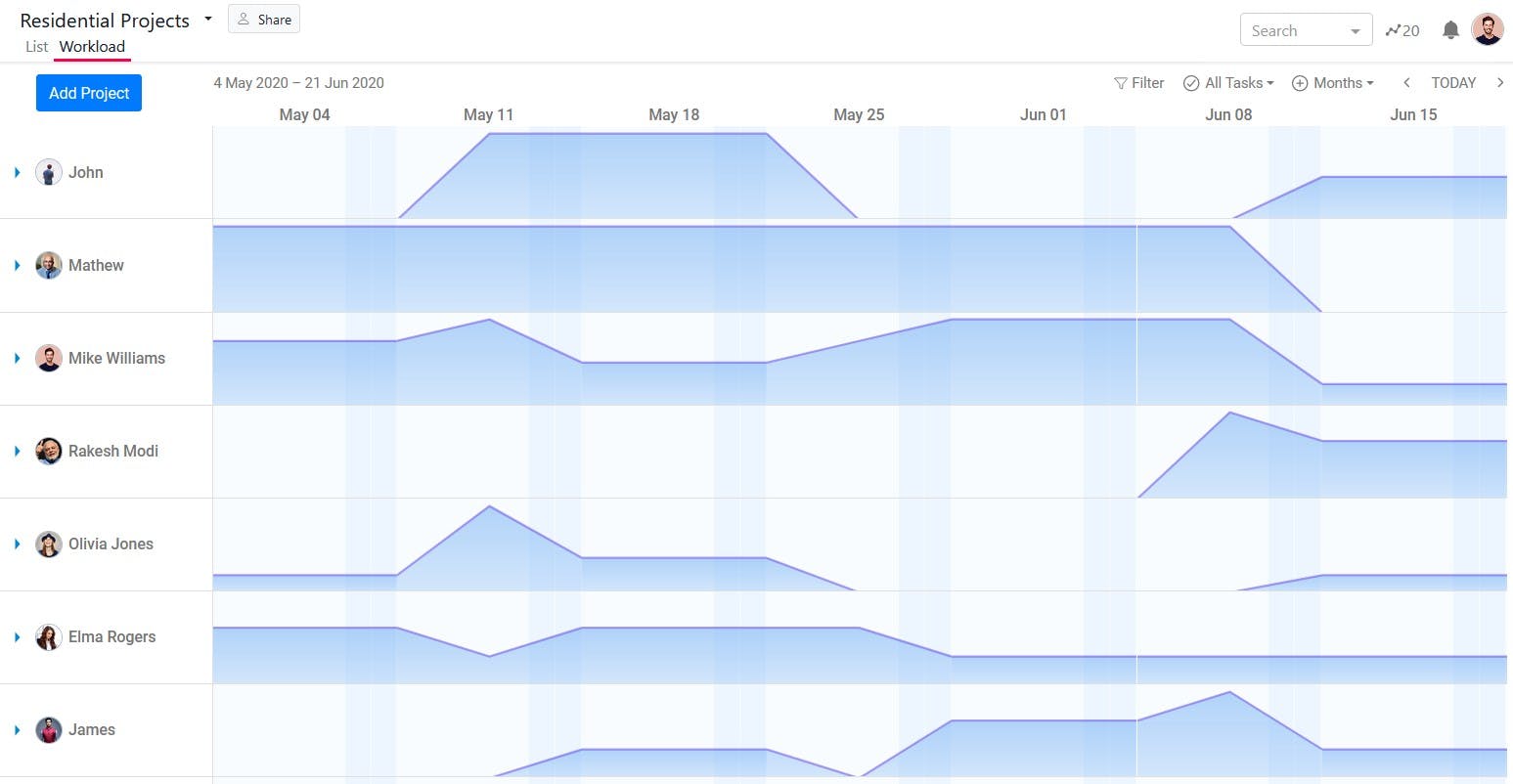 Custom charts: Track overdue tasks, work-in-progress, and completed tasks for each employee across projects.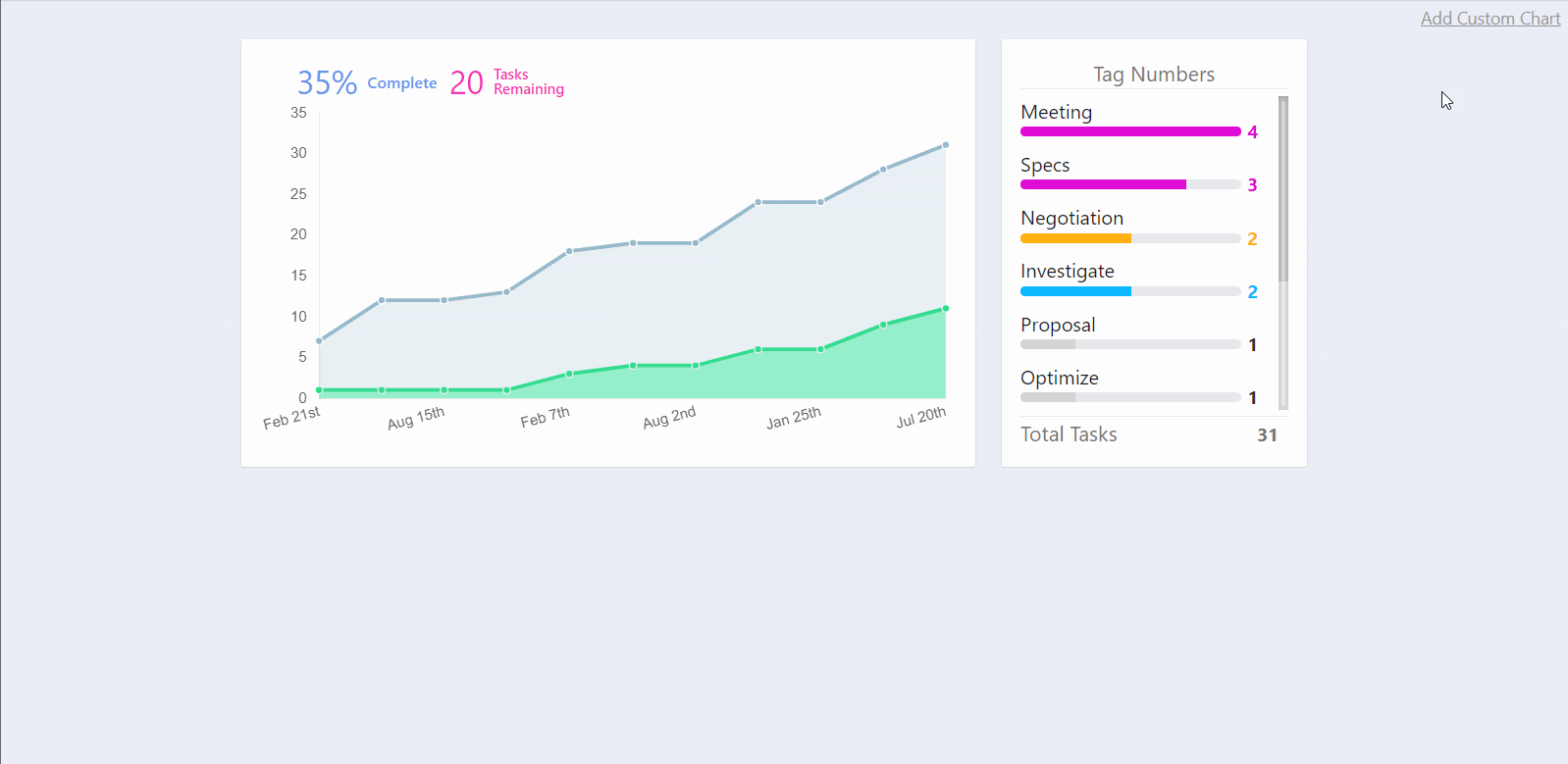 Pro-tip: Be creative when it comes to charts. Make use of the custom charts feature in the project management tool to come up with charts that help you track employee performance from onboarding till today.
6. Arrange 1:1 meetings
Adobe and GE took the world by surprise when they expressed their intention to get rid of performance reviews. They decided to have their managers organize 1:1 meetings instead. (typically every two weeks)
The results were nothing short of extraordinary:
Adobe saw a 30% reduction in voluntary turnover
GE was able to increase productivity by 5 times in a span of just 12 months.
Here's how having 1:1 meetings help with tracking employee performance:
You can get an idea of how employees are progressing with their organizational and personal goals.
It helps you recognize pressing problems and deal with them proactively
Helps increase team agility by identifying and addressing blockers and changing goals or objectives if they have become outdated.
Pro-tip: Start your 1:1 meetings by building rapport with your employee. This makes discussing other topics more comfortable.
Best employee performance management tool you need to consider
Do you really want to spend hours tracking employee performance when a tool can do it for you in trice?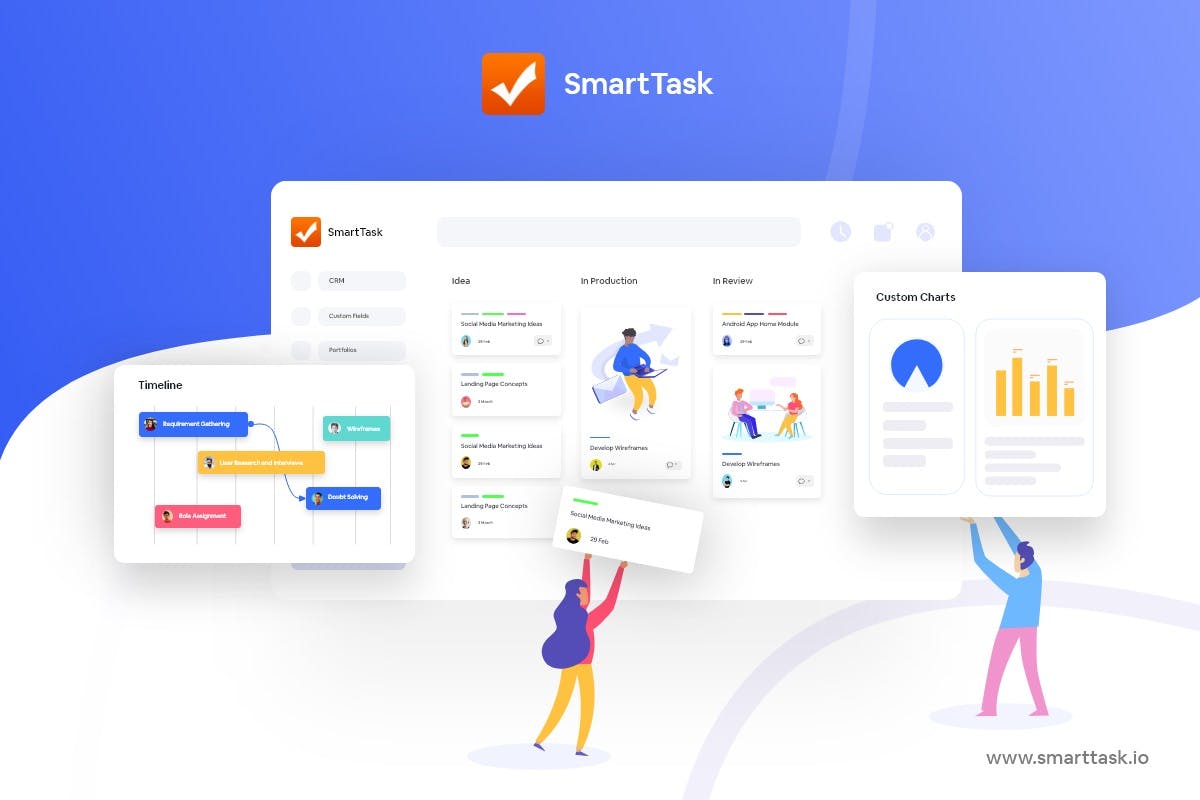 Here's how SmartTask can be your best employee performance management tool:
Multiple views: You can track your project progress and task progress using different views such as Board, Gantt, Calendar, List, and more.
Task management: Assign tasks to your employees with deadlines, priorities, and custom tags so that you can easily track performance.
Custom charts: Create charts like overdue tasks per employee, workload charts, and more in just a few minutes.
Newsfeed: No need to organize meetings for performance updates. Just make use of automated check-ins and feed updates.
Time tracking: Know the time spent on each task by each employee.
Reminders: Set alerts, reminders, and notifications to keep a track on your team and projects.
File sharing and comments: Give feedback through comments and attach important files to the tasks to never miss out on vital information.
Team communication: Communicate in real-time with your team via chat, video meets, and VoIP.
1000+ integrations: Integrate with over 1000 tools to track information from one single platform.
Tracking employee performance is crucial to organizational success. Not only does it ensure that your projects get finished on time but it also helps keep employees engaged and productive. You can consider this like tracing user activity on mobile. It is possible to track cell number in case you have to verify the user on mobile.
Subscribe to SmartTask today and track employee performance in just a few minutes.
Book a meeting and get your free consultation on SmartTask today!