SmartTask
Contents
13 Notion Alternatives You Should Know About in 2023
By Aastha ShawSep 11, 2022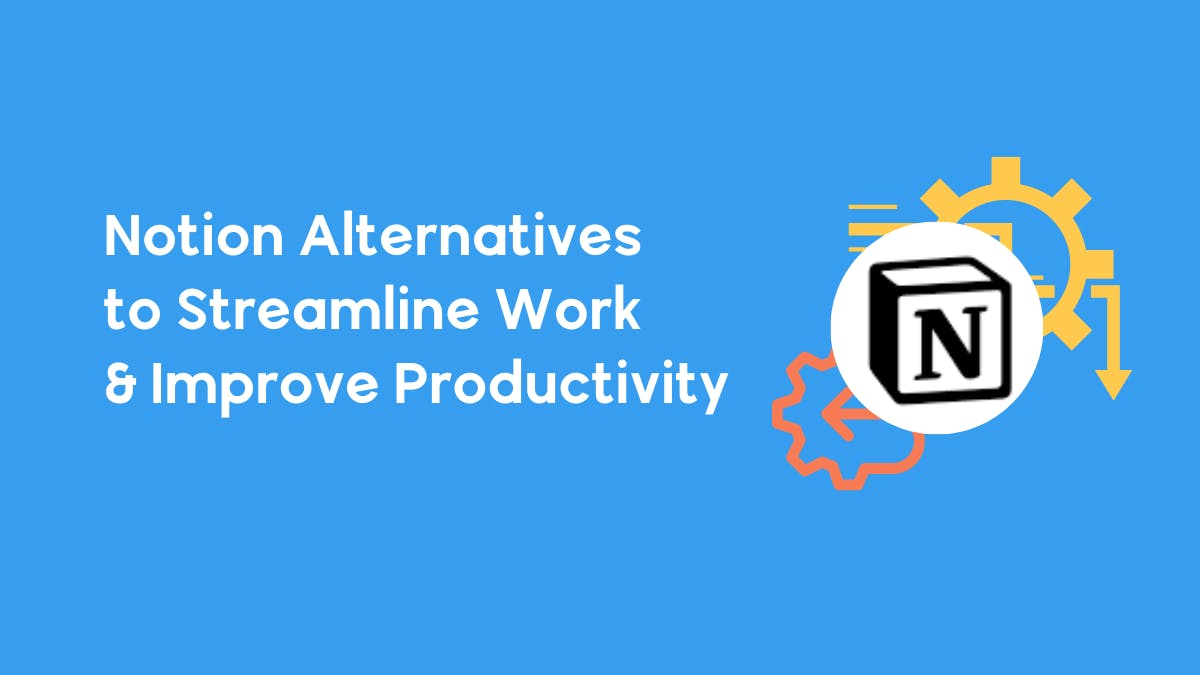 There is no doubt that Notion is one of the best note-taking and knowledge management tools.
It offers basic task management options and lets you manage your wikis, pages, notes, to-do lists, etc., and share them easily with your team.
However, the hunt for a better alternative begins when-
❌You have a complex project/ team to manage
❌Need confidentiality, which Notion fails at (Not end-to-end encrypted)
❌Need more advanced project management features such as time tracking, scheduling, tasks, milestones, portfolios, graphs, etc.
❌Or simply need an organized and less complicated workspace
Therefore, we have come up with these 13 top Notion alternatives and why they might be a better option for you than Notion. Let's begin!
1. SmartTask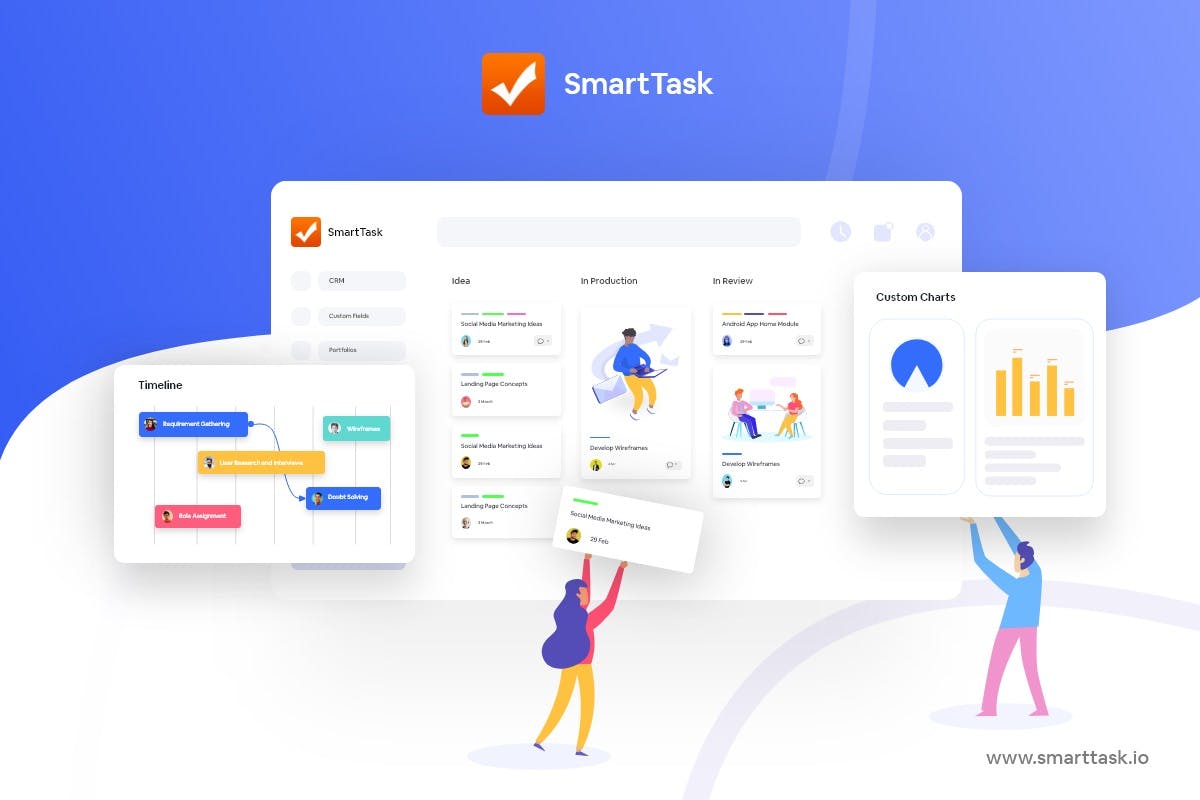 If you aim to be super productive, nothing can beat SmartTask!
It is an award-winning robust project management software with many advanced features that Notion doesn't offer.
Task dependencies, recurring tasks, milestones, timelines, portfolios, time tracking, VoIP, Video meeting, voice messages, and many more such features that you get with SmartTask but can't be done natively in Notion.
If you are worried about doc management and sharing, you can easily do that within SmartTask and in a more organized way than in Notion.
And most importantly, SmartTask has a proper hierarchy, great UX, and many customizable options that make it a far better option for bigger teams and projects
Key Features:
Multiple Views: View your data the way you prefer. Choose between Board view, List view, Timeline, Calendar view, and more.
Portfolios: Get a high-level overview of all your projects and teams at once.
Time-tracking: Track how much time is being spent by your employees on each task, and create time reports and estimates.
Task Management: Set task dependencies, due dates, priority, subtasks, and recurring tasks.
Comments & File Sharing: Share pertinent information, attach files, and comment/ give feedback on the task itself.
Newsfeed: Automated Check-Ins and feed updates to save hours of standup meetings.
Team Communication: Seamless, real-time exchange of communications between individuals (or teams) using VoIP, video conferences, and chat.
Workload Management: Plan & allocate resources properly to ensure no team member is overworked or underutilized.
Automation: Automate repetitive tasks for better performance.
CRM & Sales: Get insights on sales, leads, and clients. Plan future action points accordingly, have clarity on past conversations, and move inquiries through multiple stages.
Custom Analytics: Check key performance metrics of your projects and download a report for evaluation and future reference.
Reminders: Alerts, notifications, and reminders to keep projects and teams on track.
White-Label: Add your custom brand to the SmartTask platform for a better client experience.
Pre-made templates: Expert-designed templates to help you launch your projects sooner and better.
1000+ integrations: Seamless integrations to help you achieve almost everything from a single platform.
Available on almost every platform: Web, macOS, Windows, Linux, iOS, and Android.
Free forever!!!
Ideal for: Entrepreneurs, Startups, and Enterprises looking for a customizable tool with powerful features and easy usability.
2. Evernote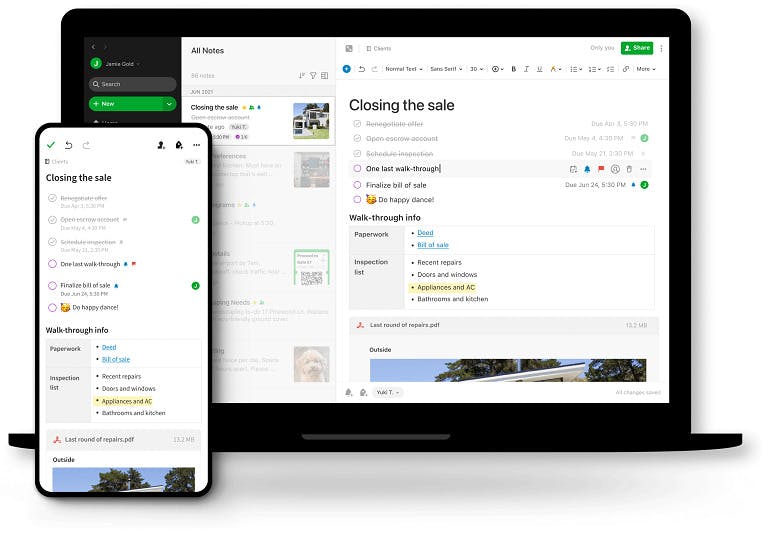 Evernote is truly a complete note-taking alternative to Notion. It provides functionality equal to or even better than Notion in all areas.
You can take notes in any format, including text, draw, photos, videos, links, or even Pdfs. Evernote even lets you clip web pages and save them with your notes to work on later.
You get access to all popular platforms making it more reliable and available all the time. And unlike Notion, even if there is no internet, you can access your memos/docs or create new ones whenever needed.
Key Features:
Cross-platform syncing capabilities
Can share notes on social media
Rich text editing
Speech to text
Web Clipper
keyboard support for notes
Audio notes
Offline mode
Ideal for: People taking detailed and extensive notes or who prefer working in offline mode. Won't be great for teams looking for real-time collaboration.
3. Confluence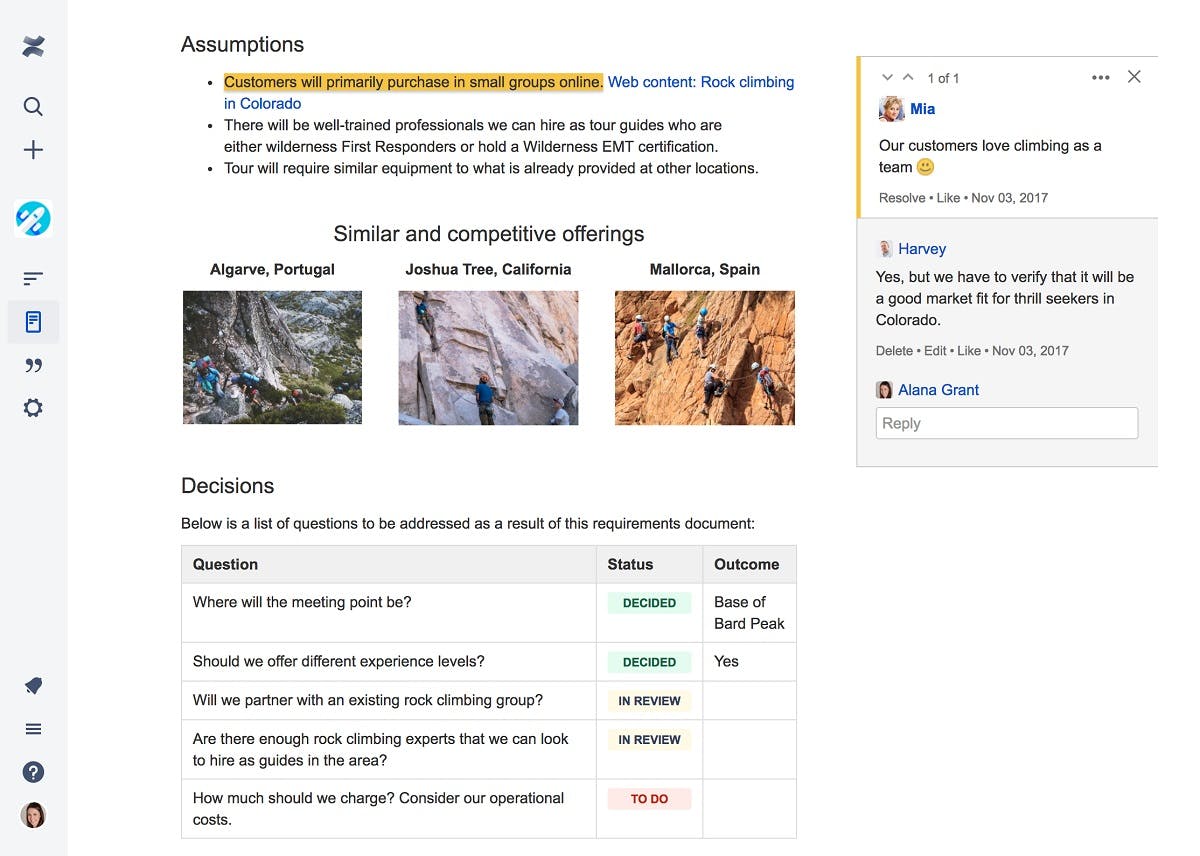 Confluence is an Atlassian product, designed to be a remote-friendly team workspace that supports communication, collaboration, and culture amongst your team.
It is more of a knowledge-sharing and collaborating platform than a project management tool. If your major goal is creating and storing documents without worrying about confidentiality, then Confluence can be a great tool for you.
Confluence can also be integrated with PM software Trello for better project management.
Key features:
Unlimited Spaces and Pages to create live documents
Collaborative document management
Real-time editing and rich comments
Advanced search capabilities
Analytics and key performance indicators
Home & personalized feeds
Privacy and encryption
75+ customizable templates
Ideal for: Small and medium-sized teams. Best for managing sales and marketing teams looking for a strong knowledge base with basic productivity tools.
4. Nimbus Note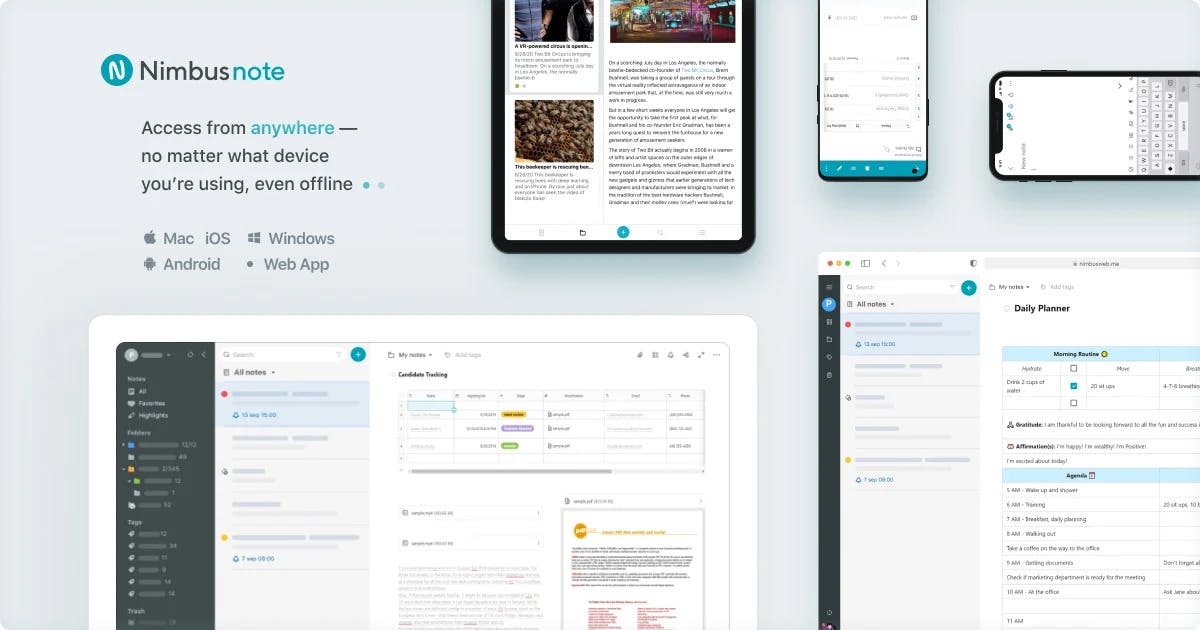 Nimbus Note is an award-winning note-taking and organization tool. It's somewhat similar to Evernote and a viable replacement for Notion.
The tool enables you to organize information from multiple sources in one place. It allows you to create your knowledge bases, write documents, take notes, create tasks, and manage projects.
From creating checklists to designing spreadsheets and databases, you can do quite a lot on Nimbus.
Moreover, Nimbus supports a range of use cases including education, product development, HR & recruiting, remote team management, knowledge repository creation, and more. It is particularly good for organizing and customizing multiple workspaces.
Key features:
Block-based editor
Tables, DBs, Spreadsheets
Real-time editing, mentions, comments
Customization with color coding, emoji, and tags
Document scanner and image recognition (OCR)
Organization Console to manage users, and workspaces from a higher level
Ideal for: Individuals and teams looking for a strong note-taking and organizational management app.
5. Coda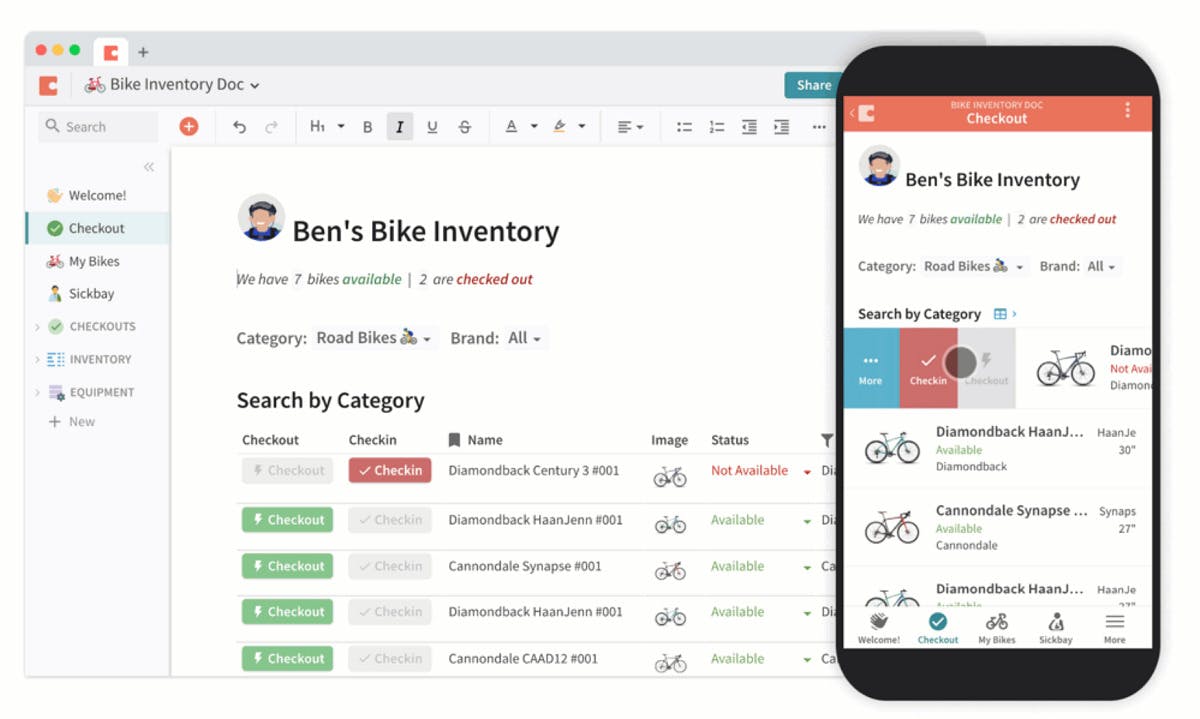 Another excellent Notion alternative is Coda. Using this note-taking app, you'll be able to manage all your project documents in one place.
In fact, Coda has the same modular layout. But unlike Notion, Coda is fully encrypted.
And, just like Notion, you can use Coda for documentation, increasing productivity, and, most importantly, team collaboration. It is loaded with customizations and allows you to easily create new pages, checklists, tasks, tables, boards, and other important elements.
Key features:
Powerful word-processing, spreadsheet, and database functions
Flexible to adapt to both simple and complex systems
Different customizable views
Wide collection of templates
Easily integrates with other apps
Ideal for: People who want to work with a simple and flexible tool. And are concerned with their privacy and security.
6. NoteLedge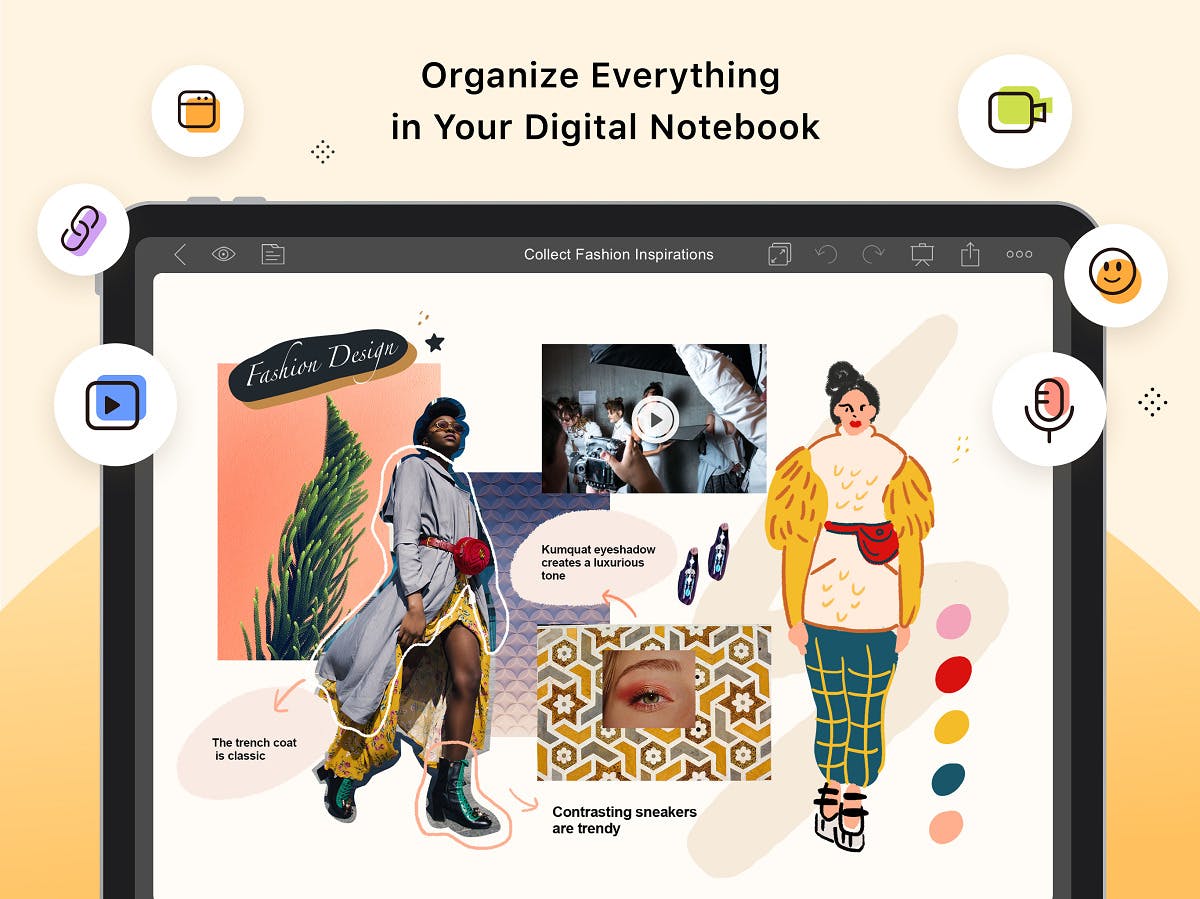 NoteLedge is a great note-taking app, especially for creatives to quickly capture inspiration and organize everything in one place.
This Notion alternative is like a digital notebook created to enable people to organize their ideas visually, and with creative freedom. It allows you to create notes in your own unique way and supports all sorts of multimedia for dynamic brainstorming, creating, and note-taking.
Furthermore, with NoteLedge you can present work, both individually and in teams. You can access your notes on the go, create media folders to manage and trace your references, plan projects and save web clips.
Key features:
Annotation & highlighting
Creating a mood board
Saving videos, websites, images, and more
Save web clippings
Audio recording
Write notes on your notepad using a stylus or fingers
Supports communication through multimedia
Flexible workspace with layers option
Ideal for: Artists, designers, teachers, and all kinds of creative individuals and teams. However, you won't get any task or project management features.
7. ClickUp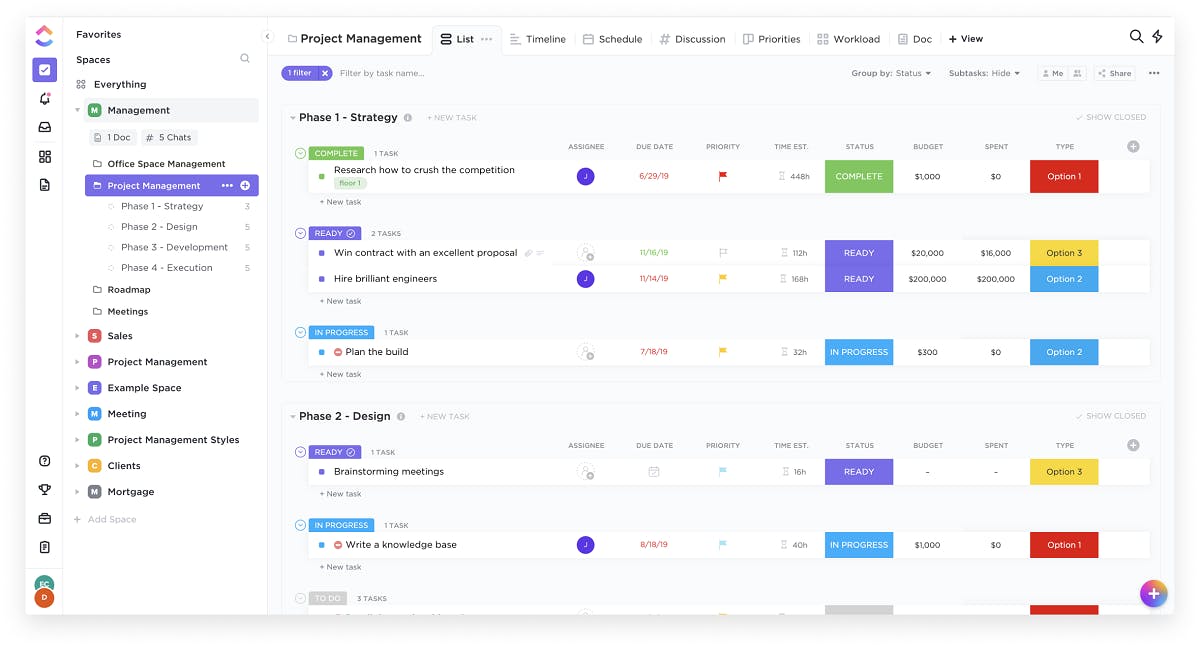 ClickUp is a flexible solution with all the power features of Notion and much more. It has a collaborative document builder for wikis, knowledge bases, and other rich media formats.
There are built-in commenting and chat capabilities to initiate conversations and check who is currently viewing the content. You even get options to make public connections and control who can read, modify, and comment on your content.
ClickUp also provides all you need for managing your projects and tasks including custom templates, and various third-party connections.
However, being overloaded with too many features makes even simple things complicated and too overwhelming. If you don't want to spend too much time learning and understanding the ClickUp interface, and want something that is easy to get used to and can be up and running in minutes, then SmartTask is exactly what you need!
Key Features:
Custom fields & dashboards
Work collaboration and doc management
Live-edit and nest pages in ClickUp Docs
Assign, edit and tag comments
Deep task recurring
Milestone & status tracking
Resource allocation
Robust filtering features
Ideal for: Individuals and teams looking for a versatile tool for project management and don't mind challenging onboarding and learning process.
8. Nuclino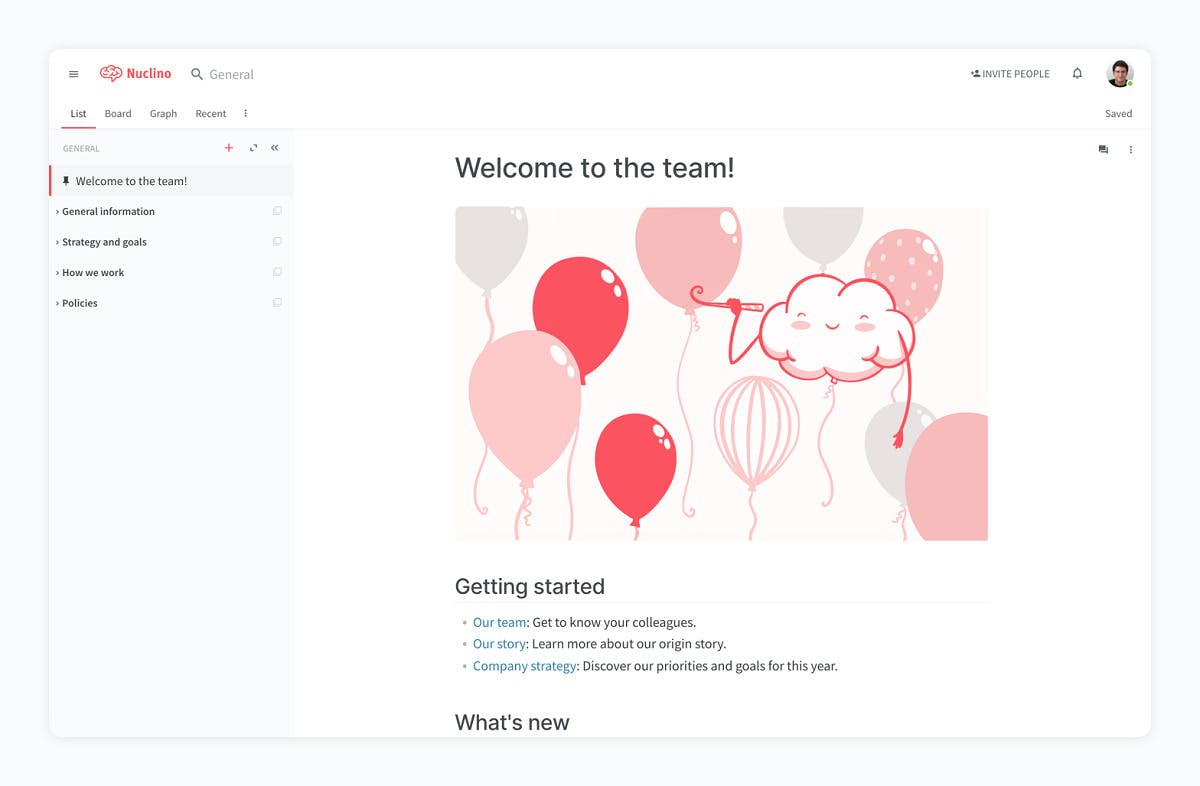 This lightweight Notion alternative offers a powerful, easy, and fast way to organize and share knowledge within your team.
In contrast to Notion, Nuclino's interface is simpler and more intuitive as it eliminates rarely used features and clunky menus.
You can use this collaborative tool to manage your knowledge base, notes, and even projects. It's Graph, Board, and List views allow you to customize your internal documentation according to your team's process.
Key Features:
Real-time Collaboration
Views & Visualization
Easy to use editor
Internal linking
Auto saving and instant search
Task management
Markdown formatting
Ideal for: Small to medium-sized teams for managing notes, product requirements, doc, decisions, and tasks.
9. Airtable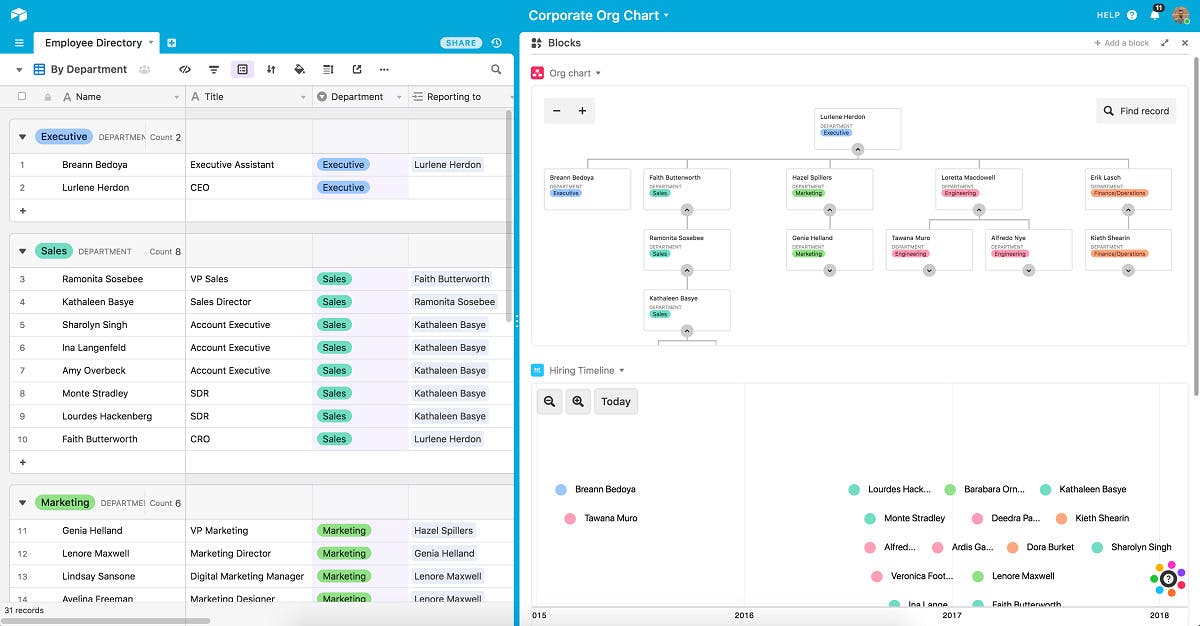 Airtable is the best notion alternative if you have to deal with loads of data.
It combines the best of a spreadsheet and a database, with a bit of project management thrown in. It allows you and your team to work more efficiently by enhancing how you store, organize, and access information.
However, it won't be the ideal option if your primary focus is just note-taking.
Key features:
Team Dashboards
Relational Database Capability
Link Records Between Tables
Filter, Sort, and Rearrange Records
Customized Views & Fields
Collaborative Workspace
Resource Management
Real-time Changes
Automated Backup
50 Airtable Apps
Ideal for: Small-sized businesses and people looking to manage structured data, such as production schedules, invoices, and inventory.
10. Obsidian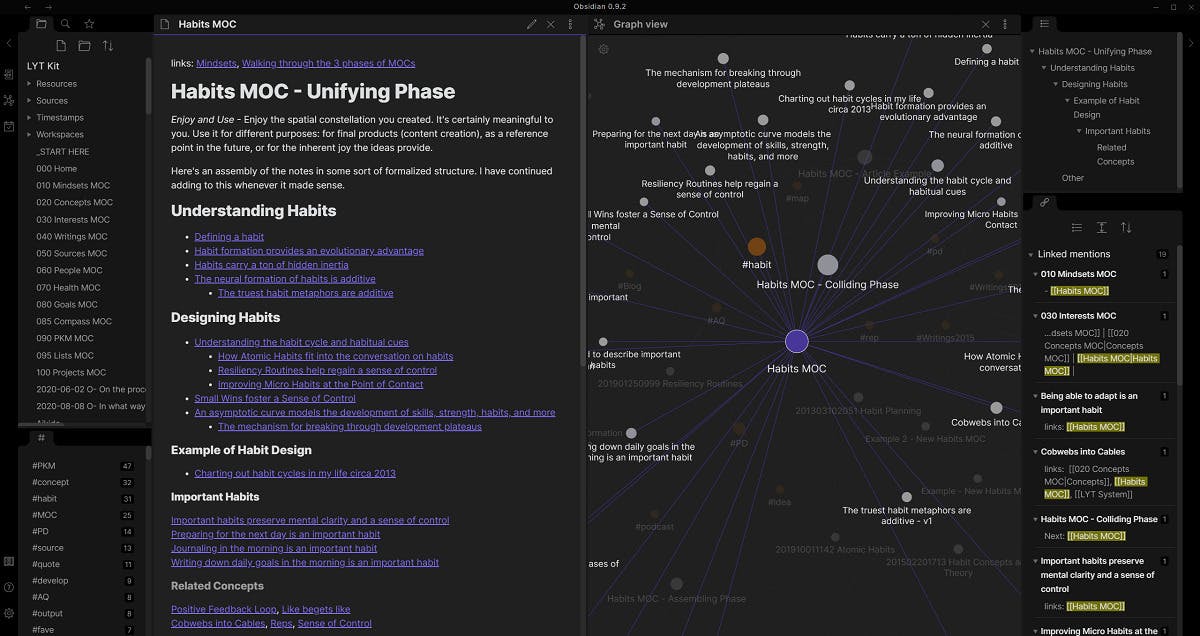 Advertised as the 'Second Brain', this Notion alternative is pretty interesting.
Unlike, any other productivity tool, Obsidian has a fun and unique approach to displaying your knowledge base. The software is based on the concept of linking your thinking.
You can create notes, link them bi-directionally, and together they form an interlinked network of ideas/ data or brain maps. Basically, it mimics how our brains work to link thoughts in our minds.
However, it does not offer project management features like Notion but Obsidian definitely beats it in knowledge base management.
Key features:
CommonMark and GitHub Flavored Markdown
Syntax highlighting
Auto-linking and back-linking
Graph view
Note multiplexer
Auto-recoder and slides
Tag pane
Search and File explorer
Templates for inserting quick snippets
Ideal for: Professionals, writers, bloggers, researchers, and more who deal with a lot of researching, and note-making.
11. nTask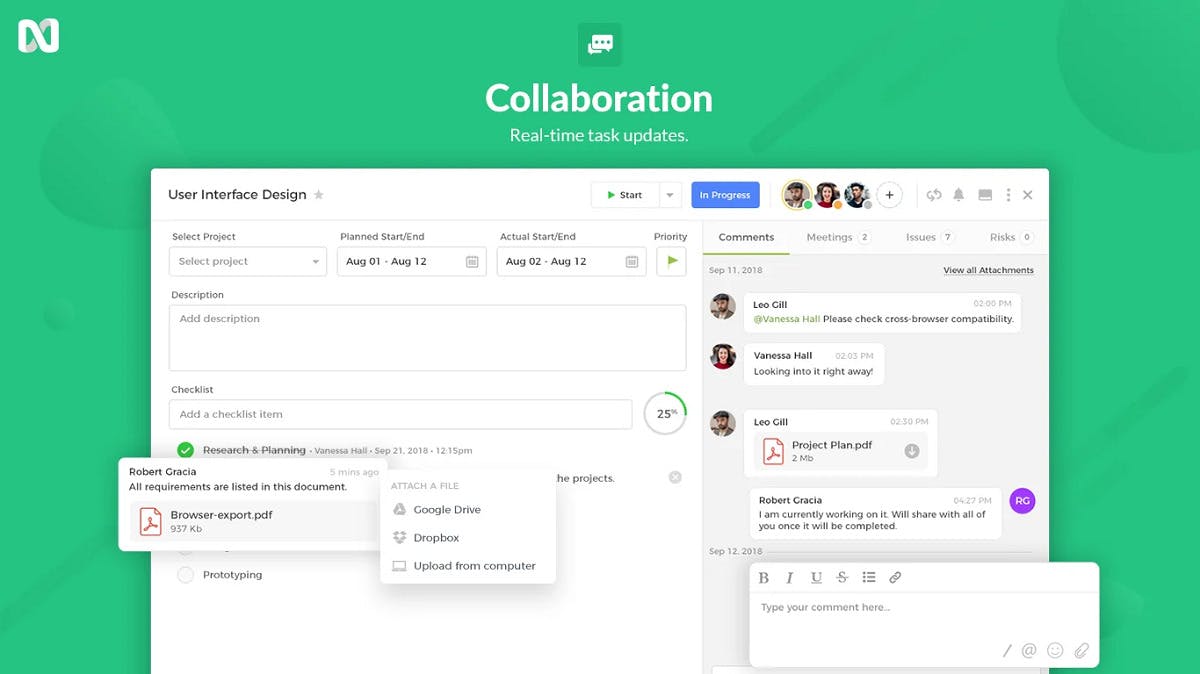 nTask is a decent task management software and has several features that make it a fair Notion alternative.
As opposed to Notion, you get an entire workspace under one roof and a more work-specific environment. You can collaborate on projects, set deadlines for teams, and create a project-related knowledge base using nTask.
However, it doesn't have a desktop app yet (if that is something you need) and has a rigid interface.
Key Features:
Categories, Labels, Custom Fields, and Filters
Task Comments & Collaboration
File Sharing Document Management
Time Tracking
Budget Summary
Real-time Notifications
Task import and export
Ideal for: Professionals and small teams looking for versatile task management and collaboration tool.
12. Workflowy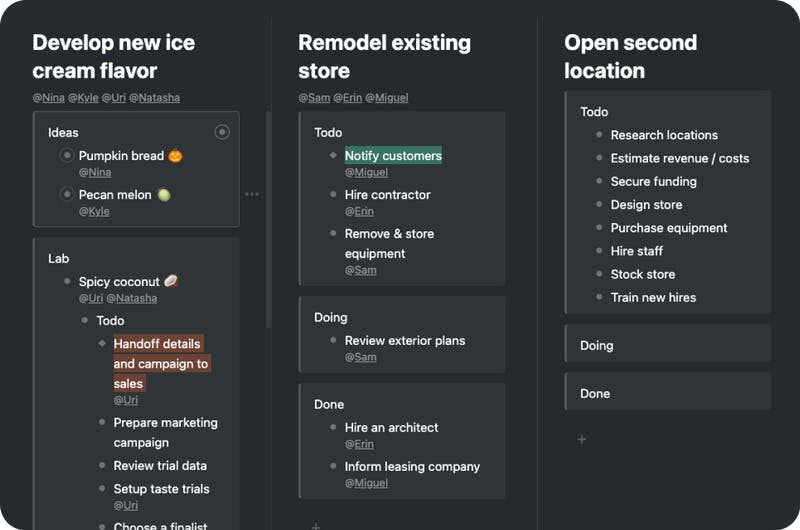 Created in 2010, Workflowy is another tool dedicated to task management and simplifying the note-making process.
The app comes with all the standard features for capturing ideas, managing files, and organizing tasks. With its powerful wiki and to-do list features, you can easily streamline your knowledge base and information.
It provides a simple interface while its nesting feature and Kanban boards provide an efficient way to organize thoughts, research, notes, and projects.
Key Features:
Simple workflows
Nested lists
Live copy
Kanban boards
Task assignment
Task organization through flows and hashtags
Available on multiple platforms (including Linux)
Ideal for: Individuals and small teams in need of a simple text-based but easy-to-use organizational tool. It is also great for managing tasks and to-do lists.
13. Slite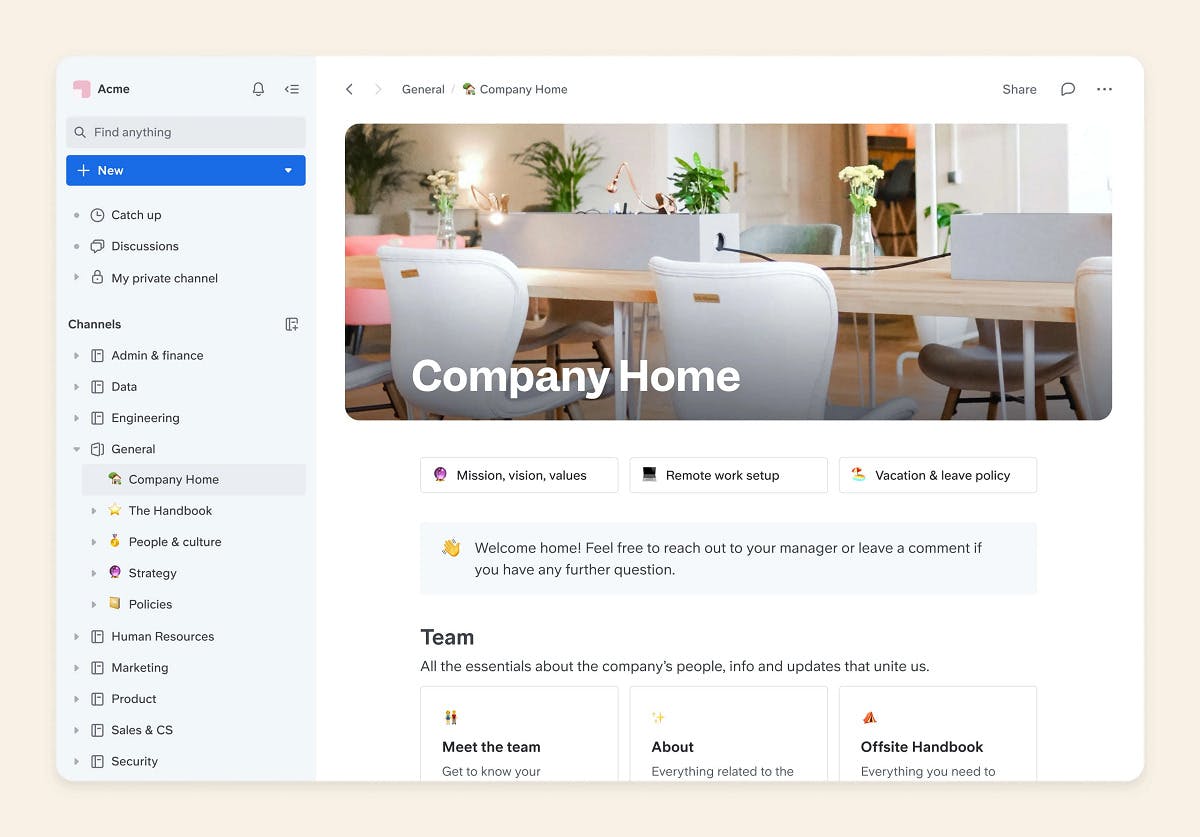 Slite brings together the features of both Notion and Slack. While its user interface is inspired by Slack, its features are more akin to Notion.
All your documents are sorted in channels that can be set to public or private. Its powerful editor includes advanced tables, built-in video explainers, sketching, and hundreds of integrations. You also get discussion boards to keep your team's important conversations in sync with your work.
While Notion has too many features that make the simple act of creating notes and documents a bit overwhelming, Slite has no such problems.
Key Features:
Document management
File sharing &l text search
Version Control
Brainstorming
Discussion Boards
Content Management
Real-Time Editing
Ideal for: Small and mid-sized businesses for simple document management, collaboration, and remote team communication.
Time to take the final decision!
Choosing the right Notion alternative can sure feel like a challenge.
You surely would not want to end up with another unsuitable tool or go out of your budget.
To make things easier, first understand all your business needs and figure out what are the essential features you need.
If you want to stay ahead of your tasks, keep a tab of all your projects, files, documents, teams, and clients that too without burning a hole in your pocket- SmartTask would be the best one to go with.
What makes us better than the rest?
It's free forever - unlimited projects, unlimited teams - Try it now
Get your free consultation on SmartTask today!