SmartTask
Contents
21 Best Workflow Management Software in 2023 (Review, Features, & Pricing)
By Viraj MahajanDec 18, 2022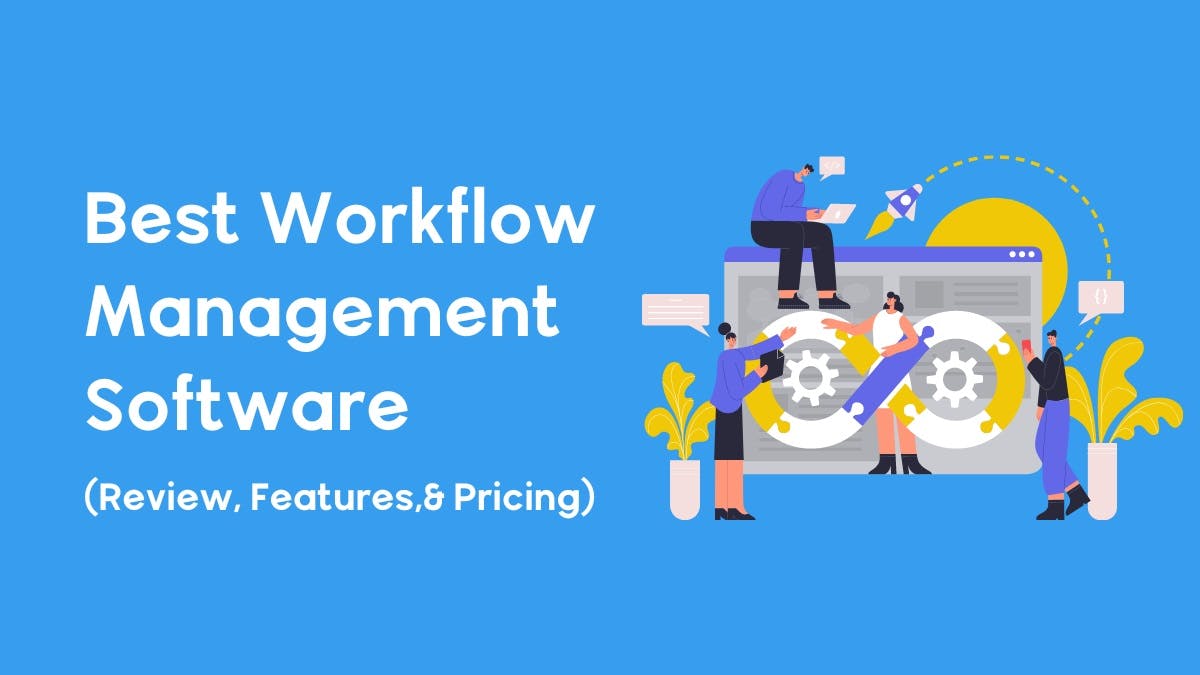 Think about how a complex project or task happens in your team. You have built a rock-solid strategy for your project, but is the road to success smooth? Probably not.
A little delay or miscommunication in the task can lead to a long road of chaos and confusion lurking around each corner. So, what is the solution to eliminate the mess and make the workflow smooth?
A workflow software!
But with a long list of workflow automation tools available, it can be tricky to pick the right tech partner.
No sweat; SmartTask is here to help you with an in-depth list of top project management tools.
Read on the list, choose the best software, and get ready to manage a wide range of complex tasks like a pro!
Let's dive in!
1. SmartTask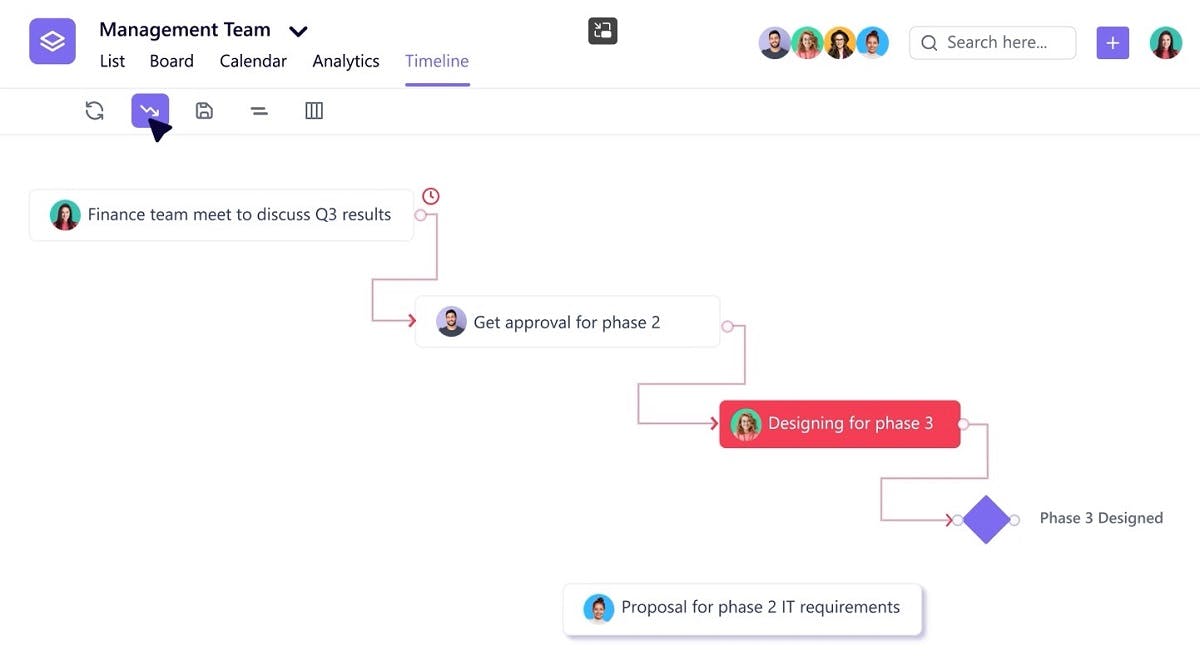 SmartTask is an all-in-one workflow management software that can handle tasks, projects, and teams in one place, irrespective of team size.
Startups and SMEs can enjoy the scalability and flexibility of the platform. While large enterprises can simplify their complex workflows without a high learning curve.
Not to mention, it is an all-in-one productivity tool that can tackle simple to complex workflows of startups, SMEs, and large teams!
SmartTask is the best project management software, with a long list of features, such as multiple task list views, time tracking, Kanban boards, custom workflow management, Gantt, etc., - that no other tool is equipped with.
Let's take a look at a few features that can streamline workflows, as well as keep teams organized.
Task Management - Manage projects or tasks, create task lists, and automate repetitive work to reduce workload. Simplify complex tasks by adding subtasks while assigning them to the team.
Time-tracking - SmartTask allows users to track the time team members spend on a project. What's more? You can even get an overview of the budget and resource analysis.
Main Views - SmartTask lets you view your data in different layouts. With SmartTask, you can view the task in board view, task list view, calendar view, and portfolio view.
Analytics & Reporting - This feature enables you to monitor how your team works, check KPIs, and build reports.
Advanced Search - Distinct analytical views help users analyze, customize, and filter data using the advanced search.
Rich Text Editing - SmartTask helps all your team members understand the project in detail with descriptive statements.
Team collaboration - Coordinating includes instant messaging, automated check-ins, and video conferencing, allowing teams to work closely – a feature that most task management software does not offer!
Set Priorities - Not every task is essential, right? SmartTask workflow automation software allows you to prioritize tasks and receive notifications before the deadline. Add projects, set reminders, and RELAX with SmartTask!
And that's not the end! You enjoy a suite of other useful project management software features when you choose SmartTask.
Pros
Flexible, customizable, and easy-to-use workflow management software with a user-friendly interface.
Gantt chart views to monitor the project's timeline and manage workflows effortlessly.
Advanced search to quickly find the project details without following a manual and time-consuming process.
Easy to integrate with 1000+ applications, including Salesforce, Bidsketch, SMS, Gmail, Proprosify, and more.
Free forever workflow management software! That's the best part, we guess.
Best Suited For
Whether you are a freelancer, have a small team, or are a large enterprise, SmartTask is your all-in-one task management software.
2. Jira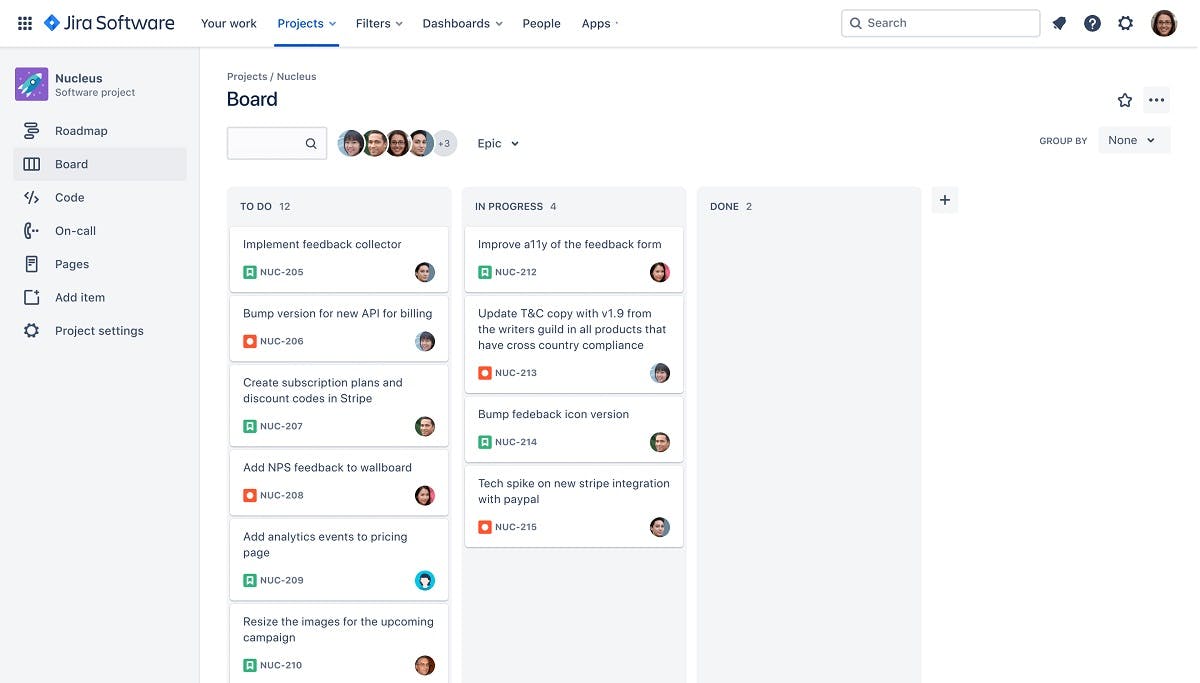 Jira is a feature-rich issue and bug-tracking software for agile teams. The agile boards – scrum and kanban – help teams simplify complex tasks into manageable pieces and visualize the agile workflow.
Undoubtedly, it has features like time-tracking and reporting, but it is not as competitive as a project management tool.
So, who can consider using Jira as your project management tool? Only agile teams!
It's because it lacks certain features, such as assessing risk and managing project costs, that make it a less efficient workflow app for agencies and creative teams.
On the positive side, roadmaps give complete visibility to the team involved to make quick decisions while staying aligned with project goals. Critical insights from reports and dashboards help teams improve efficiency with each step.
Exclusive Features
Customizable workflow to suit the needs of every team size and their specific requirements
3000+ apps and integrations available
Drag and drop automation feature to reduce workload by automating tasks
Excellent agile boards to manage work – scrum and kanban
Pros
Unique roadmap feature to assign tasks to individuals and share plans with your teammates
Monitor workloads and generate reports to keep the team on track
Various customization options are available for forms, timelines, reports, fields, and more
Cons
Graphical reports of Jira cannot be downloaded
Limited file size upload as users cannot upload a file exceeding 10 MB
Cluttered and confusing user interface
Not suitable for agencies and creative teams
Less efficient collaboration
Best Suited For
Jira is one of the best software development tools for agile teams. However, the pricey annual plans, outdated features, and complex interface make it a less desirable work management tool.
3. Asana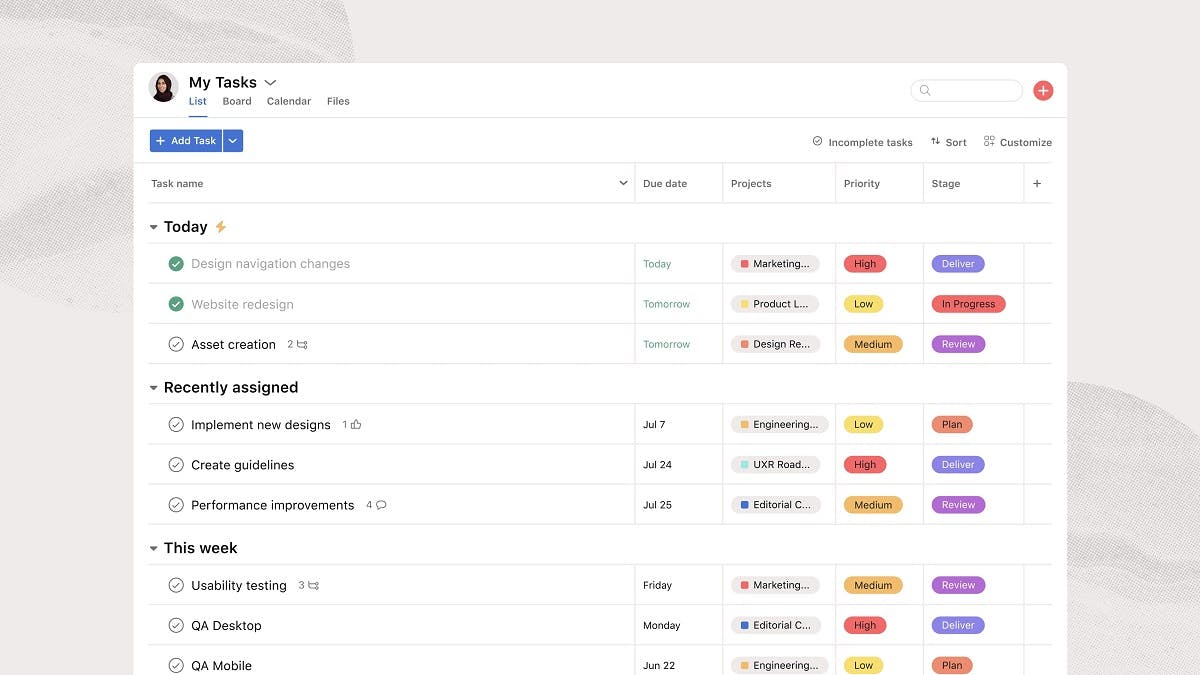 Asana is an incredible workflow management software that drives efficiency across teams. List view in the agile workflow software lets you organize and assign tasks to teammates and monitor unfinished work in dashboards.
Teams can manage overlapping, dependent, and unscheduled tasks – all in one place by creating the timeline view. Boards in Asana workflow software help you define each work stage to understand which tasks need to be done first.
Asana could be the right project management software for teams who understand the technical aspects of the tool. However, for those looking for an easy-to-use tool, the steep learning curve of Asana might not suit their needs.
Exclusive Features
200+ integrations to help teams coordinate, communicate, and collaborate
Multiple views like List, Kanban, Timeline, Calendar, Board, etc., for team overview
Add subtasks, due dates, and dependencies in a few clicks
Workload view and dashboard to set project goals and manage team workload
Pros
Automate workflow by putting the tasks like setting due dates, assigning work, etc., on autopilot
Quick and real-time insights about how the team is performing
Streamline tedious work and reduce time spent on each task
Eliminate errors with workflow builder
Desktop and mobile apps are available to sync all the projects on your device
Cons
No time tracking feature that makes it hard for teams to track or monitor the work
Expensive plans as compared to other workflow software
The high learning curve for advanced features
No CRM
Best Suited For
The recent features of Asana, such as workflow builder, are inclined more toward helping large enterprises. That said, small teams should look for another option to manage tasks at one location.
4. Wrike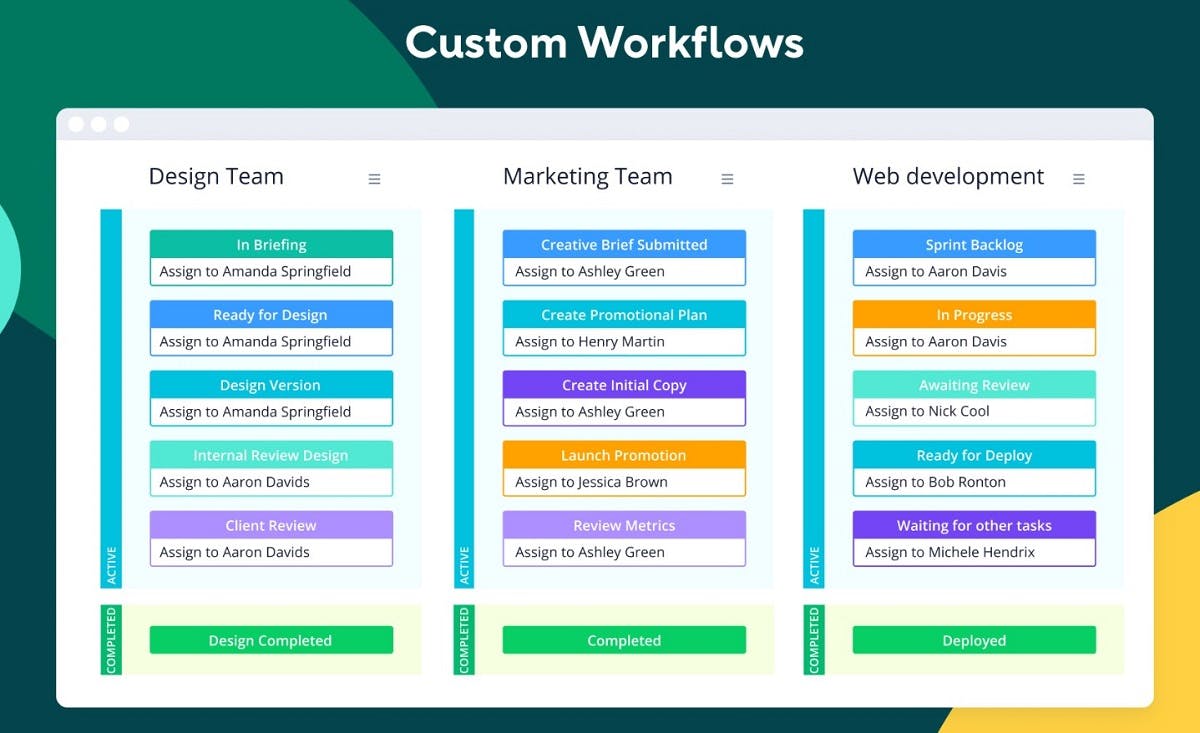 Another enterprise workflow automation available in the market is Wrike, best known for its robust security and powerful automation.
The high-level and intuitive project planning software helps users to customize everything (project life cycle, portfolio analytics, and tasks) in one place.
With Wrike Analyze, users can get detailed work analytics, monitor the workflow process, and modify it to improve productivity.
Wrike workflow eradicates the need for outdated files and clunky spreadsheets with dynamic request forms, document version control, and simplified document proofing.
Exclusive Features
Time and budget tracking features for better resource management
Robust security with WrikeLock to protect all the sensitive information
400+ cloud-based and onsite app integrations available
Easy to scale, intuitive, and highly customizable
Built-in form builder
Pros
Customize multiple dashboards in Wrike and share them with the team members
Create, assign, and set due of the tasks to streamline the workflow
Ideal for creative teams and digital marketers to integrate data into Reich for easy access
AI project risk prediction that alerts users when the project is near its deadline
Cons
Complicated UI
Inability to modify the visual aspects of projects and tasks
No advanced filtering functions in the dashboard
Gantt chart view is not available in the free plan
Limited mobile app functionality
Complex onboarding
Best Suited For
Wrike's basic and add-on features make it one of the feature-rich digital marketing workflow management software. However, the complicated software is a misfit for teams looking for an easy-to-use workflow management tool.
5. Monday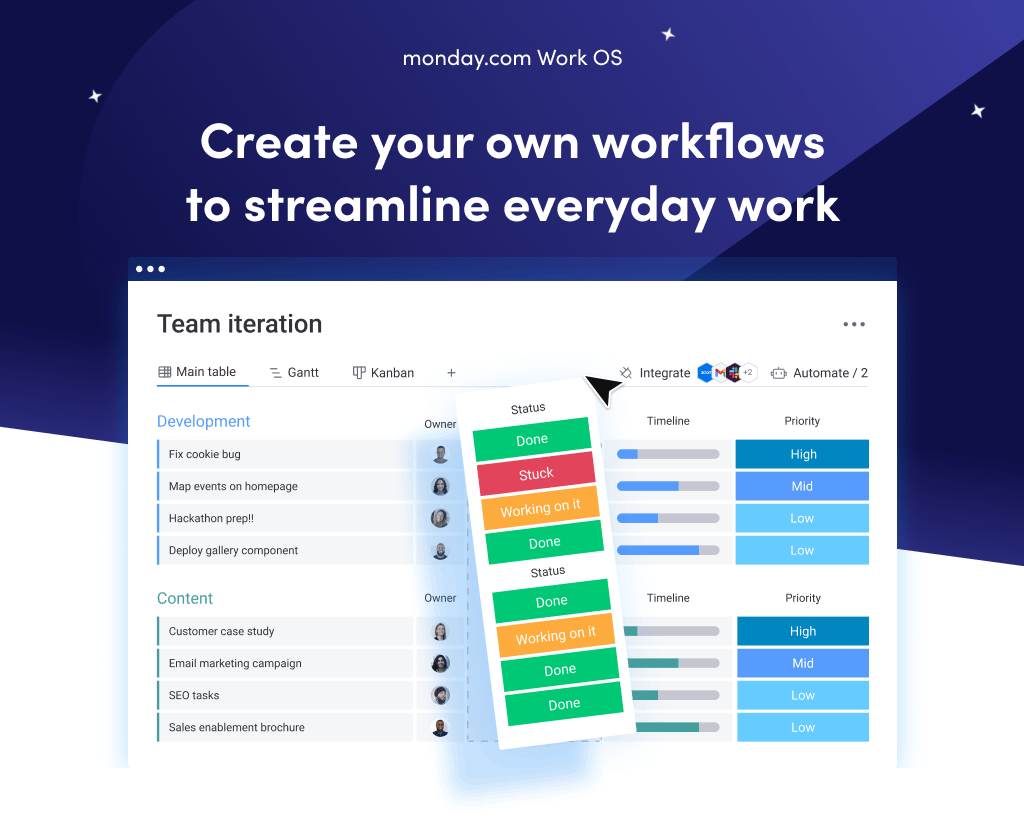 Monday is another project management software known to automate manual tasks and simplify the complex workflow business process.
The tool has some handy features, allowing users to import data and view the project in a list, kanban board, or other formats. Project managers can visualize the bird's-eye view of workflow in the dashboard to monitor the tasks.
But can Monday make your Monday stress-free? Only if you are ready to walk through the high learning curve.
Another downside of Monday is the lengthy and challenging feature that requires non-tech teams to spend days, weeks, and even months mastering the tool.
Exclusive Features
Due date notifications that notify users when deadlines approach and track their work
Time-tracking features to monitor the time taken by each task (available only in the pro plan, though!)
Easy integrations with other platforms, such as Zoom, Google Calendar, Trello, Slack, etc., to boost work productivity
Available on Windows, Mac, Android, iPhone/iPad, etc
Pros
Automate several tasks by customizing the settings and reducing the manual intervention
Multiple built-in templates
Excellent team collaboration features that streamline the project management
Cons
Expensive pricing option for enterprises
Unavailability of live support feature, especially if you are a free user
Lack of portfolio view to monitoring projects
No free plan
Best Suited For
Monday is phenomenal workflow automation software for SMEs and large enterprises, only if they have enough cash to purchase the pro plan. Entry and mid-level pricing plans of Monday do not come with useful features to help teams manage their workflow.
Looking for a Monday alternative that is free, offers 24*7 customer support, and a portfolio view? Try SmartTask now!
6. ClickUp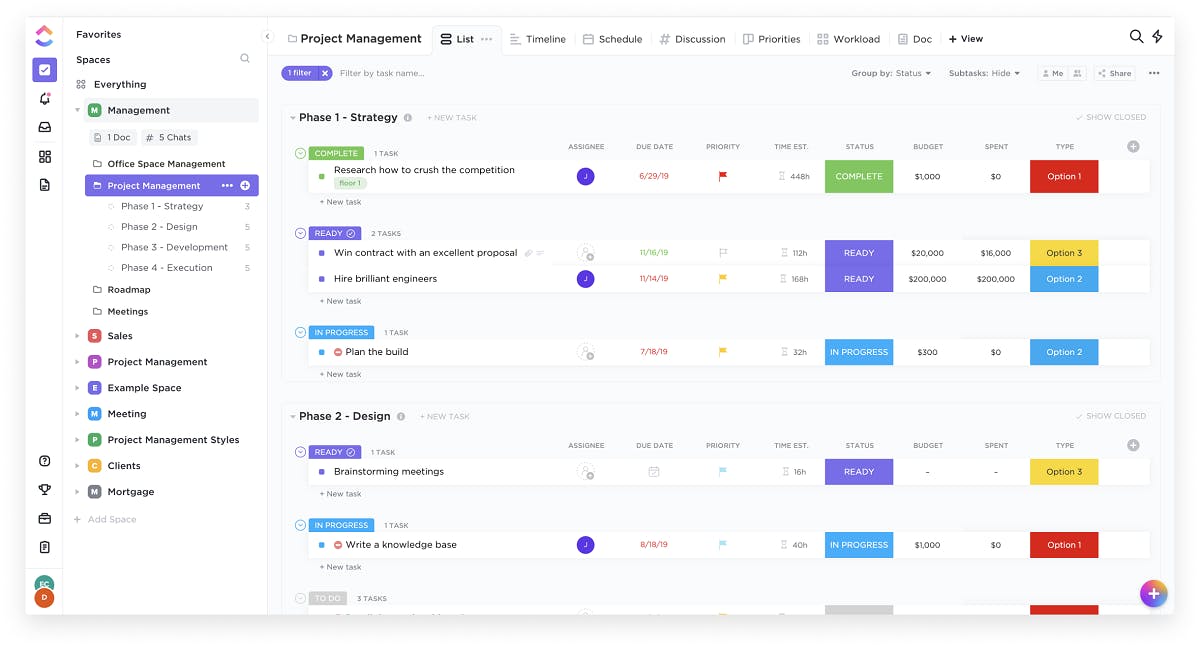 Another project management software on our list is ClickUp and who doesn't know about the tool?
ClickApps allows you to add custom tags, create dashboards, and send emails to keep all the team members in a loop.
The workflow app has 15+ views, including Gantt, calendar, list, box, etc., and 100+ pre-built templates to help your team reduce manual labor.
But as they say, excess of something adds complexity, right?
The excessive features of ClickUp make it overwhelming for users at the first glance. If you have experience using workflow automation software, you can think of clicking and purchasing the plan.
But if not, it's better to choose the less overwhelming solution.
Exclusive Features
Whiteboards and in-built chat feature to track and organize work
Hundreds of integrations to manage tasks without juggling between a lot of apps
Mobile application to track tasks via smartphones
Multiple dashboard views to categorize the project and set priorities
Pros
Different views are available, such as lists, Gantt, calendars, etc
Easy to assign tasks to teammates, share documents, set reminders, and view progress reports
Time tracking features to monitor and complete the tasks before the deadline
Cons
Extra customization options that overwhelm the users
Cluttered user interface
Complex features
Best Suited For
SMEs and individuals can use ClickUp workflow software to manage tasks and improve productivity without juggling multiple projects. However, non-technical users and large enterprises should avoid using ClickUp, especially if they don't want to waste their time in the initial setup.
7. Integrify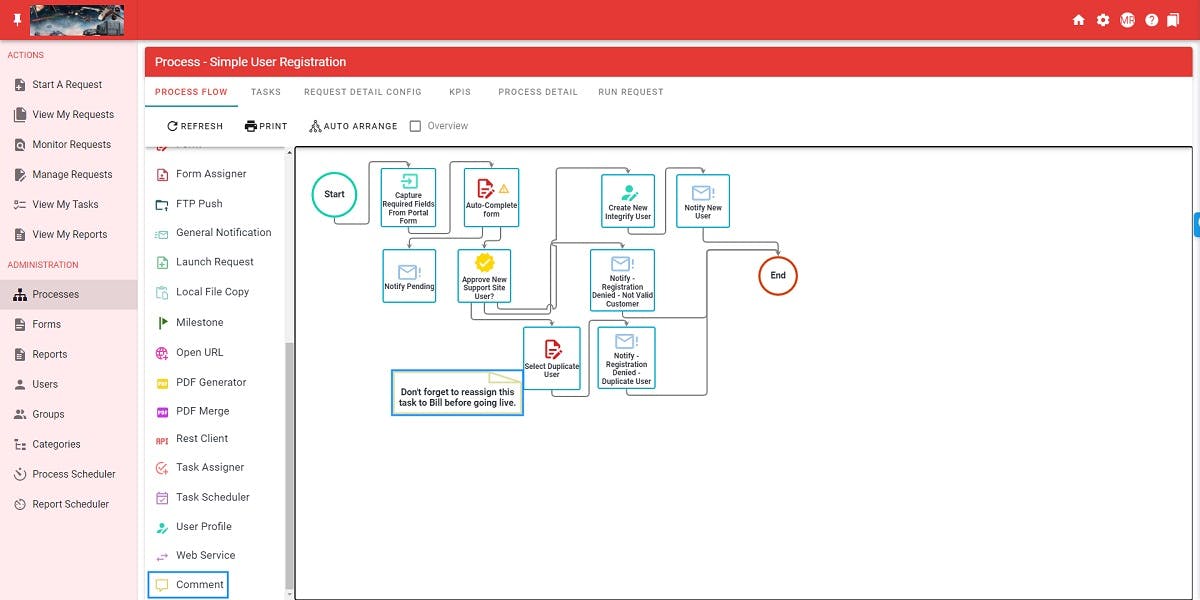 Integrify is a workflow automation tool that helps users to build workflows in dynamic web forms, route documents, and monitors workflow progress. The tool allows you to prepare customized apps and automate processes without code.
Say NO to coding!
The self-service portals and process builder enables team members to design custom task workflows using the drag-and-drop filter.
You can automatically assign tasks, set reminders, and manage team members with the workflow builder.
Exclusive Features
Form designer to create reusable and responsive web-based designer forms
Customized self-service portal designer to provide a unified front-end experience to the users
Build shareable custom reports by analyzing the task performed using KPI scoreboards
Standalone web service and open architecture of workflow apps to connect with different applications
Pros
User-friendly and intuitive drag-and-drop interface
Custom dashboards to improve team performance
Powerful Salesforce integration
Test run processes to find loopholes and streamline tasks
Cons
Adding new users to the app is complicated
Lack of project timeline management feature
No Android or iPhone applications
Best Suited For
Integrify workflow software is apt for small and mid-sized businesses with zero coding knowledge.
8. Kissflow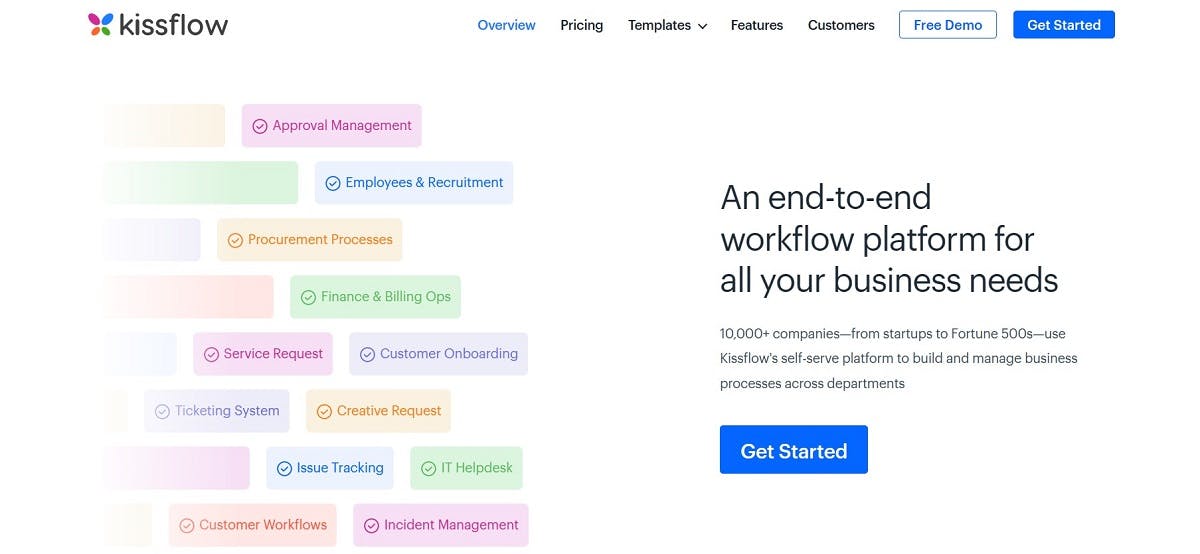 Kissflow is an end-to-end task management software used by most businesses, from startups to Fortune 500s.
The self-serve platform helps users build, manage, and monitor processes across different departments. That's true!
In addition, the tool has some exceptional features that can be assessed without coding knowledge. One highly appreciated feature of Kissflow is the hundreds of in-built templates that streamline the work. No more creating templates from scratch!
But wait before you purchase the subscription plan!
The harsh fact about the workflow automation app is users have to spend more time implementing and onboarding the application. That said, it can be challenging for organizations that look for a quick solution to their mismanaged and disorganized workflow.
Exclusive Features
Access to real-time information on the dashboard in an easy-to-understand format
Analytics and reporting to generate custom reports and get actionable insights about the work
Agile deployment, ad hoc assignment, and dynamic business rules to handle complex projects
Easy to build and tweak forms without worrying about code
Pros
Create apps using the drag-and-drop feature
High scalability due to dynamic routing and customizable workflows
100+ templates for different departments, including Finance, IT, HR, Procurement, etc
Cons
Not suitable for small organizations
Implementing and onboarding time is complex
No free plan is available
Best Suited For
Kissflow is suitable for small, mid-sized, and large enterprises that want to streamline their business process. However, the inability of a free plan makes it a pricey option for startups and small teams.
SmartTask is a FREE forever project management tool for startups, SMEs, and large enterprises with all the features of Kissflow. The bonus? It has time-tracking and 24*7 customer support too.
9. Trello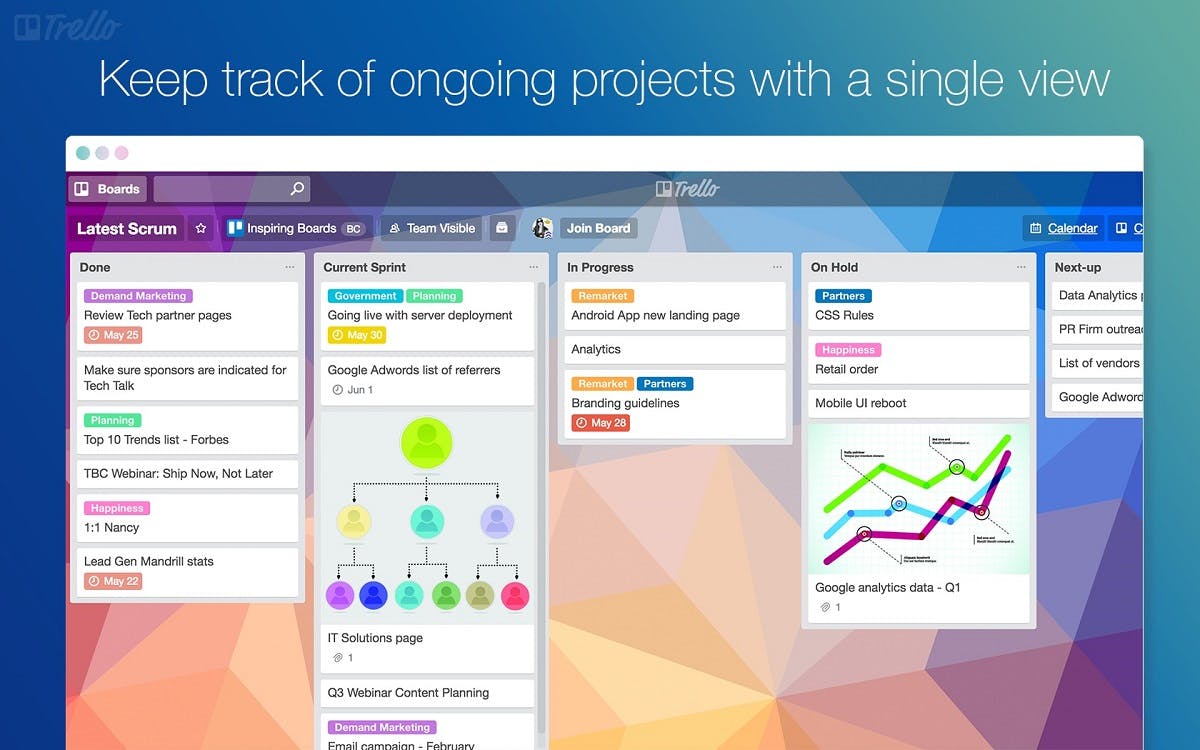 Trello is a simple-to-use kanban workflow automation software that hardly requires any learning curve. Due to the automation, attractive pricing model, and kanban experience, the tool can effectively manage workflow.
Even though Trello is a good-to-go workflow app, it is not the best choice for all businesses.
Why?
Users need to focus on third-party integrations to track time for each task in Trello. As a result, it leads to a waste of time and money.
Exclusive Features
Multiple views help users view the team's project from different angles.
Link tools with Trello plugins to power up and streamline the process.
Butler automation allows easy automation of tasks and projects.
Easy-to-use templates in the Trello community for different businesses.
Pros
Easy and quick integration with third-party apps
Dashboard customization option to match your business style
100+ integrations available that help users connect Trello to every app
Cons
Outdated user interface
Lack of in-built reporting feature
Inefficiency in handling complex projects and workflows
Limited storage, especially for large teams
Best Suited For
Trello is an incredible tool for small teams with less workload. As it lacks a few workflow management tool features, Trello is inefficient in handling complex projects.
10. ProWorkflow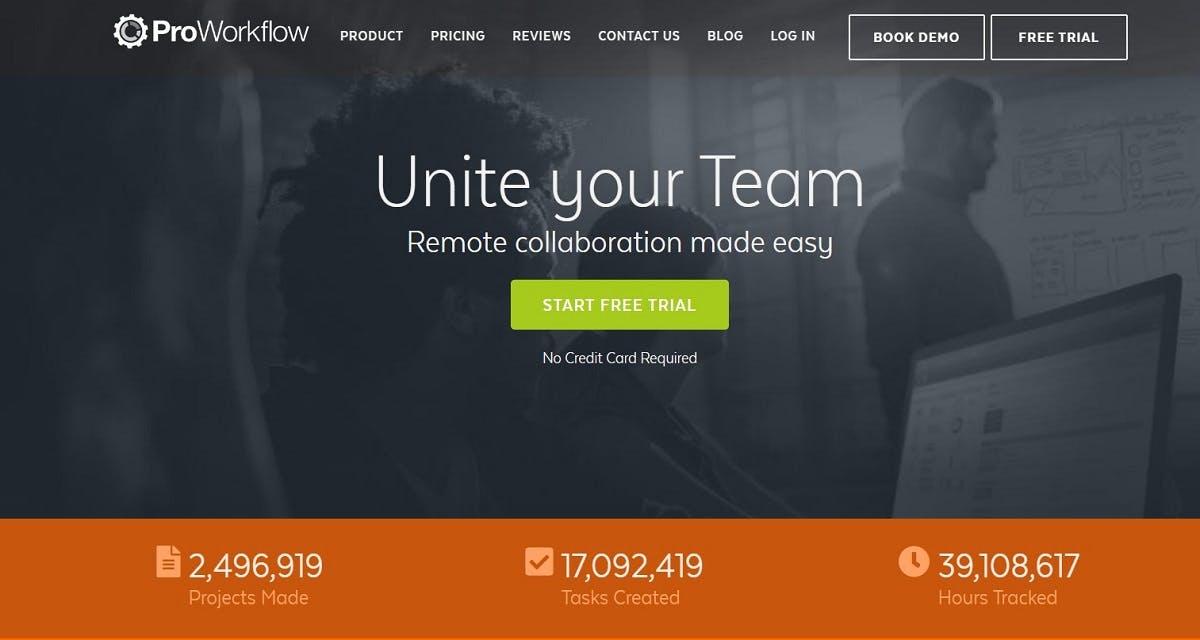 ProWorkflow is a simple workflow management software that offers a suite of features for small and mid-size teams. Users can customize the visual elements of the tool to suit their branding.
Teams can focus on getting things done rather than spending time on manual work management. ProWorkflow lets you assign tasks, reschedule projects, and track time – all within one tool.
Do the tool features justify the price? We are not sure!
Exclusive Features
Monitor the progress of all tasks and projects with the Gantt chart-style timeline
Easy team coordination, communication, and collaboration with the built-in messaging feature
The time-tracking feature monitors the time spent on each task and boosts productivity
Project dashboard to get a simple and quick overview of ongoing, completed, and upcoming events
Pros
Several third-party integrations are available with Zaiper, Box, Google Drive, etc
Customizable user interface to suit different business needs and preferences
Time-tracking and custom report features are available
Pre-made templates are available to create projects in less time
Cons
Unavailability of an advanced search filter
Lack of customer/client review portal
Setting up member permission is not allowed
Best Suited For
ProWorkflow project management software is suitable for small and mid-size as the pricing model is based on user numbers. That said, for enterprises, ProWorkflow can be an expensive option compared to other feature-rich and affordable tools available.
If you are a large-scale enterprise owner looking for an affordable, flexible, and easy-to-use workflow app, check out SmartTask. Give it a try for FREE!
11. Hive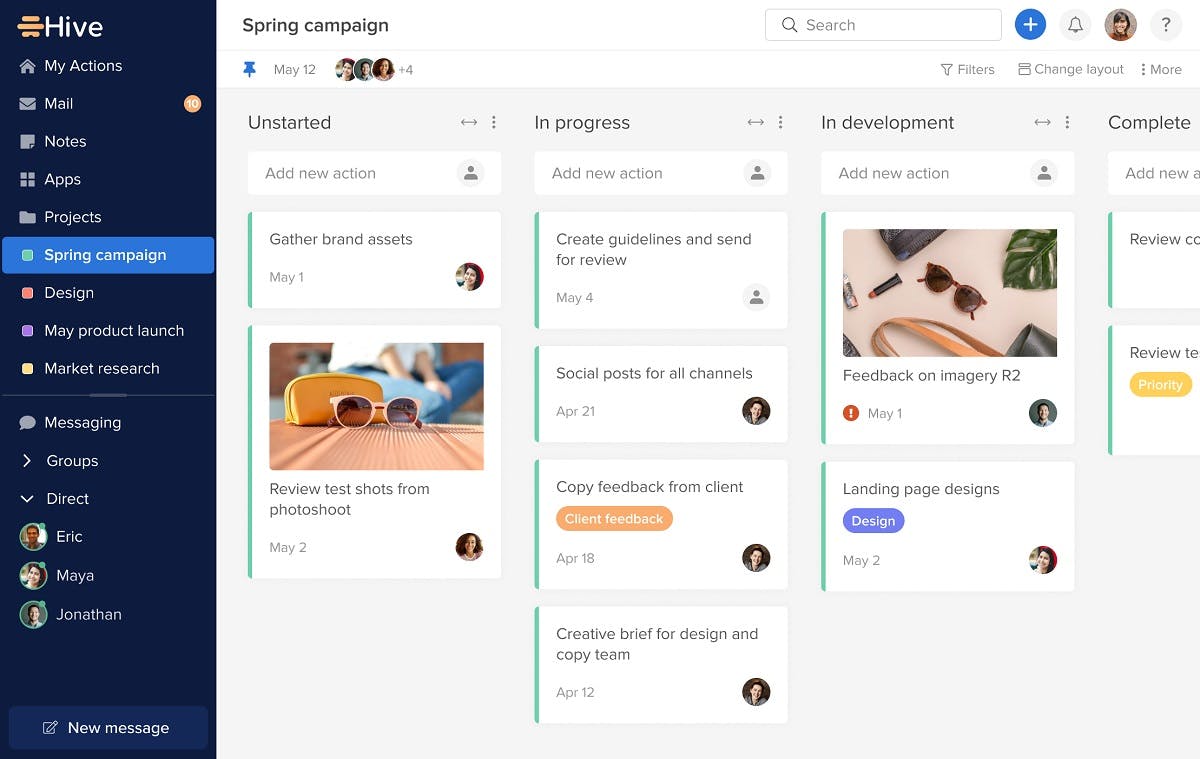 Another well-known project management software is Hive, a robust workflow management solution. Hive automation enables users to automate repetitive tasks and streamline the process.
Teams at Starbucks, Comcast, Google, and Toyota love the task management features of Hive, but it isn't without flaws. Hive's user navigation and functions are too complex for a non-tech person.
Additionally, you won't be able to create dependent tasks for your project. Managers have to build recurring projects manually, leading to time wastage.
Exclusive Features
1000+ integrations available
Flexible project views including portfolio, calendar, Gantt, etc
Projects templates for repetitive tasks
Robust analytics to measure individual and team progress
Pros
Easy project conversion from kanban style board to calendar view
Quick customer support
Easy-to-use task cards
Workspace trash bin to access deleted items
Cons
Limited mobile functionality
Complex user navigation
Expensive as compared to its alternatives
Best Suited For
Hive is suitable software for individuals and teams with technical knowledge who intend to make their work faster. However, users who love simplicity should look for Hive alternatives.
12. ProProfs Project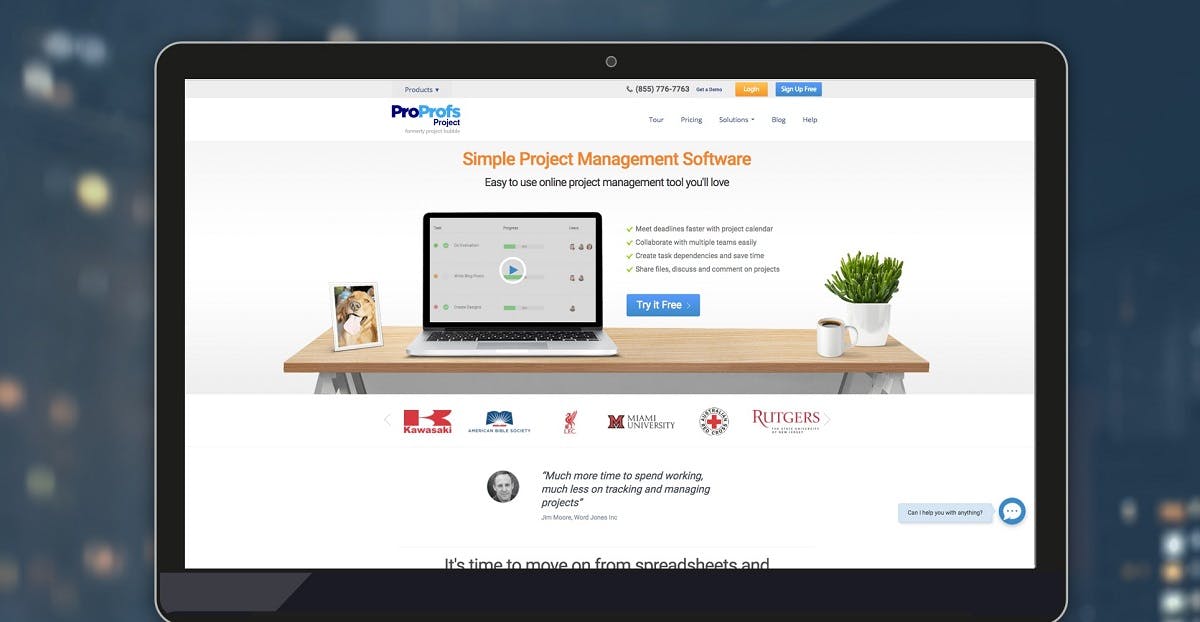 ProProfs Project is an intelligent workflow automation software centered around the project life cycle. But what does that mean for project managers?
The project management tool helps users plan, track, and execute tasks collaboratively with their team. But, the ProProfs Project platform is not flawless as it lacks essential features to be PERFECT!
ProProfs Project is a quiz-making software trying to make a name for itself in the workflow automation solutions market. It won't be wrong to say ProProfs is currently the jack of all trades and the master of none.
Exclusive Features
Intuitive dashboard to make assigning and managing tasks smoother
View the task details with the Gantt chart feature
Detailed project reports with powerful and insightful analytics
Store and share documents and files via the desktop app
Track time, collaborate, and monitor team workload
Pros
Easy to integrate with multiple third-party apps
Manage cross-functional teams
Flexible views, including Kanban board, Gantt chart, etc
On-the-go detailed updates about projects
Cons
Dependencies or timesheet is not much developed
Relatively new workflow software in the industry
Limited free trial and version
Best Suited For
ProProfs is suitable workflow automation software for people looking for a straightforward tool. However, large enterprises looking for a comprehensive and complete project management tool must look for another option.
13. Projectsly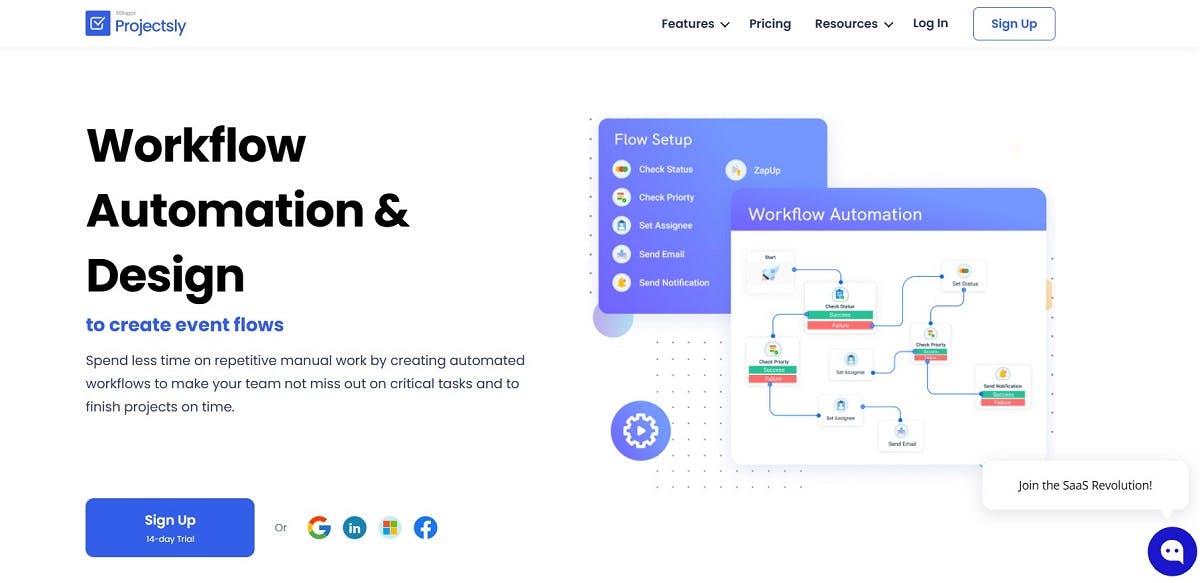 Projectsly is an emerging workflow software solution best known for its powerful automation features. The primary function of the advanced tool is to help project managers assign, track, and monitor tasks in one place.
Even though Projectsly is an excellent tool for small teams, it lacks advanced features like integrations, file storing, etc., to float the boat of large enterprises. So, if you are a large organization, you'll need to find another tool.
Exclusive Features
Create unlimited projects and get real-time updates
Powerful automation to eliminate repetitive tasks
Time tracking feature to monitor employee progress
Advanced reports to analyze team performance
Gmail extension to manage projects from Gmail without switching tabs
Pros
Easy-to-use interface
Simplified task management through multiple views
Real-time activity tracking
Cons
The project dashboard is not user-friendly
Complex design
Files cannot be stored online for future access
Pricey option as compared to its alternatives
No external integrations option
Best Suited For
Projectsly is specifically built to suit the workflow requirements of small business owners. That said, large enterprises should choose an all-in-one productivity tool created for big teams.
Looking for a tool that can handle the workflow of your large enterprises at a lesser price? Switch to SmartTask!
14. Smartsheet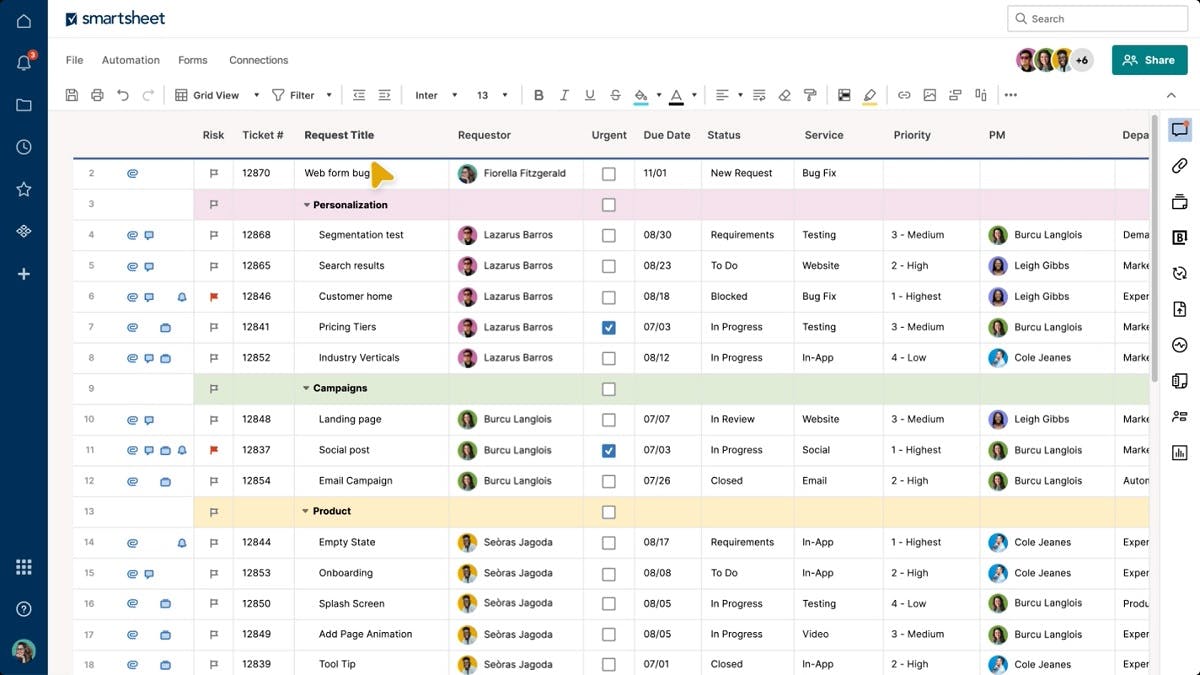 Smartsheet helps teams envision the workflow and take action. The modern work management tool manages projects, automates recurring tasks, and offers custom-fit solutions for every business.
The best part about Smartsheet is the clean design and UI that makes workflow management super easy. However, the expensive nature of the software makes it harder for small businesses to purchase it.
Exclusive Features
Enhanced and robust resourcing capabilities
Multiple integrations with top tools like Google Apps and Microsoft
Flexible project layouts for task visualization
Automate workflows by defining the steps of projects and tasks
Pros
Easy to share information across platforms with integrations
Intelligent workflows that automate tasks and save time
Simple user interface
Office productivity solutions and file sharing are available
Cons
Pricey monthly plans
No time tracking features
Best Suited For
The tool can be integrated with Google Apps and Microsoft to ensure your team won't be juggling in switching the tabs. But if time tracking is something that you can't overlook, it's better to look for an advanced tool.
15. Pipefy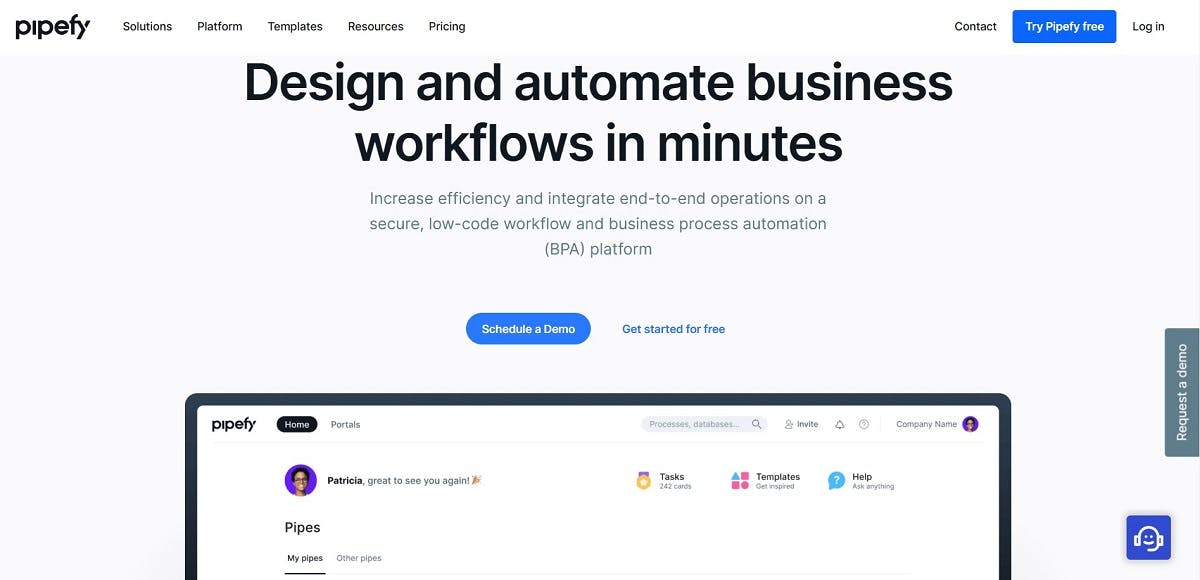 Pipefy is best known for its low-code workflow development process. The automatic report generation makes Pipefy a robust workflow management solution.
The tool offers multiple customization options to help teams design it per their needs. When your team performs tasks, reports are automatically built using the generated data. No more pulling data manually; Pipefy pulls it for you!
Exclusive Features
Plug-and-play templates to structure the overall workflow
Easy team collaboration
Efficient cross-functional team management
Back office process automation
Availability of connected cards and custom fields
Pros
Automate workflows without learning code
Integrate the tool with HRIS, ERP, CRM, and other apps
Pre-built customizable workflow templates
Ready reports to gain quick insights about the project
Cons
Expensive due to the per-user plan
Time-tracking feature not available (users have to connect with third-party apps)
Best Suited For
Pipefy is a perfect tool for SMEs and large enterprises tackling multiple projects and tasks. Want to purchase the plan? Hold on, the higher cost of Pipefy might change your mind!
16. Backlog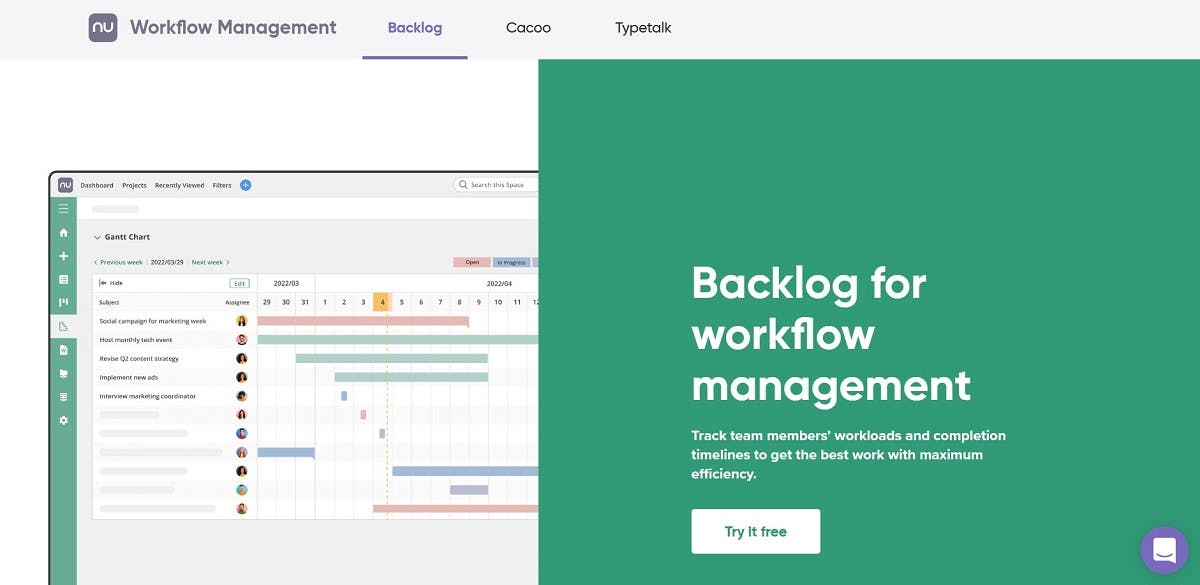 Backlog is a single platform where you can manage projects, track bugs, and streamline workflows. Gantt charts help users visualize and edit timelines, whereas kanban boards allow task management.
A unique feature of Backlog that makes it a great workflow automation tool is burndown charts. This feature shows you the unfinished work and the time left to complete it – in one chart!
Exclusive Features
Task hierarchy to add subtasks
Custom fields that fit your team workflow
Easy to import data from other tools like Jira and Redmine
IP access control that improves security by managing workspace access
Mobile app available to work from any time, anywhere
Pros
Quite adaptable to suit the needs of every team
Minimalist and simple interface
Seamless integration with third-party apps
Free low-tier plan
Cons
Lack of storage in low-price plans
Steep learning curve
Link-adding feature is not available in the Gantt chart
Does not allow users to use multiple filters
Non-intuitive UI
Best Suited For
If you are looking for software that combines project and code management, Backlog is the way to go. But be prepared to indulge in learning before you leverage the perks of its intriguing features.
17. Scoro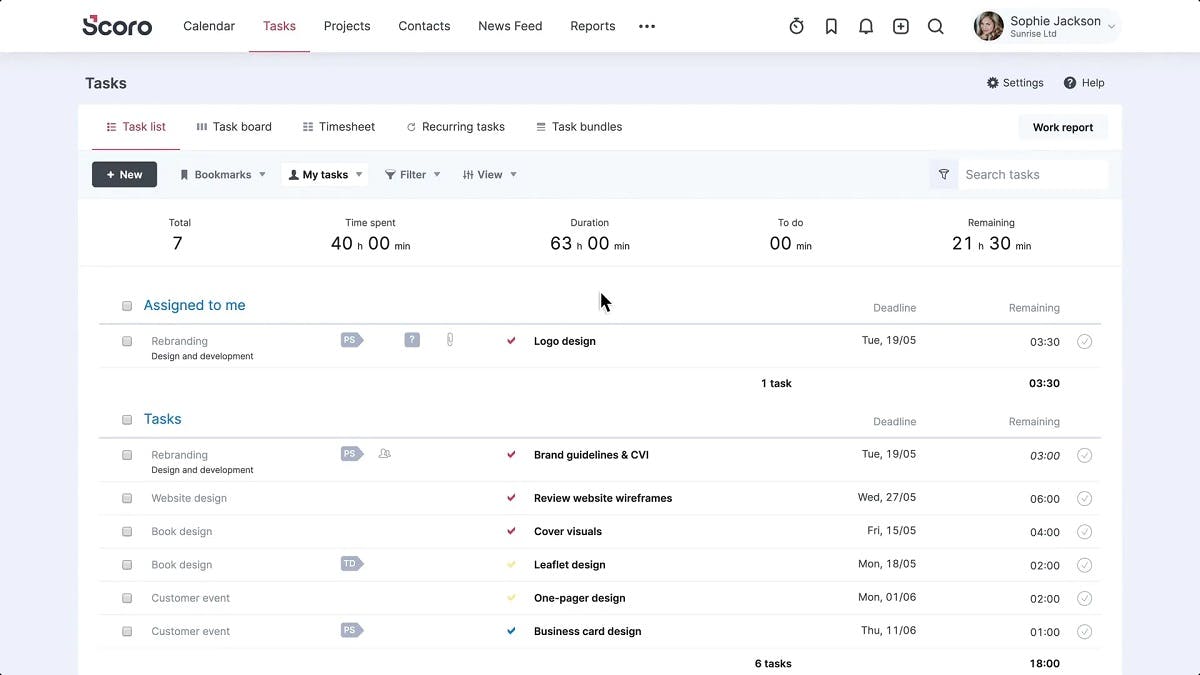 Scoro is an end-to-end project management software that assists teams in collaborating seamlessly. The advanced tool is the control hub for your enterprise, where you can track work, projects, sales, and daily activities.
However, one downside of Scoro is that most of the workflow-related features unlock when you purchase expensive price packages. Users can access the Gantt chart, multiple app integrations, and recurring tasks automation feature only in a paid plan Scoro.
Exclusive Features
1000+ app integrations
Multiple project timelines
Dynamic dashboard to monitor real-time project results
Pros
Easy-to-use interface
Sophisticated UI
Drag and drop planner to make the work faster
Cons
Expensive price packages
Fewer features in the free plan
No automation for manual document processes
Best Suited For
Scoro is an excellent workflow automation application for users who intend to manage everything related to work and trace the growth in a single intuitive dashboard.
If you are an SME, a mid-size or large-size enterprise that wants to access all the workflow-related features like the Gantt chart, 1000+ app integrations, automate recurring tasks, etc., for FREE, SmartTask is your best partner. Try it now!
18. ProofHub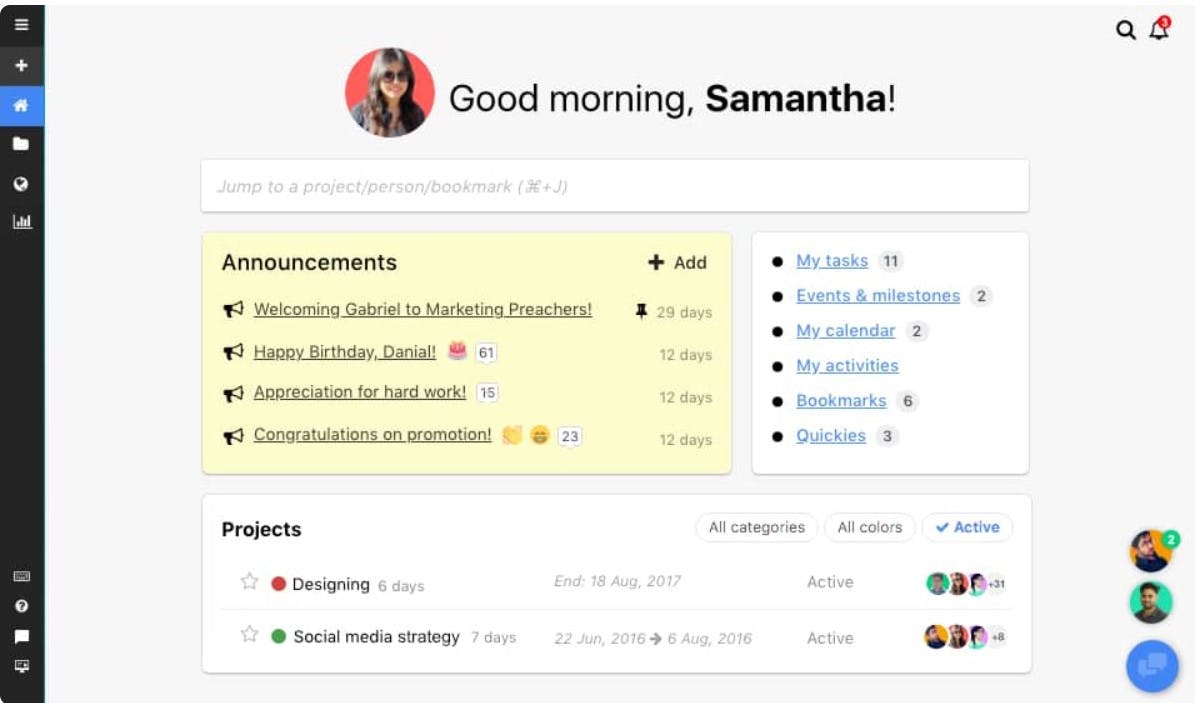 Do you want to say goodbye to the long-winded emails? ProofHub has got it covered! Thanks to the discussion feature available, users can chat in a group and eliminate lengthy emails.
The tremendous workflow automation software helps teams work together and achieve deadlines. What's more, the multiple views like Gantt, kanban, calendar, table, etc., make it easy for large teams to track projects and manage workflows.
But nobody is perfect, and neither is ProofHub. The cluttered interface of the tool makes it less preferable for simplicity lovers. Mind you, nobody is perfect, so SmartTask is SMART!
Exclusive Features
Proofing for easy reviewing and approval of documents
Activity logs to track and monitor all activity
'Me View' feature to filter the tasks that involve you
Pros
Easy to set up and run tasks
Super fast that makes workflow management a breeze
Complete all projects related to files and documents in one place
Multiple timers to track the time and work of team members
Cons
Setting up forms is not easy
Minimal proofing functionality
Clunky user interface
Slow loading (sometimes)
Lacks budgeting tools
Best Suited For
ProofHub has fewer features compared to other project management tools in our list. Many small companies prefer automation software due to its low complexity. If you're looking for a simple management tool with basic features, ProofHub is the one!
19. ProcessMaker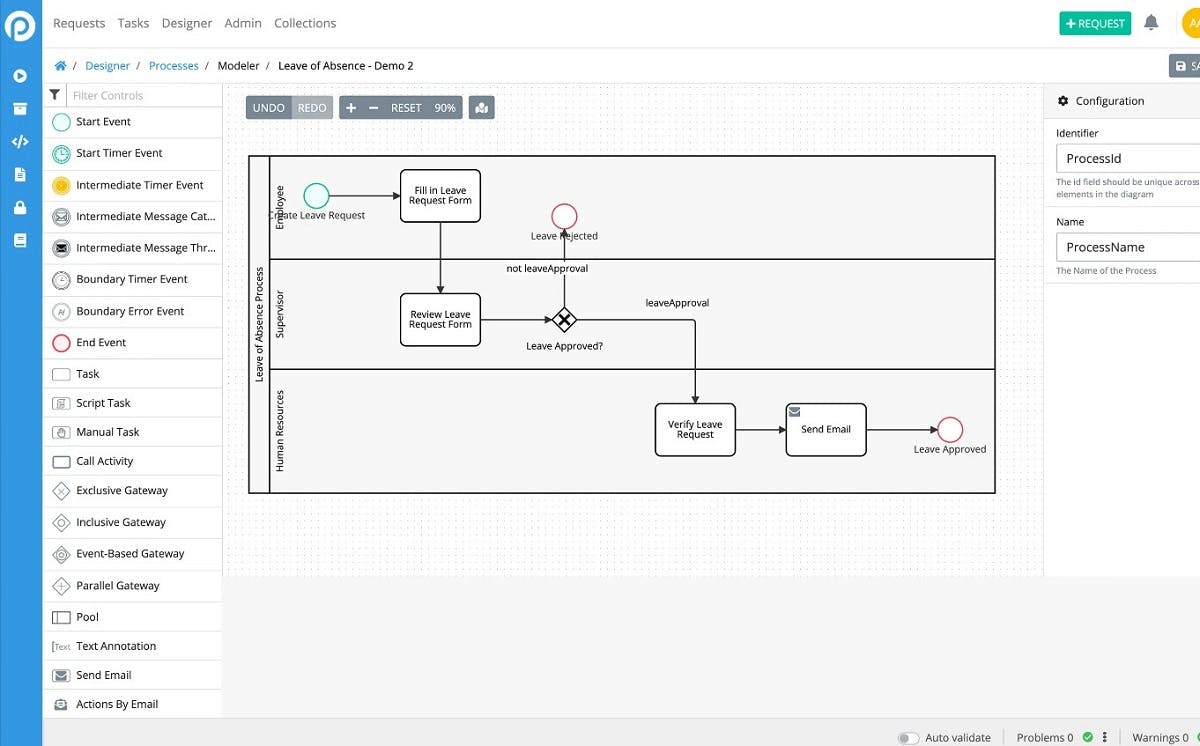 Another workflow management tool in our list is ProcessMaker, best known for simplifying complex workflows. Drag and drop features allow you to add tasks, data connectors, and users while designing the workflow.
The tool is designed for enterprise scalability and flexibility. Customizable dashboards enable you to monitor business goals, processes, and SLAs.
The UI of ProcessMaker can be a little complex for some users. However, once they have mastered UI, creating simple to complex workflows can be a cakewalk.
Exclusive Features
Intuitive, powerful, and BPMN 2.0 compliant ProcessMaker modeler
Design elegant forms with a form builder
Action by email to accept or reject the request from Slack or email inbox
Powerful dashboards to monitor business processes and create reports
Pros
Low code interface
Real-time notifications and alerts for critical business information
Easy to connect with third-party systems via API
Unlimited flexibility
Easy customization
Cons
UI/UX lacks modern SPA technologies
Complexity in debugging
Improvement required in the interface of the mobile app
Expensive license
Best Suited For
ProcessMaker is an enterprise-grade workflow management solution. The tool is unsuitable for personal use, as the features favor team usage.
20. nTask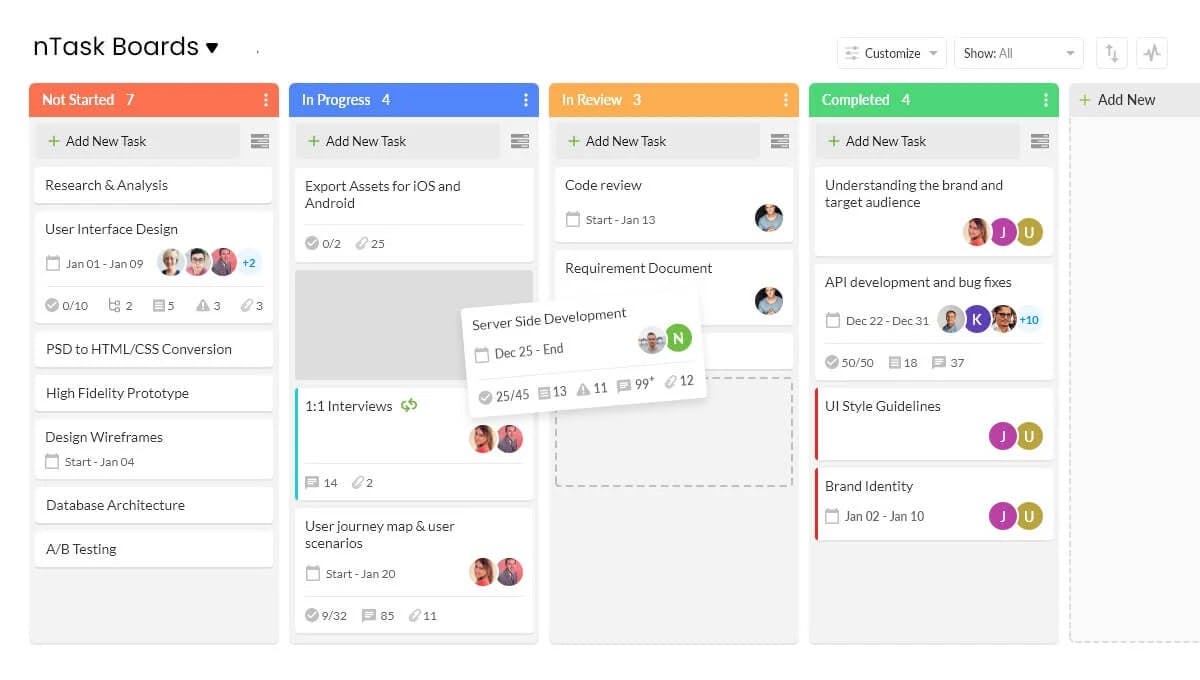 nTask is a robust and feature-rich project management solution for growing teams. It enables project teams to plan, analyze, and monitor everyday tasks.
The project management module of nTask helps streamline project planning, finances, project deliverables, and task dependencies.
However, the project management tool lacks an essential feature – reporting. Businesses that want to get insightful reports have to either look for third-party apps or choose another workflow software.
Exclusive Features
Integrate over 1000 apps
Schedule meetings with productive meeting management
Effective timesheet management to track time spent by each team member
Collaboration features such as dedicated workspace, task comments, etc
Pros
Easy to create tasks and schedule due dates on the Gantt chart
Add multiple assignees
Structure the work based on their importance
Pre-built board templates
Professional interface
Cons
No zoom integration
Lack of timer in timesheets
Limited formatting and customization options
Iffy privacy
Best Suited For
The cloud-based workflow automation software is suitable only for individuals and small businesses. It is a misfit for large teams who want to tackle complex projects.
21. Zapier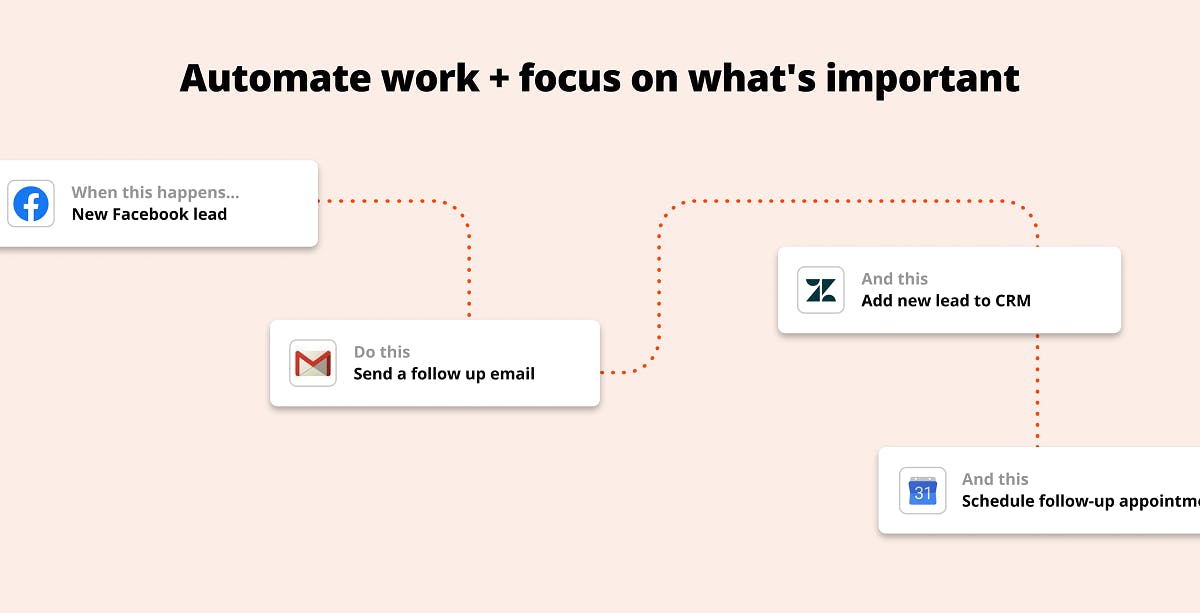 Zapier is a tried and tested web-based solution that helps companies automate workflow. The lean and capable dashboard enables teams to manage apps and zaps easily.
Moving data from one web page to another is straightforward and frees up time. It is suitable for all levels of businesses and offers 5000+ app integrations.
Exclusive Features
Data transforming and formatting
Managing funnels
Contract generation
IT automation
Customer interaction
Pros
Custom pricing plans
Plenty of features are available
Free-to-use option for teams who are getting started
Cons
High learning curve
Hard to navigate without expert help
Add-ons and additional costs can lead to over-budget issues
Best Suited For
Zapier is a feature-rich tool for individuals, SMEs, and large enterprises. Businesses that rely more on social media workflows can leverage Zapier. While the free plan does not include all features, it still provides enough to get started.
Not all tools are the same; not all are worth your hard-earned money. So, instead of investing money in low-standard tools, try out the free workflow automation software – SmartTask.
Work Smarter Not Harder With Powerful Workflow App
Workflow management can improve team productivity and help you get things done before the deadline.
But to get the desired results, you need to pick the right workflow software. If you are still apprehensive about which tool is best, go with SmartTask!
Why?
SmartTask leads the fleet with powerful features, such as workflow automation, task management, time tracking, quick customer support, and much more. The list goes on and on!
And the best part? It's a free-to-use tool that makes your life easy with automation without costing you a fortune.
Get your free consultation on SmartTask today!