SmartTask
Contents
How to Leverage Advanced Analytics in Project Management
By Sonal MishraOct 11, 2022
Think of all the effort that goes into decision-making and project management — whether it is scheduling tasks, allocating resources, or meetings. Given all the resources, and occasional sweat involved, what can help improve project management?
Enter: Advanced Analytics
When analytical data is used properly, it can remove uncertainty from the decision-making process and offer project managers practical assistance in leading their teams.
Additionally, data can be used in improving efficiency, lowering costs, and better manage hazards.
But, how can you leverage advanced analytics?
Let's find out.
Top 3 Project Management Solutions with Advanced Analytics Capabilities
SmartTask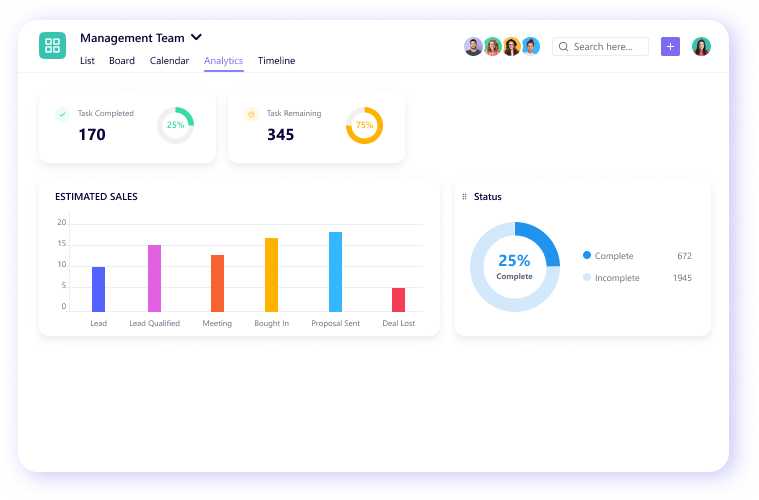 Starting a large project can seem like a guessing game with so many elements. This is why project management requires data analytics; otherwise, you may have a rough sense of the path you should go in but won't know the specifics.
SmartTask's comprehensive analytical feature was developed to help with this.
SmartTask uses a variety of different analytical perspectives to analyze data. It ensures organizational control and effective deadline management with automated progress reporting.
You can easily plan, track, and visualize everything in one collaborative workplace, including marketing campaigns, project scope, project stuck, and product launches.
Here's a list of more key features of SmartTask:
Advanced Search Filter: SmartTask helps save information from several projects and provides search filters for future quick access.
Export: Using the export feature, you can easily analyze the performance of the team over time.
Identify Workload: With SmartTask, you can recognize whether the team is being overworked or underused.
Unique Charts: For data analysis, SmartTask lets you create project charts with countless customizing options.
Complete overview of the project including resource use, costs, and charges.
nTask
nTask is a project management software renowned for simplifying job management. But it also does a pretty decent job of streamlining and simplifying project planning with advanced analytics but with a few caveats. By assessing everyone's workload and achievements, you can make important decisions on work allocations, promotions, and payments. However, the system is not mature enough to provide a holistic view of performances but can deliver a general idea of individual and group performance.
Jira
Project managers use Jira, an agile project management tool, to schedule, monitor, and simplify projects. But they are best known for their product, Jira Align, which allows project managers to see real-time team data across the entire enterprise. The visual tools and reports can help plan, track, and create roadmaps for decision-making, but aren't very effective when it comes to predicting resource allocations and profitability.
Guide to Leverage Advanced Analytics with Project Management
Project Planning
Project planning is crucial in assisting stakeholders as they go through subsequent project phases. Planning is critical to determine objectives, lower risks, prevent missed deadlines, and finally deliver the agreed-upon product.
Advanced data analytics have the potential to yield valuable insights as planning and delivery processes produce a steady stream of data. When you use these data analytics in project planning, you'll be able to set better measurable objectives, have more efficient workflows, plan better tasks, and deliver informative reports.
Delivery Management
With efficient analytics, companies can identify and eliminate unproductive or wasteful processes while increasing the effectiveness of all decisions.
The development of KPIs for human errors, change requests and planned versus actual project timelines are all added benefits.
Your project teams can concentrate on higher-value work, improve productivity, and complete projects more quickly by identifying and eliminating inefficiencies.
Team Analysis
Every day, a sizable amount of data is gathered for numerous experts working on projects in various industries.
Data on conflict, teamwork, leadership, and employee attrition are just a few examples of less straightforward quantified data that is also being gathered.
This data will probably offer insights into managing teams more successfully, how to develop effective team buildings, what abilities are required for a successful team, and ways to choose the most capable leaders once it has been consolidated into a single database and subjected to analysis.
Resource Management
Resource allocation and planning can be challenging since resources are frequently limited and constantly changing.
This makes it much more challenging when numerous projects are competing for the same resources. Effective resource allocation and decision-making depend heavily on data.
The ability to match abilities, allocate the appropriate resources, and plan available resources is crucial for a project's success.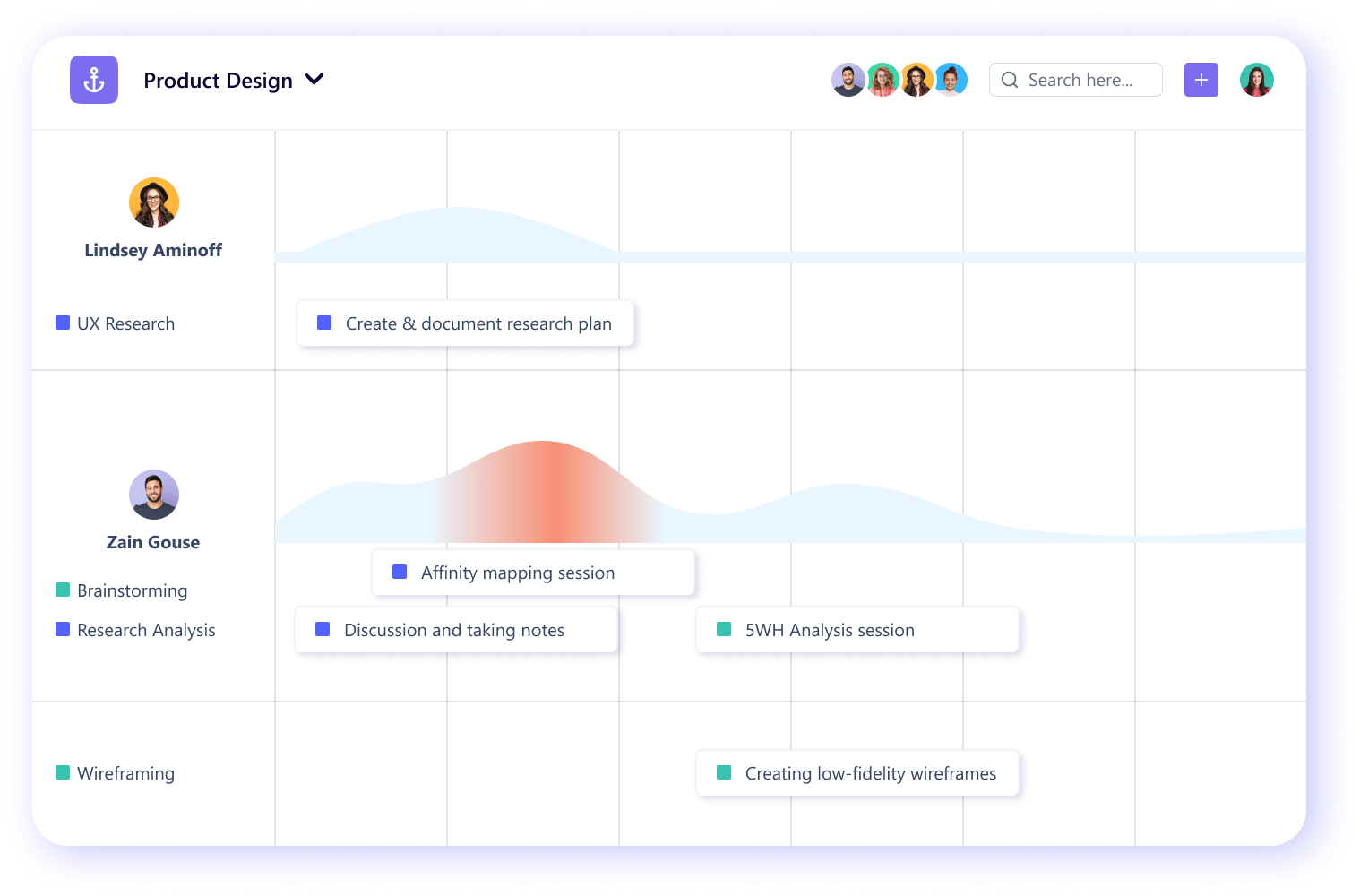 Project managers can more effectively assign resources for recent projects and make better plans for the future by having access to data from previous and ongoing initiatives.
As a result, project managers can determine whether resources are used inefficiently or excessively by collecting and evaluating data in one location. This information allows them to reallocate resources as needed and adjust their schedules.
Risk Management
This may sound negative, but when starting a project, one of the first things a project manager needs to think about is: what are the risks?
Risks can be produced by both internal and external causes and take on a variety of different shapes.
A risk's potential influence on a project or a portfolio can be minimal or significant. For risk and compliance, many businesses continue to react rather than employ analytical technologies to anticipate possible issues.
Project managers can identify various hazards from past and present projects using data. With this tangible information, you can reevaluate risk management tactics and change plans than being just reactive.
Quality Management
Because it requires a lot of resources and labor, the sector of quality management is closely scrutinized and monitored.
Data collection for these initiatives includes summaries, reports, and tests. Afterward, this information is used to make sure that standards are met, quality assurance procedures are valued and followed, and problems are resolved once they appear.
Beyond its initial reach, advanced analytics can speed and streamline this process. Analytics can be applied to new frameworks and practices, quality monitoring tools, and product development paths.
Customer Acquisition and Retention
Customer data will enable you to assess your customer's levels of satisfaction and their propensity to stick with your brand.
If you have acute insights into your customers, you can use these to develop the best customer retention plan by comparing empirical data.
If like most firms, only 20% of your current customers generate 80% of your revenue, you can use statistics to prevent these customers from leaving.
Examples of How Big Brands Are Using Advanced Analytics
There are several advanced analytics applications currently in use in the real world. To give you a better idea of how they're used daily, here are a few of them:
Enhance Marketing Tactics
To build short-term and long-term strategies, marketers use a sophisticated analytics technique called marketing-mix modeling (MMM), which may simulate the interactions between marketing investments, sales drivers, and other external variables like seasonality.
A good example is Binary Informatics.
Binary Informatic, an IT Solutions and Service- Providing Center uses SmartTask to collect data about customer interactions, current sales funnel, and forecast sales, which provides the flexibility to follow up with prospects faster to strategically increase sales while increasing efficiency and productivity.
Identify Potential for Growth
Every company plans on how to expand and where to put money into.
Using advanced analytics, it is possible to uncover fresh growth potential.
For instance, a chemical business reportedly employed advanced analytics to search through 120 million patents and 100 million scholarly publications in 2021 to find new potential patent applications. In the end, the business discovered 30 high-yield patent applications, which generated an extra $50 million in earnings.
Perhaps the clearest example of a company that has mastered data analytics is Amazon. One of the most seamless and customized consumer experiences is offered by Amazon. They employ business intelligence to generate recommendations based on past purchases and what other consumers have purchased alongside particular things, browsing patterns, and other variables.
The Future of Advanced Analytics in Modern Workspaces
Since the data craze began, advanced analytics has progressed ominously.
As a result, several businesses have developed analytics prototypes and worked to operationalize them. In addition to project managers, other user communities, such as business analysts, are currently investigating the potential of advanced analytics.
Advanced analytics solutions are increasingly meeting the needs of these many user groups and processes, and they can even automate data analysis. Processes to investigate large amounts of data and operationalize analytics are being integrated.
Choosing the Right Solution for Advanced Analytics Solution
Your teams will be able to operate efficiently and produce much better results with analytics tools for your business in place than they are currently able to.
However, even with the best project planning, it's crucial to monitor progress and make adjustments to guarantee on-time deliveries. And if you require assistance with that, SmartTask provides task management tools to plan your tasks, organize your calendar, deconstruct complicated projects, manage remote teams, and monitor progress.
SmartTask helps you do all this in one location.
And it's free forever.
Get your free consultation on SmartTask today!