SmartTask
Contents
Productivity v/s Efficiency: Who wins over the other?
By peopleHumSep 23, 2021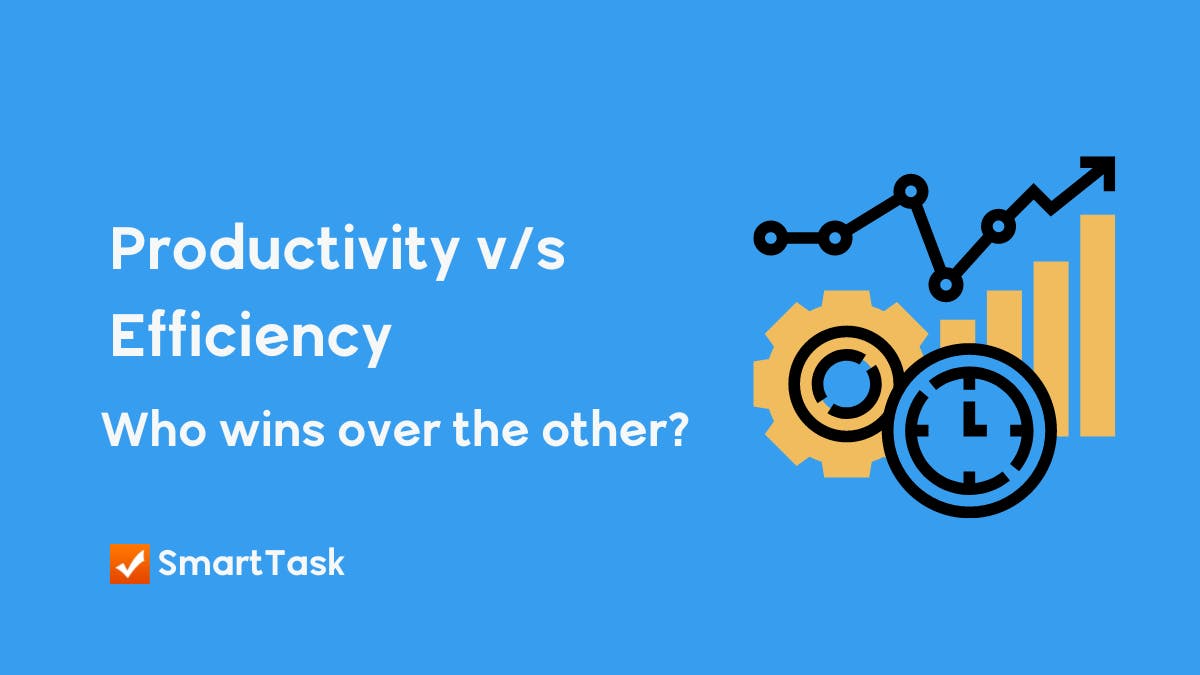 All employees and workplaces are unique. Today, a few modern companies adhere to the traditional 9 to 5 working hours. With the growing differences in organizations, founders often find their employees spiral out of control.
The upper management roles themselves struggle while choosing the right metrics to measure an employee's efforts in deriving the desired business goals. Among these metrics, the two most popular ones to consider are – productivity and efficiency.
Productivity and efficiency are the two terms that are usually used interchangeable. But the relationship between the two is often more complex than what is generally presumed in day-to-day workforce management.
Productivity v/s Efficiency: What's the difference?
Overall performance at work can be improved if employees learn to maximise their productivity. The speed at which a shoe factory can make shoes is an example of productivity.
On the other hand, the ability to produce something with the least amount of effort is defined as efficiency. A reduction in the number of people required to manufacture a car is one example of efficiency.
Take some time to understand the difference between productivity and efficiency, if this feels like the puzzling case of whether it is "tomato" or "tomahto."
Quantity v/s Quality
While productivity stresses on the quantity of work completed, efficiency focuses on the quality of work completed.
For instance, assume you're constantly deriving results at a high rate. However, your work has far too many errors. This means you might need more time to review and correct these errors. Thus, even if your amount of productivity was higher, your inefficiency in your task won't help you reach your goal.
Raw v/s Defined measure
Productivity may refer to the amount of work done within a specific duration. It's simple to measure productivity, which is why so many organizations concentrate on it. They usually calculate productivity by comparing output over a same length of time.
While productivity is defined as the amount of work done per unit of time, efficiency is defined as the best possible output for each unit of time. That is, by doing everything correctly, you accomplish your highest level of efficiency.
But how should you analyse the performance of anything?
Measure of productivity
Assume you own a business that generates $100,000 worth of goods per week (output). This is accomplished by the use of 1,000 labour hours (input). In order to calculate your company's labour productivity, divide 100,000 by 1,000, which equals 100. This means that for every hour of work, your organisation earns $100.
Measure of efficiency
Consider a writer A at an agency who produces 10,000 words per week. Whereas another writer B only produces 5,000 words per week. Here, writer A appears to be more productive writer B. That could be true if writer who wrote 10,000 words had minimal error rate.
In this case, writer B is definitely more efficient than writer A, since writer with 10,000 words requires 20 hours of editing and proofreading whereas writer with 5,000 words is error-free and can be posted easily.
How can you maximise productivity and efficiency at workplace?
Constantly switching from one task to another (multi-tasking) can prove to become stressful to the brain, making us less productive. Try incorporating the 1-3-5 rule into your work routine instead of handling multiple projects at once. This method works by handling the most difficult things first, then moving on to medium-level jobs, and finally finishing the day with the simplest and tiniest tasks.
Some of the effective ways in which business leaders may boost employee productivity and efficiency are as follows:
1. Build the right company culture
Employee productivity blooms in work culture where leaders emphasise on nurturing employee relations. Companies that focus on hierarchy-driven management style hinder productivity. This starts with organisations modifying their recruitment, assure that new employees work well with others to empower current employees.
2. Establish an employee wellness program
Almost any organisation can easily see the link between wellness and performance. When employees' needs are met via a wellness programme, employers spot high employee engagement, morale, presenteeism, and retention. A well-being programs builds better working environments where employees become assets that drive positive impact on productivity, eventually leading to greater profits.
3. Promote internal communication and collaboration
When you optimise the patterns of your internal communications, employees win an easy access to all the information he/she might need. When your employees get the right information at the right time, they get to spend productive hours doing their jobs, rather than screening through multiple documents or waiting for one of their colleagues to answer a mail, to receive the required data.
4. Set a platform for employee recognition and rewards
The reward for good work inspires an employee to work harder and more productive. Data from the Harvard Business Review suggests that 82 percent of Americans don't feel their supervisors recognise them enough for their work. Additionally, 40 percent of Americans also stated they would put more effort into their work if they were recognised more often. So no matter how big your business is, awards based on your employees' preferences and tastes will enhance their work ethic. For example, you can look for ideas on Fineawards and customize awards more individually.
5. Design an effective feedback system
When employees are provided with regular, real-time feedback, they are more likely to stay engaged. Engaged employees ultimately rise as better performers. Additionally, new-age performance management tools provide better direction by allowing employees to skilfully progress towards their goal. This indeed boosts productivity and efficiency at workplace.
Finally, who wins over the other?
Business leaders who have a productivity mindset do everything they can to align the company's mission with employee goals. A productive work culture fosters an environment of accountability, giving each employee the freedom to do their best work. While these steps may not inspire every employee, they can help the organization's overall level of inspiration and, as a result, workforce productivity.
As per the findings of Harvard Business Review, the most productive companies are more than 40% more productive than the rest. This difference in productivity drives significantly higher profits, operating margins of 30–50 percent higher than industry leaders.
While the above gives us an edge towards productivity over efficiency at workplace, there are other factors that favour efficiency over productivity.
When evaluating the performance of processes, efficiency is a better area to focus. Even though efficiency covers similar grounds as productivity, it's most useful when used to assess the redundancy in the process of achieving a specific goal.
Both have their place, and neither can be ignored completely in order to get a complete picture of how something is performing. However, both have flaws in terms of their application.
It's worth noting that the true answer to the question of productivity vs. efficiency can be neither. If you focus on productivity and efficiency alone without consideration for employee well-being.
This is a guest post by peopleHum. peopleHum is an end-to-end, one-view, integrated Human Capital Management automation platform, the winner of the 2019 global Codie Award for HCM that is specifically built for crafted employee experiences and the future of work.