SmartTask
Contents
Free Project Management Software — The 18 Best Tools in 2023
By Angad SinghFeb 6, 2023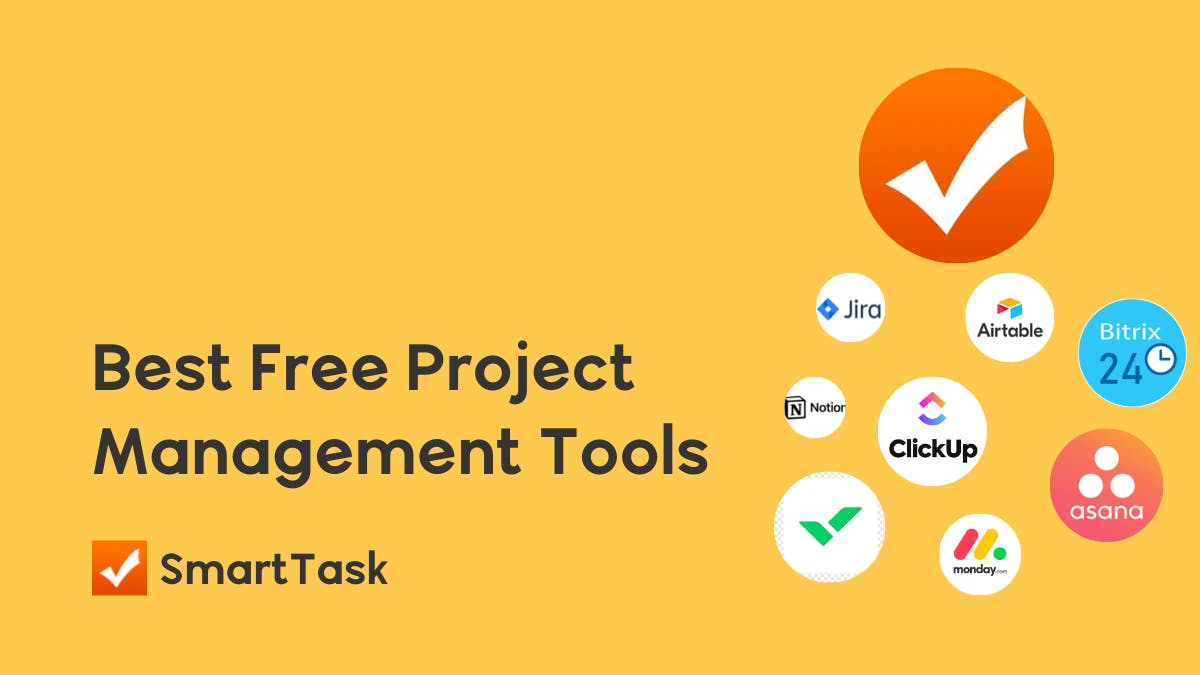 Most project managers, or at least the good ones, know that the right tech is essential to the job. Whiteboards and sticky notes just don't cut it anymore.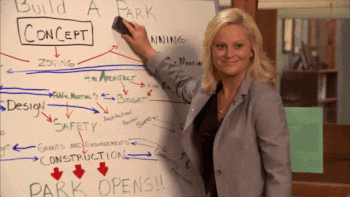 But it isn't easy to convince your CFO to pour thousands of dollars into management software. If the current economy is any indicator, the conversation is only going to get harder.
The good news is that plenty of free project management software exist in the market. If you do your research right, you can find one that's perfect for your business.
Here's a list that'll help.
18 Best Project Management Software You Can Sign Up For
1. SmartTask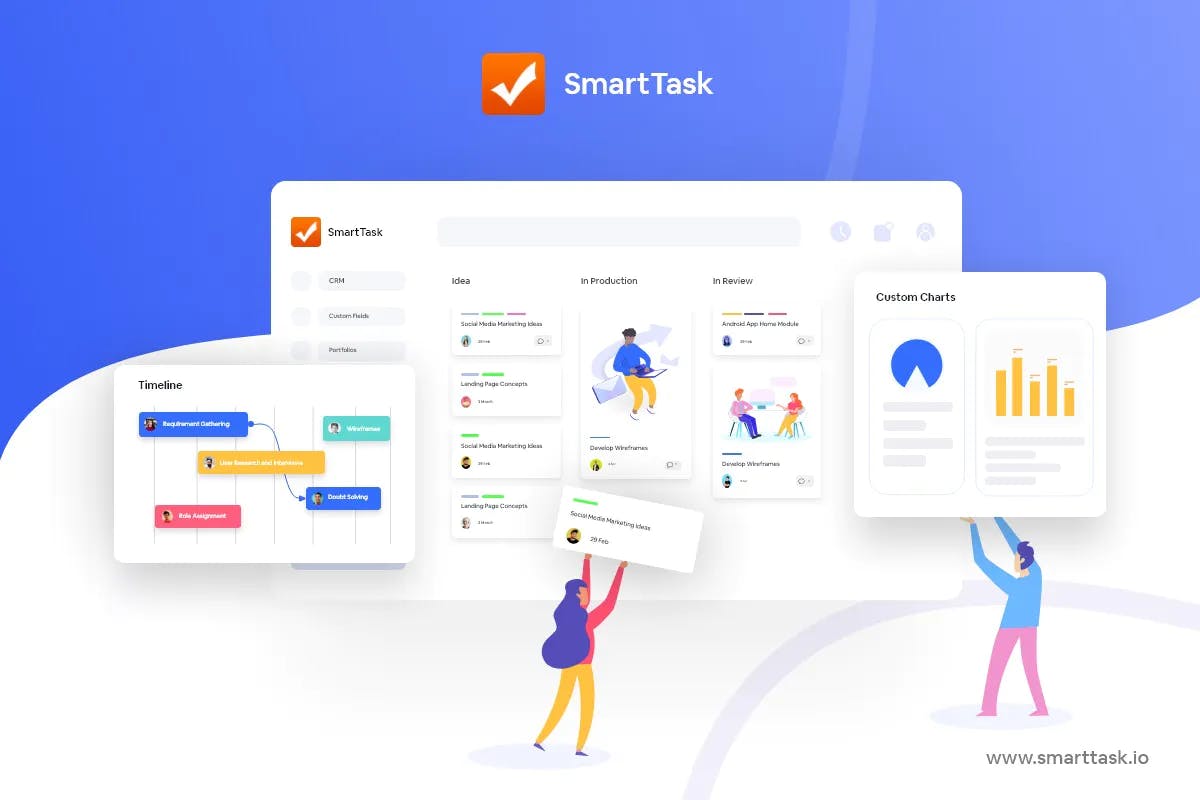 You want to do more with less? Makes sense to get your hands on a free, all-in-one work management tool.
The problem with most? They're not just all-in-one but all too complex. That paradigm shifts when you sign up for SmartTask. Whether you're on the free plan or an enterprise user, the tool's simplicity stays intact.
Not at the cost of power, though. From simple task management to keeping tracking of portfolios, all is possible. Even for free users.
What you get in the free version
Unlimited tasks, users, and projects
Custom fields
All project views unlocked (List, Kanban, Calendar, and Gantt)
Milestones and dependencies
Pre-made and custom templates
Portfolio management
Custom dashboards
Instant messaging, voice calls, and video conferencing
Resource scheduling & workload management
No limit on integrations
24*7 email support
Biggest limitations for free users
Cannot record calls made via SmartTask's VoIP
Some features like portfolios have a 100-use limit
Priority support is available from the $5/user/month plan
Why you should sign up
We love small businesses and strike custom deals with startups all the time. So, even when you outgrow the free plan, we'd make sure that your workflows have a home.
2. Trello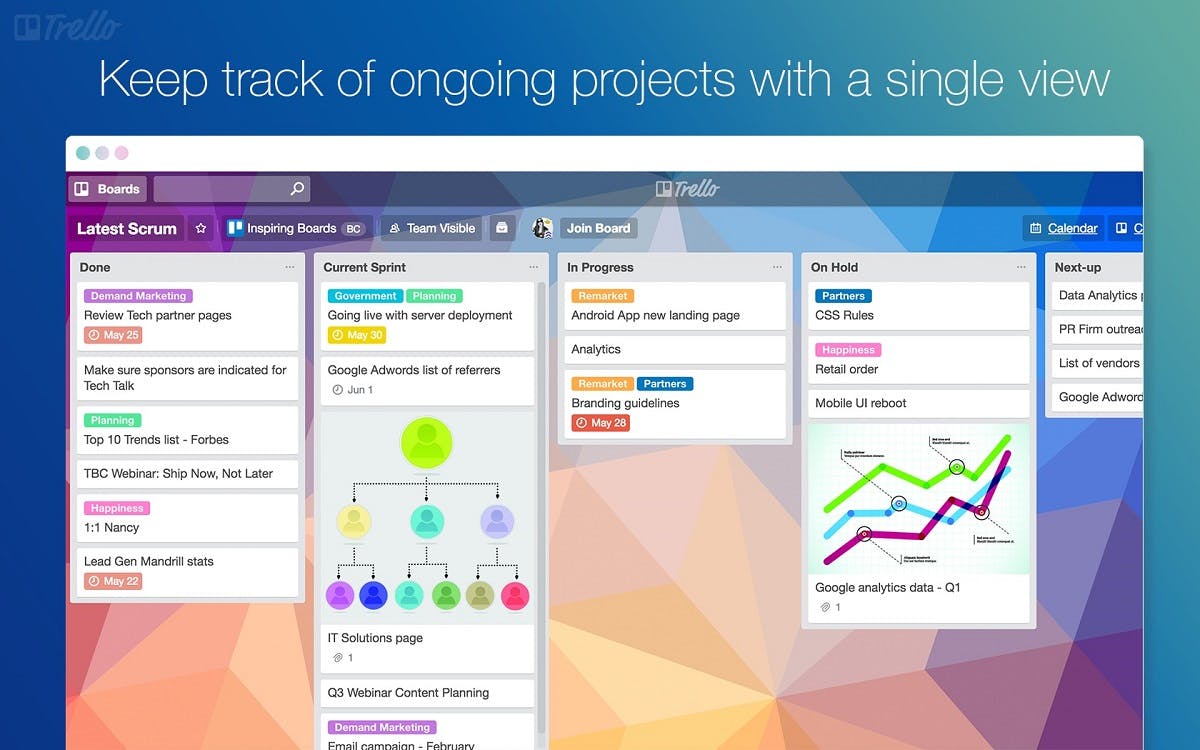 Trello came to light in 2011 and has stood the test of time since then. It's simple to use and rarely causes any adoption woes. It offers one of the most nuanced Kanban-based project management experiences out there, and is available in 20+ languages.
The free version is good enough to get you started, and an upgrade to the entry level plan is also well-priced.
The problem? The cheapest upgrade isn't much of an upgrade at all. It only gives you custom fields and the ability to invite guest users to boards. To use multiple project views and get access to better support, you'd have to pony up $10/user/month.
What you get in the free version
Unlimited cards
Built-in automation
Mobile apps
Unlimited activity logs
Templates
2-factor authentication
Trello Power-Ups (apps you can add to trello boards to make them more functional)
Biggest limitations for free users
Can only create up to 10 boards per workspace
No additional project views
Can't create custom fields
Why you should sign up
Trello offers a great Kanban experience and is easy to learn (even if you aren't the most tech-savvy
3. Asana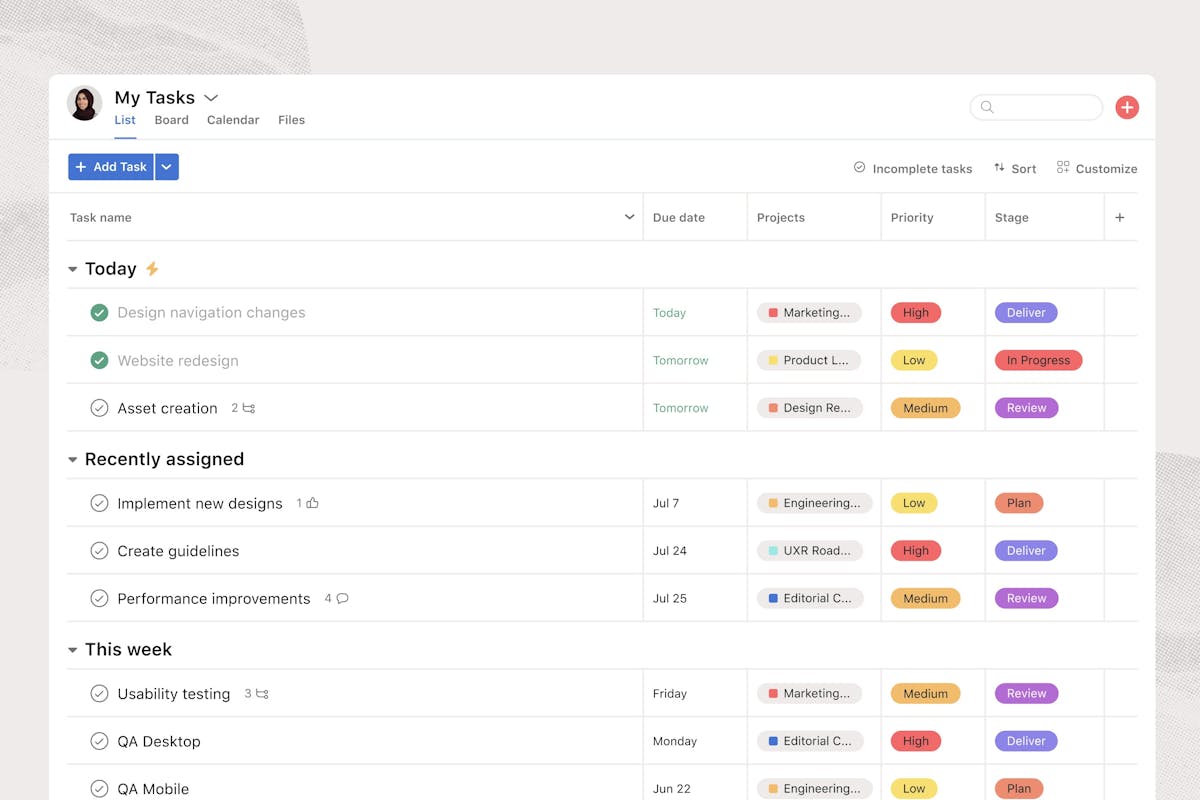 Asana has a lot going for itself. It's trusted by the likes of The New York Times, Spotify, Deloitte, and NASA.
Well, that's on top of the fact that its co-founders are silicon valley legends. One of them is Facebook's ex-VP of engineering and the other is an ex-product manager at Google.
The calming UI makes using the app feel nice to use. The extensive support docs ensure you don't have to stare at walls when you feel stuck. Even the tool's free version is pretty generous and offers several pro-level features for $0.
Where things take a turn for the worse is in the pricing for Asana's pro plans. The entry-level paid tier costs $10.99/user/month, and that's when you pay yearly.
What you get in the free version
Unlimited tasks and projects
Unlimited messages
Unlimited activity log & file storage
List, Board, and Calendar view
Mobile apps
Native integrations with time-tracking apps and more
Biggest limitations for free users
Can't create custom fields
Don't have access to Timeline view
Can't host more than 15 team members
No reporting & dashboards
No templates to kickstart projects
Why you should sign up
Asana is time-tested, has a clean UI, and doesn't run into performance issues even for large projects
4. monday.com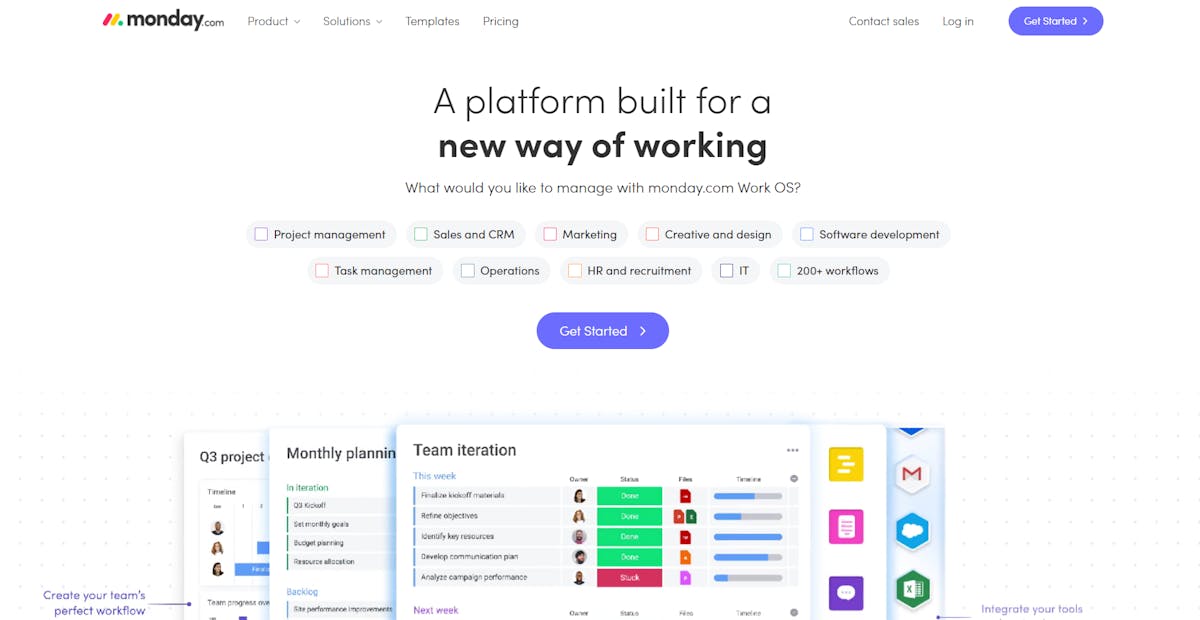 monday.com feels like software made with a boxful of crayons and we mean that in the best way possible. It boasts a vibrant UI which eases you into the tool's vast customisation abilities.
Like Asana, monday.com is also trusted by Fortune 500 companies, and covers many use-cases. The platform splits into five tools: Work Management, Marketer, CRM, Projects, and Dev.
The tragedy is that monday.com is not the best choice for free users. You can't add more than 2 team members to a board (which you also can only create 3). The entry-level upgrade offers a much-better experience, and goes for $8/user/month.
What you get in the free version
Mobile apps
Different column types (though not all that monday.com offers)
200+ templates
Docs, whiteboard, and shareable forms
Dashboards (1 per board)
Kanban view
Two-factor authentication
Custom notifications
Extensive self-serve knowledge base
Biggest limitations for free users
Can only add 2 team members to a board
Can't create more than 3 boards
Customer support can take long
No integrations, automations, and guest access
No time tracking and formula columns
Timeline, calendar, map, chart, and workload views are absent
Why you should sign up
monday.com is only good for solo users in its free plan. You're better off trying the free trial for premium plans if you want to test the platform's capabilities.
👉 Monday lacks portfolio view even for paid tiers. SmartTask's free plan doesn't.
5. ClickUp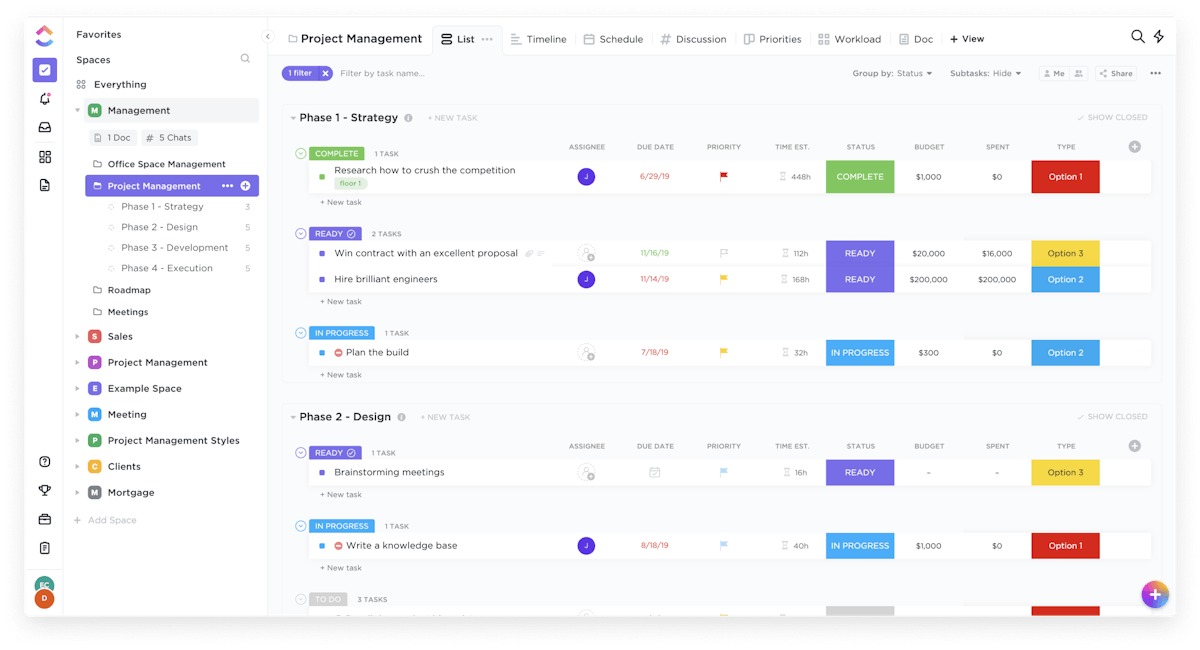 ClickUp has one of the most sensational growth stories out there. Live since 2017, the software is now valued at $4 billion.
Its pricing plans are more than generous and suit the needs of varying team sizes. Even the free-forever version is feature-packed to the brim and gives small businesses enough juice to amp up productivity.
The irony is that ClickUp's biggest strength is also its weakness. The interface has features dripping from every corner, which can quickly turn overwhelming. Large projects can resemble an overcrowded mess, prompting you to look away from the screen.
Another concern with ClickUp: Reports of performance drops. Even the tool's own subreddit can't stop talking about in-app slowdowns. The good news is that these can soon become a thing of the past. ClickUp 3.0 is set to launch on 28 Feb 2023 and will likely come with massive performance improvements.
What you get in the free version
List, Board, and Calendar views
Gantt charts for 100 uses
Timeline and Workloads views for 100 uses
Portfolios for 100 uses
Custom fields for 100 uses
Docs, mind maps (for 100 uses), and 3 whiteboards
Chat
In-app video recording
Time-tracking (without timesheets)
Integrations
Two-factor authentication
Biggest limitations for free users
The 100-use stipulation on several features
No shareable forms
Can't create recurring tasks
Can't create formula columns
Why you should sign up
Free users can get more mileage out of ClickUp's free plan than the paid entry level plans of a few similar tools. Paid tiers are also reasonably priced.
6. Wrike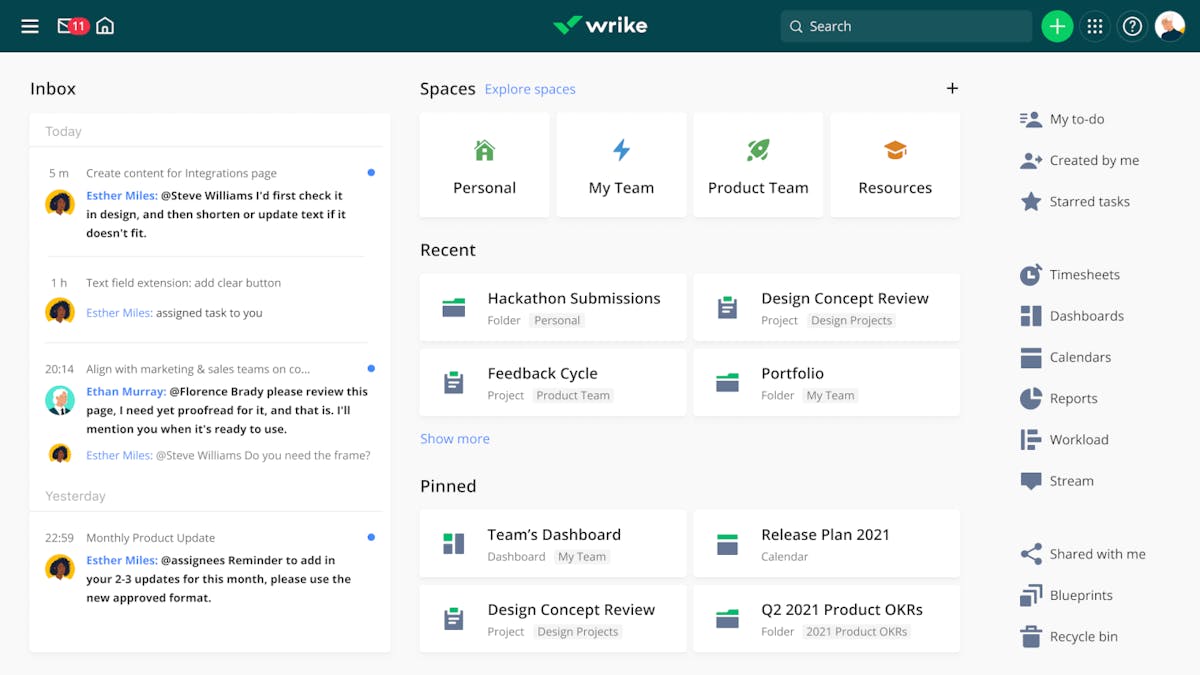 Now boasting a cleaner UI, Wrike (or Wrike Lightspeed) is another option you can take for a spin for $0.
In the free plan, you get to set up task lists for unlimited users. You can also lay out info on a Kanban board or table. The 2 GB storage limit does sting, but not if you don't plan on working with lots of media files.
All in all, what's at offer is a mixed bag. You have access to AI-powered work intelligence but can't use Gantt or calendar views. Our two cents? Wrike is a much better paid tool than a free one. Its pro features (most of which are available in the $24.80/user/month plan), offer a meaty update when you're ready to foot the bill.
What you get in the free version
Tasks & sub-tasks
Work Intelligence (AI assist to make workflows faster)
Mobile apps
OCR document processing on mobile apps (ability to encode text from images)
Board/Kanban view
Project templates
Biggest limitations for free users
Custom fields are restricted to paid plans
No portfolio management
Calendar and Gantt views are absent
Dashboards and real-time reports are also inaccessible
Can't use automation
No time-tracking and resource management features
Why you should sign up
Wrike's free plan has enough to get you started. But, it's best to sign up only if you see yourself using its paid version in the future.
7. AirtTable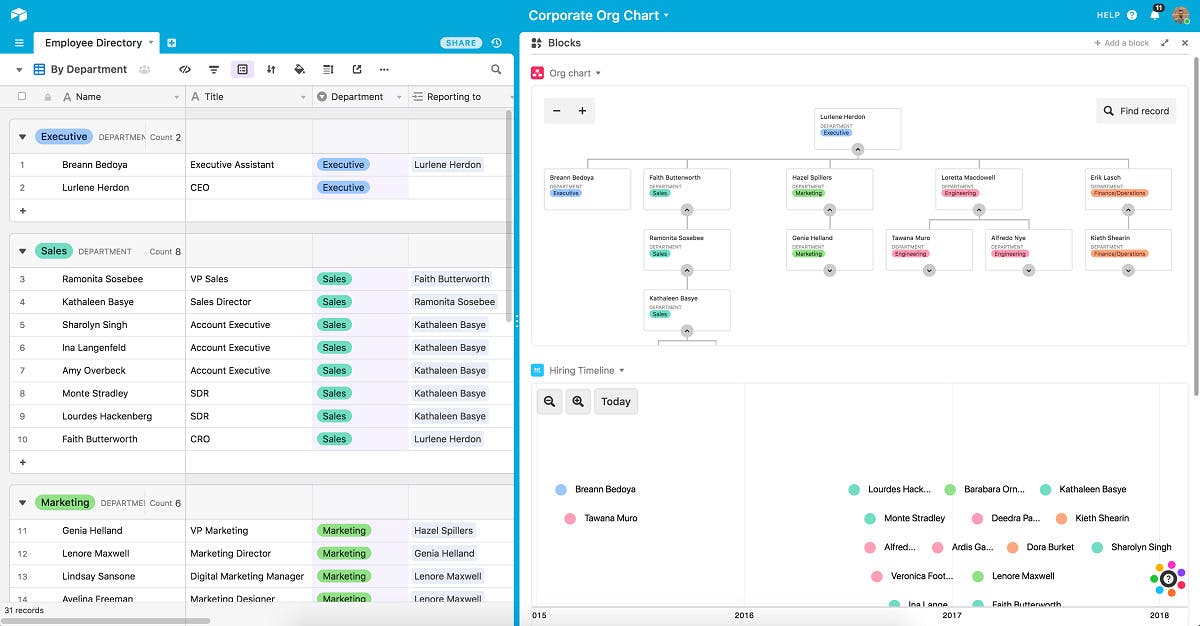 AirTable is a relational database. Meaning, you can use it to create apps of varying complexity. A free project management software happens to be one of its supported use-cases. The UX — a colorful one at that — does its best to ensure you're not dazed and confused when using the app. For the most part, it succeeds.
For the $0 plan, you get to use the grid, calendar, form, Kanban, and gallery views. That's a fair amount of customization to tinker with. Next, AirTable's interface designer isn't locked behind a paywall. So, if you're ever in the mood to use your work management tool to design custom apps, you can.
There's an entry level plan as well, but it's only a small step up from the free plan. The most bang-for-buck upgrade will cost you $20/month/user. The downside? AirtTable uses per workspace pricing. So, you cannot have shared users for different workspaces. Well, without paying for a seat on each workspace, that is.
What you get in the free version
Unlimited bases
Revision and snapshot history of 2 weeks
Mobile apps
Grid, calendar, form, kanban, and gallery views
Interface designer
1 extension per base (extension are AirTable apps that enhance functionality. Examples are Pivot Table, Chart, Search, and CSV import)
100 automation runs per month
Biggest limitations
No personal view
No Gantt or Timeline view
Can't use time-tracking alongside any other extension
No workload management
Bases and tables have a limit of 1200 records
Can't sync more than one table per base
48-hour response time for support
100-use limitation on automation
Why you should sign up
AirTable is ridiculously customizable and has an extensive online knowledge base. However, you may want to look elsewhere if you want a free project management tool that works right out of the gate.
8. Teamwork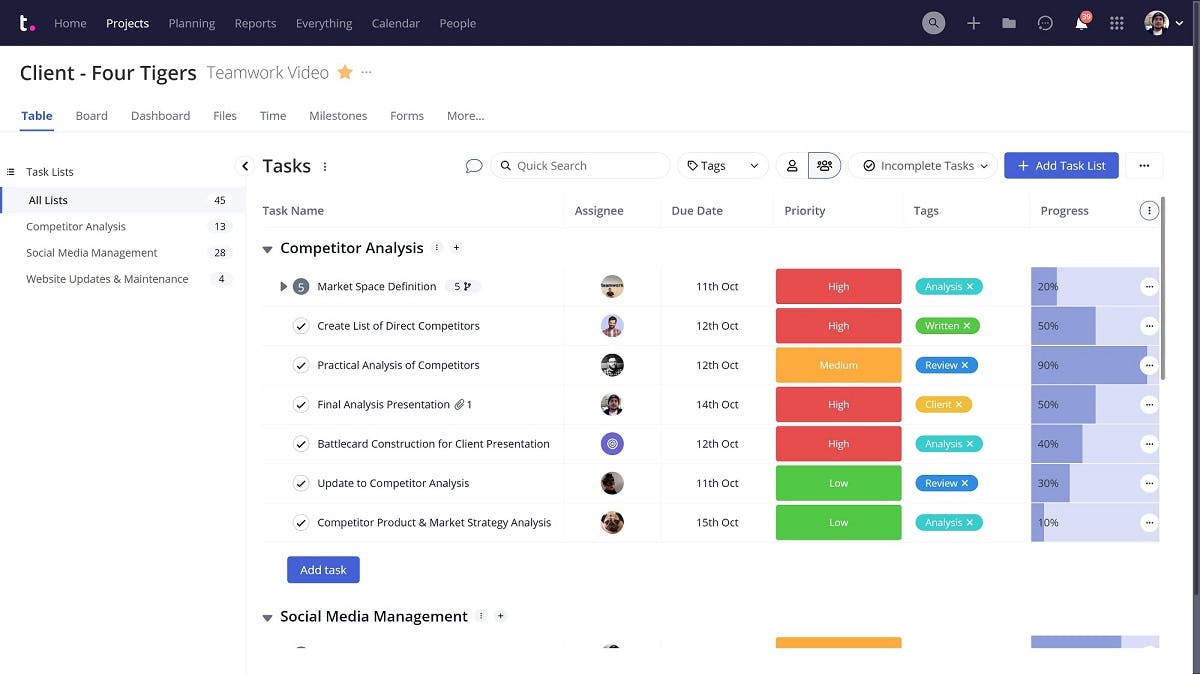 Teamwork brands itself as the platform actually built for client work. But, is this a tall claim or something rooted in truth? Well, 100% the latter given how even the free plan allows you to onboard unlimited client users.
In fact, very few features need you to put in your credit card. All project views, including Gantt, come unlocked once you sign up.
The bummer is that you can't manage teams with more than people on the free tier. The number of projects you can create are also limited to two.
What you get in the free version
All available project views
Tasks and sub-tasks
Dependencies
Time-tracking with timesheets
Unlimited client users
Team chat
Document management
Invoices
Different themes to personalize Teamwork
Mobile apps
Biggest limitations for free users
Can only create two projects
Can't have more than 5 members in your team
100 mb storage limit
Portfolio management is unavailable
Gantt charts have limited functionality
Can only create two custom field and templates
Why you should sign up
The free version is great to understand to test Teamwork out. If all goes well, you can purchase the entry-level upgrade ($5.99/user/month) which supports 100 projects.
👉 SmartTask supports unlimited guest users for $0. That's without any limit to the number of projects you can run.
9. Notion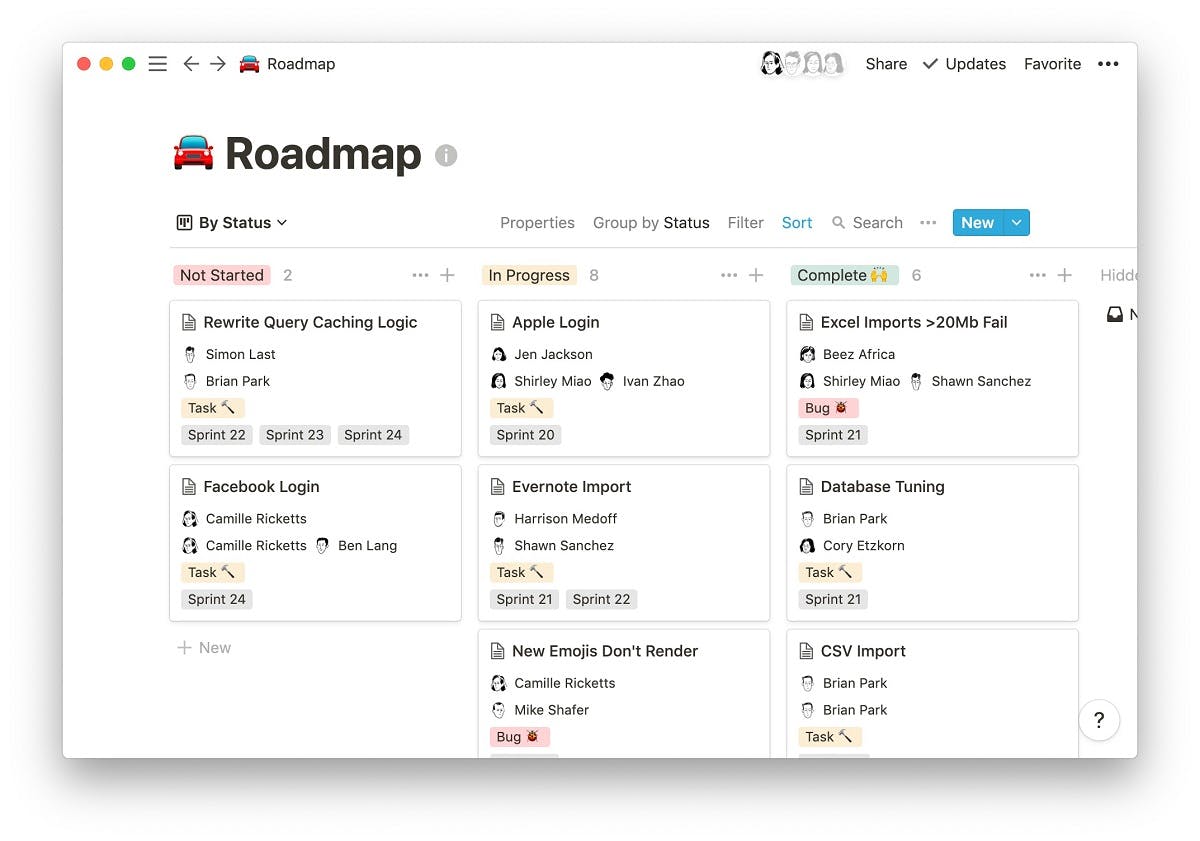 Most people think of Notion as a beloved note-taking app. But, much like AirTable, it is a set of lego blocks that can scale to so much more. A full-blown free project management tool happens to be one of those possibilities.
Used by teams at Pixar, Loom, Headspace, and Figma, it is great for both personal use and collaboration. The caveat? Notion's free plan isn't conducive to team workflows. When more than two people use the app, they face limits on how many blocks they can create.
Purchasing the $8/user/month plan is a nice workaround here. Still, there are tradeoffs. Unlike some other tools on this list, Notion lacks advanced work management features. For example, you can't use it for resource or project portfolio management.
What you get in the free version
Unlimited pages & blocks for individuals
Page history for up to 7 days
Ability to invite up to 10 guest collaborators
Two-way integrations with Slack, GitHub, Zapier, and more
Public API
Biggest limitations for free users
Page history is too short
Teams can't get value out of the free plan
The ability to create unlimited synced databases
Lack of priority support
Why you should sign up
Notion has a beautiful UI and functions as an excellent second-brain. Plus, it has a lovely online community that has contributed tons of templates.
10. Runrun.it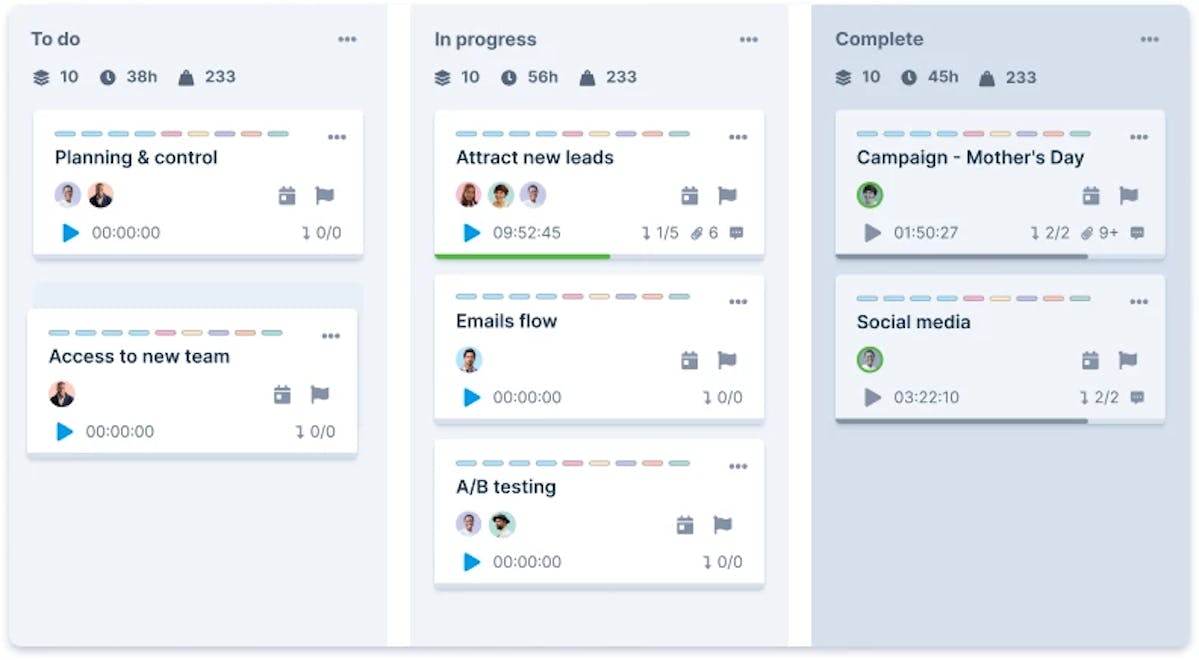 Rooted in Sao Paulo, Brazil, Runrun.it is among the underdogs on this list. It comes with a clean UI that users find easy to adopt. Nuanced time-tracking features sweeten the deal further, which even free users can access.
In fact, there's little that you don't get in the $0 plan. Dashboards, burnup charts, Gantt view — they're all available on the free tier. So, why consider paying at all?
Well, two reasons. One: If you want the ability to set up integrations. Two: To access Runrun.it's exceptional support. Even email support is out of the question if you aren't a subscriber.
What you get in the free version
Unlimited projects & tasks
Ability to set up 20 boards
Unlimited guest users
500 mb storage per user
Dashboards
Smart time tracking
Cost mapping and control
Burnup charts and Gantt view
Mobile apps
Biggest limitations for free users
No support available
Can't set up any integrations
Can only add 5 users
Can't allocate tasks to more than 5 users
No activity log
Why you should sign up
The free plan is a good bet for small teams and the tool is easy to adopt. Even the entry level upgrade, which unlocks support, is affordable ($8/user/month).
11. Paymo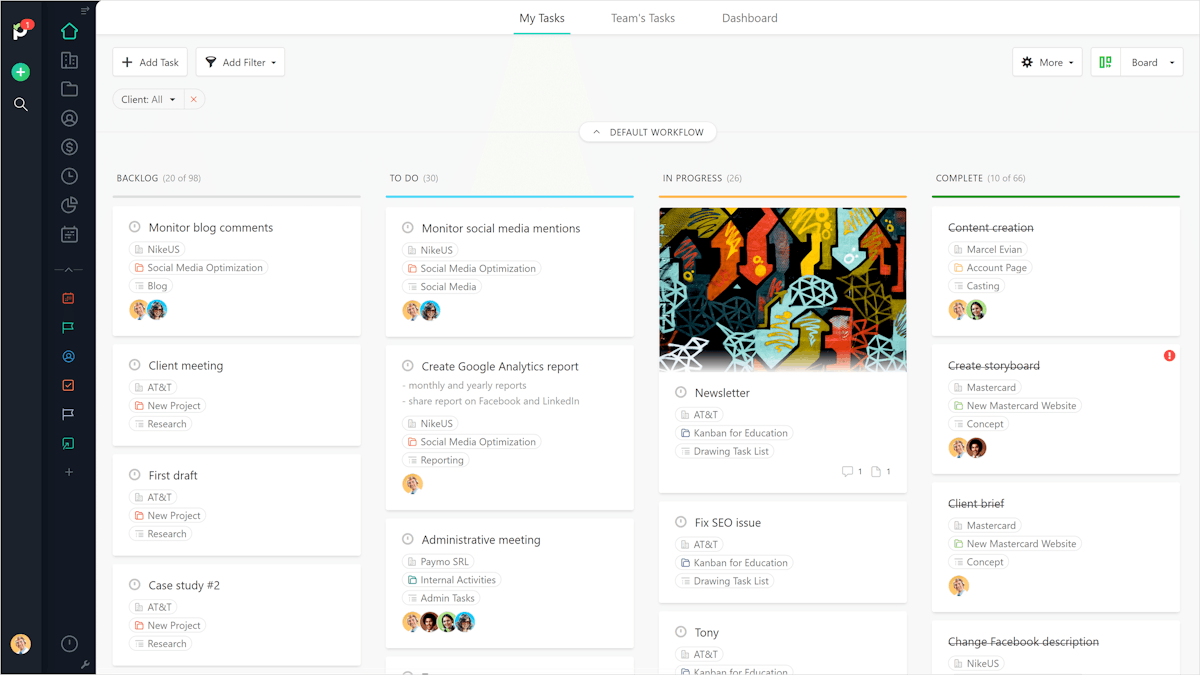 Initially, Paymo did one job well: Time-tracking. Now, it has grown into a complete work/client management platform. A terrific one at that.
From its UX to its feature-set, everything is fit for modern users. With support for 22 languages, Paymo also fares well with inclusivity. But the praise doesn't extend to the free plan. The sharpest pain herein is the 50-task limit. That's way too low for even the most modest of business workflows.
Making matters worse is the presence of this bottleneck in the entry-level plan. Even after paying $4.50/user/month, you can't create more than 100 tasks.
What you get in the free version
Ability to create projects & tasks
Option to add 3 client contacts
Unlimited invoicing
Native time-tracking (with support for 100 time entries)
List, Spreadsheet Table, Kanban, and Calendar views
Ability to invite external collaborators with guest access
1 GB storage
Desktop and mobile apps (with time-tracking)
Biggest limitations for free users
Only one user can access Paymo for free
Can only create a maximum of 50 tasks
Time-tracking module is limited for free users
Portfolio and Gantt views are absent
Resource management features aren't accessible either
Why you should sign up
There's not much incentive to use Paymo's free version. However, it's a phenomenal choice if you subscribe to its Small Office ($9.95/user/month) tier.
12. Hive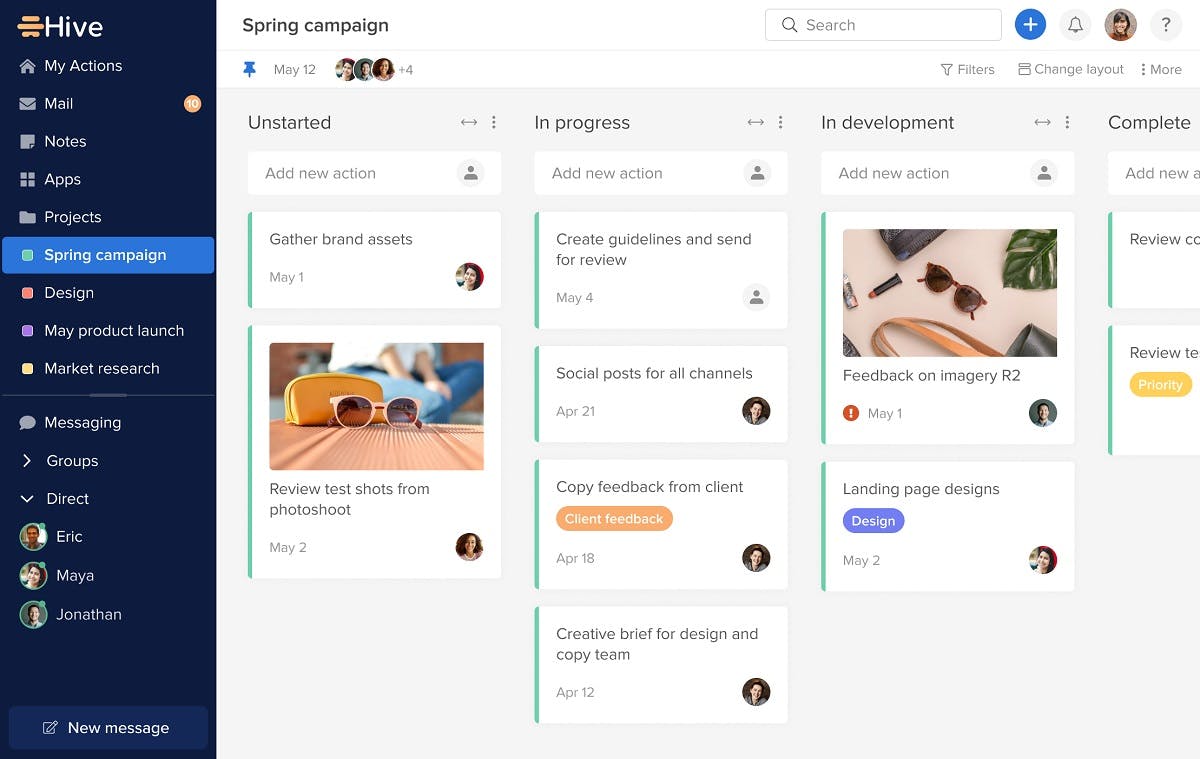 Hive displays an admirable commitment to transparency. Their roadmap has been public from the get-go, and the direction they have taken has had heavy user sign off.
The tool's free plan offers real value, and isn't designed to force an upgrade. All project views come unlocked, albeit with some terms and conditions. Even Hive mail and chat are free to use, making in-app collaboration a breeze.
Only if the paid tiers were more affordable, Hive would've made it to the top 3 in this list.
What you get in the free version
Can create up to 20 projects with unlimited tasks
Unlimited notes
Custom fields for up to 200 uses
Advanced privacy controls for tasks and projects (can also use with external collaborators)
Gantt, calendar, and table view for up to 400 uses
One portfolio
Hive mail and chat
Google Calendar and Outlook Calendar integrations
Mobile apps
24/7 support
Major limitations for free users
The 400-use limitation on certain features
Can add a maximum of 10 users on the free tier
No custom dashboards or project analytics
Can't collaborate on notes
No proofing, time-tracking, and resource management capabilities
Why you should sign up
Hive's free plan offers plenty for small teams to achieve productivity gains. But know that when you plan on upgrading in the future, the cheapest you can do so for is $12/user/month.
👉 SmartTask's feature-set matches Hive's, with paid plans starting from $5/user/month.
13. Nifty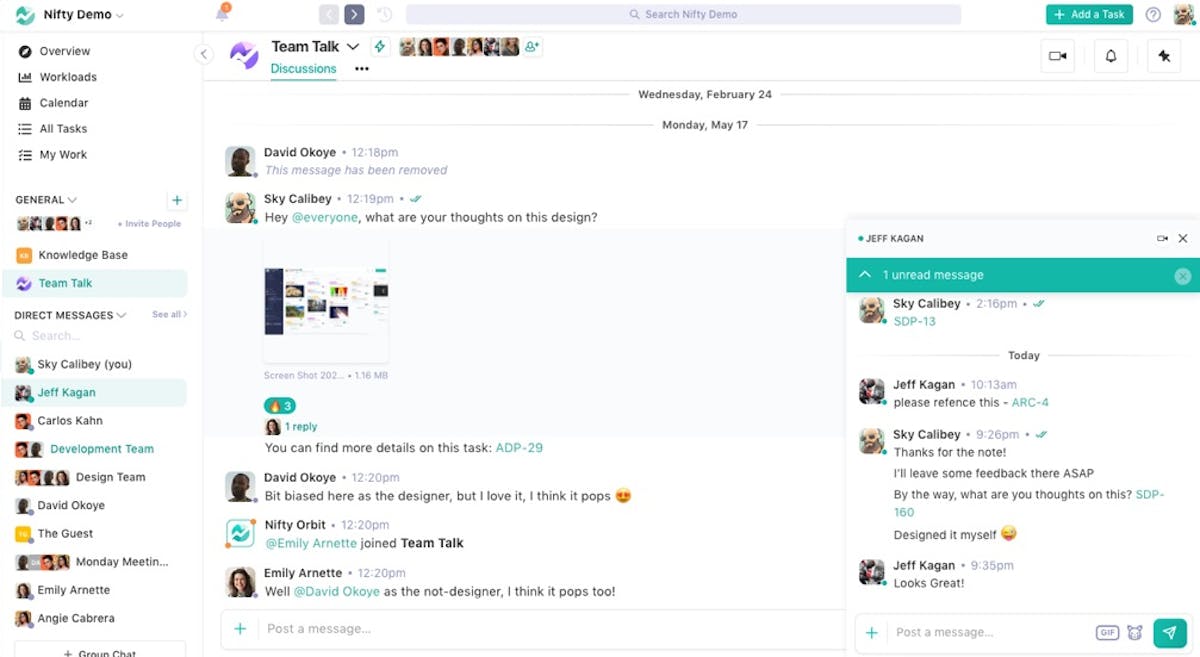 From its pricing to its UX, Nifty PM embraces simplicity all the way. The tool doesn't come with per user pricing, and has various flat-priced tiers to choose from.
The tool's free version is decent value, and locks little behind paid plans. All project views are accessible without any usage limits. But, the generosity doesn't extend to the number of projects you can create.
On the free plan, unlimited users can collaborate on more than 2 projects. The entry level upgrade, which supports 10 users and costs $39/month, extends the project limit to 40. For the price, it's a good deal since this plan also has time-tracking unlocked.
What you get in the free version
Ability to create 2 projects for unlimited users
Milestones and task dependencies
Docs
Team chat
All project views the tool offers
Portfolios (which can't have more than 2 projects)
Two-factor authentication
Major limitations for free users
Can only create 2 projects (which is too low for most businesses)
Can't create custom fields
No time-tracking
No proofing capabilities
Can't set up automations
Little support apart from the self-serve documentation
Why you should sign up
The free plan's 2-project limit stings but the entry-level upgrade is a phenomenal deal.
14. Zoho Projects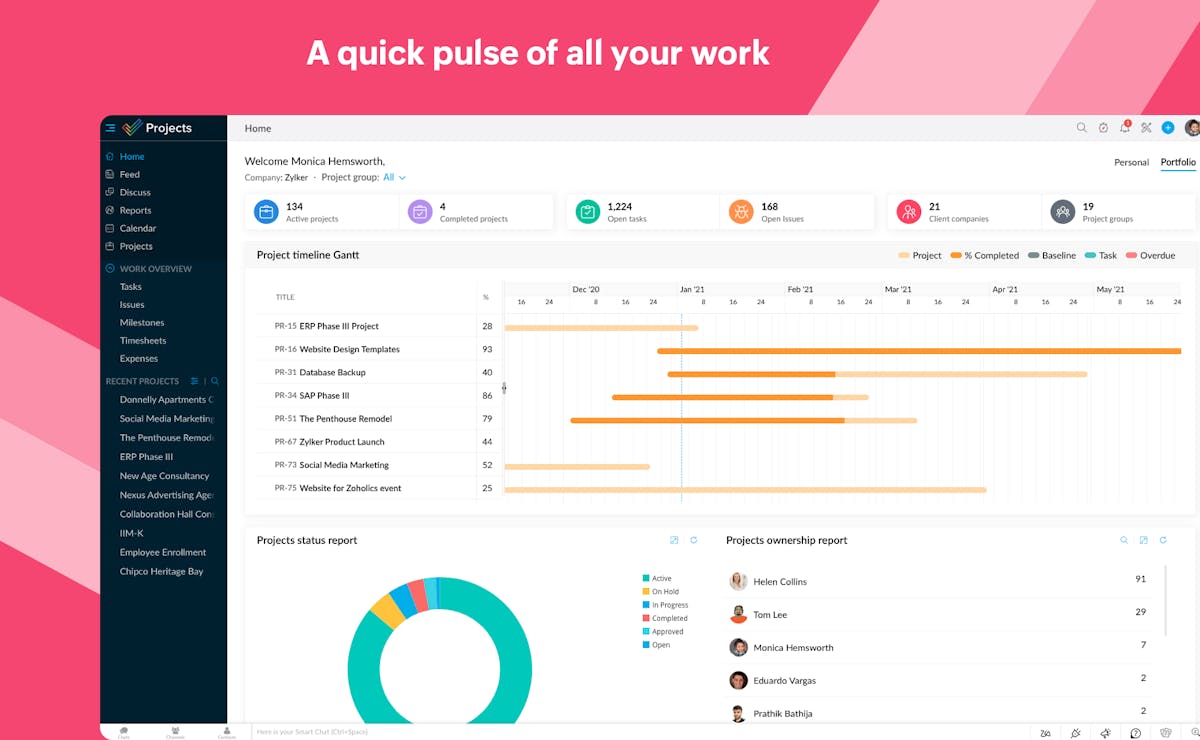 Zoho Projects has bang-for-the-buck paid plans. Even the enterprise plan costs half of what the likes of monday.com and Asana do. What about the free plan, though?
Well, it has serviceable Integration options, with Slack, Zapier, and Office 365 on the list. Gantt and calendar views are also available. But you can't create more than 2 projects. That's a big red flag for teams that manage several workflows on the daily.
Next, even basic task management is out of scope. You can't create sub-tasks or set reminders. Hardening the blow further is the app's dated UI.
The silver lining is that upgrading to a paid plan, which addresses most of these pain points, will most likely be within your budget.
What you get in the free version
Useful integrations with Slack, Zapier, and Office 365
Gantt, list, and calendar views
Project activity feeds
Dependencies
Easy integrations with other Zoho products
Major limitations for free users
Can only create 2 projects
Limited storage
Can't create sub-tasks or custom fields
Running agile workflows requires purchasing Zoho Sprints separately
No time-tracking or budgeting features
Even notifications and task reminders are missing in the free plan
Why you should sign up
The free version is quite limited. However, the paid tiers are a different story. We suggest trying out the free trial instead if Zoho Projects has caught your eye.
15.LiquidPlanner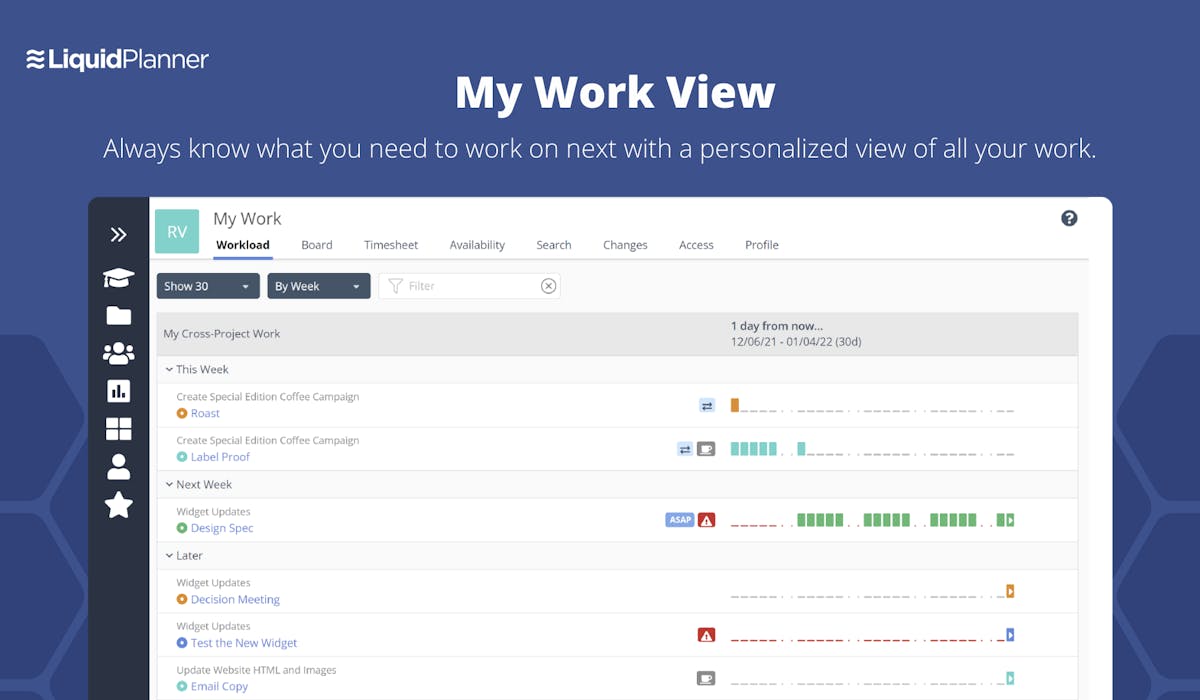 LiquidPlanner takes the second word in its name rather seriously. It comes with predictive scheduling, which helps you bring down project risk.
The tool's free plan has some tradeoffs, but offers plenty to earn your attention. The planning intelligence features that set LiquidPlanner apart are all available. Even automatic resource leveling isn't reserved for paid plans.
The biggest driver of friction herein is the 300-task limit. Another sign-up deterrent is the tool's UI which feels a little uninspired.
What you get in the free version
The ability to 10 projects and 6 non-human resources
Predictive scheduling
Time tracking
Resource leveling/workload management
Portfolio view
Multiple project views
Dashboards with widgets
Biggest limitations for free users
Can only add a maximum of 3 users
Can't create custom fields
Can't review timesheets
Project budgeting features are also absent
Why you should sign up
Predictive scheduling is a rare feature in a free plan. Plus, 10 projects are enough for small teams to get started.
👉 Want custom fields plus no limits on the number of users you can add? SmartTask has got you covered.
16. Avaza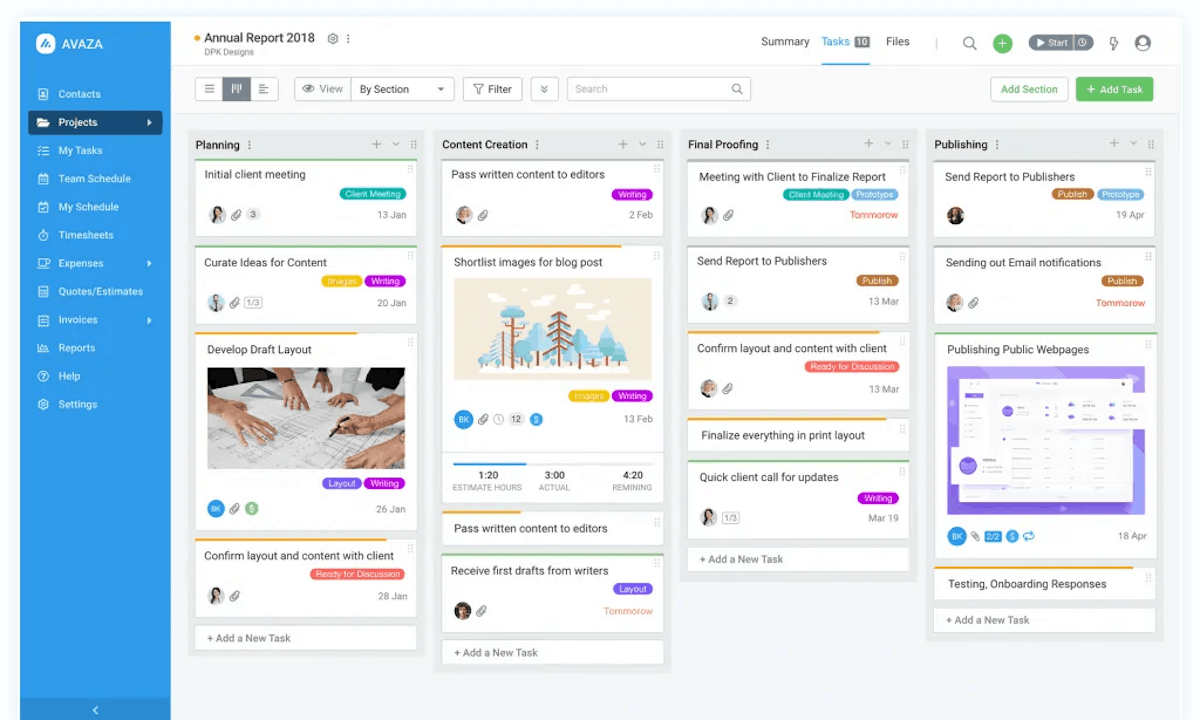 There's little innovation in Avaza's UX, but that's not a bad thing. It is a mish-mash of best practices that you're used to seeing in similar top-of-the-line tools.
Where it does have an edge is how wide its capabilities are. From running projects to billing clients, you can do it all from within Avaza. That rings true even for the tool's free version. Of course, there are limitations that'd nudge you towards paying up.
When you do consider an upgrade, prepare to budget for at least $11.95/month.
What you get in the free version
Unlimited project collaborators
All project views
Up to 5 active projects
Can create 5 invoice or bills per month
Time tracking
Team chat
Resource scheduling
Biggest limitations for free users
Support takes a while to get back to free users
The 5-project limit
Limited storage
Only 5 team members can use chat
Resource scheduling has constraints
Why you should sign up
Avaza's free plan is nice for small teams to get started. Access to time-tracking and chat, albeit limited, is rare to see in free plans.
17. Bitrix24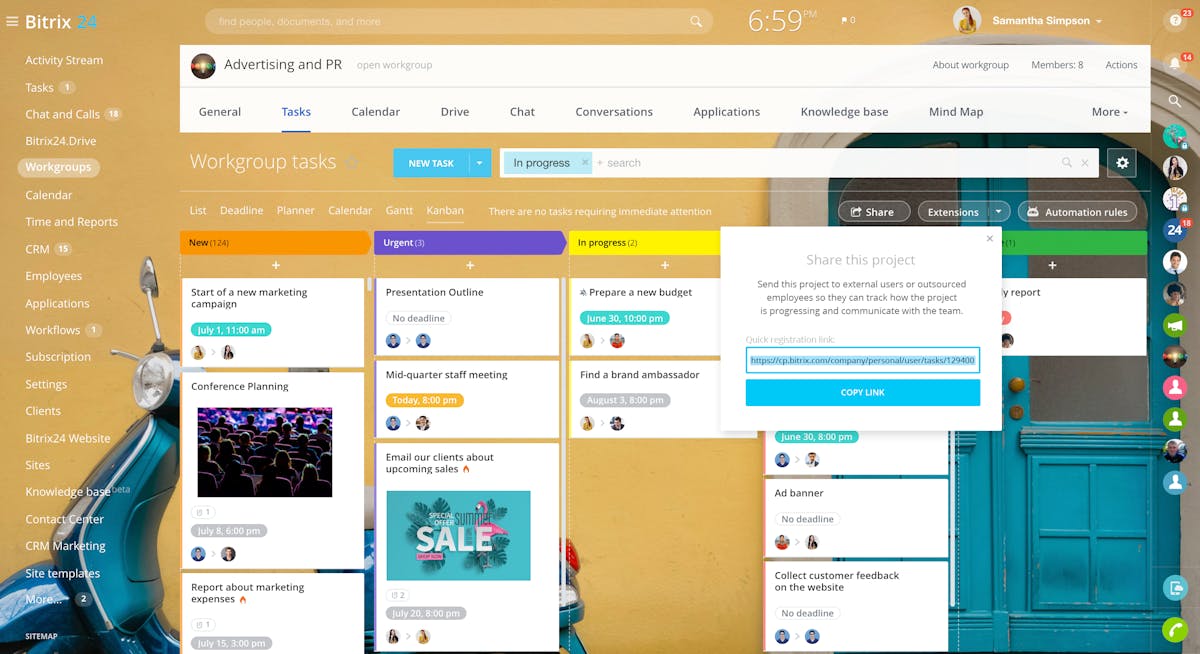 Bitrix24 calls itself the ultimate workspace. Granted how much the tool packs under the hood, the claim is fair. You can manage projects, make video calls, use the CRM, build websites, and more.
Its free version doesn't restrict you much, but some checks and balances exist. For instance, you can use the tool's video calling feature, but without screen sharing. Similar limits are present across the board.
So, the free user experience for Bitrix24 does have you cornered at times. The paid plans that offer more come with flat pricing. The cheapest upgrade will cost you $49/month for 5 users. The tier next to that, that most teams will want to purchase, supports 50 users for $99/month.
What you get in the free version
Task time tracking
All project views (Deadline, Planner, Kanban, Gantt, or Calendar)
Chat
One click HD video-calls (1:1)
5 GB online storage
Non-HD video conferencing for up to 48 members
CRM with limitations
Website builder
Biggest limitations for free users
No custom fields
CRM allows you to manage only one pipeline
Can't create more than 5 task dependencies
Cannot set up automation
No recurring tasks
Can't add observers to tasks
Why you should sign up
Bitrix24, even in the free plan, can help you reduce your SaaS spend. One tool does so much, and helps centralize your workflows. However, the paid plans can be a little out of reach for small teams.
18. Project.co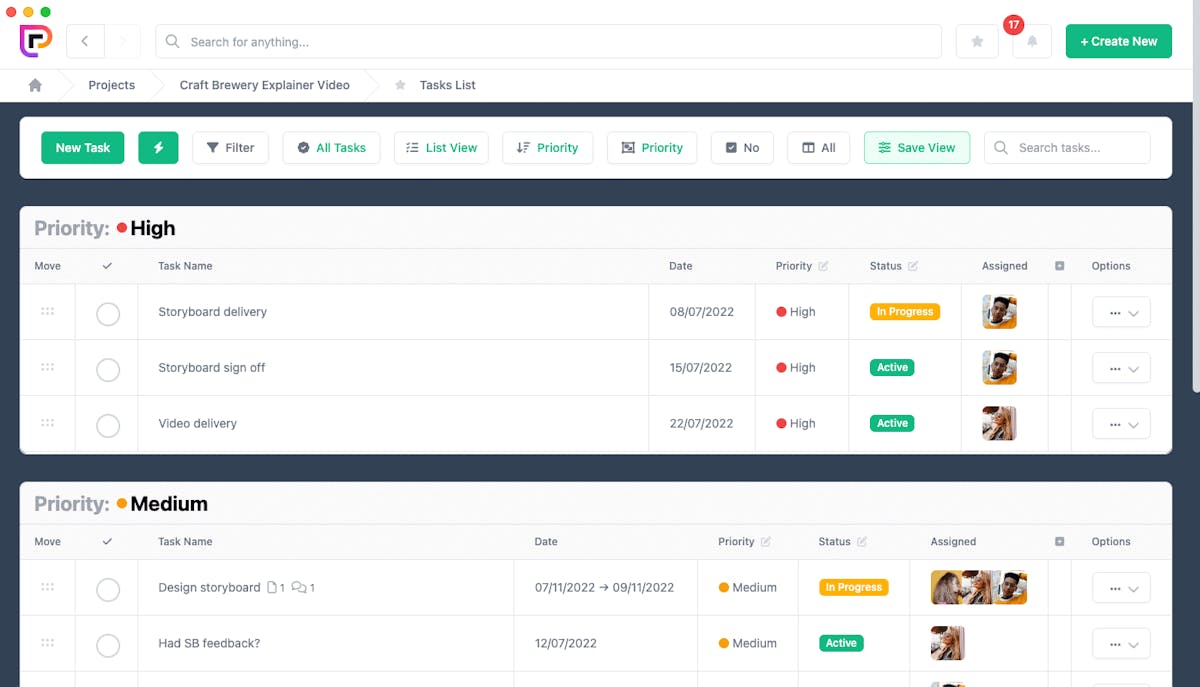 Like Teamwork, Project.co is a tool with a client work focus. Wearing simplicity on its sleeve, it exists as an alternative to tools with features you'll never use.
That's not to say that Project.co doesn't pack a punch. It lets you manage projects, track time, invoice clients, make notes, and connect with other tools.
The free plan does limit the number of users and projects you can set up but comes with all features unlocked. The most accessible upgrade you can buy when you're ready costs $8/user/month.
What you get in the free version
Chat
Tasks
Invoicing
Notes
File management
Time tracking
Unlimited collaborator users
Biggest limitations for free users
Can only add up to 5 team members
Can't run more than 10 active projects
Limited reporting capabilities, even in paid plans
Why you should sign up
Small teams & freelancers can ride Project.co's free plan for a long time. The upgrades are also appropriately priced.
Which Free Project Management Software is Best?
Well, now you know what your choices are. Time to arrive close to a decision. Our parting advice? Pick a platform that has fair pricing for each stage of your growth.
As your business expands, you'd feel the need to move on to paid plans. But you wouldn't want a price bump that's too steep. At the same time, avoid free platforms that don't give you a path forward.
We've been thoughtful of this balancing act when designing the pricing for SmartTask. Here's what we came up with:-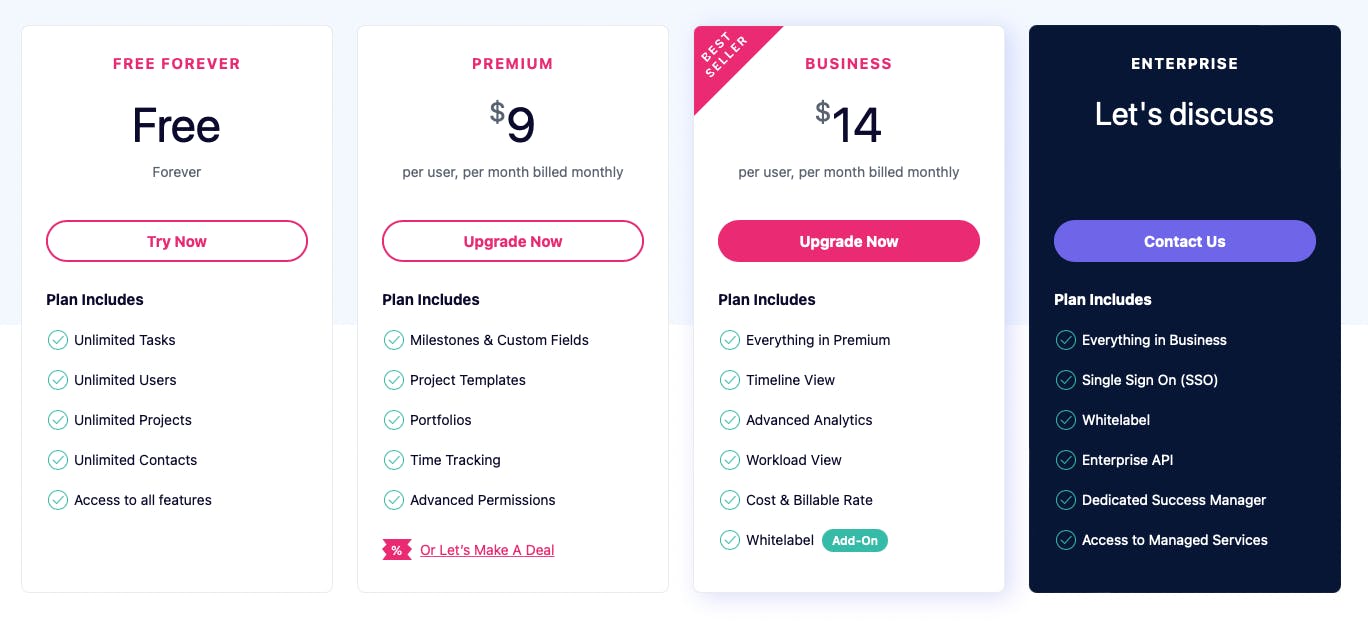 The result? Our free users never have to look elsewhere when they're ready for more. So, now all that's left for you to do is book a demo.
Join 20,000+ teams tripling their productivity