SmartTask
Contents
2023 Guide To Effective Resource Planning & Management
By Viraj MahajanDec 29, 2022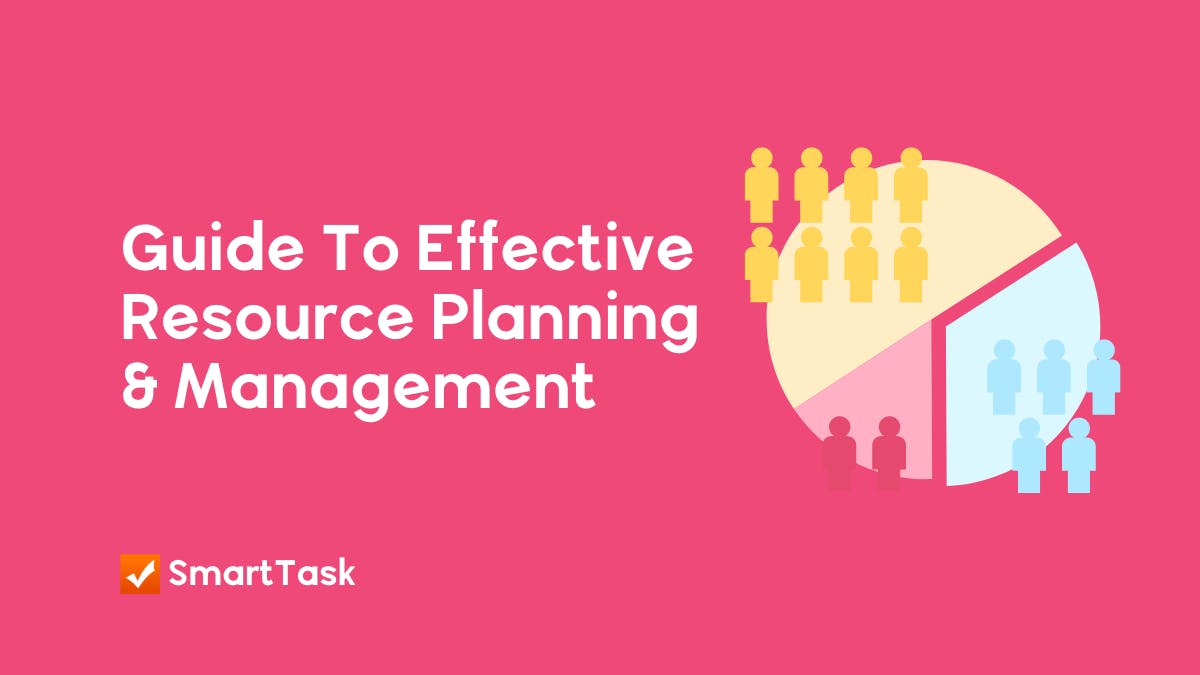 Resource planning would not have to be tedious if spreadsheets were designed to do the task well. But, in reality, spreadsheets are, and they aren't the right choice.
Given the busy life of the modern age, we want to plan projects at a herculean speed.
And a resource plan is like a blueprint that ensures the project is completed within budget and on time.
However, creating an outline is no easy task — especially since different skill sets, software, equipment, tools, etc., are available, and it's easy to mess things up. That's where a feature-rich project management tools comes to save the day.
Investing in the right resource planning tool will give you efficiency, control, and speed to deploy resources efficiently, maximize productivity, and streamline the entire project.
With that in mind, we'll walk you through the secret sauce to build a resource plan. At the same time, we will help you learn which resource planning tool is the right choice.
Let's get started!
What is Resource Planning in Project Management?
Resource planning, in general, refers to a strategic approach that ensures resources are used effectively during project execution.
It includes managing two categories of resources:
Tangible resources include equipment, software, real estate, financial resources, materials, equipment, and human resources. It's like getting the right resource onto the right task at the right time without under or over-utilizing any aid.
On the other hand, intangible resources include intellectual property, strategic partnerships, prospect databases, skills, ideas, etc., that need to be effectively distributed to maximize efficiency.
Let's understand this better with an example!
Suppose you are a project manager with multiple projects on your to-do list and want to complete them within time and budget. However, without a resource plan
Your team won't understand the planning and management process
You won't be able to utilize the available resources effectively
You might deal with resource bottlenecks
You would have cost overruns and even miss deadlines
There would be more conflicts within your team due to the communication gap
That said, the best way to avoid this is by carefully planning resources before you begin your project.
And that is only possible if you invest in dedicated and efficient resource allocation software.
How to use a Resource Planning Tool?
While there can be many workload and project management tools that you can use to manage projects and allocate resources, let's check out how you can use a resource planning tool effectively.
Identify all the resources and pick all the team members you need for a project
Pre-plan and schedule the resources required for a day, week, or month beforehand
Keep your project under budget by understanding the team's rate and allocating them time
Prepare a comprehensive project resource and timescale schedule
Use the live view to understand which team members are available and which are on holiday
Sometimes allocating resources can feel like a complicated process.
As the number of projects grows, the complexity gets doubled. When you change the project allocation, it inevitably affects the other projects and resources.
That said, you need to choose the right tool that leaves no room for errors or complications.
A good capacity planning tool will highlight issues, if any, and let you explore the solutions to your problems.
Big companies use resource planning software to effectively schedule their team's workload and time.
Let's look at an example to understand better!
Suppose you have recently got a client, and they want you to create a website for them. As you have experience in the task, you understand which resources you need to complete the job.
The project manager understands that it will take around 30 hours ( 20 hours for developing the website and 10 hours for designing it).
How will resource allocation tool help you?
A resource allocation tool will help you identify the right resources, assign tasks to the team based on their job titles and skills, and allocate time to each person.
To make your resource allocation process more actionable, use past data from both successful and failed projects. This data can be acquired from Gantt Charts, Baseline comparisons, Time Estimates, and Workload charts. Data from past projects can deliver clarity on resource management.
With a dedicated tool like SmartTask, you can track your team, monitor resources, and get real-time updates on the progress.
Visualize resources at a glance - Track company assets and make quick data entries on a List, Table, or Timeline view. Maximize team resources by managing capacity with Workload views.
Manage time more effectively - Track time from your desktop, mobile, or browser with SmartTask's in-built Time Tracker. Add manual entries, set estimates for tasks, and allocate time smarter with detailed reporting.
Add vendor information and customize details - Store vendor information in CRM, where you can attach contacts and directly call the vendors from the task. Store and access recordings as needed. Use custom fields to add everything from costs to map locations to your workflow. Use analytics to track expenses, usage, downtime, and more details.
If you find it hard to track all the requests from your team members, the facility request template by SmartTask is here for the rescue. It can help your team clarify deadlines, budgets, etc. while managing all the things in one place.
It can streamline the entire project activity, ensuring that time, budget, and scope are not compromised. Not to mention, the out-of-the-box procurement project templates for resource planning are a bonus. Use the built-in templates to keep all the procurement requests from teammates in one place.
How to Build a Resource Plan?
You now know the benefits of effective resource allocation.
But how do you get started in your own organization?
How do you create a phenomenal resource allocation process?
And more importantly, what are the right supplies?
SmartTask always is, and always be the right choice!
Here we'll highlight how a project management tool like SmartTask can assist you in managing your resources at each step!
What's SmartTask?
SmartTask is a leading project management software that boasts all the features and functionalities you need to manage your project resources.
Whether you need help with workload management, resource scheduling, and vendor management, SmartTask has got you covered!
It's the only best resource management software you'll ever need!
1. List all the tasks
You'll probably need a bunch of equipment, software, people, etc., for your project. So, the first step is to plan the project, which involves laying out the roadmap about how your team will execute the project. Here is how you can do it:
Think about the project deliverables and list all the tasks and subtasks you need to complete the project.
List the resources such as equipment, room, people, software, etc., you need throughout the project.
Identify people based on their availability, skill sets, and other criteria.
Carefully consider every task required to complete the project so that everything is within budget and is accounted for.
Remember, the more specific you are with the listing, the more equipped you will be while selecting the best-suited skill set.
💡SmartTask's solution: Tasks, subtasks, and checklists to manage everything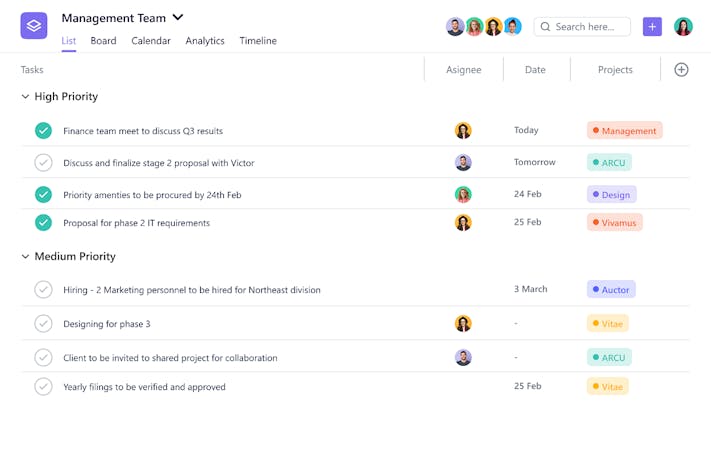 Here's how it works:
Tasks and subtasks: Break down complex tasks into small tasks and subtasks. Then you can assign tasks to your team associates according to their skill sets.
Checklists: This helps you prepare a to-do list for your team. As your team achieves milestones, they can check off the tasks and ensure deadlines are met. This is useful to quality check items, map out steps, etc.
Add multiple assignees: Using the resource planning tool, project managers can assign one task to various team members. This help reduces the workload on one person while providing better outcomes.



2. Identify constraints and assumptions
There are two key elements of any project:
Constraints: include factors that affect resource allocation, such as schedule, cost, and the scope of your project.
Assumptions: include the things that will remain constant throughout the project, such as the number of team members.
Tracking these elements is essential as it helps you to effectively manage resources — no matter what comes your way!
And how do you track the critical elements for efficient resource allocation?
💡SmartTask Solution: Attach files and Add Tag People.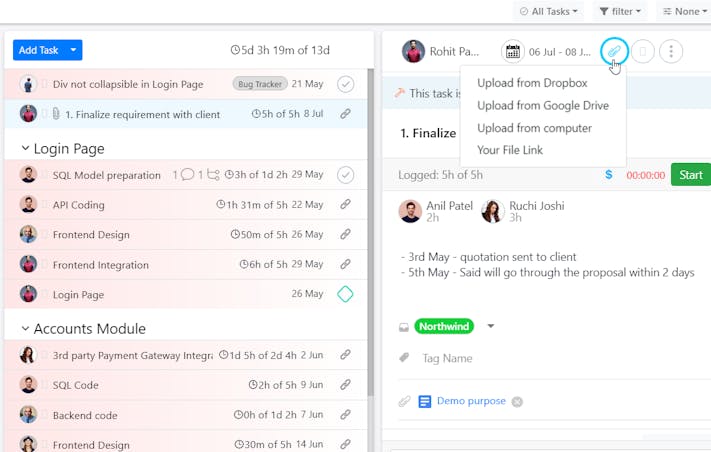 Create, attach and share documents specifying all your constraints and assumptions. You can even tag team members who aren't working directly on the task.
What's more?
You can even invite guests and create project tasks from within the doc.
Benefit: You keep everyone on the same page! :)
3. Set a budget and track time
Now comes the trickiest part. Be sure to pay extra attention here!
The success of your project highly depends on how well you manage the budget and time of your project. You can't let a developer take 10 days to fix a bug, right?
So how do you do it? SmartTask's time-estimate feature can help you set a budget and time for each task, ensuring you don't have to overutilize resources at any stage.
💡SmartTask Solution: Set time estimates on individual tasks, which would be summed up to estimate the budget for project resources.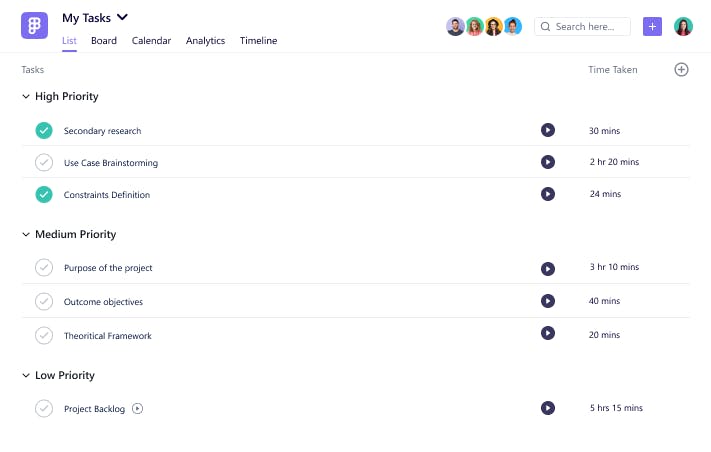 But planning and reality are two different sides of the coin, and to ensure that the project runs smoothly, you need a more robust solution like Time-tracking - which will help you measure actual time spent and modify estimates accordingly. This data can help you make better time estimates for future projects.
4. Track progress
Tracking projects, team performance, and productivity scores are crucial to determining project success.
SmartTask has tons of visual tools like Advanced Search, Workload chart, Custom Charts, and more to give you visual overviews of your project progress.
Here's how these tools can help you
Workload Chart: Helps you understand whether your team is under-utilized or overworked.
Advanced Search: Assist project managers in filtering data across different projects and save it for quick future access.
Custom Charts: Let you create charts for better data analysis.
Productivity Score: Export functionality allows you to analyze your team's performance over a specific time.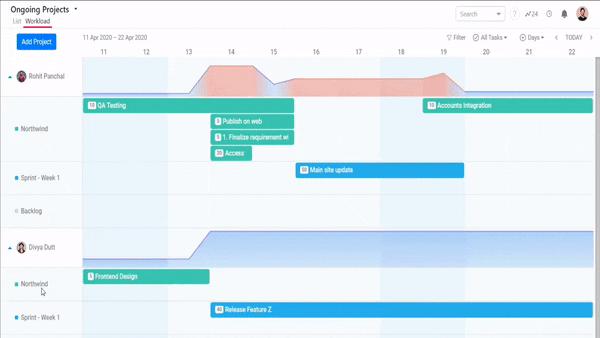 5. Update your resource plan
Slow approvals, team members dropping out of the project, unforeseen scope adjustments, and time mismanagement are a few reasons that demand updating your resource plan.
That's why resource planning is not a one-and-done process. Instead, you constantly have to update it as your team completes a task or you add more resources to your project.
When everything does not go as per your plans, you may need to make adjustments throughout the project to manage tasks smoothly. It can be reallocating tasks, reducing the pressure on the team, or shifting the budget.
The trick, however, is to choose a resource planning software that helps you adjust your project based on resource availability automatically. And guess what? SmartTask is the best here! There's no debating about that.
But that's not all of SmartTask's features!
This resource planning software also boasts resource management features like
Project Templates: Use the built-in and easy-to-implement templates to simplify repetitive tasks.
Baseline Comparison: Easily compare the current timeline with the original one to check and eliminate the reason for project delays.
Task Dependencies: Understand which tasks are on the waiting list, so your team can comprehend the workload and complete the project successfully.
Cost & Billable Rates: Add the cost and billable rate along with your resource to accurately track and manage project finance.
Team Collaboration: Collaborate with your team through instant messaging, video conferencing, etc., and have clarity on responsibilities and accountabilities.
Ditch the manual labor of spreadsheets and digitize your resource planning with SmartTask! It's free.
FAQs
1. What are the Methods of Resource Planning?
There are two popular resource management techniques to plan your project — resource smoothing and resource-leveling. However, the primary focus is on resource allocation and utilization to maximize the project's efficiency and outcome.
The planning process starts with assigning the right chore to the right team member, allocating time for each task, and determining the entire criteria. Tracking a team from start to finish is a plus point that helps you understand every aspect of the project.
Some most common variables you need to track include skill sets, resource availability, hourly rates, workdays, job roles, and contract dates. Long list, but the results are worth your time!
2. Why is Resource Planning Important?
For project managers, the primary goal is to do more using fewer resources. But this is a complex task! The only way to maximize project efficiency is by strategically managing resources. Creating a detailed resourcing plan before you commence any project can help you:
Monitor resource availability and equip you with the necessary information to address the unforeseen need for resources.
Match the right team member to the right tasks, ensuring you get the best outcome.
Boost efficiency by allocating and spending the resources in the right direction.
Avoid overwhelming your team members with workload management tools and improve job retention and satisfaction rate.
Forecast the resource availability for future projects and keep you organized in the long haul.
However, to reap the benefits, you need to pick the best resource allocation software.
A workload management tool reduces your workload by automating tasks. In addition, it also keeps you updated about project progress in real-time
3. Do you need Resource Planning Tools?
Even though spreadsheets can do the task, there are better methods for teams. In addition, tracking projects with a spreadsheet becomes tricky when your team expands and takes up multiple projects.
That's when it becomes a necessity to leverage the power of a resource planning tool.
The best project management software, like SmartTask, can help you track various variable resource inputs over time. Whether they are skill sets, billable hours, time spent by each member, or ongoing task monitoring, you can do everything with a single resource planning software.
4. How Resource Planning Benefits Different Industries?
Did you know 26% of companies having a dedicated resource planning tool can estimate and allocate resources effectively to deliver timely projects? Or the enterprises that use the tool can save more than 28 times money by creating resource plans?
Let us discuss how resource planning can benefit different industries significantly.
IT & Engineering Industry
Engineering teams need to organize the project and map the workflow. Resource planning lets the team stay on track without complicating the whole process.
And if you want to deploy resources efficiently, our Free engineering project plan template is all you need.
It helps allocate resources and track them across different departments while keeping your team informed about the project's progress.
Consulting and Professional Service Industry
Balancing resources has always been a challenge for consulting and professional service firms.
Efficient resource planning ensures managers can track resources, keep consultants engaged in client billable, and avoid employee burnout due to overwork.
Also, resource planning helps law, audit, and accounting firms assess future demands and identify the right resources.
Infrastructure and construction projects are highly volatile. Therefore, careful monitoring is crucial to ensure no resource conflicts after you commence the project.
With resource planning solutions, managers can manage construction resources effectively and minimize resource conflicts.
Resource allocation software can assist you in unlocking the full potential of your business through strategic resource planning.