SmartTask
Contents
Project Time Management - A Complete Guide in 2023
By Aastha ShawNov 23, 2022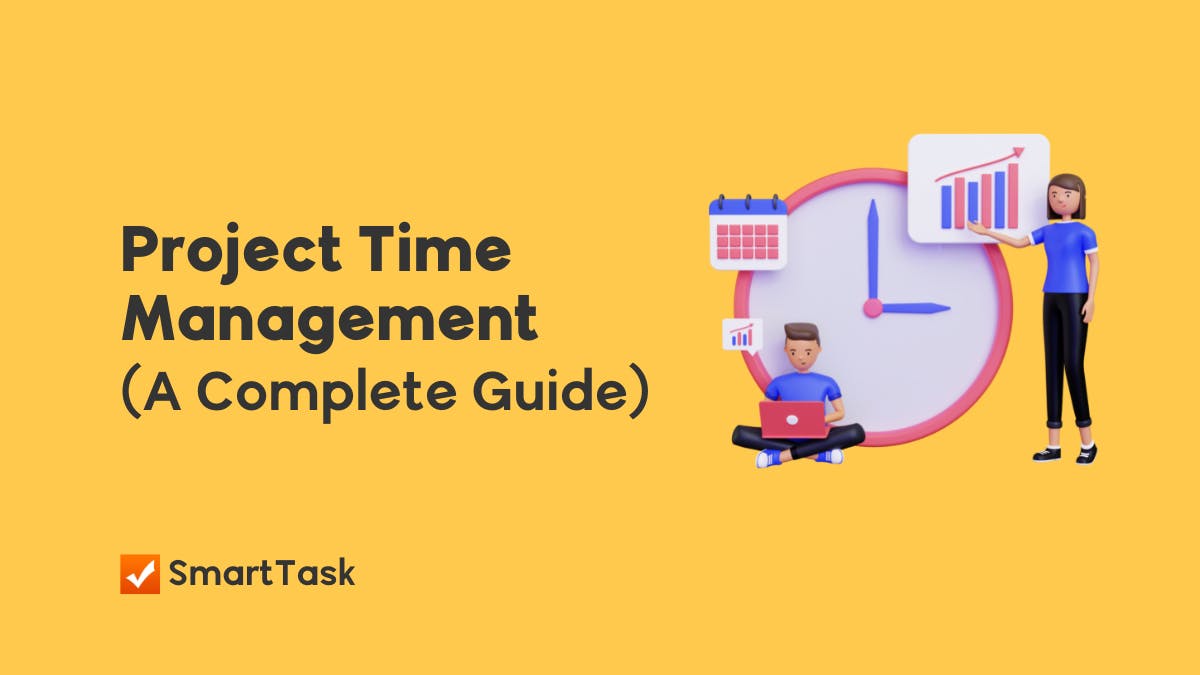 Time taken for granted is the time wasted away - a lesson that every Project Manager needs to learn before they commit themselves to the demanding role.
"Let's make a Math Game for Kids" is not enough, if you can't communicate the exact timelines and stages of completion to your team members even before the work has started.
A goal without a plan never works - procrastination, delays, and roadblocks become a common sight.
Avoid such pitfalls, with a comprehensive project management time management plan that takes care of all four pillars of project success - planning, scheduling, monitoring, and controlling all project activities.
This article will take you through the step-by-step guide to efficiently manage project time and deliver on time, every time.
Want to learn the basics of project management before you start? Check out these articles:
Let's get started!
What is Project Time Management?
Project time management is the process of creating and adhering to project timelines. It involves keeping track of the time spent and progress made on project tasks, dealing with roadblocks, risks, and all project-related activities.
If the project lacks a proper plan and a timeframe for completing the project, it probably won't be done at all. Hence, project time management plays a crucial role in the success of your project. All this requires strong management skills and the right tools to facilitate the entire process.
SmartTask helps managers and teams take care of project scheduling, set project baselines, create tasks and set dependencies accordingly, track time spent on each task, monitor the progress of all their projects and tasks using project timelines, identify bottlenecks, and tackle them on time.
What Are the Project Time Management Steps?
Project managers define project time management differently, and their approaches differ depending on the project management tools and techniques used. However, here are four primary project time management steps that reduce the risks associated with poor project management.
1. Define the Activities
Once you are clear on the project objectives and work plan, the first thing you need to do is prepare a Work Breakdown Structure, i.e., define the activities to meet the project requirements and goals.
How about we refresh your knowledge of the Work Breakdown Structure before moving forward? Here you'll learn…
✔️What is Work Breakdown Structure?
✔️How to incorporate the work breakdown structure into your project
Defining activities signifies breaking down the activity into smaller and more manageable pieces that can be easily understood by your team.
You can do this by:
Note down all your goals and the work required to achieve them
Break down the work into stages (what are project milestones)
Then create tasks and subtasks to achieve those milestones, and ultimately the goals
You can also use a Kanban board or a dedicated work management tool to get a clear understanding of major deliverables and sub-deliverables.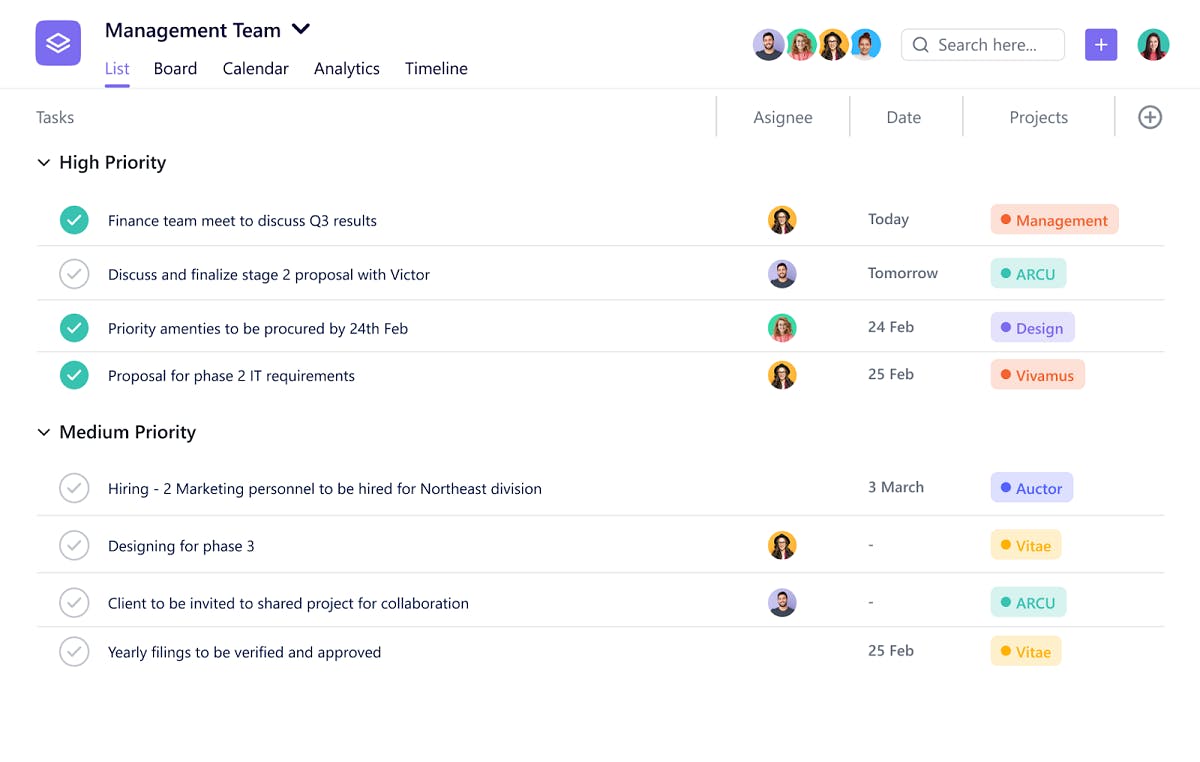 2. Sequence the Activities
Every project comes with lots of dependencies. You cannot just pick any task out of the blue and start working on it without thinking about the dependencies.
For example, you cannot paint a wall before priming it, just because you have paint available and the primer will be delivered later.
Therefore, you must sequence all the project tasks and activities in an order that makes sense while helping you reach your goals on time.
You can do this by:
Identify the dependencies
Organize them based on their importance or in the order they should be completed
Make sure all the tasks are in proper sequence and all blocking tasks are scheduled before waiting tasks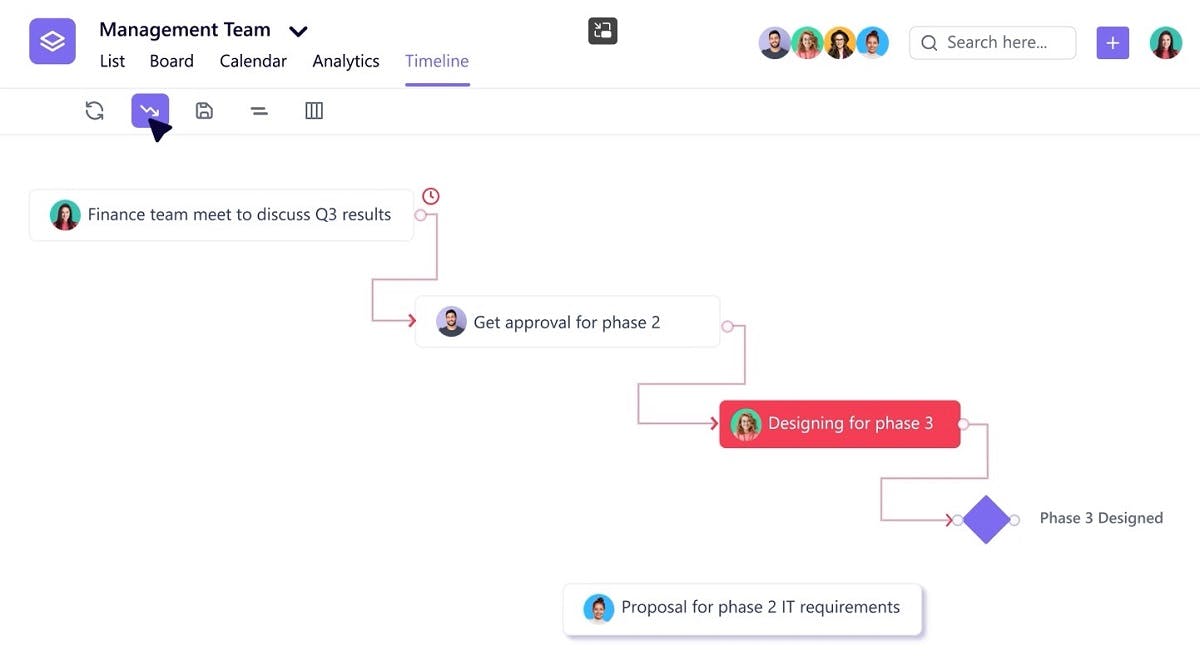 3. Estimate Activity Resources
Now that you know what tasks are to be done, it's time to evaluate the resources and durations required for each task.
This step is extremely necessary, and the resources must be estimated in the best possible way to execute deliverables. Insufficient resources can slow down or halt your work, whereas allocating more resources than required can impact your budget.
You can do this by:
Identify the employees, tools, materials, and other resources required for each project task
Determine how long it should take to complete each activity
Depending on the time frame and work assign the resources for each task (data from previous projects can be used as a reference)
Review the entire framework and resources to see if it meets project timelines and budgets
Delegating the responsibilities efficiently while ensuring everyone has an equal workload will result in improved productivity and results.
4. Develop and Control the Schedule
The last piece in the time management process is project scheduling and managing it. The process is not as easy as marking project due dates on your tabletop calendar.
Project schedules define when each activity, phase, and milestone will be undertaken and completed. The project schedule ultimately determines how long your project will take. Once you have finalized it, you need to monitor the task's progress and control the schedule.
You can do this by:
Updating the project status regularly
Following up on expected deliverables
Identifying and addressing problems to ensure that project objectives and timelines are met.
Throughout the project's lifecycle, the schedule and plan will need to be revised. Furthermore, regular revisions based on current progress reports will aid in streamlining project activities and resource allocation.
Project Time Management Strategies for Project Managers
1. Use the Right Tools and Equipment
Using the right tools is extremely important for every project manager, along with the right plan and strategies. Project management software serves different functions and meets the varied needs of organizations ensuring deadlines are met on time.
Trusted by over 20000+ teams worldwide, SmartTask is the ultimate solution when it comes to project management. It is highly versatile and features in-built time tracking and management features while bringing all your time-related data in one place.
Here's how SmartTask helps you with efficient project time management and enables you to achieve more in a shorter time:
Shared Calendars- To plan, and share the project schedule with the team and stakeholders
Timeline and critical path- To monitor the progress of your project and ensure it is moving along the best path to completion
Project Baseline- To check if your initial plan and real-time execution are on the same page or if measures need to be taken to get your project back on track
Milestones and dependencies- To mark important stages in your project and add more depth to it
Auto-scheduling- Reflects the ripple effect of even the tiniest changes
Set time estimates and clear expectations- Add estimates to any task or subtask, while clarifying what is expected of each member
Due dates & Notifications- Add due dates to your tasks and get notified when the deadline is approaching, so that nothing falls through the crack.
Time tracking - To track the time being spent on a task and calculate billable hours
Workload- To track which employees are working on which tasks
Productivity scoring- Know how much your employees have been working seriously with this scoring fracture
Timesheets & Reporting- Get insights on the time spent by all your members on work, billable, hours, and cost, and keep the details handy with customized reports
2. Set Clear Priorities
"If it is your job to eat a live frog, it's best to do it first thing in the morning. And if it's your job to eat two frogs, it's best to eat the biggest one first." - Mark Twain
The metaphor explains it well that the most important task of the day ( the biggest frog) should be your priority. It brings you closest to your goals, and therefore, you should always target the biggest and ugliest tasks first.
You can prioritize tasks in order of their importance using the ABC priority method.
A - Your biggest and ugliest frogs are tasks that are closely related to your goals and have a serious impact on reaching them.
B - Tasks that you should complete but have minor consequences if you don't.
C - Tasks that must be completed but can be delegated or postponed.
D - Tasks that are unnecessary and can be eliminated.
The rule for using this method is that you cannot complete a "B" task if an "A" task is on the list. If you have more than one A on your list, categorize them with a 1, 2, or 3 in order of importance. Do not start your A2 task until your A1 task is finished.
3. Break larger goals into subtasks
Not all can be done at once. Trying to do so only hampers the quality of your work. Hence, it is best to work in sprints by dividing larger goals into subtasks and milestones.
Sprints are basically a method for organizing your workload into smaller packages, rather than directly having a never-ending list of to-dos (backlog) in your workflow.
So, you need to decide which goals or milestones you want to accomplish in a particular sprint and then create tasks for each sprint accordingly.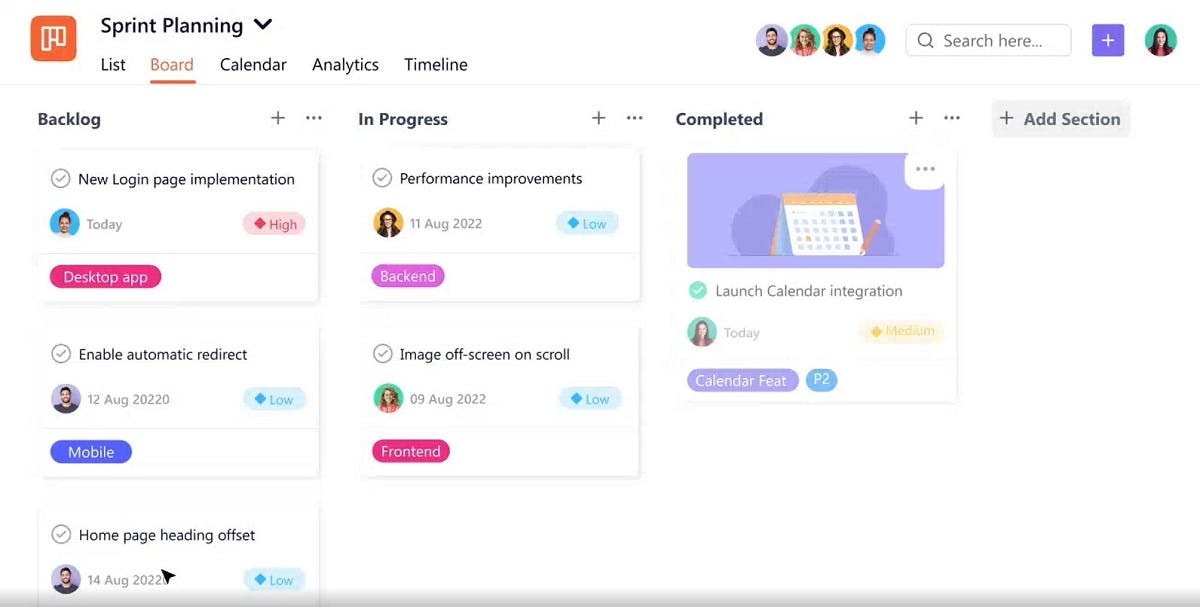 If anything is impeding a task's progress and you reach the end of the sprint, the task will either be returned to the backlog or moved to the next sprint.
4. Introduce shorter deadlines
It is important to set realistic deadlines, but that doesn't mean you have to stretch the timeline too much. Giving more than enough time for a particular task might turn your team into slowpokes, the odds of delays will increase for sure and get your project off track.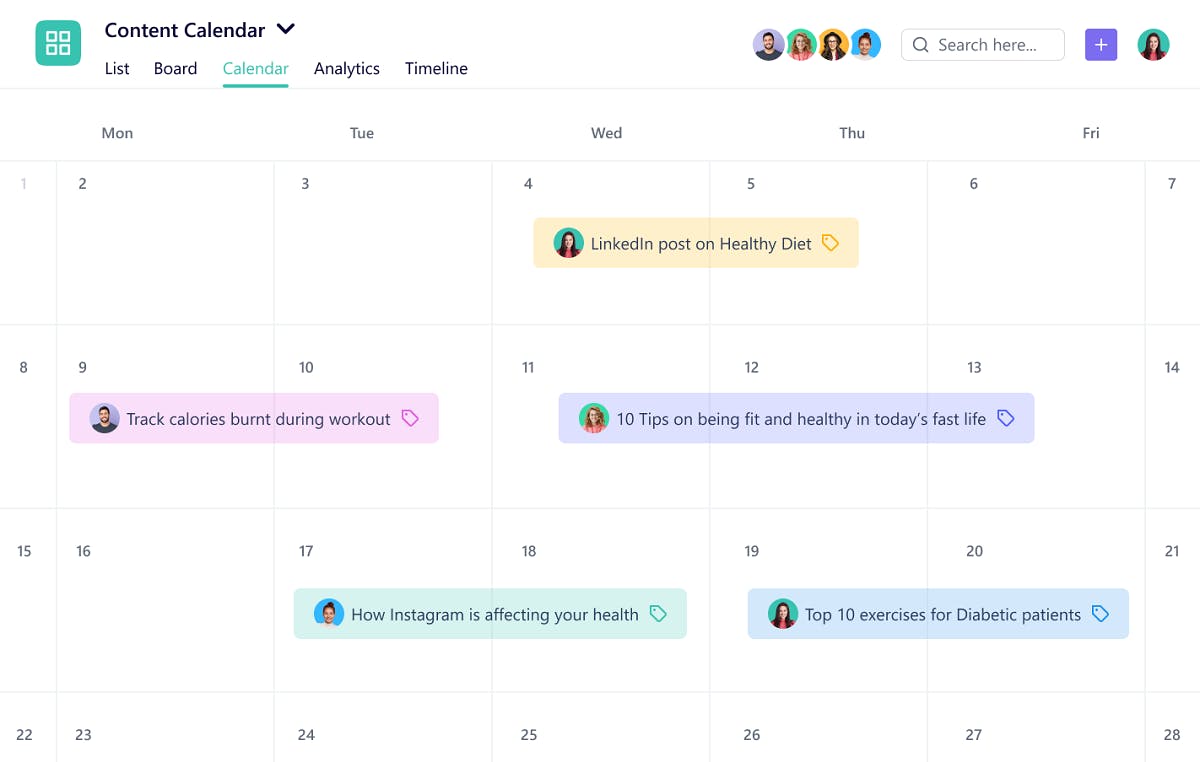 Whereas shorter yet realistic deadlines help your team waste less time in procrastination, be more productive, and deliver work with quality in less time. Rolling out quality work faster also gives you a competitive edge and keeps your clients happy.
So, assess the task requirements, consider resource availability, and estimate the time required to achieve them. You can also refer to similar projects and tasks completed before.
5. Avoid distractions
High productivity requires minimum interruptions and distractions. But it can get a little tricky with all the communication, emails, calls, etc., involved in working as a team. And not to forget the sudden tasks and requirements coming from the clients.
To achieve more in less time, you should follow the Pareto principle, also known as the 80/20 rule. The principal says that 20% of your time should produce 80% of your results. This simply means optimizing the workload by prioritizing tasks and time.
It helps eliminate all unnecessary distractions and helps you focus on the most important tasks that bring you closest to your goals.
Make sure you identify and highlight the tasks that provide the most value from the start. Whenever time and value diverge, reassess the priority of the task and, if necessary, request a formal change.
6. Identify Bottlenecks
Bottlenecks are one of the reasons why projects stuck, get delayed, budget overruns happen, and the whole process becomes unpredictable. Therefore, it is critical to identify bottlenecks on time instead of fighting them once the damage is done.
All that a project manager needs to do is a simple project analysis for determining potential hurdles, keep the contingency plan ready, monitor the project timeline constantly to notice even a slight change, and take action immediately.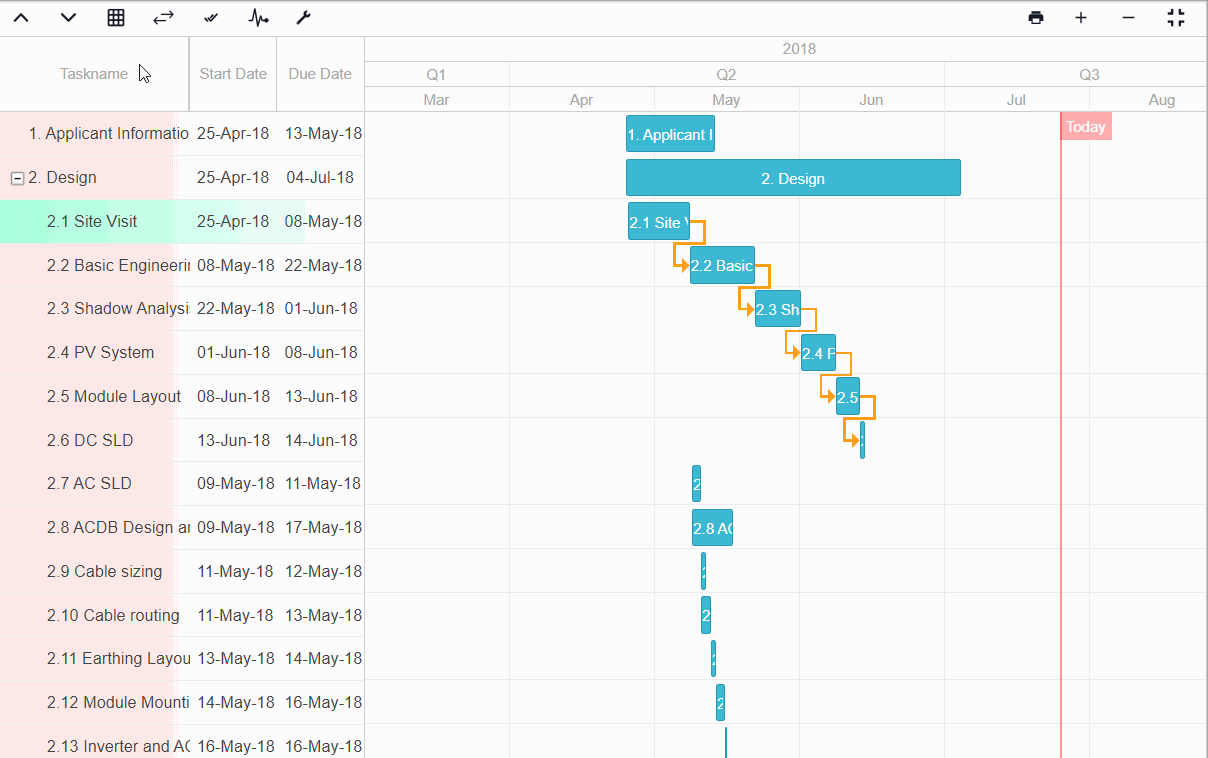 This way you will ensure smooth project execution while saving your project from resource and time loss.
7. Delegate
Managing multiple projects and tasks at once is no easy task, and it is not all the job of a single man, especially when you have a time constraint. This is why delegation is an important part of managing your time and projects efficiently.
This applies to every team member. If you see that the person has a lot to complete and the time available is not enough, then it is smart to delegate. See what tasks can be delegated to other available members who have the required skills.
Also, delegating work conveys the message that you value your team's time and efforts. Allow them to make decisions, if possible, limit your involvement and avoid micromanaging. This way, you not only have less on your plate and save time, but you also allow your subordinates to advance professionally.
Manage your time efficiently
There is no greater resource than time, and it is quite limited. So you must use it wisely. Using these time management strategies and the right tools, you will be able to organize your workday better and accomplish more. Soon, you will notice:
Ease in carrying out tasks
You have more time with everything well-planned and organized
Reduced last-minute and overwork stress would reduce
These tactics may also increase productivity among the members of your project team, as they may work for you as well. If you want to dig deeper and learn more about how.
Access everything you need to effectively manage Project Timelines with SmartTask's exclusive features like time-tracking, in-built CRM, unlimited tasks, unlimited storage, and much more at absolutely no cost when you sign up for SmartTask's Free Forever Plan.
And when you're ready to scale up operations, unlock advanced features and Whitelabel benefits for as little as $8/month/user.
Happy that you found a project management tool that doesn't burn a hole in your pocket?
Sign up for SmartTask today to end your struggle with Project Time Management
FAQs
1. How to get projects done on time?
The only way to get projects done on time is to have a rock-solid plan for time management before you start your project. Make sure you do a thorough project analysis, prepare a risk management plan and project timeline accordingly, and then stick to it.
If you see things deviating, then you need to take immediate control measures to get back on track.
2. What is the final process in Project Time Management?
The final phase of project time management is controlling the schedule. Schedule control is, together with cost control, at the core of successful project management.
To begin with, always keep your current progress in check with the project baseline, i.e., initial schedule estimates for each task. If necessary, take the steps to resolve any issues that affect the timeline, and properly update the schedule of your project.
Last but not least, you should keep a detailed record of the work done for each task. It is impossible to monitor and control your project's schedule if you lack information about task execution or if the information is not precise and objective.
3. What is the difference between Project Time Management and Project Scheduling?
Project Time Management is a critical knowledge area in project management. It explains how to plan and develop a schedule, as well as monitor and control the time spent on project activities.

Whereas Project Scheduling is a sub-set of project management that represents the project schedule itself, that includes the start date, end date, and milestones, Project Time Management is another component.
4. What are the 3 key activities of project time management?
The 3 key activities involve:
1. Clarify the project's goal and prepare the WBS:Clarify the project's goal and prepare the WBS: Make sure the project goals and scope are clear. Then prepare the Work Breakdown Structure (WBS) of the project accordingly.
2. Define and sequence all the tasks: Once you know what work is to be done start defining all the tasks and subtasks required to complete it. After listing all the tasks and subtasks sequence them based on their importance and dependencies.
3. Develop and control the project schedule: Create your project schedule, set a timeline to decide on each task's due dates, and share it with your team so that everyone is on the same page. Once the project initiates compare the status of the project with its original plan and make sure that everything is progressing as planned. anything goes wrong take control measures to stay on track.
5. What are the 7 key elements of time management?
As a professional, it is crucial to building a time management mindset. Here are the 7 key elements related to efficient time management:
Having a clear vision and setting goals to achieve it. When it comes to business, goal setting gives everyone involved a sense of direction.
Always start with the most important tasks. The point is that if you complete a difficult or time-consuming task earlier, you will have more time to focus on other things.
While working on a specific task, eliminate all distractions such as messages, notifications, emails, and so on. This way, you will end up saving a significant amount of time and completing your tasks on time and efficiently.
Quit multitasking. Instead of rushing between tasks, focusing on just one at a time is the ideal way to achieve peak productivity in a short period.
Taking breaks in between tasks. It may not be possible for you to take frequent breaks at work, but it is still necessary for you to take a few breaks to maintain your mental and physical health.
Maintain a proper schedule. You can do this by using project management and task management tools like SmartTask that help you plan your schedule with a calendar view where you can plan all your activities in a day, week, month, and so on.