SmartTask
Contents
The Ultimate Guide to Manage Ad-Hoc Projects
By Viraj MahajanJun 14, 2023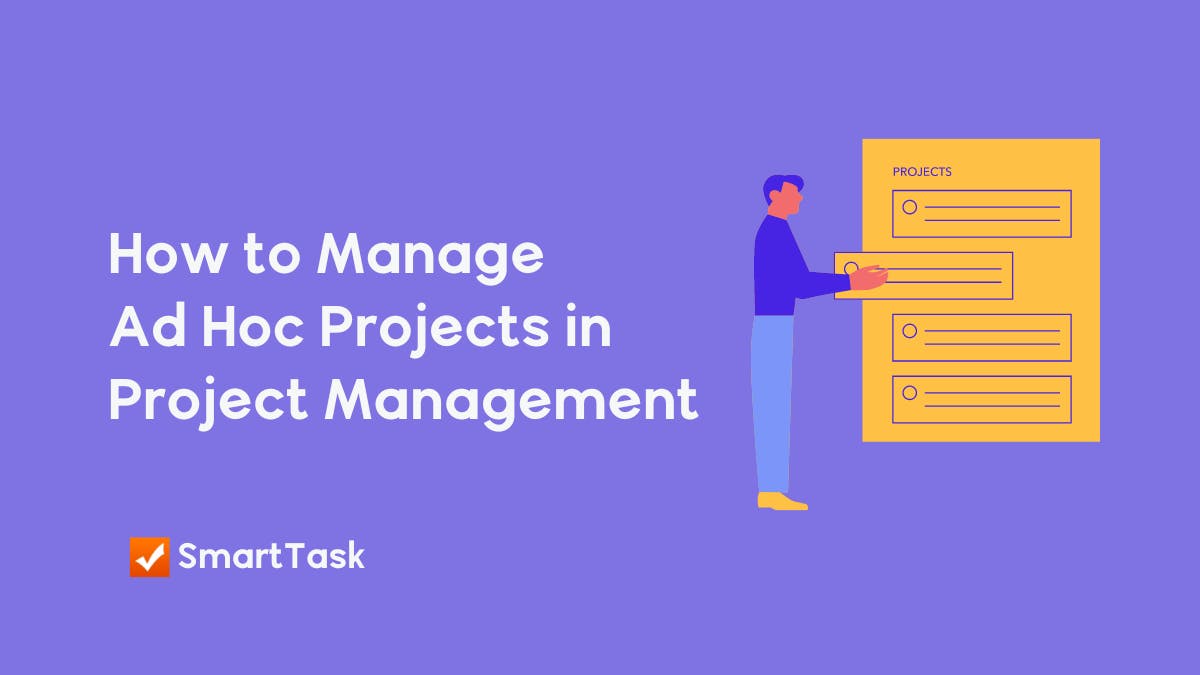 Imagine you're a busy accountant at a CA firm. You're knee-deep in tax season and just when you think you can finally take a breath, your boss drops a bombshell on you: "Oh, by the way, we just landed a new client and they need a full audit by next week."
Talk about a panic-inducing ad hoc project!
But don't worry, with a little bit of teamwork and a lot of caffeine, you and your colleagues will power through it and impress the client with your quick thinking and problem-solving skills.
But what if I told you that there's a way to make managing ad hoc projects a whole lot less stressful?
Enter project management software!
With the right tool, you can easily track deadlines, assign tasks, and communicate with your team all in one central location.
What are Ad-Hoc Projects?
An ad-hoc project is a sudden and unexpected response to a problem that requires immediate attention and has a tight deadline. These projects are typically unplanned and can come in the form of quick emails, unexpected tasks, or changes in employees or resources.
Effective management of ad-hoc projects requires proper planning and tracking to ensure that all team members understand the available resources and how they can be used efficiently to complete specific tasks. However, this can be challenging without the right tools and strong management skills.
Tracking ad-hoc project involves creating a project plan, creation of tasks and sub-tasks, allocating resources, tracking progress and effective team-communication. Let's find out in the step-by-step guide to managing ad hoc projects below.
4 Best Practices to Manage Ad-Hoc Projects
There are several steps that project managers can take to effectively manage ad-hoc projects:
1. Do a Thorough Risk Assessment
Unexpected risks can make things more complicated. The first step in managing an ad-hoc project is to conduct a thorough risk assessment. Project managers can proactively identify and address potential risks, and mitigate their impact on other ongoing projects.
This can include risks related to the project scope, budget, schedule, resources, and more.
Once potential risks have been identified, the next step is to prioritize which risks need to be addressed first. Communicate the identified risks and the risk response plan to the project team, so they are aware of the potential issues and how to address them.
2. Select Right Project Management Methodology
When the seas are turbulent, you need a flexible navigation map. Agile is a suitable project management methodology for ad-hoc projects. This is where Agile project management methodology shines.
Its iterative approach allows you to change your course quickly and efficiently. Work in small, manageable sprints and see your team thrive amid the uncertainties.
A typical Agile project management methodology includes breaking down large project milestones into shorter sprints, making it easy for teams to absorb the new requirement.
It is usually recommended to use either scrum or kanban workflows to manage ad hoc projects.
New to Scum Planning or Agile Systems? The below guides can help you get started in 3.2.1…
👉Scrum Boards: How to create a more efficient workflow
👉How to Be a Sprint Planning Ninja
👉A Comprehensive Guide to Agile Workflows
3. Draft a New Plan with Milestones, Dependencies, & Timeline
The next step is to draft a new plan with all due diligence so that nothing falls through the cracks. Not having a proper plan with milestones and timeframes can lead to mismanagement and the wastage of available resources.
At this stage, your job is to provide a clear understanding of what needs to be achieved and how it needs to be done by whom. Clearly define the project scope, dependencies, and milestones. Each team member should be aware of their roles and responsibilities throughout the project's journey so they are able to accommodate additional workload into their routine work without feeling lost or overwhelmed.
4. Normalize Transparency Across Stakeholders
Transparent communication is essential in managing ad-hoc projects. It sets clear expectations, identifies issues, and promotes collaboration, which in turn improves teamwork, and allows team members to better understand their roles in the project.
By encouraging open and transparent communication between teams, clients, and other stakeholders, project managers can proactively address potential issues and ensure the success of the project.
How to Manage Ad-Hoc Requests using a Work Management Tool
Now that you've learned about best practices for managing ad-hoc projects better, it's time to give attention to ad-hoc requests. As you manage ad-hoc projects, here are the steps to handle ad-hoc requests with a work management tool.
Plan
First things first, don't dilute your current project scheduling. Keep it intact for as long as possible and for as many people as possible. Avoid the "drop everything" mentality seeping into your team's workflow. New Ad-Hoc requests have to be planned, assessed for risks, and tracked for them to seamlessly integrate into the everyday schedule of everybody involved in the project.
Here are a few ways by which you can utilize workflow management software and ease the process.
Set Timelines - The timeline view helps project managers to visualize the long ad-hoc project with subtasks and dependencies.
Shared Calendar - Share project information with the team and stakeholders using the shared calendar.
Project Templates - Instead of starting ad-hoc task management from scratch, use the project templates to speed up the planning process.
Planning and identifying the right approach is critical to complete the tasks effectively and giving team members clarity on how and when to proceed.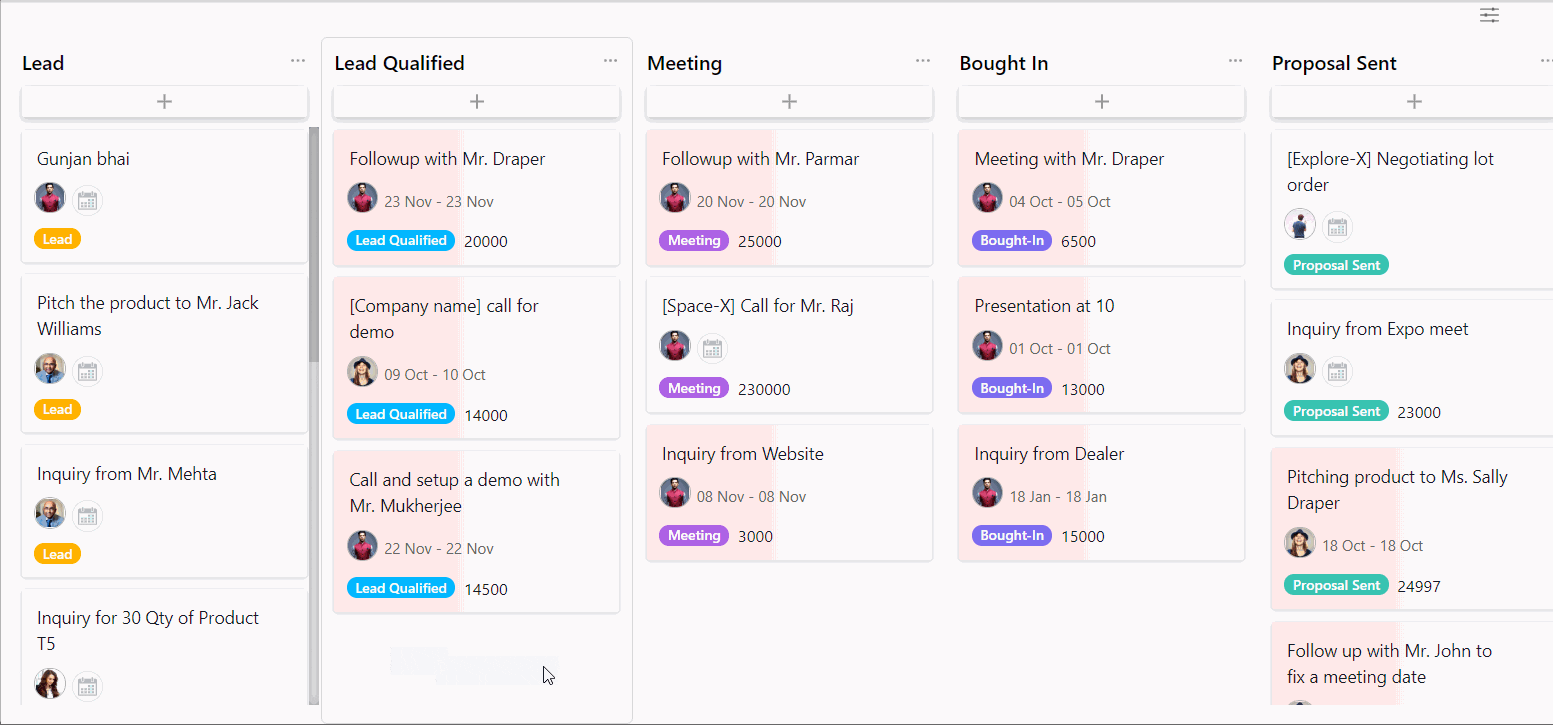 Prioritize Ad-Hoc Requests
Follow the "Eat the live frog first" approach while prioritizing the task. Prioritize the tasks on the basis of how they impact the ongoing projects, the current performances of the teams, and the availability of other resources. Depending on the level of complexity, working out a Work Breakdown Structure can help you make the right assessment.
The Work Breakdown Structure created in Project Management Software can also help you leverage the power of automation to turn your WBS into a comprehensive Gantt Chart at the click of a button.
For instance,
Complete those ad-hoc requests first, which may consume more time and has the potential to delay the project outcome. For instance, certain documents need verification before the project kicks in.
Follow-it-up tasks that may or may not have minor consequences but can't be left unattended. For instance, kickoff meetings.
Requests that can be postponed or avoided without affecting the overall project come at last.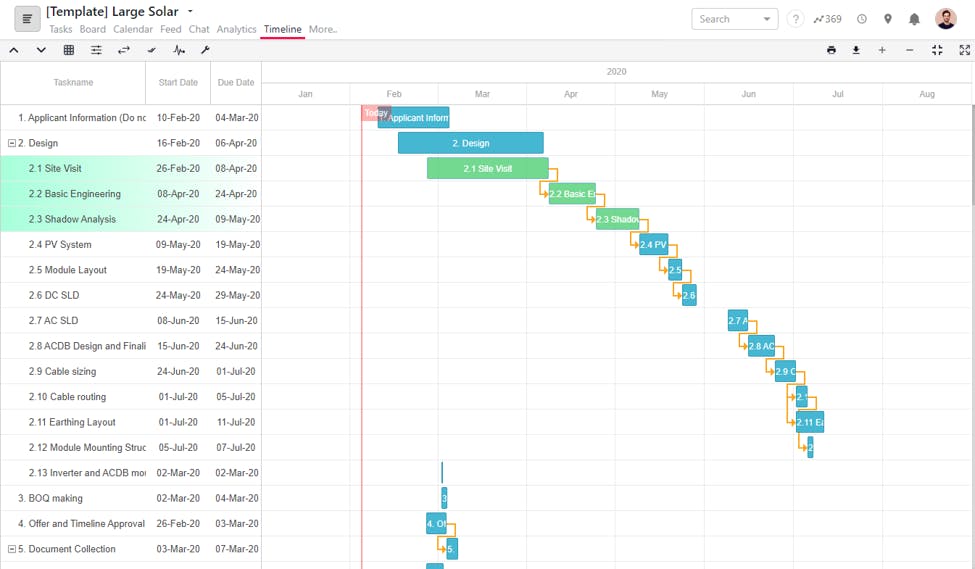 Allocate Resources
Now comes the trickiest part — allocating resources to each task and subtask.
You can check the workload view in the SmartTask work management tool for resource allocation. In SmartTask, allocating and reallocating resources is simpler than choosing the toppings for ice cream.…
Search for resources based on specific tags such as role and skills.
Get a bird's eye view of everyone's availability and capacity
Quickly drag-and-drop work to allocate, extend, shorten or split…
However, keep the timeline and budget in mind while assigning the resources to each task. A well-structured approach will help you to improve results and employee productivity.
💡SmartTask Tip: You can make use of SmartTask's Kanban board views to assign tasks to necessary participants without disrupting the current workflows. Managers can set the priority and add descriptions for each task so the team can plan their sprints effectively. Commenting at the task level allows managers to identify bottlenecks in advance and reallocate resources.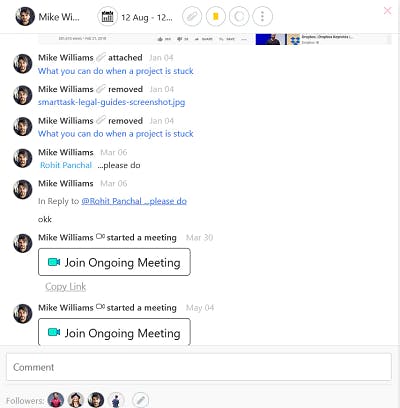 Track Progress & Generate Reports
The last piece in ad-hoc request management is tracking the progress and simultaneously generating the reports.
SmartTask's advanced features, like task estimate, time log activity, and project summary, will help monitor the progress and make necessary changes if required. All reports can be filtered to show only the data you want to share with stakeholders and then passed on as a PDF or printed out. Here are a few features that will help you track progress and generate reports..
Advanced Search - Filter data quickly and identify ad-hoc projects with a few clicks.
Productivity Scoring - Analyze the performance of employees over time.
Project Summary - Get insights about costing and billing amount and resource utilization.
Custom Charts - With different customization options available, you can monitor progress and ensure every team member is working without feeling burnt out in an easy-to-understand format.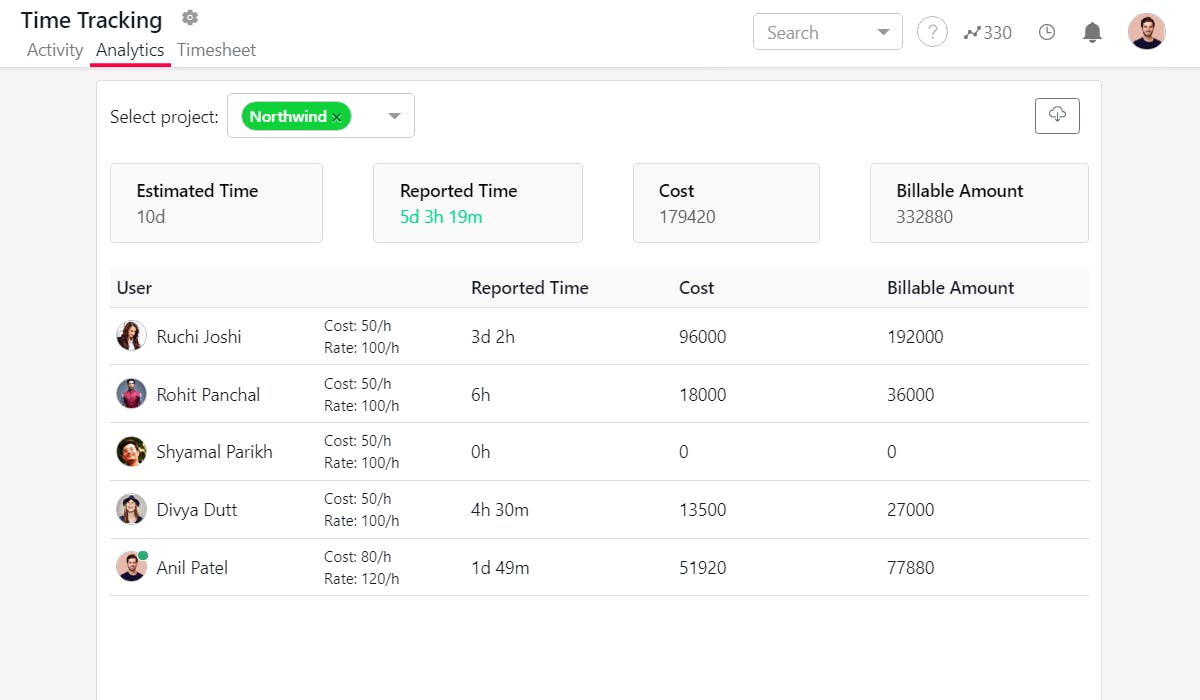 The Best Ad Hoc Project Management Tool
Last-minute projects can arise anytime and can negatively impact the workflow. The best thing you can do to handle ad-hoc requests is to have the right tools and detailed strategy in place.
If you want to choose a unified tool that helps you manage everything from start to finish like a pro, choose SmartTask. The project management tool has advanced features that give you complete visibility of the team's work status.
SmartTask is the #1 rated all-in-one productivity tool that helps teams organize and manage ad-hoc projects while improving productivity. Explore the advanced features of SmartTask project management software & make managing ad-hoc tasks a breeze.
Manage ad-hoc projects like a pro with SmartTask, Try it for Free.
Frequently Asked Questions
1. What are some Ad-hoc project examples?
Software Patch Deployment: In case of discovering a major vulnerability in a software product, a company might need to set up an ad-hoc project to quickly develop, test, and deploy a patch.
Event Planning: A last-minute gala to celebrate a significant milestone. An ad-hoc team would need to be assembled quickly to handle various tasks, such as booking a venue, arranging for catering, inviting guests, and managing the logistics of the event.
Product Recall: If a company finds a significant defect in one of its products, it may need to initiate an ad-hoc project to manage the recall process. This might involve setting up a team to handle customer communication, product returns, refunds or replacements, and investigations into how the defect occurred.
Disaster Response: Following a natural disaster like a hurricane or earthquake, an ad-hoc project team may be formed to organize relief efforts, including arranging shelter for displaced persons, coordinating food and water supplies, and organizing cleanup and reconstruction efforts.
Market Research: If a company is considering launching a new product or entering a new market, an ad-hoc project might be organized to conduct market research. This could involve surveys, focus groups, competitor analysis, and other research methods to determine the potential success of the proposed product or service.
2. What does ad-hoc task mean?
An ad-hoc task refers to a task that is not planned in advance and is usually performed as an immediate response to a particular situation or problem. The term "ad-hoc" comes from Latin, meaning "for this", indicating that it's designed or done for a particular purpose as necessary.
In a work or project context, ad-hoc tasks often arise unexpectedly and require immediate attention or action. These tasks are typically one-time actions that do not fit neatly into the standard, routine, or planned tasks.
For example, an ad-hoc task could be a sudden request from a client that requires immediate attention, a server going down unexpectedly and needing to be fixed, or a sudden brainstorming session to address a new problem or opportunity that has just come up.
These tasks often require flexibility and the ability to prioritize, as they can disrupt regular work schedules or planned activities.
3. What are some benefits of tracking ad-hoc projects?
Tracking ad-hoc projects, much like tracking any other type of project, provides a number of benefits. Here are a few of them:
Resource Management: When you're tracking ad-hoc projects, it becomes easier to manage your resources effectively. You can see who's working on what, how much time is being spent on each project, and where there might be inefficiencies that need to be addressed.
Budget Control: Monitoring can help ensure that the project is staying within its budget. It helps avoid unexpected costs and keeps you informed about where the money is going.
Time Management: By tracking the progress of ad-hoc projects, you can better manage your time and meet your deadlines. You'll know what needs to be done, by whom, and by when, and can adjust accordingly if things aren't going as planned.
Prioritization: Not all ad-hoc projects have the same importance or urgency. Tracking helps prioritize these projects according to their strategic importance and deadlines.
Visibility and Transparency: Tracking provides visibility into the status of ad-hoc projects. This transparency can improve communication within the team, with stakeholders, and with clients.
Performance Assessment: By tracking ad-hoc projects, you can assess both team and individual performance. This can help you identify where training may be needed, recognize top performers, and make informed decisions about promotions and rewards.
Improvement and Efficiency: Tracking allows you to identify bottlenecks, delays, or other issues that might be hindering the progress of your ad-hoc projects. Once identified, you can work to resolve these issues and improve the overall efficiency and effectiveness of your processes.
In short, tracking ad-hoc projects can increase productivity, improve project outcomes, and provide a host of other benefits. It's a crucial component of effective project management.