SmartTask
Contents
5 Step-Guide on How to Prioritize Tasks Effectively
By Viraj MahajanJan 4, 2023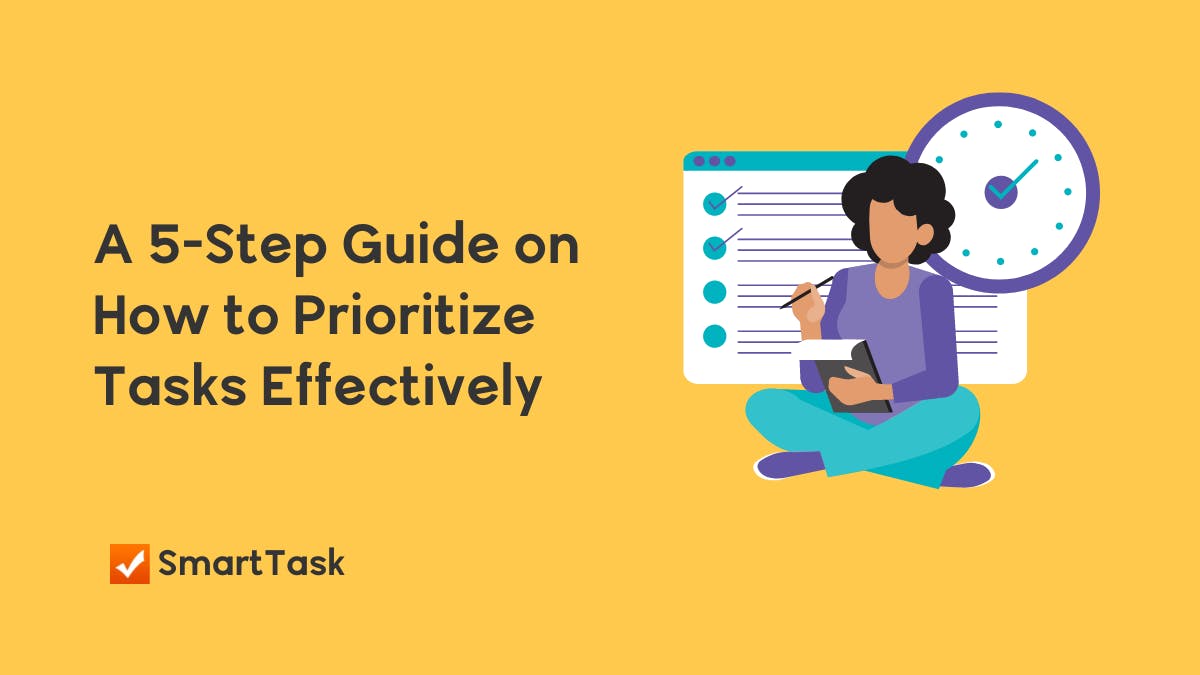 Prioritizing your tasks is all about understanding what to do and when to do it.
But between the different tasks lined up for the day and that tenth "urgent" call from one of the clients, it's easy to feel disoriented.
Soon your to-do list will drown in the fifth-morning cup of coffee, and you'll find yourself figuring out what to do and what not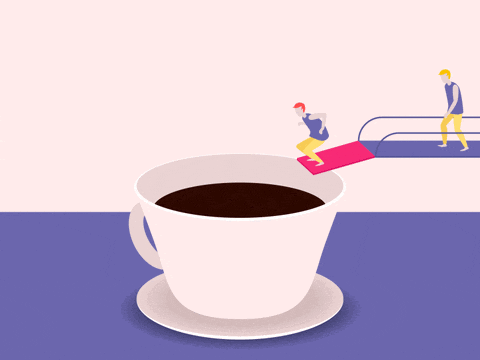 What if we say there is a solution to it?
Task management software like SmartTask help manages remote teams to assign tasks, measure progress, and communicate effectively.
In this article, we'll reveal how to prioritize tasks with a few simple steps, including
Create a task list
Use the priority matrix
Get a time estimate
Monitor & communication task progress
Know when to review and revise priorities
Let's get started!
Five Methods for Prioritizing Tasks
Let's discuss the methods in detail on how to prioritize tasks using project management software.
1. Create a Task List
The secret to effective project time management is to get all your to-do tasks out of your head on the screen. Even mundane tasks should be documented.
Once you're done creating a to-do list, prioritize tasks on the basis of urgency, importance, and availability of resources.
Since manually listing the tasks can be overwhelming, a good to-do list tool can help save time and effort.
The "My Tasks" feature in SmartTask automatically aggregates the assigned tasks in a single view so you can easily monitor what is scheduled, done, and pending.
💡SmartTask Tip: Make sure you add a "Start Date" and "End Date" to all tasks so you can stay focused on the right pieces of work and organize tasks based on the due date.
If you're a project manager, project management software can help you manage multiple projects from a single window. All you have to do is -
Define tasks to understand which projects are on the waiting list.
Add subtasks to the main tasks to organize the checklist items and track progress.
Enable task reminders and get quick notifications about pending tasks on mobile, email, and desktop.

Rich text editing allows you to add more information to each task that can indicate to teams how to prioritize tasks in real-time.
Creating a task list for yourself as well as your team allows you to document schedules, expectations, and deadlines - a must to ensure project success.
2. Use the Priority Matrix
Do you often find yourself wasting time on tasks that don't translate into goals? The Priority Matrix Method can break you from that cycle. There are three main types of the matrix you can choose, including, but not limited to, 4Ds, Eisenhower power, and the Moscow method.
Let's understand them better.
4Ds Method
The 4Ds refer to Do, Defer (Delay), Delegate, and Delete (Drop) tasks depending on their value.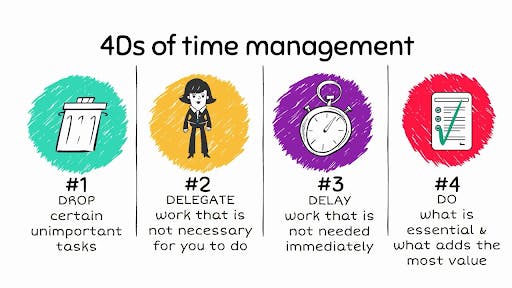 To begin using the 4 Ds method, examine your to-do list at the start of the workday and determine which tasks can be efficiently completed immediately by you or a team member, which tasks can be eliminated, and which critical tasks should be delayed for the time being.
At around 5 or 6 in the evening, re-examine the list to review what worked and didn't work.
As you gain more experience with the 4 Ds technique, you can apply this approach to manage complex projects and multiple teams at work.
A word to the wise: When you're charged up to get things done, focus on the "Do". Keep all distractions and temptations away.
The Eisenhower Matrix
The Slack message from a colleague, The Email from your client, and even the Zoom Call request from your remote team - all this can seem "Urgent", but do they really are?
It is easy to get trapped in the never-ending saga of urgent and important. In a 1954 speech, Eisenhower quoted, "I have two kinds of problems, the urgent and the important. The urgent are not important, and the important are never urgent."
Keeping in mind the same philosophy, the Eisenhower Matrix can help you avoid the "Urgency Trap" and focus on things that help you make progress on your goals.
In this The Urgent-Important Matrix, the tasks are segregated into four quadrants -
➡️ urgent and important
➡️important, but not urgent
➡️not important, but urgent
➡️neither important nor urgent
(given in the image below)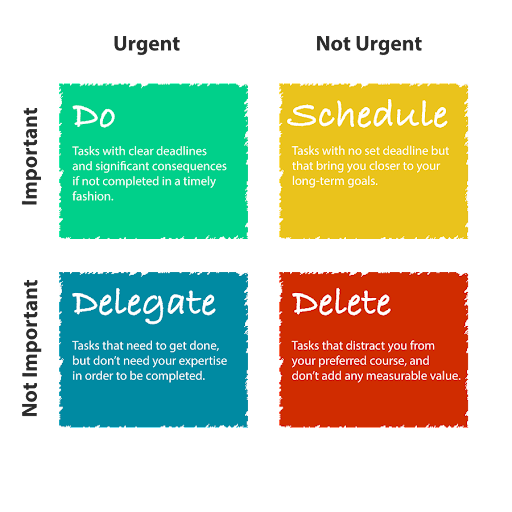 Your task is to understand the tasks in each of the four quadrants and follow it up with the 4D's framework mentioned above - Do, decide, delegate, and don't do (or delete).
Do the tasks in quadrant 1 because these can't be delayed or ignored. Eg: Risk assessment, resource planning, budgeting, Ad optimization, and other such critical tasks.
Decide when to deal with the tasks in quadrant 2 because these tasks don't mind standing in the queue waiting for their turn. For example, grocery shopping, planning annual meetings, planning social media calendar, and other important, but not-so-urgent tasks.
Delegate the tasks in quadrant 3 because these don't necessarily need your expertise but must be taken off the list as soon as possible. For example: sending e-invites to colleagues, booking flight tickets, buying anti-virus, or perhaps researching for your speech notes. In short, anything that doesn't need your skills can be delegated.
Delay or delete the items in quadrant 4 because let's face it, you're never going to do them. These are unrewarding time wasters. Still, need examples? Here they are - checking social media accounts, ceaselessly scrolling through the news, binge-watching a Netflix show, and so on.
MoSCoW Method
Invented by Dai Clegg, a Software Developer in Oracle the Moscow method in project management gives you clarity about which task requires more time and effort. And the priorities are often set on the basis of the return on investment (ROI).
The acronym stands for Must, Should, Could, and Won't. Needless to say, the requirements that are considered "Must have" are prioritized first.

Regardless of which productivity method you choose to work with, it's important to identify and separate the less critical tasks on your list. By sorting through your tasks and deciding which ones can be delegated or eliminated, you can clear space for the more essential tasks and focus on what truly needs to be done.
💡SmartTask tip: If you're using SmartTask to create a to-do list, make use of the board and calendar view to get full visibility of deadlines. This will help you identify which tasks must be completed promptly, which can be pushed back and which ones can be completely eliminated. In addition to this, you can also assign priority levels to each task so you don't lose focus.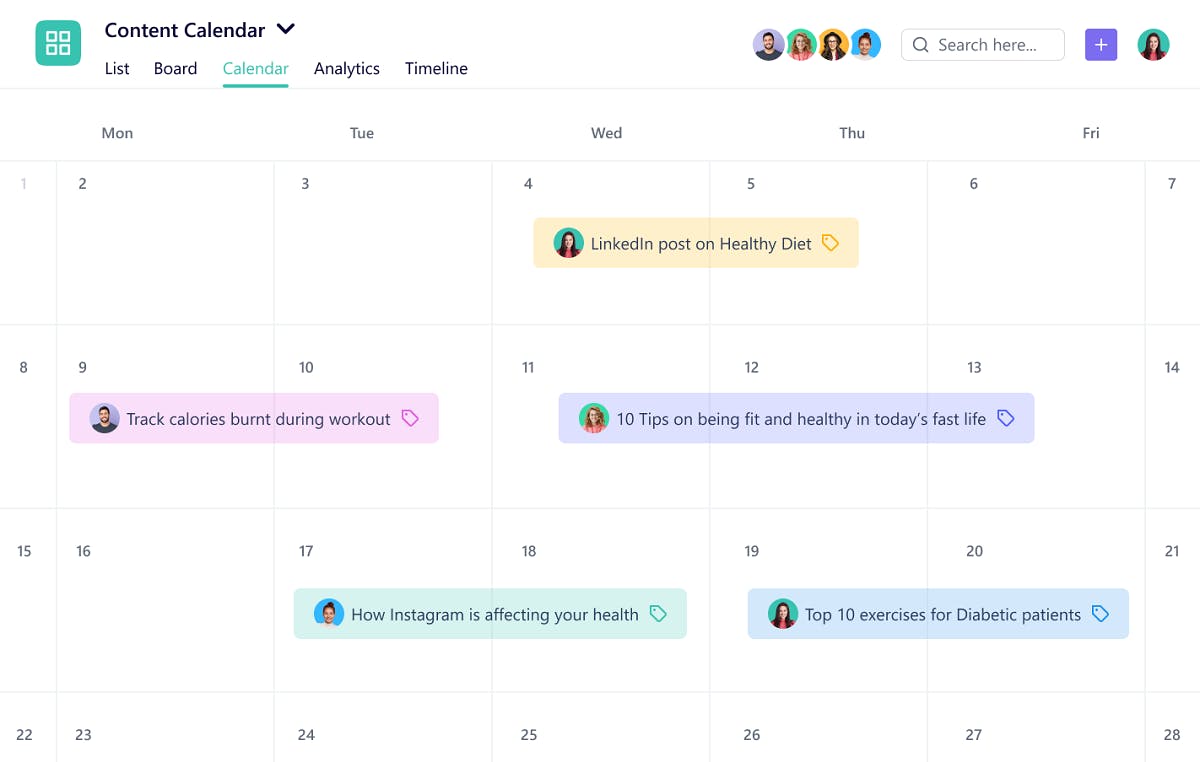 3. Get a Time Estimate
Effective time management is closely connected to prioritizing tasks. If you find yourself frequently struggling with tight deadlines, or your workload is unmanageable, consider that you don't have a clear understanding of the scope of your work.
To get things done without feeling overwhelmed, it's important to accurately track the time spent on each task. This can be done through tools like SmartTask's time-tracking feature.
Without this data, it can be difficult to accurately estimate how long tasks will take, leading to missed deadlines and subpar work.
Remember, the time it takes to complete a task can vary based on factors such as the depth and length of the work, as well as the skills of the individual completing it. By carefully tracking your task timing, you'll be better equipped to prioritize your tasks, stick to a schedule, and get more things done than anticipated.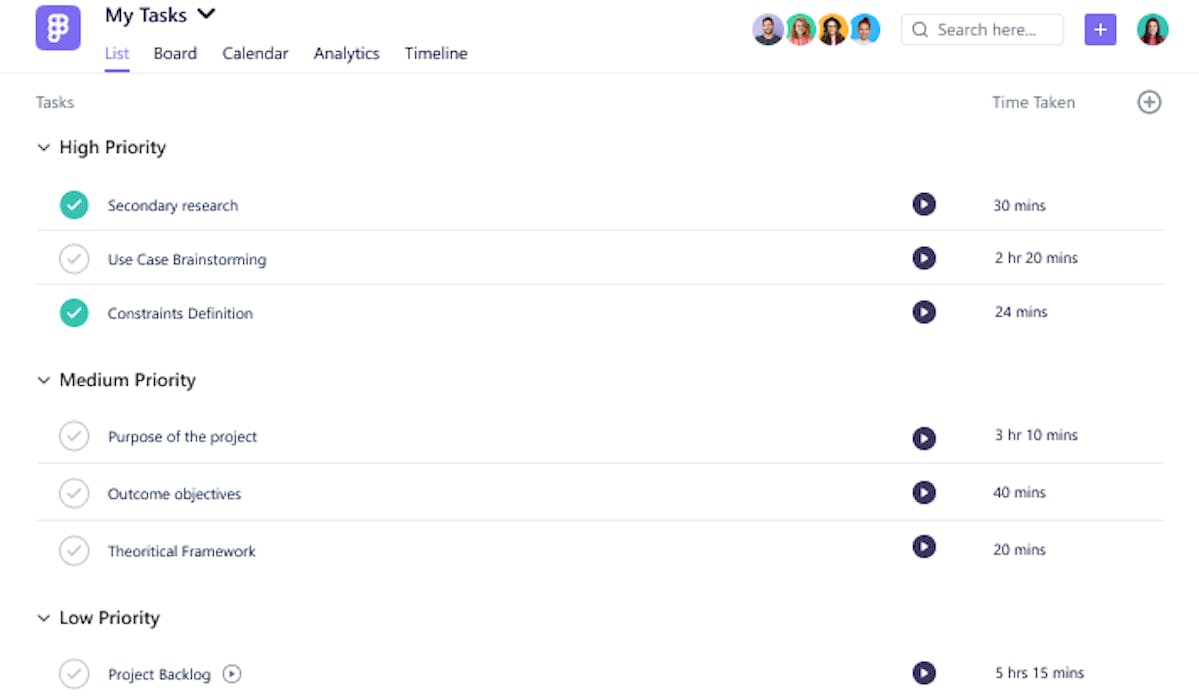 4. Monitor & Communicate Task Progress
A major part of getting things done and avoiding procrastination is tracking progress. Whether you work in silos or with a team - if you are not monitoring the progress and communicating the same with stakeholders, you won't know whether or not you're getting close to the end goal.
SmartTask progress tracker tool is your answer to how to prioritize tasks and complete them without losing track.
The software allows you to assign comments to specific assignees as the project progresses. This approach helps everyone understand precisely what they are responsible for and what they need to do to complete the project on time. As a result, task prioritization becomes a lot easier.
Some advanced features that can help project managers monitor and communicate task progress among the team members include task comments and status updates.
Video conferencing, instant messaging, and automated check-ins are a few ways that will help the team communicate with each other for immediate resolution. The status update feature keeps the team informed about all the tasks that need to be completed before the day ends.
5. Know when to Review and Revise Priorities
If you really want to get things done - productively, you have to review priorities realistically. Life can be pretty darn uncertain. A task estimated to complete in 2 hours can take 5 hours or more if the wi-fi service provider suddenly decides to go under maintenance. The recent Instagram global crash is a great example of how work plans can change overnight.
Another point in consideration is to review the workload. What could be the reason for not being able to finish certain high-priority tasks? Is it a lack of time? Overburdened with tasks? SmartTask's workload features allow you to take a deep dive into work allotment and resource planning. A glimpse at the workload chart can help you regain control and focus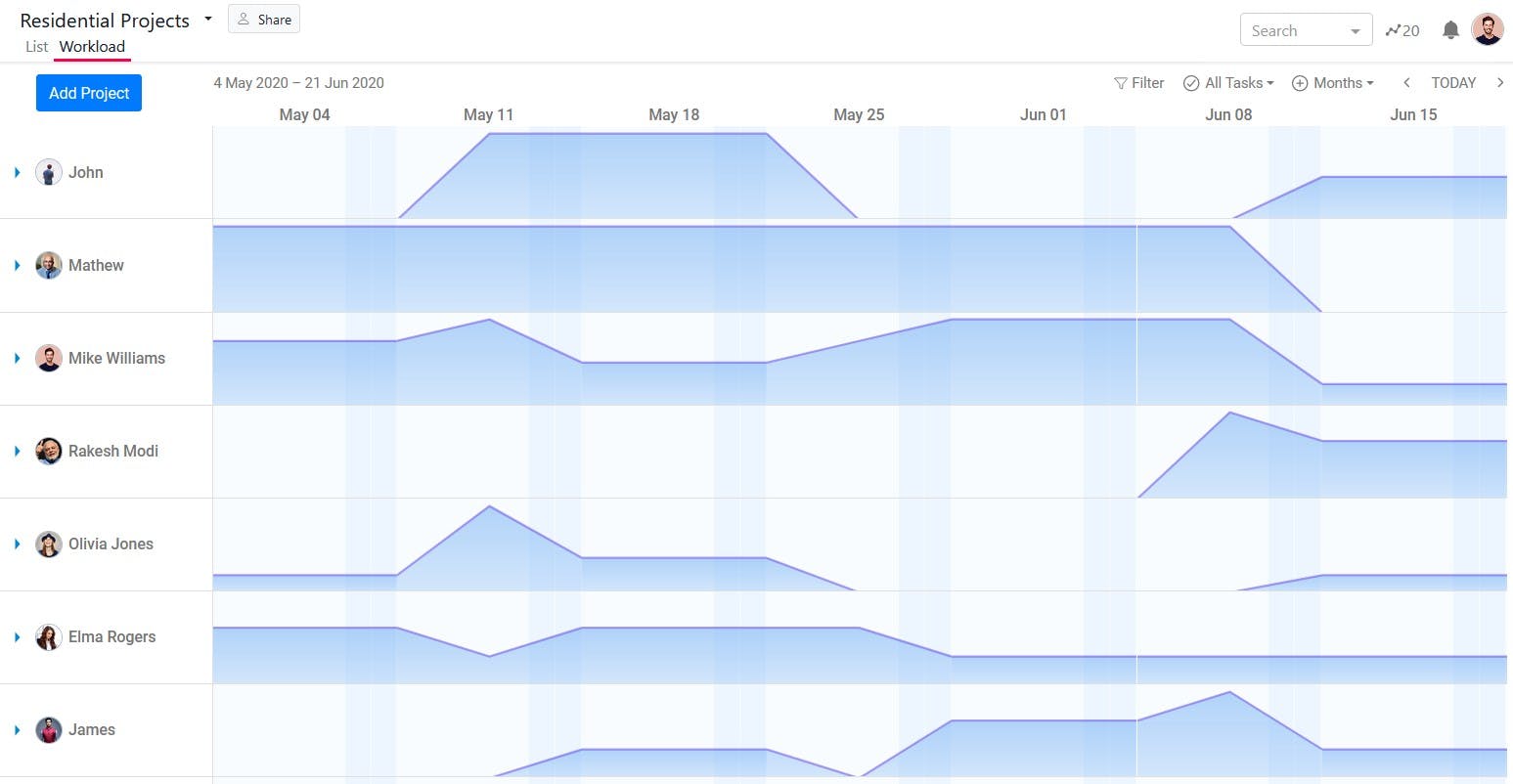 Want to know what other features can help you stay productive, prioritize effectively and get things done?
Here's what else you can expect from SmartTask task management software.
Multiple views - handle all your tasks in multiple views, including List view, Calendar view, Board view, etc.
Workflow automation - easily manage and automate recurring tasks and free up your team members to focus on other essential tasks.
Project dashboard - use a custom dashboard that helps you to keep all the crucial task information handy.
Project summary - find out the bottlenecks and risks involved to plan effectively
Task comments - get details on why the ship hasn't sailed for certain tasks.
Explore all the advanced features of SmartTask and get ready to manage tasks like a pro.
Prioritize Smarter & Better with SmartTask Productivity Tool
There is always a solution to every problem. Whether it's about managing tasks with tight deadlines or automating recurring tasks, having task management software can help you.
Once you have a clear understanding of how to prioritize tasks, take a step back and capture everything on a Master List. Break them down by monthly, weekly, and daily goals. Wrapping up the day knowing that you've knocked out some important work is an amazing feeling. And it's surely possible with the right set of tools.
With SmartTask project management software, your priorities can be effectively aligned with the end goals with configurations that work best for achieving their goals.
Ready to Priortize Better and Smarter? Sign up for a Free Trial Today.