SmartTask
Contents
18 Best Resource Management Software in 2023 (Free & Paid)
By Angad SinghJan 16, 2023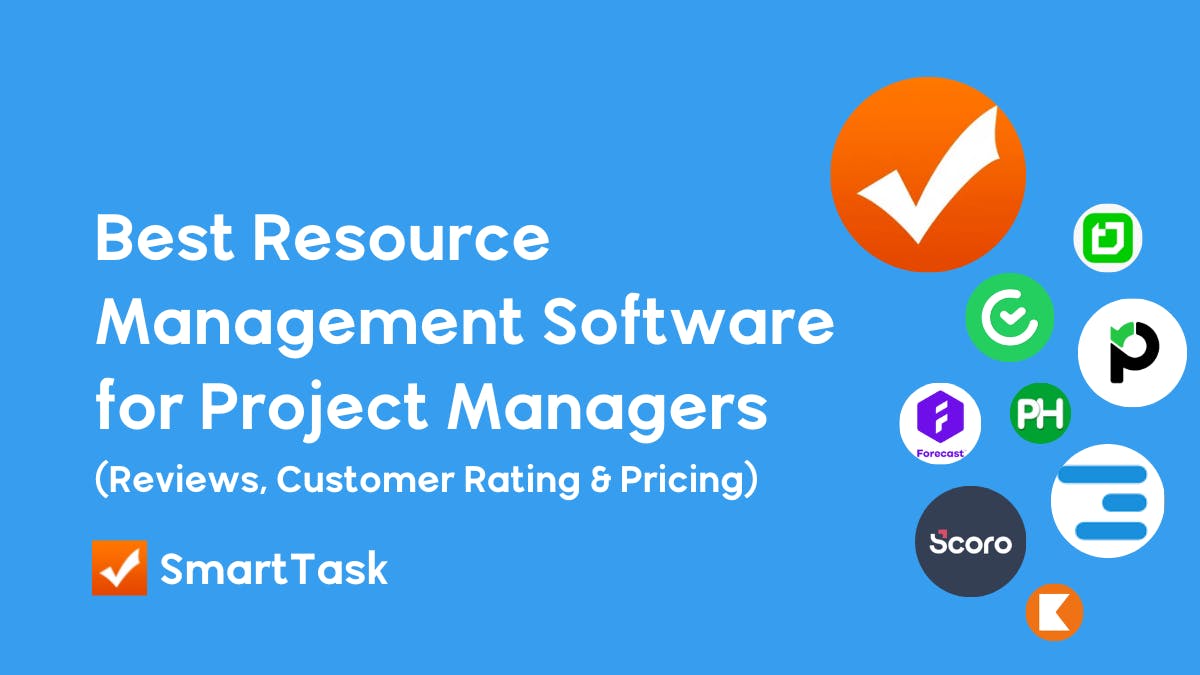 Deloitte surveyed 1000 full-time workers in the US and found 77% felt burnt out at their current job. Wonder what is at the root of this crisis?
Haphazard resource allocation.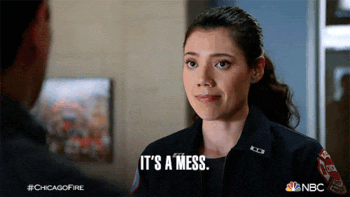 When it runs rampant, Tom works through weekends while Harry wonders what to do, even on a Monday. Under/over-resourced projects become the norm with no hope for balance.
Profitability suffers. Morale goes down. The crisis turns into a Crisis with a capital C.
Best to stop things from heading in that direction while you can, right? That begs the question of how. What can you do to tame the beast of mismanaged resources?
Well, the answer is simple but effective. Instead of being reactive to project demands, invest in resource management software that helps you be proactive. Prevention beats cure, remember?
And to meet that end, here's a list of the 18 best choices on the market:-
List of the Best Resource Management Software
1. SmartTask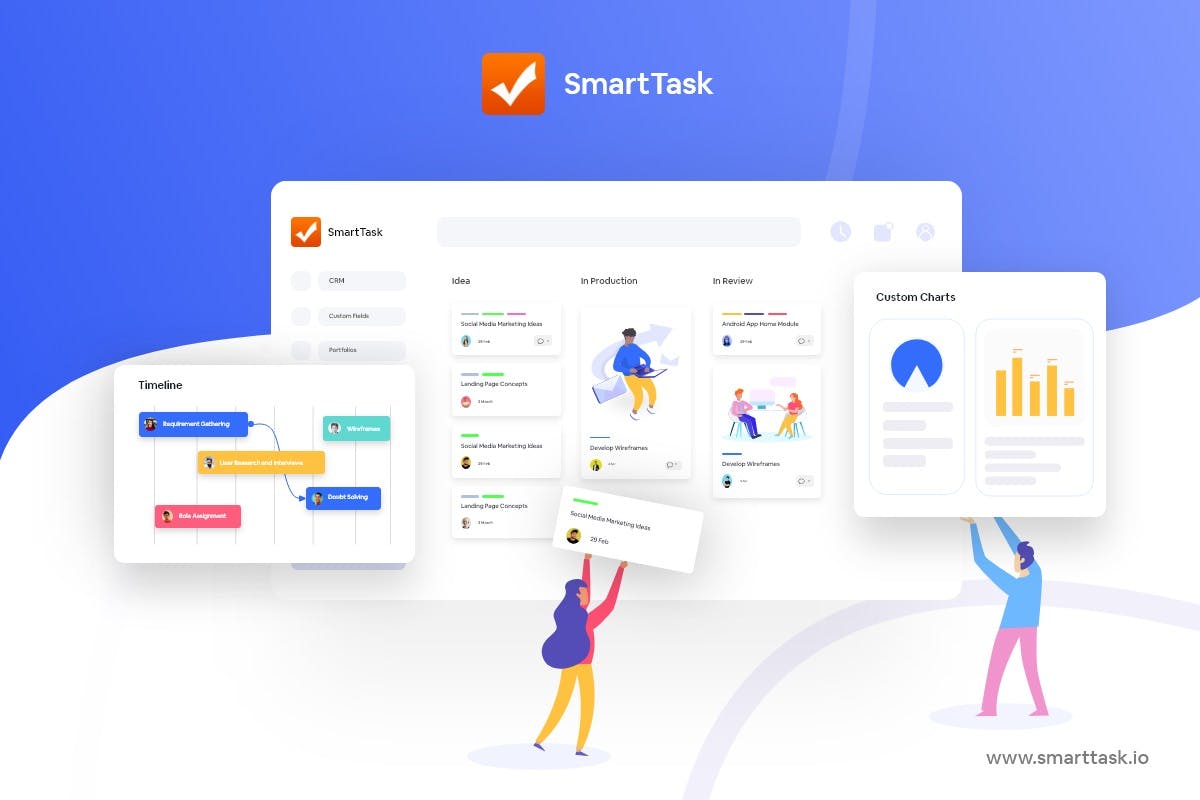 Looking for resource management software that's simple, effective, and scalable?
Well, that's SmartTask for you.
Built from the ground up with holistic workflow management in mind, it does two things well:-
Be your single source of truth
Give you all the tools to act upon said truth
For managing resources, there's a Workload view. Therein, you can offload tasks from overworked team members via simple drag-and-drop.
The time-tracking module, just as intuitive, seeds detailed timesheets and reports. For client-facing projects, you can easily pull up data on billable hours and even export it to your system.
And we also get not all resources have the same capacity. So, you can set your own for all team members. The best part, you can bag all these features and tons more for $8/user/month.
Key Features
Portfolio management
Time tracking
Workload management
Capacity management
Billable vs non-billable hours
Timesheets
Custom dashboards and reports
Pros
Has a free plan that's actually valuable
Simple UX that doesn't get in the way of adoption
Has small-business friendly pricing
Scales as you do without feeling like homework
Is a fit for both in-house and client-facing workflows
Helps you 3X productivity without overworking a single resource
Cons
Workload planning is limited to 100 uses in the free plan, and 20 0 uses in the entry-level ($5/user/month) tier. The business plan (starting at $8/user/month) has everything unlocked
Best For
Professional service firms of all sizes looking to systemise resource planning

2. Paymo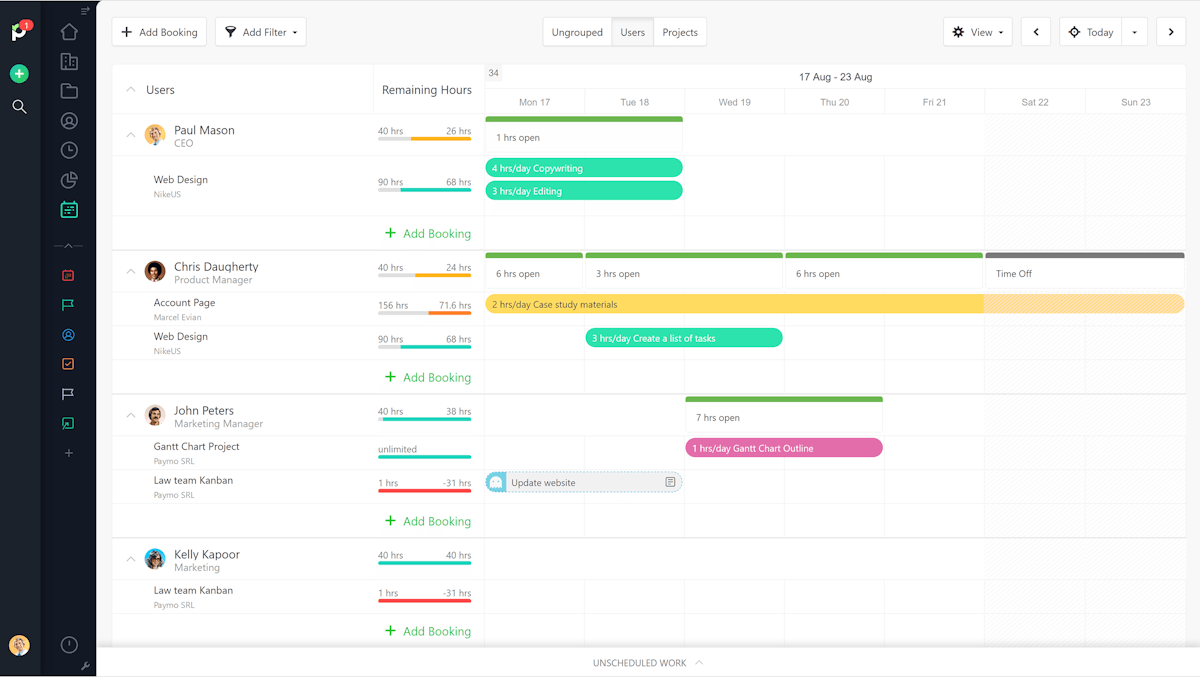 Paymo perfectly encapsulates what ambition is worth. For years, it was a humble time-tracking tool. Today, it is among the finest resource management software out there.
It supports ghost bookings, which ensures future resourcing concerns never slip your radar. There's demand forecasting too, which extends as much as a month into the future. Another reason to give Paymo a spin is its handy leave management.
Key Features
Built-in time tracking
Invoicing and estimates
Team scheduling with built-in leave planner
Task management with priorities, dependencies, and comments
Guest access to projects for client work
Multiple project views
Gantt charts
Pros
Meta kanban board where you can see all tasks in all projects in one board
Can create recurring invoices
Handy desktop widget for time tracking
Cons
Product education isn't at par with new feature releases
Mobile app seems to be slower than the web version
Limited integrations
Huge learning curve masked by the beautiful UI
Best For
Small to medium agencies and consulting firms
3. Forecast
Forecast is an AI-powered project management software with a resource management focus. It simplifies allocation and planning with automation and forecasting tools.
It boasts a powerful auto-scheduling system that matches tasks with available resources with the tap of a button. From a UI standpoint, it fares well but some users find the software's learning curve to be steep.
There's also a visual resource heatmap, which is useful for reallocating overused resources. All in all, the feature set here is diverse and future-forward but loses appeal due to the app's pricing. For early stage companies, the tool's per set pricing can prove quite expensive. Even the option to pay monthly is amiss.
Key Features
Utilization tracking
Capacity management
Resource allocation
Project planning with scoping
User/project level views
Resource heatmap
Auto-scheduling
Timesheets
Skill and role tracking
Forecasting with suggestions
Pros
Has a great look and feel, but the UI does require some getting used to
Great onboarding experience
AI-powered insights
Cons
Pricing was competitive at first, and is now becoming unappealing — key features are available only in the enterprise plan
A rather passionate review detailed how Forecast's focus on growth is making their service worse — they had to cycle through 4-5 customer success managers to get a resolution
When trying to check someone's availability, the UI can seem like a number soup
Best For
Professional service firms with 50+ employees
4. Kantata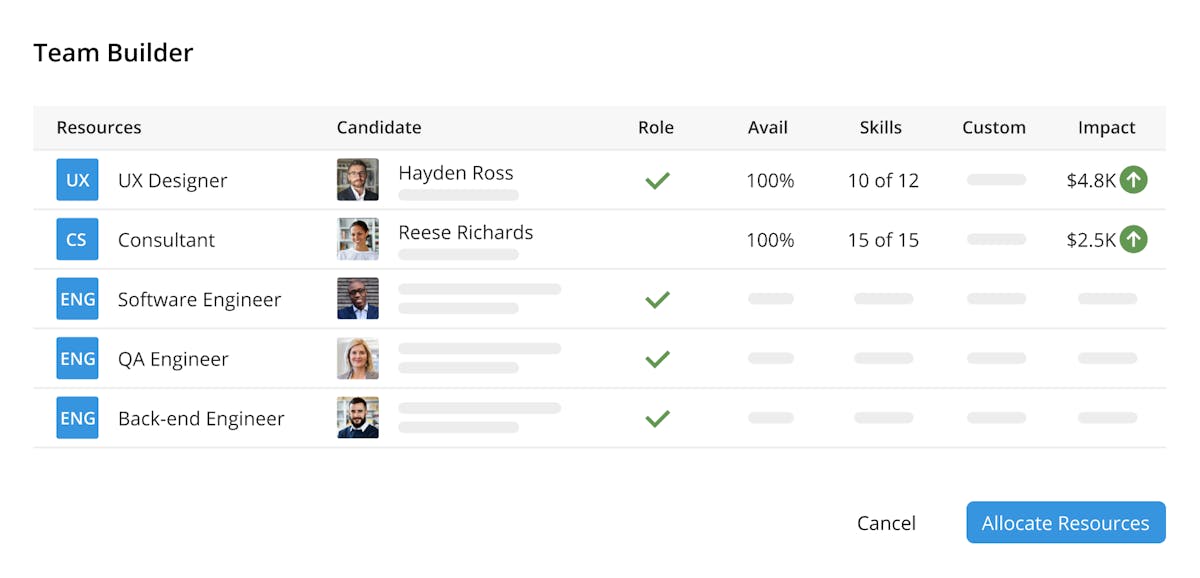 Kantata is a competent resource management software. But calling it just that would be like calling Leonardo Da Vinci just a painter.
Formerly two apps, Kimble and Mavenlink, it now exists as a unified platform. And professional service firms are all the better for it. Purpose built for their workflows, Kantata helps manage not just resources, but projects, finances, and teams as well.
However, its pricing is a bit of a mystery. You'll have to fill a form to know what it'll cost your team, which we feel is a bummer. Nonetheless, let's take a peek at its key features.
Key Features
Capacity management
Project budgeting
Financial management (including invoicing)
Resource allocation, scheduling, and forecasting
Skills management
Portfolio management
Time tracking
Gantt and Calendar project views
Pros
Forecasting, resource planning, and project management in one app — complete solution for professional service firms
Modern & visually appealing UI
Personalized dashboards and reports
Cons
Steep learning curve, especially if you want advanced reporting
Navigating between different pages can feel clunky at times
Secretive pricing
Best For
Mid-sized and large professional service firms
5. Wrike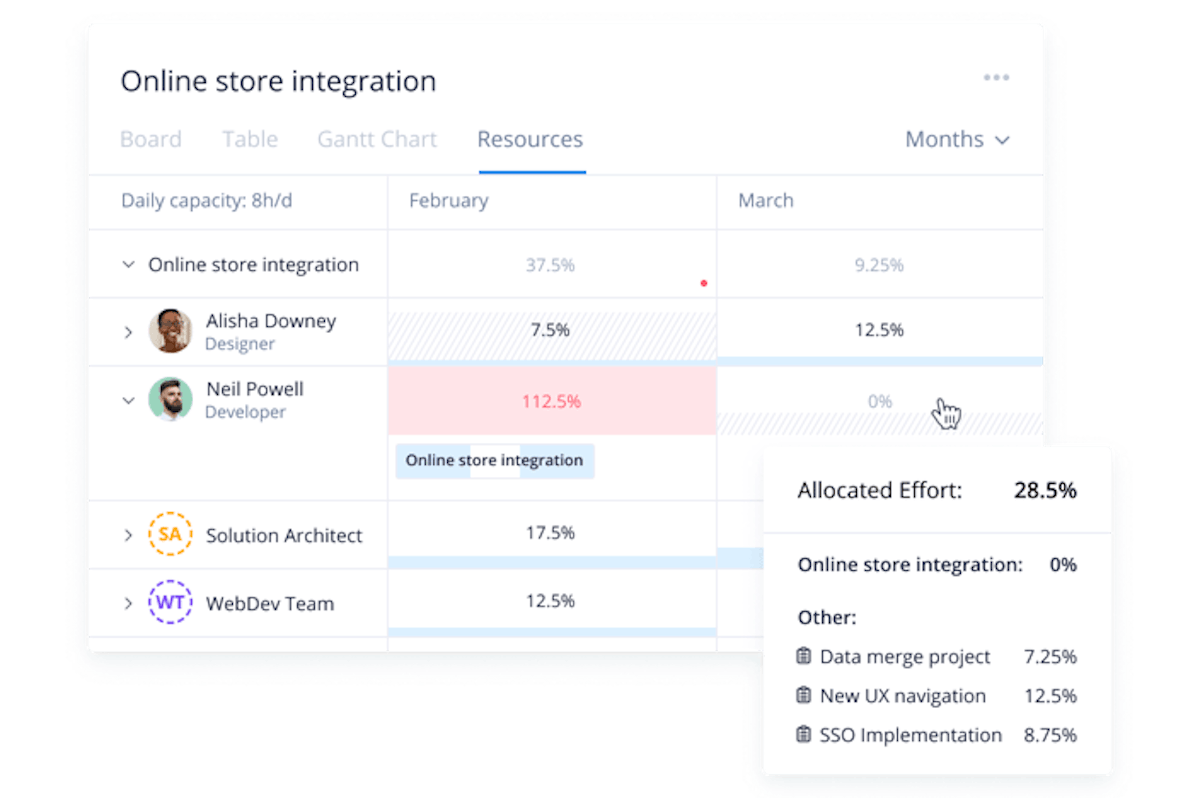 It's hard to steer clear of Wrike when you're on the lookout for work management solutions. Even more so after its recent Lightspeed update.
Given its improved performance and scalability, both power users and newbie project managers can squeeze enough value out of Wrike.
However, resource management features demand a heavy payout. Their absence from the entry-level plan is what gives Wrike a lower position on this list.
Key Features
Capacity management
Time tracking
Project budgeting
Effort management for tasks
Advanced analytics and BI
Proofing and approval management
Multiple project views
Desktop and mobile apps
Pros
Complete work management solution that can support a plethora of use-cases
Newly revamped in 2022 — several new features added to the mix in the Wrike Lightspeed update
Cons
Despite an overhaul, some users find the UI unappealing
Need to pay at least $24.80/user/month to access resource management features; they aren't available in the more affordable entry-level plan
Some users experience performance issues in the mac app
Best For
Mid-sized and large teams that will treat Wrike for end-to-end work management
6. Scoro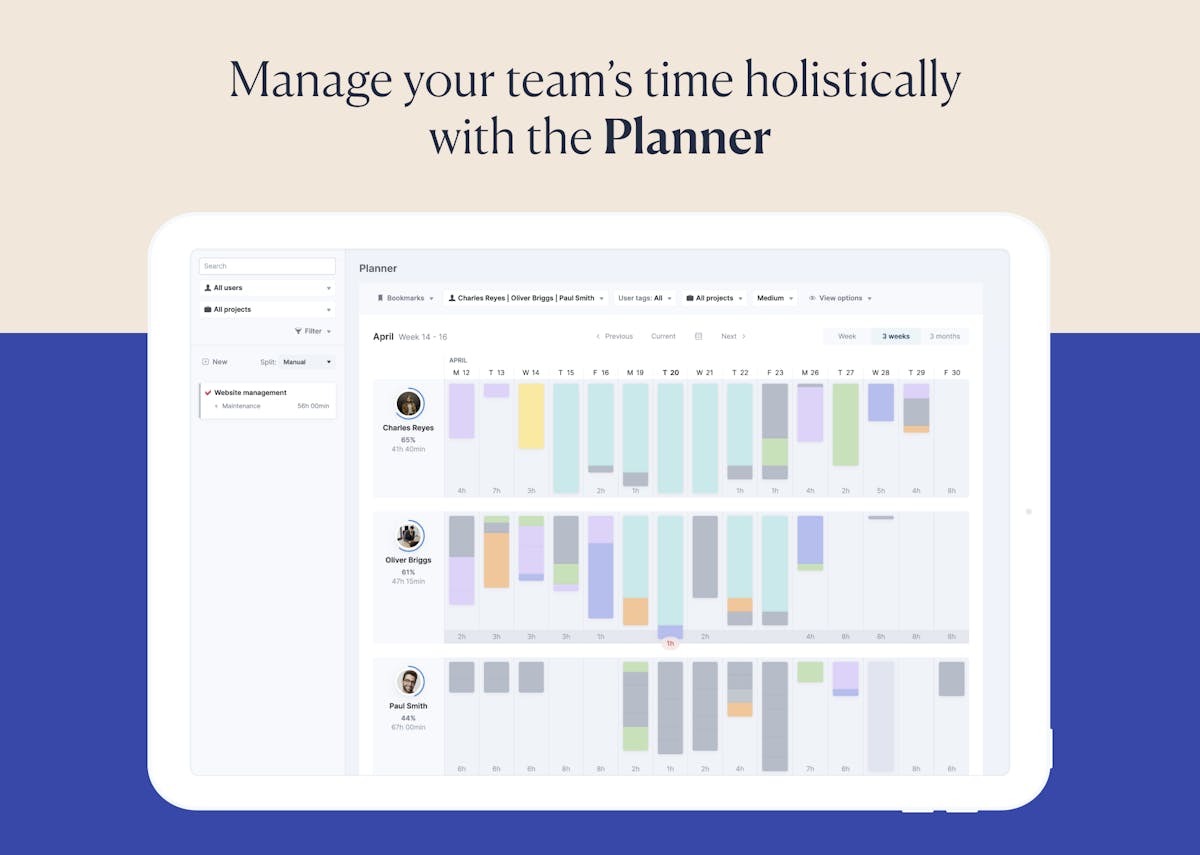 Scoro calls itself an end-to-end work management software — a claim that doesn't fall short. It gives you all the tools you need to see projects from start to finish. Of course, resource management makes this list.
One of G2's spring leaders in 2022, Scoro is customisable to the core and can fit onto a wide gamut of workflows. Exhibiting a clean and modern design, it keeps work management from ever feeling like a drag.
Lastly, Scoro offers paid onboarding services which provide tons of value to businesses that can't risk late adoption.
Key Features
Capacity management
Resource allocation
Time tracking
Billable vs non-billable hours
Sales CRM
Finance management including invoicing
Budget forecasts
Project management with Gantt charts and other views
Pros
1000+ integrations
Drag-and-drop resource management set in an aesthetically appealing UI
Near-infinite room for customisation
Cons
All plans need at least 5 users, which can deter up-and-coming startups from using Scoro
Some users report a bug with calendar synchronization
Client profiles, Time Tracking, and Gantt Charts aren't available in the base plan even after expensive pricing ($26/user/month)
The price-to-features ratio leaves more to be desired across all plans
Best For
Agencies, consultancies, and service firms that can afford Scoro
7. Hive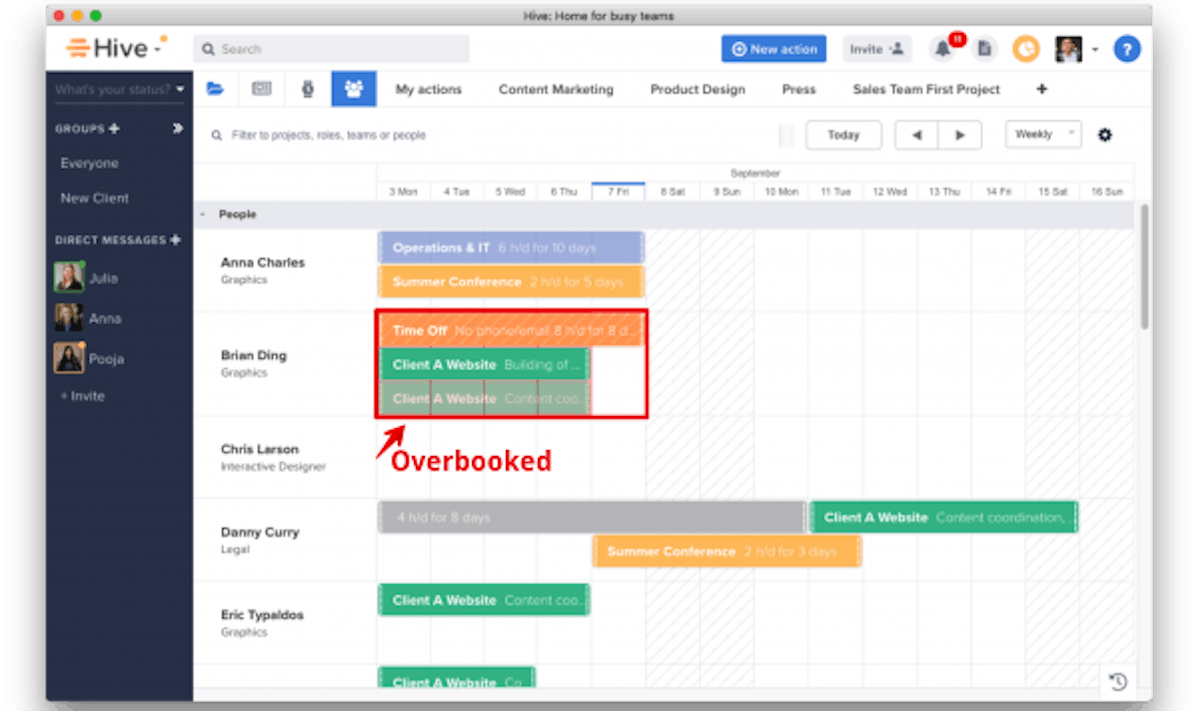 Hive, a 360° work management tool, prides itself on its public roadmap. The team says all Hive's feature developments are a result of user votes on the forum. And somewhere along the road, resource management features won the draw.
So, the app in its current form has all you'd need to manage resources. However, most of this functionality is absent from the base app. You'll need to buy add-ons to turn Hive into a proper resource management solution.
Regardless, if you make peace with that quirk, what you get in return is quite comprehensive.
Key Features
Goals
Time tracking
Timesheets
Resourcing with the ability to add placeholders
Utilization percentage
Out-of-office calendars
Resourcing permissions
Pros
Development is fast-paced and channeled by user-feedback
UI is quite simple and easy to grasp in a short time
HiveMind (AI assist) for writing content, email subjects, and responses, which can be translated into 26 languages
Good integrations; the Teams integrations is a favorite among users
Great customer care revered for being highly responsive
Cons
App performance issues are a common concern among the user base
To users seeking a more straightforward tool, it can feel too bloated with features now
Mobile version is not as good as the desktop version
Resource management is locked behind add-ons
500 automation tasks per workspace per month limit (not on the enterprise plan)
Best for
Mid-sized companies that can put up with occasional performance issues
8. Float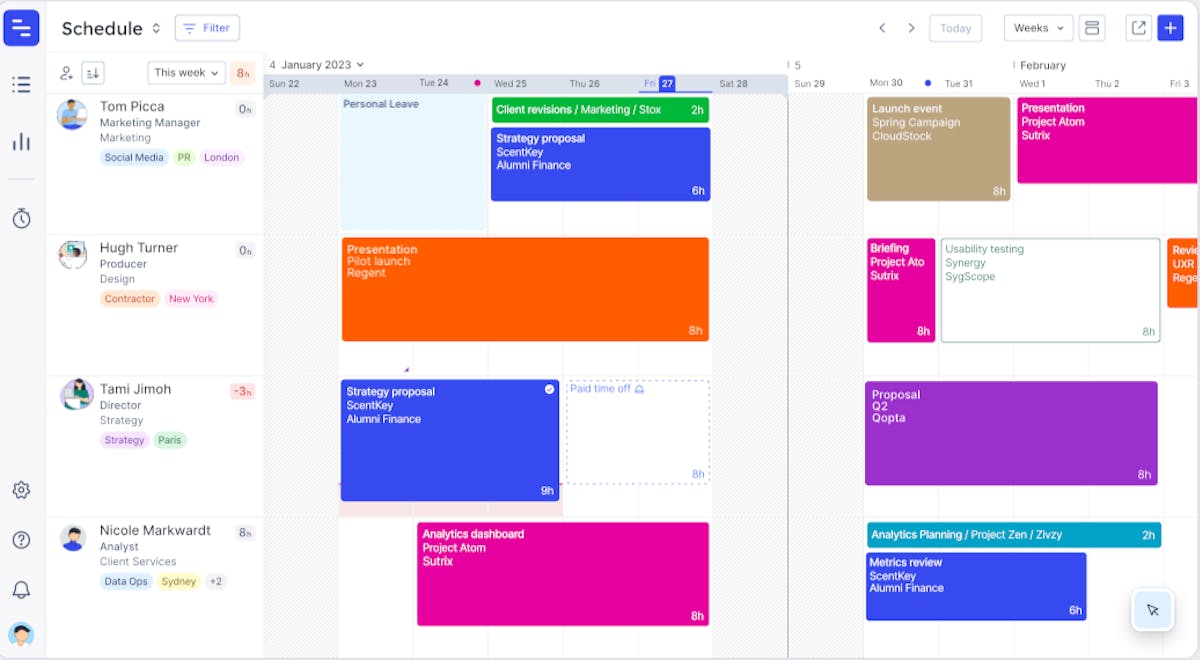 Float gives you a way to bring projects and team capacity into one timeline. A resource and project management hybrid, it wins hearts with its simplicity.
No harder than using an email or calendar app, it also receives frequent updates. So, you don't need to worry about the app suffering from maintenance issues.
Its Achilles heel is its limited reporting capability. Though easy to produce, project reports aren't deep enough to lend actionable insights.
Key Features
Project planning
Capacity management
Resource scheduling and allocation
Budget forecasting
Time tracking
Spend tracking
Timesheets
Manageable access roles
Pros
Asana integration
Simple, beginner-friendly UI that never gets in your way
APIs with clean documentation
Not prone to outages or in-app slowdowns
Cons
Its simple UI can feel uninspired to some
Not as well-rounded as some complete work management tools on the list
Slightly pricier than some alternatives on this list
Limited reporting capabilities
Best For
Small and medium-sized business that want a reliable, no-nonsense resource management software
9. Teamdeck
Teamdeck simplifies resource management, scheduling, time tracking and leave management.
It packs a user-friendly interface, which is evident in every interaction in the tool. From making bookings to managing timesheets, everything is intuitive, and divorced from complexity.
You also have the option to import projects from CSV, text, or XML files. Leave management is also robust, with automatic deductions for approved leaves.
Key Features
Availability management
Resource scheduling on a timeline
Skill tracking with custom fields
Time tracking
Utilization tracking
Timesheets
Leave management
Custom reporting
Pros
UX that foster frictionless adoption
Leave management allows for vacation tracking
Great pricing starting from $3.99/user/month
Cons
No free plan — can sign up for a 7-day free trial, which yet again is shorter than most
The time tracking module can be more sophisticated and accessible
App stability is a concern for some users
Best For
Small and mid-sized businesses looking for an affordable resource management tool
10. Smartsheet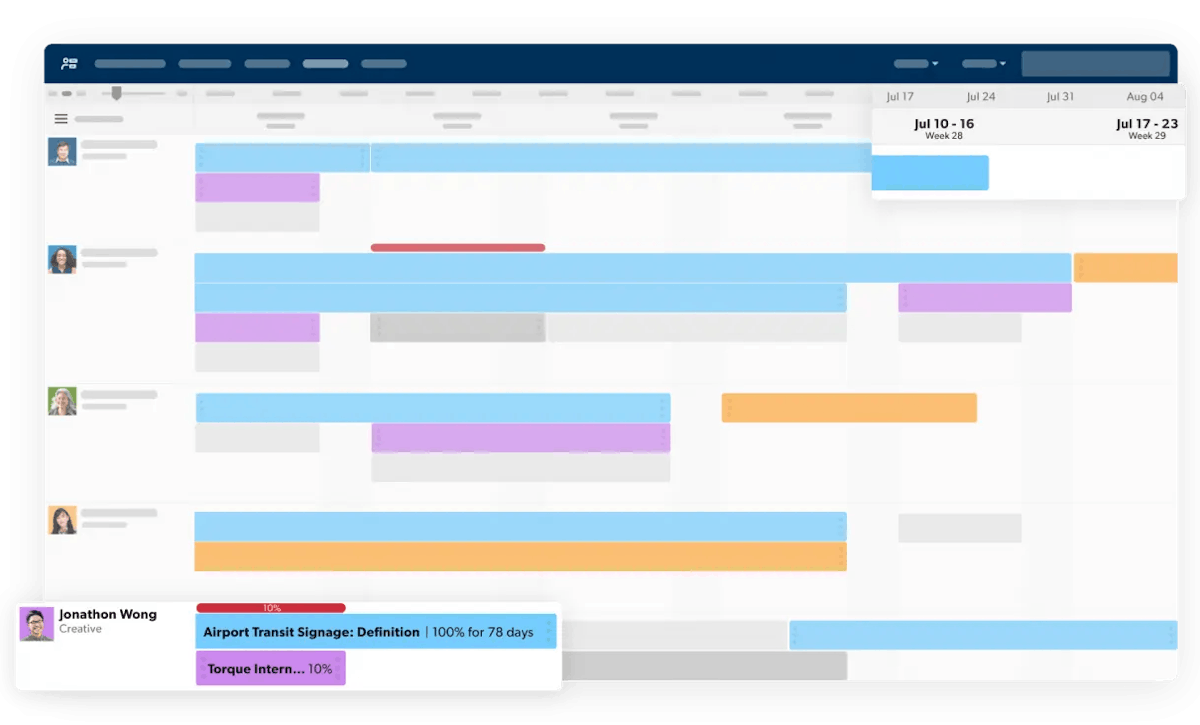 Smartsheet — a project management heavyweight — is more than capable of streamlining resources. In fact, it gives you the freedom to make an interesting choice.
Use Resource Management by Smartsheet (previously called 10,000 ft) as a standalone app, or purchase it as an add-on to the platform.
Depending on the gaps in your tech stack, you can pick the option that's right for you. But, in either case, the resource management features you'll get will be the same.
Key Features
Resource allocation
Project planning
Time tracking
Dynamic reporting
Smartsheet integration (if you purchase the standalone app)
Pros
Intuitive and user-friendly UI — in line with what Smartsheet is known for
Flexible dashboards and templates
Integration capabilities with the Smartsheet platform have met acclaim
Cons
No desktop app as of yet — only available as a web-based tool
Setting up permissions (which is quite extensive, to Smartsheet's credit) can spur some confusion at times
Self-serve resources can be more robust
No free version — only a trial is available
Pricing details are not disclosed on the website
Best For
Smartsheet veterans looking to ditch third-party resource management tools
11. Forecast by Harvest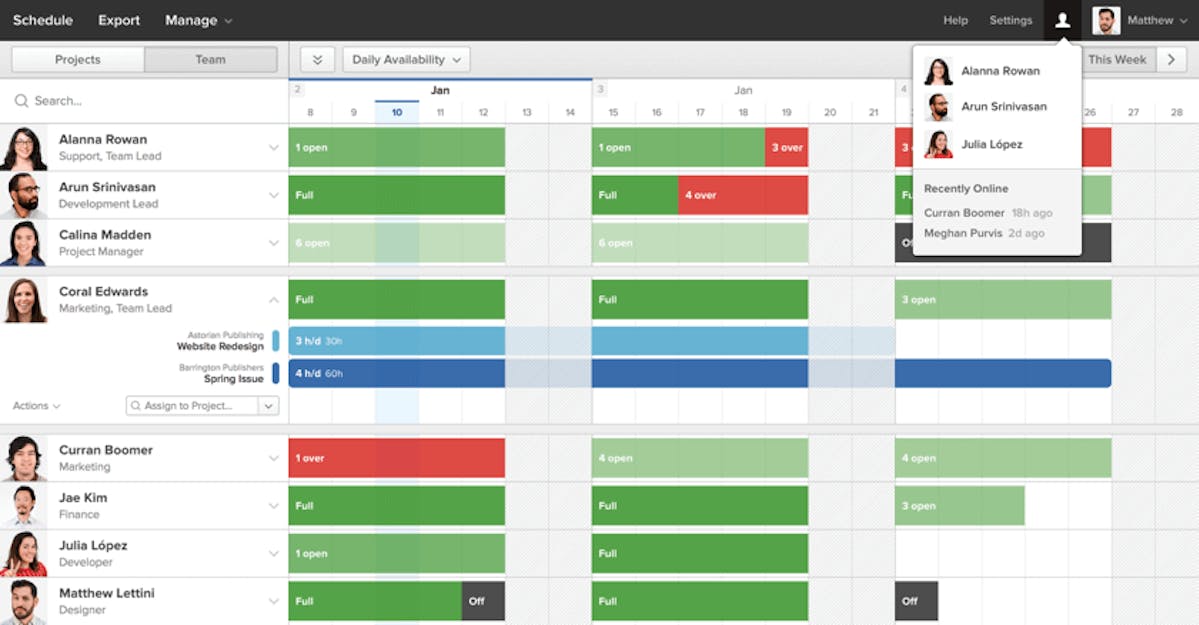 Forecast... the name rings a bell, right? Well, that's because we reviewed another tool with the same name a little above in this very list.
So, what's the repetition about? Glad you asked. This Forecast is a companion app to Harvest — the revered time-tracking app. So, think of it as Forecast by Harvest. Now that we've got that out of the way, let's talk specifics.
For $5/user/month, Forecast by Harvest can get you managing resources for unlimited clients and projects. Though it works best when used in tandem with Harvest, it can hold its own even when used in isolation. If you're a 50+ person team, you can also bag some heavy discounts, by reaching out to the Harvest sales team via email.
Key Features
Visual time planning for teams
Data export
Utilization tracking
Flexible team permissions
Phone & email support
Pros
Editing plans is visual, intuitive, and snappy
A great value add for avid Harvest users
Affordable pricing if used as a standalone app
Cons
Pricing can stack up when you use it alongside Harvest. That's a bummer considering how both the apps don't size-up to become an end-to-end work management app.
App isn't immune to slowdowns
The product is in early stage, and needs more polish
No free version — only a 30-day trial
Best for
Avid Harvest users looking to spice up the offering
12. Toggl Plan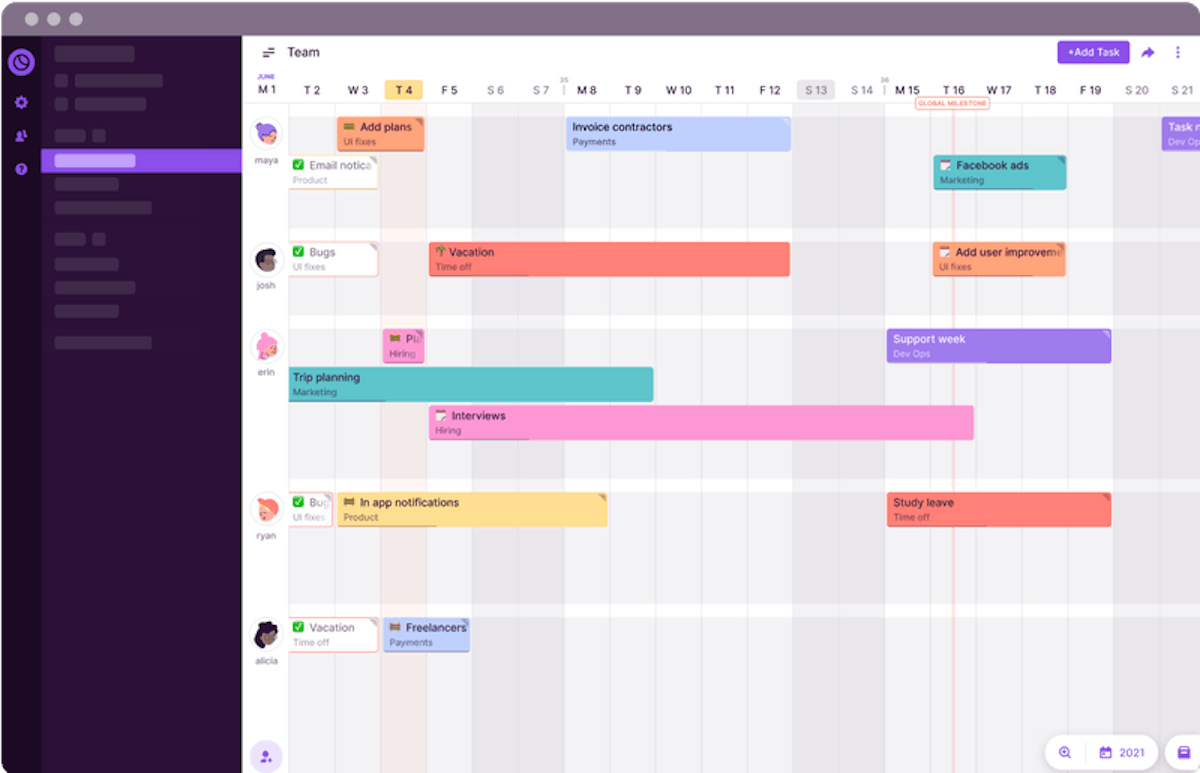 Toggl Plan, one of three tools in Toggl's work management suite, checks all the boxes to be a part of this list. Used by the likes of Netflix, Spotify, and Airbnb, it dons a pleasant UX with swift animations.
It works best when integrated with Toggl Track, which could end up being costly for small teams. However, it's good enough even on its own, and is well worth the $8/user/month monthly bill.
Key Features
Unlimited tasks and task boards, even on the entry level plan
Project & team timelines with easy zoom-in and out
Personal dashboard
Leave management
Shows public holidays
Recurring tasks
Time tracking (if you integrate it with Toggl Track)
Pros
Ridiculously simple to use — as evident by the 2021 Capterra award for best ease-of-use
Great support
Inspired UI that's pleasant to interact with
Cons
Can start to feel a little too simple for complex use-cases — not as scalable as the likes of Kantata and SmartTask
Limited integrations
Mobile app feels stunted when compared to the web app
Best For
Small, fast-growing teams that wish to move away from spreadsheets
13. Mosaic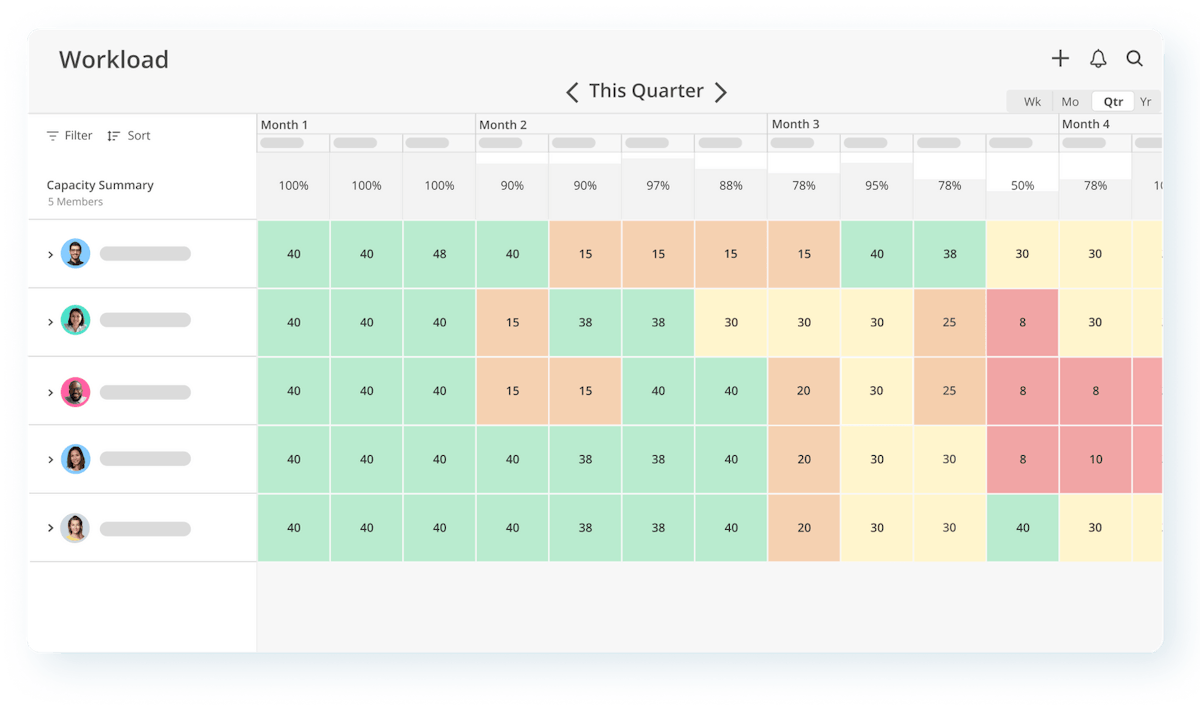 AI-powered, intuitive, and visual, Mosaic is a solid resource and project management tool. In ideal cases, it can increase utilization by 3%, and in turn profitability by as much as 40%.
For a 25-person team, that can roughly amount to 21X ROI. This math, contingent on claims Mosaic makes on its website, is inspiring even if half correct.
However, where Mosaic loses goodwill is its pricing. From the absence of a free plan to the presence of an expense entry level plan, the pricing page gives you plenty to reconsider.
Key Features
Time tracking
Timesheets
Automation & forecasting
Project portfolios
Project notes
Shareable dashboards
Workload, utilization, and budget reports
Pros
Great integration library — not too extensive but perfect to get you started
Extensive reporting capabilities
Very intuitive; negligible learning curve
AI assist proves quite handy when filling in timesheets
Colorful UI — nice on the yes
Cons
No chat and phone support for entry level plan
No reports in the entry level plan
No free plan (only trial available) — base-plan is sorta expensive ($14.99/user/month)
Some users report formatting errors in export features
Can be slow and buggy at times
Best For
Mid-sized that rely heavily on demand, revenue, and workload forecasts
14. Runn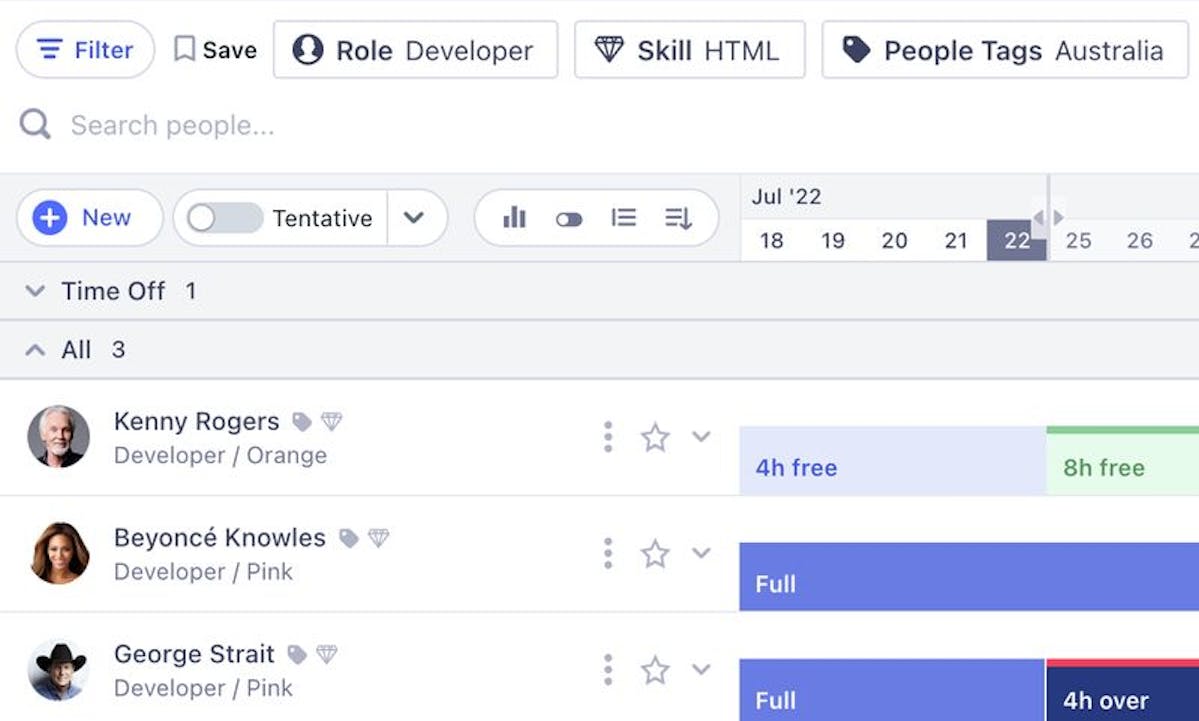 Managed by a fully remote team, Runn is a resource management tool with 23 million scheduled hours under its belt.
It's beginner friendly, and easy-to-integrate with time-tracking apps like Clockify, Harvest, and WorkflowMax. However, integrations with project or work management solutions are amiss here.
If that's not a big roadblock, you'd love to hear about Runn's pricing, especially if you're a small team. For a payment of $0, you can enjoy the app's full functionality for up to 5 users. Now, that's what we call a truly value-packed freemium plan.
Key Features
Resource scheduling (drag-and-drop)
Project planning
Project budgeting
Capacity management
Project forecasting
Timesheets
Reporting
API and integrations
Can schedule tentative projects
Pros
Easy-to-use
Ability to add tentative projects
Smaller company so team is responsive to feedback and is iterating fast on feature requests
Great customer support
Integration with time-tracking apps
Free plan with all features unlocked for up to 5 users (50% off for low-income countries and non-profits; 100% free for Ukraine)
Cons
Could be a little more vibrant and have more refined color-coding
Doesn't support leave/vacation management
Could use a couple more integrations
Does not have version control or an undo button
Best for
Small teams of up to 5 people that can't afford a resource management app yet
15. Resource Guru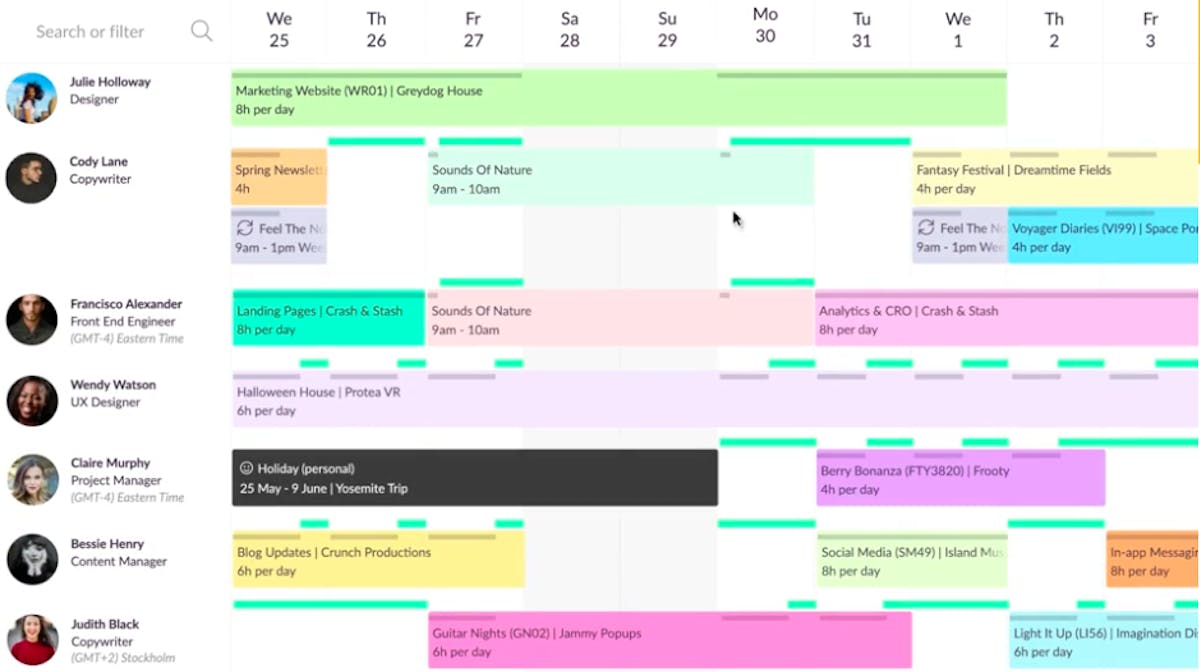 Resource Guru, as it claims, could be your ticket to resource management nirvana. Beautifully designed, it is equal parts vibrant and intuitive.
Even Capterra, the platform itself, called it "Brilliantly simple and easy to use". Even in our experience, that runs true. Scheduling resourcing here feels fluid and never takes more clicks that you'd like.
We'd have placed it much higher on the list if it had a free plan and offered faster support.
Key Features
Resource scheduling
Resource management
Leave management
Project scheduling
Equipment management
Meeting room booking system
Capacity planning
Project forecasting reports
Billable and non-billable work
Waiting list to help resolve capacity issues later
Pros
Ease-of-use leads to quick adoption
The color-coding support is near-unanimously adored by users
The ability to allocate the same task to multiple people with one click (multi-resource bookings)
Cons
Limited native integrations
Customer support is not as responsible to customers who work outside UK office hours
A monthly personal calendar is missing but is on the product roadmap
Specialized app — not an end-to-end workflow management solution
no free plan — 30-day trial
Best For
Small and mid-sized teams looking for a dedicated, easy-to-use resource management app
16. ClickUp

ClickUp is among the most complete tools on this list. It's not packed with advanced resource management features but nails the basics. Workload management is a breeze, with a clean UI and endless customization to support you.
Moreover, with a 3.0 update in the works, ClickUp is about to get even better. Perhaps even the performance issues that have annoyed ClickUp users for years will finally go away.
But, before that happens, app slowdowns still remain a big reason to steer away from ClickUp. However, the pricing is more than fair, and deserves applause.
Key Features
Multiple project views
Time tracking
Timesheets
Workload management
Capacity planning
Billable vs non-billable time
Docs and whiteboards
easy setup for client portal and CRM
Pros
Extensive customization capabilities
Great pricing with a powerful free plan
A nearing update that can bring massive improvements
Amazing self-serve resources
Tons of integrations (there's even a two-way sync with Hubspot now)
Cons
Performance drops with occasional outages
The platform can be too complex for users seeking a simple solution
Notifications can feel spammy if you don't take the time to configure them well
Best For
Growing businesses that want a customization-heavy work and resource management tool
17. Monday.com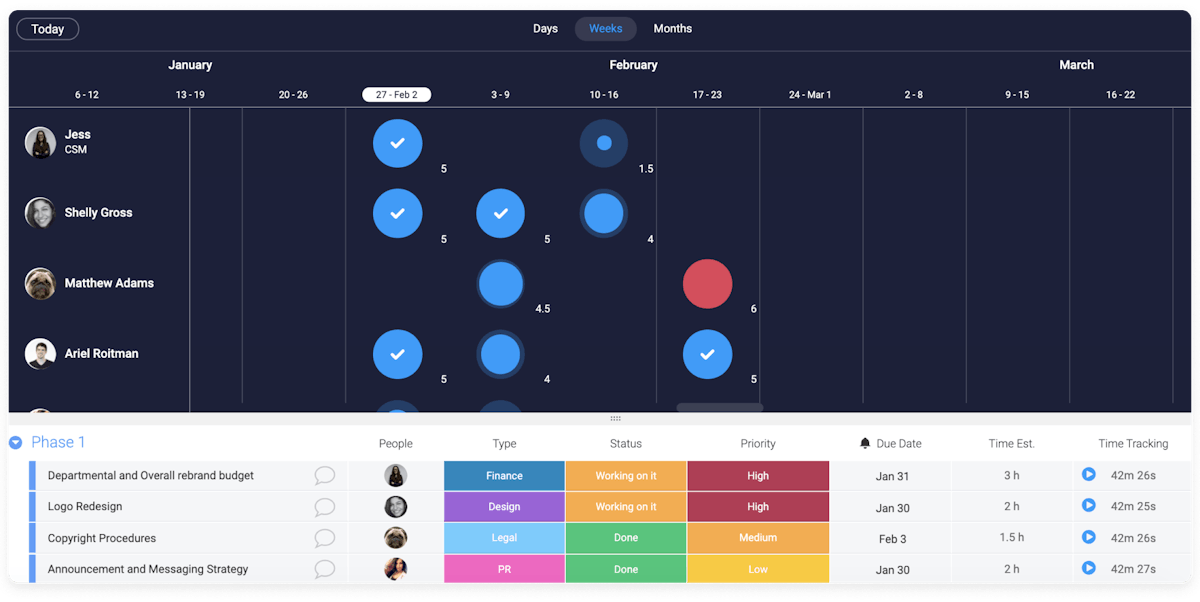 Dubbed the new way of working, Monday.com gives teams all they need to manage work. Resource management is also a part of said toolkit.
You can set individual capacities, track time & workloads, and make readjustments. Much of this effort and analysis happens in what Monday calls Workload view. Well, other than the time-tracking, which Monday implements as a formula column in its boards.
However, the biggest drawback herein is that everything requires setup. Even the time-tracking column is something you need to add yourself. Second, Monday's pricing structure is pretty complicated. Though the tool supports end-to-end work management, it doesn't come cheap.
Key Features
Workload management
Capacity planning
Resource allocation
Multiple project views
Custom reporting
Easy automations
Myriad integrations
Shared docs
File management
Pros
Customisation is nearly limitless
The UI is lively and vibrant
A portfolio view is in the works, which will make the tool even more powerful
Once set up, resource management boards are quite easy to track
Cons
Everything requires initial setup, which can limit adoption
The pricing is not small business friendly
Many key features are present only in the more expensive plans
Best For
Mid-sized businesses and enterprise companies that want a scalable one-for-all tool
18. nTask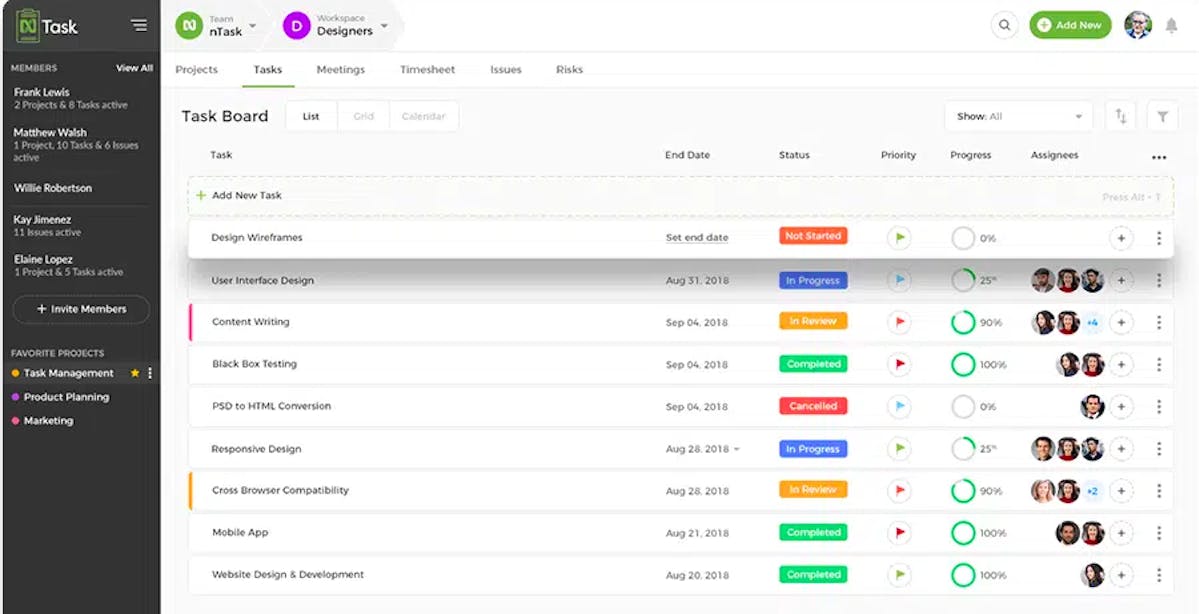 Still an up-and-coming platform, nTask only has 17 G2 reviews to its name. It doesn't boast a very sophisticated resource management module either.
So, why include it on the list?
Well, it gets the basics right, and offers them at a price affordable for most businesses. This whole-hearted democratization of the use-case earns nTask a spot here.
Moreover, nTask's end-to-end work management capabilities are nothing to scoff at. It packs a feature-list that can easily go toe-to-toe with the likes of Asana and ClickUp.
Key Features
Capacity management
Project budgeting with support for multiple currencies
Billable and non-billable tasks
Resource allocation
Time tracking
Risk management
Multiple project views (including Gantt charts)
Finance management
Pros
Value-packed entry-level plan with time-tracking (starts at $3/user/month) — pricing is affordable across the board
24/5 chat-support and comprehensive knowledge base for self-service
Simple, intuitive UI
Cons
Reporting capabilities are limited compared to some other tools on the list
Performance seems to be bottleneck, especially when stacked against similar tools
Best For
Small and mid-sized teams that can put up with occasional performance drops
Which Resource Management Software is Best for you?
Resource management tools give you a way to foster hard-working teams that don't dread work. They contribute to healthier workplaces, and in turn a healthier world.
So, we hope this list helped you pick the right one for your organization. But if you haven't made up your mind yet, here are a few more reasons to choose SmartTask. It's used by 20,000+ teams, some of which are from Amul, ABB, Adecco, and Ecolab.