SmartTask
Contents
7-Step Guide to Project Budgeting (+ Best Practices)
By Angad SinghMar 6, 2023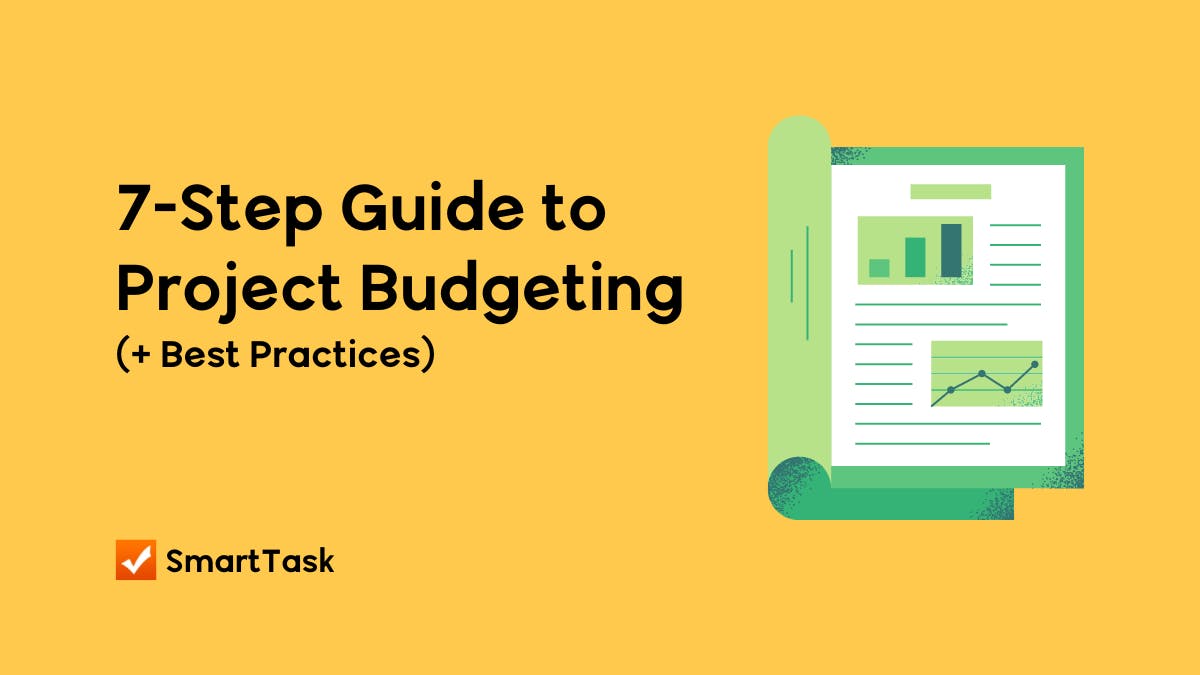 The James Webb Telescope (NASA's greatest invention yet), shot over budget by 450%. Same for all Olympic events organized since 1992. They've exceeded estimates by billions.
More than 50% of all projects fall in this category—of budgeting failures. And only a measly 0.5% of projects deliver on time, on budget, and along with the promised benefits.
Source: How Big Things Get Done, by Bent Flyvbjerg and Dan Gardner
Alarming numbers, aren't these? But don't worry. By the end of this blog, you'll know the exact 7 steps to create a project budget that actually gets met.
So, let's begin.
(Don't want to read the whole thing and just need a tool to beat the iron law of project management? SmartTask has got you covered. From planning project schedules to tracking budgets, it helps you tackle everything from one place.)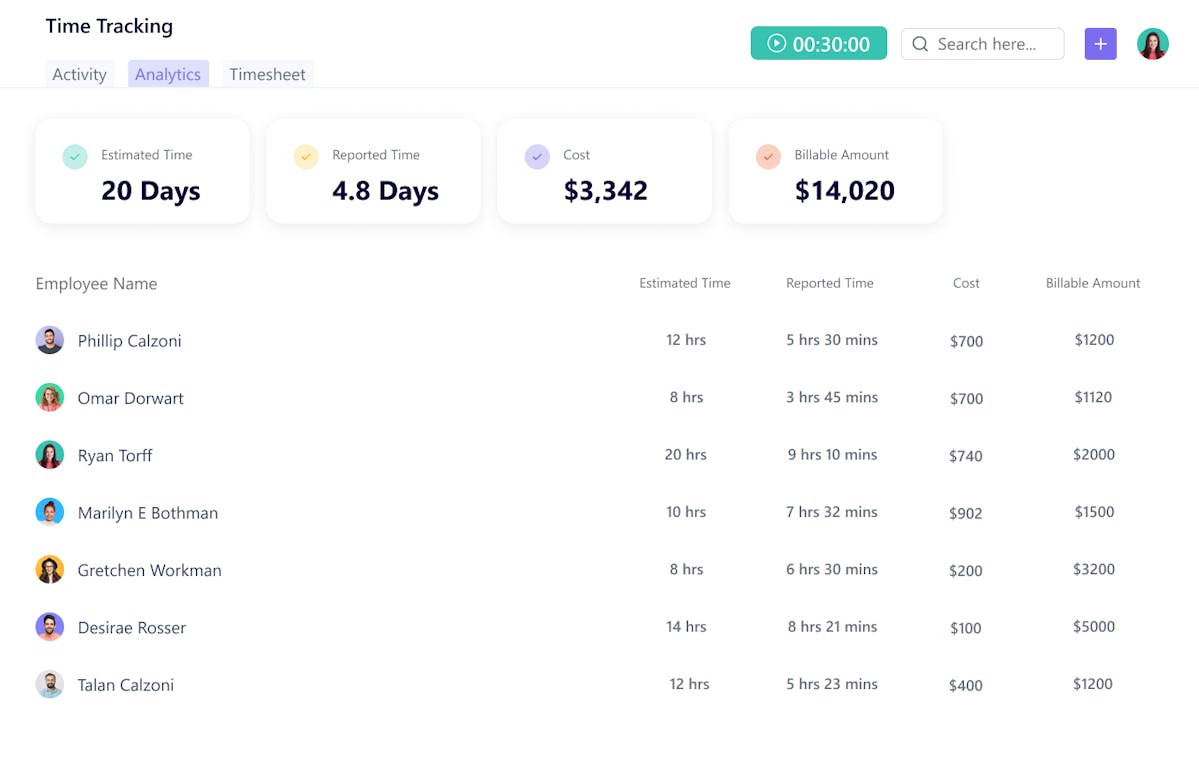 Why is Project Budgeting Important?
The short answer: to spend your company's money the best you can. Because somewhere along our 200,000 years on Earth, humans figured out that we handle money better if we spend it in our heads first.
But here are 4 reasons that are a tad bit more specific:-
1. You don't have a choice
Most projects have budgeting baked into the initiation process. So, you have to present how you're going to spend a project's budget before you can get the funds you need.
After all, it's only fair for stakeholders to know that you're going to spend their $100,000 on actual project needs, and not on getting everyone in your team the latest iPhone.
2. A budget helps you define project goals better
Say you're planning a colleague's birthday party. Knowing that you only have $200 to spend on the whole shindig, you'd waste no time trying to get Rihanna to perform there. Instead, you'd use the money to get a cake, some snacks, and party supplies like poppers and balloons.
The same psychology prevails when you're managing bigger projects. Having a budget helps you know where you want to spend the money you have, and where you want to make tradeoffs.
3. It helps with cost management
Sure, cost overruns happen all the time. But having a budget helps you keep what could be a small flame from turning into a mammoth forest fire.
4. The more you budget, the better you get at it
Every budget you create becomes historical data that you consult for future projects. And the more data you have, the better predictions you can make.
The 7-Step Project Budgeting Process
Step 1: Define Project Tasks, Sub-Tasks, and Milestones
What makes a wall, or even an entire house? Laying brick 1 on top of brick 2 on top of brick 3 and so on.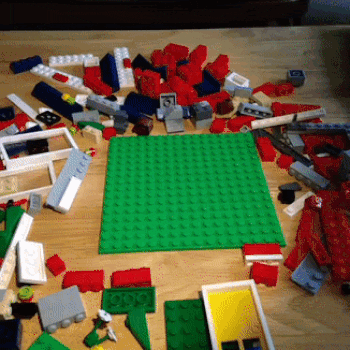 Similarly, even the biggest of projects are made up of smaller parts. Defining those clearly is key to making accurate budget predictions. Project managers call this creating the work breakdown structure.
For example, if you're producing a film, you can describe your work as:-
Development
Pre-Production
Production
Post-Production
Distribution
Or you can garnish it with more detail. When you go down that road, you realize that a milestone like pre-production alone consists of dozens upon dozens of tasks and sub-tasks.
It can include:-
Locking the script
Building a crew
Auditioning and casting actors
Finalizing contracts
Scouting locations
Buying or renting filmmaking equipment
Getting insurance for the crew
And so much more.
As you can see, the second level of analysis has way more data for you to make accurate budget predictions. So, the deeper you go when breaking down projects, the better it is.
P.S. If you're having trouble creating a work breakdown structure, SmartTask's templates may help. There's enough to get you started. Here, have a look:-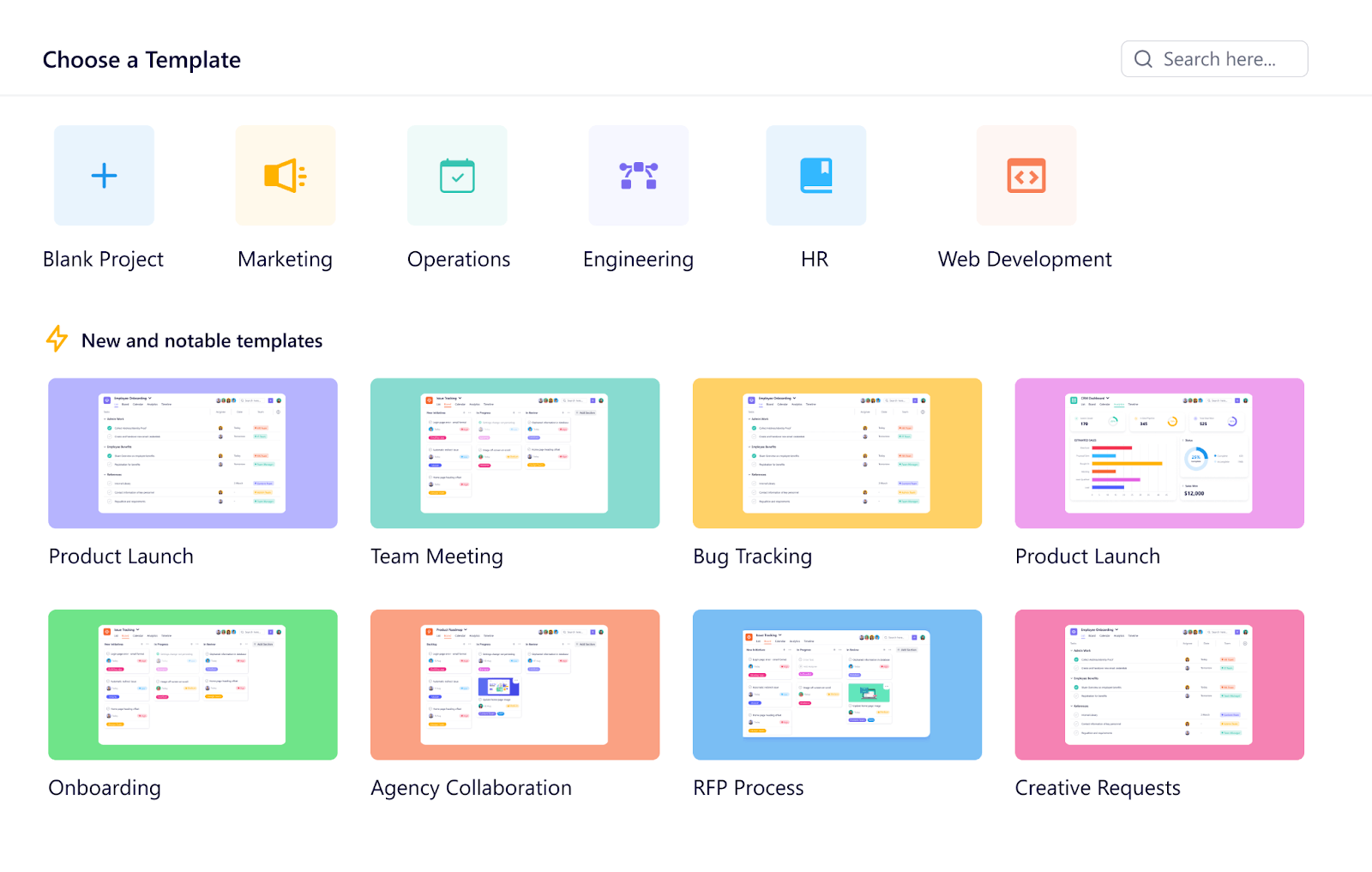 Step 2: Clarify Project Priorities
Before kicking off a project, it's wise to be clear about what success looks like. It's even wiser to understand which trade-offs are acceptable, and which are a no-go.
That's because projects, especially ones that go on for a while, go through twists and turns. Knowing how to bob and weave around such developments will save you many headaches.
Consider you're managing an office renovation. Can you cut down costs by buying fewer coffee machines if furniture prices rise through the roof? Or is buying cheaper tables for the conference rooms the way to go?
Mapping out such either-or situations from the get-go safeguards you from blowing your budget in the wrong places.
Step 3: Study Similar Projects From the Past
So, you have your work breakdown structure ready, and project priorities clarified. Now, it's time to take your preparedness up a notch by reviewing past data.
Doing so not only helps you develop a sense for how much your project should cost, but also what pitfalls await you. When going through previous budgets, look for:-
costs that are consistently underestimated or off by a large margin,
areas where unplanned expenses happen the most, and
materials that have the most unpredictable pricing.
Use what you learn as seed data and remain flexible.
Step 4: Lay Down Your Resource Requirements
Start with the people you want to bring aboard. Check if they have the bandwidth to commit to a new project.
(SmartTask simplifies this with Workload View, which shows your entire team's availability in one screen)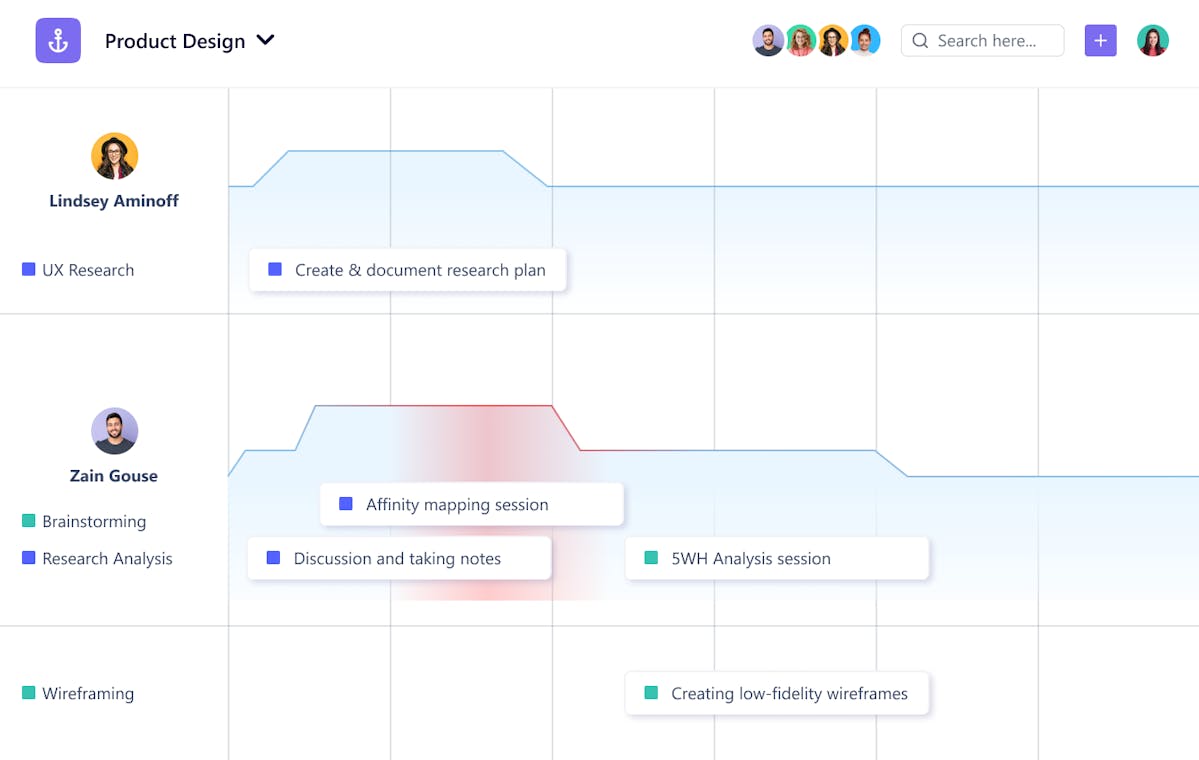 If in-house specialists are occupied, you'll need to hire freelancers, which is an expense worth tracking.
Apart from that, here are some broad spend categories you should estimate:-
Equipment: Are you building a bridge connecting two cities? How many excavators, bulldozers, cranes, concrete mixers, or trucks do you need?
Materials: Say you're organizing a keynote. Do you need a screen on the stage? How many chairs will be enough to seat the attendees? What about refreshment for the speakers? Account for all that you can.
Workspace: So, you're creating the prototype for a new smartphone? Must need a testing facility to conduct durability tests, right? Remember that such costs are also essential to include in your budget.
Software: What may look like a 100$/month expense can wreak havoc in your budget if you ignore it. Especially when you need a couple of software subscriptions for your project.
Travel: Will you need to fly to places to interview folks for the research you're conducting? Don't forget how expensive plane tickets can be.
Training: What if your team needs additional training to take on a new project? That's also an expense you need to anticipate.
Miscellaneous: Well, any expense that escapes categories mustn't escape the project budget. Make sure you include miscellaneous expenses as well.
Step 5: Create the Budget
By now, you have all the data you need to draft a project budget. Based on the:-
past data you've studied,
resource requirements you've listed, and
quotes you've received…
It is time to add budget estimates to all the different tasks and milestones in your project. The end result will be something like this with SmartTask:-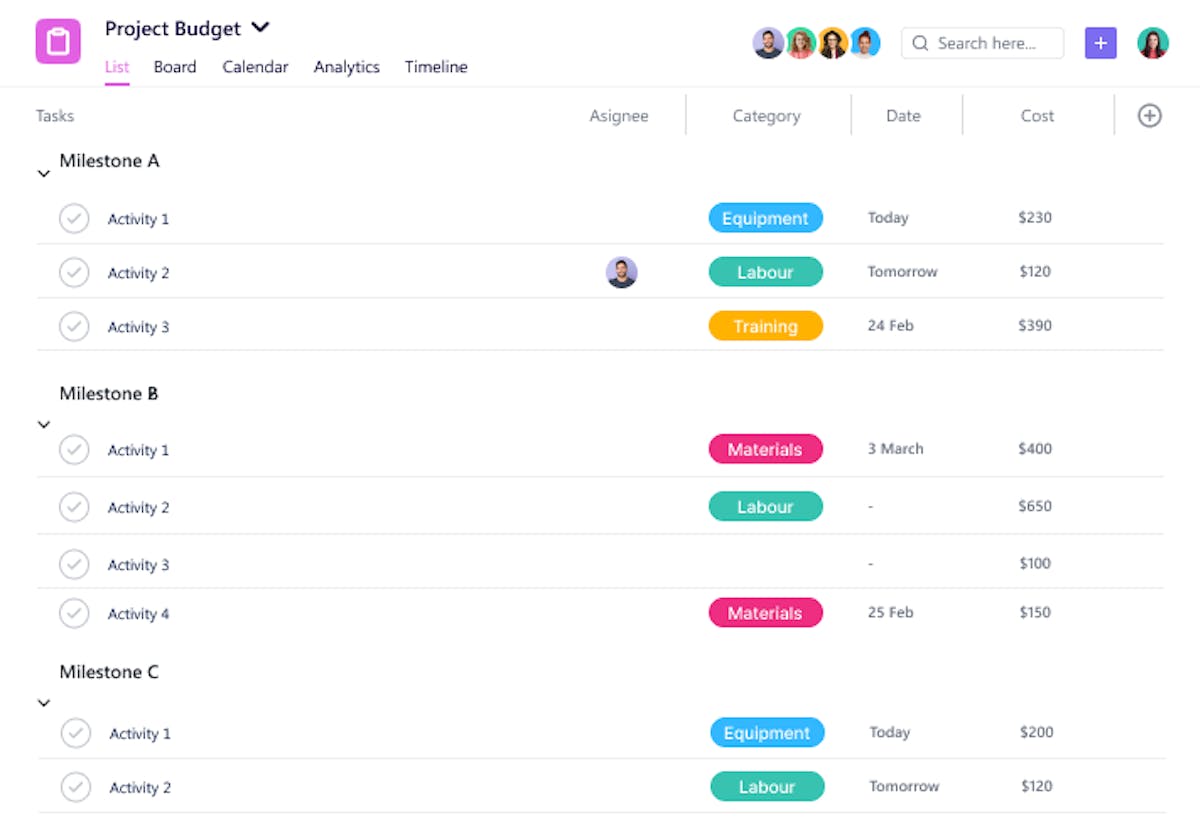 Looks a lot more appealing than a dreadful excel sheet, right? And the best part is that your budget lives where the rest of your work does.
P.S. Add some amount for risk management and contingencies. It's better to anticipate things going wrong beforehand than asking for huge budget revisions weeks before a project wraps.
Step 6: Get the Budget Approved
The budget draft is ready. All that remains is to get it approved by stakeholders. But before presenting it, put it through one final check.
Share the budget with your team. With that, everyone can sniff for estimates that look off. What's more? Team members with relevant background and experience can suggest some not-so-obvious improvements.
After your team green lights the budget, time to present it to project sponsors and stakeholders. If your budget lives in SmartTask, you can simply invite them as guest users. That way, you can have an efficient meeting by giving context beforehand.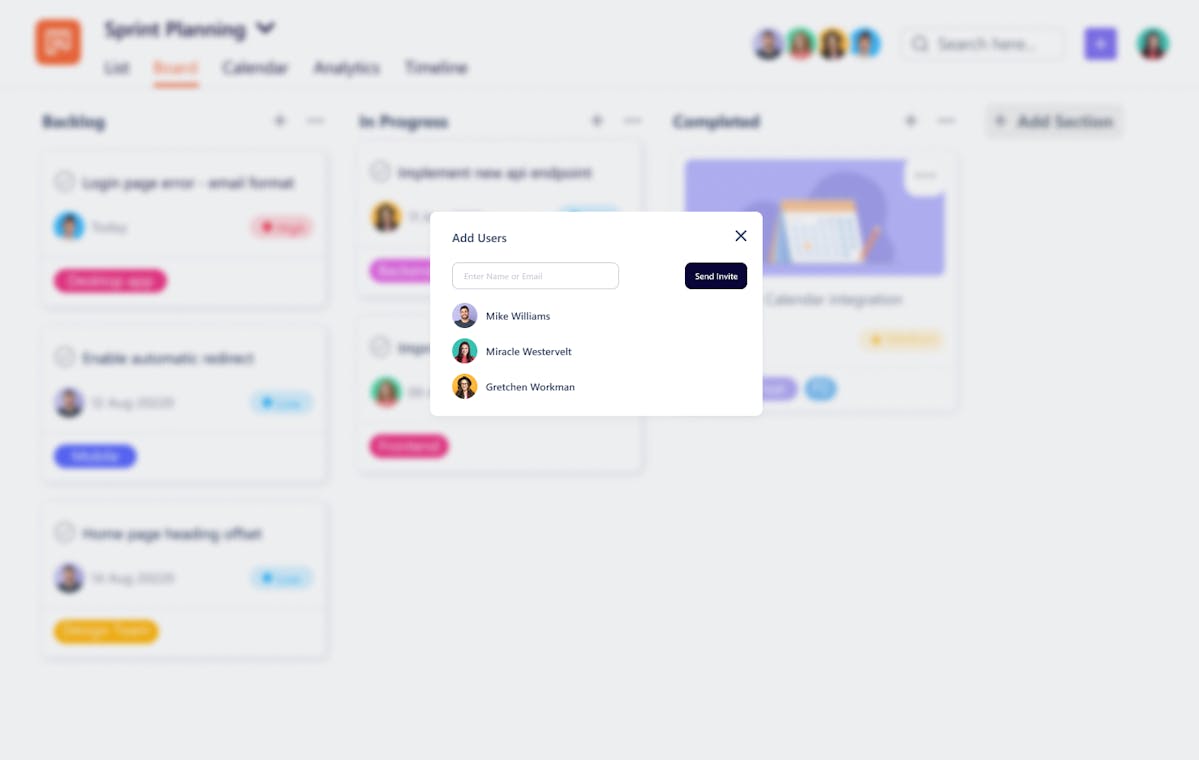 Either way, enter budget discussions prepared and be ready to defend your choices. You wouldn't want there to be any estimates that you can't make head or tail or. If you've budgeted something for $3000, know exactly why that is.
Step 7: Track, Update, and Re-Forecast
So far, you'd have noticed how we've hinted at how uncertain projects can be.
If not full-blown black swan events like a pandemic, small hiccups can prop up that leave you at a crossroads. And here's the thing about these small bumps. They can stack up, derailing your moment before you notice it.
That's why it is essential that you track project expenses in real-time. Herein, time-tracking tasks helps a great deal. It keeps your personnel costs in check while also reducing grunt work when you're creating an invoice.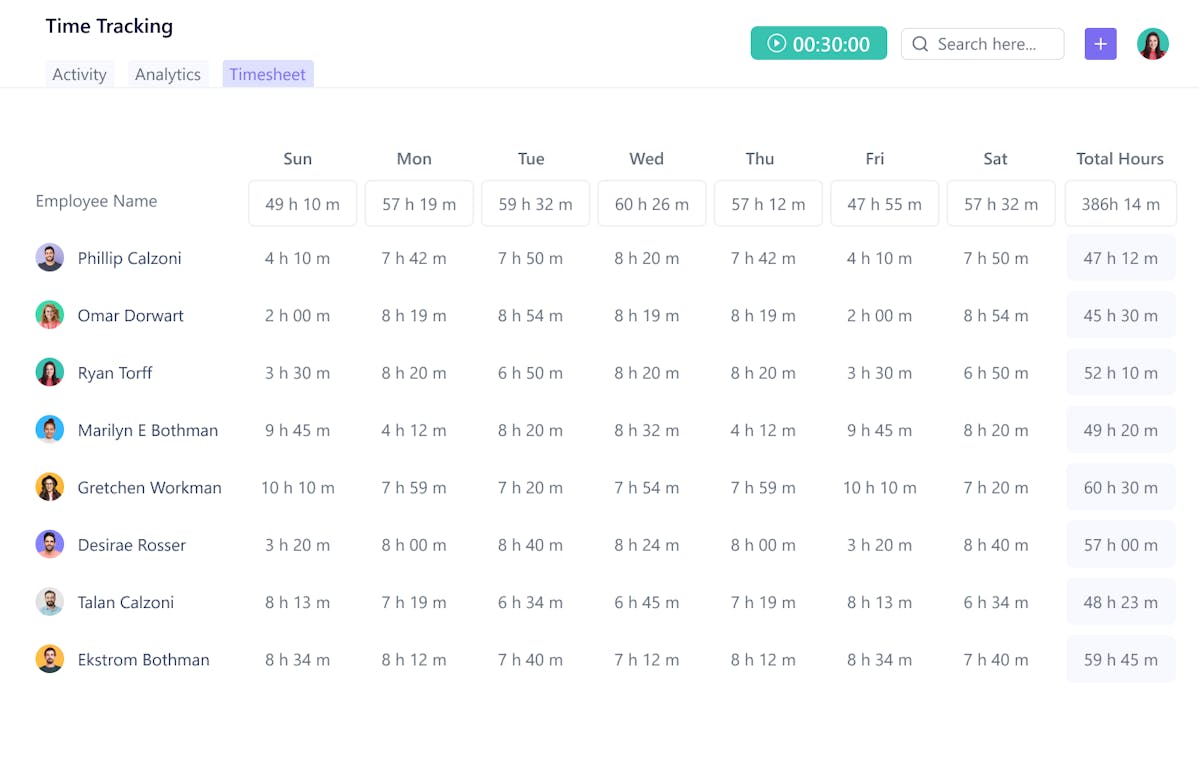 Apart from that, make sure you enter all expenses as you make them, especially ones for which you only had ranged estimates. Next, keep reviewing your spending after every project milestone.
The goal here is to know how well your budget is faring in real-time, and to re-forecast (if needed) as fast as you can.
Deliver Projects on Time and under Budget with SmartTask
It's possible to create workable project budgets with pen-and-paper or an excel sheet. But it's not the most efficient way out there.
The right tool for the job: SmartTask. It's super easy to use, so your team won't need to tackle any learning curve. In just a few days, you can start storing project budgets where all your other work lives.
Not to forget how you don't need to waste time creating presentations for your stakeholders. You can invite them as guest users, and decide what you want to share.
The best part is the ROI. For plans starting from $8/user/month, you can join the company of 40,000+ teams, including names like ABB, Amul, Pepsi, Reliance, and QS University Rankings.
Nail Project Budgeting With SmartTask