SmartTask
Contents
7 Email Productivity Tips to Get More Things Done Everyday
By Shyamal ParikhFeb 27, 2022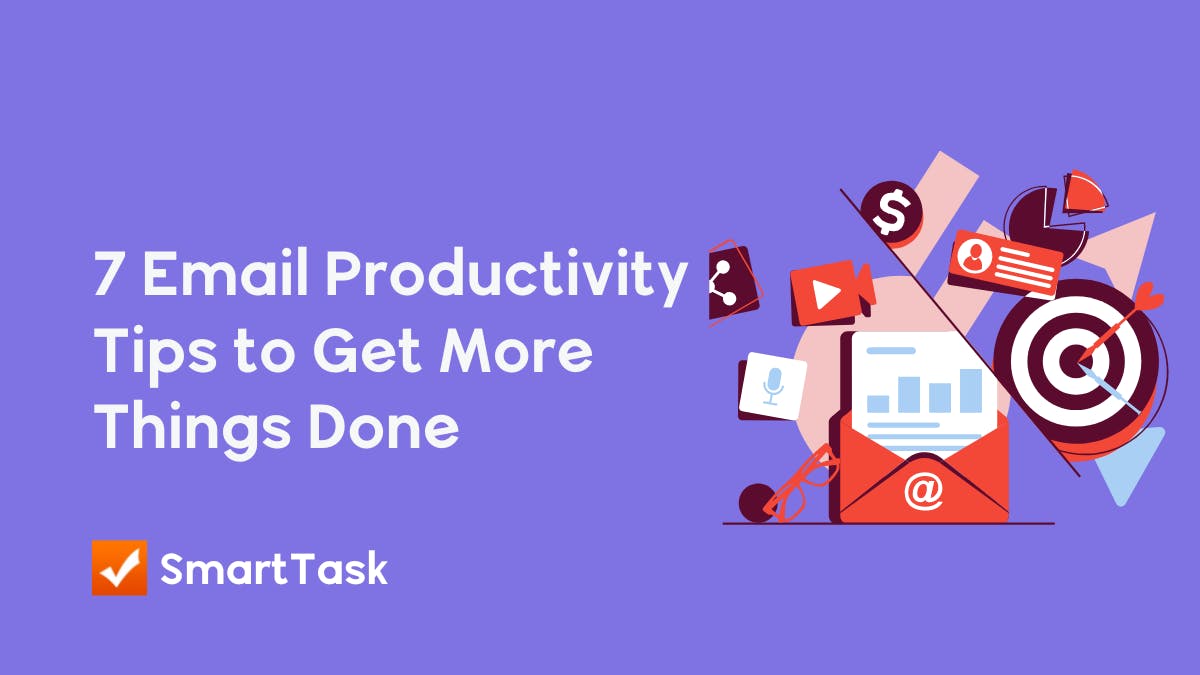 Has another of your days passed in simultaneously composing, examining, and sending several emails at once? If email communication overwhelms and drains you - physically and mentally - it's high time you learned the tricks of a productive email routine.
Adobe's survey from 2021 found that working professionals spend on average 3.1 hours per day sending and checking their emails alone. That's almost two working days a week - and a shocking 20 full weeks a year. Compared to two years earlier, when workers spent 2.6 hours checking emails, the latest data show a steep increase of 20%.
Perhaps the above data wouldn't have hindered employee performance at work that much if there had actually been any emails to read or respond to.
But, the thing is - professionals, on average, check their emails 15 times a day. Combine that with the finding that we require approximately 23 minutes to regain focus after an interruption, and you get the perfect recipe for the lack of productivity and organization.
Practicing email productivity skills doesn't only benefit time management. Knowing how to handle email influx properly helps lower stress, clear your mind, and concentrate on other daily tasks.
From email service tech tips and mindfulness techniques to detailed inbox management strategies, here are the best email productivity tips and tricks.
1. Declutter Your Inbox
You can't start your new prosperous email management strategy with an inbox looking like JLo's DMs. So, your initial step should be organizing your present inbox situation for a more thriving email future.
To effortlessly minimize the clutter in your inbox, try out these three long-term email productivity strategies:
Delete the emails you don't need: First, get rid of any old, unimportant emails by deleting them completely from your account. Newsletters you don't remember subscribing to, rightful spam emails, or chit-chats from past clients - right-click, delete.
Unsubscribe from newsletters you don't read: We've got used to giving out our email address across the web - to download a document, contact support, or access the info we need. To organize your inbox in the long run, take out the time to unsubscribe from all the bulletins you don't fancy instead of just deleting those emails one by one.
Organize emails using folders or color-coding: Define the types of emails you usually receive and create folders or assign unique colors based on the email's content. Stay consistent in doing the same for all incoming emails to ensure long-term inbox neatness.
2. Establish an Email Routine
Don't get us wrong - spontaneity is great, but it's also the bedrock of unproductivity, especially at work. If your mind is all over the place, you're interrupting your work (or being interrupted) frequently, and you don't know the order of your tasks, it's hard to get things done.
Enter the blissful routine. While routine may allude to dullness and tediousness, it is, in fact, crucial to a good organizational structure.
So, what kind of email routine should you adopt?
Don't check your emails in the mornings and evenings: Work or non-work related emails mustn't disturb your peace during the essential times of the day. Seeing even the most trivial email will get your mind going, and you don't want that at the onset of the day or right before heading to sleep.
Schedule checking your email two or three times a day: Plan specific times to check your email to help focus on priorities and put your mind at ease. This way, you'll be more concentrated and relaxed as you'll subconsciously know that you have a set time when you'll get to your inbox checking task.
3. Turn Off Email Notifications
Now that you've designed your email checking schedule, create an environment to help you stick to it. But how to resist opening your inbox if it keeps constantly dinging and buzzing?
Easy - switch off your notifications.
Turning off your email notifications might seem like a risky move. First, you may receive an email discussing an urgent matter. Responding late or missing out on an ASAP email might not be the best career move you'll make.
Secondly, you could be expecting an important email and find it hard to suppress your curiosity. For example, if you sent a web design offer to a significant prospect, it's only natural you'd want to find more information about their response as soon as you receive it.
Of course, you'll have to make exceptions for these kinds of situations, though luckily, they occur very rarely. In reality, most of the emails you receive can wait an hour or two to be responded to. Therefore, disabling email notifications is a great productivity trick to lessen constant distractions.
4. Follow the 2-Minute Rule
As soon as you receive an email, assess how long it will take to deal with it. If you can handle the task in less than two minutes, do it immediately. That way, you'll avoid the unnecessary pile-up of small tasks and focus on more demanding ones.
Besides boosting your work productivity and focus, handling micro tasks will ensure your inbox is clutter-free.
5. Leverage the Power of Templates
If you want to really nail this email productivity, implement the ingenious hack created by the best email marketing companies. Namely, you can save a ton of your time, nerves, and creativity by creating simple email templates you can easily repurpose in every situation.
Whether it's a follow-up, a "thank you, next," or a "tell me more," templates can do wonders to save you from always writing an email from scratch.
Identify several types of emails you commonly write, outline the usual info you include, and leave space for variables.
Besides saving you time, email templates will help you avoid forgetting to include an important piece of information.
6. Make use of a Project Management Software
Professionals nowadays started using project management tools like SmartTask, Asana, etc. to work more productively. These tools can help you manage your emails more effectively and make the most out of them. These tools also help you automate your email-related tasks.
For example, with SmartTask, you can create tasks directly from your emails and you can also set email reminders for critical tasks. Apart from that, SmartTask also offers integrations with Zapier and Integromat through which you can connect your Gmail and other email apps to create automated workflows. You can sign up for free today and try it yourself.
7. Practice Writing Efficient Emails
A bulk of your success with achieving email productivity depends on how you address the process of email writing.
Unlike spoken communication - whether in person or via video calls - emails tend to go back and forth without actually yielding any result. Thus, good email etiquette will ensure both sides communicate their ideas as effortlessly as possible.
Here are the best hacks to streamline your email writing process:
Use specific headlines: Help both yourself and your reader deduct the email content by writing straightforward email titles.
Cut to the chase: Courtesy is desirable in professional correspondence, but does asking how someone's day was in every email really matters?
Leave no room for doubt: Be clear on the steps that follow. Explicitly state your future obligations, and define those of the other side. If you're scheduling a meeting, offer a specific time to cut on the back and forth confirmations.
Make the email scannable: Short paragraphs, bulleted lists, and bolding vital info ensure that people easily absorb your message.
CC only when necessary: Do all these people really need to be included in the conversation? If you know that your colleague or supervisor doesn't require all the info, drop them from the correspondence.
To Sum Up
Mastering email productivity is an art - but it's not an impossible endeavor to undertake.
The first step to better email management is understanding its versatility. On the one hand, frequent interruptions by others and the lack of self-organization are to blame. Your email writing skills might cause vague correspondence that goes on forever.
Increasing productivity at work is essential for better company results and employee satisfaction. And the best way to start improving productivity is by tackling the thing most business professionals have in common - email management.
This article is contributed by Frank Garnett.