SmartTask
Contents
Asana Vs ClickUp: 2023 Comparison: Which is the Best Project Management Tool?
By Aastha ShawMar 7, 2023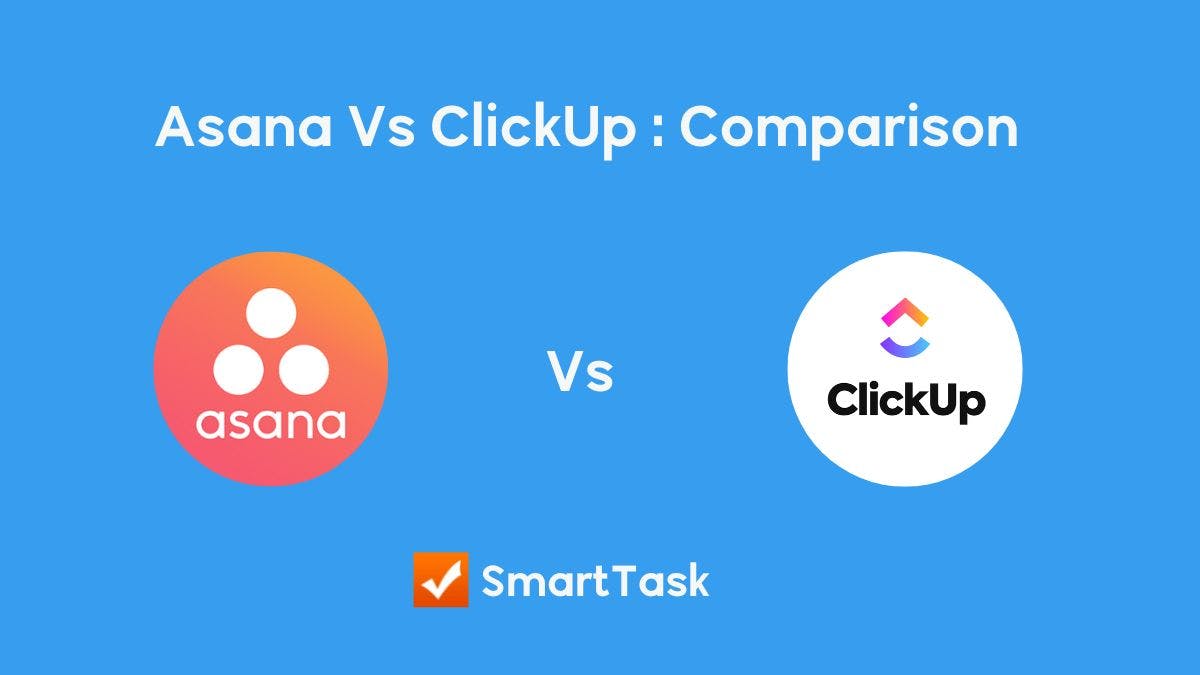 Choosing the right project management software is like choosing the perfect pair of shoes: it all boils down to something that fits just right. Otherwise, you'll be left with an uncomfortable mess.
Similarly, if you don't choose a project management tool that aligns with the specific demands of your team, you'll end up feeling disorganized and frazzled.
When people search for the best project management system, Asana and ClickUp often come up in the discussion. Both share almost similar ratings on G2 (Asana gets 4.3/5 and ClickUp gets 4.7/5), which makes it all the more difficult to pick one. In case you're too in a quandary about Asana vs ClickUp, here's a detailed guide to help you make an informed decision, and save you from some expensive mistakes.
In this comparison, we'll examine the unique strengths of each platform to help you make the selection as straightforward as possible.
What is Asana?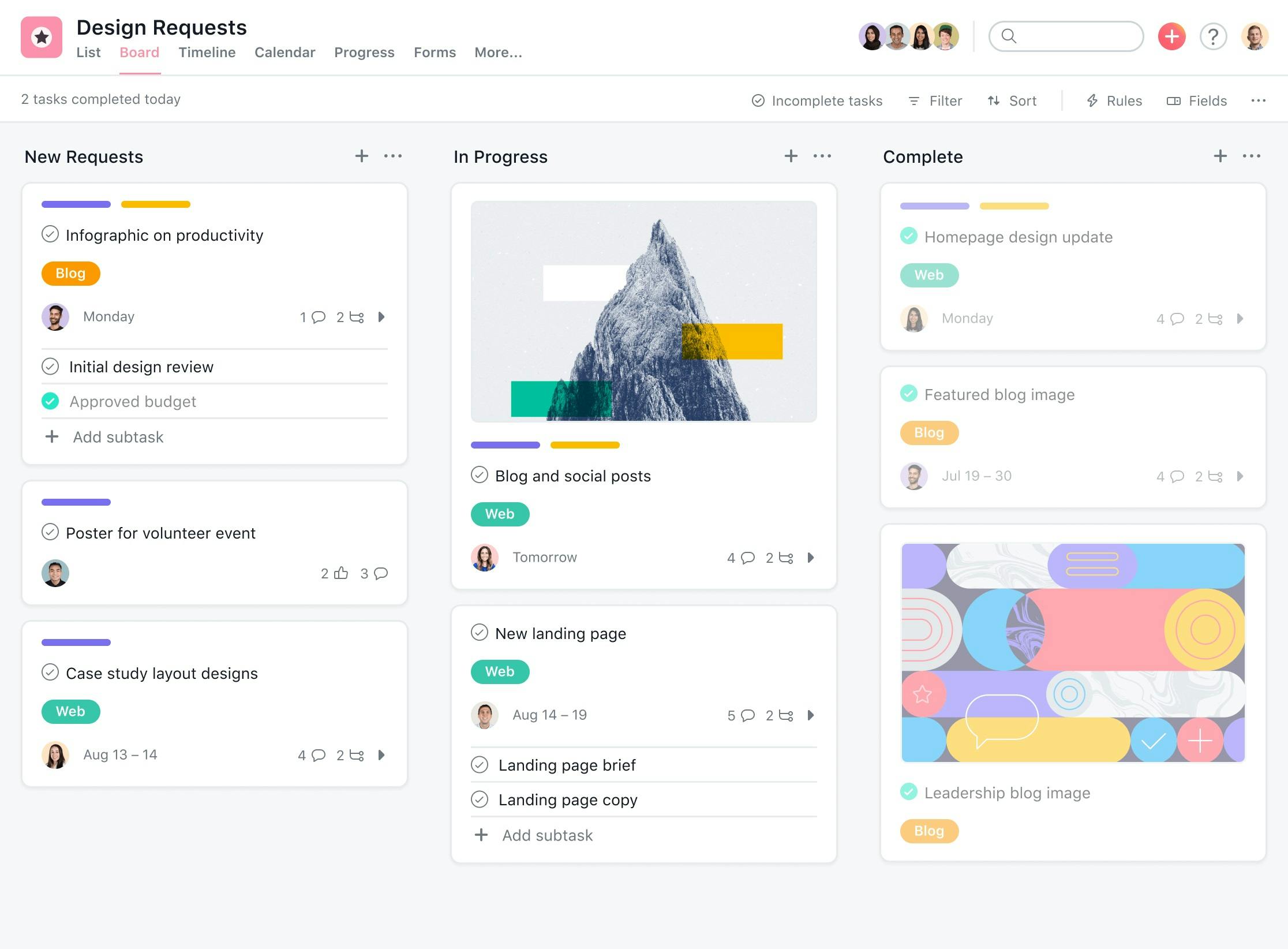 Asana is a task management tool designed to help teams streamline their workflow. It allows you to assign tasks, set deadlines, track progress, collaborate with your team, and most importantly, stay organized.
Available in a web version and as well as a mobile application, this software supports integration with MS Teams, Azure Active Directory, Slack, Gmail, Google Calendar, Zapier, Canva, Vimeo, and many other popular apps so you can manage all your projects on one platform.
Some of the key features of Asana include
Workflow builder to automate workflows with the help of a visual tool
Kanban boards to stay up-to-date with project progress
Timeline to simplify project planning
Calendar to keep the entire team on the same page regarding project scheduling and project timeline
Goal setting to keep the team aligned
With Asana, an individual within an organization can get a clear visual representation of their contribution towards achieving a milestone, paving the way for better team performance.
What is ClickUp?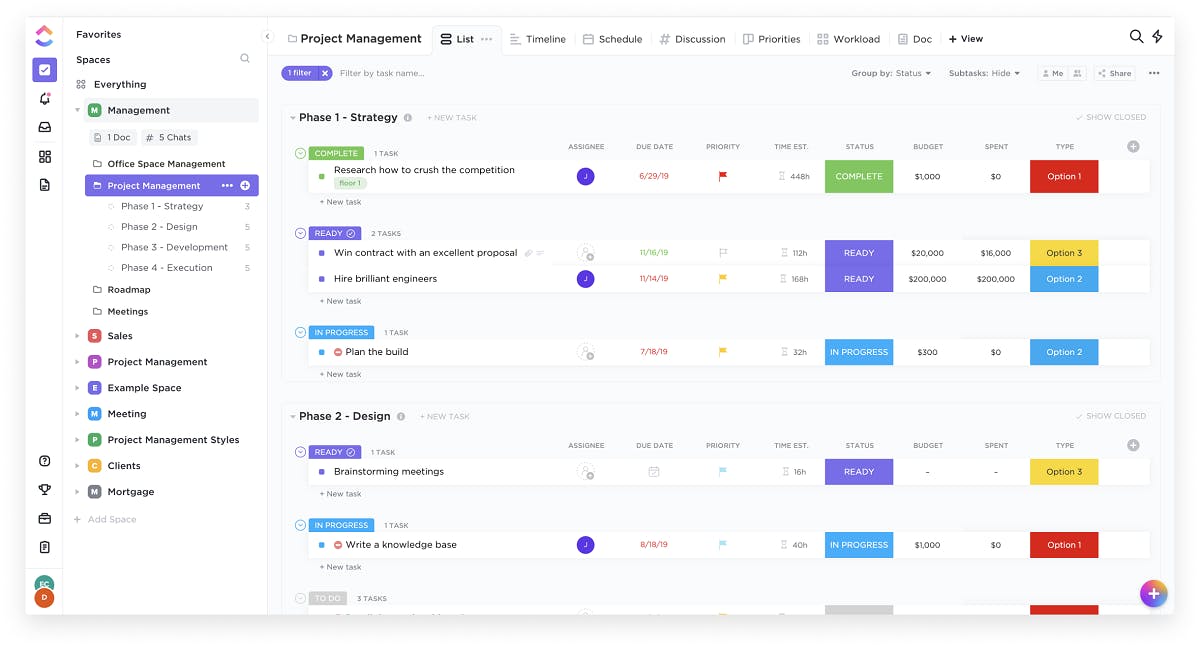 ClickUp is a web-based tool and mobile application that helps individuals and teams stay organized and on track with their projects. It offers a variety of features such as mind maps, checklists, goal tracking, workload tracking, and more that enable project managers to manage multiple projects with tenacity and ease.
The USP of this tool is customization. You can customize workflows through custom task statuses, labels, and priorities. Integrating it with your existing tech stack can take the customization further. ClickUp supports integrations with other apps such as Slack, Google Calendar, Gmail, Zapier, MS Teams, Zoom, and others, that provide greater flexibility and accessibility.
Some of the key features of ClickUp include:
Task management with custom fields, statuses, tags, clips, and priorities
Goal setting to stay on track with your objectives
Dashboard for business management, development sprints, and resource management
Whiteboard for real-time brainstorming with remote teams
Customizable docs with templates
ClickUp markets itself as the 'one app to replace them all' and does a fairly good job at that—it simplifies your job as a project manager so you don't have to juggle between multiple apps to manage your projects.
What are the key factors we are looking at while comparing Asana vs ClickUp
Let's be real, not all project management tools are created equal—some are better than others.
While all of them offer a similar set of features, you should choose software that meets your team's specific requirements, and not because it offers a plethora of features that you'll likely never need.
Now to address the Asana vs ClickUp debate, let's do a quick side-by-side comparison of some of the features present and absent in the platforms.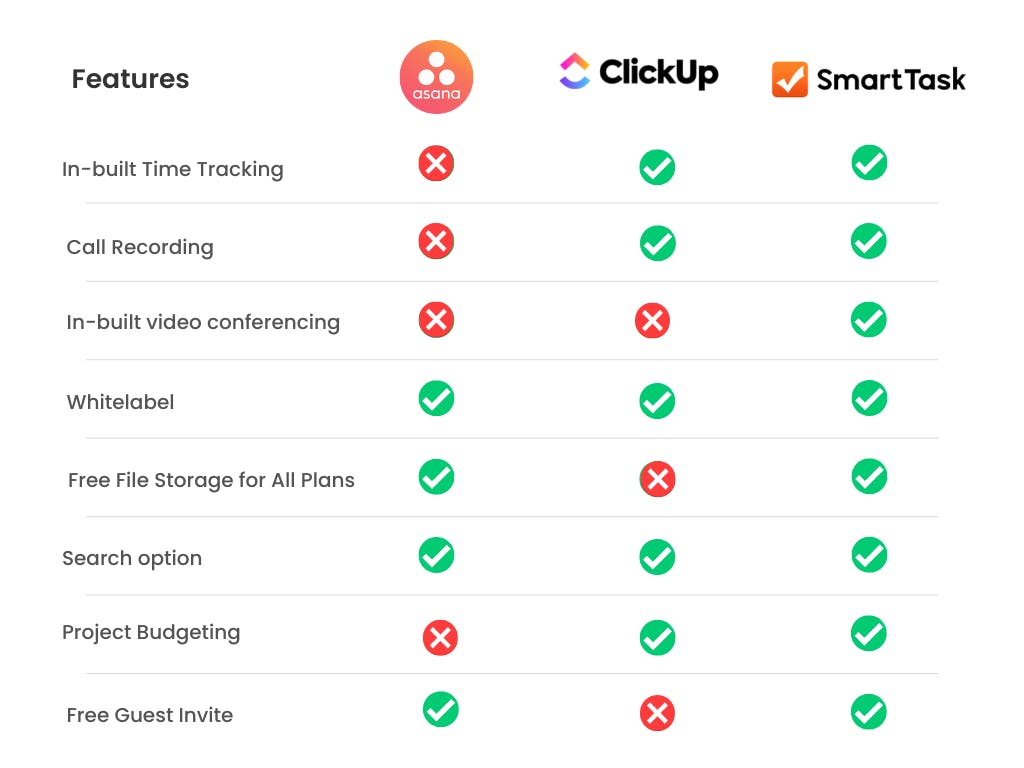 Key differences: Asana Vs ClickUp
User Experience
No matter how many features a project management software has, it all comes down to user experience as for 60% of B2B buyers, ease of use is the most important factor.
The app you choose must have a clean and intuitive interface so it's easy to use for everyone regardless of their technical grasp.
Asana vs Clickup, who's ahead in this game?
Asana
If you're running multiple projects you'll particularly love how Asana organizes project details. You can customize your dashboard with a suitable view type to stay on top of your workflow. I find the list view to be the most useful one—it gives a watered-down version of all projects and helps focus only on the essentials. If you're familiar with kanban boards or planning to migrate from Trello, you'll like the sticky note-style overview that comes with the board view.
For new users, the onboarding user interface does a good job of helping you navigate the nooks and crannies of the platform. Asana has a chat wizard to answer your queries, and also a dedicated resources section to give you a guided tour of all the solutions it has to offer.
ClickUp
As soon as you log in to ClickUp, you'll see labels like home, notifications, goals, spaces, dashboards, etc. These basic things are easy to navigate. What stood out for me was that ClickUp has way more customization options than Asana, including management tools, statuses, and workflow templates. This is particularly helpful if you are running an agile team working with intensive deadlines and multiple vendors.
But it also makes the user interface somewhat cluttered and not beginner-friendly for non-technical teams. Depending on expertise, your team might require training to fully grasp and utilize the features of ClickUp. But once they're past the learning curve, the experience gets better.
Verdict: Asana wins because it's more intuitive and simplified, but you'll have to compromise on the customizations.
If you want to enjoy customizations as well as a clutter-free user interface on your PMS, try SmartTask for free—it's an efficient Asana alternative.
Project management
This is the basic job of a project management tool—assigning tasks, setting deadlines, tracking progress, collaborating with a team, keeping up productivity levels, and in general, making the workflow seamless.
The core offerings are almost similar in all project management tools, but each software has its own strengths and weaknesses.
Now let's analyze Asana vs Clickup—who's killing it at project management?
Asana
On Asana, assigning tasks to individuals, setting deadlines, adding comments, and tracking progress is seamless. But if you're working on a project that needs multiple deadlines for different parts of a single project, you cannot do that—you can have only one deadline for one assignment.
Another issue with Asana is that anyone who is a part of your team can delete tasks, and there is no way you can limit this. While the platform is functional enough for individuals and small teams, managing complex projects with large teams is a hassle.
ClickUp
ClickUp aims to be an umbrella platform for all your work requirements. You can create multiple workspaces with folders under them, and add lists within them. If you want to supervise multiple tasks in one go, you can create subtasks and get a bird's eye view of the entire task list.
ClickUp's in-built Docs can easily become a more powerful alternative to Google Docs for your team. The app attempts to be dynamic in its offerings and rolls out new features frequently. But the downsides are that it comes with a high load time, and generating reports can take longer than you'd expect.
Verdict: Even though ClickUp seems to be the better option between the two in this department, you'll have to be okay with the not-so-efficient report generation. SmartTask, with its powerful task filter view (report), can be a great ClickUp alternative.
Customer Support
No app can guarantee zero glitches.
Whenever you or your team members stumble across an issue while working on task management software, you reach out to customer support. Prompt and reliable customer service is the key to handling unwanted hiccups in between a busy workday and getting things back on track quickly.
Which platform prioritizes this more, Asana or ClickUp? Let's have a look.
Asana
Asana offers 24X7 customer support to users who have subscribed to its top-tier plan. For regular users, there is enough material available to understand and get started with the platform, but no customer support.
ClickUp
ClickUp offers 24X7 customer support and email support to all users, even for those with a free plan.
Verdict: ClickUp is the clear winner here because when your workflow gets disrupted by glitches, you'd want instant support.
Asana vs Clickup: Price comparison
You can access some free features with the unpaid version of task management tools. But when you want to make use of advanced features to enhance your team's productivity, you'd want to switch to the paid version. Let's see the difference between Asana and ClickUp's pricing:
Asana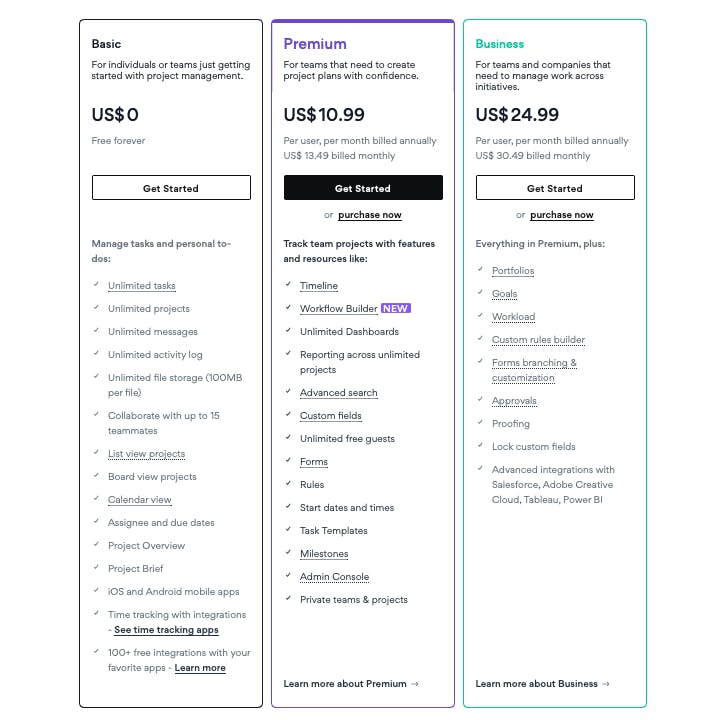 Asana's Basic tier allows unlimited tasks, unlimited messages, project overview, project briefs, and collaboration with up to 15 team members. The next tiers unlock a series of advanced features, but the pricing could have been more reasonable.
ClickUp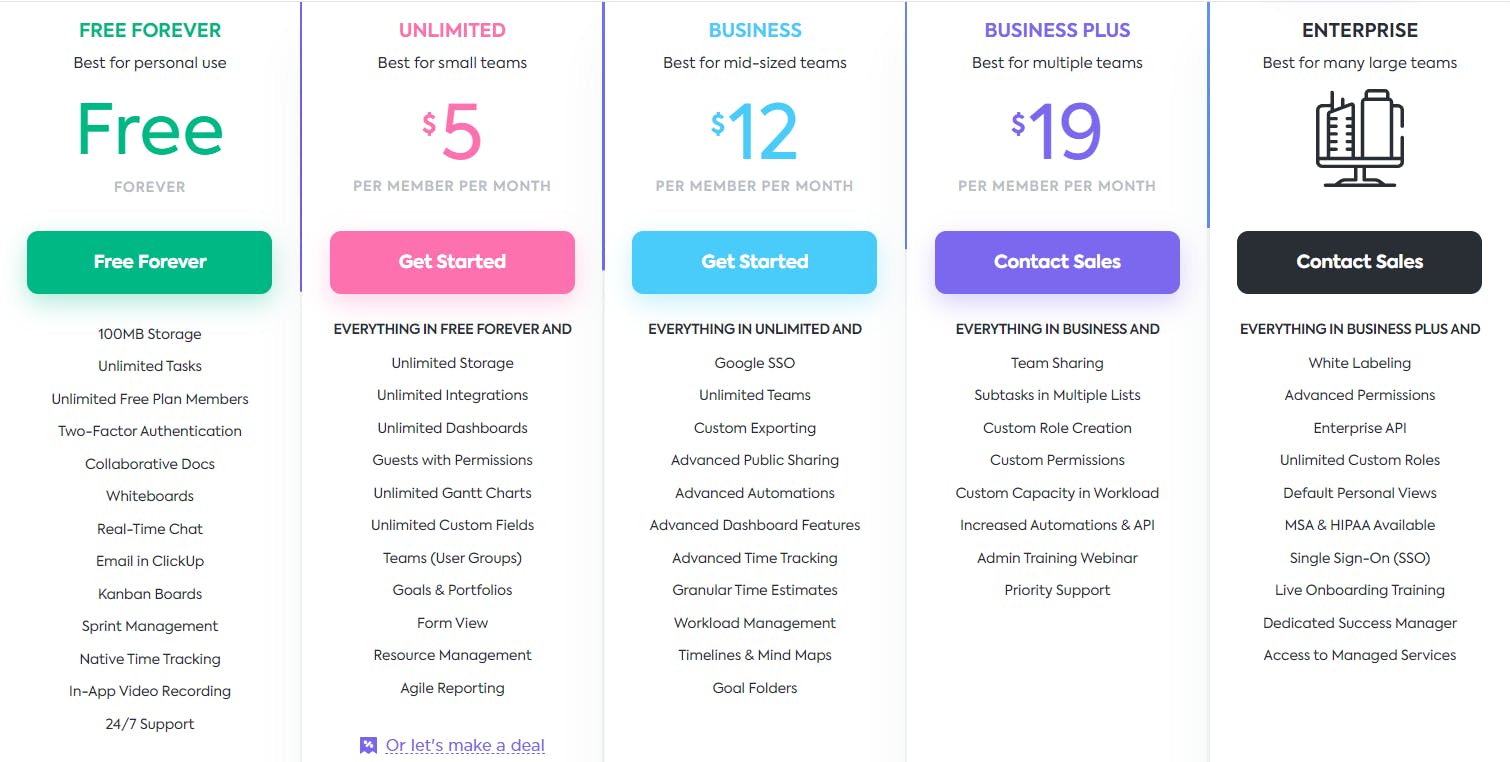 ClickUp's prices are half of Asana's. The basic tier comes with unlimited tasks, collaborative docs, a kanban board, chat, and 24X7 customer support. It allows unlimited users, as compared to Asana's 15-user limit. The next tiers, which come with advanced customizations, have a more affordable pricing model than Asana.
SmartTask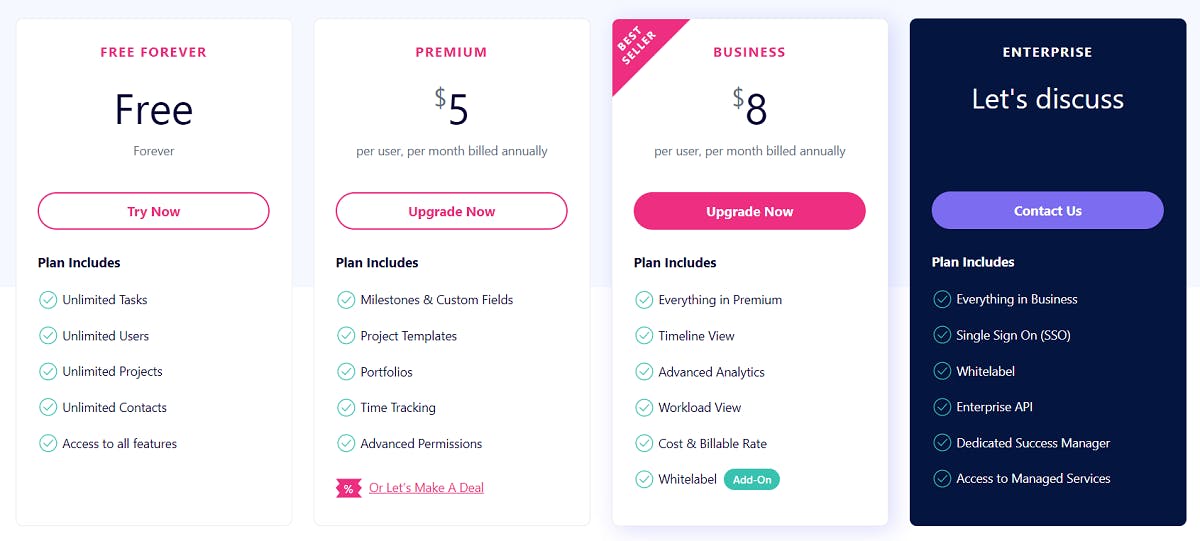 In SmartTask's free version, you get task view, board view, calendar view, analytics, instant messaging, 100 custom fields and custom charts, task filter view (report), time estimate, guest users, 1000 time logging entries, and 24X7 customer support. By upgrading the tiers, you can unlock unlimited custom fields, unlimited project templates, unlimited milestones, call recording, and many other advanced features, that too at a bargain pricing as compared to Asana or ClickUp.
Asana vs ClickUp- Which is the best tool for your team in 2023?
Both Asana and ClickUp come loaded with features that enhance team communication and make your workflow smoother. But on close analysis, you'll notice that both platforms have their fair share of advantages and disadvantages. For instance, both tools offer automation, but it's reserved for the top-tier users on Asana ($24.99), while ClickUp offers it as a part of its free plan.
Asana doesn't have any in-built instant messaging feature, whereas ClickUp has its 'chat' option. But this chat feature is a bit different from a typical inbox—you have to pin the chat to allow access to other team members. A proper messaging feature would have been more efficient here.
SmartTask, on the other hand, offers simple, hassle-free instant messaging, so your team can communicate with each other within the platform.
If we consider the free versions of Asana vs ClickUp, the latter has more things to offer. But at the same time, ClickUp as a platform can be a tough nut to crack. If your team is just getting started with project management, you can begin with Asana, and if you want access to advanced perks such as instant messaging, custom fields, custom charts, task filter view (report), and time estimate, you can try out SmartTask for free.
The upper tiers (starting from $5 only) on SmartTask are more economical than both Asana and ClickUp, and bring an incredible amount of value to the table. Intuitive interface, native time tracking, video conferencing, call recording, budgeting, and a dedicated customer success manager—there are plenty of features that posit SmartTask as a great ClickUp alternative.
How SmartTask Helps Organizations Streamline Workflows
SmartTask empowers teams across many departments and industries to optimize and orchestrate their processes.
Here's what our clients have achieved after switching to SmartTask:
Amul India, one of the global leaders in consumer products, began solving requests and approvals 33% faster by applying over 75 automation rules.
ABB, the largest technology firm, saved 600 hours of work time per quarter, releasing teams from manually writing over 3,000 messages by applying automation to 46% of all email communication.
The exciting part is, you can replicate this success for your business using the same strategy!
Everything you've been looking for in a Project Management Software - at an affordable price!
Frequently Asked Questions
1. What is a Project Management Software?
A project management software is a tool designed to make the workflow smooth-sailing. It helps in project planning, resource allocation, resource management, tracking progress, and establishing clear communication between multiple departments, all under one platform.
2. Is Asana or ClickUp better?
Both Asana and ClickUp have their perks and perils. Asana is more suited for individuals and small teams, while ClickUp is a good software for complex projects and large teams. Asana is easy to get started with, but ClickUp comes with a learning curve. Ultimately, the key factor is your team's needs and preferences—choose a software that aligns with your requirements.
3. Is ClickUp used by Google?
Yes, Google employees use ClickUp for project management.
4. What's Better than ClickUp?
5. Who Wins the Asana vs ClickUp Reddit War?
In the Asana vs ClickUp Reddit war, both apps get mixed reviews. Asana gets heads-up from users for its intuitive user interface, but the lack of customization and other limitations push the majority to switch to ClickUp. ClickUp's wide list of features may be great but some users find them overwhelming, and the high load time is also a drawback.