SmartTask
Contents
Asana vs Smartsheet: Detailed Comparison (Features & Pricing)
By Angad SinghApr 3, 2023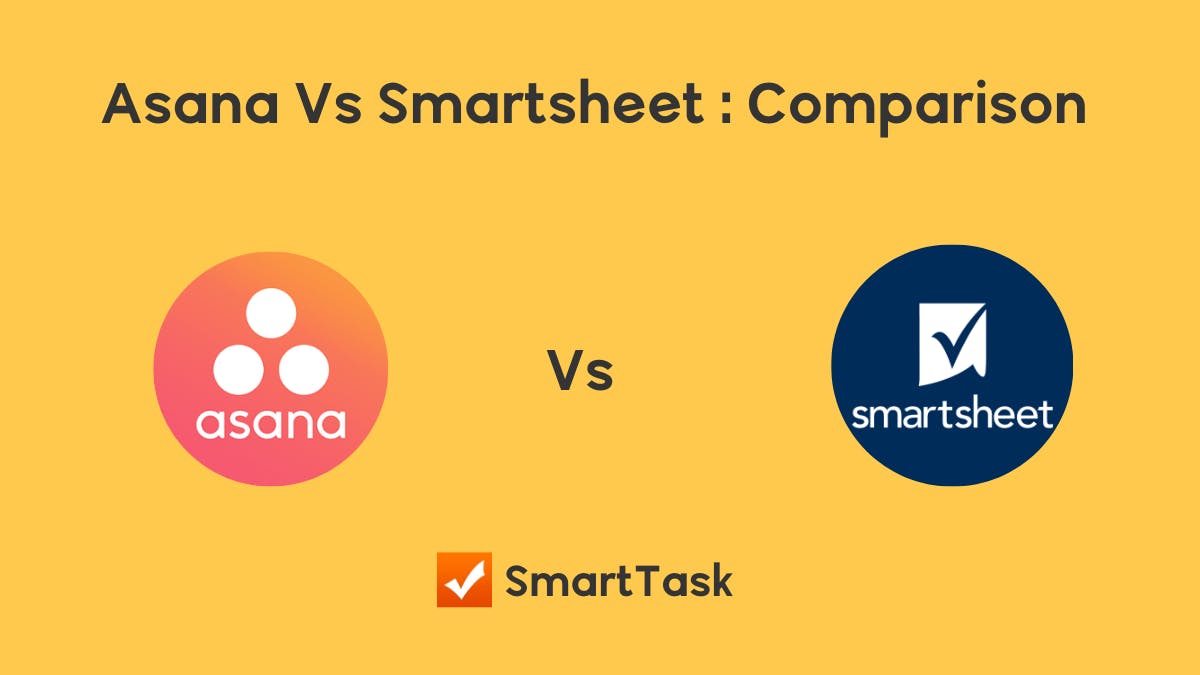 You're on the lookout for a new project management software. After hours of research, you've boiled it down to two contenders: Asana and Smartsheet.
But now, you're not sure what to do next.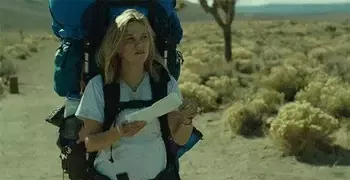 Well, who can blame you? Both these tools are top-tier solutions to unproductive workflows and wonky team collaboration.
Not to worry though, for by the time you're done reading this blog, you'll know which way you want to head.
What is Asana?
Named after the Sanskrit word for body posture, Asana is a work management app with a mindfulness-centric UX.
It has been around for more than 14 years and has lived to tell the tale. Today, it serves 100,000+ paying organizations.
In their own words, Asana is the best platform for cross-functional work.
What is Smartsheet?
Trusted by 90% of Fortune 100 companies, Smartsheet is a market leader in the productivity space.
As the name suggests, it is a super-powered spreadsheet that can improve even the most complex of workflows.
All in all, it is the platform for flexible modern work management.
Asana vs Smartsheet: Sneak Peek
Here's how Asana and Smartsheet differ when looked at from 10,000 feet:-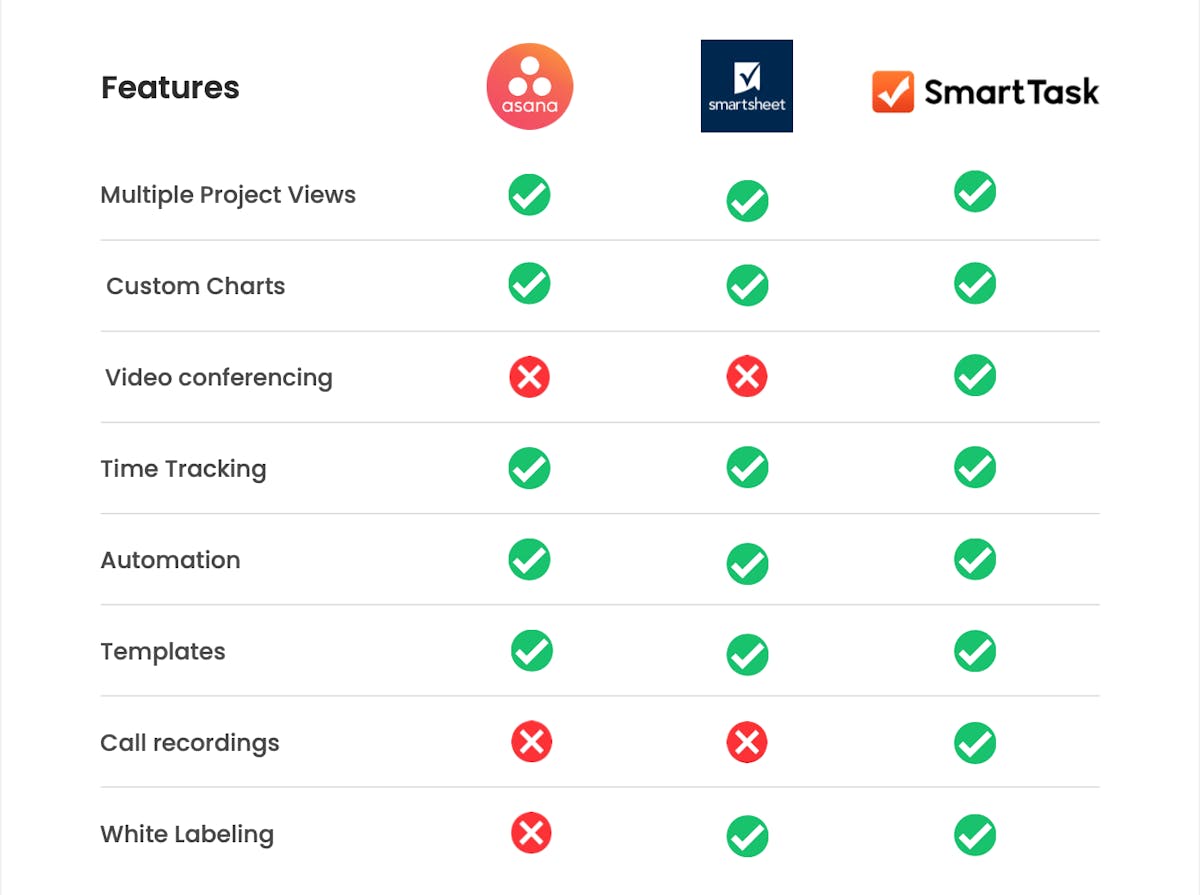 They're both filled to the brim with features, barring only some rare abilities that SmartTask has. Want to check them out?
2. Task Management and Collaboration
Neither Asana nor Smartsheet are half-baked products. They've each survived one of the most competitive markets out there for longer than a decade.
So, no doubt that the two get the basics right. Still, there are differences in the way they handle task management and collaboration.
Let's talk about them:-
A. Asana
In Asana, the default view for task management is the List View. Think of it as a blend of a spreadsheet and a to-do list. If you're on the right payment plan, you can even add custom fields there.
Beyond that starting point, you can switch things up using different project views. For Kanban-based, agile workflows, you can use the Board View. If you want to visualize your tasks on a calendar, that's possible too.
The Timeline View (Asana's take on Gantt charts) is yet another solution you can try. It's easy on the eyes as well as on the brain. Therein, you can visualize dependencies between tasks, project baseline, and critical path.
There are plenty of avenues to collaborate with team members too. You can:-
Add assignees, followers, and due-dates to tasks
Comment within tasks using @ mentions
Send messages to individuals, groups, and teams
Couple these with Asana's robust notification system, and you have all you need to keep teams in sync.
B. Smartsheet
Like Asana, Smartsheet lets you organize tasks in different project views. Your default view is the Grid view—one that resembles a traditional spreadsheet.
It mostly operates like Asana's List view, but with some added bells and whistles. The most obvious edge here is that of formula-based columns.
Other project views include the Gantt, Card, and Calendar view.
Though not as intuitive as Asana's, Smartsheet's Gantt view feels more powerful. It opens as an extension of the grid way, with Gantt-styled visualization on the right.
There's the Card view, which is Smartsheet's implementation of Kanban boards. It's pretty straightforward with not much to complain about.
Lastly, for the Calendar view, Smartsheet offers two options. The first, standard option, is pretty vanilla but gets the job done. Next, there's a Calendar app with superior customisation and improved color-coding. The caveat? It's only available as a paid add-on.
For team collaboration, you can add assignees, due-dates, task comments, and @ mentions. However, there's no way to chat with other team members without using integrations.
Verdict
Asana takes the crown here as well, thanks to well-rounded project views and collaboration features.
However, if you're looking for native video conferencing capabilities on top of all that Asana and Smartsheet offer...
3. Templates, Integrations, and Automation
Software that doesn't play well with others is an impediment to growth and scale. Thankfully, neither Asana nor Smartsheet belong to that camp. They integrate with a wide array of apps, making work truly centralized.
The template library of each tool is nothing to scoff at either. Both host dozens of pre-made solutions to help you navigate tons of use-cases.
This well-roundedness carries forward to automation as well. Setting up triggers and outcomes in both tools is snappy and effective.
Still, there are pros and cons to Asana and Smartsheet. Let's dig into those:-
A. Asana
Asana boasts 100+ integrations, even in its free plan. Some notable ones are Teams, Creative Cloud, Google Drive, Figma, Mailchimp, Zendesk, Slack, Hubspot, and Docusign.
Templates aren't short-staffed either. Asana's library gives you dozens of options, each neatly organized into use-cases. Another thing to note here is that you even create custom templates at the task and project level. But that ability is restricted to the more expensive plans.
Next comes Asana's workflow builder. It gives you a pleasant UI to build rule-based, automated workflows. You can either use Asana's own automation blocks or create your own rules. The downside? Building custom automation rules requires being on Asana's $24.99/user/month plan.
B. Smartsheet
Smartsheets offers 300+ connectors and integrations. The list isn't as decorated as Asana's but the likes of Docusign and Creative Cloud are still on it.
Where Smartsheet outshines Asana is in eliminating mundane and repetitive work. Using Bridge by Smartsheet, you can automate several steps of business processes, that too across platforms. Getting the hang of all that's possible here does pose a learning curve, but is worth the trouble.
Lastly, Smartsheet's template gallery gives you 250+ templates to kick start projects. You'd likely find something useful in there, irrespective of the industry you're from.
Verdict
There's not a clear winner here. We'd call this one a tie.
But just in case you want to check out what templates SmartTask has in store, here's the link for it.
4. Time Tracking and Resource Management
Work management is a complex dance. One in which project managers are always trying to make the best use of the resources they have.
Both Asana and Smartsheet boast features that make doing so easier. But is one better at resource management than the other.
Let's find out:-
A. Asana
On top of the standard project views, Asana offers something a little extra: The workload view. It helps you visualize your entire team's availability in one screen and even make adjustments on the go.
You can set the work capacity for each team member, ensuring you don't promote a culture of overwork. But, if you want to use the data you gather to build a project budget report, that's off the table.
Asana doesn't let you set a billable and non-billable rate for the work your team does. Moreover, native time-tracking is only available in the most expensive plan. If you don't wish to shell $24.99/user/month, you'll have to make do with integrations.
All in all, Asana's resource management is a breeze to use but has notable limitations.
B. Smartsheet
Previously called 10,000 ft, Resource Management by Smartsheet exists as a standalone product. Not to worry though because you can buy it as an add-on to your setup.
Another catch is that the tool's pricing isn't publicly available. You need to contact the Smartsheet team for a quote. But barring that, Resource Management by Smartsheet is phenomenal at what it does.
You can use it to:-
Track billable and non-billable time,
Allocate resources based on capacity (like in Asana's workload view)
Track budgets across projects,
Generate dynamic reports…
So, it nails its function but could've come at a better/clearer pricing.
Verdict
Asana is marginally better here, but only because it doesn't hide any pricing details. If resource management is a big part of your workflow, you're best suited with a third option. That could be SmartTask—a choice that packs all that you need for $10.99/user/month.
5. Pricing
Both the tools in question have powerful free plans but Asana has an edge here. Unlike Smartsheet, it doesn't limit the number of projects you can create.
With that said, paid tiers for the two tools in this comparison aren't cheap. Smartsheet's entry-level plan is reasonably priced but doesn't offer much. For the most part, it merely lifts off the 2-sheet limit inherent to the free version.
Regardless, let's glance at the pricing plans for each tool:-
A. Asana
Asana offers three pricing plans and the option to contact sales for enterprise offerings. The most bang-for-the-buck choice is the mid-tier plan, starting at $10.99/user/month. It packs most of Asana's capabilities but is a no go if you need resource management features.
Here's a more detailed look into Asana's pricing:-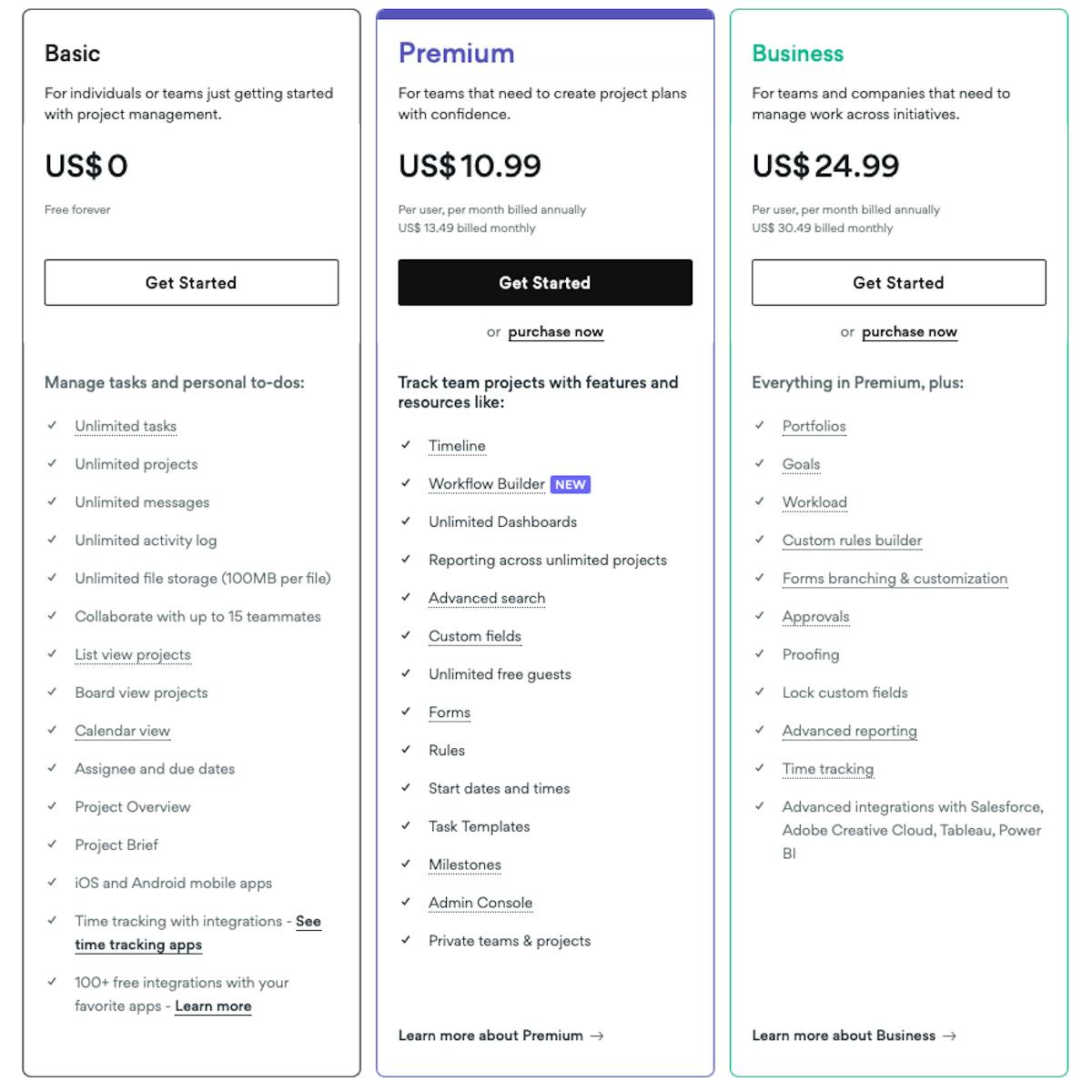 Smartsheet
Smartsheet is a highly capable work management software. However, its pricing alienates small businesses. In our opinion, the entry level plan isn't worth the subscription, and the plan that's a tier above is too costly.
Here are Smartsheet's pricing details:-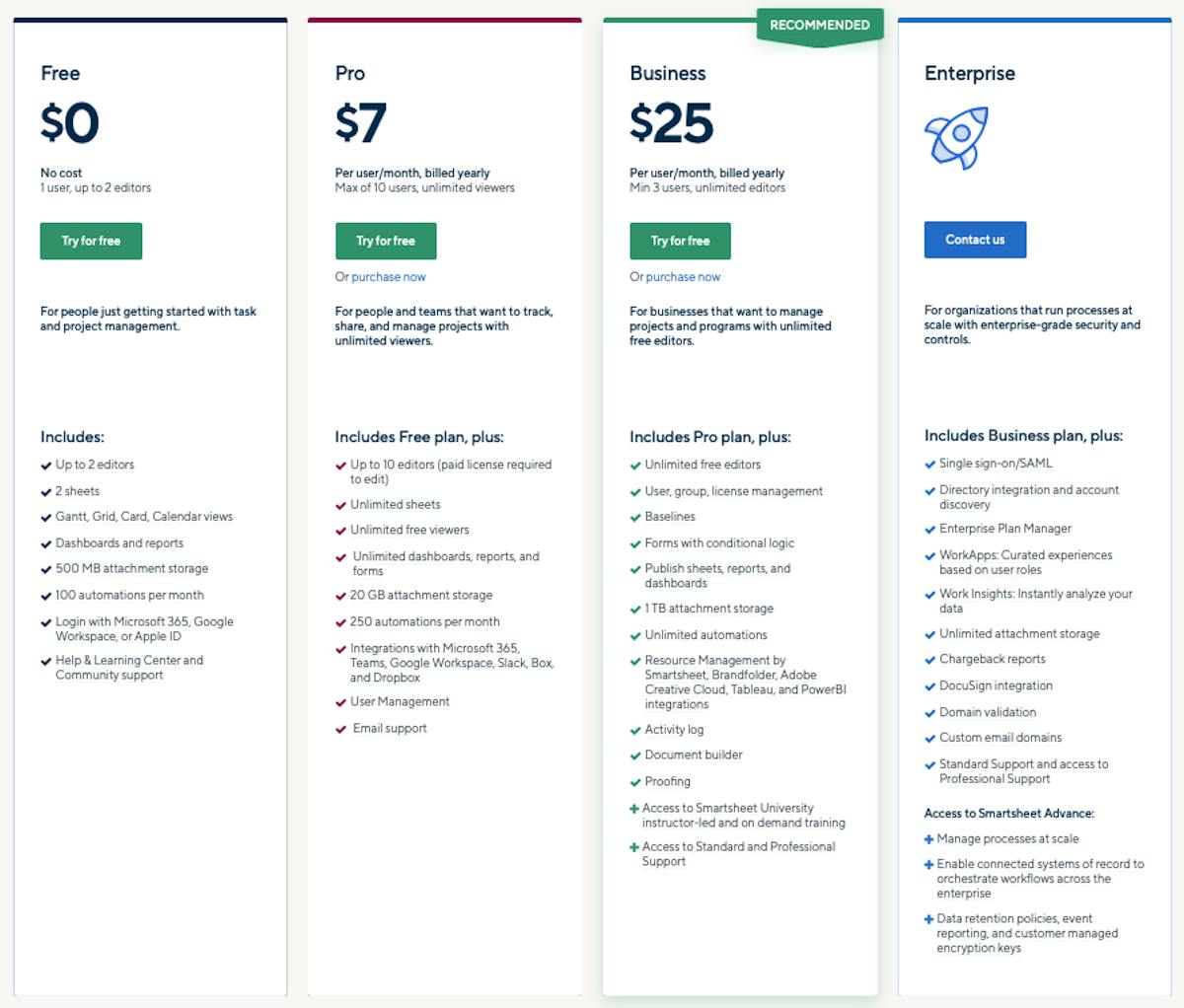 Verdict
Both Asana and Smartsheet guard useful features behind expensive price tags. If you're a small business, you're better off with a tool like SmartTask. Its significantly better pricing is as follows:-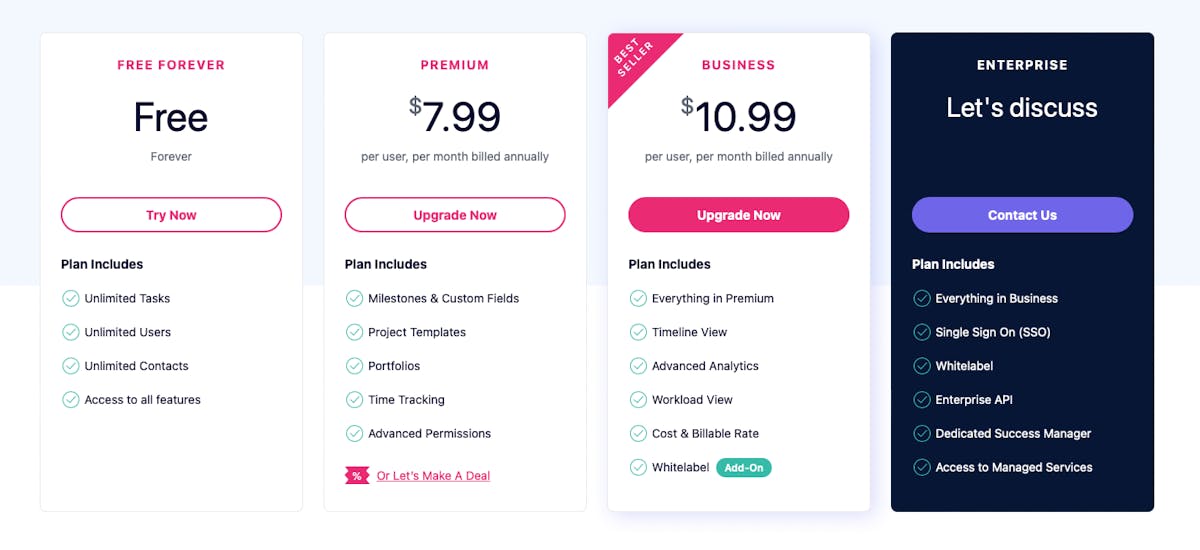 Asana vs Smartsheet: Which is the Best Tool for your Team in 2023
Now that you have all the information, this decision is for you to make. Our biased yet honest recommendation?
You're better off with Smartsheet if you're an enterprise handling large heaps of data. Of course, that's assuming that you couldn't care less about the tool's, dare we say, hefty pricing.
But if you're a small-to-mid-sized business, go with SmartTask instead of Asana. Sarhad Dairy—a milk production union that collects 5,00,000 liters of milk every day—did the same. The result? They increased employee productivity by 50%.
And that's not the only success story there is. In fact, there are 20,000+ of them!
What our Clients have Accomplished with SmartTask
Here are some cool things our clients have done with SmartTask:-
Enerlyf — a company making devices that optimize AC usage and reduce energy bills by 35-40% — uses SmartTask's in-built CRM to streamline sales and accelerate follow-ups.
Sundyota Numandis – a decade-old pharma company – used SmartTask to supervise all details when opening a new RnD/Manufacturing plant in Sanand, Gujarat.
You too can follow suit ;)
Become 3X More Productive Today