SmartTask
Contents
How to Deal with Being Overwhelmed at Work (7 Practical Tips)
By Shyamal ParikhOct 18, 2023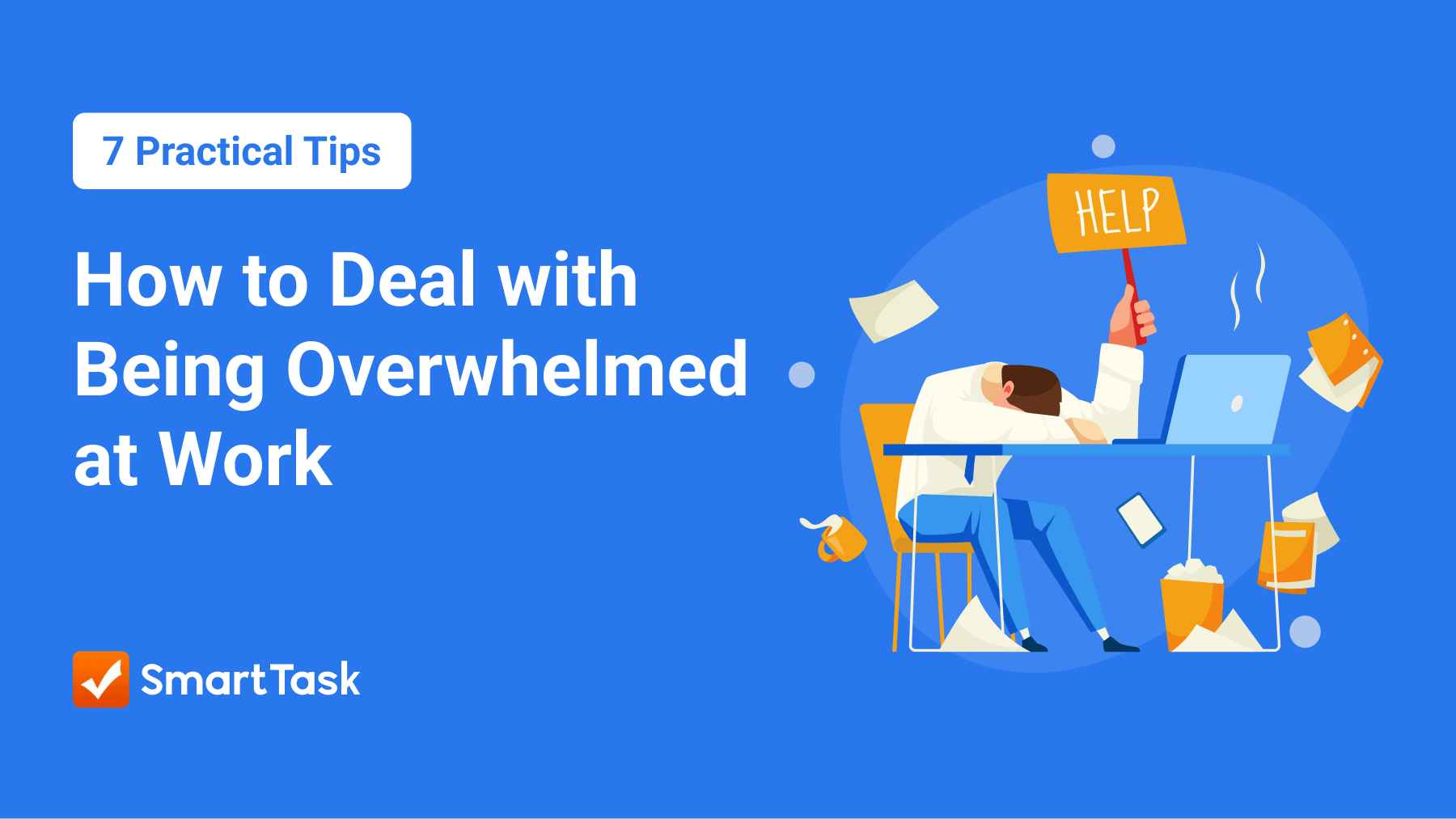 You know that sinking feeling when you're at your desk, surrounded by a mountain of tasks, endless emails, and a calendar that looks like a Tetris game gone wrong?
We've all been there. In fact, most of us have faced that tidal wave of overwhelm at some point in our work lives. It's like every task is shouting, "Pick me! Do me first!" and you're just trying to figure out how to catch a breath without drowning.
In this article, we'll explore practical ways to break tasks into manageable chunks, techniques to prioritize what truly matters, and little hacks to come out of the overwhelming rut without draining your energy.
Let's dive in!
7 tips to deal with overwhelm at work
When you're feeling overwhelmed, it's difficult to think clearly and take a step back. With these seven actionable strategies, you'll be able to look at the bigger picture and take steps to get your work life and mental health back on track.
1. Prioritize your tasks for the day
Prioritizing is essential because it helps you focus on what truly matters. It's like decluttering a room; once you remove the unnecessary items, it's easier to see and enjoy the essentials.
By determining what needs immediate attention and what can wait, you free up mental space. This means less stress and a clearer path to accomplishing your goals for the day.
So, how do we effectively prioritize?
Start your day with a simple practice: List out everything you think you need to do. Yes, everything. Once it's all in front of you, assign each task a category:
Immediate and Important: These are the tasks that need your attention now.
Important but Not Immediate: Things that can wait, but you should plan for.
Not Important but Immediate: Tasks that seem urgent but aren't crucial. Often, these can be delegated.
Neither Important nor Immediate: Consider if these really need to be on your list.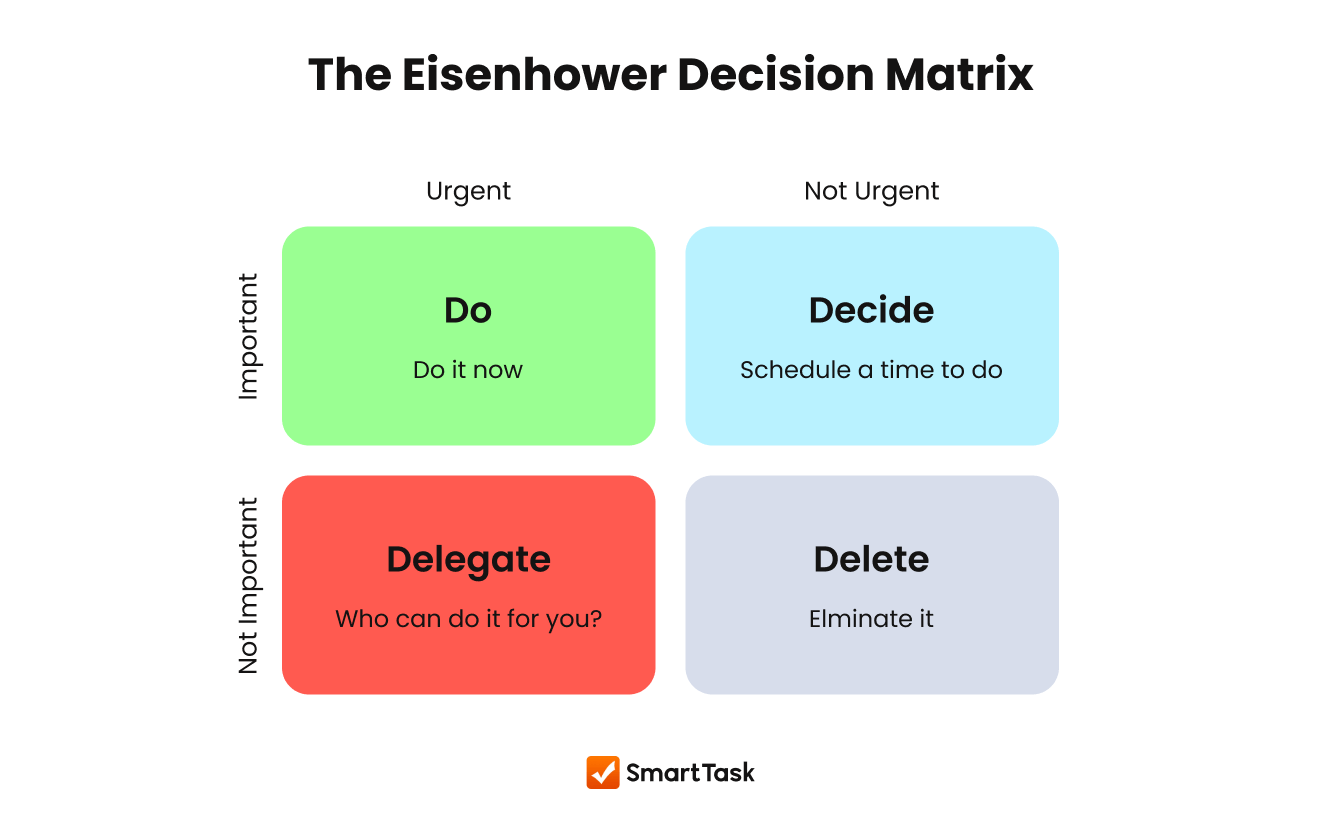 At SmartTask, the teams are encouraged to organize their task list by priority so everybody knows what's expected to be completed first and what they can push off to another day.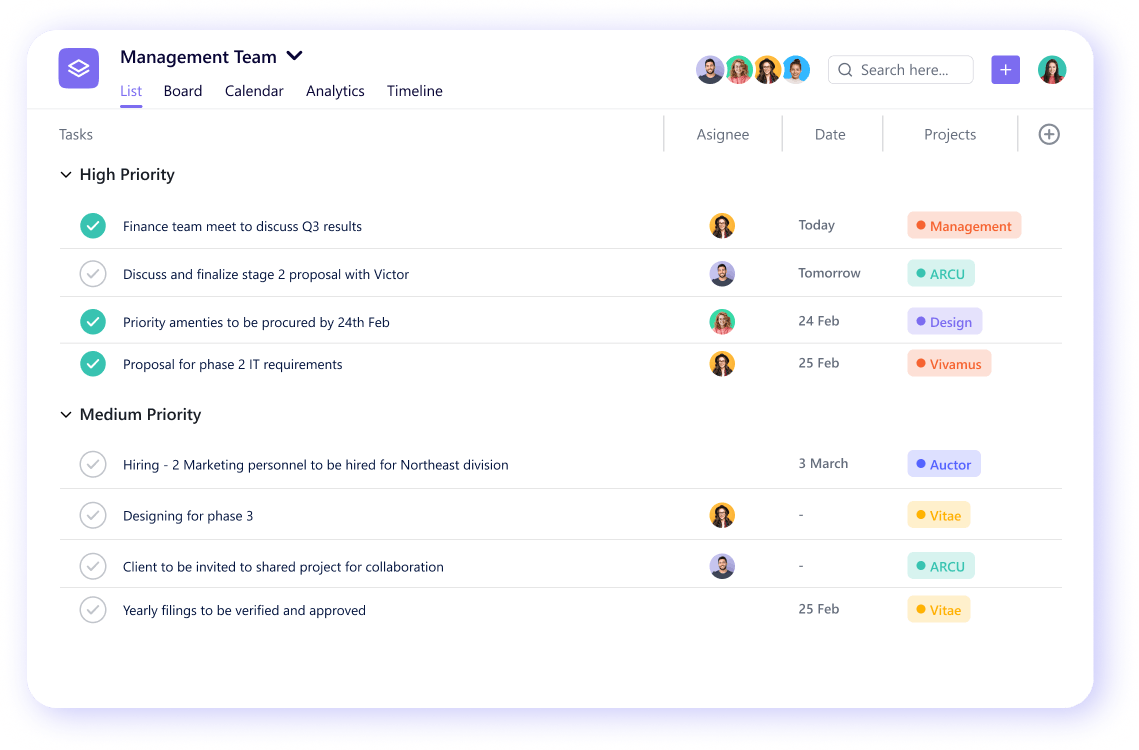 Also, check out: 5-step guide on how to prioritize tasks effectively
2. Break down larger projects into manageable chunks
Do you have a big project on your plate? Start by clearly defining the end goal. What's the finish line? Once you've got that visualized, work backwards. List down the main components or stages of the project.
For instance, if you're launching a new product, stages might include research, design, testing, marketing, creating user onboarding, and launch.
Now, dive deeper. Break each stage into specific tasks or activities. For example, under the 'design' stage, you might have tasks like 'sketch initial design,' 'select materials,' and 'create a prototype.'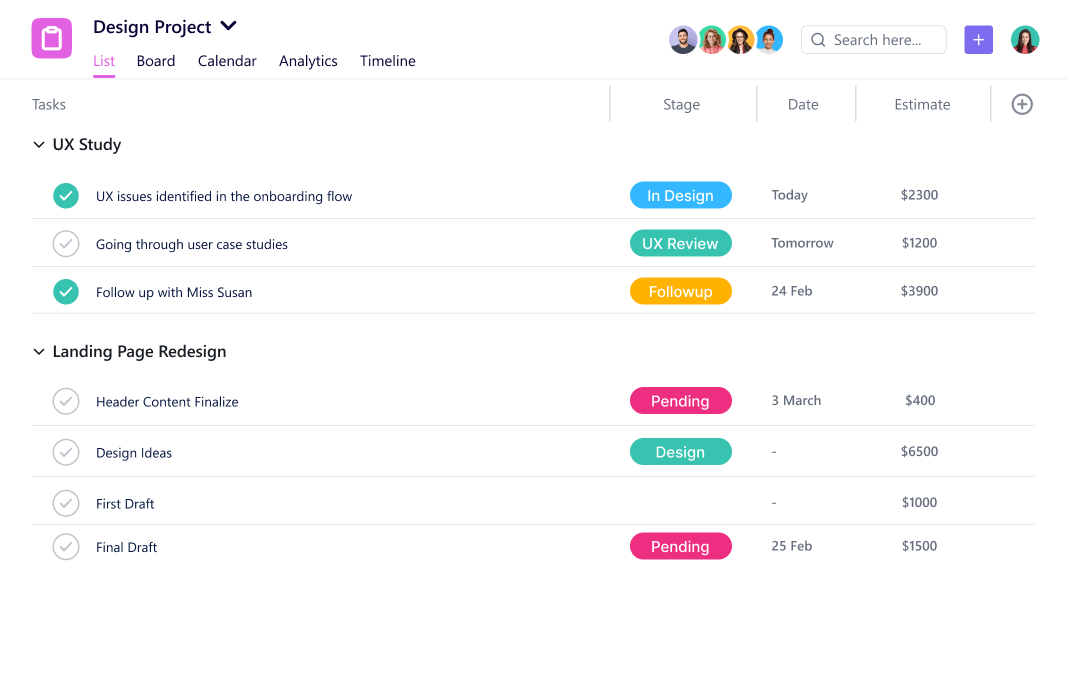 The key here isn't just to create a list, but to make each chunk specific, actionable, and time-bound. This way, instead of feeling stuck in a never-ending loop, you'll experience the satisfaction of ticking things off step by step.
With SmartTask, you can set a clear start and end date for each of your micro-tasks.
3. Set clear boundaries for work hours
We've all been there: it's late in the evening, dinner's getting cold, and you're still glued to your work, promising yourself "just five more minutes."
Without clear boundaries, work can seep into every nook and cranny of our lives.
By creating a comprehensive to-do list and designating specific hours for work, you're essentially giving yourself the downtime needed to recharge and return even stronger.
You can even inform your colleagues and superiors about your work hours. When everyone's on the same page, it reduces the chances of those late-night calls or last-minute requests.
4. Eliminate distractions during focused work sessions
The modern workspace, digital or physical, is a minefield of distractions. These interruptions not only steal time but also break our flow, making tasks feel more daunting and prolonged. According to research, it takes an average of 23 minutes and 15 seconds to regain focus after distraction at work?
How do we deal with these distractions?
Recognize your primary distractions. For many, it's the smartphone. Consider putting it on 'Do Not Disturb' mode or using apps like Forest that encourage you to stay off your device for set periods.
Use noise-canceling headphones if you're in a bustling workplace. Alternatively, apps that play white noise or calming tunes can help drown out background chatter.
Set clear intentions. Tools like SmartTask offer time-tracking features that help you assess how much time you invest in each task. This way, you can optimize your process, if required.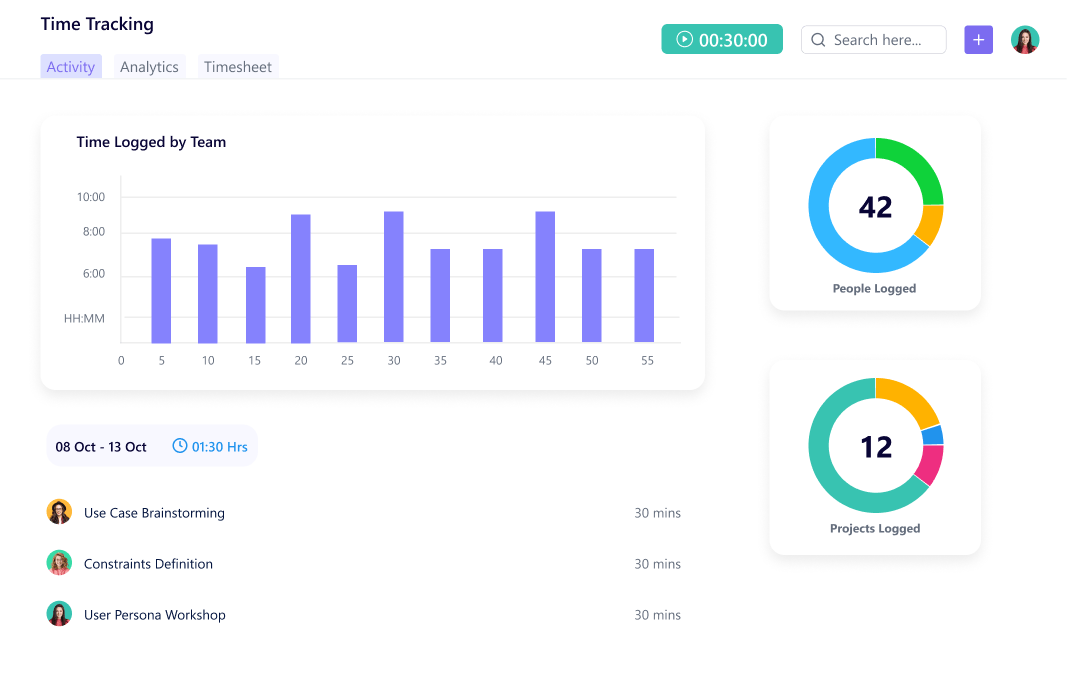 5. Communicate openly with your team about workload
Juggling more than we can handle doesn't make us superheroes; it makes us stressed, less productive, and more prone to errors.
But when we communicate, it creates an environment of understanding and collaboration. It allows managers to allocate resources effectively and teammates to step in and support when needed, ensuring that projects don't suffer, and neither does our mental well-being.
When communicating, be clear and assertive, but also open to solutions.
Instead of just stating, "I have too much on my plate," try, "I'm currently managing X, Y, and Z tasks. I'm concerned about meeting the deadline for Y. Can we discuss potential solutions or support?"
This not only highlights the issue but also invites collaborative problem-solving.
If you're a manager, it's time to adopt tools that provide you with workload management charts that help you see each individual's workload and if you need to change things to stop employee burnout.
Insert: This workload animation chart
6. Use technology to manage your tasks & projects
Post-it notes and bulky planners might not be for everyone, especially when dealing with multiple complex projects.
For example, if you are offering a user onboarding service, things can sometimes get messy. Clients may have specific requests, timelines might be tight, and communication needs to be spot-on.
Thankfully, we live in an era where technology is more than just our social media companion.
Here's how work management tools like SmartTask can help make work less daunting:
Project management: Get access to one-view dashboard to see all your projects and responsibilities
Task management: Set tasks, due dates, and important instructions, to stay on top of your workload without being overwhelmed
Workload management: Find what each employee is working on across projects to ensure no employee is overburdened or underutilized.
Multiple views: Get access to different views (Timeline, Calendar, Gantt, Board, Portfolio) to track work in a view that best suits you.
Workflow automation: Automate recurring tasks like assignee change, scheduling dependent tasks, etc.
Seamless collaboration: Collaborate in real-time via chat, comments, and voice-recorded messages.
Task priorities: Set priorities for all tasks, so your team knows what to do first
Time tracking: Track time for each task to understand what to optimize and boost productivity
Custom task status: Set a custom task status like "Editing" so you can track the progress of any workflow instantly
Automated check-ins: Instead of wasting time on progress meetings, schedule automated check-ins.
Custom charts: Access charts like productivity scoring, project summary, and other custom charts.
Integrations: Integrate with many tools to manage your workflows across tools.
7. Practice mindfulness or meditation techniques
With so many deadlines, meetings, and never-ending task lists, our minds often resemble a browser with too many tabs open. Here's where the ancient art of mindfulness and meditation steps in, acting like a gentle 'close all tabs' button for our brains.
Mindfulness is about grounding ourselves in the present moment, acknowledging our feelings without judgment, and giving our minds a much-needed respite.
When we do this, something magical happens. Our stress levels drop, our focus sharpens, and we approach tasks with a clearer, more centered mindset.
All you need to do is dedicate a few minutes during your break to focus on breathing, sensing the air as it goes in and out. If you're new to meditation, consider apps like Headspace or Calm. They offer guided sessions that ease you into the practice, making the process less daunting.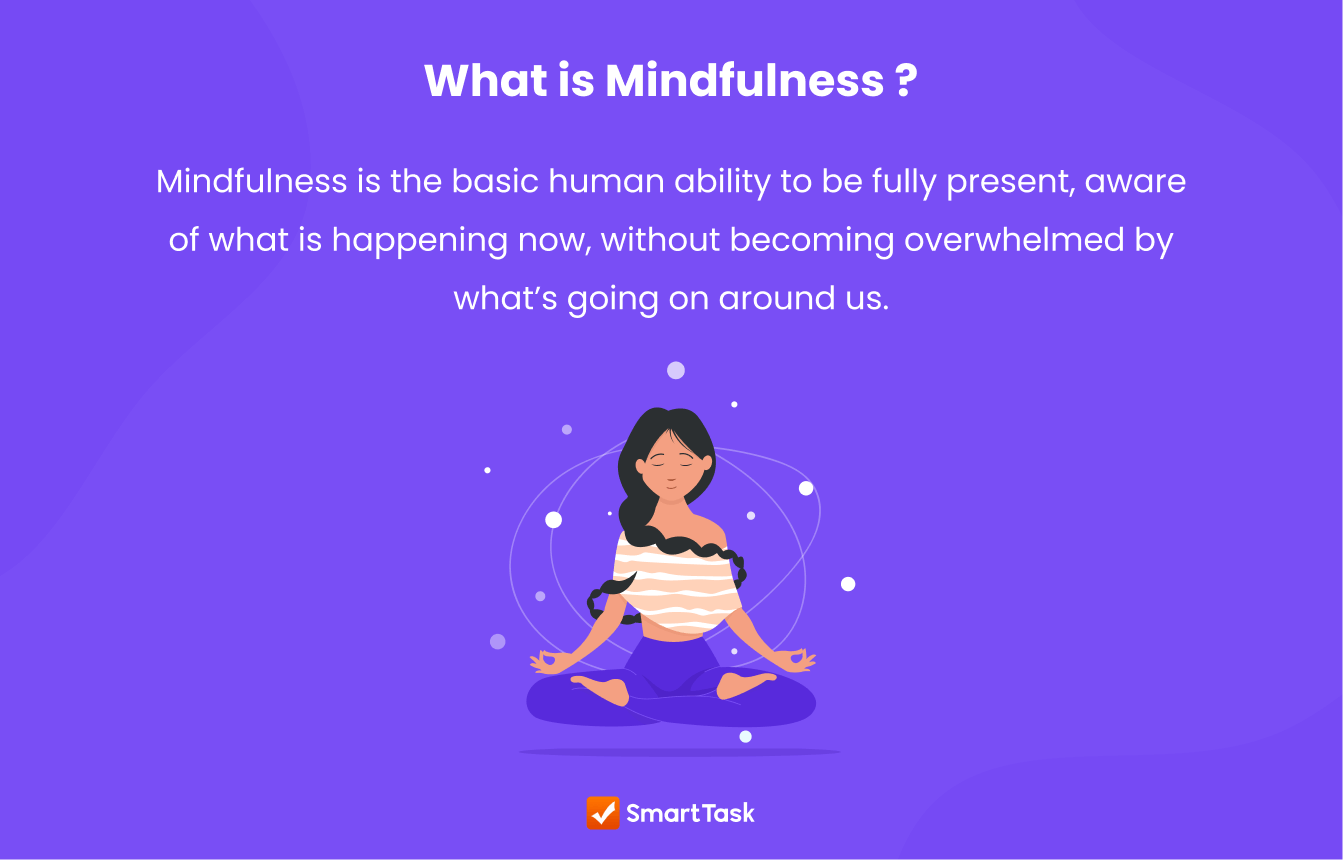 So, the next time overwhelm knocks on your door, take a deep breath, find your center, and watch as the swirling storm of stress transforms into a gentle breeze.
Make Work Less Overwhelming with SmartTask
We all feel overwhelmed by work at different times in life. But instead of letting this feeling win, the above seven strategies will help you deal with it effectively.
Over the next week, instead of diving into reaction mode when you feel overwhelmed, take a minute. Breathe. Ask yourself, "What's one thing I learned from the blog that I can apply right now?" It's about building resilience, one step at a time.
And lastly, why not adopt tools like SmartTask that help manage your to-do lists and projects seamlessly? Whether it's assigning tasks, automating workflows, prioritizing your to-do list, or having all your work assignments in one place, this tool does it all.